After intensive three-month-long work, two sculptures emerged at the Eighth Fort of Kaunas. One of them attracts with its flamboyance and the other with a sharp spire structure. Both of them were created from garbage dumped in the territory of Šilainiai fort. The sculptural group now acts not only as a functional decoration of the space but also as a reminder that one should not litter. Some trash can be creatively resurrected to a second life but after they are discarded in nature, they do not disappear. The creator of these works, an architect and an artist, Džiugas Karalius told us how the mountains of rubbish in his hands turned into new artworks.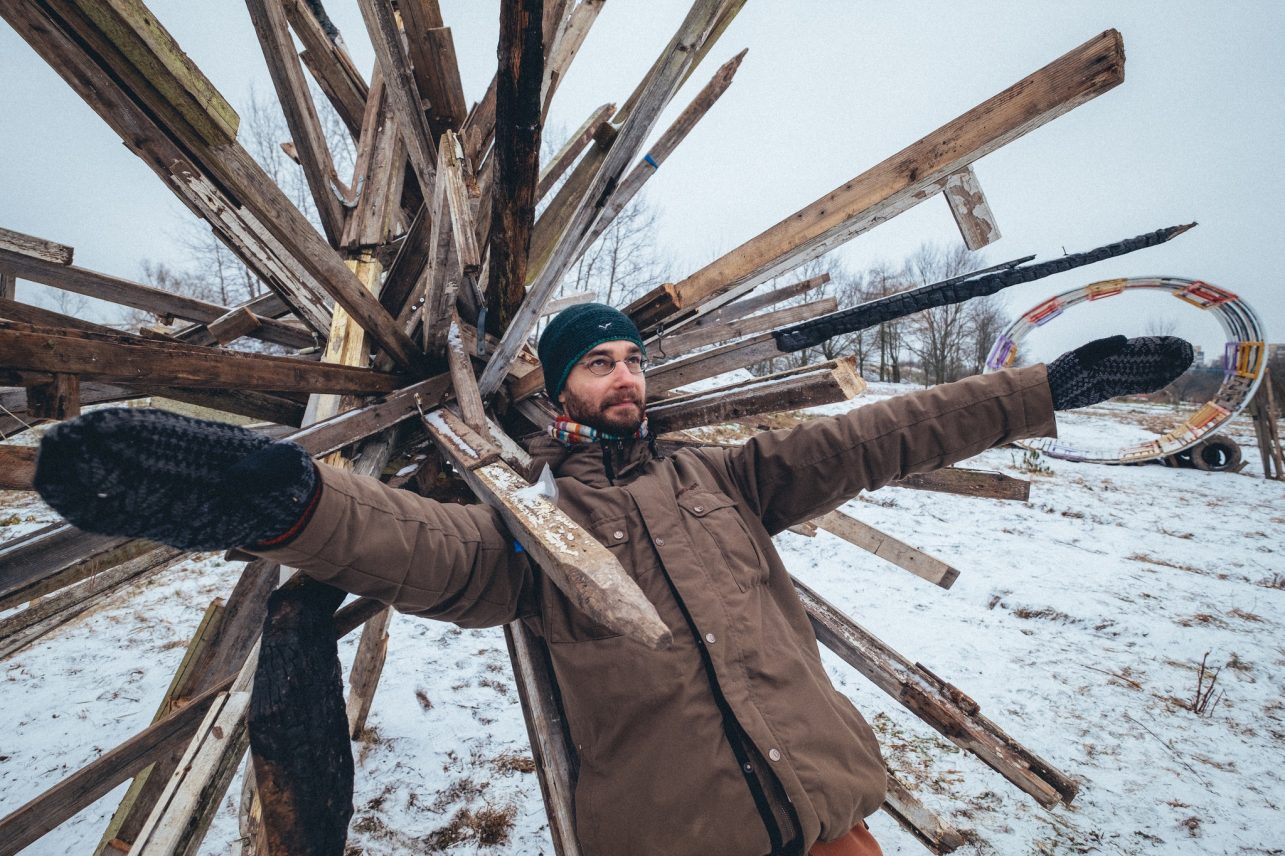 How did an architect take on sculpting?
Perhaps it was determined by my Suduvite blood. When my grandfather, who was an engineer, was going from the block of flats to the garage each night, he would collect various things, then sort them and look for ways to apply them somehow. Such curiosity about the environment and the desire to explore nature, people, and the things they leave behind, has deep traditions in my family, as does architecture, since both of my parents are representatives of this field. For me, architecture is, first and foremost, the art of the relationship between humans and space. Personally, I have been working as an architect for 14 years. This profession allowed me to get acquainted not only with the design of buildings but also with landscape design, urban planning, urban monitoring, and sculpture. Therefore, today I can freely combine these areas and play around with them. I am intrigued that through creativity it is possible to combine different objects and use them for a new purpose. As a child, I was already creating compositions and making sculptures. I always liked working with my hands, so I always try to supplement the tasks of making drafts or preparing projects that are based on intellectual work with creative work that requires physical labour, for example, making light sculptures from trash or wood.
Why did you choose to create sculptures from used and discarded household items? And how did your first large-scale works made out of trash emerged in the territory of the Eighth Fort?
I started constructing compositions from garbage quite recently. About a year ago, at home, I started collecting toilet paper rolls, milk cartons, and egg trays, plastic sour cream, and other products' containers – trash that have their own shape, space, volume, are durable and which we use plenty of every day. I started to combine them into small sketches, models.
Last year, I met Evelina Šimkutė, the initiator of the Šilainiai project, who told me that people leave a lot of rubbish in the territory of the Eighth Fort. This is how the idea of creating something new, attractive, and functional from the mountains of waste came about, at the same time cleaning up the environment. To me, creating from rubbish is interesting and practical – secondary raw materials are everywhere and they are free. People are happy to give them away and are even grateful to you for taking it, and all you need to get from the store is screws and paint.
What did this creative process look like and what was your approach to garbage during it?
Working in nature with trash freed my hands. I have been prone to perfectionism since childhood. I think there is strength in that because this feature forces you to demand maximum results from yourself, but at the same time, you shouldn't overdo it. The art of architecture requires extreme precision, and the process of implementing an idea is usually long, requiring many people and calculations. Meanwhile, working with trash allows you to create more freely and implement your own idea from start to finish. There is basically a lot of uncertainty in creative work, it takes a few or a dozen steps before the idea can be refined, and the rubbish enters this process with its own properties, whether it's a colourful plastic that doesn't break down for a long time or an elastic tire that isn't afraid of either winter or rain, or wooden windows that are still solid and come with their own wooden screws. The variety of rubbish is wide, but what unites them is the fact that garbage is imperfect – broken, crooked, dirty. They are like objects that appear at the margins of our lives, are no longer needed, but I think we need to look at garbage in a positive way, notice the potential and exploit it.
The difference and individuality of each piece of trash allowed me to escape the box of perfectionism; to use the skills acquired during my work as an architect and combine them with creativity which is much freer. I've never used a ruler to make these sculptures, you won't find 90-degree angles here, but a lot of effort is still put into the construction of imperfect shapes. It is important to find the balance between making something imperfect and the importance of preserving precision. The creative process itself was quite long – I worked here constantly for three months, almost every day. Garbage had to be removed from grass and bushes then cleaned. Some hazardous materials, such as broken sharp glass, had to be removed, sorted, painted. Even after pre-selecting the pieces of rubbish that I would be working with and deciding where to place the sculptures, I had to experiment a lot before I managed to find a way to reinforce different materials: plastic cylindrical greenhouse frames, rubber tires, and wooden poles. These are very different materials – spherical, straight, elastic, and static, so finding the right construction was an inspiring challenge.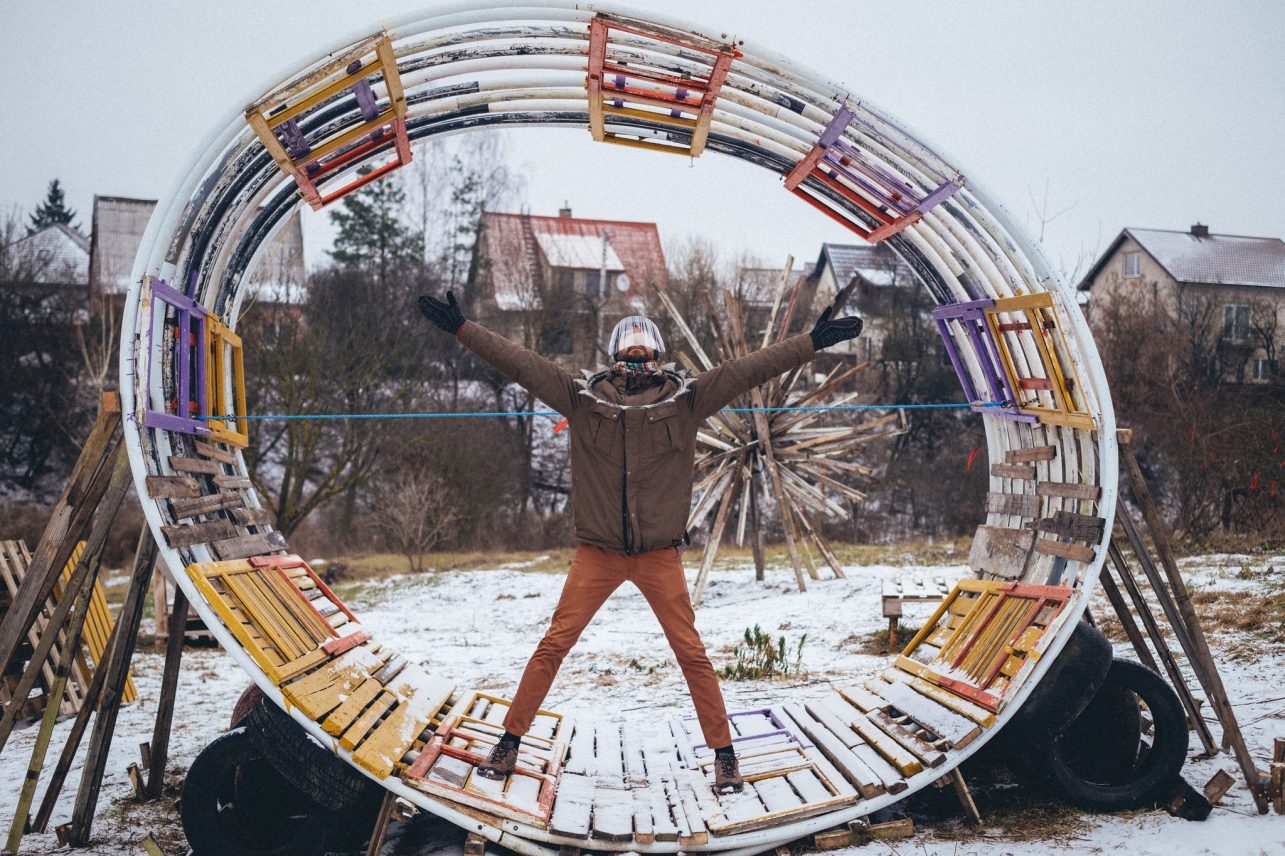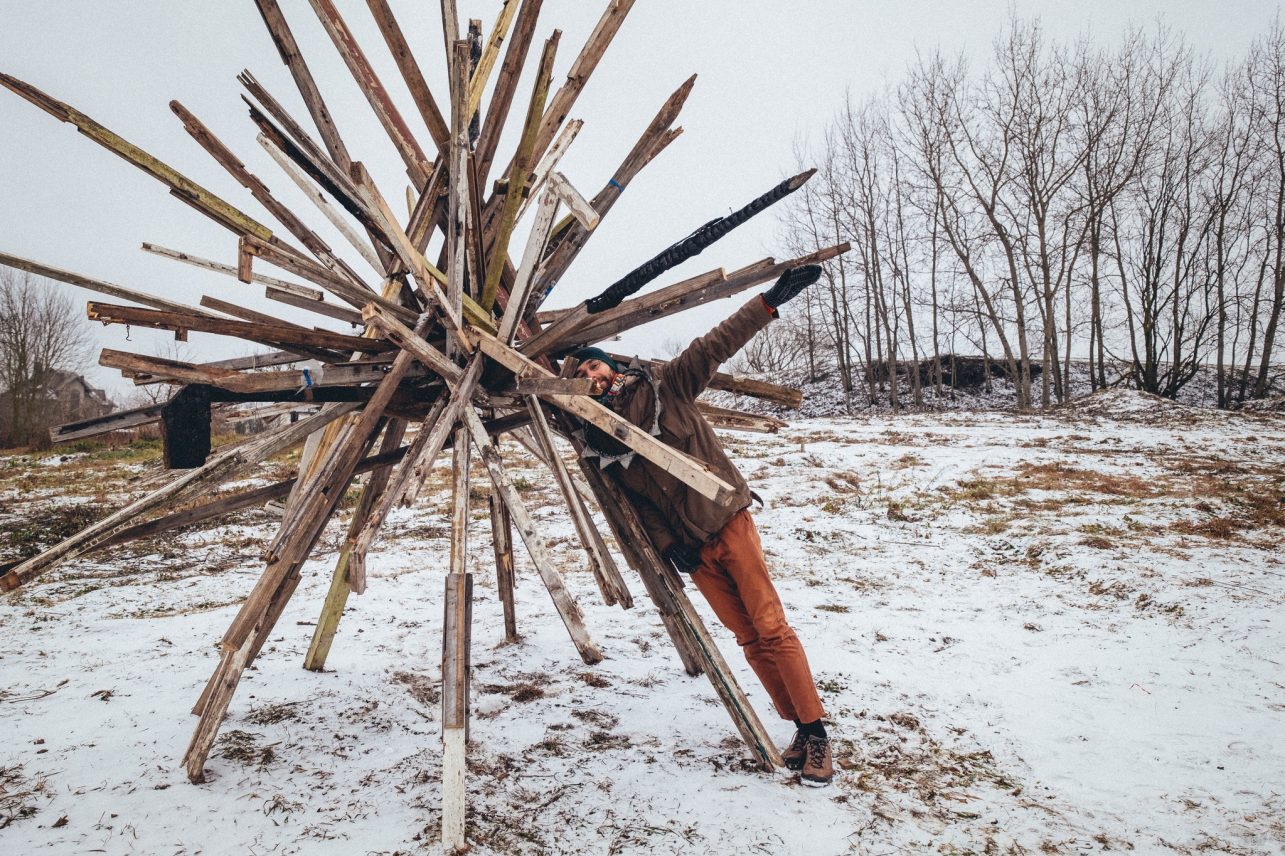 Why was this specific place chosen for sculptures – the junction of Žaibo and Debesų streets?
The environment of the fort is very interesting because it is not a natural relief but a militaristic terrene body or army fortifications. The sculptures stand in the place of the former firing field. I chose this spot because it is open and can be seen from both the fort and the block of flats on Žaibo Street. These sculptures signal from afar that this is the fort, a place for gardens, sculptures, education, events, walks, and other community activities. In the future, it is planned to make a path between the sculptures and restore a shooting nest nearby.
Can you tell us briefly why you chose this form for your sculptures?
I created two sculptures here – a dynamic and good energy-generating cylinder rolling down the hill, inviting you to sit down, and this prickly one, which is just fun to look at. I want the sculptures to provide people with positive emotions and become a colourful place to relax. Another visual metaphor is based on the relationship between the two sculptures – the cylinder in the firing field represents a cannon tube that fires off the prickly one. Indeed, the latter receives various interpretations. People think it's a star, an explosion, and a snowflake. There was even an idea to decorate the sculpture with a garland and turn it into a Christmas tree.
Classical sculptures are often associated with longevity, but the environmentally friendly land artworks are usually destined to disappear relatively quickly. Do you see the pros of such transience?
I have created both long-lived objects in the field of architecture, where we strive to make them durable, so they would serve for many years, and nondurable, naturally degradable works. When creating temporary objects from rubbish, it is fun that you can have more freedom to play, experiment, you don't have to do everything perfectly. In addition, it empowers you to just do things now, without particularly long preparation. I also like the fact that such sculptures will naturally change over time, nature will leave its mark, and people can also adjust the shapes, colors, or materials of sculptural objects at any time because they stand in the public space. It's like building sandcastles by the sea, it's nice, but soon the waves wash it away. Short-term sculptural works also reflect the fragility of life; we do not know what the future holds, so we must do our best today.