When we first met in 2016, Evelina Šimkutė had recently returned from London, where she finished her art studies, and was rediscovering Šilainiai. We then climbed on the roof of the block of flats to take pictures and spoke of the large population of poets in the micro-district. After some time, we went at the 8th fort of the Kaunas Fortress where Evelina introduced me to the women who have been gardening here for several decades.
A bit later I also interviewed the architect and artist Džiugas Karalius whose sculptures made of garbage still greet you when you approach one of the most vibrant elements of the Kaunas fortress. The tsar probably never dreamed of such a creative and sustainable use of the fort.
Šilainiai Gardens is an initiative that has entered its fifth season and is gaining a new layer every year. Just like that soil that keeps renewing itself to delight us with nature's gifts. Nature in the City is the name of the initiative started by Evelina and Sandra Galdikaitė, who mention the creation of a creative environment among their goals, inviting you to take a closer look at the environment and not be afraid to be a part of it.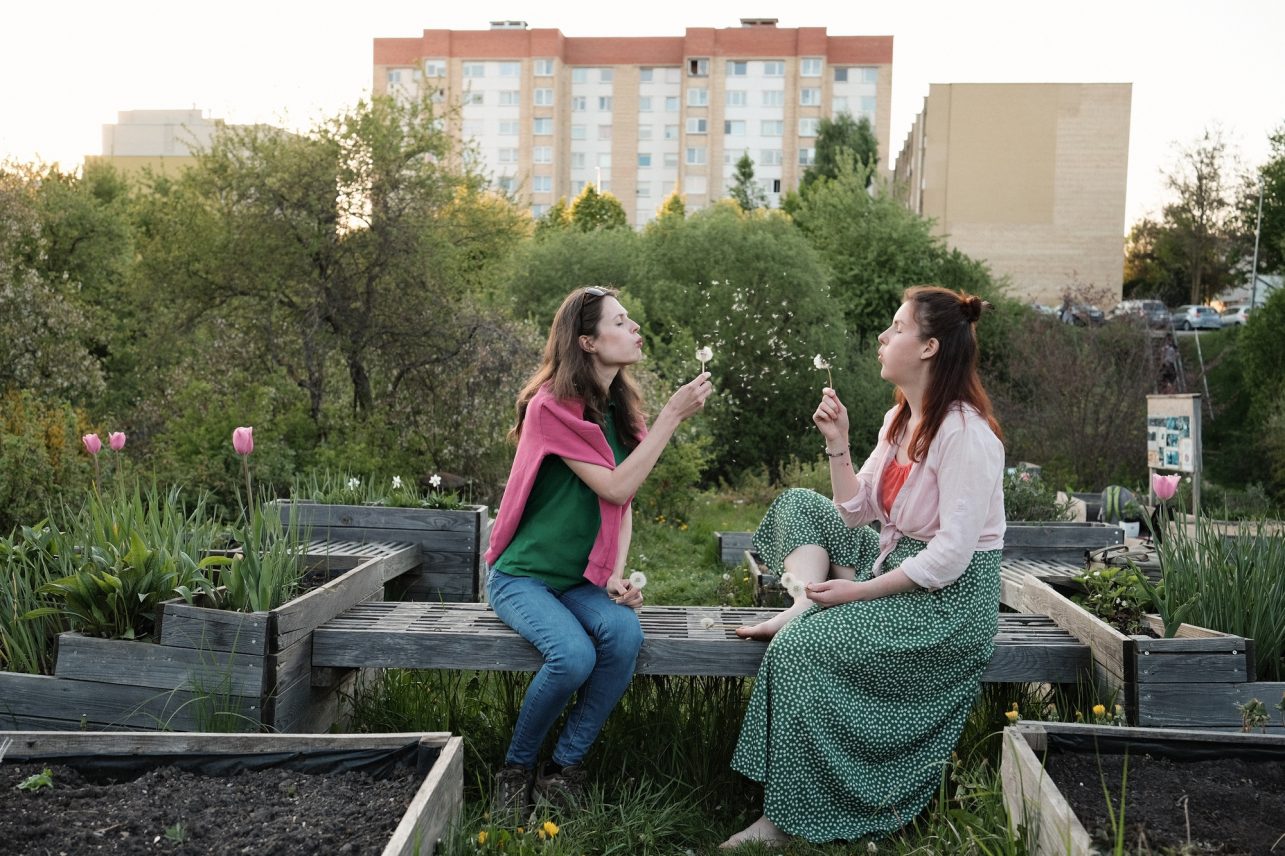 We sat down on the raised garden beds with Sandra and Evelina on Friday evening, as the sun gently painted the apartment buildings, and the city was already resting before this year's first truly warm weekend. Yet the gardens were buzzing with work. "My first harvest was three potatoes, and now look how we've expanded," a painter named Reiu, whom we just met laughs, and his wife Aldona, with whom we correspond about university matters during working hours, offers us bean sprouts. You need to collect the sprouts at a special exchange event, which will have already happened by the time you read this article.
Evelina, how did you realize that these gardens, which were still little known at the time, required not only beds but also education?
Evelina: We felt the need to preserve the existing community of gardeners. Most of its members are older. The idea of an educational garden bed came from the seniors themselves back in 2018. At the time, this place, or rather the gardens, was engulfed by an existential crisis, it was necessary to prepare a vision, a direction, how to involve the youth, parents with small children, and those who do not know how to grow a plant from a seed. We held the first workshop here with our colleagues from Tallinn, and in 2019 a new phase in our history began.
And what was your journey to Šilainiai, Sandra?
Sandra: I was simply writing an article about Evelina and Šilainiai Gardens and that's how we met. Previously, I worked as a journalist, editor, and screenwriter on television, I was also engaged in communication. Very busy schedule. And then I burnt out. I packed my backpack and went on a solo trip to America for a month. I got a sense of what a metropolis and overconsumption looked like. Wow, I thought, we're in for it too, we're going West. I also realized that my whole world fits in one backpack and that was a very good feeling. After returning, I began to delve in it and into what affects it. Because in general, it's easy to feel inadequate – you graduate from university, you need to find a job, move up the career ladder… I started learning awareness, and harmony is not far from there. Previous work skills came in handy, I thought I'd just start sharing my knowledge. Then there were camps for young people and businesswomen. The activity developed organically, and what we do with our colleagues is called 9 zuikiai (9 bunnies).
Did any younger people join the Šilainiai Gardens community?
Evelina: Yes, and it also expanded. We have an IT specialist, doctors, and young families. There are those who started gardening from a 1 square meter raised garden bed, who then got acquainted with the existing community and moved to a larger patch. They replace gardeners who leave this world or who decide not to continue this activity by taking over their patches but there is also room for the gardens to expand.
Sandra: And there are probably more people from other districts than Šilainiai. I live in Dainava, for example. I can reach Šilainiai Gardens in about 40 minutes by bike, on foot in an hour and a half, and by bus in 20 minutes.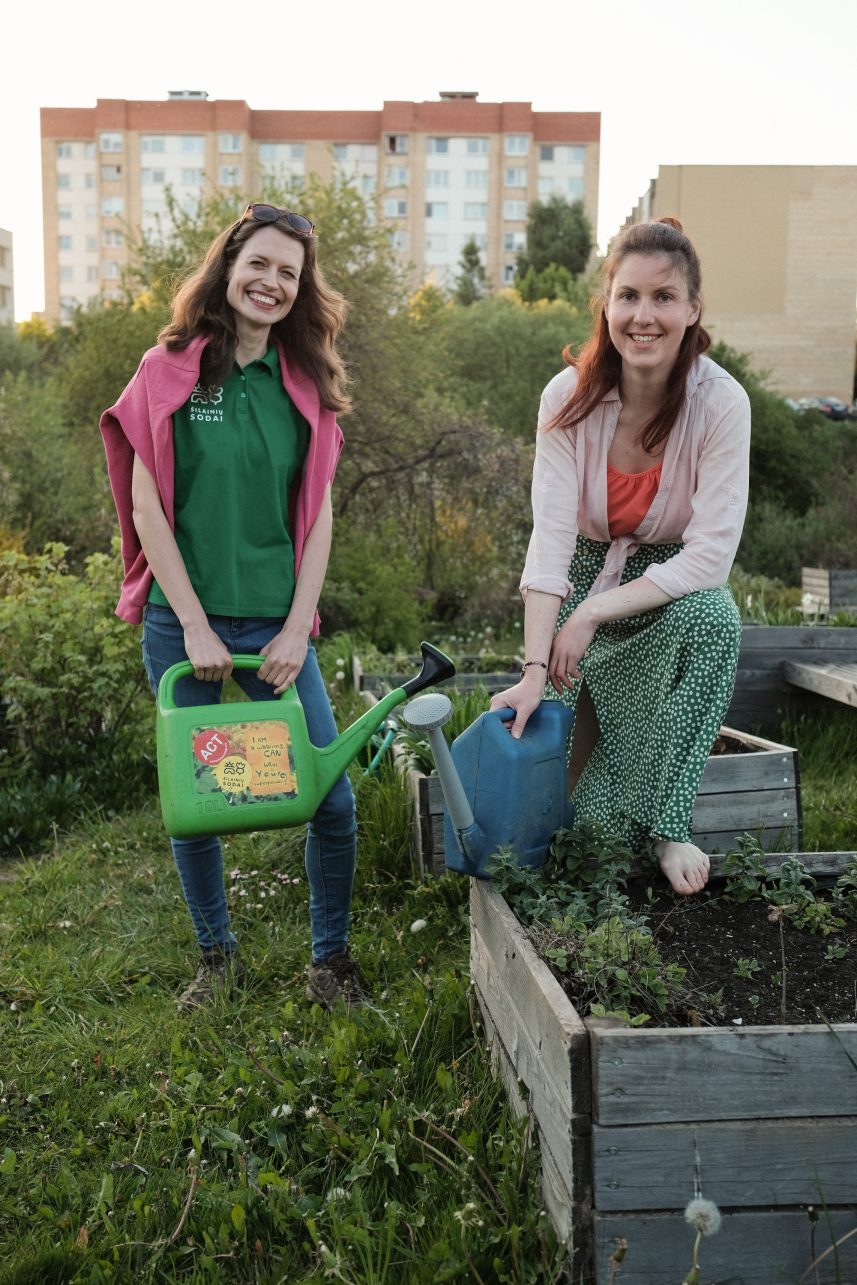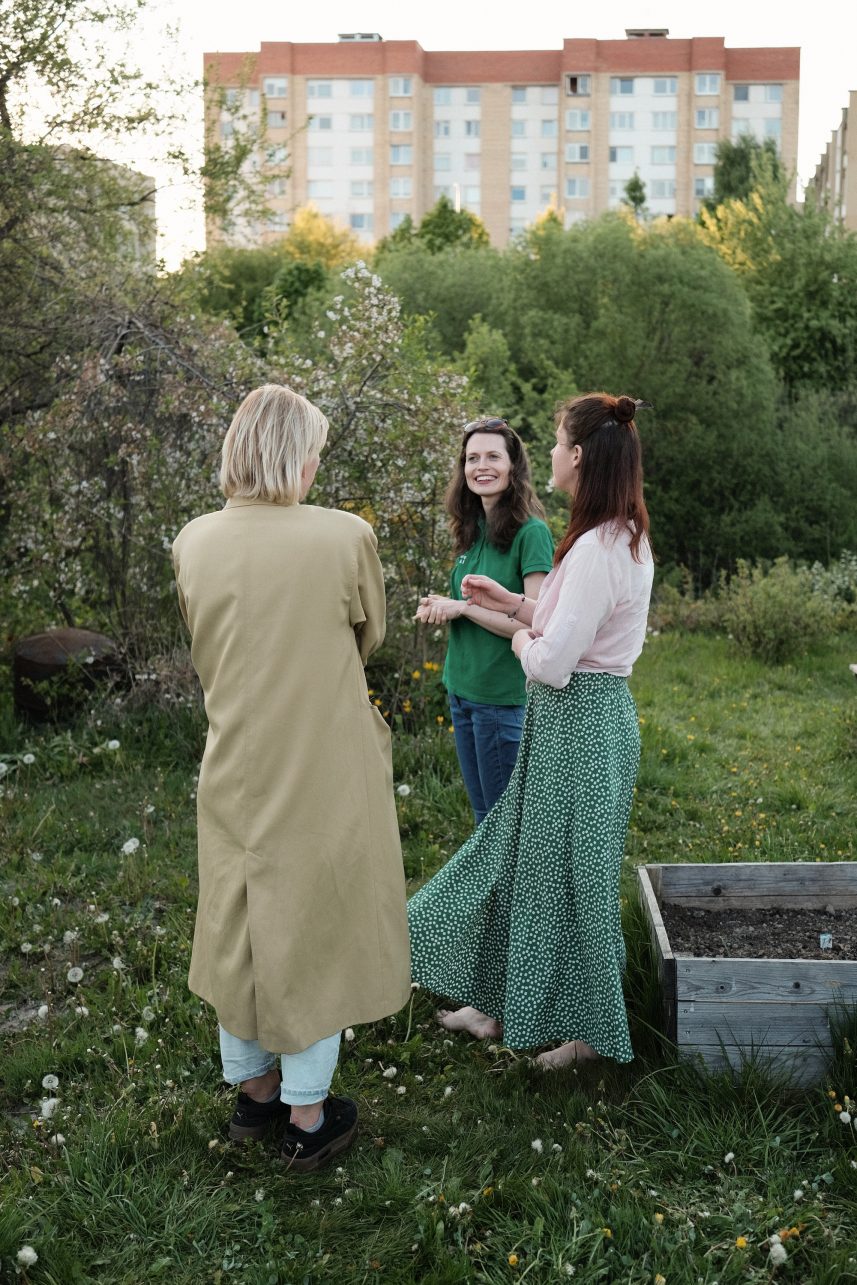 I heard that there are 300 people waiting in line for a bed in a community garden somewhere abroad.
Evelina: People even wait for several years; it's normal in London. We don't have a queue. Here, there are two free raised beds. If someone comes to the seedling exchange at the beginning of June, they will be able to plant the catch immediately [laughs]. As far as I know, the newly created community gardens in Vilnius, Pilaitė, filled up immediately, there was a waiting list, and more beds were installed.
Maybe people who are thirsty for gardening will start moving to Kaunas from London because you can easily get a small patch of land here, even if it's one square meter.
Sandra: I can tell you what I notice in my environment. And I notice that we still have a very strong sense of independence. I will take it, plant it and control it! No one will be able to approach it. Sometimes, I am asked: how do you make sure that others do not pick from your bed? I don't do anything. What difference does it make if a human or a bunny eats the plant? The person then says that there is a difference and others are even afraid that if they get that little patch, they won't be able to protect it.
Evelina: These are not collective gardens in a traditional sense. It is a public place, there are no fences or opening hours. You are always visible, and this is not acceptable to everyone. The women who were the first to start gardening here – one gardener, Genovaitė, mentioned it was 35 years ago – had a very open mind. There were probably several reasons for this. Perhaps, after moving from a rural area, a natural pull to the land remains. But there is also a financial aspect: it was not easy to feed large families, there were no Maxima, and not everyone had a village home or a car. Now that you think about it, seniors are gardening in the micro-districts. Someone from Berlin would come and say, wow, what innovators, who grow food in the heritage area, true visionaries, creators of change in the city!
How much food can you grow in a one-square-meter raised bed? Are we talking more about herbs, side dishes or enough produce to make a full meal?
Sandra: I pick leafy vegetables throughout the season, there is no need to buy salad. Pumpkins last until December. Last year tomatoes also lasted until winter. But I have a few beds. Sometimes, we exchange with the neighbors. For example, Anelė, gave us garlic because she grew a lot. I picked up a couple of bags of walnuts and ate them during the winter. I haven't counted how much I save yet, but it's obviously cheaper than buying tomatoes at the store. Of course, not everything grows. We have pests.
Evelina: We collect about 120 liters of slugs per week.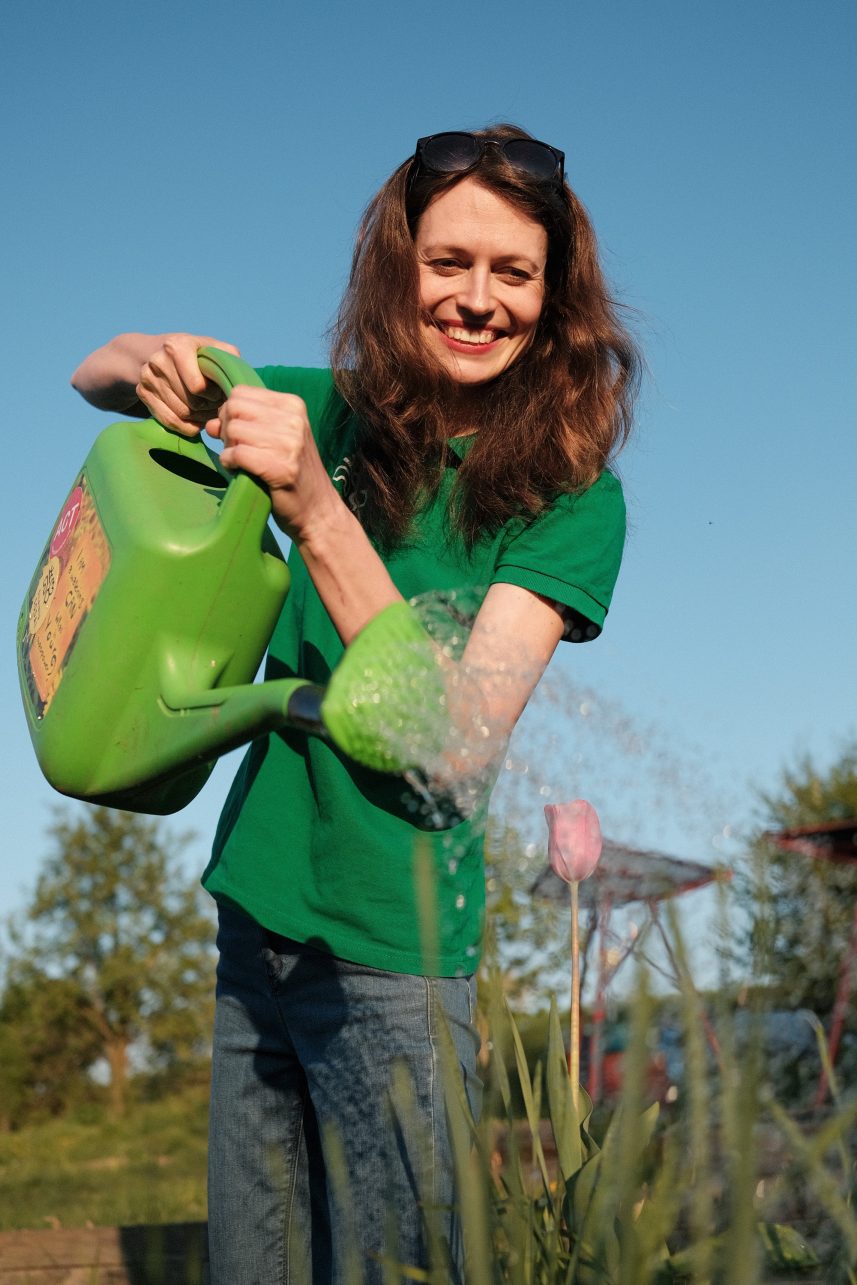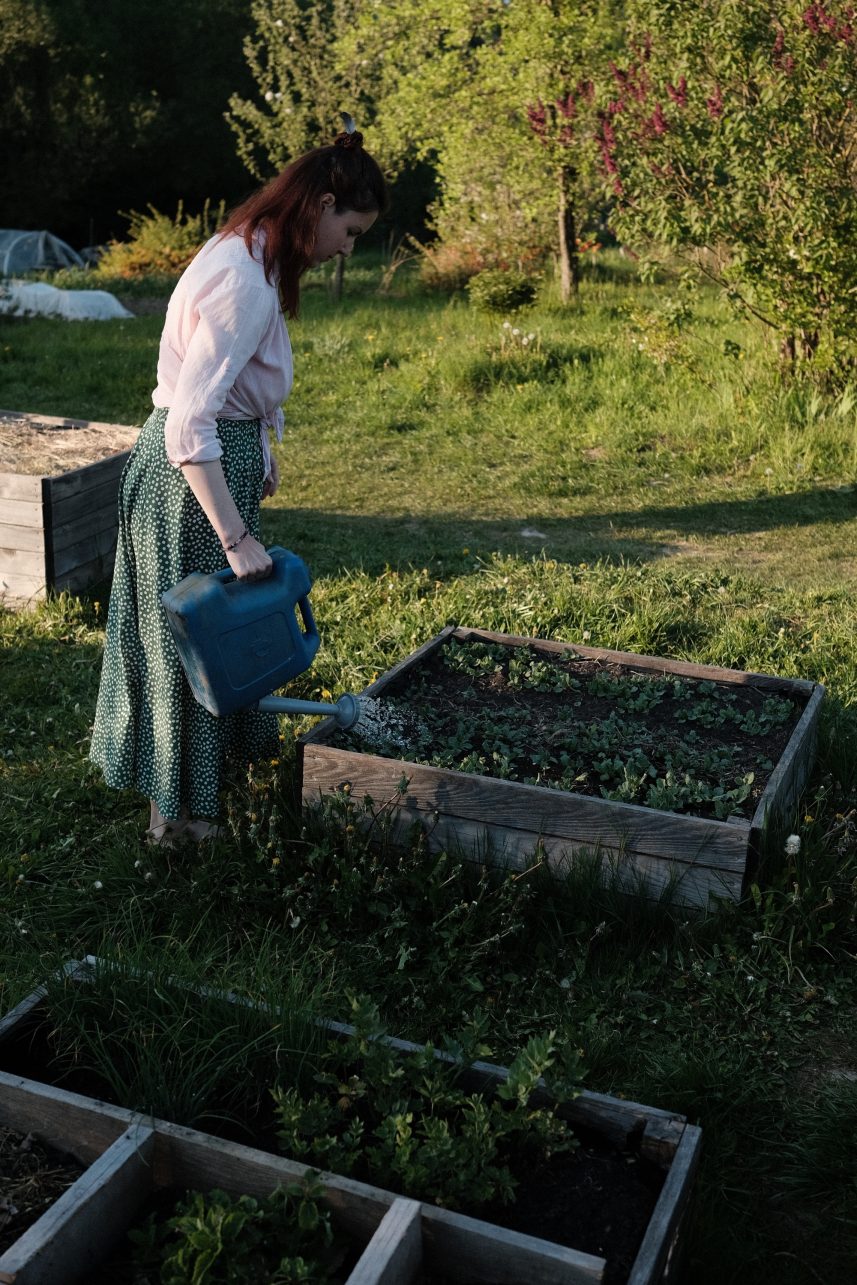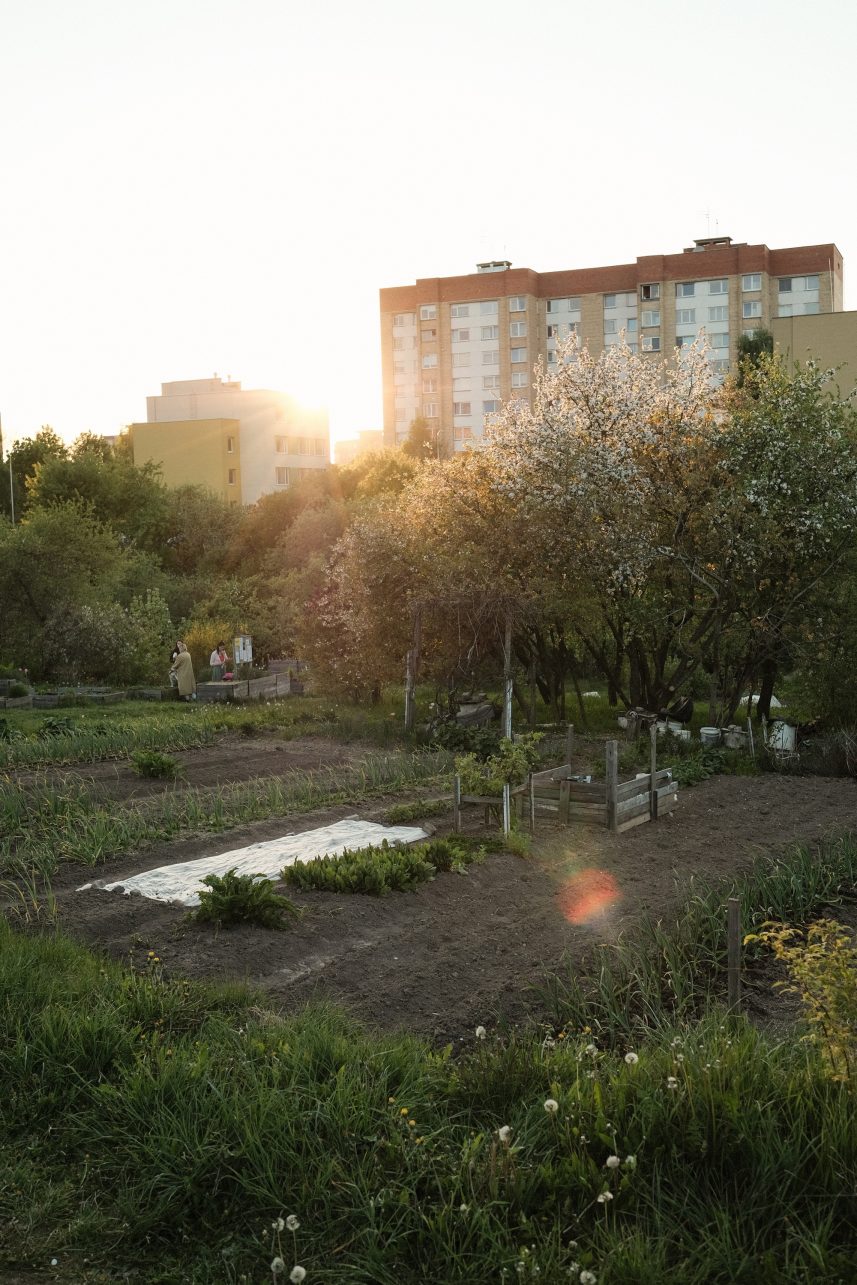 Perhaps the meaning of these gardens should not be measured in money. What does happiness consist of here?
Evelina: I drove here this afternoon and I thought that gardens in general are happiness. Being able to be here is a blessing. You don't have to swing a shovel fiercely to feel the meaning. It is also therapeutic. You feel calm, hear the birds, smell the scents. You rest your eyes. It is very important for psychological and physical health. A visit to a psychotherapist costs about 50 EUR, food supplements and a sports club also cost, not only tomatoes, so in the end that would reach a solid sum. And here you meet people you would never meet in a normal life. Such acquaintances enrich both personal and professional life.
Evelina, you are an artist. How do gardens influence your artistic practice?
Evelina: I'm not sure how to interpret that artistic practice…
Sandra: I can quote my colleague Rūta. She says that while Evelina is doing Facebook Lives or working in the garden, she is making a performance that has been going on for several years.
Evelina: the representatives of Interdisciplinary Artists' Association have been here several times; we keep in touch. Dr. Vytautas Michelkevičius considers these gardens and the processes that take place in them as an artistic practice. It is continuous and works differently. It does not take place in a gallery or in a closed space, but it happens chaotically and unpredictably. We have a lot of fun on the day of the seedling exchange. Everything happens then, all seedlings are planted! If a professional gardener came, they would ask what devilry is this?
Last weekend, when the founding of Lakūnai Gardens took place, I remember that you, Evelina, had planned a specific order in the beds, what should grow next to what, and the women who came planted the seeds the way they thought best. But everything ended well, even new sprouts appeared.
Evelina: Yes, yes, and this is a miracle when the artist-coordinator leaves and the action continues. The pink wild strawberries brought by the neighbours have already taken root and are blooming. I consider this the success of gardens that are not owned by one person. You can make mistakes and experiment – this is the place for that.
Sandra: I can tell you about my experiment. In a couple of beds, I started with very poor-quality soil which I aim to make fertile. From the ashes, one might say. I compost and I layer. Maybe it doesn't look very attractive from a distance, but life is starting there.
Tell us about summer Tuesdays in Šilainiai Gardens. If I understand correctly, people who don't have a garden bed there are equally welcome?
Sandra: When we sat down this January, we started talking about the need to achieve financial sustainability, too. It fits naturally with my other pursuits, which are all about putting humans back into the ecosystem. I have experience working with young people. Last year we planted the idea that we should somehow bring in the local teenagers here. We thought about a camp for younger people, but this summer we will focus on a more general education. The activities will be held twice a month, on Tuesday evenings.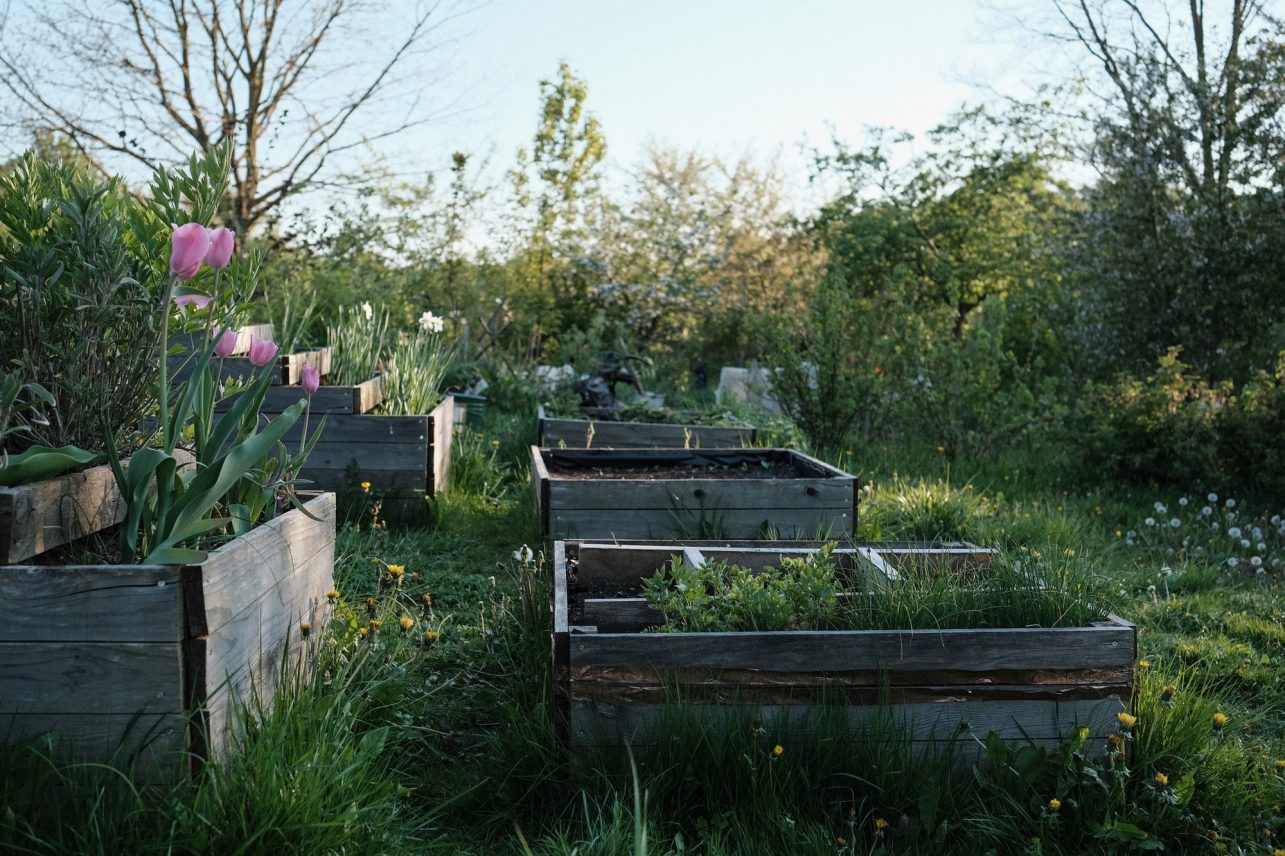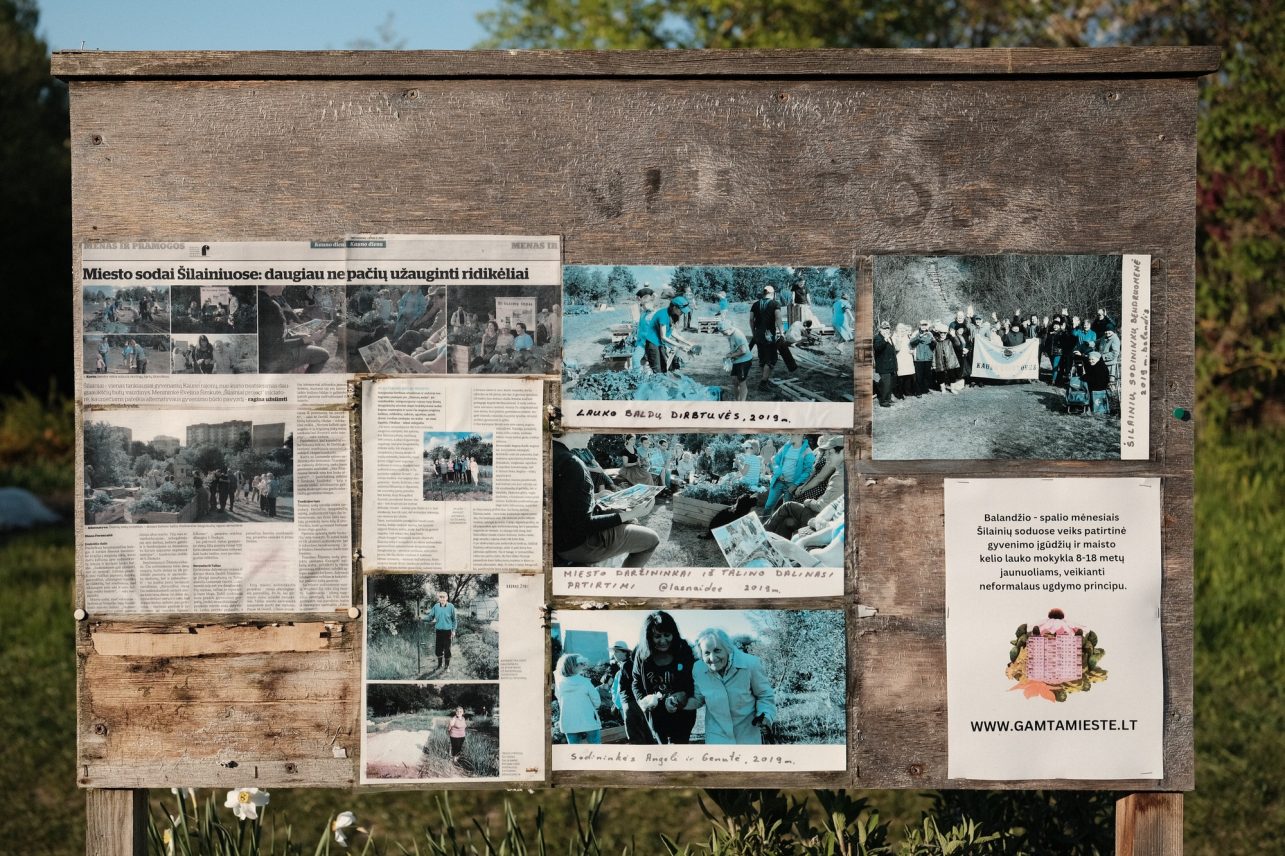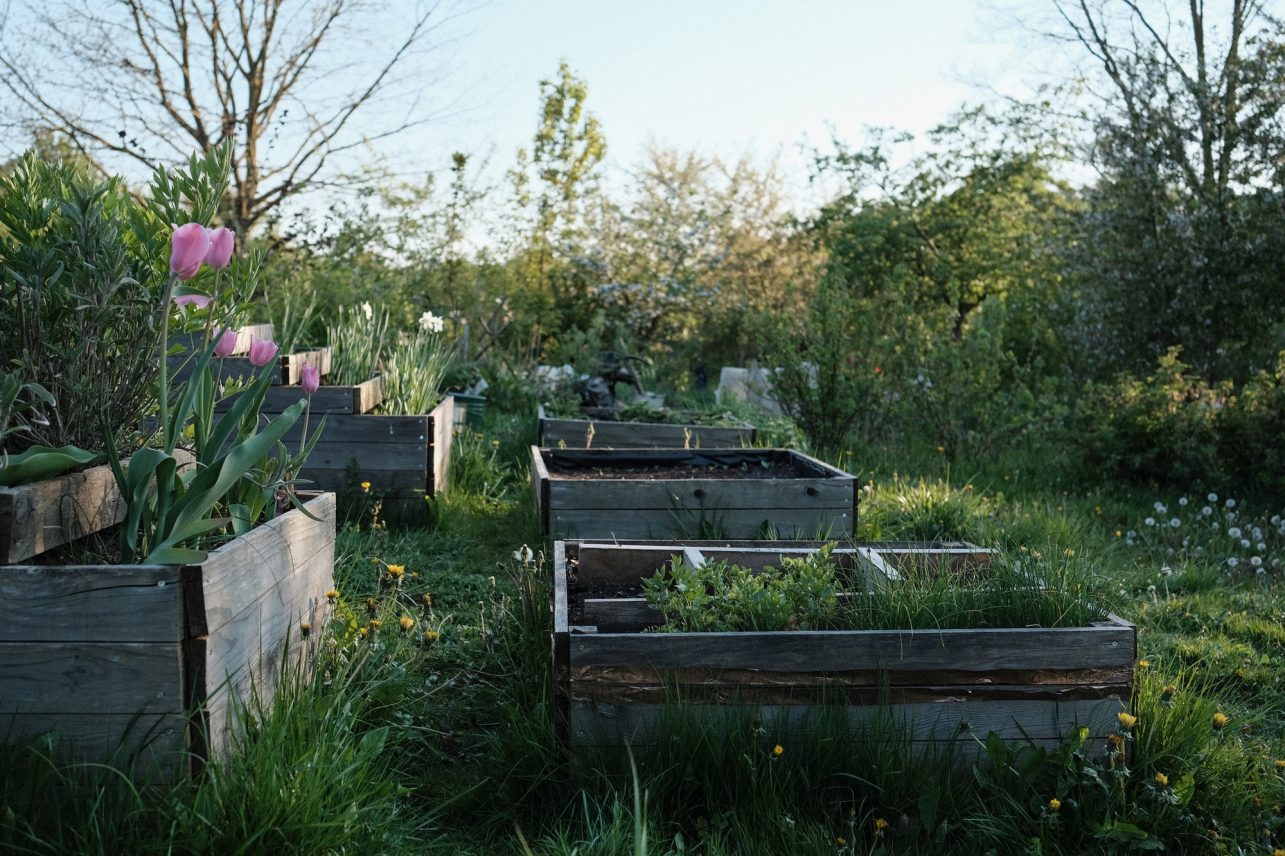 We started with learning from nature. Austė Juozapaitytė teaches about biomimicry, about the fact that human decisions are modeled according to the laws of nature. We wanted to set the tone with this more general look. Then there is a meeting with Mantas Adomaitis, a scientist who studies slugs, which is a very relevant topic [laughs]. After that biologist Laurynas Kaučikas will talk about soil, his colleague Tomas Pocius on July 25 will talk about insects and then everyone will be able to observe insects at night.
Evelina: That Tuesday will coincide with the National Moth Week. It will be wonderful if there won't be any rain but if there will be then we will study invertebrates.
Sandra: There will also be an event about finance. We will have a talk with Viktorija Vegelytė about the food chain and its behind-the-scenes. For example, what is the difference between store-bought vegetables and our own. We will study the cost of a store-bought tomato, i.e., we will consider what it does not have. And we plan to end the season with a landscape designer.
As I understand it, the classes will take place in any weather?
Sandra: There is a saying. If it's raining, would you rather get wet or feel the rain? What do you choose?
Evelina: It's not often that we, while being in the city, have the opportunity to get dirty, wet, and make a mess.
But you haven't buried the idea of camps for children?
Sandra: This year we will look at which topics are more interesting and relevant, the mentors themselves will check the environment, and next year we plan to gather the young people as well, so that they have something to do and also learn that everything begins in the soil and not at the counter; that what we leave in nature comes back to us through health.
Evelina: Our vision for the next five years includes an outdoor school. Non-formal education after school or kindergarten. But we will continue to offer activities for adults and families. It doesn't have to be for children only. For example, the observation of moths can be interesting to all age groups.
Let's talk about the purpose of beauty in gardens. Here, where we are sitting, the raised beds have a really nice combination of daffodils, tulips, even oak trees and simply edible plants. The beds themselves are also aesthetic. Why is this important? Why do you need flowers in the garden?
Sandra: From a biological point of view, the more different species, the better. After all, different insects are attracted to different flowers, pollination takes place, and a larger harvest is produced and that is beneficial for humans. Another thing is that you never know what the summer will be like. If you keep growing the same plants, you may be left with no food.
Evelina: Aesthetics is also important because these gardens are a public place. You want to see beauty and order in the city. And it is desired not only by the visitors but also by the individuals who may or may not allow such a place to exist. By the way, the design of our beds was created by Rūta Lukošiūnaitė, with whom we work in the non-governmental organization Kultūros dirbtuvė.
I will just note that in addition to tulips, the curly parsley also looks fantastic. It was precisely parsley that I discovered last year in a city park in Sweden. So pretty!
There are wild strawberries growing in London and people don't even pick them. Perhaps because they also don't really go mushroom hunting or fishing; there is no such habit.
Evelina: And also, because they don't recognize them. Also in London, I saw blackberry bushes heavy with berries, but the passers-by didn't even pay attention, didn't know they could be eaten. And it happens here as well. We have yellow wild strawberries that people don't recognize and don't touch. By the way, they are very resistant to drought and survive in extreme conditions.
What other curious and tasty things grow here?
Evelina: Quince fruit! The walnut that Sandra mentioned, asparagus, and artichokes (which we will have to check on, to make sure they didn't freeze when we replanted them last year). By the way, we started a new tradition of cooking on the fire. We have already prepared stew a couple of times from what grows here and what survives in Lithuania during the winter. By the way, pumpkins can even be used to make sweets and many other things.
Sandra: Yes, we decided to experiment here as well, to investigate whether we really need avocados that have travelled half the world. It's interesting for me personally, but I also want to show new members that we can make really tasty dishes out of our harvest.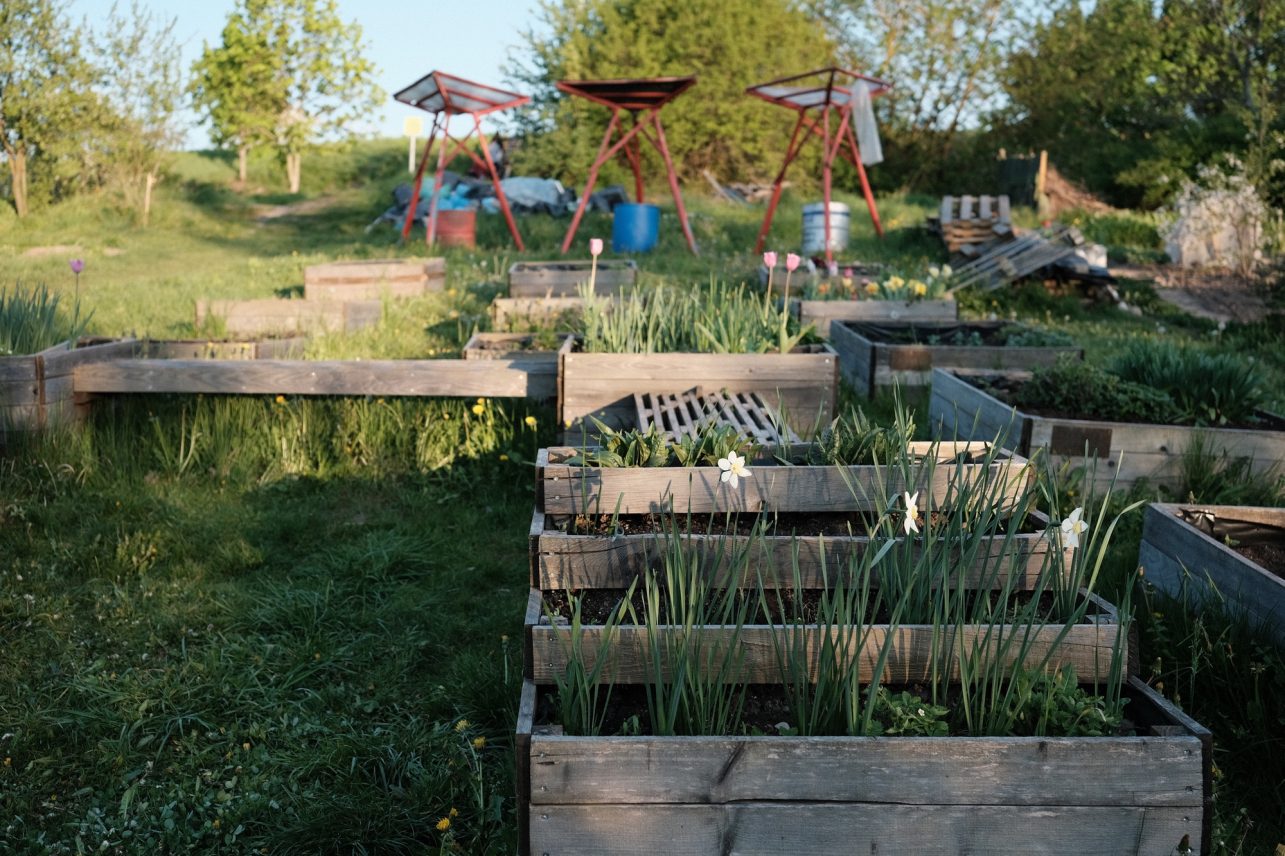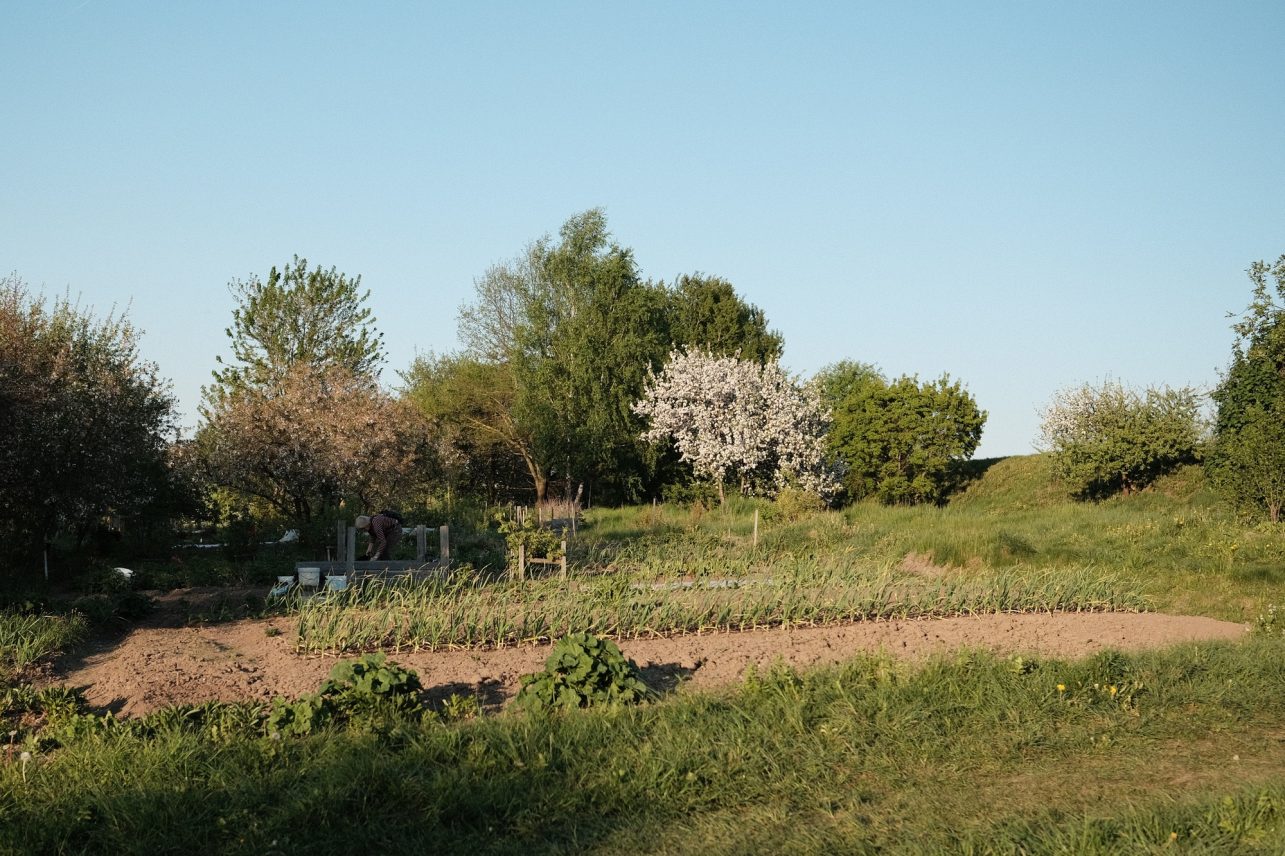 In your opinion, what is needed to have more of such gardens?
Evelina: Land is this peculiar thing. These gardens are aided by the fact that the 8th fort of the Kaunas Fortress is a complicated place, it is both a heritage site and a Natura 2000 area, as bats hibernate here. There cannot be any privatization or construction here, so there are few options for use. Urban gardeners are fine with such complicated, run-down, dumpy places in the city, but they need to know that they can stay there for a long time. I am very strongly against the concept of temporary use because it is not sustainable. For events, and similar initiatives, why not, but let's not do this with vegetable gardens and orchards. Recently, colleagues from Liepaja visited us, they settled in their territory temporarily. The plot is private and will be sold. It complicates the organizational process and does not motivate. We can only now appreciate what we have achieved in four seasons.
Sandra: Animals would help with the recovery of the soil and speed up the processes. One of the mentors leading the education said that he can give us chickens! They eat grass, collect insects, and their manure promotes the renewal of the soil's surface, thus creating compost. By the way, chickens are much smarter than many people think. They are able to adapt to the wild environment and they even sleep in trees. Well, maybe the time will come when in addition to urban gardens we will also have urban pastures.