Barbora Valiukevičiūtė first opened the doors of Juozas Naujalis Music Gymnasium in Kaunas when she was five years old. Since then, the violin has been a constant companion in her colorful life and endless travels. Here's a short excerpt from Barbora's biography: "Her solo and chamber music recitals have been heard by audiences in such world's most famous music halls as Metropolitan Museum Concert Hall, Veronica Hagman Hall, Staller Center for The Arts (USA), Auditorium al Duomo in Florence (Italy), Acros Fukuoka (Japan). Her stage partners were Ieva Jokubavičiūtė, Raul Rodriguez, Leon Livshin, and Miles Masicotte. B. Valiukevičiūtė is a guest lecturer at Accademia d'Archi Arrigoni (Italy), Universidad de Cuenca (Ecuador), Colombo University of Arts (Sri Lanka). She previously taught Merit School of Music (USA) and Barenboim – Said Foundation (Palestine)."
One day I got a text saying, "Hi, I just came back from Sri Lanka." Interesting! I don't know anything about music in Sri Lanka, or about the traces of Lithuanians in Sri Lanka. I also knew very little about Barbora before this meeting, and now I am already planning a trip to Vilkija this summer.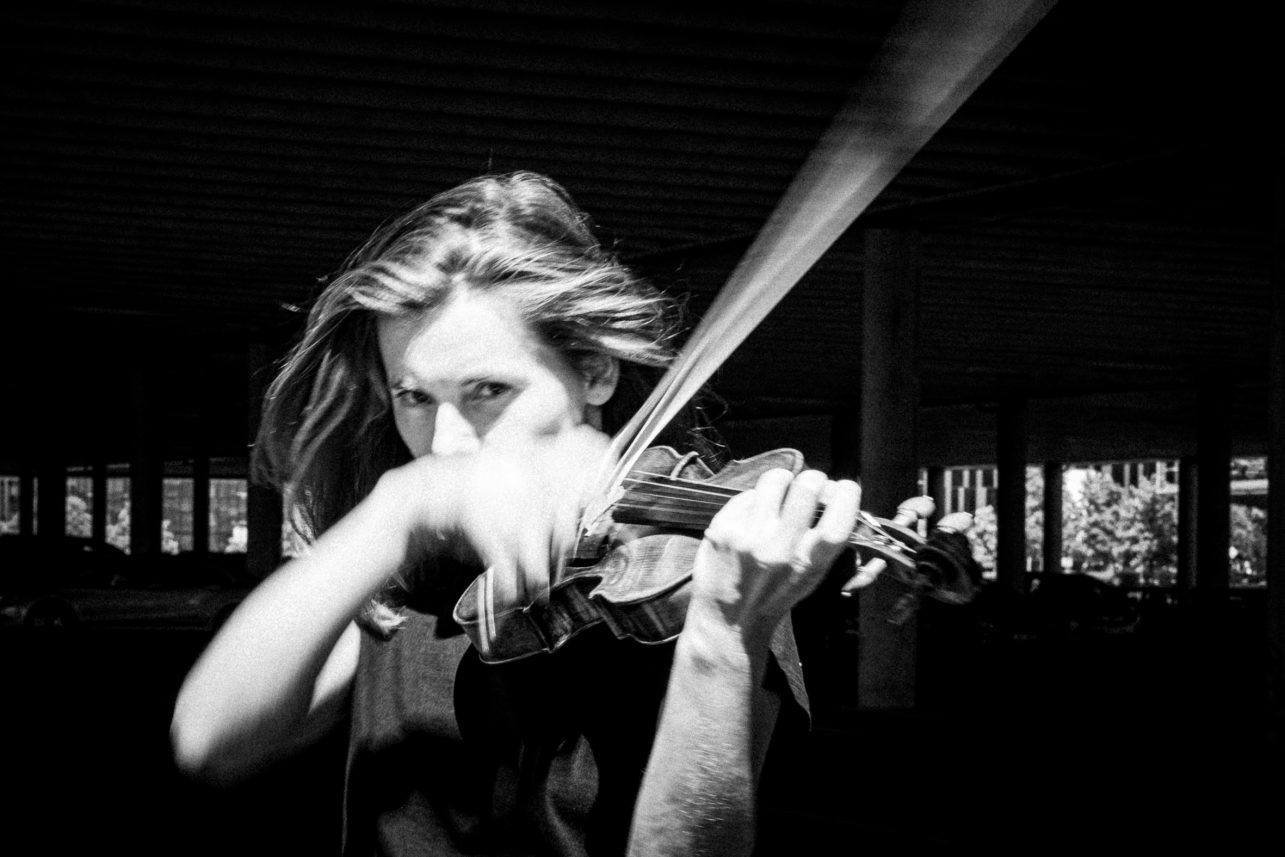 Barbora, you are a true Kaunasian of the world!
After graduating from Naujalis, I first found myself in Italy, where I also learned the language. I left primarily for my profession; I started those trips when I was sixteen. I just wanted more of everything. I didn't even consider staying in Lithuania to study. I lived for ten years in the US. I studied and worked there. Then lived a bit in Berlin, France, and Lanzarote at my sister's. I returned to Kaunas and realized that I needed to move to the forest. I bought land in Merkinė and I am building a house there. And I have already started organizing concerts.
And are you finished with your studies, or do you believe in the idea of lifelong learning?
I believe in that idea. Especially in the last couple of years, I feel a strong desire to learn. I keep looking at university programs, wondering what else to choose. For example, now I am taking a conducting course in Italy! I go there every month. In Sri Lanka, I was offered to conduct an orchestra, and I realized that I need to go deeper into it, I want to see a wider picture. I wonder how the orchestra is managed. The violin is great, but I would compare it to restoring a small flower in a large painting.
How did you find yourself in Sri Lanka?
The classical music culture in general is a product of economic development. In Asian countries as well. It is growing rapidly in India and Sri Lanka. I heard that two new piano factories have recently opened in India! In the US, two have just closed. I have been to Sri Lanka twice. For the first time, before the pandemic, a friend decided to travel there for business. Another friend and I joined him to get warm (laughs). I wrote for one orchestra because I decided that it would not be enough to just do touristy things. They immediately organized a masterclass and a concert for me. I spent two intensive weeks there, giving lectures, conducting courses for young people, and workshops for children. We dreamed of continuing this every year, but the pandemic adjusted the plans; we worked online. And I have recently returned from my second stay in that country.
It is a very interesting experience! As I said, I had to conduct. The fifty-member orchestra consists of children and teenagers who do not have a strong musical education. But they play really well! I don't even know of such an example in Lithuania. The people I interacted with in Sri Lanka often have two university degrees – in the exact or natural sciences and in humanities.
Sri Lanka is the size of Lithuania, but its population is over 22 million people. I visited the capital Colombo and the cities of Kandy and Galle. Colombo is a bustling city. Kandy is a centre of culture, literature, painting, and other arts. Galle, located on the ocean coast has a distinct trace of Dutch colonialism, for example, impressive forts. Many foreigners live there.
Although you said you're not a fan of simply being a tourist, did you still find time for it?
Finding friends made exploring the country a little easier. White people are often viewed as walking ATMs, which is not very fun. In order to feel good, you need thick skin and maybe even earplugs. But, of course, I managed to visit several galleries and learn more about their extremely rich textile industry. Sri Lanka is a very musical country! Its traditional culture has things that we could also hear in India. The singing is stunningly beautiful. The traditional look of the musicians is also very beautiful. Remembering the topic of your issue, I did not hear many performances on the street, but had the pleasure to attend some salons. They are established in private homes. I was with the parents of a student, they invited me for lunch, and after the meal her father played music – it was truly beautiful. If I had more time, I would have loved to study their traditional music more.
I had the opportunity to visit the Lionel Wendt Centre for the Arts. It is a theatre and gallery in Colombo named after the famous early 20th-century pianist, photographer, and critic. His father was British, and his mother was Sri Lankan, and the artist resembles our Čiurlionis with his wide range of talents and early death.
Do you think you will return to Sri Lanka?
Yes. I hope to work in India as well. Of course, it's always a pleasure to play in Italy and France, where they have deep classical music traditions, but it is equally fun to perform in those countries where this culture hasn't existed for so long. It's new, but it excites people. It's even hard to describe the emotion they experience at concerts. I can share my experience and learn a lot myself. With the orchestra, we played both Handel and music written in Sri Lanka. I got to know their modern composers. We even started talking about a joint festival.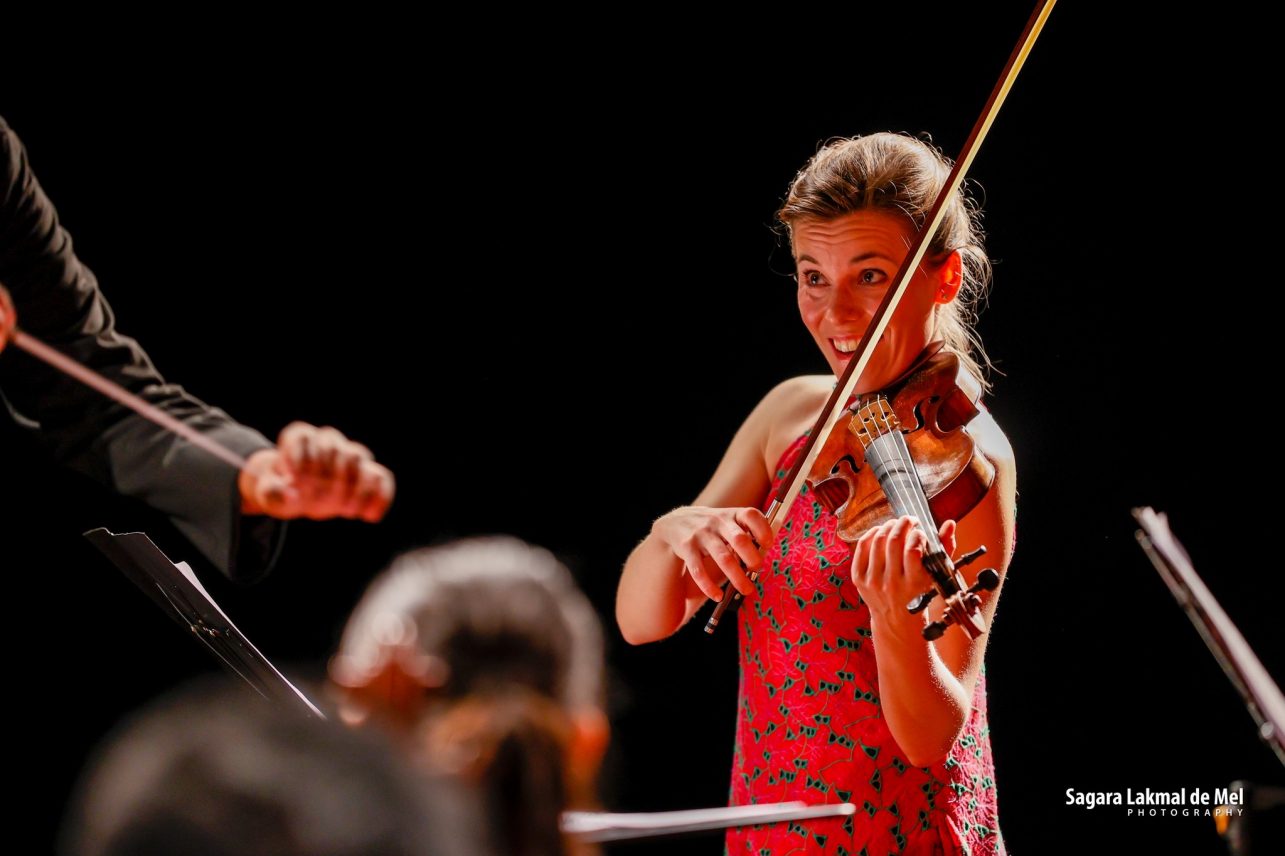 Which Lithuanian artists do you like?
My favorite composer from Kaunas is Zita Bružaitė. She was my teacher in Naujalis. Of course, also Žibuoklė Martinaitytė, Raminta Šerkšnytė, Vidmantas Bartulis. Also, I am always happy about Lina Lapelytė's achievements. Asmik Grigorian as well. Wherever I go, people have heard of them.
Those who opened the magazine that has "street music" written on the cover, might be surprised to see an interview with you. But Kaunas 2022 page, which introduced you as the ambassador of the European Capital of Culture, has this quote: "The clanging of rainwater grates in Laisvės Avenue. Even now I sometimes dream that I am walking over them and hearing the clanking sound of metal. Sometimes, I would bump into people because I wasn't looking where I was going. I had bumped into Šustauskas, or into an actor Dainius Svobonas once. Kaunas has always been a city of interesting and charismatic characters for me." That's beautiful! And how about now, when the rainwater grates have been replaced with much narrower ones during the reconstruction, how does the city sound to you? In general, would you say Kaunas is a vibrant and musical city?
I would say that throughout Lithuania, the music that flows from restaurants to the street is a cacophony. A single urban policy for music in public spaces would be useful here. Or why do we need a singing fountain in the city centre? And if it already exists, why doesn't it play Zita Bružaitė or Giedrius Kuprevičius' music? He is such a Kaunasian, after all! The first thing that comes to my mind when I think about the musical background of Kaunas is Kuprevičius and the carillon. It is a great symbol of the city.
And is the city musical? Yes and no. It's nice that we have traditions, I mean, the big festivals: Pažaislis, Kaunas Jazz. But! If today, on Friday, I wanted to sit somewhere and listen to jazz, where would I find it?
You could go to the Theatre Club on Thursday. It is a new initiative.
Well, there you go! But there could be more. Maybe in Romuva, in theatres. Regarding traditional spaces for music, I would have some comments about the work of the philharmonic, starting with the layout of the spaces. Also, the repertoire, marketing, and salaries. I feel it needs some change. I am not surprised that many young musicians simply leave, because they do not see their future either in this institution or in the musical theatre.
Would you rather organize something of your own in Kaunas?
Yes. I organized a series of concerts in Kačerginė with Kaunas 2022. Kačerginės serenados (The Serenades of Kačerginė) were music and art events in the open air. Mozart, baroque music, poems by Dante and Mačernis. It was truly beautiful. I plan to continue the idea this summer, if it works out, not only in Kačerginė but also in Vilkija. By the way, if you wonder why in Kačerginė, the answer is simple: the concert had to take place in Zapyškis but it was cancelled and we had to quickly find a new location. Lukas Alsys, who previously worked in Kaunas 2022 team – now in Kaunas district municipality – suggested we "jump" across the Nemunas, where we were warmly welcomed. And then I remembered that my great-grandmother is from Kačerginė!
I would gladly organize more events in non-traditional spaces. For example, at the railway station. It wouldn't have to be silent there [after the interview, Barbora rushed to the train and sent me a photo. She was greeted by a choir at the station, so it seems that manifesting works!].
Aren't you worried, as a professional musician, to perform in places that are not suitable for that?
Since when does classical music have to be reserved only for the chosen ones who can afford to come to prestigious halls? Music is meant for people to enjoy. Of course, the repertoire must be professionally selected, and conditions are provided, but there is no need to close or limit it. After all, it is education.
Have you ever played simply on the street without any stage or roof?
Of course, in Italy, and not only. Sometimes, you are going somewhere on a warm summer night with he violin, and someone asks you to play something, and you play. I have played at a restaurant in Vilnius. A guy approached me and said, "I want to propose to my girlfriend, could you play something?" I started with Bach's melody, but it didn't fit, they wanted something more cheerful. And she said yes! I have played on the train because someone simply asked. Because why not? It's nice when people are interested, and not afraid to make contact.