You have definitely seen Remis Ščerbauskas' photographs. If not in exhibitions or on the Internet, then simply on the street. The last year was seen off with his series of photographs depicting Kaunas 2022 event organizers, artists, participants, and passersby sending kisses. I recommend looking at and purchasing his album Territory Kaunas/Street Photography. Remis shared some of the photographs with our magazine. Looking at them, you start hearing music in your head. It was a great opportunity to finally get to know each other better. Our paths often cross and this time, we sat down for a coffee at one of those intersections.
"Over ten years," the artist modestly answers the question of how long he has been photographing the street. He claims to combine this pleasure with a walk. It is not clear which action inspires which, but the camera is always by his side. Remis, who lives in Žaliakalnis, tries to devote at least an hour to the process every day but admits that sometimes things get chaotic. Although he tried his luck in the residential neighborhoods, it appears that the most successful routes lead to where people can be found in large numbers, therefore, you will usually see him on Laisvės Avenue. Maybe not early in the morning, maybe not during the all-distorting festival, but more at lunchtime, on an ordinary day, when the scenes created by passers-by and their steps or hand gestures are the most abundant. There is also a chance you won't notice him because Remis is not one of those, who arm themselves with gigantic lenses and provoke passers-by. Like the people captured in his photographs, he is also always in context. The photographer's message to street musicians is, "Please do it a bit quieter. Volume does not guarantee quality." According to him, this culture competes with noise and that's not attractive. It's not the sound itself and its volume that makes you pause, but the melody. We speak here about the context again.
Like many other people interviewed in this issue, Remis notices that the streets have changed after the pandemic, and he is sad about it, "I miss the people who used to fill the void, liked to have a conversation, brightened my day. Well, at least they remained in the photos." Although faithful to his city, Kaunas resident follows street photography around the world. "It used to be sad to see a lot of colors in them. Perhaps my black and white photography is justified by the fact that there are fewer colors in Lithuania, you can't play with them." He tells us that he likes to examine those shapes and colors when he goes abroad to photograph. "Vibes are better there, as well as relationships between people."
I asked Remis to tell me why he sent me these particular photographs when I asked him to look for the city's rhythm and melody in his archive. There is a photo of an elderly woman standing next to the advertising stand promoting a concert. She is like an artist that has something to say, she makes you look at her. Another photo is of a man, who is hammering a bollard. It speaks of the constant noise of the city center caused by endless repairs, construction work, and cleaning work. All this, in the artist's opinion, drowns the city. "I don't see the city in any other way anymore. If you go to Laisvės Avenue and nothing bothers you, you feel surprised."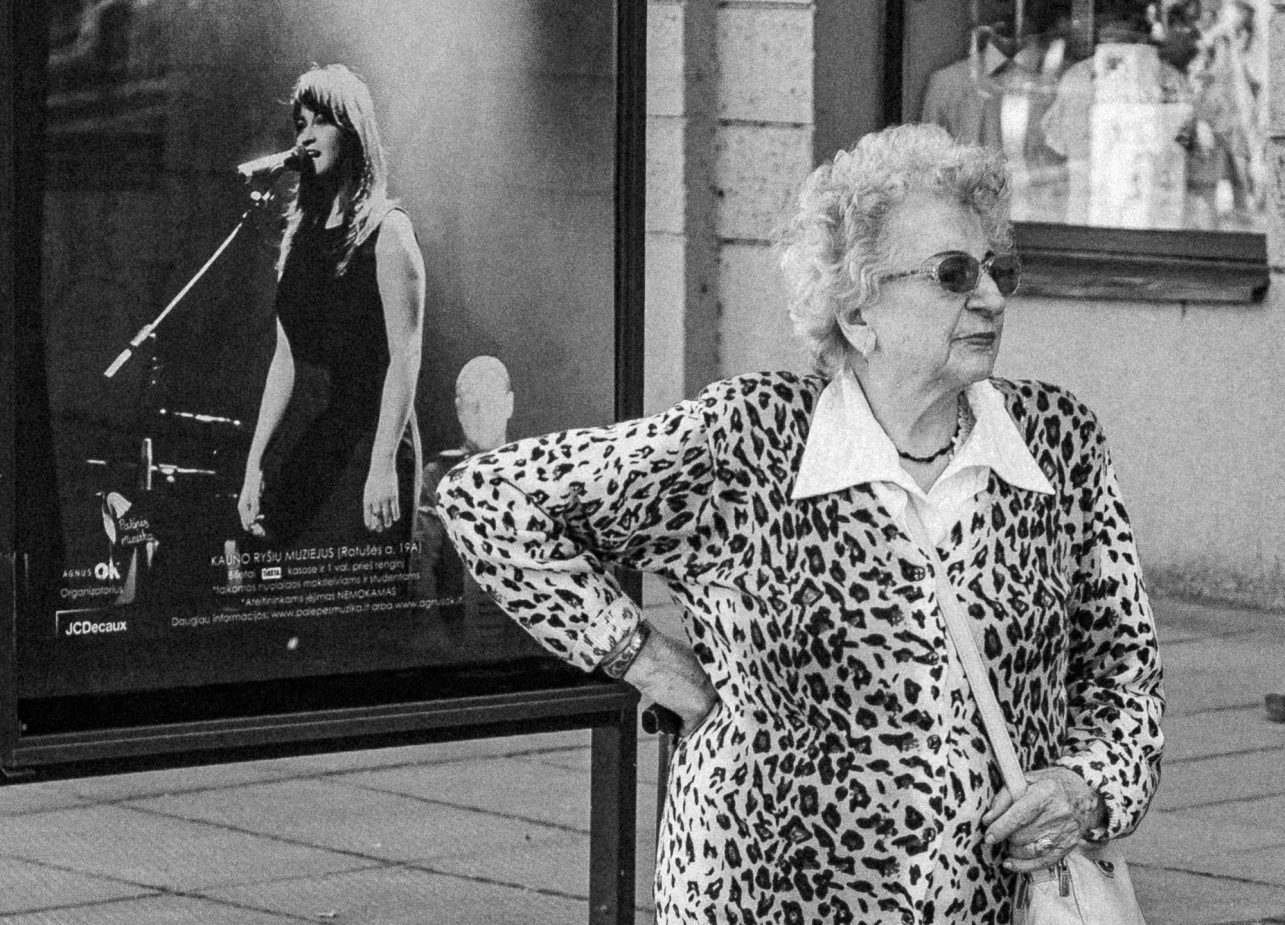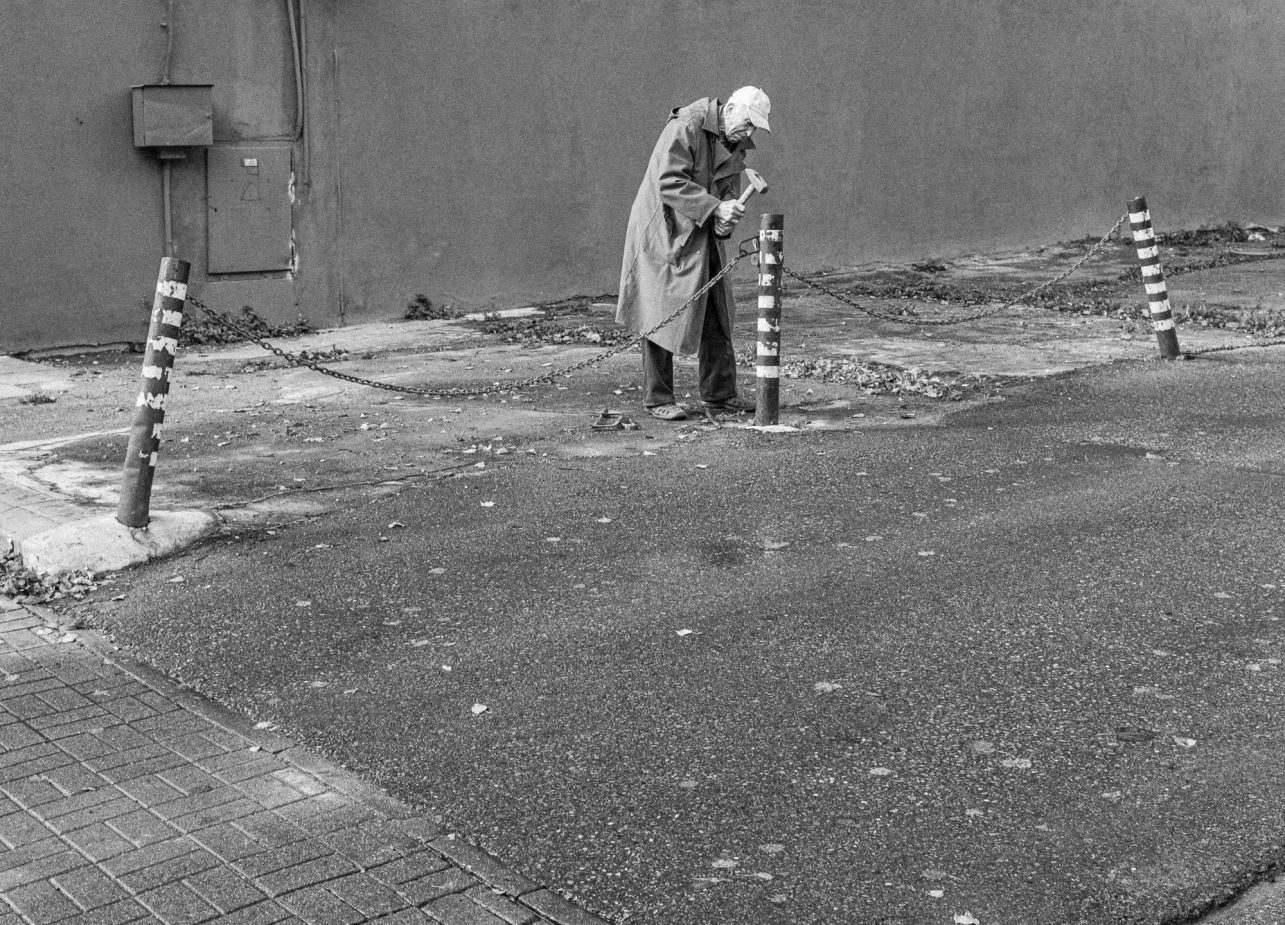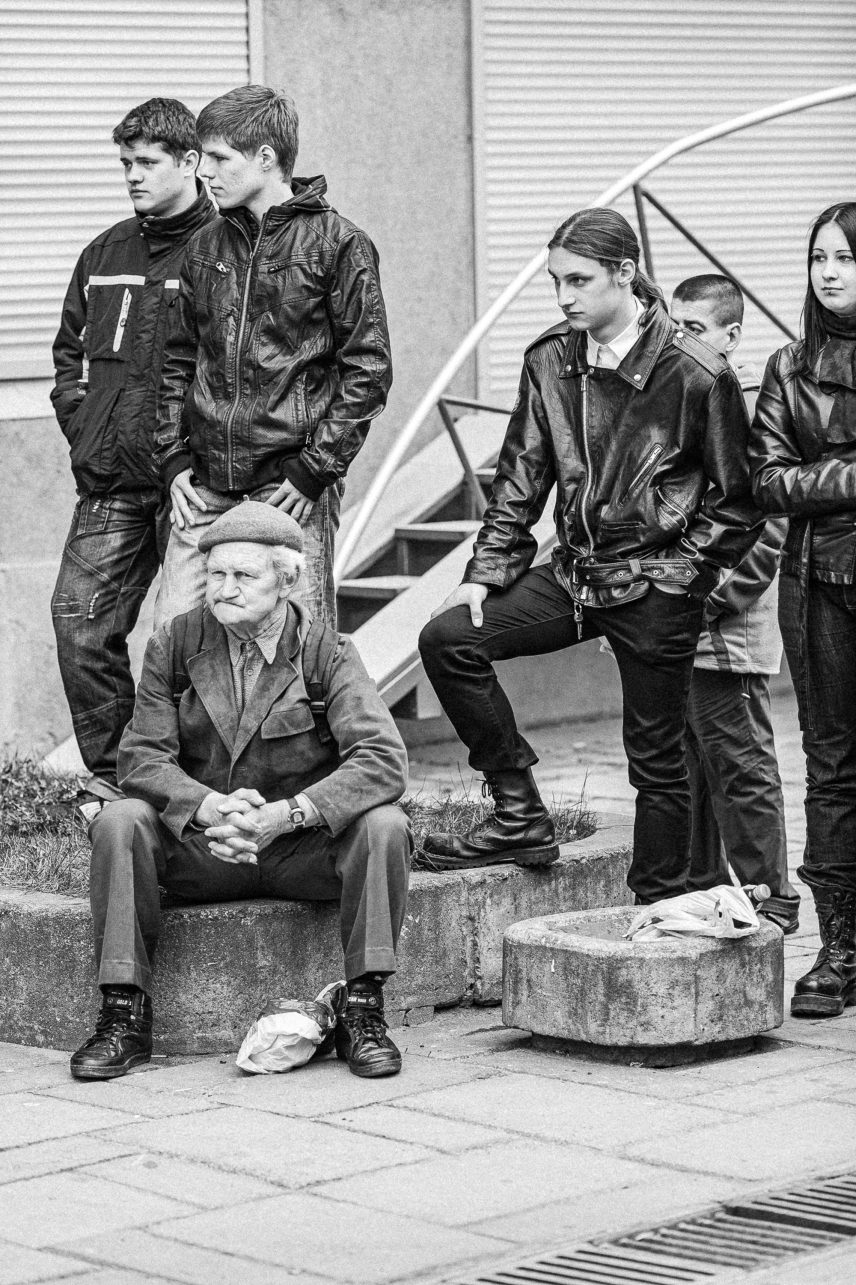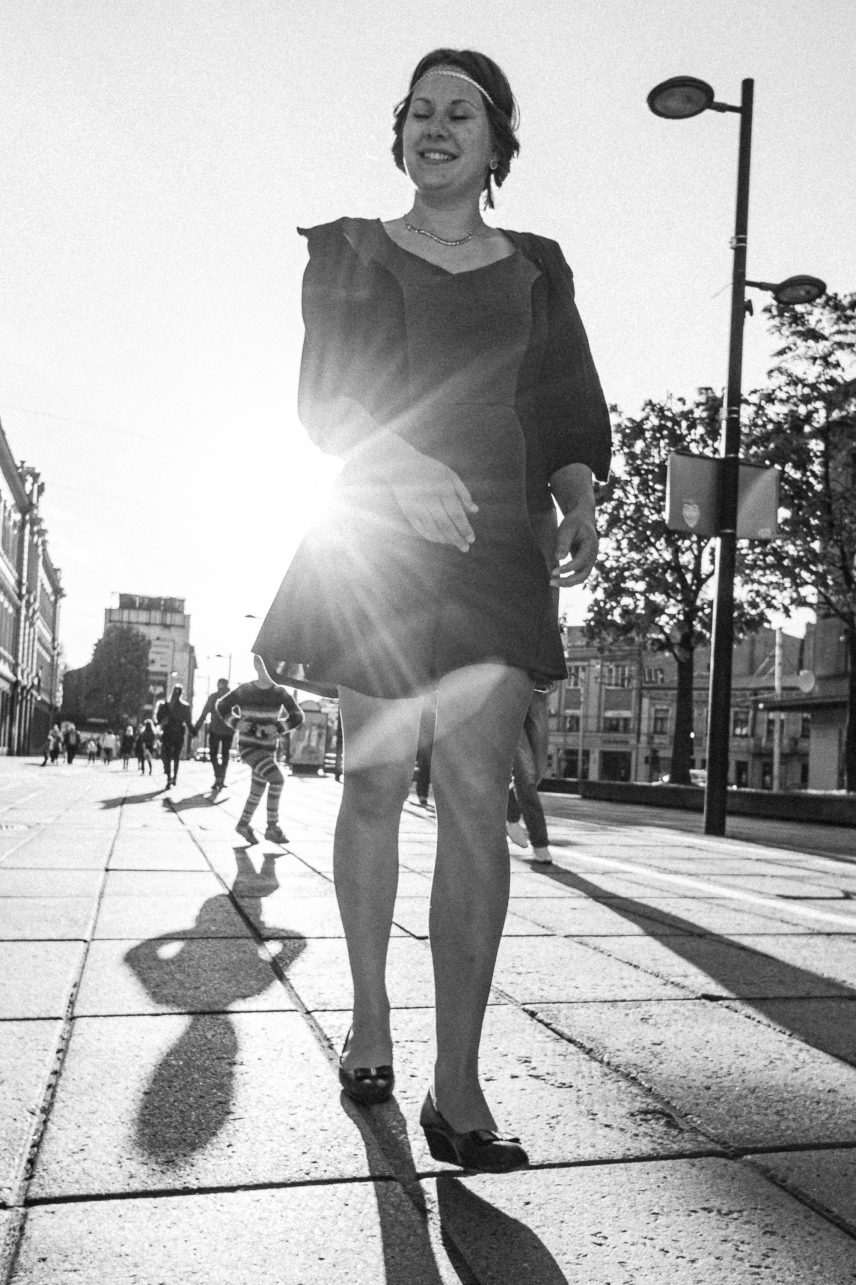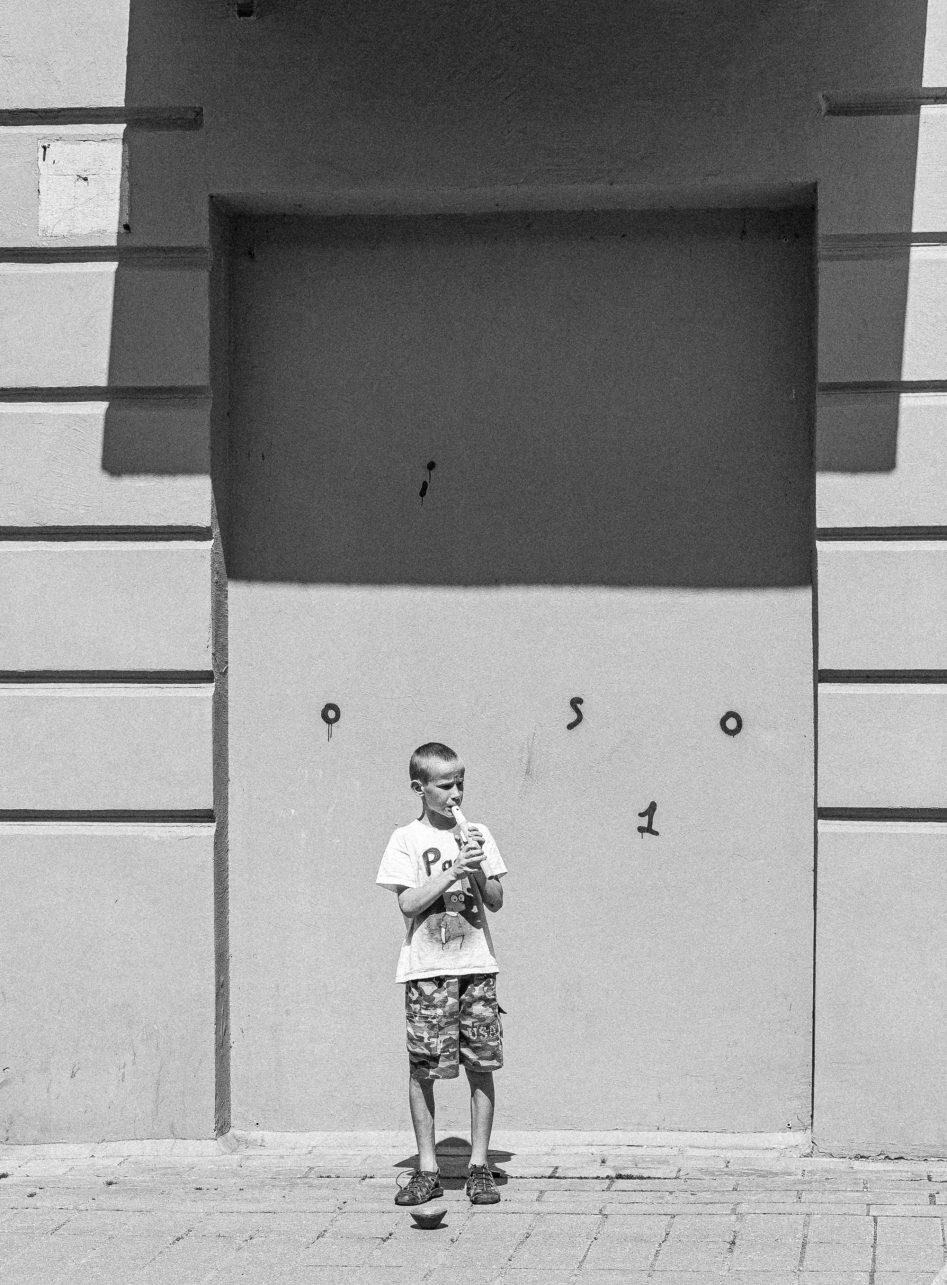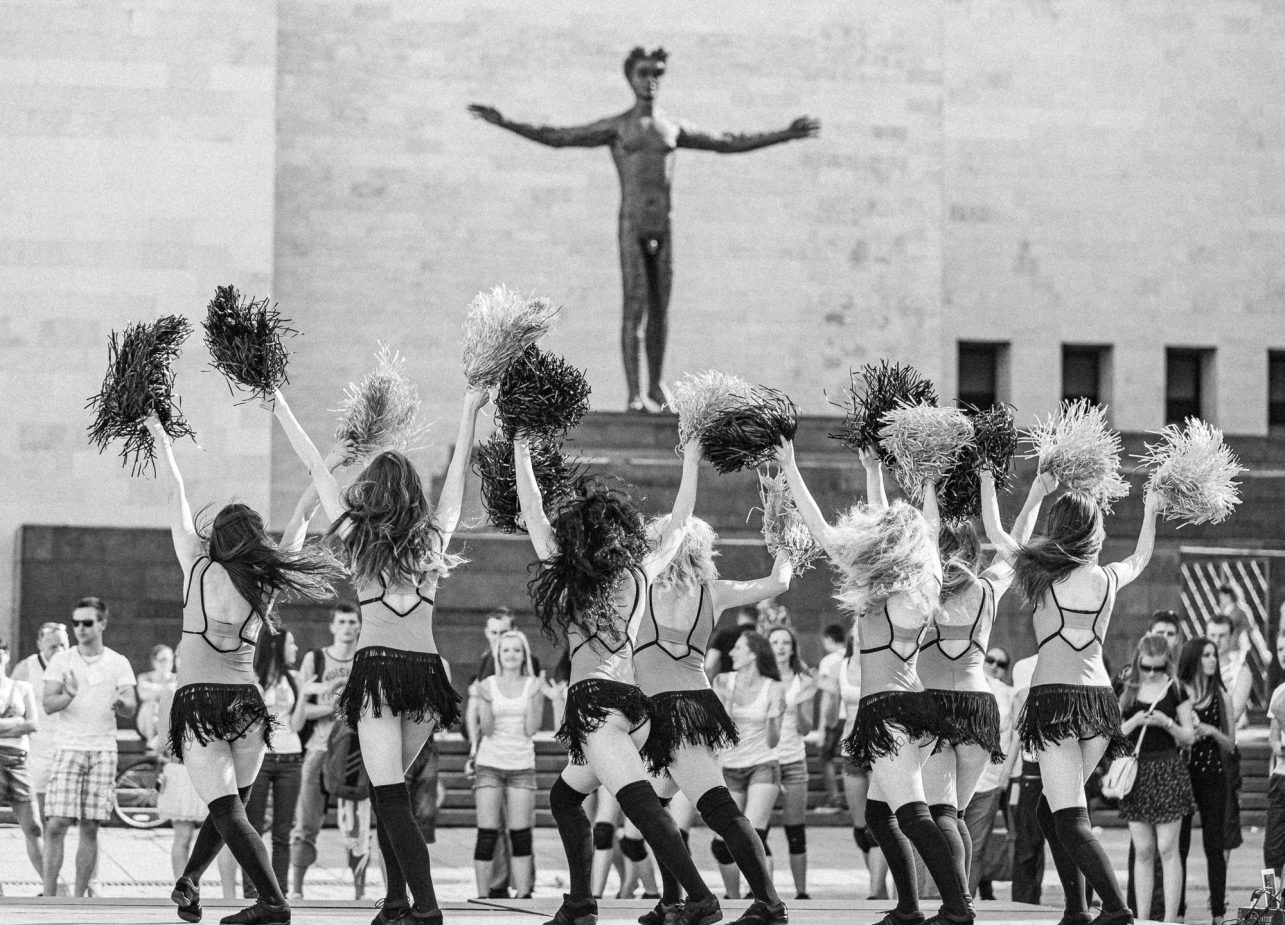 One woman recognized her husband, who was dressed in a stylish biker leather jacket that he has been wearing for many years, in Remis' photograph that features a crowd of people, who were most likely spectators of a concert or some show, at his exhibition. The contrast is also interesting. There are metalheads but also an elderly man with a plastic bag. Another moment captured by Remis is a tribute to Petras Mazūras' sculpture Man next to M. Žilinskas Art gallery. "From what I've heard, the journey of this sculpture was not that easy. The author had to convince the municipality that a naked man is suitable for this place, therefore, it seemed – well, maybe somewhat comically – that this dance performed by girls was dedicated to him." A smiling woman is just the best music, wouldn't you agree? And the tag in the background of a boy playing a fife resembles musical notes. This photo is maybe ten years old.
Music is very important to Remis. Funk, jazz, especially from the 70s, jungle, drum and bass, hip-hop, electronic and world music. Almost all the genres, perhaps only excluding metal. He jokes that he only plays his camera and is not good with other instruments. Remis currently has a small Fuji that he has become attached to. "When you go out without a camera the day feels weird. It does not happen often but there are definitely moments that were missed."