Although many people recognize this grey-bearded man not only in Kaunas but also in other Lithuanian cities, there is almost no information on the almighty Internet about him except a short mention of an old talent show and an appearance on a TV comedy show. However, Vytautas Vaičekauskas is a living street music legend, who has been entertaining passersby on various streets of the country for several decades.
There is enough energy for everything
When I arrive at the beautiful surroundings of Kleboniškis Forest, I am immediately welcomed by a man, who could never be mistaken for someone else. He has long hair, which is a bit unusual for an elderly man, and a luscious beard. The house where we are meeting was built by Vytautas himself. He not only designed it but also laid the bricks and put up the roof. He jokes that this is the kind of person he is, without one profession, a creator. You can throw anything at him, and he will make it work. He is, indeed, handy.
"He is like a walking history book, and probably everyone knows him. I am even jealous of such passion and memory, even though my father is approaching 90 years old. He has been driving since 1963 until now and he hasn't had a single accident. At the end of the year, we compare the numbers and I'm still surprised that I travel less per year while working than he does in retirement," the son of the street musician says as he joins us.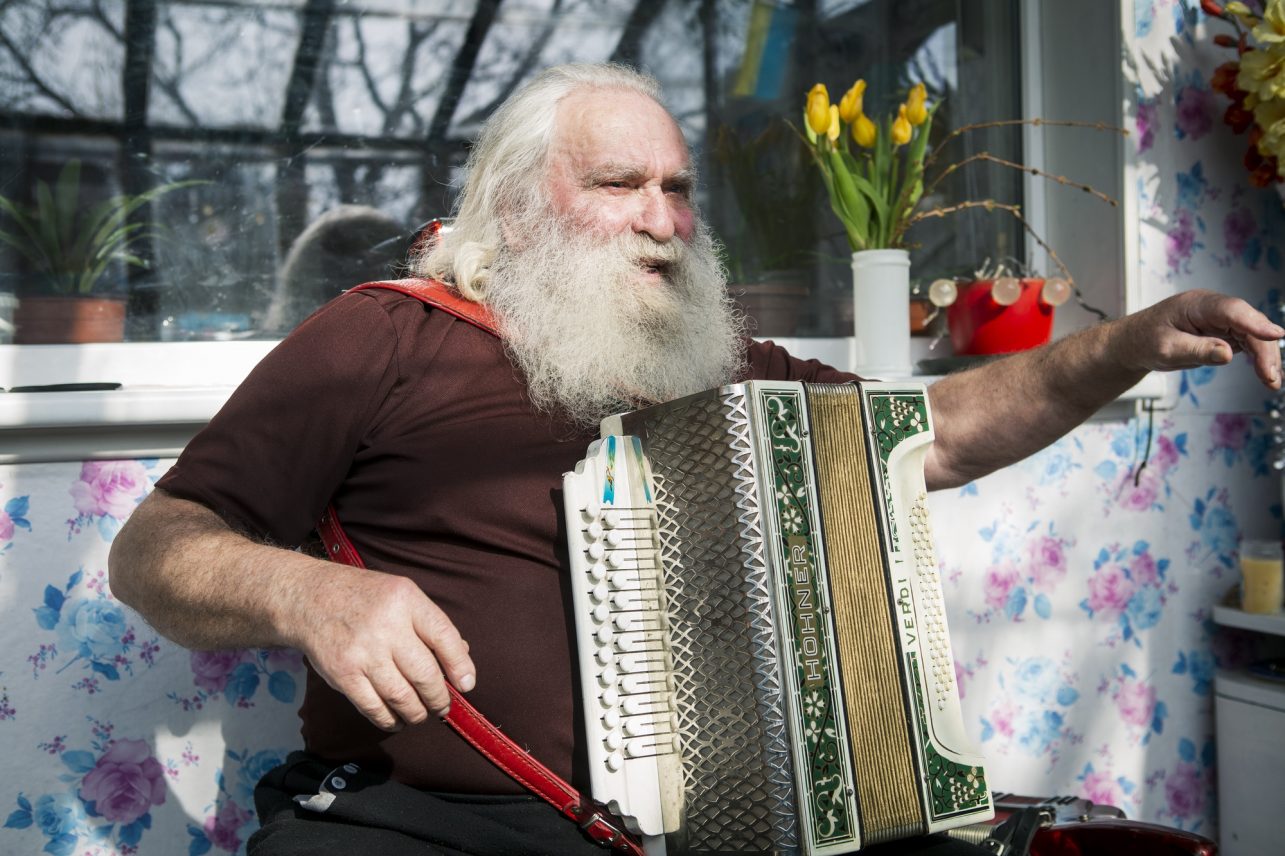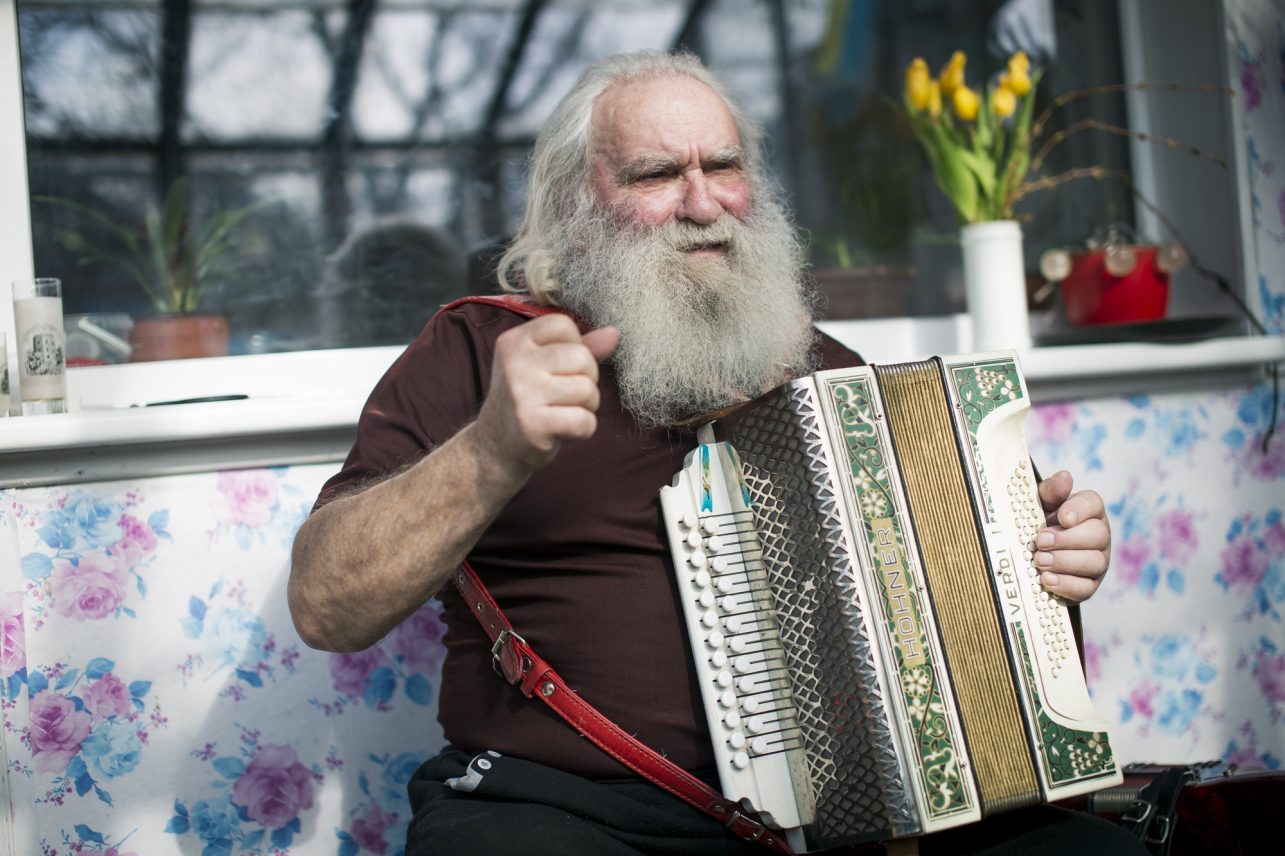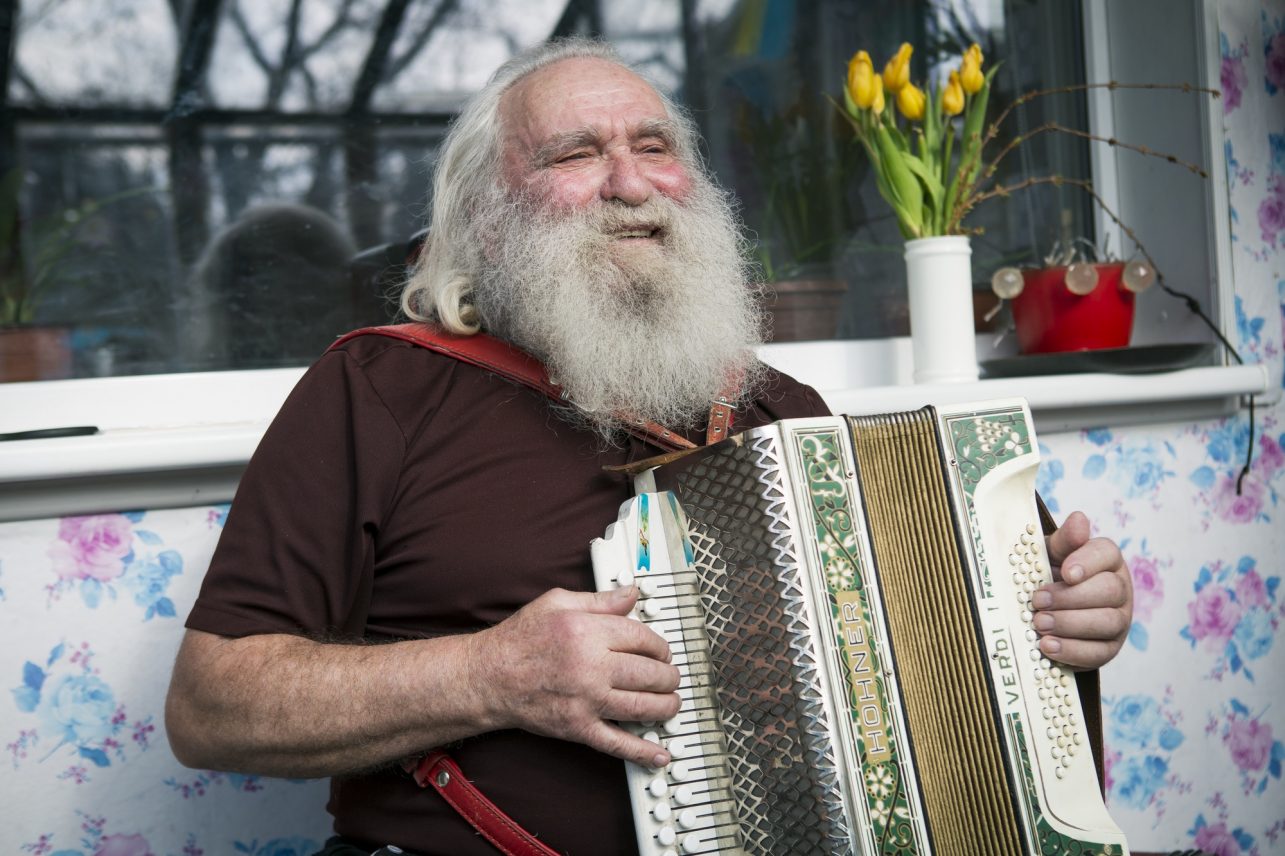 Family tragedy
Vytautas Vaičekauskas grew up in Čekiškė and graduated from school in Aukštadvaris. Both his parents and grandparents lived here; all affected by the 20th-century occupation tragedies. His grandfather who lived to be a hundred years old had spent three years of the First World War in a German prisoner-of-war camp, but he was extremely educated and even knew several languages.
Vytautas probably inherited the handiness and engineering vision from his father, who was one of the builders of the Vytautas the Great (Aleksotas) Bridge. He was physically very strong, able to do even the most difficult jobs, exceeding the norm three times. Unfortunately, he was affected by Stalin's evil regime and spent 10 years in Vorkuta.
Lying to move to Kaunas
"I would have stayed in the country, I like the farm, the oxen, the bees. But I got irritated by the government and I ran to Kaunas. In those days, you were not allowed to move so easily, you had to stay in your region. Well, I lied a little bit. I knew that half of Ariogala belonged to Raseiniai and the other half to Kaunas. So, I told them that I am from Ariogala, but the one on the Kaunas side and so then, right after my military service I came to the factory that produced parts, the one that stood behind Inkaras," Vytautas recalls.
Later, after working as a driver for some time, the musician became an apprentice at P. Zibertas plush factory. At that time, he found love, established himself, and had children. As he says, he was successful everywhere, both at work and in the family, because he was responsible, did not drink, and was never lazy. After leaving the factory, he worked at a meat combine and then at a union-owned synthetic fiber factory. However, no matter where he worked, he always had a hobby – music.
Playing since the war
When asked how he discovered music next to so many technical jobs in his life, V. Vaičekauskas repeats several times that it all started with the war. As they retreated, the Germans gave him a harmonica as a gift, and since then life has become inseparable from sounds.
"I got this tiny one and it gave me so much joy. I played non-stop. My grandmother used to complain that I was making everyone's ears hurt. Later, when I grew into a young man, I started picking apples and digging potatoes. I managed to save up 400 rubles and bought a concertina. I was still very young, maybe 12 or 13 and that concertina was very heavy. But no biggie. After a couple of months, I was already playing at parties and dances in my village. That is how I started to earn money from music as well", the well-known Lithuanian street musician says.
A few years later, he got his hands on an accordion, which Vytautas plays to this day. Teacher Jonas Suchockis, who returned to Lithuania after graduating from St. Petersburg Conservatory in 1912, helped Vytautas improve his accordion playing skills. Their village band consisted of 3 to 4 musicians: a clarinettist, a violinist, an accordionist, and a drummer.
He says that his children also helped with improving his skills. His older son was visited by J. Gruodis Conservatory teachers and Vytautas would listen attentively, ask questions and seek knowledge. By the way, the son inherited his father's love for music. He is currently a member of the oldest Lithuanian folk dance collective Suktinis.
A hobby that helps to earn money
The interviewer estimates that during his life he had to attend at least 300 weddings across Lithuania. It became an important part of the Vytautas family's income both during the Soviet era and in the already independent Lithuania. And although it seems that the job is easy, all you need to do is enjoy the music, Vytautas reveals that it is actually hard work.
"You attend your actual job all week and then travel somewhere and entertain people for three days non-stop. You sleep for a couple of hours, then grab the accordion and continue playing. When you come back on Sunday, you sleep and get back to work and family life," the musician explains.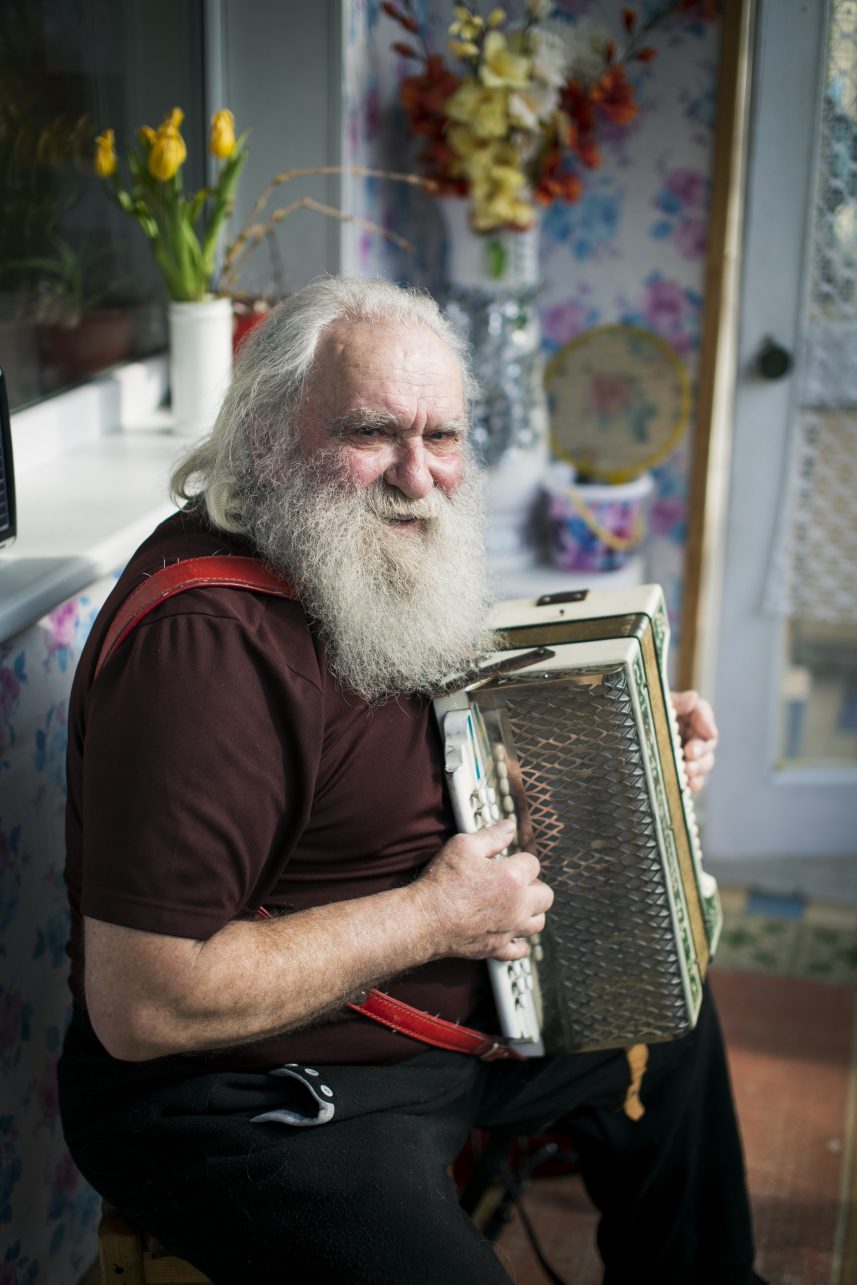 The gray-bearded man says that he started playing on the street when Lithuanian litas was reintroduced as currency. Once, after talking to another street musician near one of the churches in Kaunas, he found out that the man earns as much as 3,000 litas during the summer, despite not being a very skilled player.
"I acquired such information, and times were difficult so that same summer I also earned 3,000 litas. It was enough to go to Palanga several times. Later, during the Sea Festival, I would make up for two pension payments. Some drunk Russians would come, feel nostalgic about the sound of the accordion, and then forgetting the coins, start looking for banknotes," Vytautas continues the story.
Problems on the street are rare
Neither age nor fear of being robbed stops Vytautas from performing in public spaces. During his nearly 30-year street career, he was only robbed once.
"Last year, I was playing and then I see how one of the listeners just grabs my bills and starts running. But one cool guy was filming my performance at the time and recorded everything that happened. Even the TV covered this story," Vytautas smiles.
Law enforcement never harmed the street musician either. Anyway, he says that the relationship between them was always friendly and gentle. Last year in Palanga, someone called the police on him at 3 a.m. but they only smiled and suggested he go elsewhere because the woman who called them was known to the police and unpredictable. It is better to play next to a night club since there are more people there after dark.
"There was another incident in Kaunas. Someone from a nearby cafe which plays electronic music called saying that I was disturbing them. A couple of young officers got out of the car, shook my hand, and wished me to continue entertaining people with my music. I thought I was getting a fine, but I received compliments."
No intention to stop
Vytautas only goes out to play about 20 times a year because this is the only time he can spare and there is no shortage of activities. Most of the time he can be seen in his yard in Kaunas. His favorite places to play are next to St. Michael the Archangel's Church or the fountain. Sometimes you can meet him in the Urmas trade town where he plays at a flea market.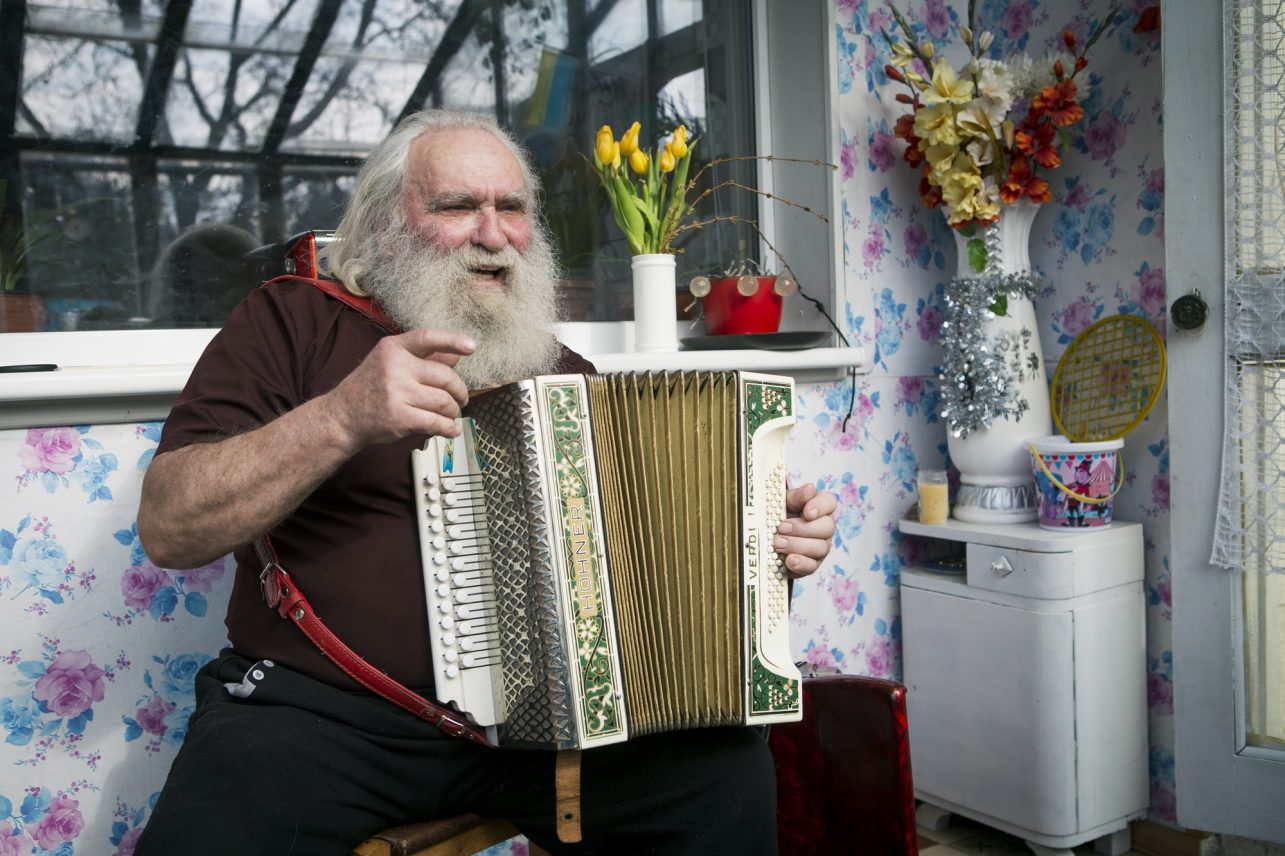 The musician also recalls the annual Smelt Festival as a good place to perform. He has played there during the night more than once. However, these long-lasting performances have taken their toll. Long, sleepless nights, poor diet, and tension raise blood pressure, so now he is more protective of himself. After one such festival, he ended up in the hospital.
In addition, he got some problems with his hand – perhaps from playing in cold temperatures in the winter – thus he had to miss the Kaziuko Fair, during which we had this interview. The ever-positive Vytautas has no doubt that physical therapy will soon help him recover and he will be able to return to the streets.
"I just need to take care of my health and I'll be back. I would say the more I do it, the more success I receive. Last year I reached a record and earned a solid amount during the March 11 celebrations in Kaunas. I took home one and a half of my pension in just a few hours. You cannot stop if this is how music affects people," Vytautas concludes the conversation.