Browsing through VIELA collections, I caught myself meditating. I was mesmerized by symmetrical silhouettes, calm colors, and sculptural compositions. The idea quickly came to mind that such an experience could be called meditation, something that balances out the fast fashion. This clothing brand is created by designer Joana Rožkovaitė, who made her first dress during her studies. These are clothes inspired by wandering around the city, architecture, sustainability, and sensitive observation of the environment. In the interview, Joana repeatedly mentioned other values important to her: care, longevity, and love. The latter is most evident in VIELA's wedding dress collections. This autumn VIELA returns with some news: the first collection for men.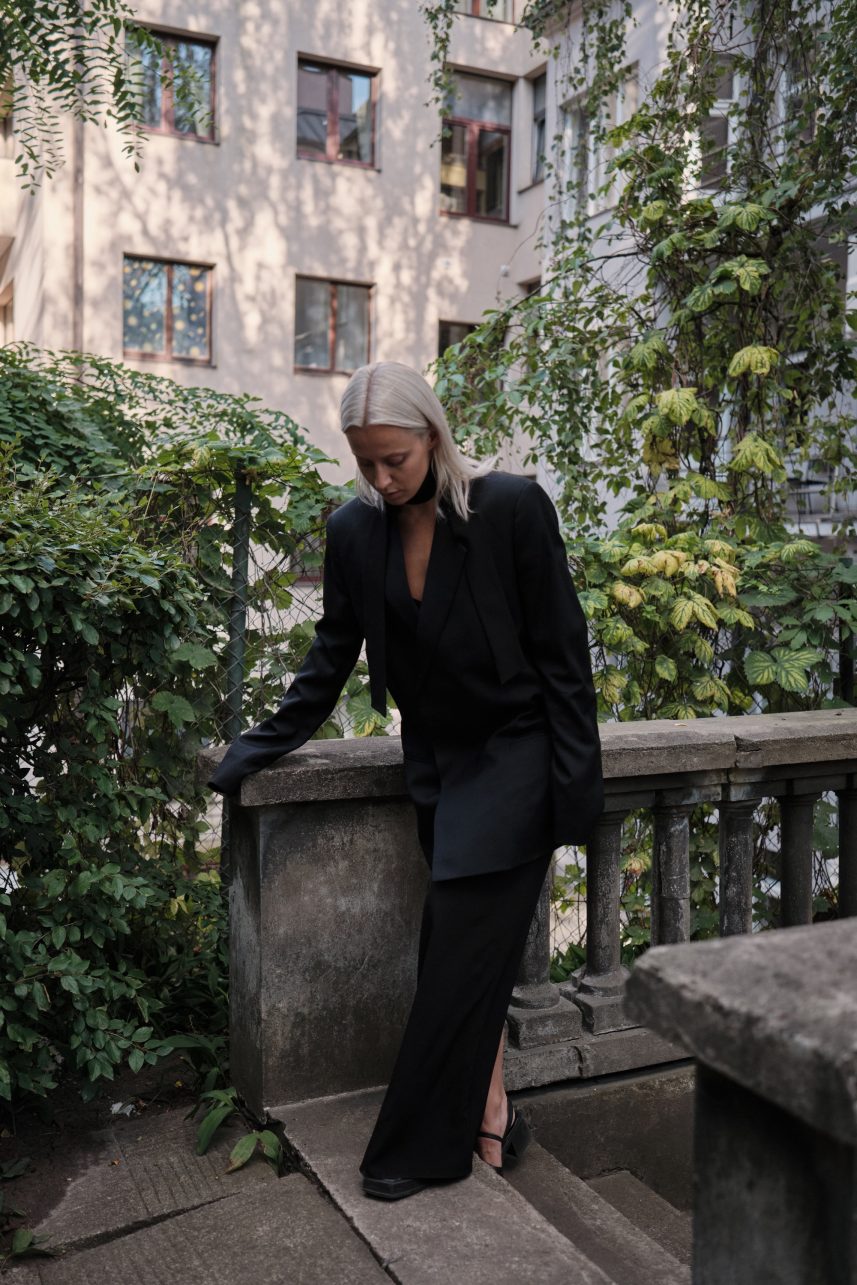 Joana, tell us how you got into fashion. What motivated you to start VIELA?
I became curious about fashion while still at school. I could say that my first impulse came from the Vogue magazines of the 1990s, where I discovered the collections captured by the photographers Peter Lindbergh and Helmut Newton. At that time, I enrolled in Lithuanian Philology and Publishing studies at Vytautas the Great University. Language and literature have always been extremely important to me, and it seemed that texts would help to solve the existential "riddle" more easily and provide direction in everyday life. I remember we analyzed a poem by Henrikas Radauskas and one line had the word wire in it that somehow stuck with me. Long hours analyzing texts, and lectures on Lithuanian language grammar and accentuation required considerable discipline, but attention to clothing kept returning to my mind. I am sure that if some thoughts keep returning, there are reasons for that. So, after about half a year of studying, I decided to create a classic dress, an utterly minimalist silhouette, with a scarf. During the first try-on, I was taken over by a new creative and bold feeling that thoroughly answered the original question of curiosity. That was how I decided to try and launch the first limited edition collection that was made to measure only because the ideas of sustainability and exclusivity have always been relevant to me.
The clothes you create radiate peace, looking at them I thought that it is a union of fashion and meditation, maybe we could even invent a new word for it: fashinacion. Light fabrics, sculptural silhouettes, soft colors, and harmonious whole are the features that characterize VIELA's collections. How did you discover your own style?
Although one of the first ingredients in building a brand was curiosity, I was well aware of how responsible this step was, especially living in a world of abundance. I always wanted the design I created to have no expiration date and create a connection with the person who orders it. Just like in the beginning, today I continue to focus on the search and conceptuality. For me, minimalism is the most open language for my audience. Sculptural properties, geometric shapes, and calm tones seem simple at first glance, but it is through these components that I aim to show the construction, functionality, and durability of the design.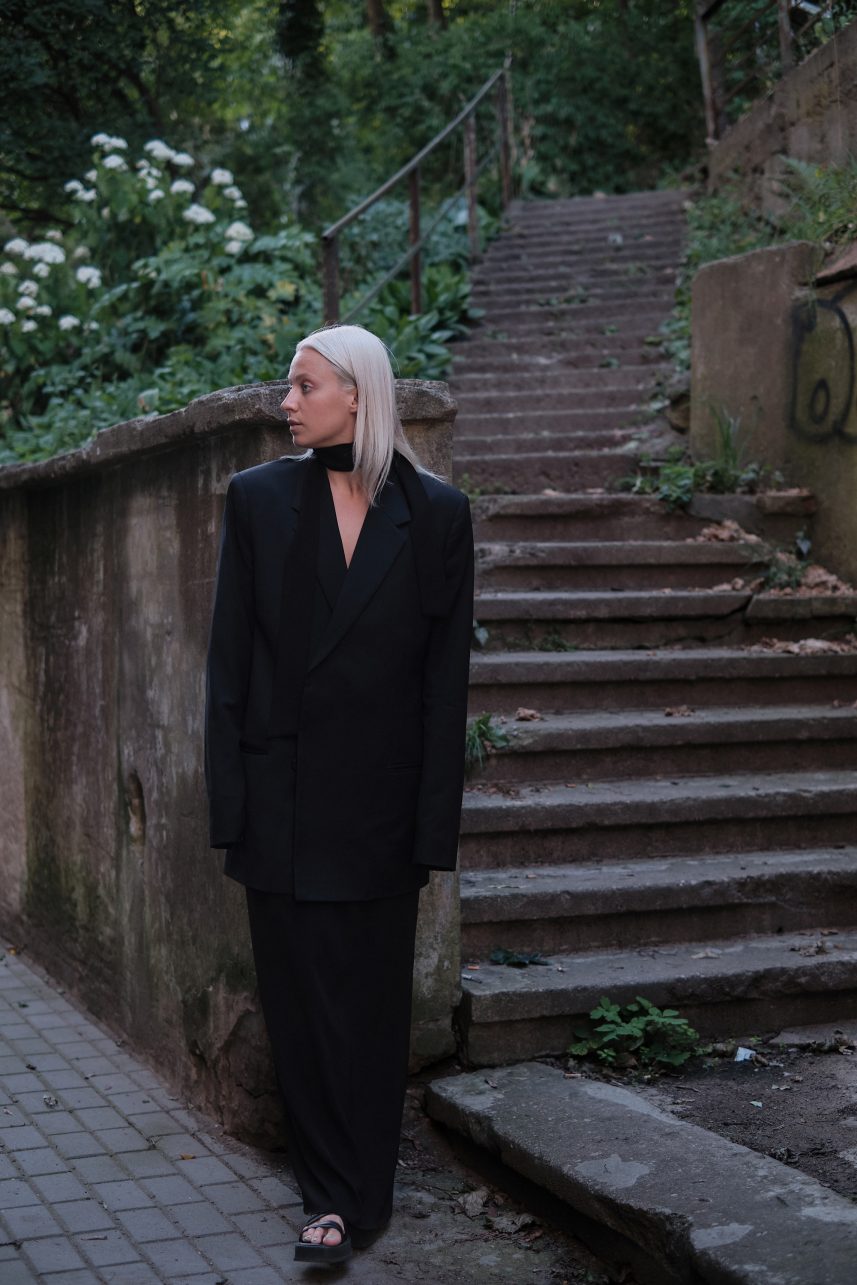 You have mentioned that inspiration comes from architecture, Japanese culture, the environment, and sometimes seemingly small details, for example, a phrase from a literary work. How do you manage to get inspired in everyday life and find new ideas?
Probably one of the most difficult tasks is the question about inspiration because it does not have a formula or a specific time and place. Like some kind of transcendental feeling, an intuition. Concentration and searching are important to me. I really like to visit the M. K. Čiurlionis National Museum of Art located near my house. Researching in silence calms one's mind and also helps to turn over a fresh, clean slate. One of my favorite Japanese designers Issey Miyake and the clothes – unique kimono silhouettes – he designed for the Lithuanian Olympians in Barcelona in 1992, are one of the biggest sources of inspiration for me. As the fall season approaches, I will present a limited-edition collection for men. One of my latest collections was inspired by the streets of Kaunas and the modern interwar-period architecture and together with the young generation photographer Elena Krukonytė, we aim to conceptually reveal the relationship between a person and the city. At the same time, we are happy that one shot that Elena made in front of the Kaunas County Public Library on Donelaičio Street, where the model wore a white kimono-cut shirt and stood on a ball that has already become a symbol, ended up in Vogue Italia. Well, the color white has always symbolized peace, which is what we hope for, from the bottom of our hearts, in today's world.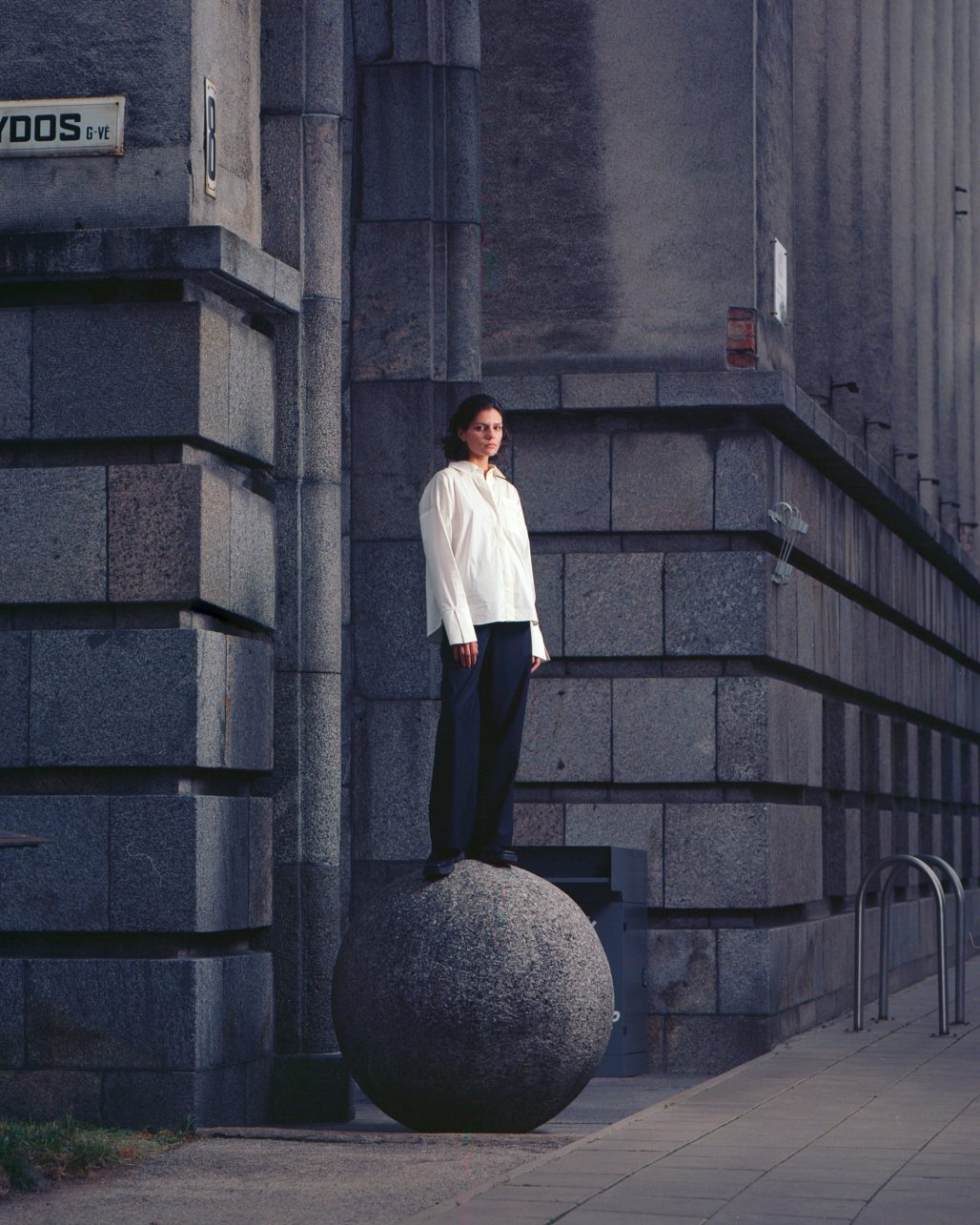 Fashion and clothes are a multifaceted phenomenon that extends into the fields of everyday life, culture, self-expression, and art. Recently, fast fashion and the consumerism that manifests through it have been questioned. Are you struggling to avoid changing fashions and yet another sale?
I try to share only those creations that follow the principles of sustainability. In my view, the design must be functional and of a minimalist style, and the silhouette skillfully worked out to the smallest detail. And, since clothing for each customer is made exclusively according to their measurements, they can change certain details, for example, length, and choose a different tone of the fabric. I don't believe in trends, I want to work out my design style as skillfully as possible, which, as I mentioned, would not have an expiration date. The fabrics are responsibly selected and marked with the OEKO-TEX label, which stands for high standards of sustainability in production without harming the environment.
It would be interesting to hear about the collection of minimalist wedding dresses. When you introduced it, you said poetically, "Love is the strongest form of resistance against darkness." What is the process of making wedding dresses?
When designing wedding dresses, I pay the most attention to communication and connection with clients. I try to help refine the bride's vision and create the most suitable design not only for her figure type but also for her personality. The next step is fitting, during which we work with the clothing constructor and seamstresses. This is one of the most interesting tasks for me – to make the product in such a way that it reflects all the components: from the smallest details, the lightness, and the comfort of the fabric to the sculptural, minimalist silhouette that would be recognizable as VIELA. I am most happy when clients write about their experience after their wedding and say that they felt like themselves. This is the greatest motivation, inspiration and proof that I have accomplished my mission.
What are your main values in your work and life?
I could probably repeat the same quote from Romualdas Rakauskas' Blooming photography series, "Love is the strongest form of resistance against darkness." For me, creativity is faith, it develops the inner eye and teaches you to be more sensitive to the environment and the people around you. Care, consideration, and listening are also extremely important to me. Without these foundational values, there is a lot of chaos that can easily transform into darkness.
Challenges are an inseparable part of creativity and life, but thanks to them you become more resilient, and everyday life acquires a softer format and is not limited to domesticity.
Maybe you could share some tips on what to look for when searching for your own style.
I think the most important thing when choosing clothes is to feel yourself and feel comfortable. I don't have a formula, but trends like "seasonal colors" or "must-haves" have little identity and they encourage you to contribute to consumerism. Therefore, you should consciously consider each piece of clothing, not only how it looks visually, but also the tailoring and fabrics. And don't forget the principle of sustainability.