To talk about fashion simply and attractively, to present young talents, and to create a stylish city – these aims describe the Komoda initiative born in the context of the Kaunas – European Capital of Culture 2022 via Kylantis Kaunas organization. The project is probably best known to the townspeople from the fashion shows organized during the Audra festival, but Komoda's activities are not limited to them. Alongside fashion shows in the city, we find exhibitions, articles about fashion, interviews with designers, and joint projects with various artists. We talked about the goals of the initiative, trends in Lithuania, and the desire to bring fashion closer to people with members of the collective Gustė Vaivilavičiūtė and Aistė Kazokaitė.
Recalling the first years of Komoda's existence, the interviewees said that the idea was born out of the wish to present the style of Kaunas, pay tribute to it, and break the stigma that, compared to Vilnius, it is an unfashionable city. Little by little, the vision of the project expanded, and the discovery and presentation of young fashion designers from all of Lithuania, not just one city, became the main goal of the project. Of course, it was not limited to Lithuania. Last year Komoda fashion show featured several foreign designers. Currently, Komoda is a platform that aims to promote emerging fashion and draw attention to new talents: designers, models, photographers.
Unlike many fashion shows, the project's events are open, free, and take place in public spaces of the city, so they are easily accessible to everyone. "Fashion is everywhere and surrounds us every day. Komoda wants to show that there is no separation between an ordinary person and the world of fashion," Gustė shared her thoughts. Aistė agreed with her colleague, "We watched for a long time how people dress in Kaunas, we photographed them. We aim to bring fashion outside, to show what it is and what it can be. We don't want fashion to be elitist and remain only in industry shows or magazines, so we aim to present fashion and style in such a way that they would be understandable for everyone. Komoda team believes that promoting young designers helps foster public awareness, and broadens horizons, so then ultimately, we have more people who are interested in the field and can help new talent grow.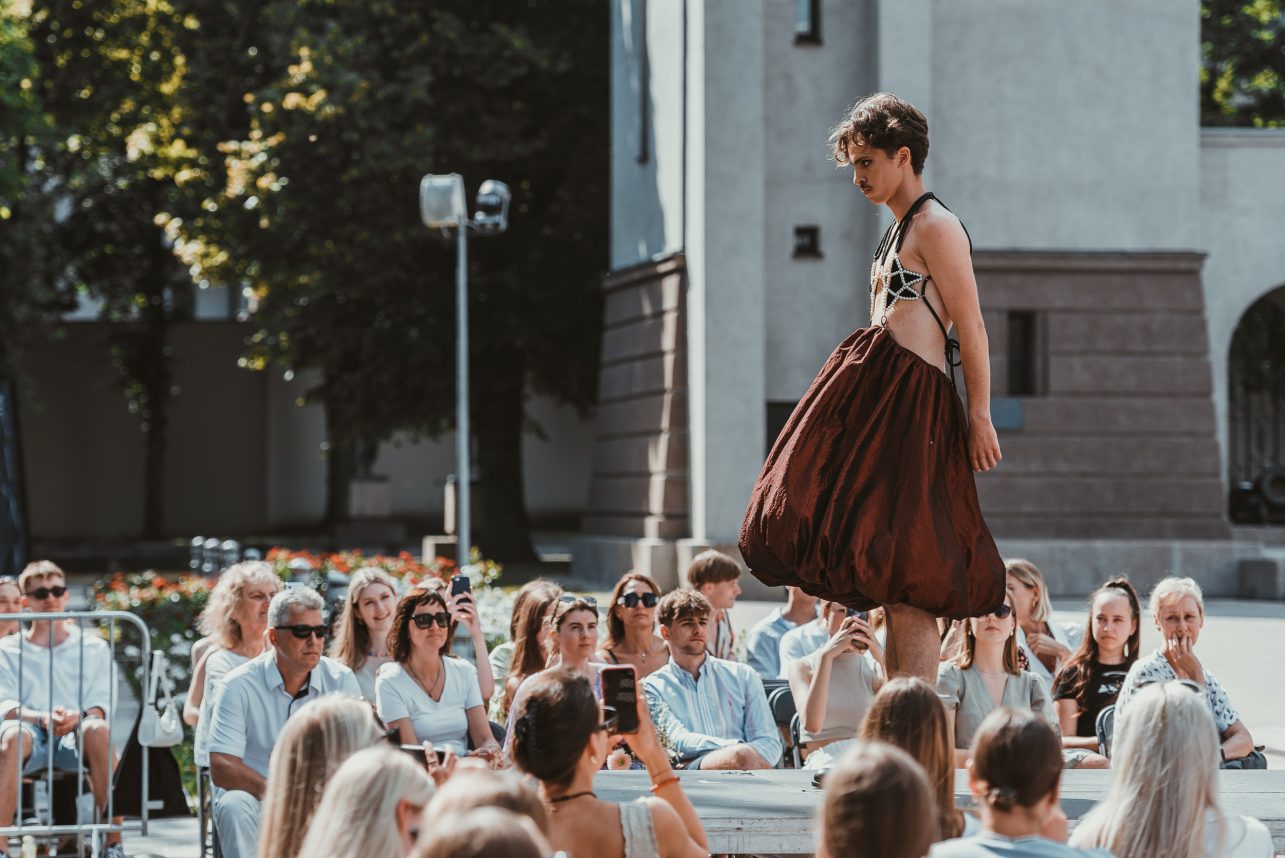 Komoda fashion show takes place annually in a different location each time. Pamatai, along with Per_kūnija festival that served as an introduction to Audra, invited the audience to get acquainted with the works of young designers on Nepriklausomybės Square. Last year, Rezidencija took place in the garden of the Vytautas the Great War Museum, and this year's Terasa was held next to the Kaunas State Music Theatre, in the historic Miesto sodas.
"We wanted the streets of Kaunas, especially Laisvės aleja, to become a symbolic catwalk, where almost all Kaunas people walk," Aistė said. The choice of these locations was motivated both by event partners, such as the Lizdas club, located on Nepriklausomybės Square, whose team organizes the Audra festival and by the ideas of other Kaunas 2022 projects. For example, the Modernism for the Future program inspired Komoda people to look for interesting architectural heritage sites. The interviewees noted that bringing fashion to non-traditional places allows not only to see clothes in a different light but also provides spaces with additional meanings.
The Komoda team claims that the selection of designers for the fashion show is really big. "When choosing designers, we looked at the sketches they proposed and assessed whether they were interesting, relevant, and feasible. We also paid attention to the authors' previous works, ideas, and creative direction," Aistė said. The interviewees point out that Lithuanian fashion is full of dark colors and geometric shapes. "Such works are very high-quality and artistic, but in Lithuania, it is gradually becoming a standard, the limits of which are rarely exceeded. Our decisions to include designers who are inclined to experiment with shapes, colors, and textures are paying off, it creates a completely different emotion," the organizers shared their thoughts.
When asked to compare the approach of designers from Lithuania and other countries who participated in the Komoda fashion show, the interviewees mention that we can observe a bit more freedom in the designs of foreign creators. "Lithuania still has a rather clear exemplar approach to fashion. So far, we have not been approached by Lithuanians who create clothes for models of non-standard sizes. Some subconsciously old-fashioned attitude remains when you have specific guidelines in your head. It seems hard to escape this in Lithuania. However, we feel that the young generation is trying to experiment, to look for new solutions," Gustė reviewed the situation.
Komoda also strives to show the synergy of fashion with other branches of art. One such example is the photo exhibition When Style Breaks the Silence, which reveals the connection between fashion and music. Komoda, in collaboration with Lithuanian artists Gabrielė Vilkickytė, Evgenya Redko, Lukas Pilkauskas, and bands Baltasis Kiras and Kedrostubùras, sought to find out how their music and emotion can be conveyed through fashion, spaces, photos, and even their editing. "It is very interesting to try and play with the transfer of different sensations to another medium; to convey the sound through visuals," Gustė explained.
In addition, Komoda invites you to get to know fashion through the clothes used in various films and the iconic styles of internationally famous music artists via its social media pages. "We wanted to tell people about fashion in a different way, using aspects that are understandable and familiar to many. Having chosen stylistically interesting (for us) Lithuanian films, we asked people to pay attention to how clothes are used in them, and what this brings to cinematography. And while creating photo shoots inspired by music artists, we tried to empathize with how they would dress now, what places they would visit, and how we can apply it to today," Aistė explained.
A series of interviews with designers, reviews of current events, and further planned fashion shows slowly facilitate the growth of Komoda's team. The desire to talk about fashion in a simple and interesting way always remains at the core of this project. After several years of work and the gained experience, Komoda aims to be a sustainable, self-sustaining project that can give a voice to emerging designers, original Lithuanian fashion brands and educate the public.
instagram.com/_komoda
www.facebook.com/k0m0da