It's August 2021, I am walking down K. Donelaičio St. and around the bus stop on Gedimino St. my gaze focuses on two bright windows at the lower part of the building. Looks like some printing is taking place there: I can see books and two girls running around. I have been walking down this street every day for the past five years, so it is clear to me that something new has appeared on it. It didn't take me long to find out. Last September I got acquainted with Gabrielė Gudaitytė and Inga Navickaitė-Drąsutė – the founders of Hands on Press self-publishing studio, which I saw behind those windows – at the Kaunas Culture Fair.
You have recently celebrated your one-year birthday. How did you meet?
Gabrielė: In 2017, I briefly returned to Kaunas, and Inga lived here. I got into a project for Į magazine, where Inga had been working for some time along with Julija Račiūnaitė. If I am not mistaken, a second issue was being prepared. At that time, they implemented a very entertaining series – they climbed into all the fountains in the city of Kaunas. To be more precise, Julija was climbing, and Inga was photographing. I realized that they both were very interesting personalities and I wanted to get better acquainted with them. That time, I offered to drive the girls around Kaunas in my mother's car. That is how we became friends.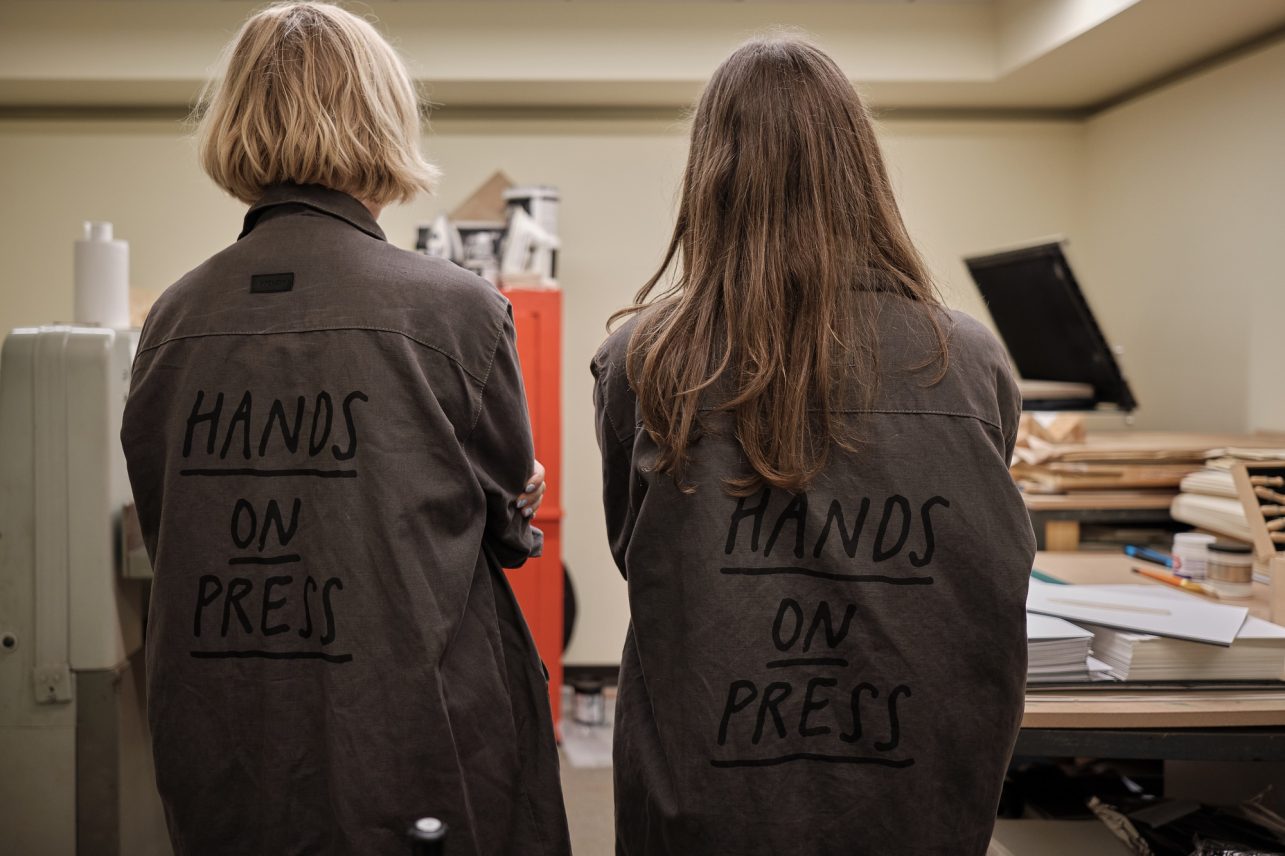 Inga: I often repeat this, but I am very grateful to the Kaunas Photography Gallery, which published the Į magazine. The six-year project brought me a lot of good. For example, I met Gabriele during the magazine workshop.
How did you come up with the idea of establishing a printing house?
G.: Inga and I kept talking about it, but I was just planning to go abroad to study for a master's degree. I wanted to understand how to put my undergraduate degree to work in a real-world environment. I wanted to do something in Kaunas. Eventually, Inga and I started talking about printing houses, analogue printing, screen printing and graphics in general. I asked her where I could do that in Kaunas. If I know a trade, then what should I do after graduating from my studies? What if I want to engage in this work but I don't have a printing machine and other necessary things?
It is nice to work together but putting the place to work for other people's interests as well is even better.
I.: A few years ago, when I was working at the Vilnius Academy of Arts, my colleague Toma Subačienė and I often dreamed about establishing a printing house, but those were only talks. Thoughts about a printing house, where the artist who knows the trade, could work with the equipment, kept coming to mind. While implementing my own publishing projects, I used to run around the city looking for different services: printing, bending, gluing, cutting. In the long run, I saw that Gabrielė, and I had the same idea – we both felt that such a place was lacking. Later, we realized that there were even more people like us.
G.: There are no analogues in Lithuania, although I know excellent risography studios, individual people engaged in self-publishing and risographic printing. I have seen similar initiatives abroad, but I wanted to create something that would suit Kaunas and help me cooperate with more different people. It is nice to work together but putting the place to work for other people's interests as well is even better.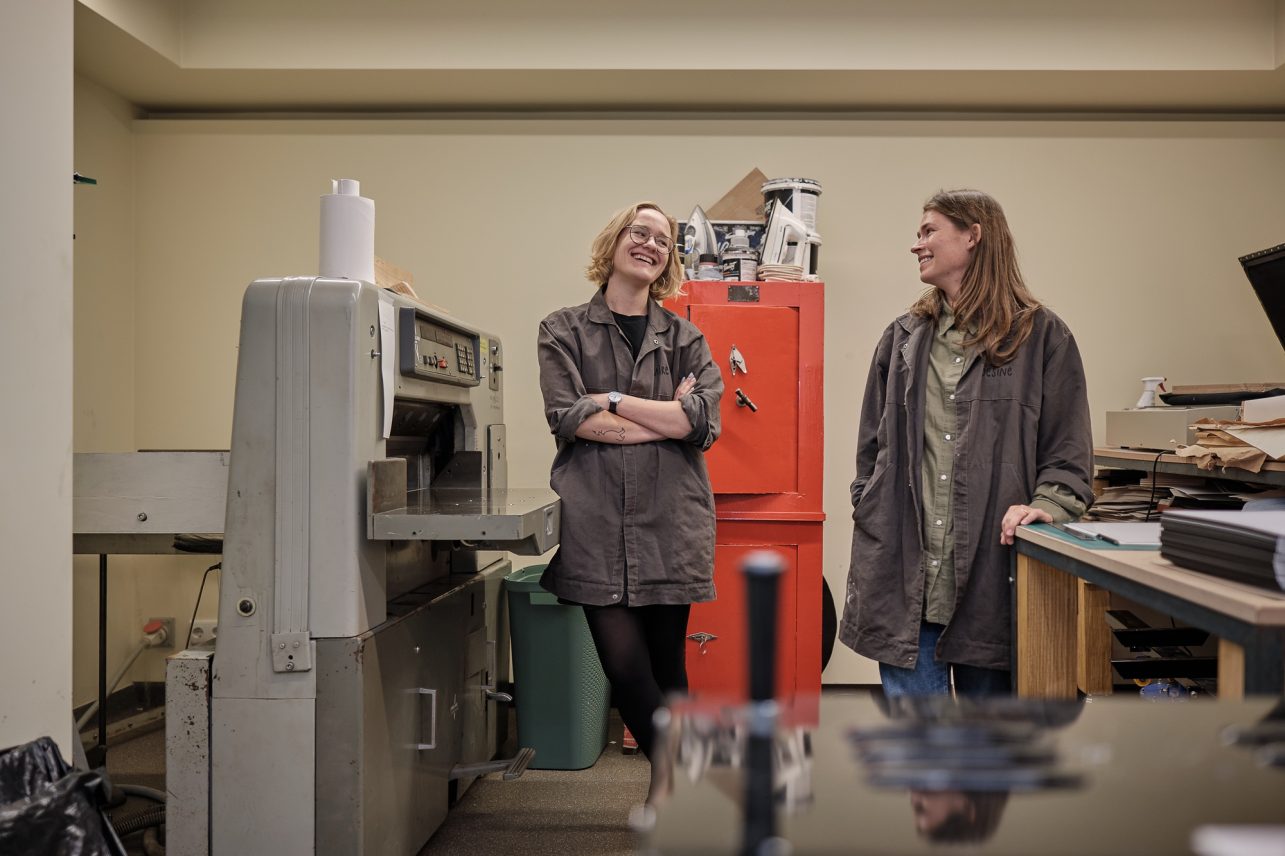 And what did you do before you met?
I.: I completed my bachelor's and master's degrees at the Vilnius Academy of Arts Kaunas Faculty's Department of Graphics. I first worked with various printing techniques, illustration, design, photography and book art, on which I focused during my master's studies. Later I took on print design and mostly worked on publications and event posters. This can still be felt today: I still prefer working with publications, to contribute to their realization from start to finish. I really like binding books, trying out paper, different materials, look for harmony between materials and the idea of ​​a publication.
G.: I studied illustration in Scotland and later in London. The studies there were related to how to put your craft to work and what to do with it all. Many things happened professionally. For a long time, I worked at a bar and then I worked as a freelance illustrator for some time. After that I got a job in a printing house, which was a cooperative, where I gained a lot of knowledge on commercial publishing. Risography prints were made there, so I also gained some technical knowledge. It can probably be said that my more purposeful journey towards the printing house began there.
And how did you get the equipment?
I.: Gabriele brought the risograph from London, and several other machines were brought from the Ignalina nuclear power plant. Some of them were loaded through the window. The story of their arrival is probably the most interesting part of the studio's establishment. It was both scary and fun. But we were very lucky: the people who sold the equipment were very well prepared and careful, only thanks to them this operation was successful. Imagine: fresh potatoes are placed under a press that weighs a ton so that the machine could slide from the sidewalk through the window. No joke – the potatoes saved the whole operation.
G.: Although we did a lot on our own, I am happy that we received a lot of support and help from those around us, family, friends and colleagues in Kaunas.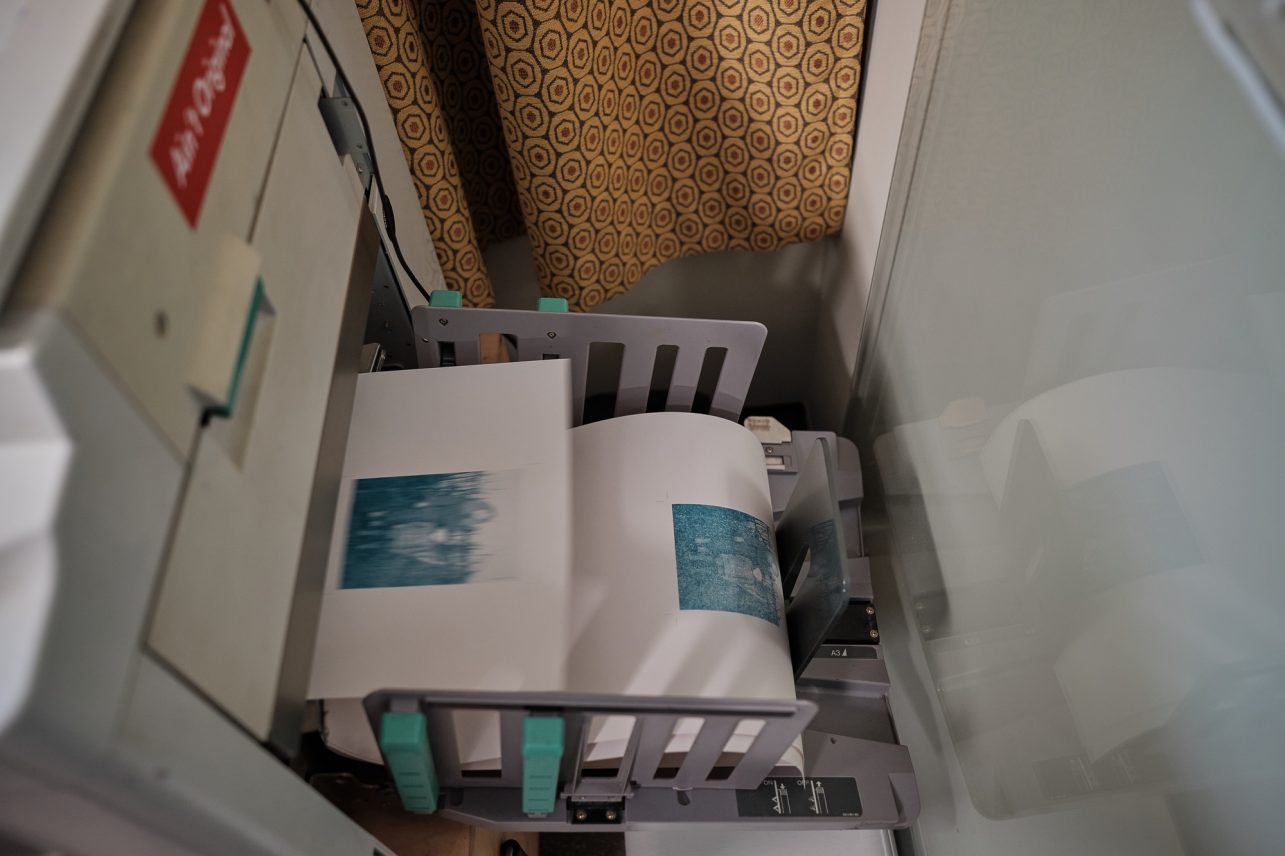 How was your first year?
I.: The very beginning was chaotic. We acted as we thought was best, as we wanted. Now we feel like we have grown up to our printing presses.
G.: It is probably worth mentioning that we have many ideas that have not yet been implemented. There's definitely no stagnation here. Everything is dictated by the people who come and say what they need and what they find interesting. Inga and I look at each project individually, we always try to adapt and make it so that the person or organization is satisfied. By doing this we also learn a lot.
I.: Activity in the studio takes place in waves. We have a month dedicated to risography then to book binding or intense design-related works. We do a lot of things that are still one way, or another related to each other, so it is never boring.
You mentioned graphic design. Do you have any favorite designers?
I.: We have quite a long list of favorite designers – some of them visit our studio from time to time and others – a large part – work abroad.
G.: The studio gave us the opportunity to meet, work and make friends with people who were great role models for us. I'm talking about both designers and other people working in the field of culture or art.
I.: Indeed, the studio is a great reason to approach the people you like. More than once, one or another favorite designer or illustrator, whom we did not know personally, approached us with professional questions.
G.: The last editions included the exhibition of Tadas Bujanauskas, presented at the Kaunas Artists' House. We are glad that we were able to print those works and see all the behind-the-scenes of their journey from our studio to the exhibition.
I.: Another example is Pirmoji banga film festival. We are very happy that people come back to us, because last year this festival's guide was one of the first projects printed in Hands on Press studio.
G.: In one year we managed to collaborate with Lizdas night club, Kaunas Artists' House, Circulation circus festival, Kaunas Photography Gallery and others.
I.: Right after opening, we held a wonderful workshop together with the Kaunas Photography Gallery. During it the studio was full of photographers and curators from different countries, belonging to the photo art platform Parallel. In just a few days, we helped the participants of this project realize their ideas in book format.
G.: Social networks and advertising are definitely not our strongest suit, so there were indeed a lot of question marks – we didn't know how to announce our presence. But people themselves spread the news and your magazine also helped a lot. It felt like all the dissemination of information about us was being done for us. So, we didn't waste time and didn't worry too much, because it still takes us a long time to create an Instagram post.
What is your workday like?
I.: We start with a coffee, discuss yesterday, ask each other how each of us feels and then get down to business.
G.: Actually, every day is different. Lately, many passersby started popping in and we want to dedicate enough time to everyone. But the work still begins with responding to inquiries and calculating press and costs.
What work principles are important in publishing?
I.: Quality, quality, quality. Also, communication with customers.
G.: As helpful and sincere communication as possible, the effort to provide the person what they want or even exceeding that.
I.: Of course, our motivational engine is turned on by the content brought by the people who come to the studio. The interestingness of work or a certain process is, in my opinion, one of the most important principles of our work. For example, printing the publication Raštai prepared by Julija Račiūnaitė and Anta Marija Antanavičiūtė was a lot of fun, both due to the authentic content and the all the joking around.
G.: Work is like a game. You keep trying to find ways, you figure things out, and communicate. It seems that we just print here and that's all, but there is a lot of communication in this process. Without that, we probably wouldn't achieve good results, because that's the only way you can understand the client's expectations and communicate your point of view.
How do you share the workload? Who is responsible for what?
I.: In the studio, we share the work depending on availability. We do almost all the work with the four hands of the studio, so sharing and exchanging is not really that difficult. We do work individually in some areas, for example, it is Gabrielė, who does silkscreen printing. I can help but I am not a professional.
G.: Inga is a much better bookbinder than I am. I can be an apprentice, but not a master. It's great fun how you become more qualified by watching an experienced person do it.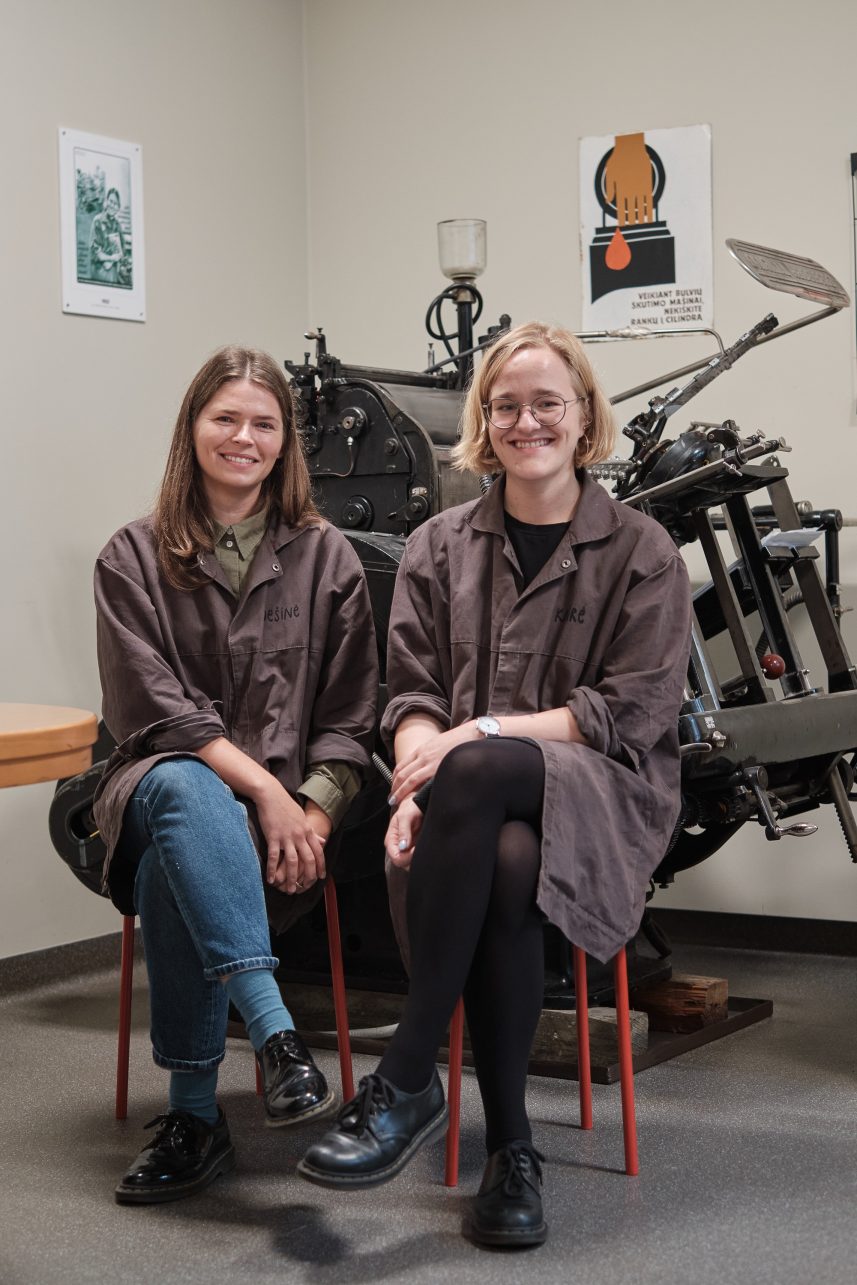 What difficulties do you face?
I.: We really like to work. Only after a while do you get the feeling that maybe it was a bit too much.
G.: We are more doers than businesswomen, so it happens that we get confused on how to solve those administrative matters. But so far so good. And the basis is the balance between work and rest. After having talked to people who do the work they love, it is obvious that it's a fairly common problem.
I.: We hope that maybe in the second year we will work not five, but four days a week.
What is the idea behind the title Hands on Press?
G.: We still have a picture with all the written names hanging in the bathroom.
I.: We found the hand motif important both because of manual analogue printing and because there are two of us – the printing house is really small.
After the first conversation, the next day we were already printing posters, and the day after next we already delivered over seventy packages to the post office.
G.: There were really many options – we asked friends for help. In the end, it was time to register the establishment and put in the official name. Someone just said out loud, "Hands on Press," and it stuck right away. It also has double meaning: the literal one stating that hands are really on the press and the figurative where "hands on" means getting directly involved in something.
Do you have a dream of working with someone specific?
I.: We probably have more of such visions about the different printing methods rather than people. For example, since the founding of the studio, we have been dreaming about printing vinyl or cassette labels and sleeves. And just recently we finished printing cassette labels for a Ukrainian company Moscut.
G.: From the beginning, I wanted to work with musicians, the music industry, but I didn't know many people in the industry. Vinyl and posters come to mind also because our printing process seems very suitable for it. We recently discovered that our risography inks are called fluorescent not only because they describe the colour, but because they actually glow in the dark. So it happens that the materials and inks we use, dictate who we can work with.
We often say that it would be nice to print more publications either in collaboration with someone, or on our own accord, under the name of the studio. And we have been talking about the magazine for quite some time. Not monthly – it's not really possible for us, but we do dream about it. At least a small edition.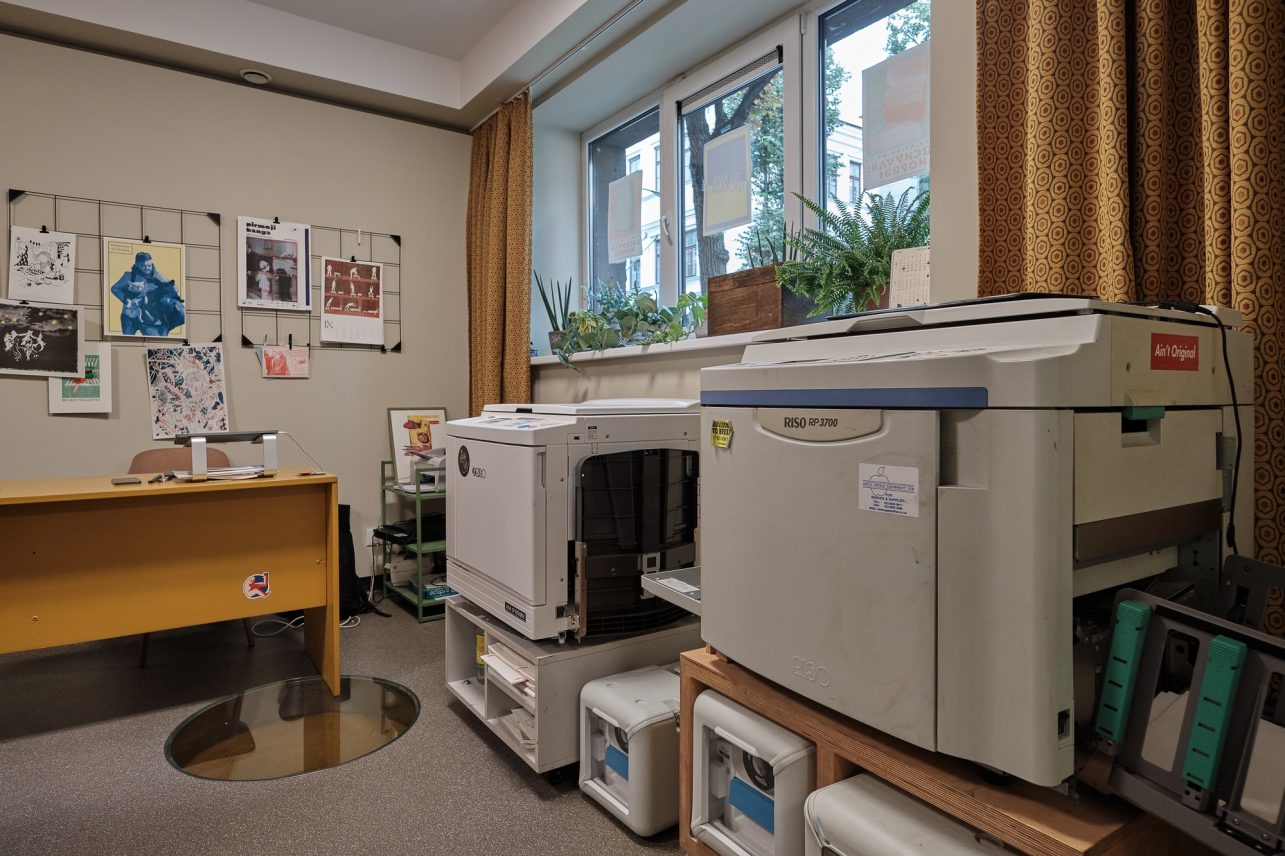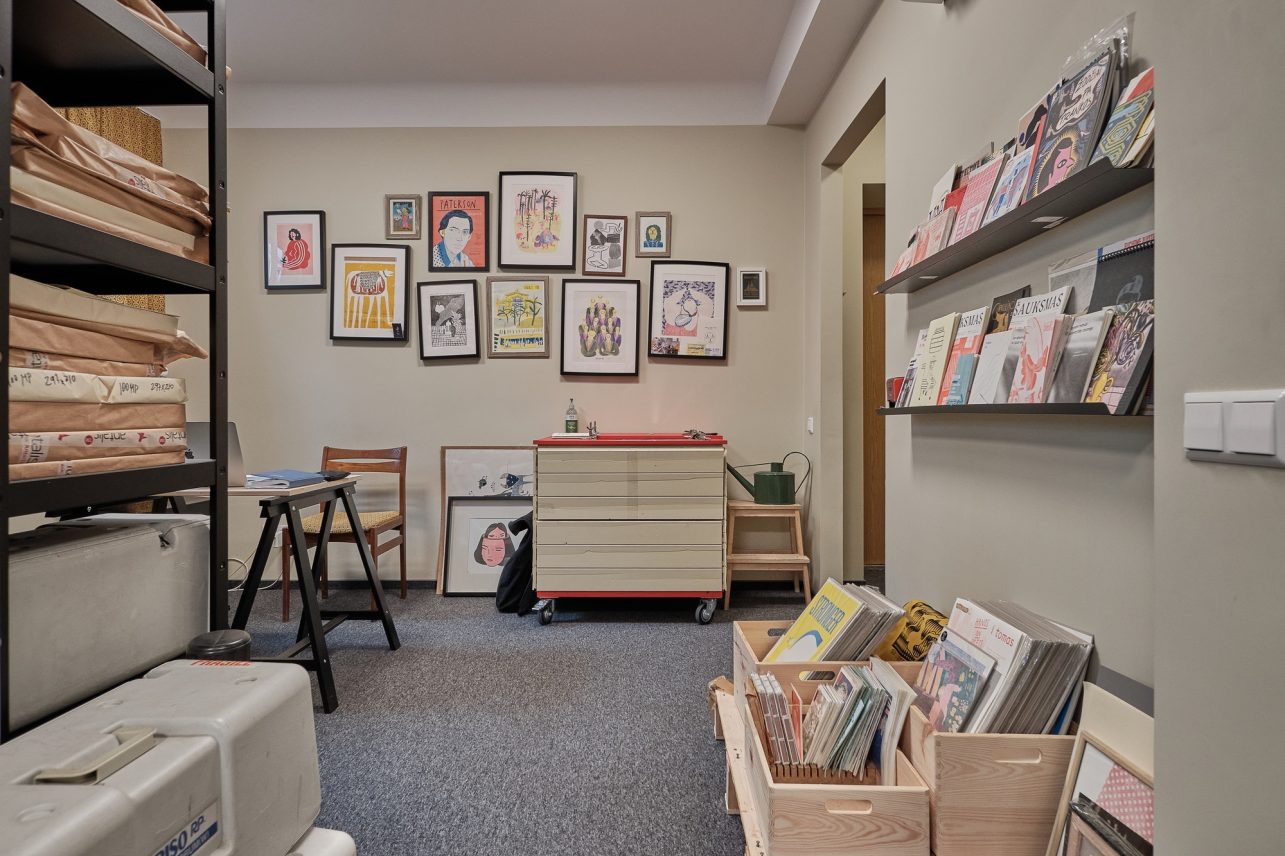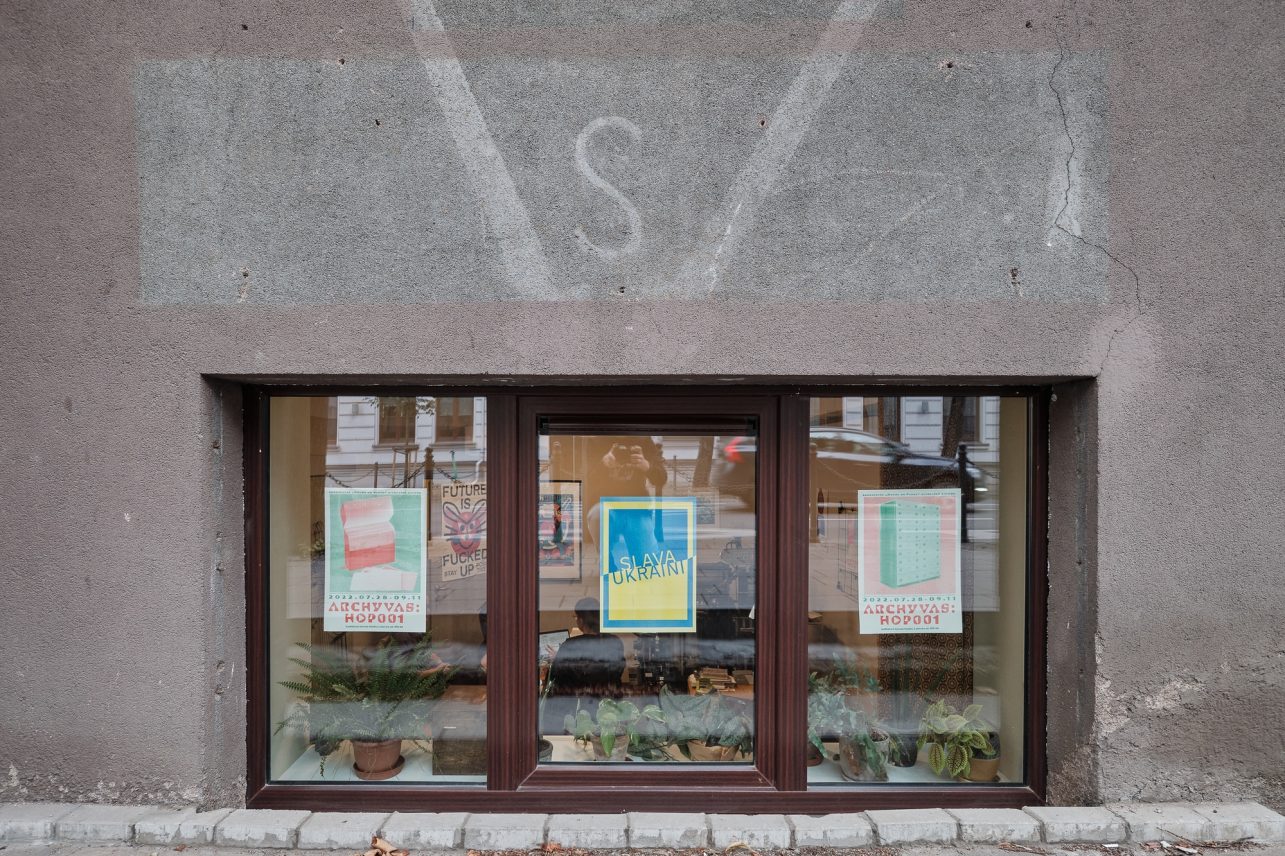 Colours for Ukraine poster series: how was this idea born?
G.: We all remember very well how we felt when the war started. I printed the Slava Ukraini poster out of desperation, because, going to the very first support action at Vienybės Square, I wanted to at least have something in my hands. We printed quite a lot of them. It turned out that quite a few people wanted to take the posters home and express their position through their home windows. The posters spread in just a few days. And later, other artists joined, your colleagues, Monika, helped with the dissemination. I would like to emphasize that this action is a great example of how people can do a lot together through cooperation. This is probably a great opportunity to thank the artists who responded very quickly and generously shared their work.
I.: We tried to prepare everything as fast as possible. After the first conversation, the next day we were already printing posters, and the next day we already delivered over seventy packages to the post office. I have to admit that it was not difficult to do all this. I would not have been able to do anything anyway, except neurotically following the news. So far, we have collected over fifteen thousand euros which we transfer to the Blue/Yellow organization. The National M. K. Čiurlionis Art Museum also joined the campaign. It purchased the entire collection and promised to supplement it. The museum presents the posters in the lobby, where all the visitors pass. It serves as a reminder that we can both help Ukraine and disseminate art.
G.: Lately, most of our posters are sold to tourists who come to us directly from the museum – almost everyone comes with a William Kentridge exhibition flyer. Occasionally, they even buy posters in bulk, for friends.
I.: The activeness of this campaign slowed down, but we are glad that there are still people who carry the news of Colours for Ukraine, and the message is spreading not only in Lithuania but also abroad.