I remember my first visit to Kolibris. It was mid-winter, a blizzard. I had to half slide, half wade through the snow from the hill down to the center. A small wooden house shown a tad brighter on a sleepy K. Donelaičio Street. More precisely, first floor windows. There was steam coming out the ever-opening door, exhaled by the literati.
The inside of the store smelled like cookies and tea was pouring from an old kettle. Guests crowded among the stacks of books. Some of the readings were already on the shelves that were just made out of unused wooden pallets and painted blue. Such signs as, "Crime Fiction", "Novels", "Biographies" – typical of traditional bookstores – were nowhere to be seen. Seeing all the books published by big and small publishers crammed into such a small room, belied any ramblings about the death of the meaningful printed word.
"You know, it seems to me that you have been working here for a hundred years," I say to Indrė Gaučienė, the shopkeeper, who is handling the pile of books that Kaunas writers have just brought. "Sometimes I also get confused about how long I have been here," she laughs. But that cold winter evening happened less than a year ago!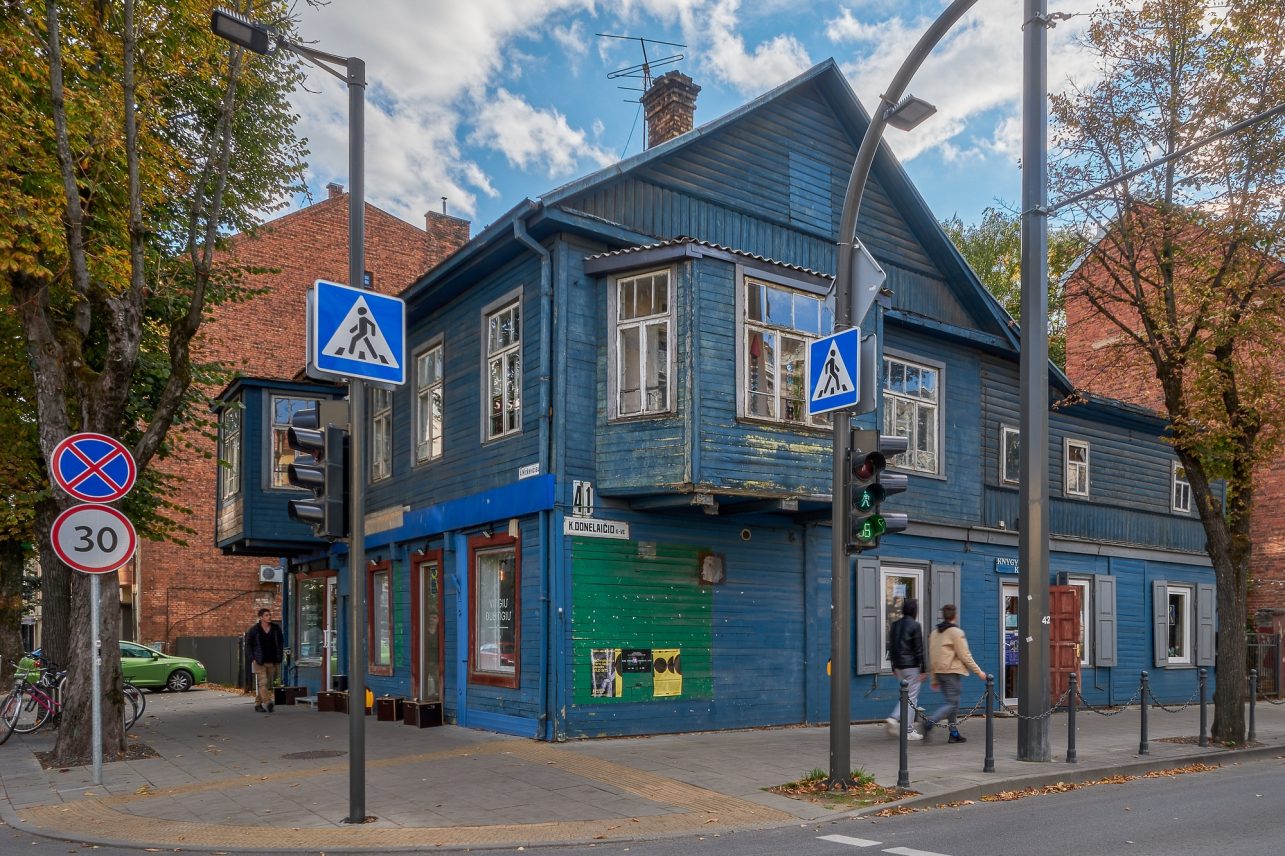 Philosopher and founder of Hubris publishing house Viktoras Bachmetjevas invited me to the opening of Kolibris bookstore in December 2021 (perhaps on the occasion of his birthday as well) and immediately told everyone to talk to Indrė about all the questions related to the bookstore. They are former schoolmates who accidentally met in Birštonas. Viktoras accidentally found the premises and the rest is history. Indrė worked at the academic bookstore in Vytautas the Great University for several years and later took a break from this type of work for a while. Now, on K. Donelaičio Street she no longer works alone – Indrė has a helper, Vilija.
A number of people have already become regular visitors, coming as soon as the bookstore announces about the newly received books. Others who open the door for the first time are attracted by pro-Ukraine posters in the windows. Yet others simply sit down for tea, nuts or conversation or to check how their books are selling. Just as we sat down to talk, Rolandas Rastauskas was looking around the bookstore. There is also a section of books in English, filled with previously published or new translations of fiction from various publishers, as well as guides. The department is expanding because more and more foreigners are visiting, they are first interested in the wooden house, and then in Lithuanian literature.
"One year is only the very beginning. A lot of stock is still missing, and there are publishing houses that we haven't introduced yet," Indė says modestly and right there and then calculates that currently in Kolibris they sell books from fifty publishing houses, individual publishers and authors. You can often buy books by authors from Kaunas with an autograph. Everyone gets attention, but if I had to single out readers' favorites, it would be Kitos knygos, Lithuanian Writers' Union's publishing house and Odilė. By the way, you will not find the latest news of the latter one elsewhere in Kaunas. When choosing from the big publishing houses, we take into account what other bookstores or supermarkets offer. If a bestseller is published than we prefer to dedicate the space on the shelf for a niche book rather than it. "We received a lot of customers in the summer, which is a pleasant surprise, because elsewhere sales usually fall during the warm season," Indrė notes and guesses that the bookstore, which is still waiting for its first birthday, is still growing in popularity. She laughs that it is difficult to talk about tangible profit, "It is either creative work or profit."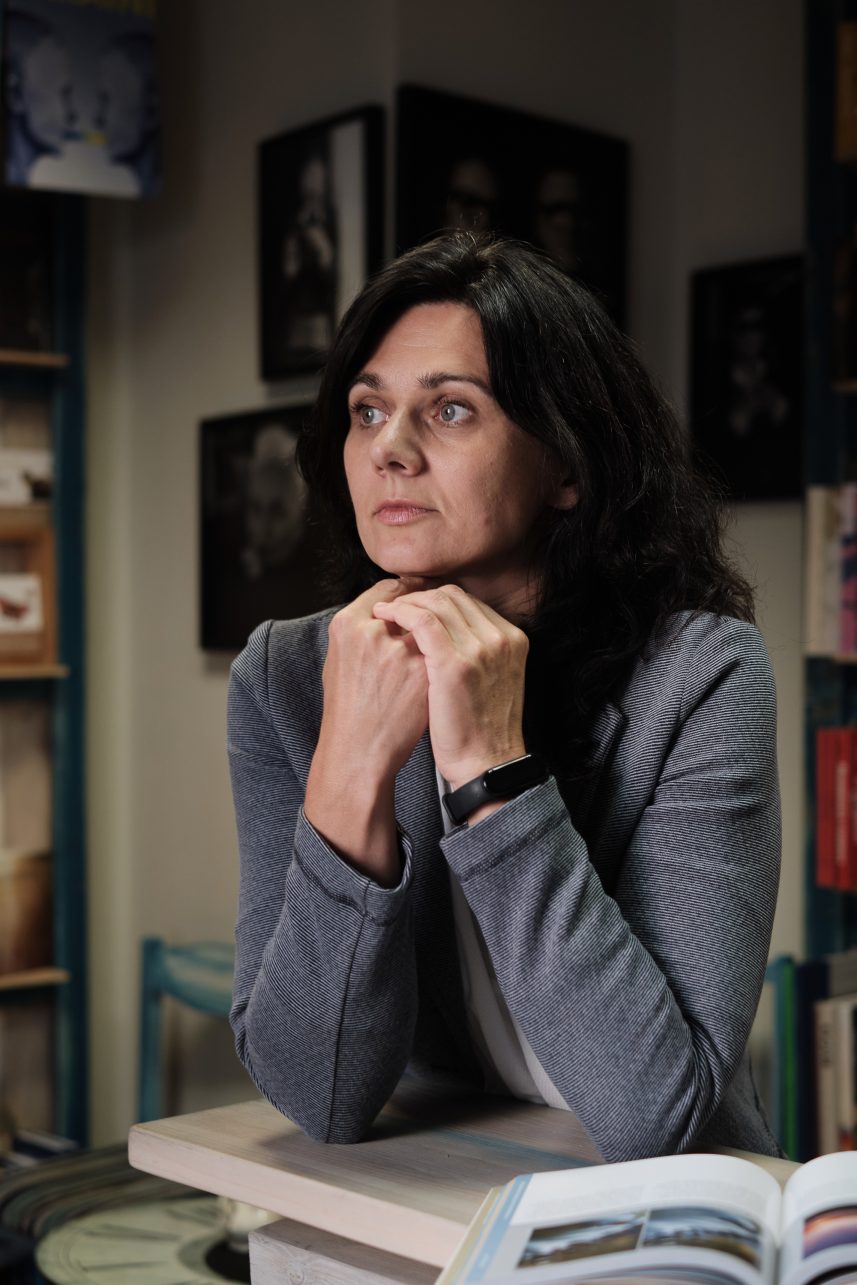 Some spend an hour or two in Kolibris. These are the ones that come back. When they visited for the first time, back in the winter, they were even thanking us for opening this bookstore. "It seems that we are doing a good job, people miss seeing the selection of good books in one place." And there is no talk about the decline in popularity of paper books in this place. Maybe because people get tired from screens and e-readers. Also, you can buy anything online, but only if you know what you want. But Indrė personally thinks that it is much more fun to flip through several books, think about which one matches your mood today, and talk to the salesperson. "After all, a book is a work of art, the cover invites you to open it, text is supplemented by other elements, and more and more often artists and writers work together – you can't appreciate a book without seeing it for yourself."
People want events, readings and we also want to use the space.
I ask Indrė how she knows what to recommend if a person is looking for "something interesting". "I will definitely ask what the person likes, what mood are they after. I noticed that now readers are looking for something light and positive. More and more often, hands reach out to Lithuanian authors and poetry, others ask for something not yet discovered, not the most popular." Just on the day of our meeting, Indrė offered one woman a collection of poems by Neringa Daniulaitienė from Kaunas. The buyer did not argue, "If you like it, I'll buy it." The manager of Kolibris does not have the opportunity to read all the books, but she devotes time to orders, flips through the news, and listens to feedback from returning buyers about one book or another. A sort of noncommittal book club? "We could say so. Here, we have installed an exchange box, you can take one from it and leave a book you have already read."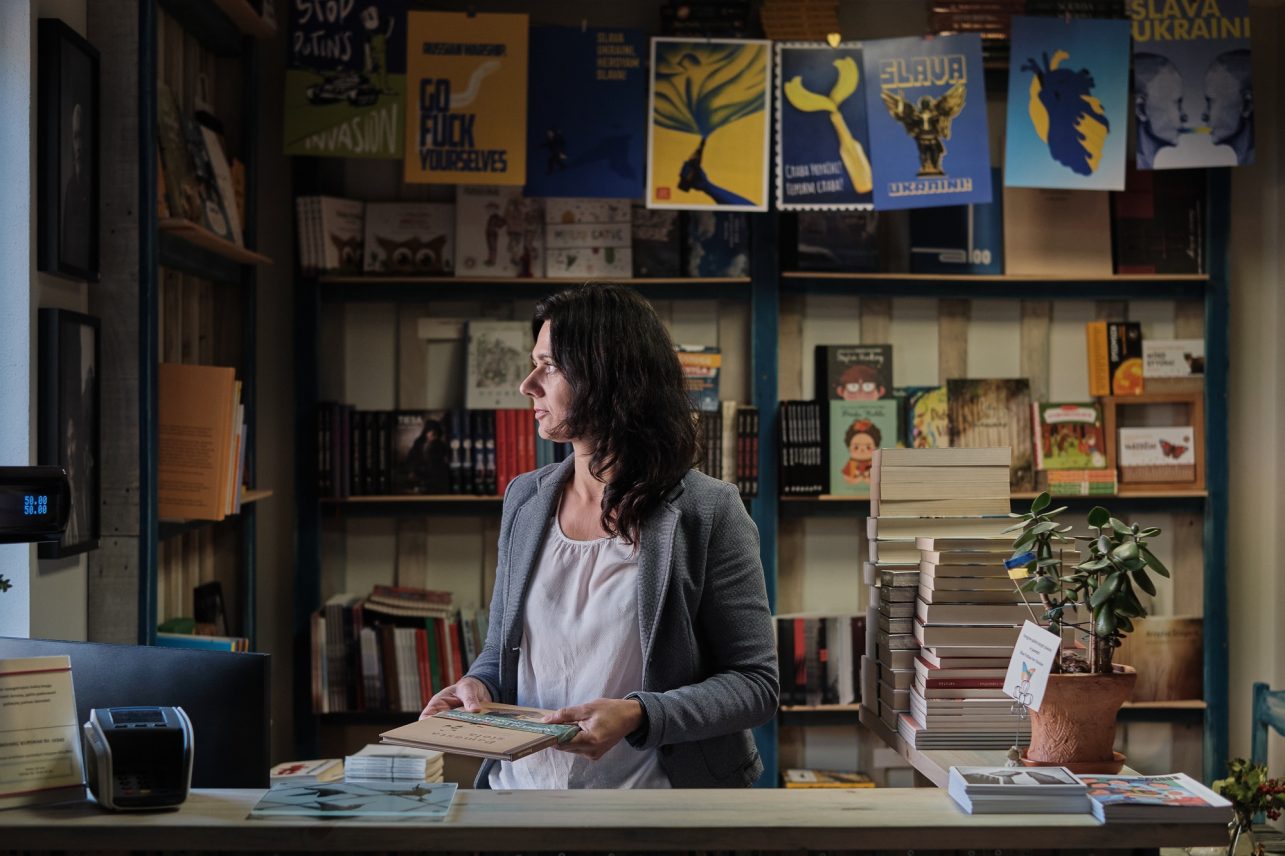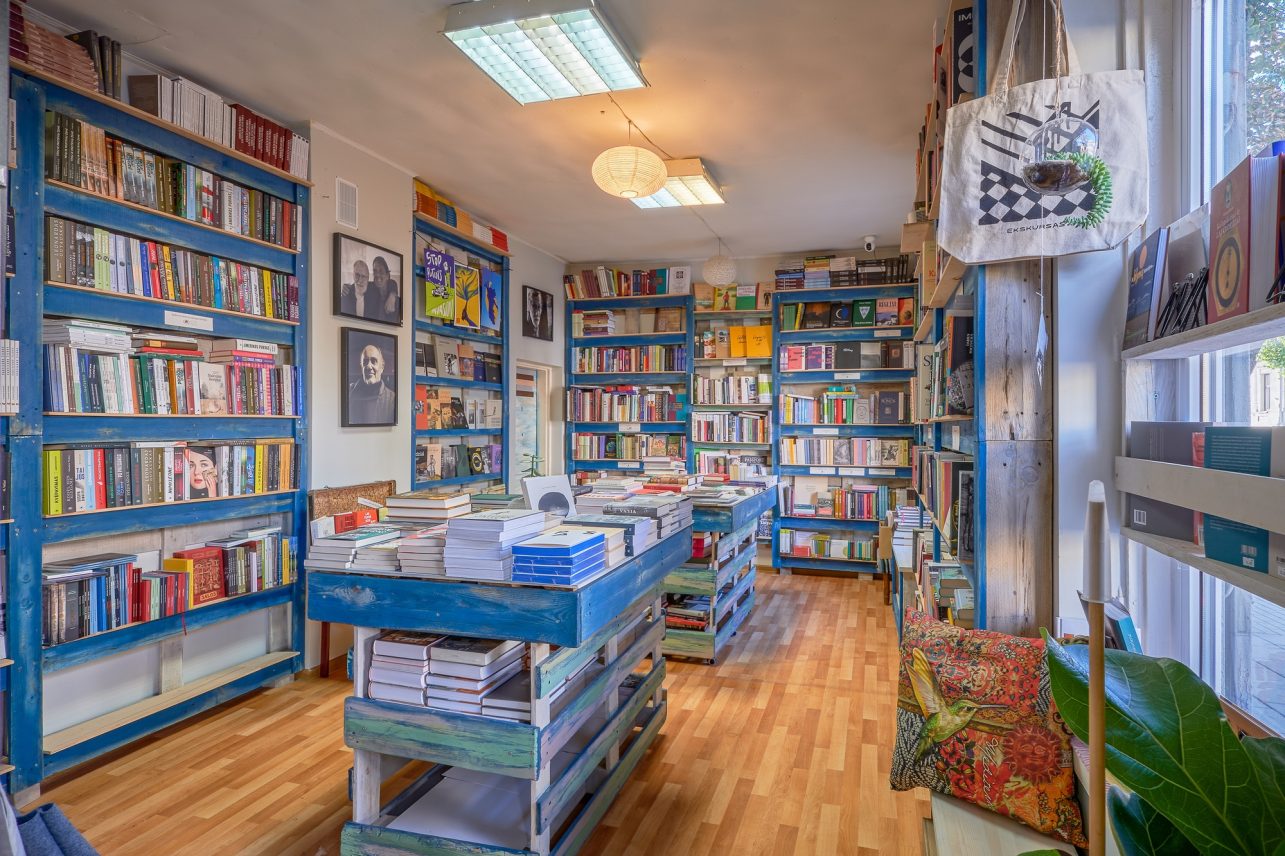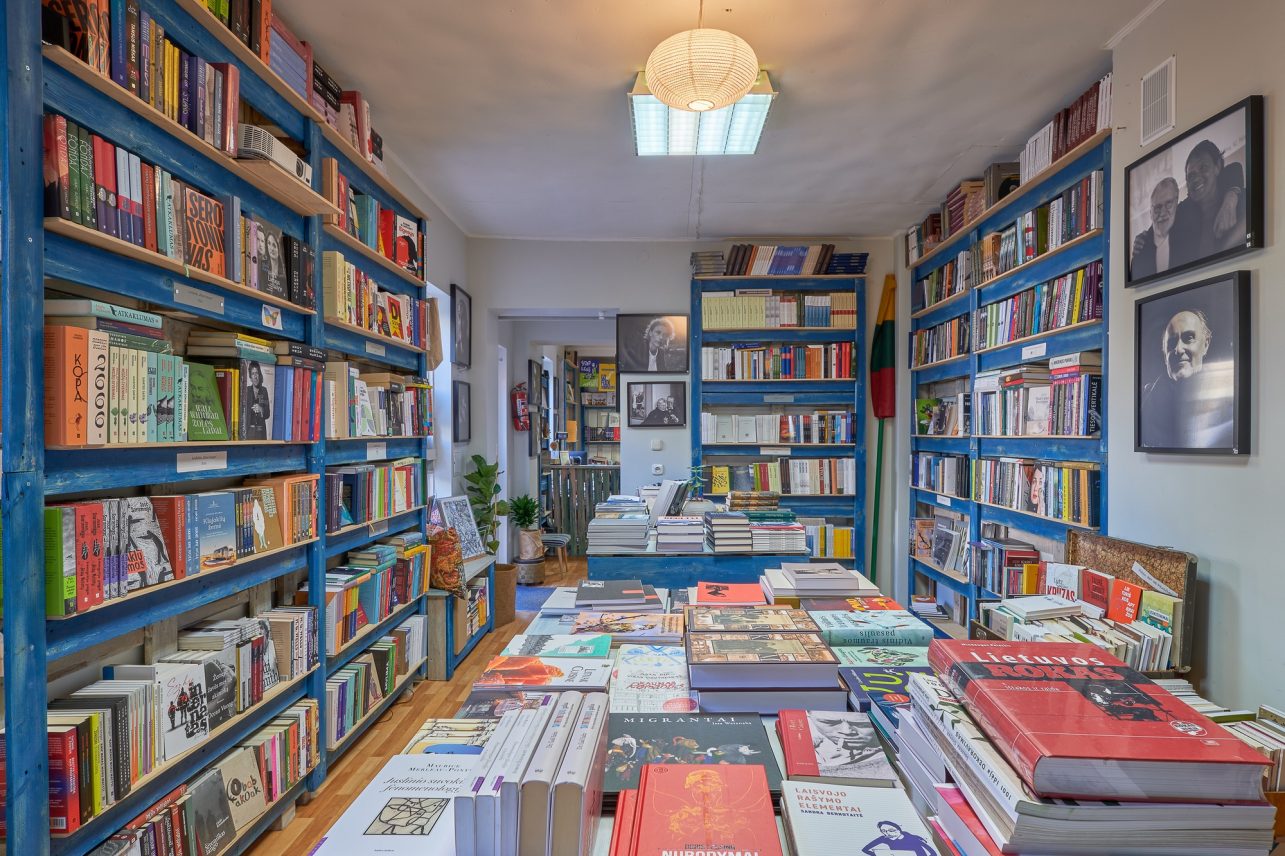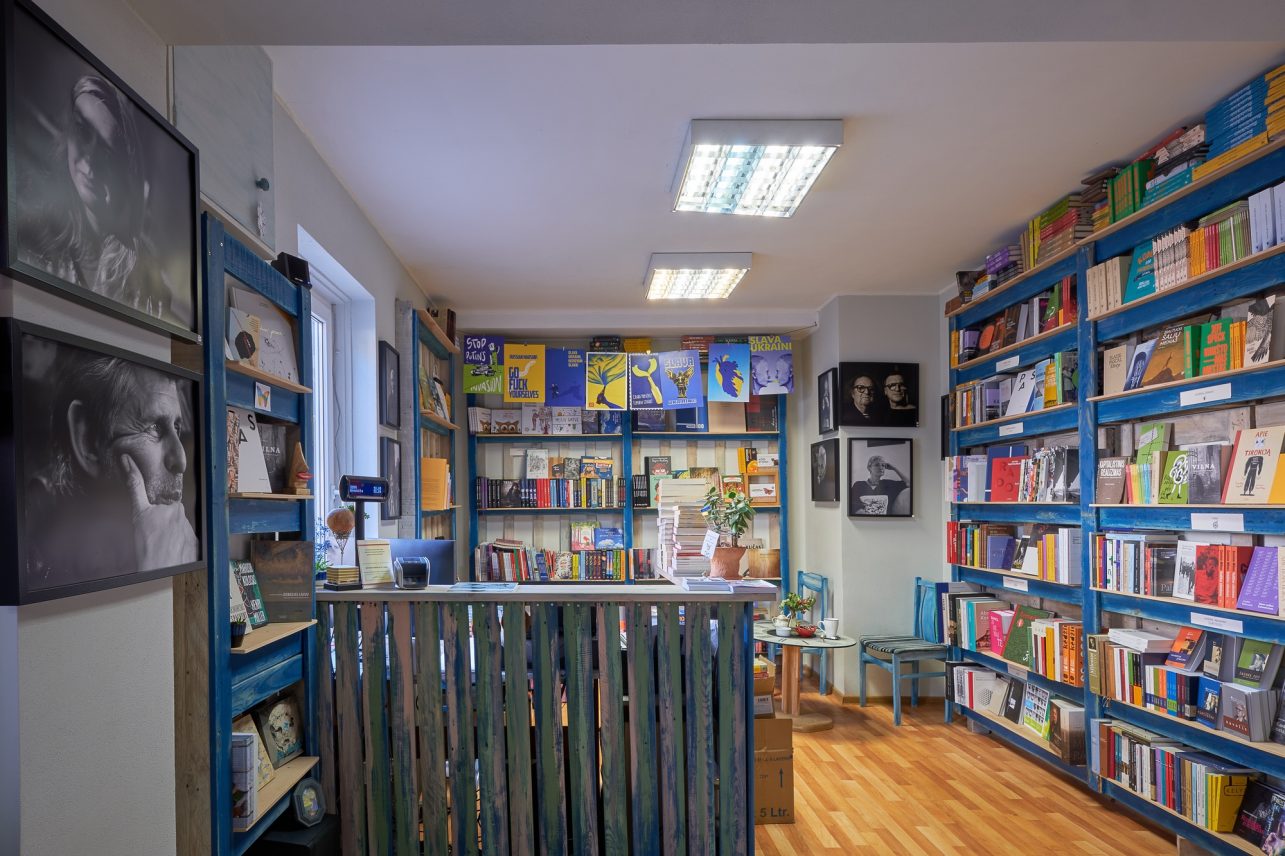 Events also fit in between the shelves: readings and talks about books as well as their presentations. Little by little, the list of publishing houses that have found their own niches and that would be worth introducing here is forming. Indrė recalls the presentation of film director Giedrė Beinoriūtė's book – Akimirksnis spalvoms suderinti (A Moment to Match the Colors) – about cameraman Audrius Kemežys, which was warm and sensitive, and perhaps a bit tearful. And the author herself mentioned that for her, as a "non-writer", such a small and cozy space is very suitable for trying things out. "People want events, readings and we also want to use the space, but everything, including organization, takes time," Indrė says and assures that Kolibris doesn't have publishing plans. "If you are able to not write then don't, and if you are able to go on without publishing, continue to do so," she laughs.
I don't want to leave. Yes, I told myself not to buy anything this month, but those books are just staring at me. Black and white photographs hanging on the wall – not lined with precision, like in a gallery, but in a home-like fashion – is a detail that enhances the feeling of a frozen time, where fashions and rankings are irrelevant. The first photographer to exhibit his work here was Remis Ščerbauskas, who made these photographs in the streets of Kaunas. Now, when you stop by the bookstore, you will be able to see architect Ona Marija Urbšytė's portraits from Behind the Camera series, featuring the portraits of interesting personalities from the art world. I wonder if Rastauskas managed to find himself among those (photographies by Rita Daukšautė are on display since November 8, – editor's note).