Food delivery service has become a lifeline for many Kaunas residents since Spring 2020 and the first quarantine. When you feel so tired that you can barely stand, you often don't want to spend hours in the kitchen. Hence a courier with warm food at the door becomes your best friend for a moment. Usually, the courier will reach the doors of customers with the help of a bicycle, which is a convenient way to travel short distances from the restaurant to the eater. I talked to Sandesh Kota, who has been delivering orders for four months, about how working as a "Bolt Food" courier helps him get to know Kaunas better.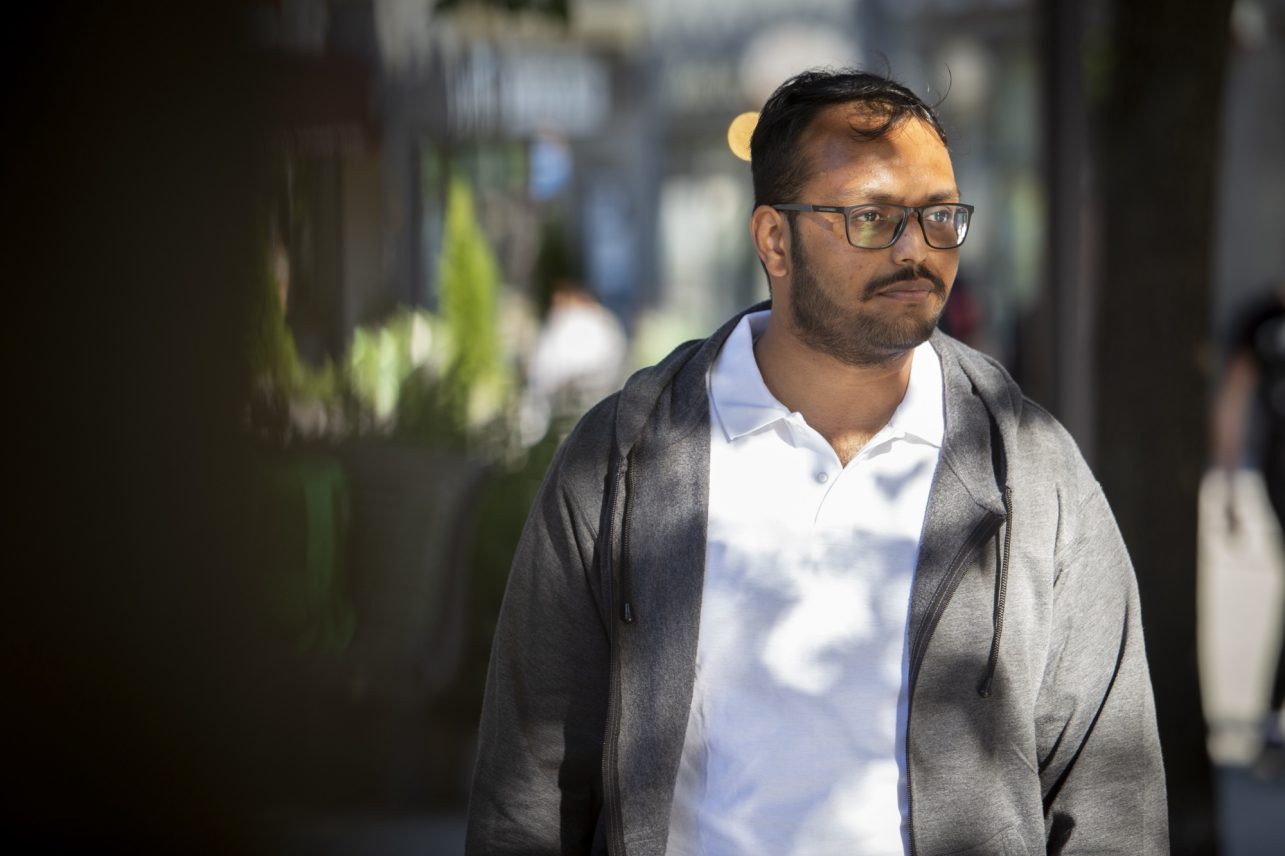 For the talk, I met Sandesh on a particularly warm June evening at one of the "Vero cafe" terraces, as my conversation partner turned out to be a coffee enthusiast. He came to Lithuania from India in September of 2017 for a master's degree at Kaunas University of Technology (KTU) and is currently working on his PhD. Sandesh initially planned to study in the United States, but changes in the requirements for international students introduced during Donald Trump's tenure had ruined those plans. Although the interviewee plans to move further West after his graduation, Lithuania has also become dear. "When I came here, I immediately noticed the fresh air. I am also pleased with my studies, the comparatively low cost of living, as well as some of the cosy bars here in Kaunas," Sandesh said.
The interviewee decided to start working as a courier because he was looking for new useful activities at that time. Indeed, before joining "Bolt Food", Sandesh was not a fan of cycling – he was more of a motorbike rider at heart. However, he realized that his leisure time was being spent aimlessly during a long period of strict quarantine. "I often found myself sitting idly, so I wanted to use this time purposefully. I am someone who needs to have activities; it's important for me to move; I like to roam in unfamiliar places," Sandesh explained. Therefore, having grabbed a green backpack and a bike, he started delivering orders in the neighbourhoods near KTU dormitories. The interviewee states that this activity helps him relax and clear his mind. "My thinking is very goal-oriented, and I can't concentrate on several different tasks at once. So when my head gets tired of studying, I ride my bike, and at that point, I can completely forget about other problems. After a few hours of working as a courier, I return to my academic work, which requires concentration, with a fresh pair of eyes," said the interviewee.
Perhaps because I myself was never good at navigation, or perhaps because the explanation of how to reach the courtyard of my house in food delivery programs consists of five sentences, I've always felt it took courage to work as a courier in an unfamiliar city. Sandesh said he is currently choosing to deliver orders in Dainava and Gričiupis because it doesn't cost the extra energy needed to drive to distant neighbourhoods. Although the Center has the highest concentration of restaurants, there are far fewer people living there. So with each new order, he gets to know this part of Kaunas better and better. While a GPS is still helpful and a must in many cases, it is slowly becoming easier to navigate with the help of specific buildings or the advertisements and signs present on them. What I found interesting is that while on a job that includes meeting many different people, Sandesh does not notice any significant cultural differences between Lithuania and India. "Sometimes I have to deal with unpleasant situations, people who refuse to communicate or help, but most of the time everyone is kind, understanding, and helpful. As in every country, there are good and bad people in Lithuania, but I do not associate it with a specific nationality or state. After all, we are all human, and any differences fade away when we start communicating," Sandesh shared his thoughts.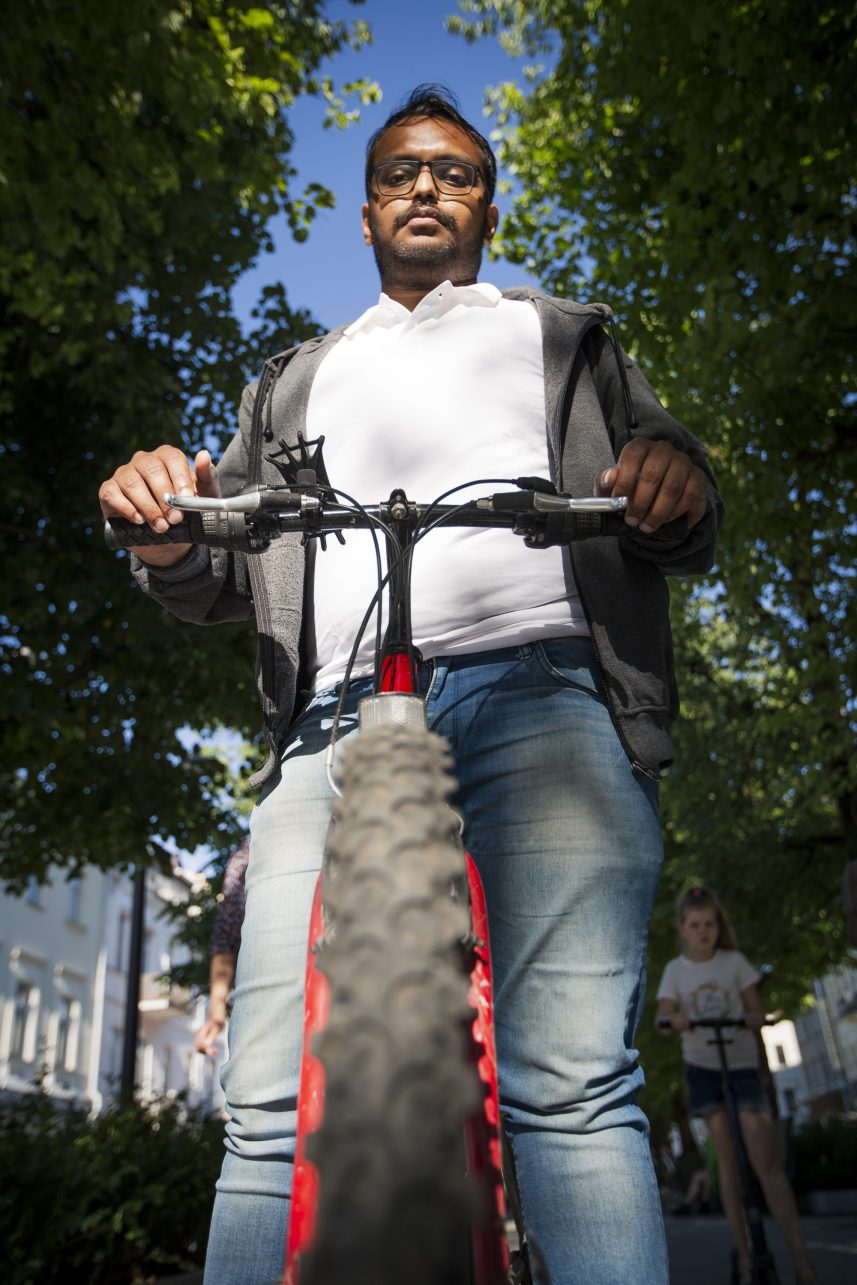 Between orders, the interviewee often spends time in Draugystės Park – one of Sandesh's favourite places discovered while working as a courier. "Life is bustling here – people are walking around, children are playing. I like to sit on a bench and enjoy the great scenery," he explained. While living here, Sandesh also discovered the Kaunas Lagoon, as well as the surrounding small forests. Other discoveries are yet to come. The interviewee assures that even if he decides to stop working as a courier, he will continue his trips around Kaunas by bicycle. "It's easy to get to know the city this way. The bike gives you the freedom to travel in any direction you want and to choose from a variety of interesting routes to your destination," he said. Although the interviewee is awaiting tense study work at the end semester, after it, he is eager to wander the routes suitable for a bicycle in Kaunas, suggested by his friends.