It would seem that the struggle for the freedom to wear pants or any other garment you find beautiful or feel comfortable in, is not over yet. Also, it is a fact that wearing a dress or a skirt on a bicycle is not that comfortable. However, a traditional attribute can also become a symbol of emancipation. And it did. SkirtBike Kaunas took place for the fourth time on a cool June Sunday.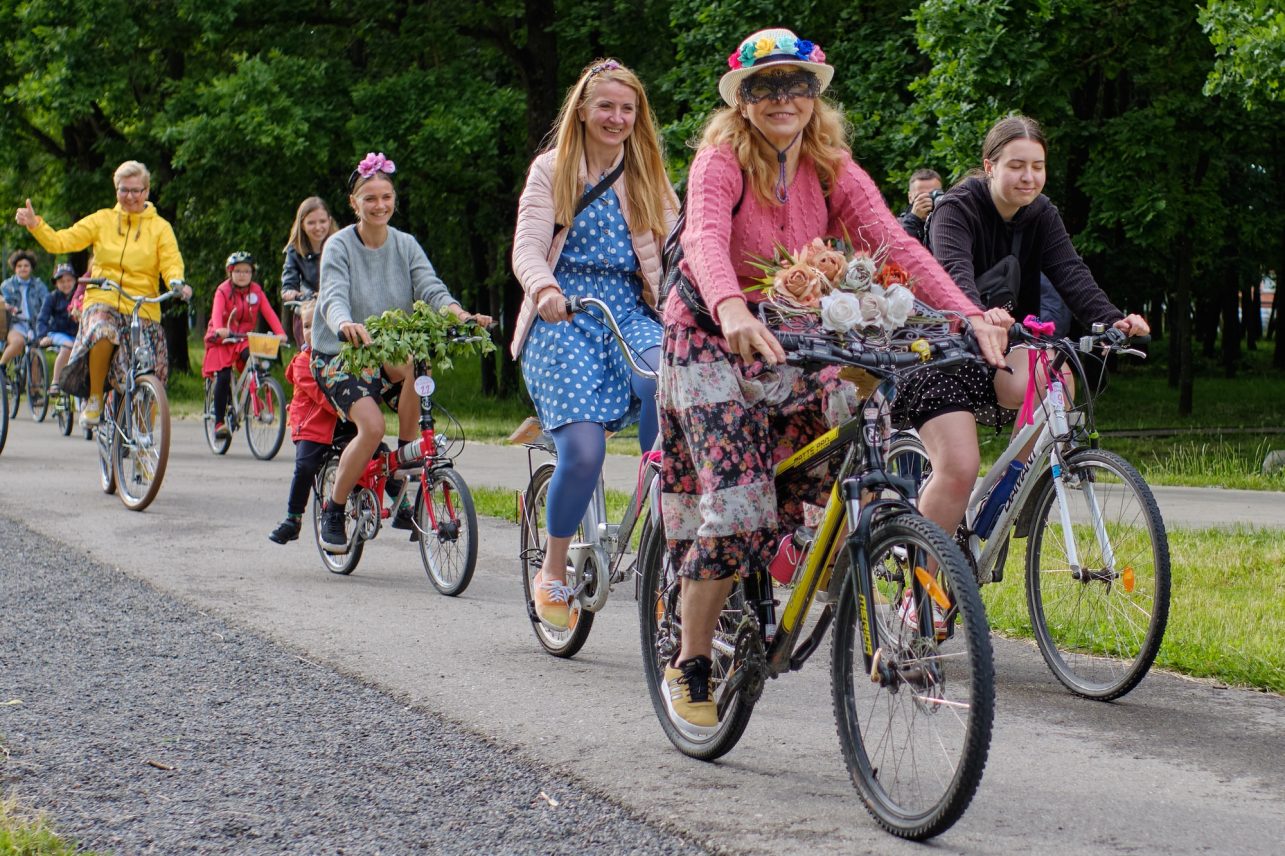 Last year, the parade of skirted cyclists took place in Laisvės Avenue, this year it was held in Draugystės Park in Dainava. Not in Dainava Park, which is right next door and where the first parade took place, and where I accidentally went first. With a car. And in Jeans. But it did not stop me from grasping the essence of the parade and helped to finally dispel the initial skepticism.
I think the aim is to draw attention to equality in all possible spheres so that we could all do what we want.
The main person behind this new tradition, Edita Štreimikienė became the agent of Fluxus Labas in 2018 (which is a part of the Kaunas – European Capital of Culture 2022 program) that moves and builds Kaunas' communities, and brought SkirtBike Kaunas idea with her. "After becoming agents, we studied a lot, attended lectures, learned how to attract the community. I had this idea much earlier, though. I saw it in Romania, where SkirtBike is organized by my very good friend, who agreed to share the logo, her experience and gave us plenty of encouragement."
Edita invited Solveiga Dambrauskaitė-Bakutienė, another hero of this issue to the team. And if you read an interview with her, you will understand why. That is how the female friendship started and the first parade took place. And in 2019, when Edita was expecting a child, Solveiga decided not to break the tradition and successfully organized a celebration in Šilainiai.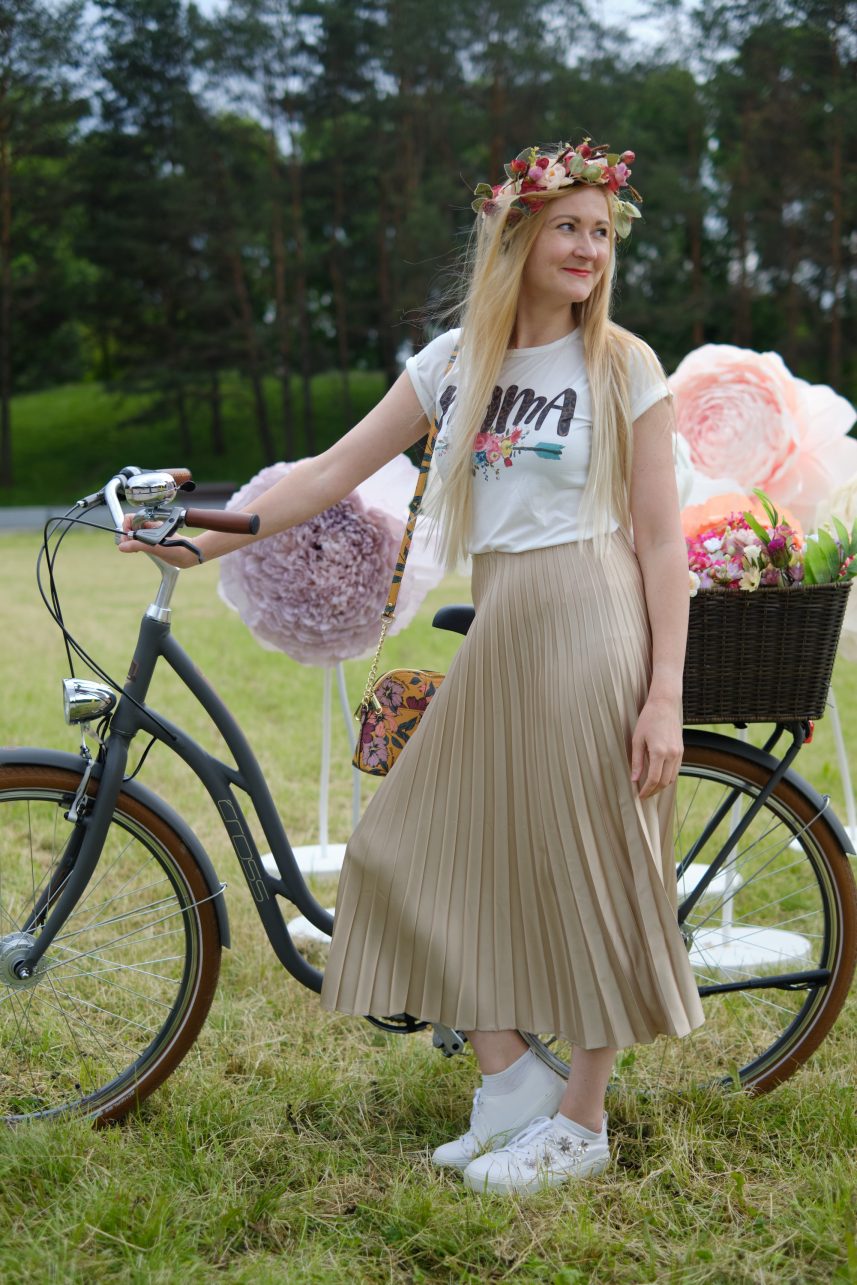 According to Edita, the first parade was the largest. There were not tens but hundreds of skirted cyclists. There were also men who exchanged their usual shorts for skirts to express support for their wives and perhaps to all the women, in whose lives the bicycle carries a variety of meanings. I also met various women in Draugystės Park. From the regular visitors of the park sitting around the sculpture called Tenderness being a bit surprised by the performance, "It's only advertisement," to people who were participating in the parade for the fourth time. From those who had decorated themselves with colorful flowers on this occasion, to those who modestly declared that a bicycle is an everyday means of transportation to them. However, it is still important to attend the parade.
"For me, a bicycle is a symbol of independence, freedom, moving forward, being able to decide for yourself," says Edita, who doesn't even call herself a cyclist. According to her, it seems easier and simpler in a group of women. And there is also a pleasant adrenaline rush. So, it is no coincidence that SkirtBike Kaunas this year was also attended by representatives of the Women's Helpline, who have already been interviewed in our magazine. They organized a dreamcatcher workshop, presented their work and invited people to donate, so that helpline would be able to hear more women. After all, a smile for the camera doesn't always mean it remains after a woman gets home. So, there was no other way to greet the organization that believes in the unity of women, but with applause. "Every year, I invite a different initiative to join the event. The first year, we talked about bullying and violence and this year I turned to the Women's Helpline," Edita said. She is not participating in the parade this year because there's a baby in her arms! But she did buy a new skirt specifically for the occasion.
Another new acquaintance of mine, Skaistė, lent me a decorated bicycle for Edita's photoshoot. She and her daughter Evita came to the parade with new bikes. That same Sunday she bought a bicycle for her husband too. He, however, stayed at home. "I just started riding more actively, but I was always jealous of the women who did so," Skaistė smiled. Her daughter's wish to move more also inspired her wish to renew her personal transportation. Evita does not feel comfortable pedalling with a skirt, but Skaistė thinks it's beautiful. The woman says that the only problem so far has been carrying the bicycle up to the apartment, however, she has already started riding to work in Laisvės Avenue. Only she still cannot cycle up Parodos Hill, but I reassured her that it would be a matter of a few weeks.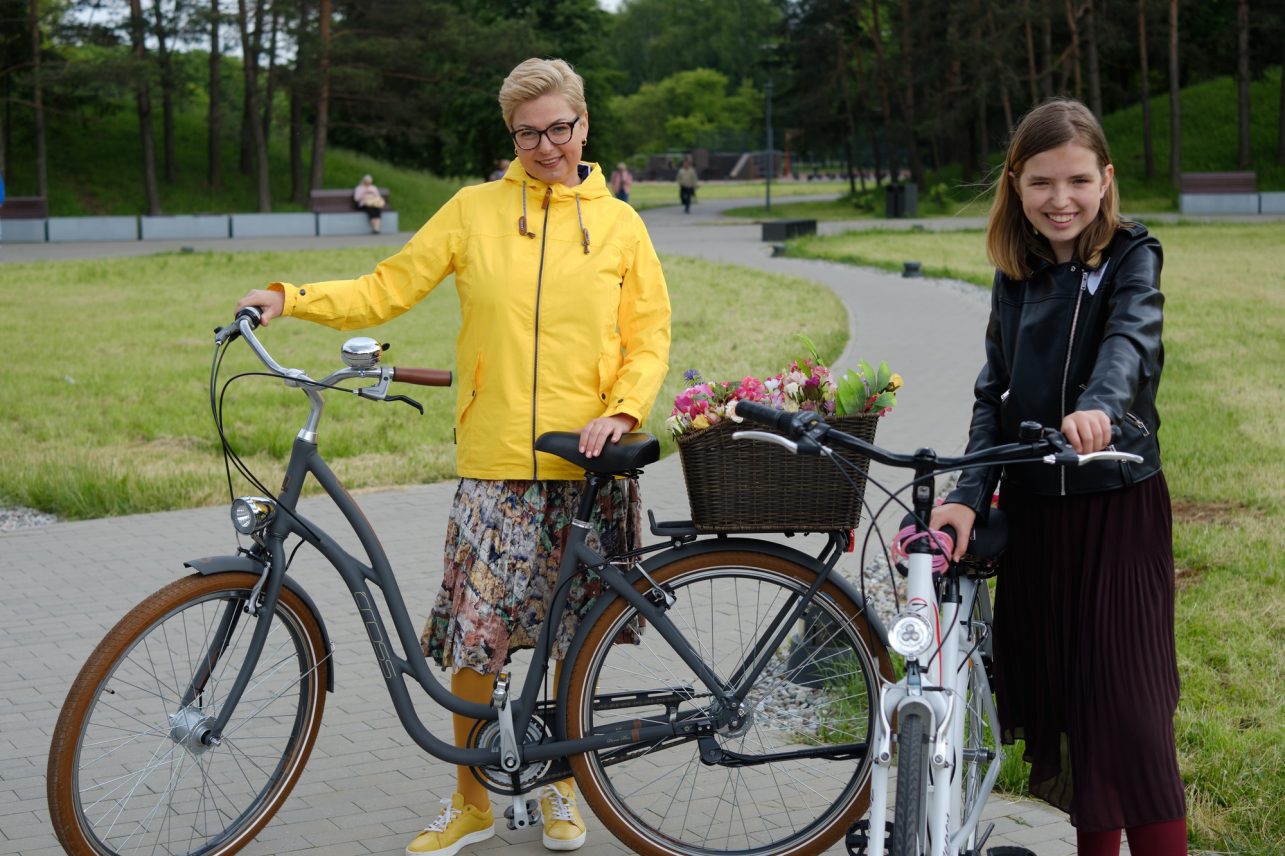 I greet Narmin Aliyeva, who was been living in Kaunas for almost eight years with breaks. A girl from Baku, Azerbaijan, has graduated from KTU, found a job and is now actively working to strengthen the ties of immigrants, for example, by organizing quizzes in English. For her, the bicycle is a part of everyday life. It is her third one in Kaunas because apparently bicycle thieves have been quite busy… "If it doesn't rain, I travel by bike. I simply find it more convenient," Narmin says. She had to really look for a skirt in her closet, so the Sunday ride was not that comfortable. This is how Narmin, who is taking part in the parade for the second time, interprets the SkirtBike metaphor, "I think the aim is to draw attention to equality in all possible spheres so that we could all do what we want."
As an experienced cyclist Narmin also shared one of her favourite bicycle routes in Kaunas, "I live near Ąžuolynas, so I ride towards Panemunė and then to Šančiai and back to the city for lunch or dinner," Last year she also discovered the route to Kačerginė.
An extremely free-spirited and ambitious girl surprised us with the fact that she didn't ride a bike in Baku as a child. Not only because there are no bicycle paths, infrastructure, but because she wasn't allowed to do that as a girl. "Things are different there," she says, adding that this attitude is certainly not limited to her family.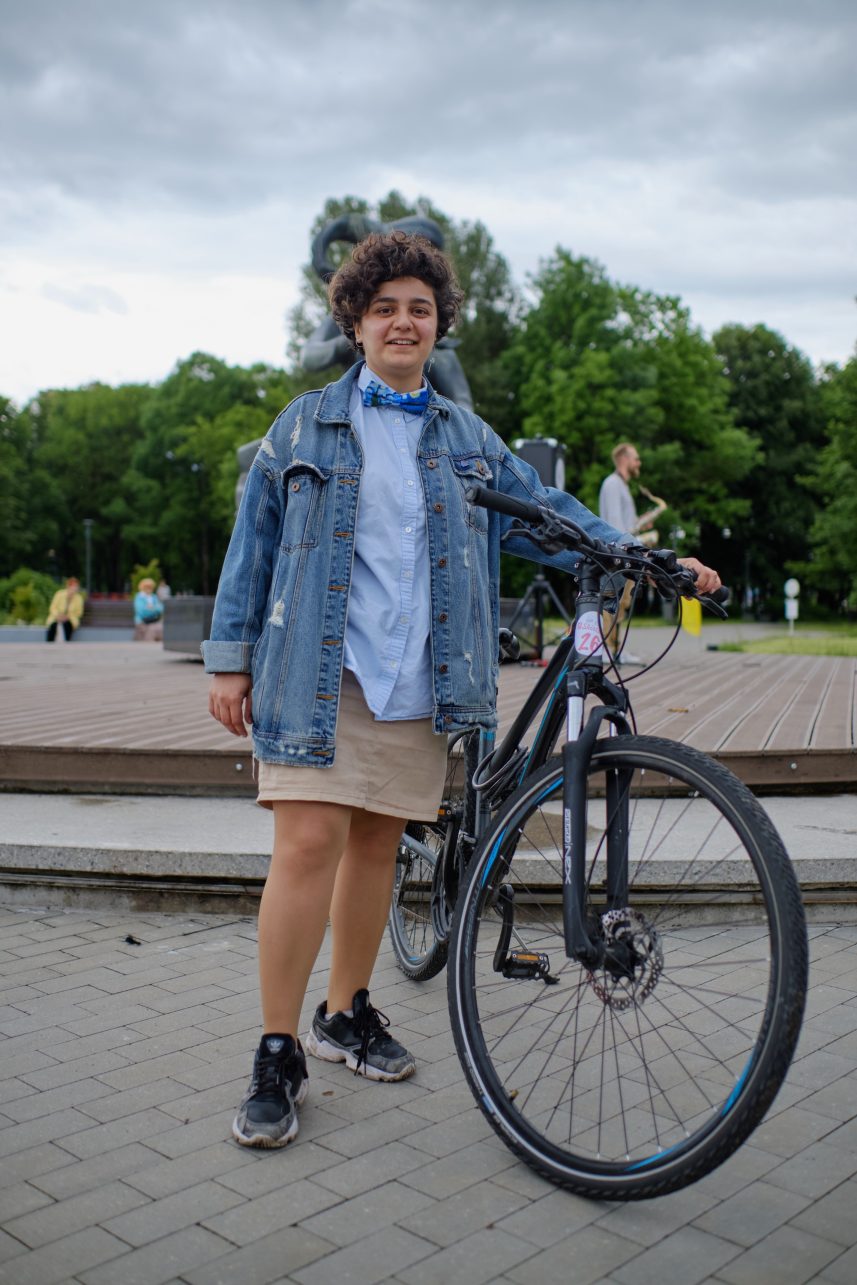 When asked if her father agrees to it now, or if he were to change his attitude after visiting the parade, Narmin laughs. He doesn't even know she knows how to drive a car. But she does agree that after her parents' visit to Lithuania, their attitude softened. "I am happy about that," she says. That is why such events are important for her, everyday cyclist, and other women, who like to break the monotony of everyday life with flowers, or those who take off the smile mask at home or motivate others. After all, every parade takes place, so that the things it declares would become a norm in the future. So, we could grow out of it.