The history of the tandem, a two-seater with such an unexpected-sounding detail as the eccentric, dates to the 19th century. However, on bike lanes or roads, this vehicle is not simply exotic, it's a rarity. There are many reasons for this as well as the advantages of traveling by tandem. That is what we talked about with architect Rasa Chmieliauskaitė and art critic Justinas Kalinauskas in the bicycle-friendly yard of Vingiu Dubingių bar.
One of the couple's trips discussed during the conversation took place in Estonia, the other was supposed to take all the way to Normandy. About 80 kg of luggage travels along with two people – almost a third person! However, when in Japan, Rasa and Justinas rode folding bikes that become hand luggage on the plane. But this is another story.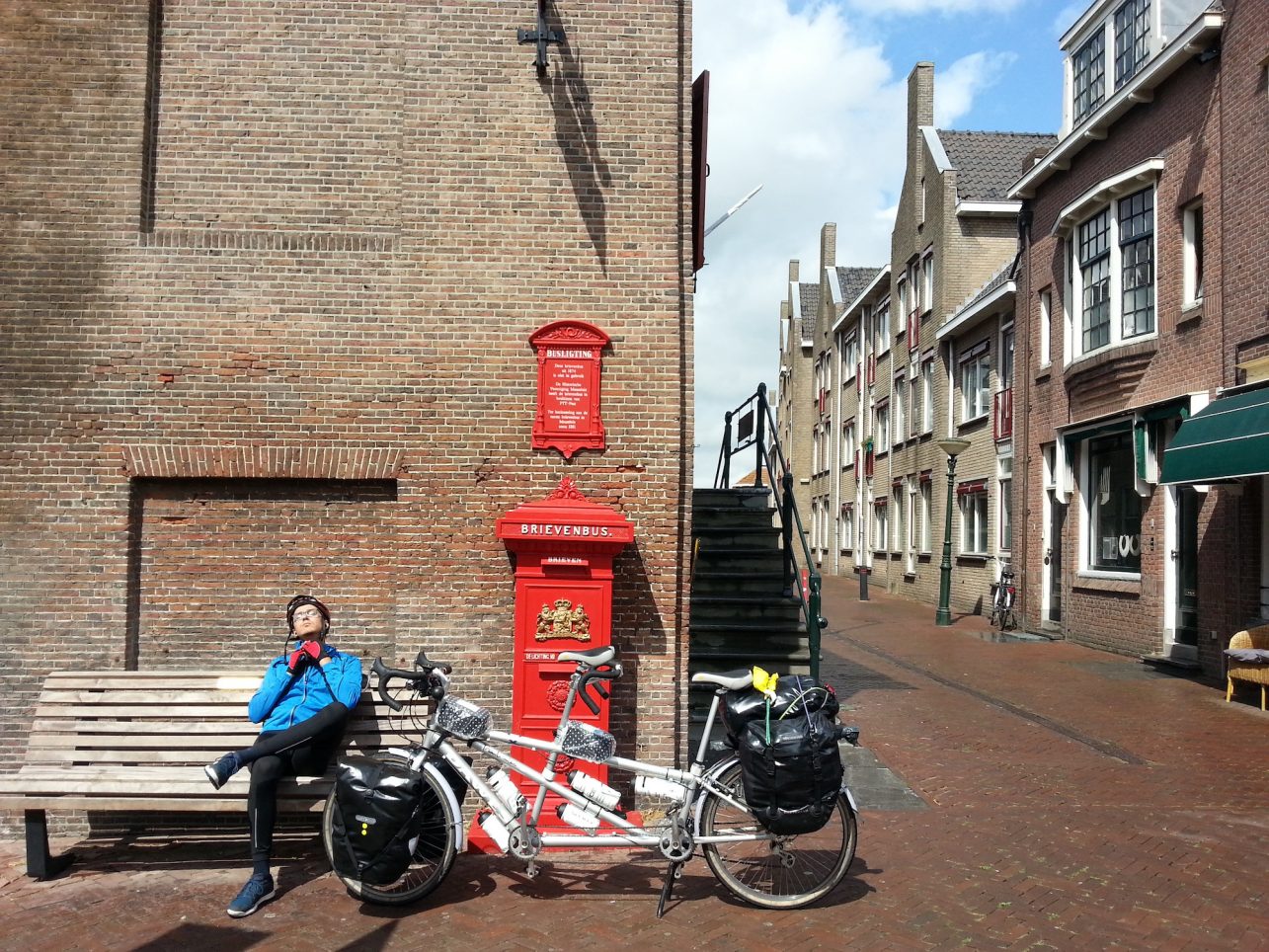 Justinas: I have travelled around Europe before – it was with a single bike – to Italy, Croatia. I travelled with two other people, the pace was quite intense, I wasn't physically and psychologically prepared. On the first day we finished 155 km and on the third a 180! When you ride so fast, you don't get to experience traveling, it becomes more of a sport, whether you are in Poland or Austria.
I prefer slow, consistent travel. With the plane you just teleport and with a bicycle you get a completely different phenomenological experience. You cross borders and see how the culture changes. Maybe the impression in the US would be different, but in Europe it is really interesting. That is when the idea of a tandem was born. After all, with a single seater, even if you ride with others, you're on your own, there is no one to talk to or share impressions. In tandem you are very close, and you cannot escape your fellow passenger. You have to pedal at the same pace, the chains are locked, you cannot pretend anymore.
Rasa: By the way, that pedalling differs. The driver or pilot has more work. The one who sits in the back is more relaxed. At the intersection, for example, the driver puts more energy into thinking how to behave, and the second pedaller just needs to pedal harder, give power to the action.
Justinas: In tandem, the bike itself is just one of the elements. Yes, it is an interesting construction, it interests people both in Lithuania and abroad. But the point is interconnection. Surely not anyone can pedal together. After all, you can get on each other's nerves.
So, who was the first to propose the idea of tandem?
Rasa: Justinas! My relationship with this vehicle is such that as a child, my family and I rode mountain bikes, and when I moved to Holland, I rode city bikes, completely run down, the ones that would not cause any pity if stolen. It was just an everyday means of transportation. In Rotterdam, for example, where I spent most of my time, I haven't used the metro even once. Why? You pedal even if it rains. Later, while studying in Japan, I also travelled to university by bike. Before we got the tandem, I hadn't gone on longer trips, I couldn't find company. Partially, this vehicle was perfect for our first trip because I was a less experienced cyclist.
By the way, when we travelled to Estonia, another friend tagged along. There were times when we lost him, we didn't communicate well enough, however, this cannot happen to us anymore.
It is possible to understand each other even if the wind is blowing?
Rasa: All you need to do is turn your head [smiles].
Justinas: While pedalling we always talk about all sorts of things. After all, the journey is long. You basically don't have time for yourself during it, there isn't time to think, to reflect. But I wouldn't say that's a con, rather a different experience, a collective survival. Either way, some ideas about future projects manage to emerge while on tandem.
Rasa: I usually notice more things and say, "Why don't we stop here?" I also photograph. Justinas drives, looks at the road, his back obstructs the view in front, so I look around.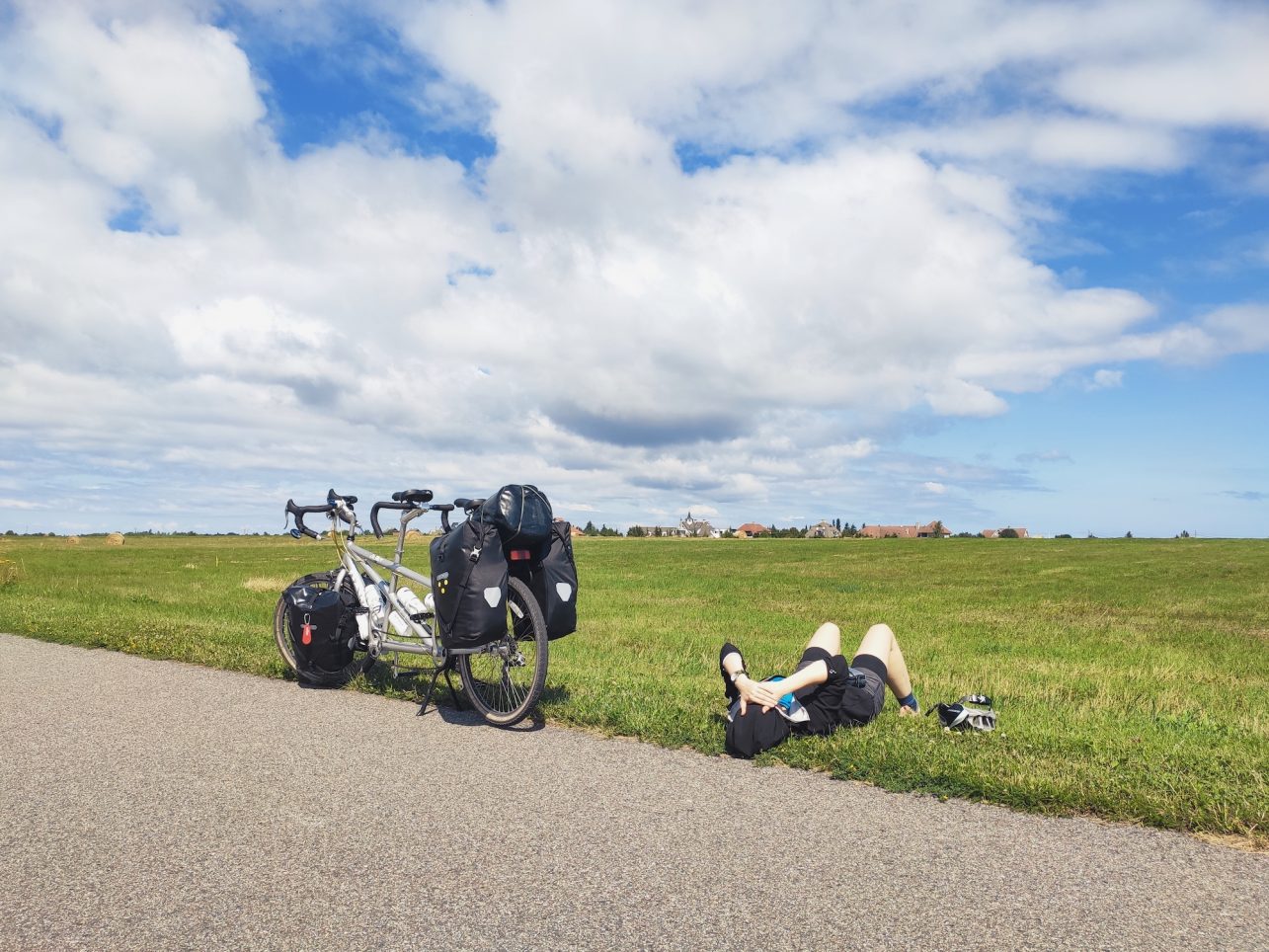 Is there such a thing as tandem culture?
Justinas: I have never met such travellers. Maybe there are more of them in the US or England, since they have older traditions. The resorts offer tandem rentals but it's more for entertainment and the bikes themselves are not suitable for long trips. Out tandem is a tourist one.
Justinas: I have never met such travellers. Maybe there are more of them in the US or England, since they have older traditions. The resorts offer tandem rentals but its more for entertainment and the bikes themselves are not suitable for ling trips. Out tandem is for tourism.
Rasa: We bought a pretty simple version from the couple who brought it in from England. They had used it once and decided they no longer needed it. So Justinas remodelled it, adapting it to long journeys and specifically for the two of us, for our bodies. It would be difficult to ride if we changed positions because Justinas is too tall to sit in the back. And I… well, I only tried to be at the helm several times. The steering bar is narrow, the bicycle is long with a lot of weight at the back. You must have a lot of strength to counterbalance that weight, to maintain balance.
What was your longest journey?
Justinas: When we travelled to France, we had a destination in Normandy – the island fortress of Mont-Saint-Michel with a monastery. However, we had 500 km left and we ran out of time. We did manage to reach France and finished our trip in Dunkirk, just 20 km from the Belgian border. In Ghent, I remember watching Christopher Nolan's film about the evacuation of Dunkirk during the war, released that year. We watched the film and then went to see the beaches.
Rasa: Ah, and we spent the night in Belgium with my friend, whose roommate came back the next day from a tandem trip in France! After talking to her, we decided that we would not even try to reach Mont-Saint-Michel. We had an idea to return home by bus or trains because it would be boring to pedal back through the same places. We learned from that girl that in France the trains don't accept tandems because they are too big. After all, it is one meter longer than an ordinary bike. So, after visiting Dunkirk, we later left home from Belgium on a bus.
In Estonia, we did the opposite – we took the tandem by car to Tallinn and from there we moved towards Lithuania along the coast and islands.
Justinas: There is a project called EuroVelo. It is planned to complete the highways dedicated to bicycles throughout Europe in a few years. For example, a route from Lapland to Greece will be possible, which will be longer than 5,000 km. There is also the Iron Curtain Road, which passes through Vilnius. So far, these are just segments, but the goal is that you wouldn't be able to cover these routes by car.
Austria, for example, has already finished its part and Germans are also close to finishing. In this country, we rode on one of the first roads dedicated specifically to bicycle tourism. It is a EuroVelo prototype that stretches from the Polish border to the Dutch border. You have to cover some segments in little towns, perhaps you have to cross the autobahn via viaduct, but most of the time you're on your own. Impressive! it is a recreational road that meanders along interesting, beautiful places. From castles to swamps. It motivates.
How often do you stop?
Justinas: 100 km a day is a psychological limit. But you don't cover that distance all at once. In fact, you travel about 16 hours, while you could cover 100 km in five.
Rasa: In the morning you try to ride as much as possible, then have lunch, rest. A couple more hours… and then an hour before bed. In this way, you can feel the change during the day, but you don't get tired and have plenty of time to do tourist stuff and can also allow yourself to change the route.
Which places stuck with you the most after visiting them? Perhaps those that you didn't plan on visiting?
Justinas: When we rode on EuroVelo in Germany, in the evening, when the sun was starting to set, we saw a sign to… Quedlinburg! We thought, wow, let's go! It was maybe a 15 km detour, but it was intriguing. We found an overnight stay at the boarding house and went to see where those annals were written. It is a town that has perfectly preserved the medieval spirit. I usually find them fascinating.
Rasa: A week later was my dad's birthday, I decided to send him a postcard. I went to the post office, the consultants asked where I was from. "Oh, from Lithuania! We know we are very important in your history!"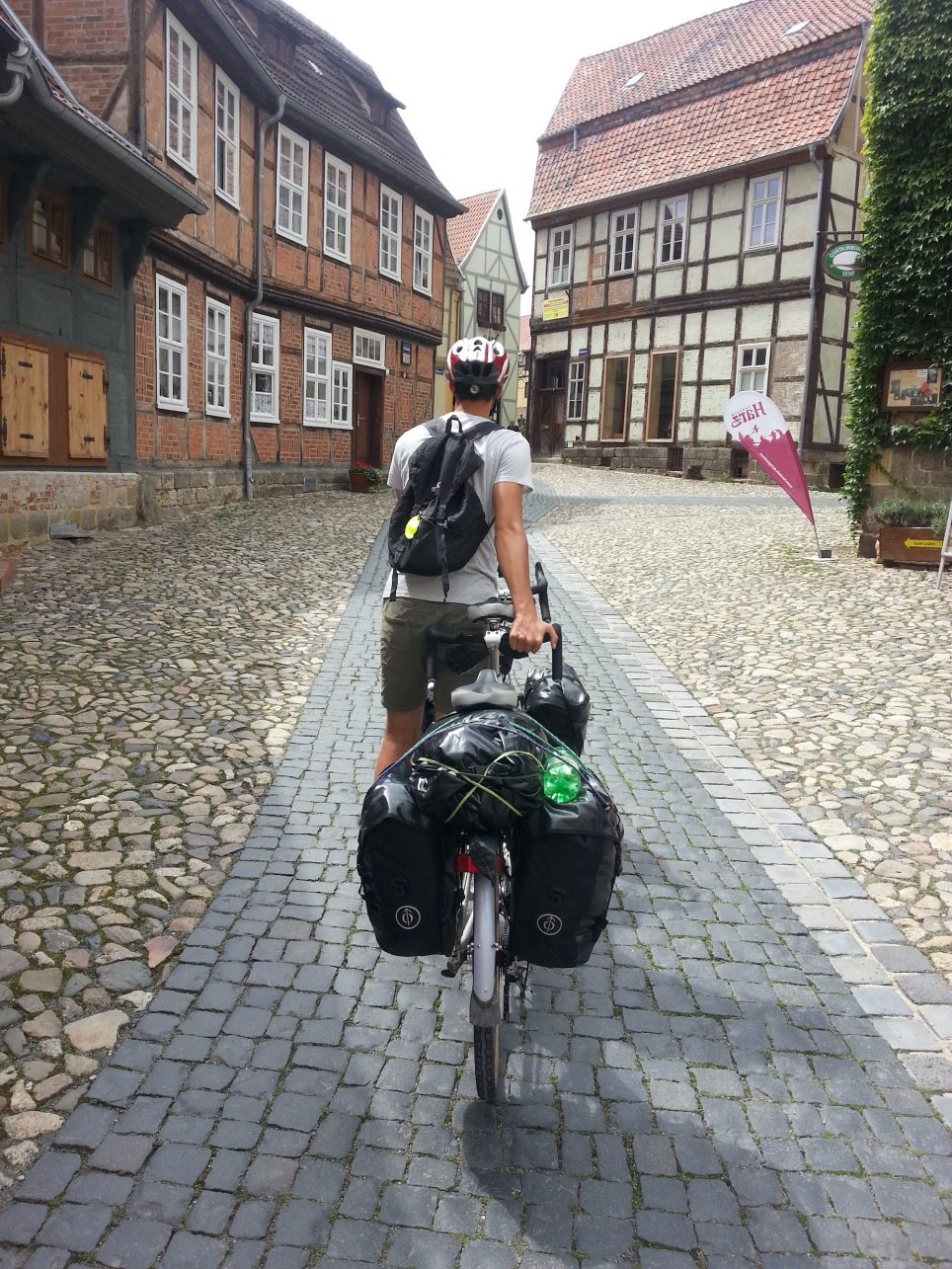 Justinas: By the way, an important observation concerning Germany. Water! You need a lot of it, but you can't always get it, for example, on Sundays, when shops are closed. So always think ahead.
Poland is also remarkably interesting. I have traveled there a lot in a variety of ways, from hitchhiking to trains. The Poles, especially when they learn that we are Lithuanians, gladly welcome us. Sure, the relationship is a bit patronizing, but it is fine when traveling. I remember the first day we drove almost to Suwalki and turned west on the old roads along the Königsberg border. In Poland, that region, Masuria, is kind of forgotten but it is full of great, atmospheric places. We thought a lot about history, close to our own, differently than in Germany. Lots of mixed ideological motives. You can find authentic old towns, the settlements with their hairdressing salons, shops and bars and no big chain stores. Next to Vistula Lagoon you can often see Prussian heritage. Of course, it is fragmented, much of the architecture has been destroyed. But the infrastructure itself remained!
Rasa: Yes, yes, old linden alleys are invaluable on a hot summer day. By the way, it was near the Vistula Lagoon that the hills started. It was just the beginning of the journey, and the muscles were not used to the strain. We planned to cross that segment faster but… we experienced more.
Where will you travel this summer?
Justinas: Now we have a lot of other activities, so we do not plan longer trips, although there are plenty of places to go in Lithuania and in Kaunas itself. For now, the tandem is resting…
Rasa: We don't really use it every day, it is uncomfortable in the city, when u must get on and off the bike: a pedestrian crossing, roadworks, curbs. Although it is a really fast vehicle compared to a regular bike. It is hard to catch up with it on a straight line.
Justinas: The tandem might be resting but its idea is not. In August, the tandem, which will take the form of a boat, will appear on Kaunas rivers. The production of an eco-friendly pedal-powered boat is currently underway according to an original project I have prepared. Everyone will be able to pedal after joining the expeditions of Upynė project.