Chairwoman of the Kaunas section of the Lithuanian Artists' Association, painter, lawyer, and reserve lieutenant.  It might seem that I am talking about several different women, but I am actually introducing Rebeka Bruder, whom I met in the former Drobė factory in Kaunas, built in 1923 and recently transformed into an urban-style space. Kaunas section of the Lithuanian Artists' Association settled in one of the factory' premises and Drobė contemporary art gallery opened its doors (we wrote more about it in the March 2022 issue of Kaunas Full of Culture). We talked about the current exhibition and Rebeka's journey toward art, and her new title – Kaunas Woman of the Year – became the reason for our meeting.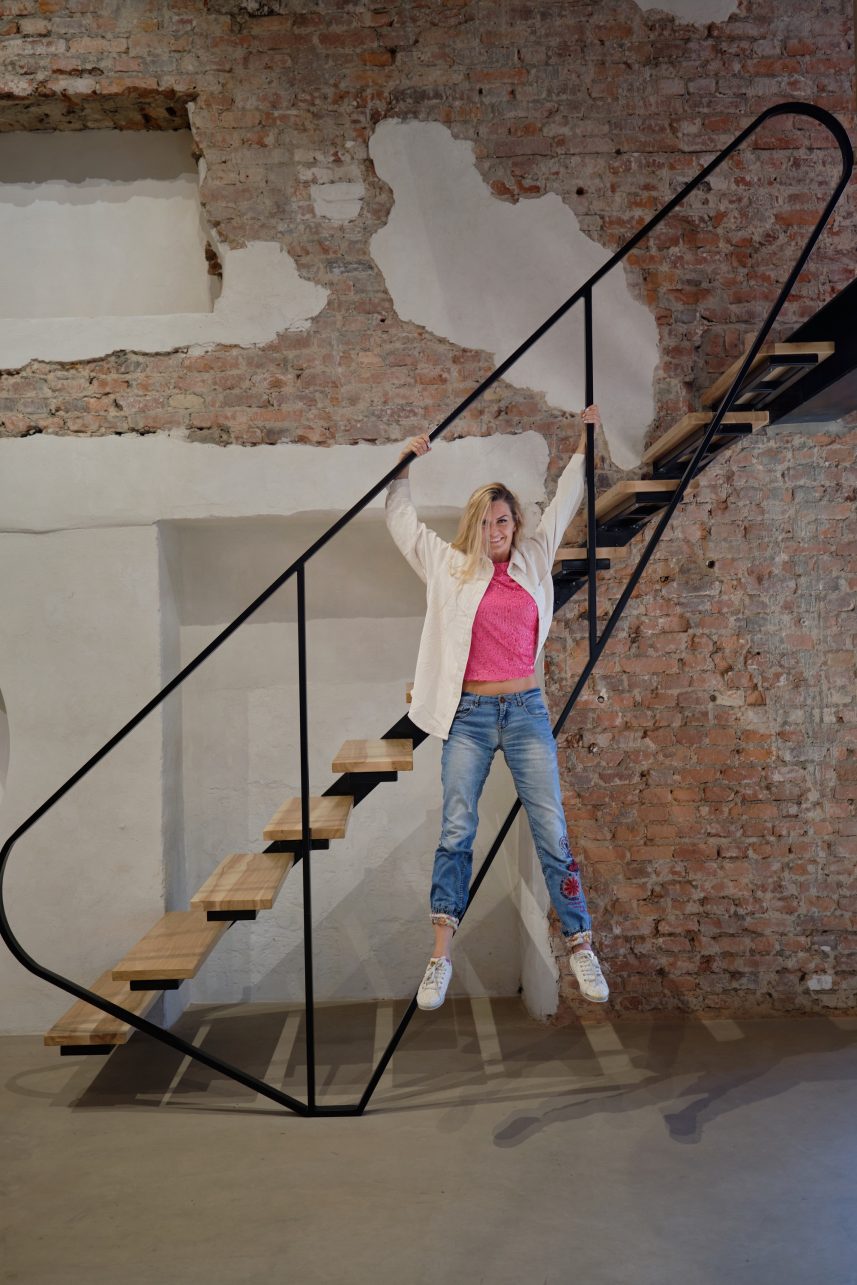 Rebecca, what have I missed in introducing you that should have been mentioned?
I am a law graduate. For me, it is one of the more important points in my biography. I first got my bachelor's and master's degrees from the Vilnius Academy of Arts, then I studied law and finally decided to enroll at the General Jonas Žemaitis Military Academy of Lithuania.
What attracted you first – art, law, or studying at the Military Academy?
Art. I attended the Juozas Naujalis Music Gymnasium, and then I changed schools – I went to Kaunas Art Gymnasium. Now I would say that art has always been a priority in my life, although I've had all kinds of ideas. One of them was: what should I do to generate income? Naturally, after my first bachelor's degree, I realized that in the arts, especially in Lithuania, the chances were rather slim. Moreover, I started to lack new knowledge. I'm a curious person, and I always want to learn something new, so I decided to look for an alternative livelihood option in case the art one failed. That's how the law came about.
During my law studies, I saw an advertisement saying, "Would you like to become an officer?" and, as someone who wants to do everything, I immediately thought, "Yes, I do." I would say it was a spontaneous decision – I filled in the questionnaire straight away. Then I forgot about it. After a while, I got a call from the Army recruiting office saying I had been called up. It was only then that I really understood what I had done. At first, I imagined that I would come as a civilian student, learn the basics, and go home, but that was not the case. I fell into order, discipline, a real army with all the parade and training grounds, drills, and ruck marches. And my physical fitness was far from the level it should have been when I decided to join the military academy. It wasn't easy, but I stuck it out.
And why didn't you stick with the law or choose a job related to the military academy?
I had such ideas. I did work as a lawyer and I did consider staying in the military, but eventually, I realized that I needed to find my own niche, where I could make the most of it. And the decision not to stay in the army was probably also influenced by the fact that, by the time I graduated, conscription had started – the army had become compulsory. I would have been assigned to Rukla, where I would have had to travel to other training grounds with heavy weights. I had second thoughts – I am a woman after all.
There was a desire to become a lawyer, but at the same time to be a military officer or to work in public relations, and at the end of my studies they needed people to go into the forests. Then I decided that I had had enough of the woods.
What kind of environment did you grow up in?
I was always a busy kid. As far back as I can remember, I attended all sorts of afterschool clubs. Both my parents spent long hours at work, so they had to leave me somewhere. Those clubs were a great place. At the age of four, I learned to play the piano, I took figure skating and fine art, and when I started first grade, I was invited to join the gymnastics team. My parents arranged my route so that everything was close to school and my mother's work. I walked everywhere on my own two feet. You could say I grew up on Laisvės Avenue, eating doughnuts from Spurginė.
When I graduated from school, I had no idea what I wanted to be. I remember filling in the paperwork and writing down a bunch of different professions: from painting to veterinary medicine, to psychology, to law and the army itself. Now I sometimes think that I'm going through life and I'm slowly adding to this list [smiles].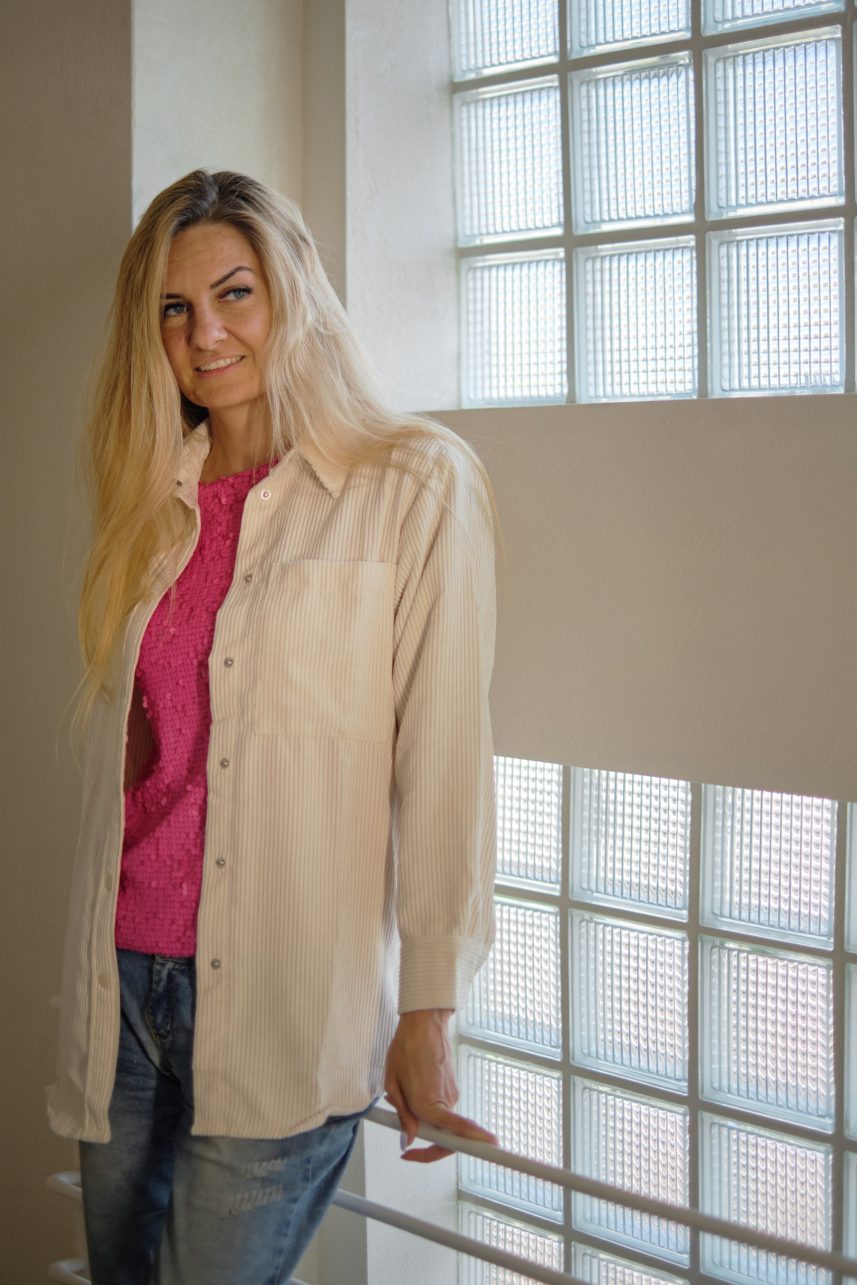 You mentioned that you didn't want to move from Kaunas to Vilnius because of the painting. Why?
I didn't want to, but later in life I had to anyway because of law school. Actually, I travelled quite a lot from an early age – if my parents couldn't travel themselves, they would send me with family friends, colleagues, or relatives, so the moment of separation was not difficult for me. Vilnius has always seemed a bit alien – I would probably have much rather emigrated to London. But it happened so that I ended up living in Vilnius for almost ten years and at one point I didn't even want to go back to Kaunas. Then I emigrated abroad and when I came back, I saw Kaunas with a completely different set of eyes – I realized it was my city.
After living in different places, you realize what your hometown is like, and how familiar it is. Here, every pebble is your own. I haven't felt that sentiment anywhere else.
What was your first encounter with professional art? How did you get involved in it?
My mother always took me to the theatre, museums, and wherever else she could at the time. But one of my first encounters with professional art happened when I was very young. I would call it a rather curious incident. I think it was in Moscow, at the Opera and Ballet Theatre, where we saw a performance. But at first, they did not want to let me in because I was around 5 at the time. My mother was told by the theatre staff that such a small child would not be able to sit through such a serious performance, but she assured them that I will sit for as long as it took. If I'm not mistaken, it was a long play, maybe four parts, and all I remember of it was the shot and the curtains coming down. But what stuck with me the most was when my mother said to me, "It is time to leave the theatre", and I told her, "Wait, there will be a fifth part." It seemed to me that the play couldn't have really end with that shot. It was this incident that first popped into my head. And all in all, art was really close to my heart from a very young age. I wouldn't say that this incident was a pivotal moment, but it certainly had an impact.
Last year you were elected the Chairwoman of the Kaunas section of the Lithuanian Artists' Association. What skills, knowledge, and qualities do you need for this role? Working with artists, curating exhibitions, and organizing an active community.
You need a full spectrum of qualities. The budgets in the cultural field are really small, so you have to be good at everything, from carpentry to psychological skills that help to keep in touch with the community. Artists are really sensitive people, so you have to know how to present information properly so that nobody gets offended or hurt. Of course, you also need legal knowledge, which is unavoidable because you are constantly dealing with all kinds of contracts.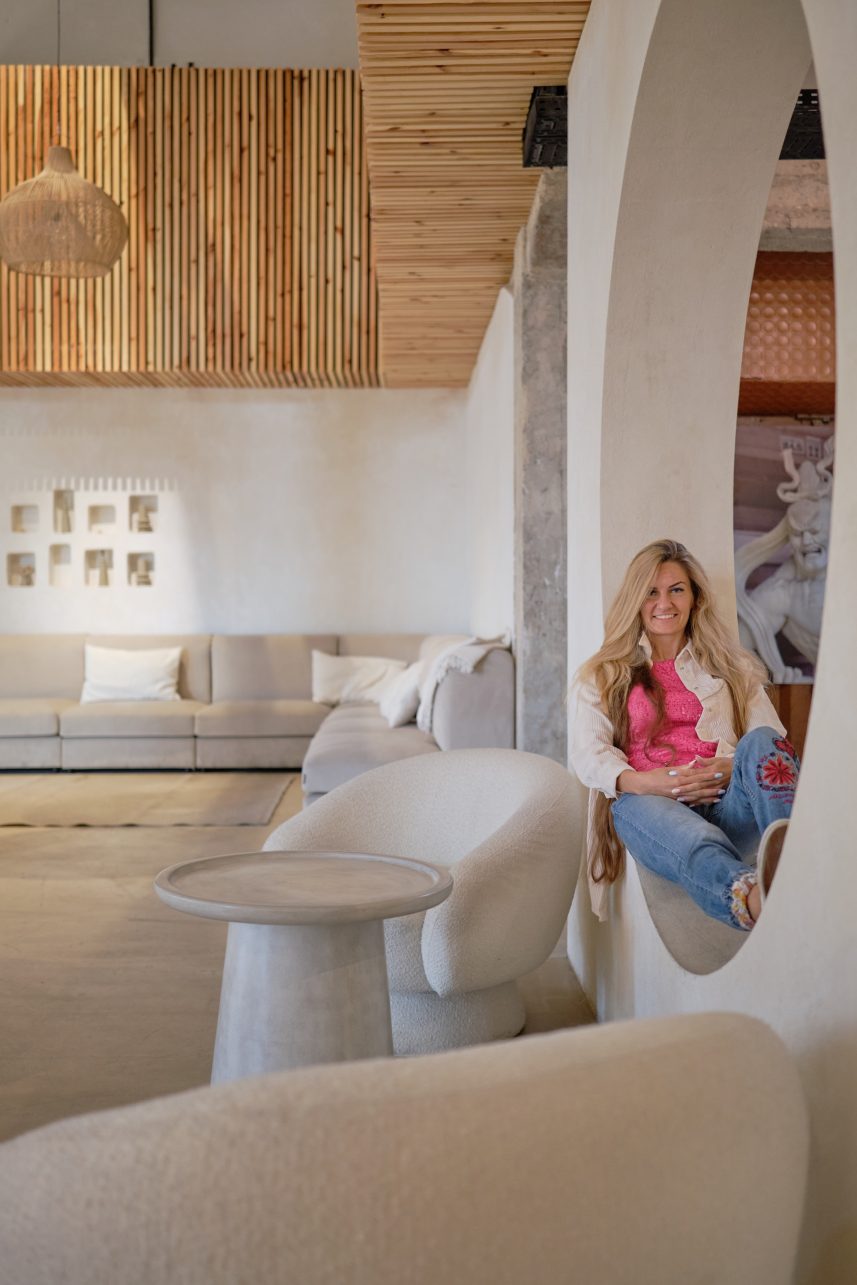 You do a lot of collective work with artists. I wonder how joint initiatives contribute to positive change for the artists themselves. For example, you recently opened the annual exhibition of works by Kaunas artists after a long break.
Artists are individualists, after all, so sometimes the question of why the association is needed comes up. When I came to work here, I saw that the community naturally dictated the need for joint activities. I remember listening to criticism, and comments about what the members wanted, and I kept hearing that there were no more joint survey exhibitions, and no one could see what the members of the association were doing.
I was also surprised by the turnout of the participants. Everyone responded very promptly and quite a large number of them joined (the association includes not only painters but also representatives of other art branches, who were not able to present their work this time). This showed that it was very much needed, especially after Kaunas 2022, when the whole city was full of various initiatives, but Kaunas city artists were nowhere to be found. There was a huge gap, so now I want to give everyone the opportunity to show their work.
Rebeka, you were voted the 11th Kaunas Woman of the Year in early March. What does this nomination mean to you?
To be honest, even though it's been almost two months since the ceremony on March 8 and everything had to sort of fall into place, it didn't. I've been caught up in such an intense period that I haven't really understood what has happened. In the meantime, we opened the exhibition, the Kaunas International Printmaking Biennial Mammoths of Printmaking, we participated in the fair in support of Ukraine and held our annual conference. I haven't looked at it retrospectively and haven't realized what it is yet, but I am really very happy and grateful to everyone who voted and supported me. This is really unexpected for me. This achievement, of course, did not happen without the help of the association members.
Medical doctor Milda Dambrauskienė, who became Kaunas Woman of the Year last year, said she was glad that this title gave her even more drive and gave her voice even more weight in the corridors of various officials. Do you have any goals for yourself?
In that moment you feel like you're under a magnifying glass, and you want to do everything as well as you can, to the best of your ability. The moral imperative really does drive you to do more, sometimes even without sparing yourself. I believe that notability in some places can really pay dividends in the long run. This is also useful when you work in the arts: it is easier to contact the media, to draw attention to the Kaunas Artists' Association and the gallery, which was one of the main reasons why I agreed to take part in this project. And, most importantly, I am not the only one who is a Kaunas Woman of the Year. I think that all artists are the Kaunas people of the year, this is a triumph for our community, which will definitely bring benefits.