When inviting us to her home in Romainiai, Monika Žaltauskaitė-Grašienė, or Monika Žaltė, laughed about the fact that she has a studio there, but it no longer has loom. "I dismantled it. Maybe when I retire, I'll put it back together."
The textile artist, who works at the Kaunas faculty of the Vilnius Academy of Arts and is a member of the Kaunas Biennial Council, uses the computer jacquard technique as her main method for creation and her artworks are transformed from the digital state to the physical one in Audėjas factory in Vilnius. And if nowadays we don't go a day without learning about the new skills acquired by artificial intelligence – laughing at its victory in a photography competition, and teaching it how to write bachelor's theses – when confronted with Žaltė's work it becomes clear that no processor, no weaving machine will ever create anything remotely similar in depth and substance to the artwork created with the help of the artist's indefinable sense of artistic expression.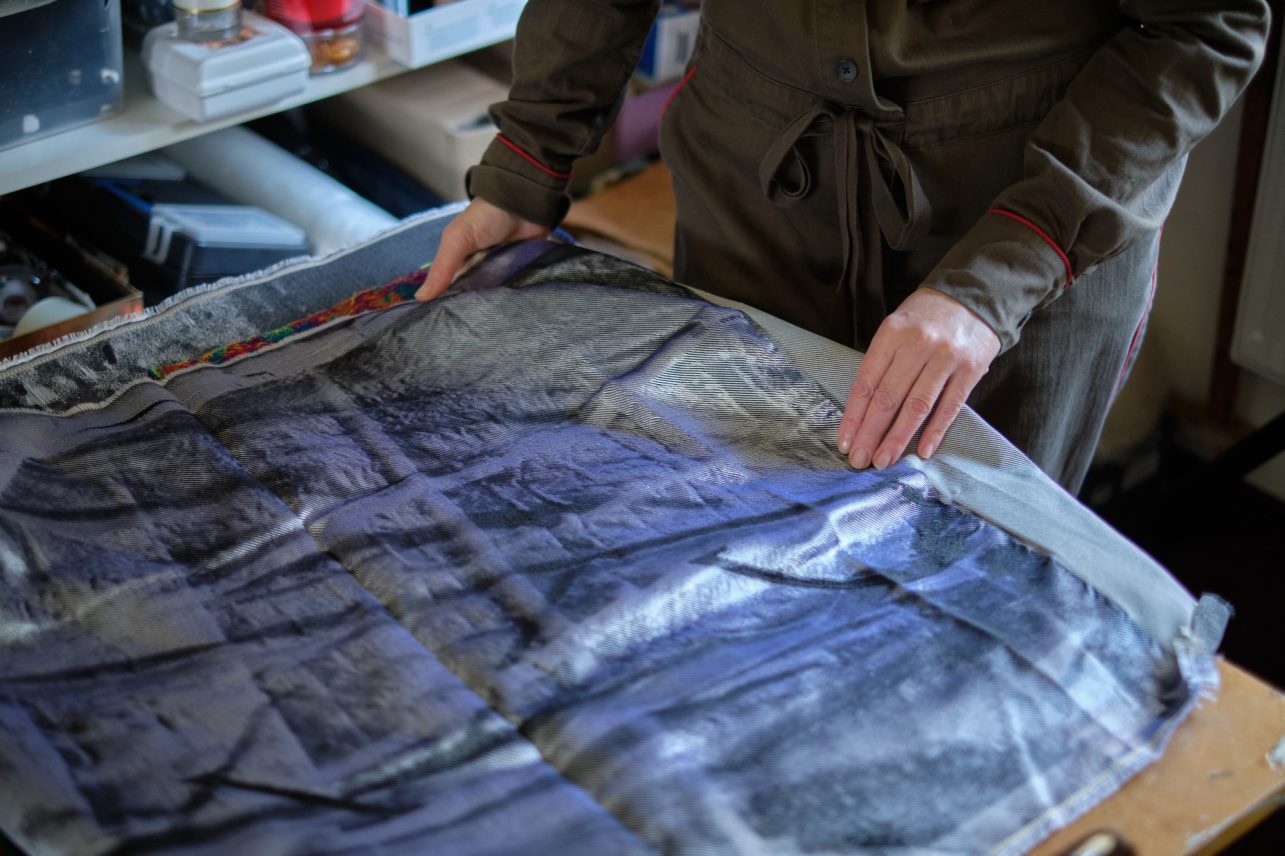 A year ago, in the exhibition Between Two: The Peering at, I was simply immersed, made to tear up, and at the same time straightened out by Monika's woven artwork WWW. Women oWn Writing (as the Kaunas Biennial states, "The pattern symbolizes the language of codes, which is made up of active 1 and passive 0 that is the basis of the whole system of textile weaving and the era of computerization"). That's when our acquaintance began. I remember the feeling that I just had to call her! And I was not surprised to hear that Monika had been chosen as the Most Memorable Kaunas Artist of 2022 by the jury of the Kaunas Artists' House. I called again to congratulate her and to talk some more about how memorable things are born.
The themes just kept on rolling, and this is not just a metaphor. The artist is currently immersed in the theme of water, as signalled by the work I mentioned above and the installation she recently showed in the Old Town, about which she will tell us more soon, and in the autumn, we will hear and see more about that topic of water. There's also a big exhibition of Lithuanian and Japanese textile art coming up at Kaunas Picture Gallery in the autumn. Almost a continuation of what I saw at Meno parkas in the spring of 2022 as part of Japan Days WA. But galleries are not my interviewee's only goal.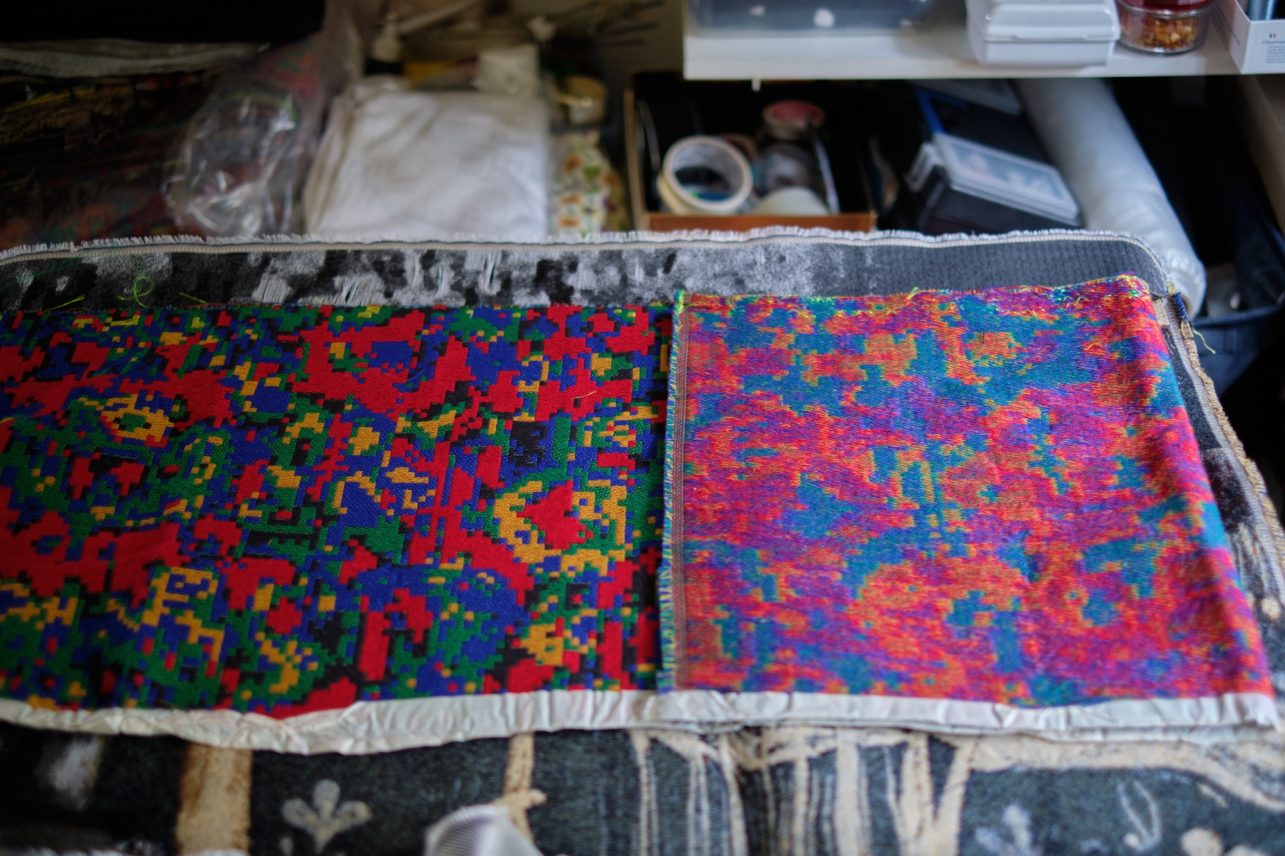 What are some of the most interesting places that your artworks ended up in?
When a foreign collector bought a piece, I asked for a photo, and she said, look, I cannot send it to you because it's meant for my bedroom. And in fact, as far as I can find out, for example, the works from Maria's Garments series often end up in various intimate spaces.
Do you think about that when you're creating – well, that one work or series might be suitable for one space and another for a different one?
No! Perhaps this particular series is not that tragic. Now (points to a work in progress) I'm working on St. John the Baptist. He is tied with ropes and looks more tragic. The Maries are feminine and calm. But I don't really think about where the pieces will end up. That's why it's always interesting to learn about their journey. While working, I can only dedicate a thought to a close person, a friend, or a situation.
Would you like to see more of your art in public spaces, so that these dedications would have a wider impact?
In that sense, the artists used to have more work back in the day. Although Soviet censorship was not a good thing, and maybe some elements had to be inserted, there was a system in place: here's a public building, it needs a ceramic panel. A competition is announced, and everybody submits ideas. Scandinavians still do this today, but I miss this approach in Lithuania. If there was more art in public buildings, society would learn more about art. For example, artworks in newly built schools – where are they?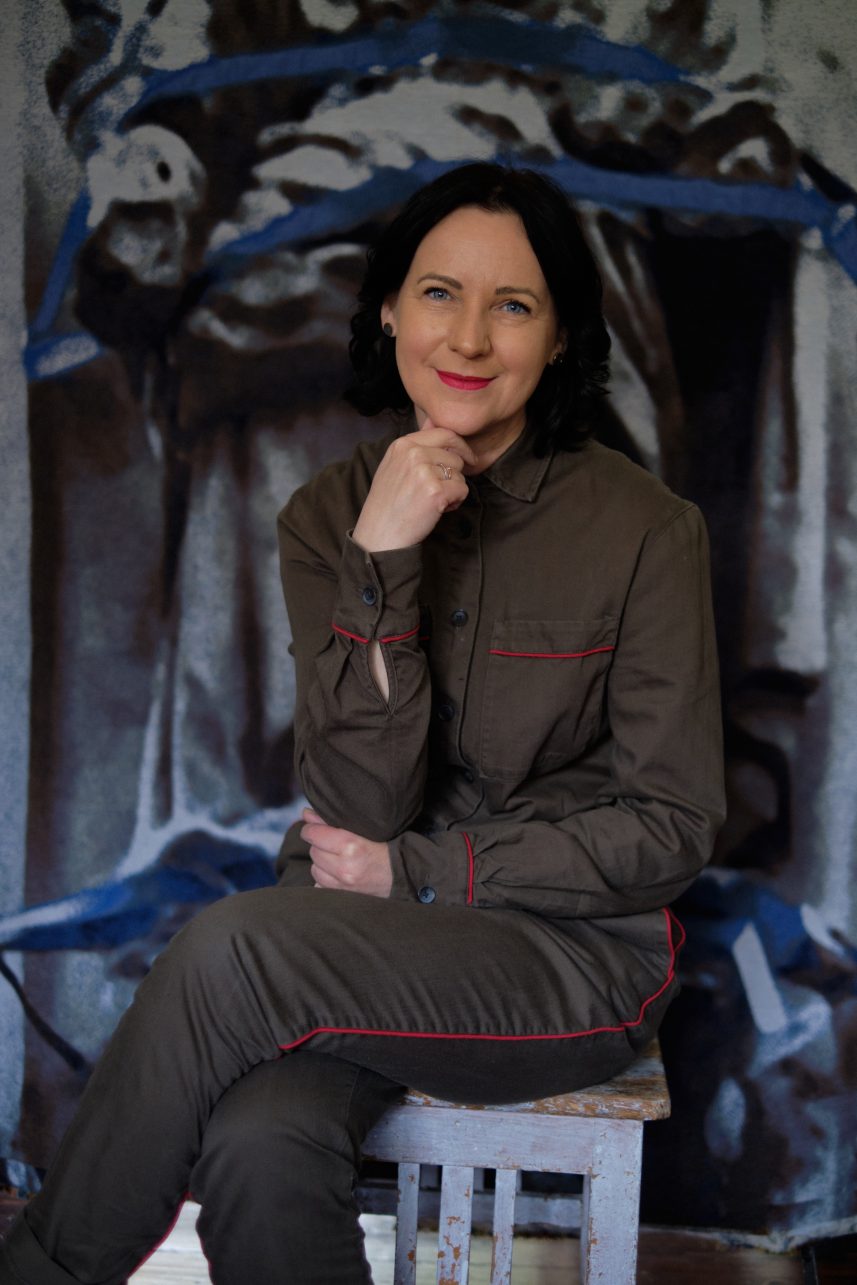 I donated two of my works from the Six Senses series to the Kaunas Clinics' Department of Obstetrics (where I created the artwork). I always get feedback from people I know who have been there, either to give birth or to visit someone, saw the works, and said, "Oh, cool!"
Can you tell us more about Six Senses?
I spent a lot of time there – my second son was born prematurely. I remember walking down those corridors and missing the energy that art generates. We agreed with the representatives of the clinics, and then we agreed with the families, that I would be able to attend the births of six babies. I will be allowed to take pictures and then I will weave artworks featuring babies. I remember we were in contact with the midwife. She would call me and say, "The cervix has dilated by 7 cm, come over." I would drop everything that I was doing, and drive there. And then slip in silently. Two of the women whose labour I witnessed were addicts. I got to know four of the families more closely, and we agreed that I would give them photographs, and also a small format artwork each but they refused to accept them, and I don't even know why. The clinic has two artworks: one 3 meters in size and another 30 cm.
Maybe those children, if they are girls, will come to the clinics to give birth and see themselves (in the artwork).
If they will recognize themselves [smiles]. But, yes, it was a beautiful and intimate project. I can't even tell you how much. Later on, I made a postcard on the wall, I left some thread so that mothers expecting babies could embroider their names. There are many names now. Partly it's a social project.
Thinking about your new title – Most Memorable Artist – I wonder if this intimacy, the purity of the moment, and the safety encoded in the textile, are precisely what makes it memorable. At least for me, personally, textile works evoke such feelings. But what does "memorable" mean to you? It doesn't mean "the best" or "the most popular" after all.
An incredible thing has happened here. There are heaps of people who have contributed to the culture of Kaunas and are certainly more valuable than I am. It's been a long time since I had a solo exhibition here, the last one was in Vilnius, and now I'm more often involved in group exhibitions. On the other hand, my work represents Kaunas by traveling to exhibitions abroad. The latest installation Swim Back if You're Alive, which I installed with my colleague Lina Jonikė in the open gallery Arterija (now it is on show in Meko skersvėjis in the capital) is actually more about the city itself, and it was fun to turn back and look at Kaunas as well as explore it. Although, on reflection, I can find more of those images, for example, the National Museum of Lithuania has acquired the entire series of The Smiling One. It consists of eight works, through which I tell the story about the statue of the Virgin Mary from the burned-down church of Kulautuva. The series has also been exhibited in Ukraine, Germany, Spain, Estonia, and France. Or Sacrament, in which I captured the Church of the Blessed Sacrament during the quarantine, which has already participated in the FITE International Festival of Contemporary Textiles in the main IMAGINE! exhibition as well as in the 17th International Triennial of Contemporary Tapestry Entangled State and is now on its way to the Arnolfini Gallery in the UK.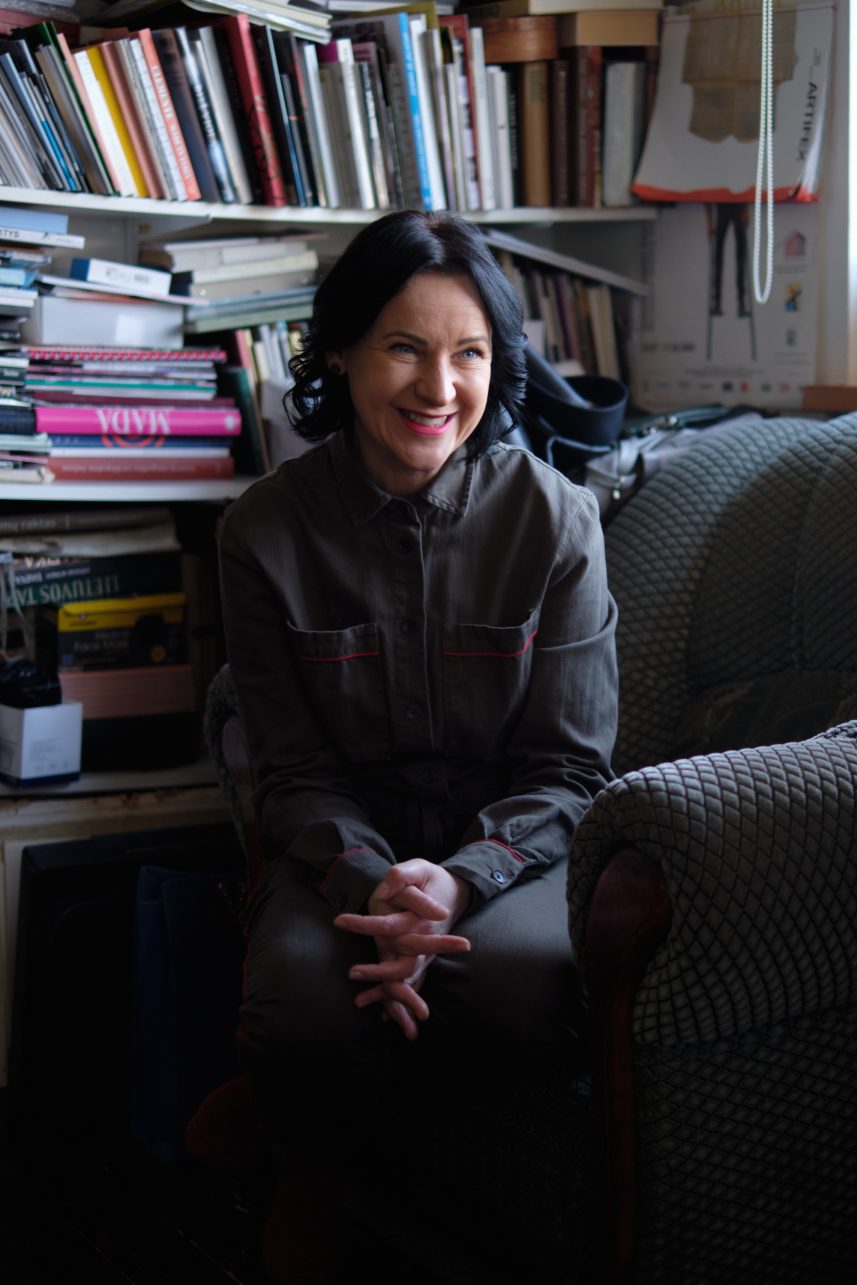 So, yes, I feel the city and I'm connected to it, so maybe I shouldn't be ashamed of being nominated for awards. I believe that the place you live in has a lot of influence on you. That horizon of each day determines colour-like thinking and being in general, and helps you to ground yourself, which is very important, even when thinking about the trend of a shrinking world and collapsing walls in art. Having your own magical place where you think or pray is crucial. When you are in the city, you can find many such places. I keep telling myself how I wish I could cycle to work because you don't notice much while in the car.
And what does "most memorable" mean to me? Probably the fact that you are remembered even without the big fireworks. Maybe people just remember you through the stories you tell in art, the experiences you convey. As you said, it's very intimate.
Are the religious and spiritual motifs in your work the themes that textile, as a matter that contains the history of humanity, urges you to address, or are they related to your own inner search?
The images come very differently. Most of the time I don't even expect the idea to lead anywhere. I'm a believer, so maybe that's how motifs come. You know, probably everybody believes in something, and it doesn't matter what that is. Yes, the material and the sacred are linked. When you look at Michelangelo's sculptures, you are stunned by the storm of draperies! There is a lot of textile art in the visual arts. That came from the old tapestries, which were, figuratively speaking, the TV sets of the time. For me, it's beautifully connected to our digital world – that's how I digitize textiles. Zero and one, passivity and activity – they are the basis of textile art. It's very strong in the sense of the fundamentalness, in terms of action. While the oldest technology is felting, weaving is not far behind, too. And the action is person-made, they decide how the yarn will behave. The process is continuous, and it fascinates me. In the art of classical thinking, of course, the result is the most important thing. I recently discussed it with a student. It seems to me that in modern society the process is much more important. Of course, there are also dangers, especially for the young ones, because it is easy to get caught up in the circle after all the process has to determine what happens next.
What is the beginning of your weaving process?
Documentation is very important to me. I have never worked with photographers, I do it myself. I document a mood, then turn it into an abstraction. The colours alone have to be reduced to about 20. Well, 40 at the most, because that means I have to create 40 weaves and come up with thread systems that work through those colours.
Lots of maths! Did you know when you chose your profession that you would have to calculate so much, or did you romanticize textile art?
Textile art wasn't just for fun. My friend's dad was Vladas Rukša, a ceramicist working with archaic technologies. His sister Aurelija Rukšaitė, a renowned sash weaver, taught me the basics.
I graduated from school in 1991. I went to school in Noreikiškės, Kaunas district, and my dad was a hydrologist who worked at what is now the VMU Academy of Agriculture. For our generation, independence meant… well, you can imagine. From the tenth grade onwards, we went on various expeditions and were interested in ethnography. I remember I went to the villages for a week with a bunch of people – I only left a note for my mother. Later she said she was in shock! We were collecting all sorts of utensils, and textiles, there were also singing and costumes. I would go to school with a national sash. There was a huge national upsurge. Just like in the interwar period, there was a lot of patriotism and a genuine interest in the past. Now, I don't see it anymore.
Although I still believe that our national identity is very specific and should really be showcased to the world.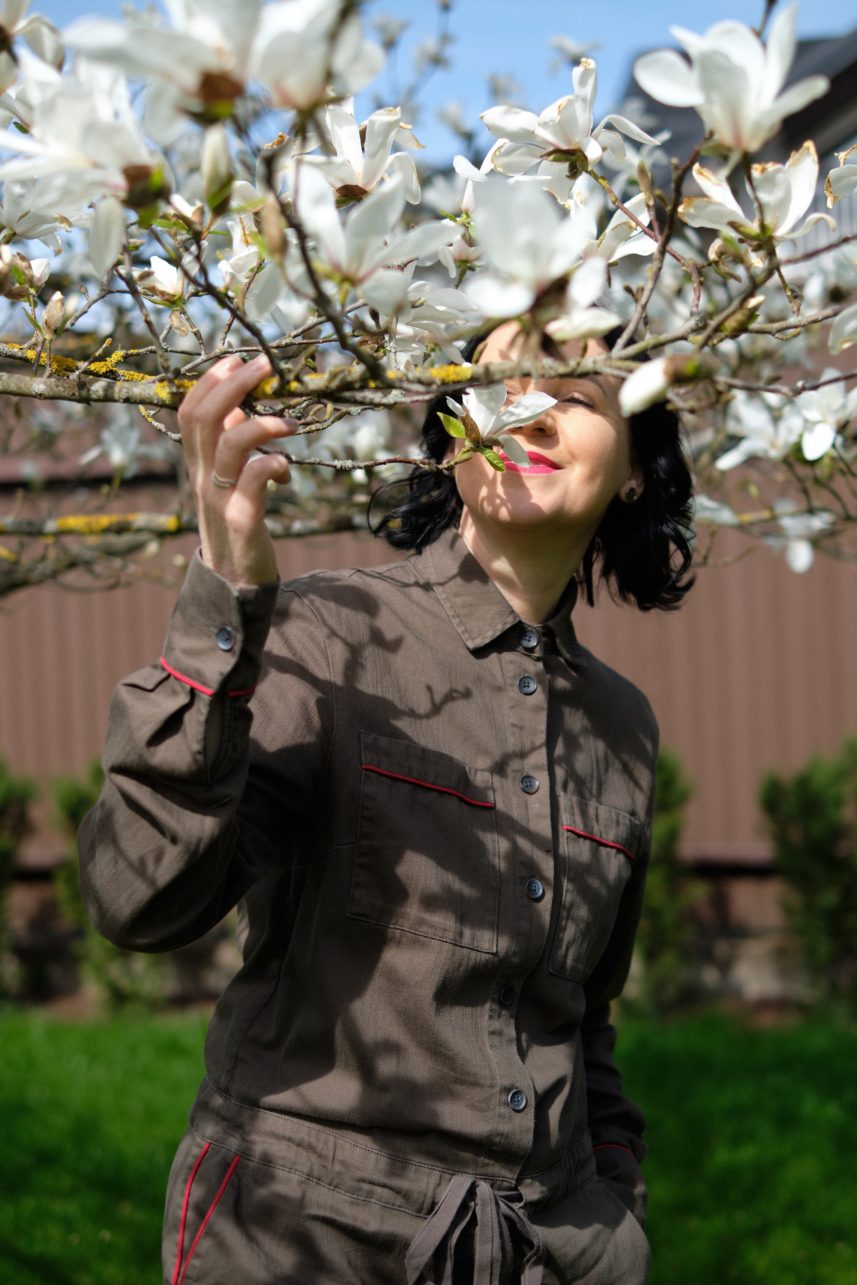 But that is exactly what you do, except maybe you don't shout about it, but whisper intimately. Monika, do you think Kaunas can still be called a city of textile art?
It certainly has been since the interwar period. As long as there are elderly textile artists, the tradition will remain. But today? I wouldn't say so. As far as the industry is concerned, there may be more small textile companies than in Vilnius, but I don't see the kind of breakthrough that we made in our time with the Textile Biennial, a world-class textile biennial. I remember Vita Gelūnienė saying, well, we can't go to Kyoto, so let's organize it here. And we did it, even though at first it seemed like a utopia. No budget and all that… During that period, we realized that we could not only be proud of the number of factories, but we could actually think about our environment in a textile-material kind of way. Now we are waiting for the younger generation.
How many students do you have?
In our department, we have 12 bachelor's students and 5 master's students. It's not too bad yet. I'm no longer the head of the department, eight years I think was enough. My colleagues and I are trying to turn the image towards fashion and clothing. We'll see if that attracts more people.
Of course, you can't step into the same river twice. Sometimes we are asked when we will be organizing the textile biennial. Well, never! But you can always find a bit of textile art in the Kaunas Biennial. For example, now, my Georgian friend, who will be participating in this year's Biennial, is doing research on the Silk Road (that actually existed) from Tbilisi to Kauno audiniai.