"Because I like Kaunas. I like smaller towns, I like it when the saleswoman at the kiosk recognizes me," Lina Puodžiukaitė-Lanauskienė, who grew up in Žaliakalnis and Aura Dance Theatre, studied in the United States and now works in Vilnius, laughs when asked why she likes living here. To be more precise, in the Kaunas district, in Garliava, where her husband's parents built a house and where she moved after she got married. Close ties, traditions, and a strong community are essential to the artist, "I always buy kūčiukai (Christmas cakes) in one little shop. I once said that my dog likes them very much. A year later, I returned, and they welcomed me saying, "We already have kūčiukai for your dog!"
Lina and I sat down in the courtyard of the Kaunas Artists' House. I wanted to meet as close as possible to the M. K. Čiurlionis National Museum of Museum because ConTempo Festival will invite everyone to the museum's courtyard on August 3–4 to see her performance (preliminary version) Stiklinė (Drinking Glass), which explores the burnout process. Of course, we also talked about this condition. But, as it often happens when talking to dancers in Kaunas, it was inevitable to start our conversation with Aura.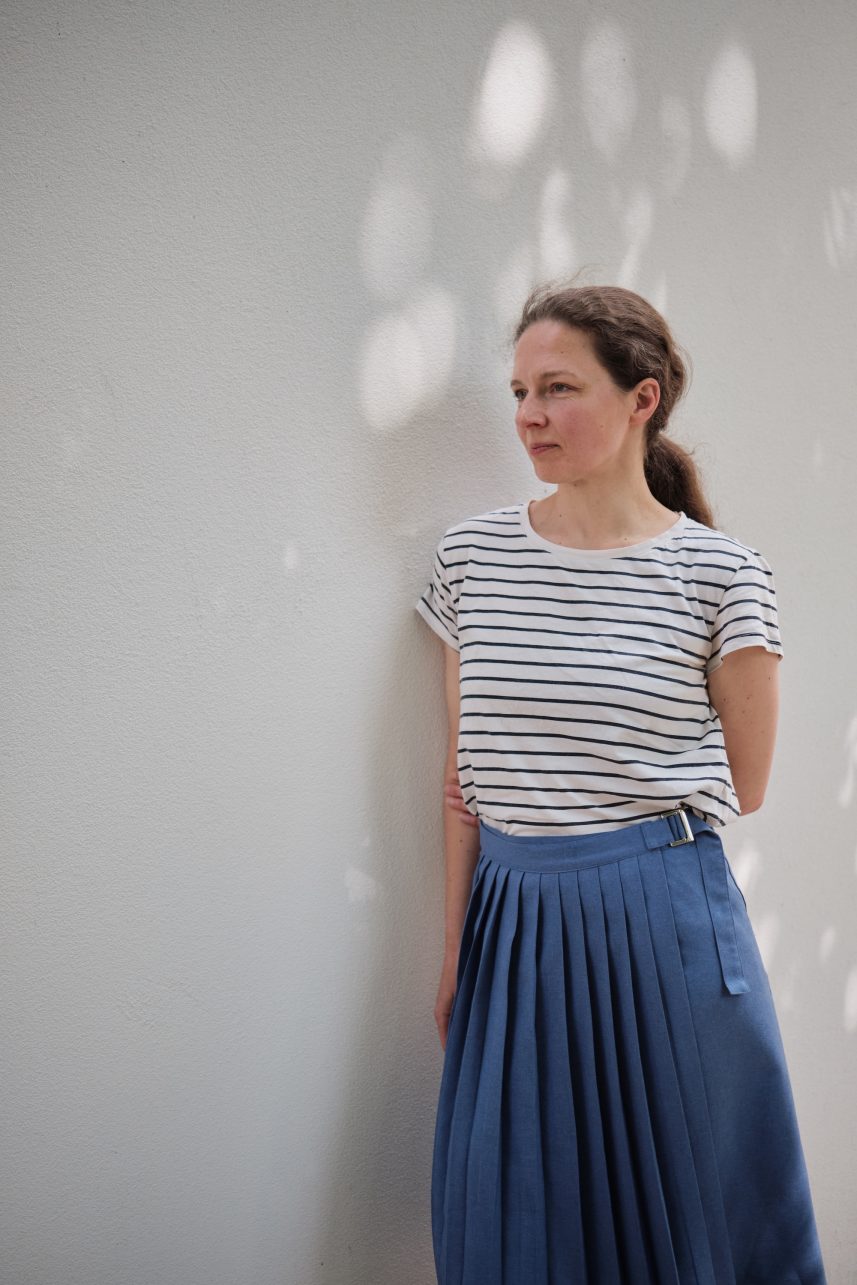 Lina, have you always wanted to be a dancer?
Yes! I went to ballet school for a couple of years, but then I moved to Aura Studio. It was the first important school that nurtured me. In Aura – after a few years I became part of the troupe – I felt the freedom that comes from dancing that is not set in one technical canon.
Do you think that the environment of your native Žaliakalnis, where nature and architecture are so important, influenced your choice?
My grandfather is an architect, my mother is an architectural historian, and my sister's profession is also not that far off. I notice that spatial architecture is very important to me in dance performances. I'm curious about how people arrange themselves in space and how it can change perceptions, attitudes, behavior. Dance is a moving architecture. Maybe it's all connected, because I grew up reading architecture magazines that my mother subscribed to, and then I would send them to her from the US, after flipping through them myself first. There was never a shortage of discussions about spaces and their planning at home.
Hence your desire to experiment with the environment as a choreographer and dancer.
Partly, yes. I admire site-specific productions, and unconventional spaces. I realized that if I have a black box – a theatre stage – then I create according to the principles that I know well. When I go to a different space, the principles break, and I have to find new ways. Then it gets interesting! With challenges comes a wonderful feeling of growth and change. The audience is also important as one of the variables. In the Drinking Glass, I am looking for the key that would help me realize how an audience can be the architect of my choreography. Dance doesn't exist without the spectator. Yes, you can rehearse, try things out in solitude, but it won't be a performance.
Is it true that it was your efforts that led to more contemporary dance at Čiurlionis School of Art?
At that time, I was replacing a modern and contemporary dance teacher who went on maternity leave. I was called by the management and asked if there should be a separate contemporary dance programme. When I assured them that that there should be, they suggested I come up with one. Of course! Why not? I have always believed that if you can create an opportunity for others, you should do it. As a child, I wanted to be a ballerina and study at the National Čiurlionis School of Art. But my body type and capabilities were limited for the classical ballet, so I found myself in Aura Dance Theatre studio. At that time, there were no other opportunities for serious training.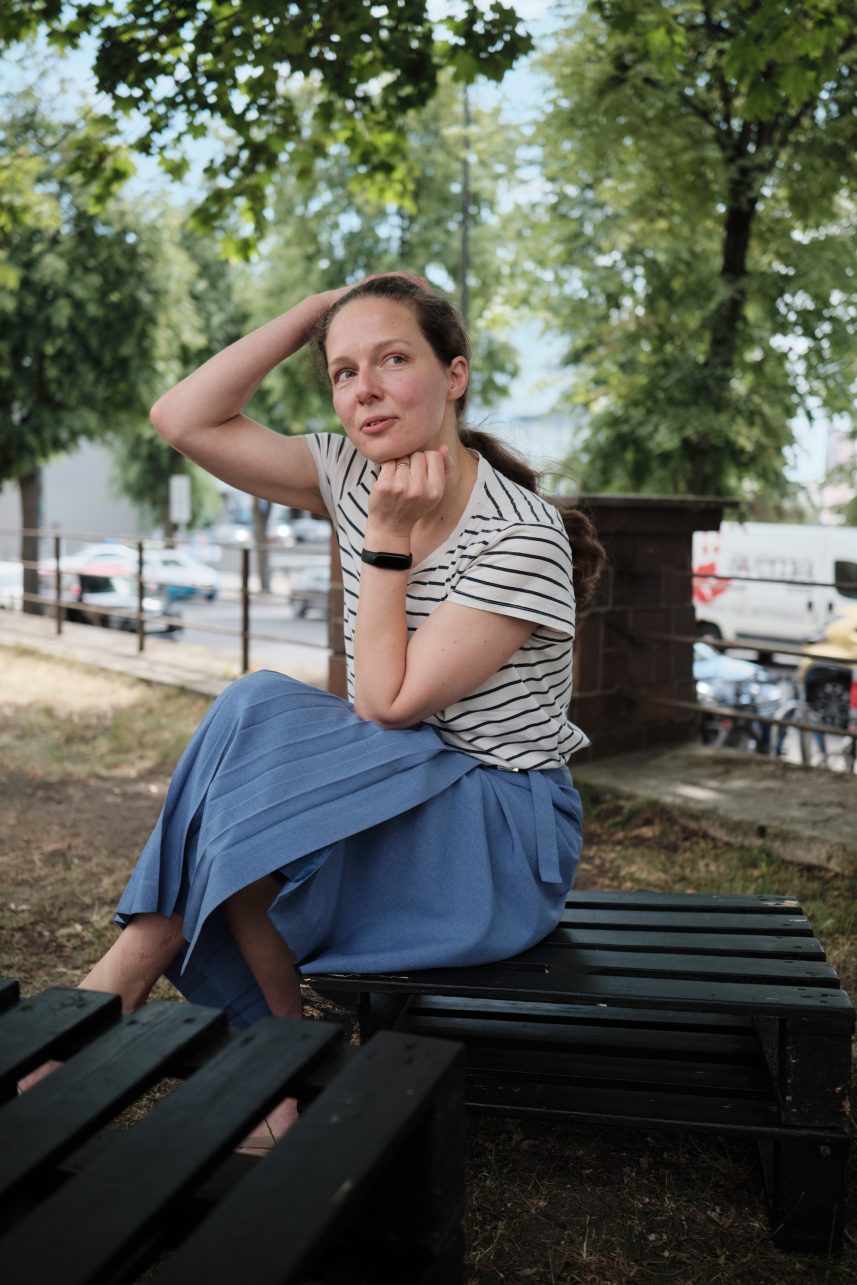 An internship in the US, which turned into a degree, sounds like you caught a great opportunity.
When I had a year left in high school, Anželika Cholina gathered her first dance class. After I graduated from J. Jablonskis Gymnasium, I applied for the second year, I was sure I would catch up, but they didn't accept me, they needed more boys then. I would have had to wait another four years. My world fell apart! But that year Olga Zhitluchina was collecting a course in Riga. A week before the audition I lost my passport… Well, I entered Vytautas Magnus University, art history, and decided that I will stay in Aura.
If it wasn't for that passport, I wouldn't have gone to the US with Mantas Stabačinskas. There was a showcase of American choreographers, curated by Aura in spring. We were noticed by Cristine Cangelosi, who invited us to do an internship in Atlanta. Birutė let us go for six months. In December we had a New Year's party and Cristine asked me what my dream was. I answered: to study dance. She recommended ten universities on the East Coast. I applied to two, got into both, and chose the University of North Carolina, which gave me a scholarship. Between my BA and MA at Hollins University in Virginia, I ended up in New York at the Lincoln Center for Education, which works with arts education in schools. We were with colleagues from opera, music and theatre. A dream come true! You live in New York; you get paid to work and create. You know, I really believe in the saying: when one door closes, another window opens. If someone had told me in July 1999 that life was going to change like that, I wouldn't have believed it because I had just failed getting into two dance programs.
There are proverbs, there are odds, but there is also the ratio of talent and hard work. What is that ratio in you?
Both are important, always. My body is not made for dancing, so I still work hard every day. After all, our bodies are lazy, and dance is a physical profession. If you don't work, you just waste the talent you have. So, I would say that I am a hard-working person, but you should probably ask people around me.
Did the desire to educate others originate in New York?
No, earlier. I was teaching classes to groups before I left to study. New York gave me a broader understanding of what art education can do. As artists, we used to go to public schools and our classes were linked to performances, which the children would then go and watch. A dance performance is also a biology lesson. What do they have in common? A lot! So, I'm not talking about tools that help coordinate the body, but how to think more broadly, diversely, and creatively about everyday things. This experience pushed me to work more not only with professionals, but also with amateurs, people of different professions and ages. It develops me as a person, as an artist, and gives me many new opportunities. We all have our own little tunnel of thinking, where a certain amount of information fits. And when you meet architects and theologians in dance, your horizons expand!
For example, I worked with the community of Žemieji Šančiai on the opera called Cabbage Field. I was invited to work on it when people saw my performance which I had created for the theatre festival at Žaliakalnis Market. It was so interesting… We also had an Academic Movement Theatre in Vytautas Magnus University, which was attended by both students and professors. You put forward an idea and they bring information from their own fields.
You were at Aura when the company turned into a theatre. However, there is still no physical theatre space. In fact, I may have seen more of Aura's productions offstage than on it. And your premiere of the Drinking Glass is scheduled to take place in a museum, in a festival that presents performing arts in spaces that are not designed for it. It's fun, but it's also frustrating, right?
Ask any dancer… Kaunas lacks a good space for contemporary dance performances. There are spaces for rent in Kaunas, but the prices are enormous, there is no such money in dance. During my time in Aura, I had to dance a lot in different spaces: from performances, creative projects to conferences, exhibitions, opening events of new spaces. Maybe not all of these performances were the strongest in the artistic sense, but on the other hand, how often do you get the chance to dance in a swimming pool, for example? With Aura, I did, it was a valuable experience.
But if we are talking about the Drinking Glass, then this performance belongs in the museum. Eglė Nevedomskė, producer of ConTempo, wrote to me and asked where it could be shown. I was looking for a place without a lot of extra objects and without a stage, because the audience has to feel comfortable entering my space. It would be difficult to achieve in any theatrical space, which prepares the audience in a certain way. I remembered that we had performed my Ravens there and I had spied with one eye those courtyards.
The process of this performance is new to me, because I have never been so bold and yet so unsure of what I am doing. I would think it through, create it, stage it, and then show it. I got a grant from the Lithuanian Council for Culture, which helped a lot, although it was unexpected to get money for research instead of a very specific idea! The grant also allowed me to work with Thomas Schaupp, a dance dramaturge from Berlin. I met him in the autumn at a workshop during the Aura Festival. For some time now I have wanted to work with a dramaturge just to avoid the aforementioned comfortable habits. I have performed this preliminary version twice already because I cannot rehearse without an audience but showing this intermediate result was already a challenge.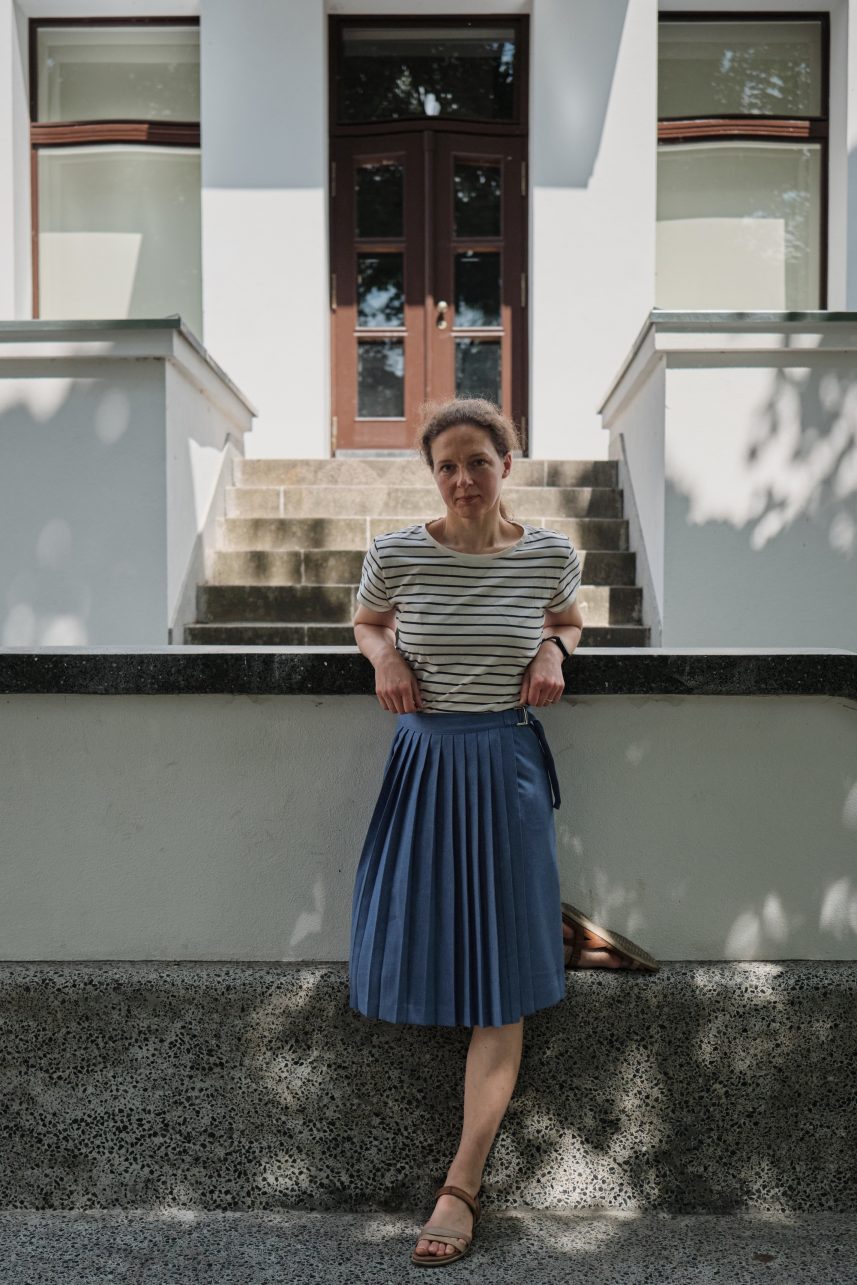 Let's talk about burnout. I am frightened by its pandemic nature, but on the other hand, it is also a very universal topic that helps us to understand each other better. As the play's annotation says, "This process is often seen as a negative or destructive experience but it can also be the beginning of a new change. A time when the illusions, protections, and shells we have built up and hidden behind, disappear. In their place, something new is seen, revealed, and liberated." What is your personal relationship with overwork or even burnout? Work, creativity, scholarships, education, travel – it all seems overwhelming.
The relationship exists. Last summer, I had a breakthrough. For a long time, I thought that as an artist I had nothing more to say, nothing more to talk about, nothing more to give. Last year I was able to attend two great residences. I spent five weeks in the US, at my former university. I had to produce a 10-minute performance for 20 students. It was a creative residency: you take a set timetable, listen to seminars, work with the students in the afternoon and have free time in the evening. And no homework! Later, through the Contemporary Dance Association, I went on a two-week residency in Italy in connection with ConTempo. And there they didn't demand or expect anything from me at all! I was paired with another artist. We spend the first week stressing that we must do something, but they assured us that we did not even have to go to the hall if we didn't want to. In the second week, my mind relaxed and very interesting creative conversations started. These two months were the impetus to write the Drinking Glass project because I got the chance to be in a space that didn't require me to multitask (which happens in daily life).
In the Drinking Glass, I go over my many boundaries as a dancer, as a choreographer and as a person. The description of the performance began with a consideration of whether the glass of my life is half empty or half full. When in the US, I read this book for children called The Boy, the Mole, the Fox and the Horse. The boy asked the horse what type his drinking glass was and he calmly replied that he was glad he had one to begin with. That made me wonder.
If you heal yourself with something that made you sick, then maybe that means your childhood dream made sense.
My friends have heard many times that I will drop everything and move to the countryside to raise goats. But everybody says that, right [laughs]? Then you have enough sleep, you take a week-long holiday, and your thoughts go back to normal.