You don't need to prepare for the summer in the city. Even if you didn't manage to grab the last tent or a mosquito net, you can enjoy the nightly light show, listen to the rhythm of the streets, modern dance down the streets, admire the boldness of performers or rediscover the old places you seem to have known so well. The fifth international performing arts festival ConTempo invites the residents of Kaunas and the district to dive into such an adventure from July 29 to August 6. 
Gintarė Masteikaitė, the initiator and director of the festival, with great enthusiasm and passion, told us about its origins and ideas, while also presenting the organizational behind-the-scenes. The festival will draw in everyone, but the ones who have the curiosity and the willingness to take things in and experiment will experience the most.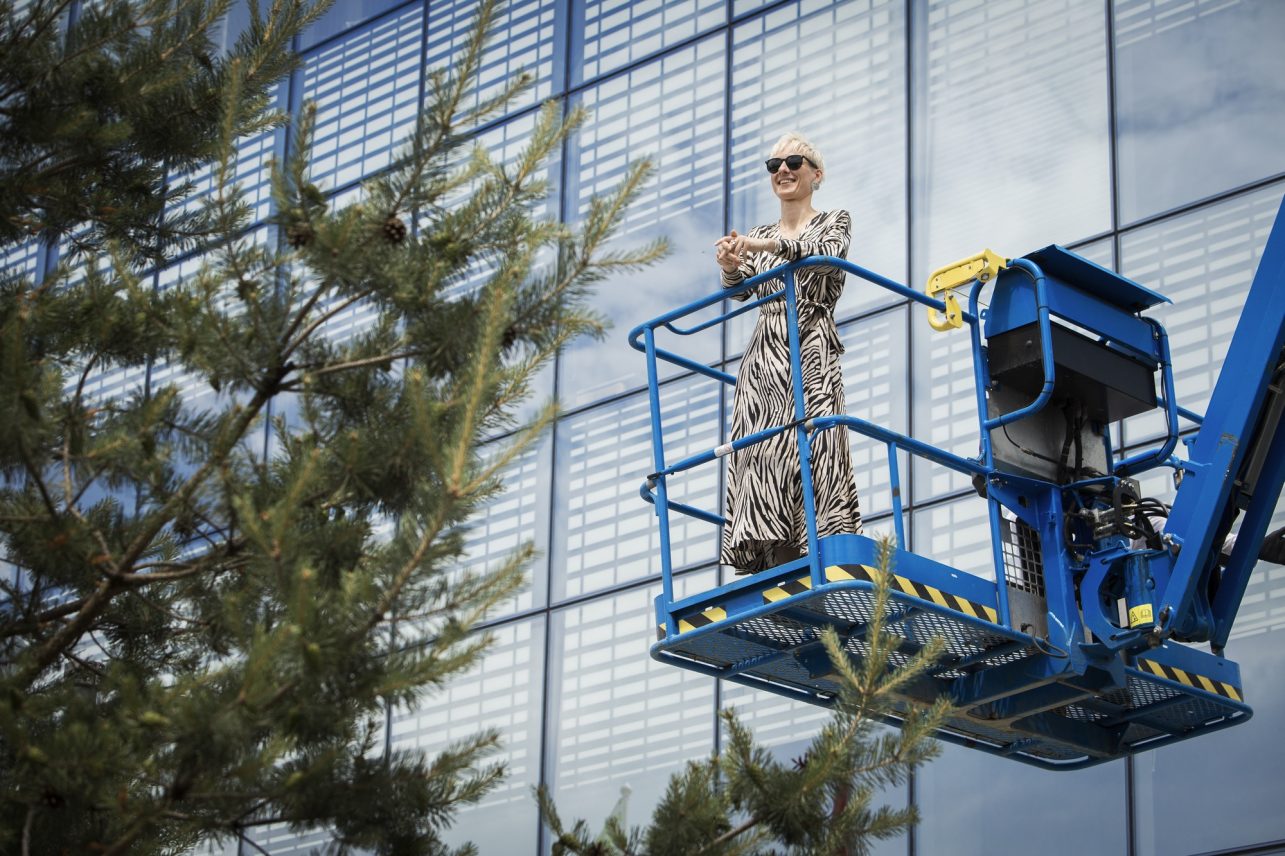 Gintarė, you grew up in the village of Šilgaliai and graduated from a high school in Lukšiai. At the beginning of independence, Lukšiai had a unique status and a strong local government and a large community of artists and enterprising people. How did growing up in this environment affect you?
When I was growing up, sculptor Vidas Cikana was the elder of Lukšiai, and he tried to do the things he knew how to, so there are many examples of visual art in the town. There are fountains, sculptures, a renovated Zypliai Manor, various festivals were taking place and the town had even built the largest Easter egg in Lithuania. The school itself, named after sculptor Vincas Grybas, had links to the arts, but lacked a wider context. It is, after all, a small town, far away from the big cities. I remember my first trips out of Lukšiai and the realisation that the world was big, wide and unexpected, and I didn't really know anything. Living in a five-kilometre radius, I only see a small number of things, and what a huge cultural gap there is between where I live and study and what exists in a big city; how many things I couldn't get to know because I lived in a certain area.
The realisation that we didn't have a lot of things in the environment we grew up in was a big push to learn new things. This was especially true in my first year at university. I started studying sociology and didn't understand what the professors were saying, even though my course mates were able to reflect and debate with them. It became clear that I had to catch up with them, learn more and get into a completely different way of life. So, I don't know if the inspiration came from my birthplace. Perhaps it did. I wanted to get out of an environment with a limited number of people and experiences. When I lived in my little town, I knew what was waiting for me or what could happen, although I have always identified with other things and I had desires, for example to work with festivals. I have always sought to experience more than my environment allowed.
I suppose it took a lot of motivation and patience. Now you are one of the most active and prominent cultural figures in Lithuania. How did you end up in the fields of cultural management and performing arts?
I considered studying cultural management, but in the end, I chose sociology. It was one of the best decisions I ever made, an opportunity to be around intelligent, interesting teachers who saw, understood and felt the world in an interesting way. They opened the door to free and critical thinking, understanding and acceptance of the diversity of society; they laid a good foundation. We have built good relationships, community and connections during our studies. From the very first year I started volunteering at various festivals, such as the Graphic Arts Biennial and Kaunas Jazz. In my final year, during the graduation ceremony, my lecturer Arnas Zdanevičius introduced me to Birutė Letukaitė, the founder of Aura Dance Theatre, who was looking for a new employee. I immersed myself in the cultural sphere and learned everything through a direct, acute encounter with the current activity.
I went through all the possible stages from mopping the floors, cleaning the toilets during the festival, working with the volunteers, observing modern dance, realizing that I didn't understand anything, listening to talks and unheard-of terms, and learning about the history of dance. The first year was crazy hard: a new field, a lot of responsibility, I was young and entering a new world. That was 17 years ago, and things just get more interesting as time passes.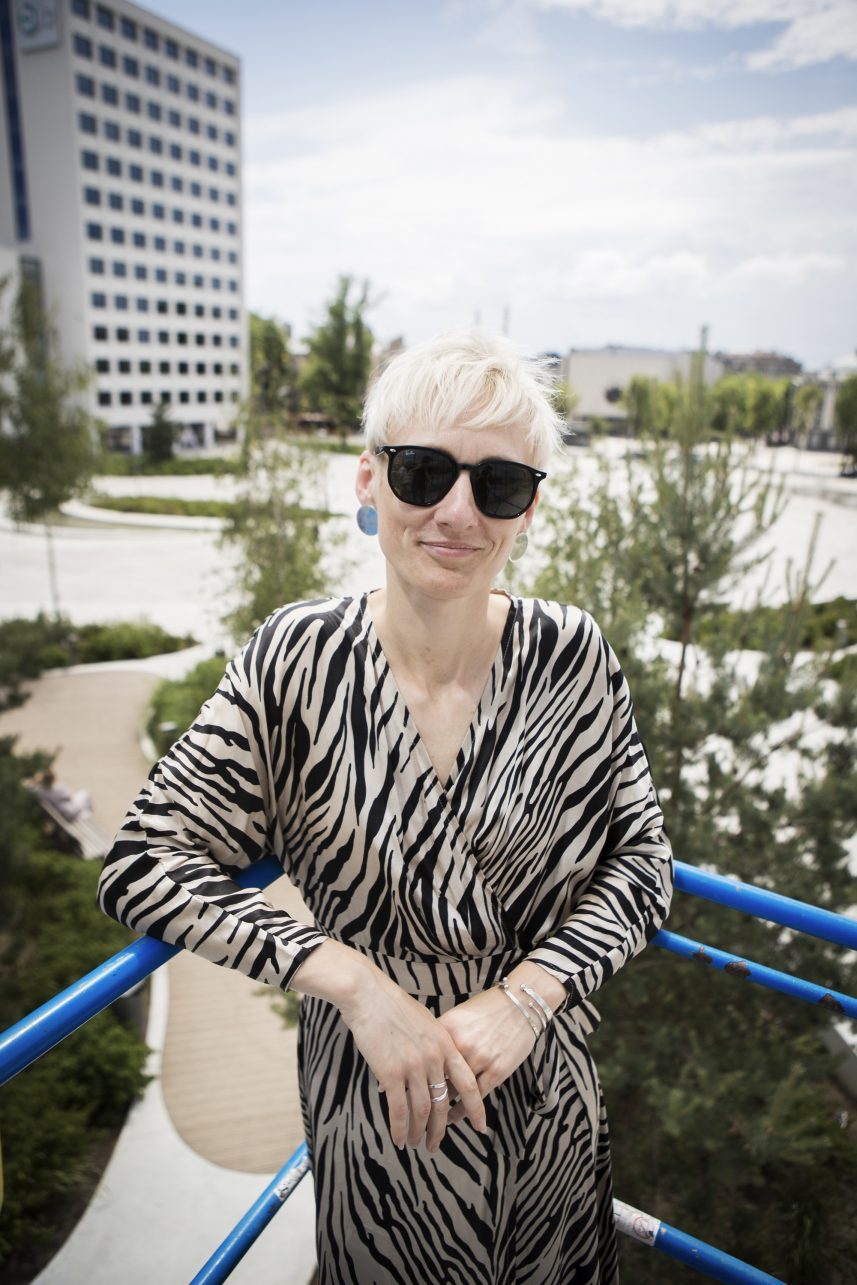 What was the main motivation for organizing ConTempo?
The festival was born out of extensive and lengthy discussions with the Kaunas 2022 team even before the city became the capital of culture. Virginija Vitkienė invited me to join the working group to prepare the application. She saw me as one of the people who could shape the international performing arts program and initiate new projects. At that time, I already had experience not only in the field of contemporary dance, but I was also working in the Arts Printing House in the capital and managing the New Circus Festival. We were all very aware that we had a chance to do something that we could not do under normal conditions, or it would take a very long time. We analyzed what was missing in the city, and it became clear that there were not enough performing arts spaces, and there were no independent spaces at all. The ones that were run by performing arts people, that nurtured the alternative scene and young artists, that invited performers to Kaunas.
At the time when we were preparing the application, we could definitely call Kaunas a black hole, because there was simply no place to showcase the incoming performing arts events, so the festivals bypassed the city. We paid attention to the lack of required grounds, and we had to create content to reflect this. We started out ambitiously, wanting to create a new space in the city for both the performing and visual arts to develop and grow. We started to think about what kind of events are not available in Kaunas, what could be the concept with the available resources. A concentrated festival that would present very different formats in a short time – something that was not only missing in Kaunas, but also in Lithuania – seemed like the most realistic solution. We also thought about what kind of cultural institutions are active in Kaunas and what we can do to bring them into the international arena and that after reflecting on what they see in the festival they would adapt it to their own work.
The festival had to meet all the objectives of Kaunas 2022: the decentralization of culture, accessibility, inclusiveness, raising topical issues, internationality, modernity, and working with regions. It was born to reflect and stimulate what we have in the cultural life of the city. The team and I finally decided that we didn't want to limit ourselves to one area and left room for a broader spectrum. We wanted it to be something in between everything that is connected, that influences one another. In less than half a year, we organized the first international festival with a three-day program.
How did you manage to present this event to other cultural institutions?
From the very beginning, we had meetings with the main cultural institutions in the city. I proposed to them to organize a festival together – an ambitious festival, the biggest one, the one they would like to present. Unfortunately, this idea was not welcomed, but our team decided that even if the other institutions didn't join in, the festival would still happen, and it would be a good one. I realized that it is not easy to come up with a new idea and involve a whole community that has been around for a long time and is doing its usual thing. I think this proposal was premature, maybe a bit too ambitious, maybe not well communicated. Perhaps we should have worked on it longer, prepare the soil for several years. Modern projects are not always positively received, and this was a good lesson. I think that now the conversation would be completely different, the proposal would be received differently, because the organizations took part in the training sessions organized by Kaunas 2022 and then started to participate in international projects. We use the spaces of those institutions; they see what kind of festival it is. It takes time to embrace innovation – it's a process. At the same time, it is also a question of status, of how art is received, how it is presented on stage and on the street, how we perceive an artist in an opera and a musician playing in Laisvės Avenue. These are different forms, although it really depends on the idea, the quality, the performance.
Where did the first event of the festival take place?
In Šančiai meadow. It was met with sensitivity, because just at that time a confrontation broke out between the community of Žemieji Šančiai and the local government over the planned building of a road along the Nemunas. The event was received as a show of support for the Šančiai community. For us, it was shedding some light on the sensitive issues, and we also wanted to take the audience to places they don't usually go to, to show that art can be everywhere, if there is motivation to apply it. Of course, we did not claim it is only a good thing. We are unable to do many things because of the lack of professional spaces, and the audience in Kaunas is definitely disadvantaged in this respect.
ConTempo takes place in various urban spaces and integrates into everyday life. As you mentioned, this decision was motivated by the lack of suitable spaces for performing arts, but it also became a distinctive feature of the festival. How does the search for venues or spaces for performances work?
It's an ongoing creative process, which plays a major role in the success of the festival. The team and I are fishing for ideas and looking for the best place for the performance to unfold. We go to see the spots at the time of day when the event is scheduled to take place. It's really amazing that most of the places work out, and we've discovered a lot of them by chance.
First of all, we always want to show the same project several times in different spaces, because the environment gives a completely different context and evokes different emotions. Going to events in different spaces is also a real discovery because many people don't go there at all or see them during the performance in a completely different light. Of course, we take into account technical and practical nuances, for example, if the performance needs a venue next to a river or a garage. We ask locals, friends, we drive around. Basically, the search process goes on all year round, and we also build up a database of locations that have already been discovered. It is not possible to work in new locations all the time, because certain events, such as openings, have to be closer to the center.
We also think about parking and the accessibility of location by public transport. We even booked buses to the opera Signal, which was performed by the Kaunas lagoon, because the public transport schedule didn't work for us. A fantastic location doesn't mean there will be people – they might just not have the means to reach it. We always think about distances too, because a lot of events take place on the same day, so it's important that people have time to go from one event to the other.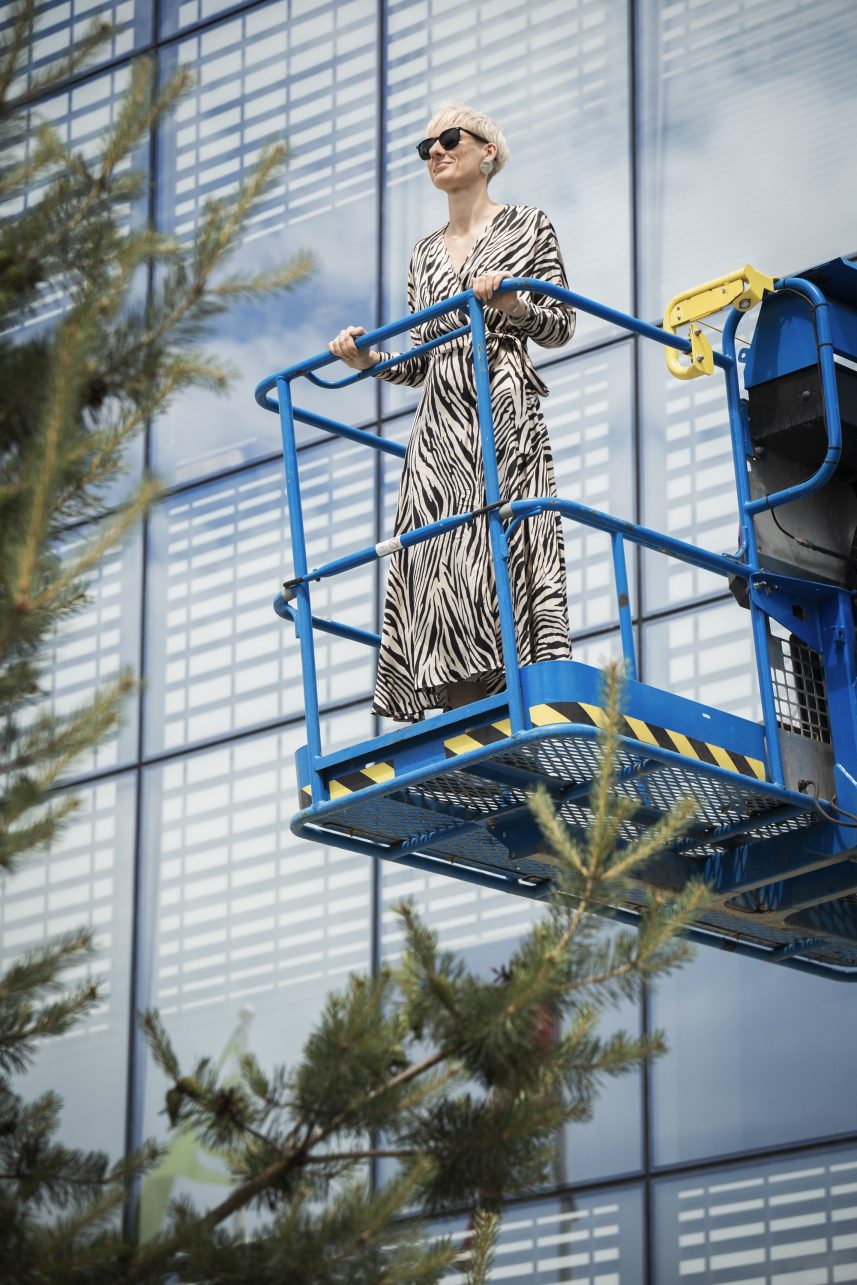 What layers of the city or approaches does the unconventional format of the festival open up? Have you yourself managed to establish a different dialogue with Kaunas?
I haven't lived in Kaunas since 2013, but I spent 12 years there. I return to Kaunas as if it was my home. It has become part of my identity. This festival is one of my tributes to the city. Audiences and art critics identify that ConTempo is not a festival in the city, but a festival of the city. We don't build a stage, but we invite you to take a journey through the city while following its rhythm. This is achieved through sound, accessibility, street noise, and bus routes. We invite the audience to feel the city and Kaunas district. It is we who react to the rhythm of the city and not vice versa. This is a very important aspect. For example, we will move one event from Friday to Wednesday because there is a restaurant in that space on Fridays. We respond to the life of the space also making it more active. We invite the locals to join in, to get to know the spaces; we also integrate into other festivities. It's a very fruitful collaboration, we don't ruin plans, but we add to them, we open windows for visitors who might not have visited the festival events otherwise.
What would you wish for a ConTempo visitor?
All year round, we invite you to be curious, to explore and to allow yourself to experiment and explore. If you didn't like something, if it wasn't interesting, it's important not to close the door. There are many different forms, many different types of content, so you can always see a performance that will change your life. It happens! People have said that some of the shows they've seen have been the most powerful experiences, and they're glad they came and discovered them. I invite Kaunas and Kaunas district residents to come, watch and follow the events, because you will rediscover spaces, neighborhoods and neighbors. I invite you to experience it together.
Many events are free, but we want to keep the paid ones. Culture should not be free; we need to contribute to it and to the existence of the festival. All the artists are paid, so when you buy a ticket, you are contributing to their continued creativity, the growth of the festival and the strengthening of the team.