Every Kaunas resident, who has film on top of their favorite hobbies list, knows the name of Gediminas Jankauskas. You can meet him anywhere in our city where this art form runs at a speed of 24 frames per second (and not only). His range of activities can be presented in a very broad way: a teacher, historian, critic, but above all, a cinema lover who never gets tired of sharing his knowledge with others, for example on Facebook, where he publishes news from Lithuania and the world continuously. At the dawn of the new year, Gediminas and I sat down to talk about cinema and Kaunas.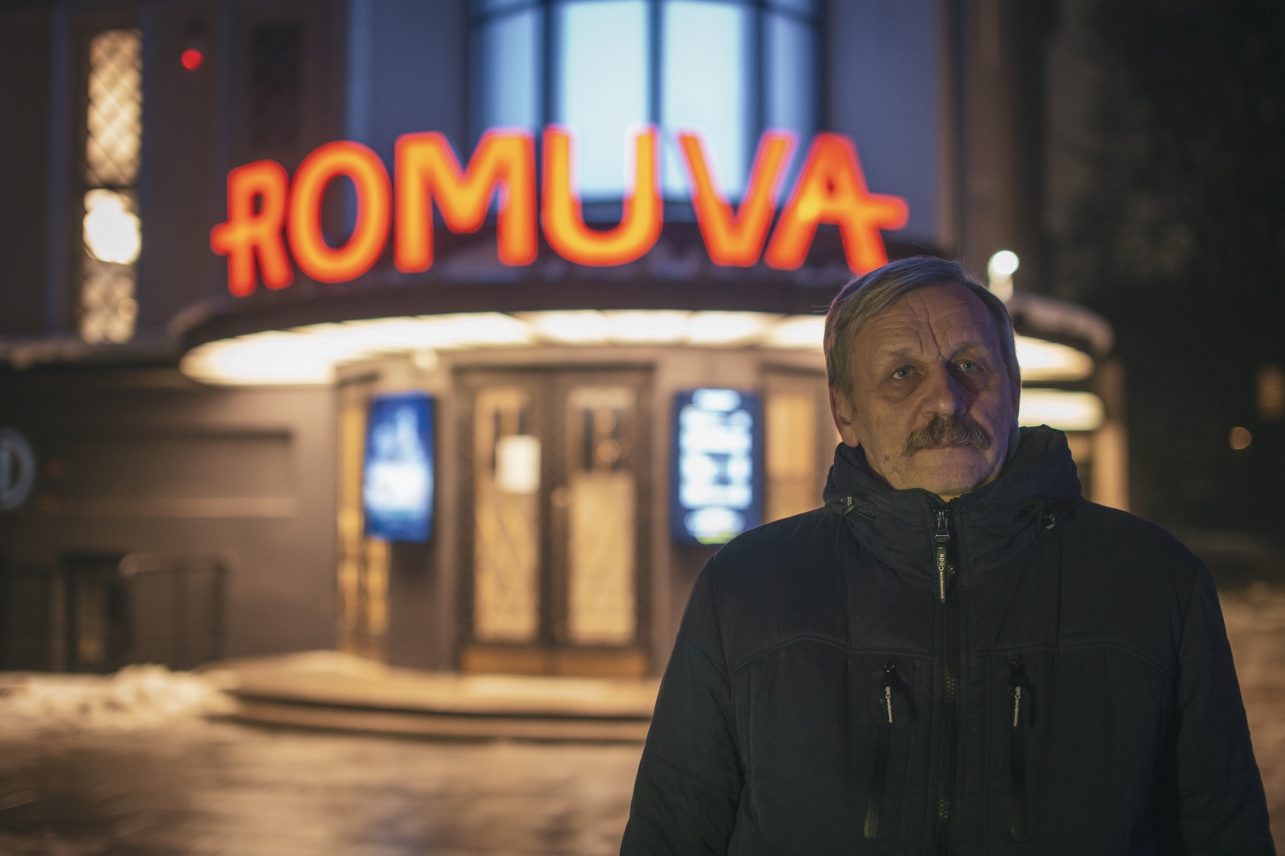 You have been telling people about cinema for many years, you teach at Vytautas Magnus University. What methods do you use for getting the listener interested in both cinema as a phenomenon and a specific film? Do you notice any changes in the attitude of students towards the art of cinema throughout the years of your work?
I am often asked if teaching the disciplines of one field for many years does not start to feel routine and monotonous. I answer categorically: ABSOLUTELY NOT! You can't get bored of what you value and love the most. For me, cinema is not a hobby but a way of life.
In addition, new courses appear almost every year: Scandinavian cinema, Italian cinema… We also responded to the students' request to teach not only classical cinema, but contemporary cinema, which is better known to young viewers. And for several years now, we have been ending the spring semester with audiovisual works created by the students of the film industry course. Thus, we not only provide students with theoretical knowledge, but also help them reveal their creative potential.
Together with friends, we staged the scenes we liked the most – these were endless games.
Watching a movie can be both a very personal experience and a communal ritual and perhaps one does not interfere with the other. You are more or less connected with almost all film-loving events and initiatives that take place in Kaunas. If you had to define it, what is the community of Kaunas film enthusiasts like?
I would hesitate to define that community. It is definitely not homogeneous. During the many years of working in film clubs, I could name only a few specific features. These are curious people who are not looking for entertainment only but for more meaningful, thought-provoking works, seniors who remember classics and young people who experience the joy of discovery.
What do you consider a quality discussion about cinema, and can it enrich one's personal film experience?
A good quality discussion, for me, is not only conversations with friends and acquaintances after screening but also the individual relationship with films that made an impression. After all, it is this – books that one has read, music that one has attentively listened to, theatre plays and films that one has watched with interest – that shapes a person's intelligence and personality.
Today, many people forget that a full-length Lithuanian film (and not only it) was born in Kaunas. How did the first Lithuanian films – Soldier and Defender of Lithuania and Onytė and Jonelis – appear? Do you believe they will ever be removed from Wikipedia's list of lost films?
Actually, not only the full-length Lithuanian film was born in Kaunas but also unique – first worldwide – stop-motion puppet-animated films. This is immortalized by a commemorative plaque located in the Old Town behind the Town Hall, in the wall crypt of the Kaunas Museum, that was installed in 2007. And at the end of the year, another one appeared on the wall of the house located on the intersection of Laisvės Avenue and A. Mickevičius Street. Starevičius lived and worked in this house for some time.
Soldier and Defender of Lithuania and Onytė and Jonelis were the first and most famous Lithuanian feature films created between the wars. Both are comedies, by the way. The first was initiated by the military, the second was made by self-taught enthusiasts. Both did not survive. Our cinematographer Kazys Lukšys took the only copy of Onytė and Jonelis to America. Do I believe these movies will ever be discovered? It is possible to believe, of course, but more specific actions would be needed. For example, to organize some special national expedition…
With your permission, let's wander a little into historical speculation; let's imagine that the occupation of Lithuania ends in 1944. Considering only the creators who existed in the country during the interwar period, which of them do you think could have become key players in the construction of the country's film industry? Perhaps they can be used to draw a sketch of what the country's cinema would have looked like after the war?
This would be fortune-telling from coffee grounds. I don't like to speculate about "what would have happened if…" Let's be realistic – the achievements of Lithuanian cinema between the wars are only interesting to us. In the global context, they look very modest. And what else could you expect? The government of that time did not support cinema. There were also modest attempts to cooperate with the nearest neighbors, but these ended with good intentions. Perhaps only Stasys Ušinskas had gained more prominence. After his puppet animation The Fat-Man's Dream (1938) created in Kaunas, he managed to patent his puppets in America and even signed a contract with one company for the creation of an animated film based on Andersen. But these plans were ruined by the war that started soon after.
And what would be the positive and negative aspects of Lithuanian cinema today? What trajectories do you see for the development of Lithuanian cinema in the coming years?
One can talk about current Lithuanian cinema without any irony. 15 years ago, the active feature film directors were the antipodes Algimantas Puipa and Šarūnas Bartas, and now we get at least one feature film premiere every month. The variety of genres is expanding. A new concept appeared: commercial Lithuanian cinema. This is beneficial to the entire Lithuanian film industry. A negative trend is the poor quality of Lithuanian commercial cinema, an apparent dilettantism, hastily made comedies. But there is also a positive side – much more often we tend to hear about Lithuanian films awarded at world festivals.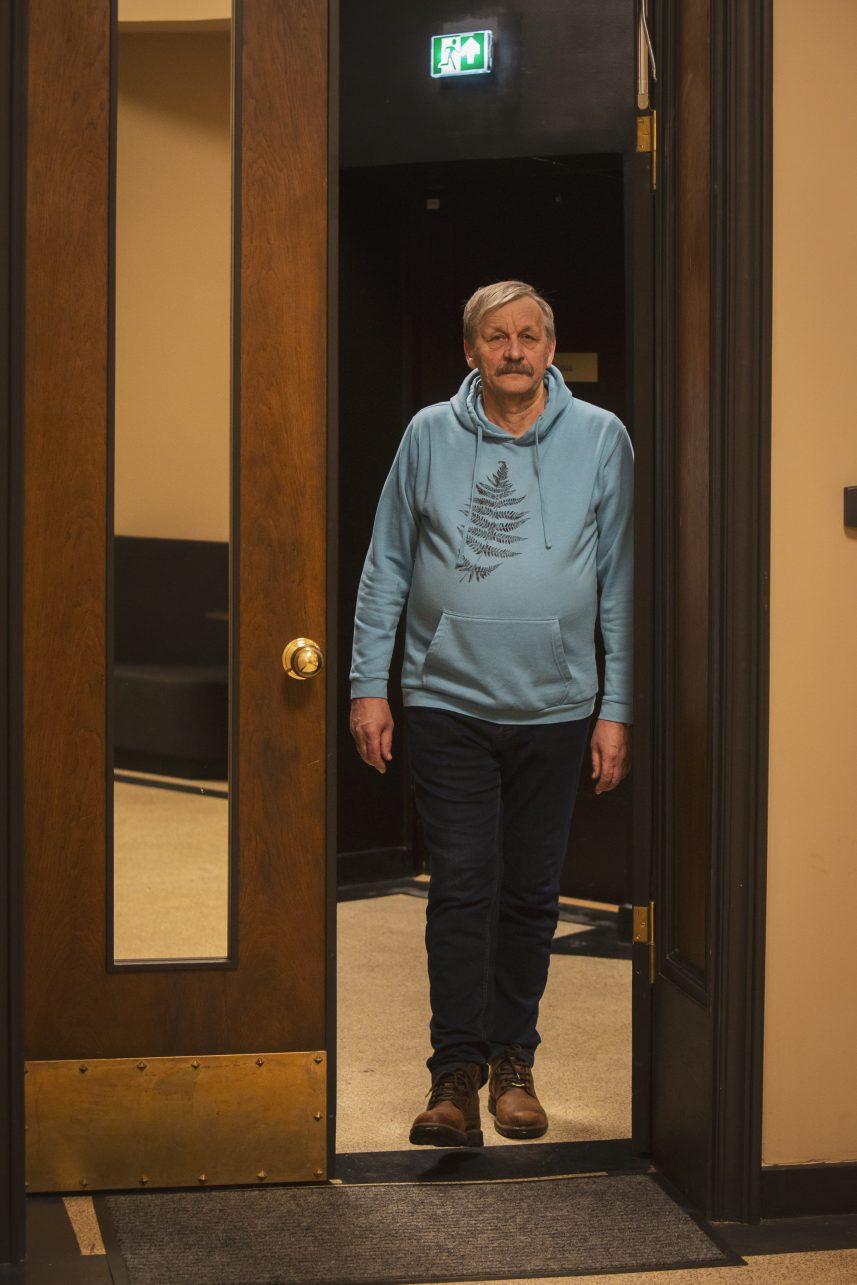 The last decade has seen significant changes in the distribution of films and television series, and the habits of many viewers in consuming audiovisual production have also changed. They are largely determined by the fact that almost every family today has a large high-definition television at home. How do you assess the rise of streaming platforms not only in terms of distribution process but also the production process?
High-definition television at home is, of course, a big advantage of modern life. But much more important is what people watch in the evenings, apart from news and weather forecasts. I'm probably not wrong when I say that basketball, football, entertainment shows and endless musical projects outrival cinema. It would be interesting to know the percentage of our viewers (journalists call them the population for some reason) watch the world classics that are often shown on LRT PLUS (for example, Fellini's five masterpieces or the recently concluded retrospective of Chaplin's ten masterpieces). Unfortunately, the supply has not yet given rise to the corresponding demand.
I view the rise of streaming platforms in the world positively. Although I do remember Netflix clawing its way to recognition. Now it's hard to believe that 3-4 years ago, the directors of the Cannes Film Festival flatly refused to include several films created by this platform in the competition program, arguing that they were television and not film productions. Now such claims are already laughable, after all, not only the highest quality series are mass-produced there, but also the most famous film directors work there.
Will cinemas remain the sanctuaries of true enthusiasts or a place to watch blockbusters?
This really shouldn't happen. I am an optimist when it comes to this matter. Let's not forget how everyone predicted the death of theatres when cinema appeared and how the cinema was buried with the advent of television. And how many times has it been said that books, newspapers, and vinyl records will disappear… But people still read books, and vinyl records are popular again. Of course, blockbusters reign supreme in cinemas. However, we also have other cinemas in Lithuania: Skalvija and Pasaka in Vilnius, Romuva – which has emerged more beautiful after renovation – in Kaunas (where an additional space ideal for chamber cinema and cinema classics has appeared). Take note of how non-commercial cinema screenings have increased in Romuva.
My daily record is eight full-length films, but such amounts are not great for your health. 
Finally, I want to ask about personal experiences. The number of films you've watched will probably hit five figures sooner or later. Were there many films that you were not able to endure until the end? What films have you watched multiple times?
I don't keep statistics on how many movies I've watched, but I can swear that I've seen almost all of the ones presented in that thick book called 1001 Movies You Must See Before You Die (published in Lithuanian in 2007). I try to make one or two movies a daily norm. If I don't fulfill it, I have to make up for it on weekends and, of course, during festivals. My daily record is eight full-length films, but such amounts are not great for your health. 
I often joke that my taste is spoiled by good movies. That's why I try not to waste my time watching some crap. I would rather read a good book at that time, after all, there is little time left for reading due to the abundance of work, but the wish is huge and still there…
For as long as I can remember, cinema is the oldest and most stable object of my attention. I was born in a small town in Siberia, and I spent most of my free time at the cinema near my house. I used to watch some films 3-4 times a week. The selection was not very big then, but the teenage desire for adventure and romance was satisfied by military dramas, action films, "trophy" films about the adventures of Tarzan, and the American western The Magnificent Seven.
Together with friends, we staged the scenes we liked the most – these were endless games. The world of heroes was full of miracles on the screen, we believed that the sincere emotions of the audience could even change the plot of the film. I often experience the miracle of cinema even now, only it manifests differently.
And the films that I have seen multiple times are those that, according to Hemingway, are "A movable feast." There are many such films. A whole bunch of masterpieces of silent film classics, Casablanca and The Godfather, Polish Ashes and Diamonds, West Side Story and Cabaret, Fellini's The Road, and Tarkovsky's Stalker – I'm not so original in that sense. And, of course, I like to watch well-known Lithuanian classics: Adam Wants to Be a Man, Nobody Wanted to Die, The Beautiful Girl, and Stone upon Stone. From the new ones, I like Vortex Isaac and Nova Lituania.