Now it is quite difficult to find information about GK and Prima brands. The internet offers only one LRT video with short interviews and several articles, where my interviewees are named as veterans or even pioneers in their field. However, after the restoration of independence and the transition to the new millennium, Kaunas designers Kristina Maselskytė and Gitis Bertulis were surrounded by youthful noise and action.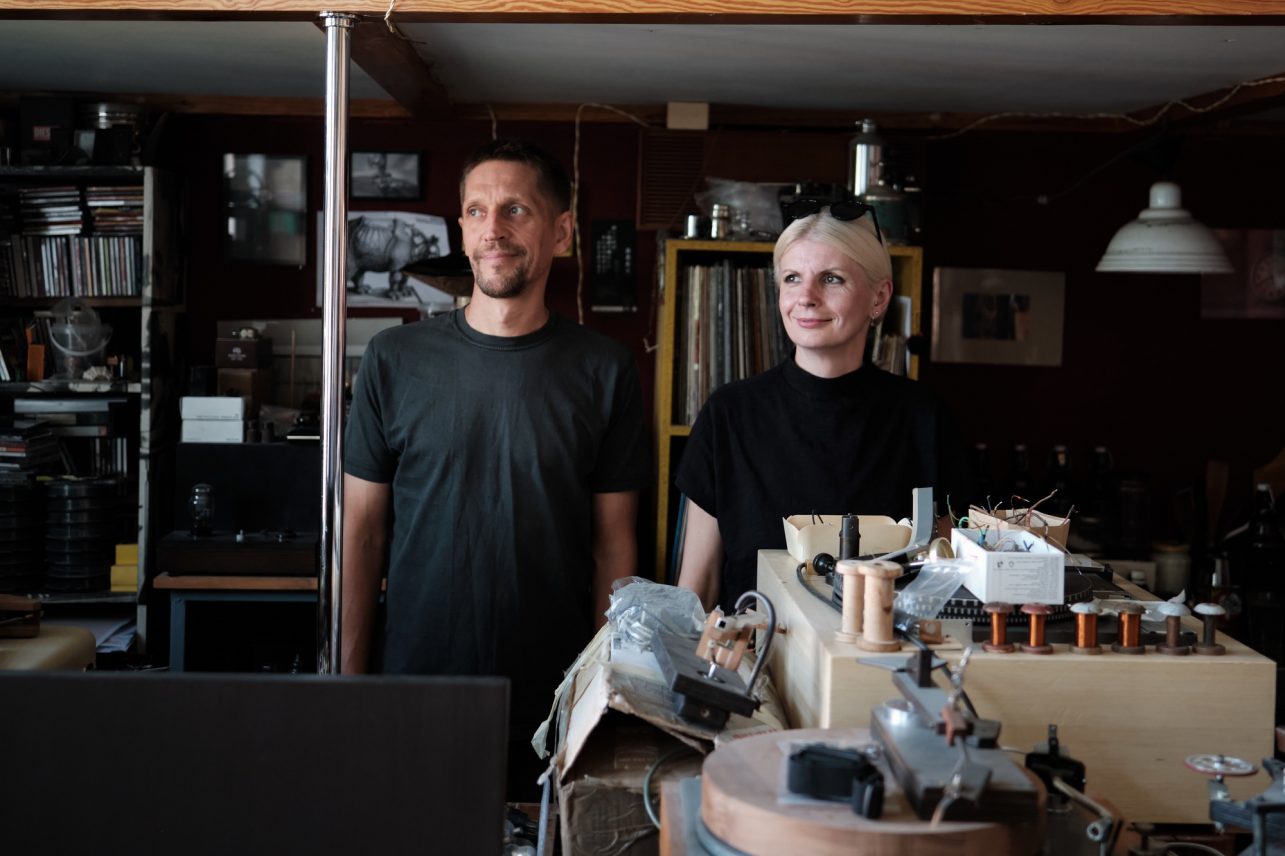 Beginning in a vacuum
At the end of the 20th century, Lithuanian youth had a difficult, albeit interesting, task – to reload their value, aesthetic and other systems and re-integrate into the new world, because a lot was missing in the old one. Especially all that you've seen on Western videotapes or semi-secretly delivered magazines.
This is exactly how the story of this article's heroes began: the wild 90s in Kaunas, the Soviet stagnation already discussed in the past tense, the perestroika that did not save anything, the birth of the Reform Movement, and the beginning of something that some did not even know existed or viewed as a fantasy, while others already tried to imitate and create a local version of Western culture.
"The label of club culture was constantly pined on us, but the beginning was nothing like that. It all started with breakdancing. There was a time when you had to make your own clothes if you wanted something more exclusive, suitable for street dance aesthetics. Back in the Soviet Union, we used to get some of these videotapes, we saw the style and tried to copy it. After that, our distinctive, authentic, and original style was formed," the designer tells us about the beginning of his career.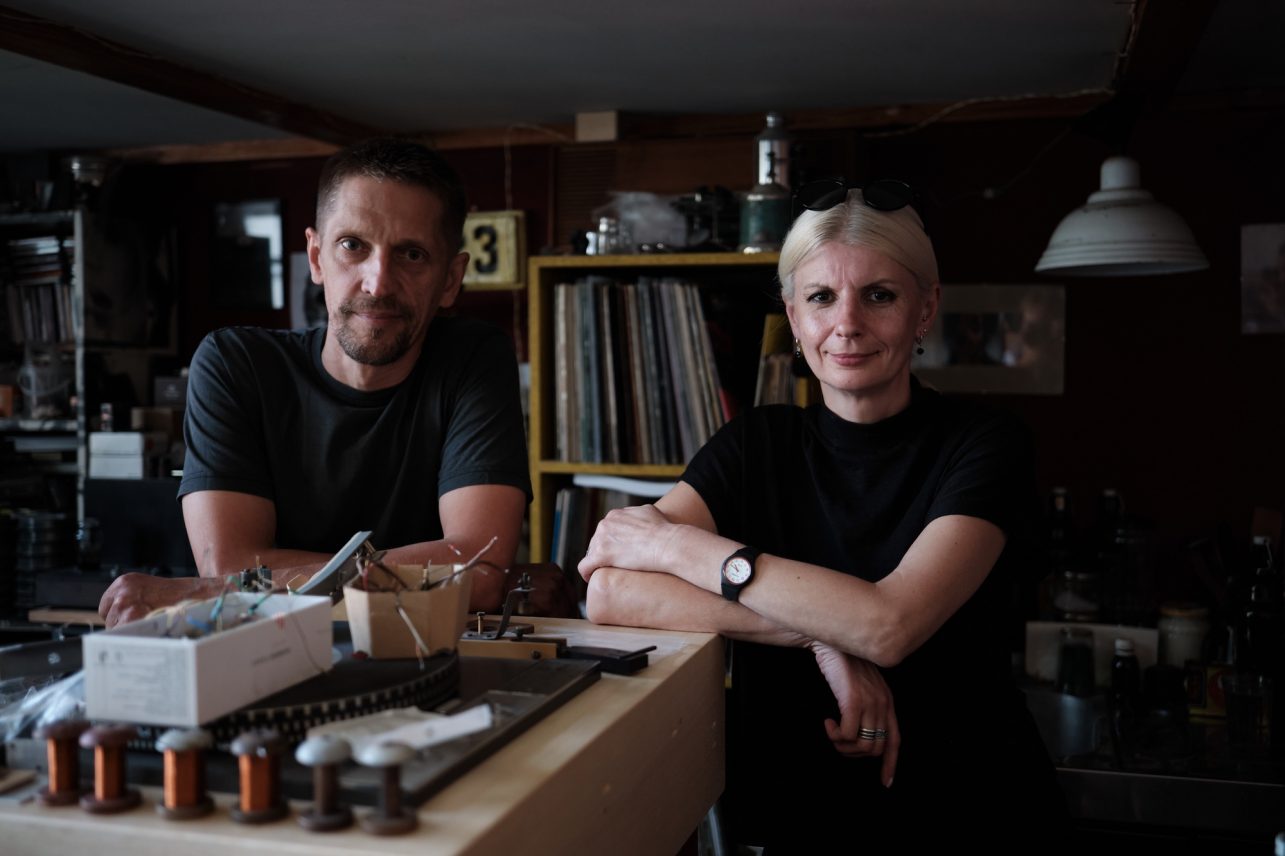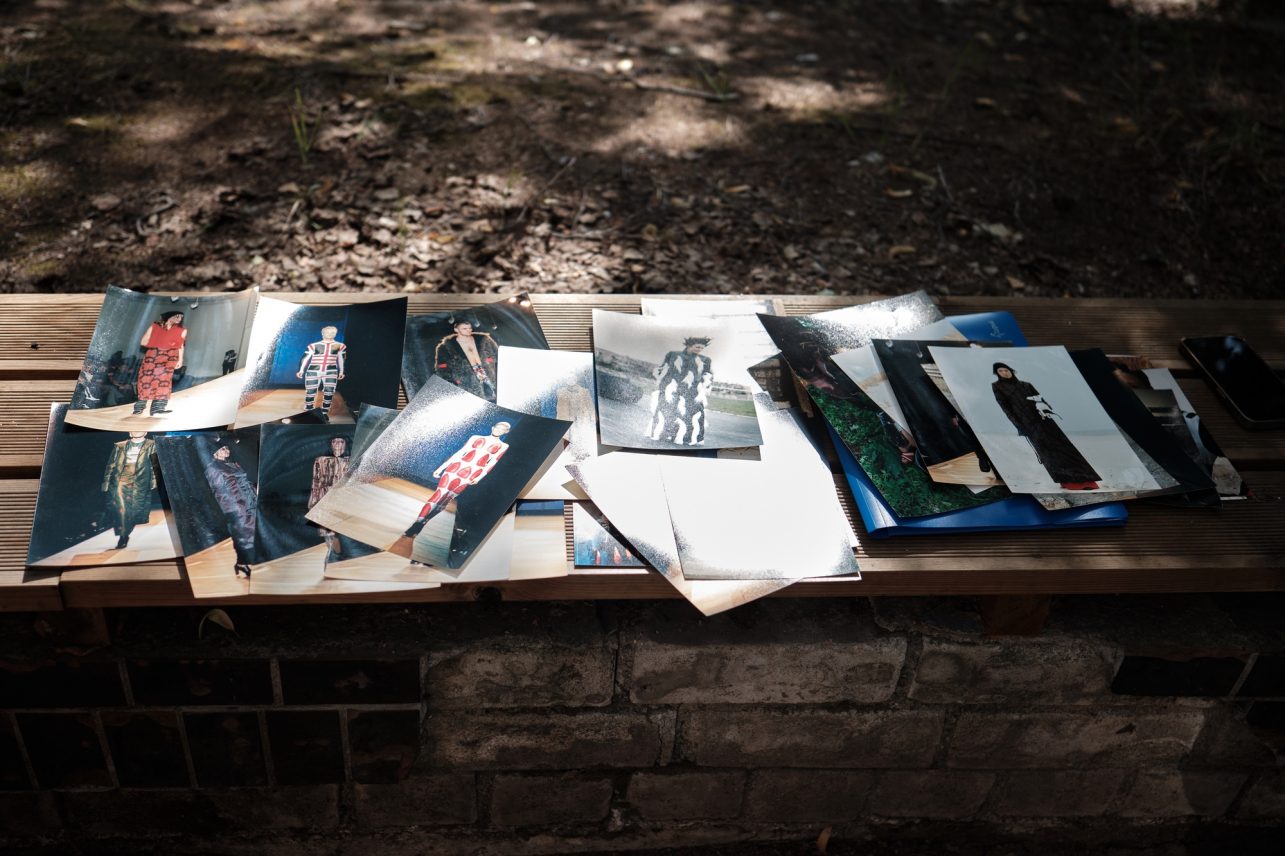 Kristina, his former colleague and a co-owner of GK, adds to the story, "We met, of course, in Trestas (the former Kaunas Construction Trust Culture House, where movies were shown, and discos were held. Now it serves as Kaunas District Court, ed.), at a dance in 1991, when I was still attending J. Naujalis art school. Gitis was already good at sewing. Soon I started sketching too and we started creating one thing at a time. Things took off very quickly because there was almost nothing else new around."
High street fashion
Several collections soon saw the light of day. They were presented in Kaunas and then one went to the capital. They would create two collections a year: spring and summer, autumn and winter. After presenting one and gaining attention, the authors created another. And then another, and so on.
"It was the very beginning of the Lithuanian fashion industry, the understanding of high fashion, the community, and social circles were forming. Although at the beginning our clothes were quite modest, dominated by various appliqués or patches, we were still immediately noticed and got involved in the revival of Lithuanian fashion," Kristina says.
As Gitis says, people started calling them the creators of high street fashion, and they were the only ones. Gitis and Kristina did not focus on galas and classic elegance but on a style of the streets, the club, or elsewhere. At the time, it was associated with the still-fresh concept of alternative fashion of subcultures.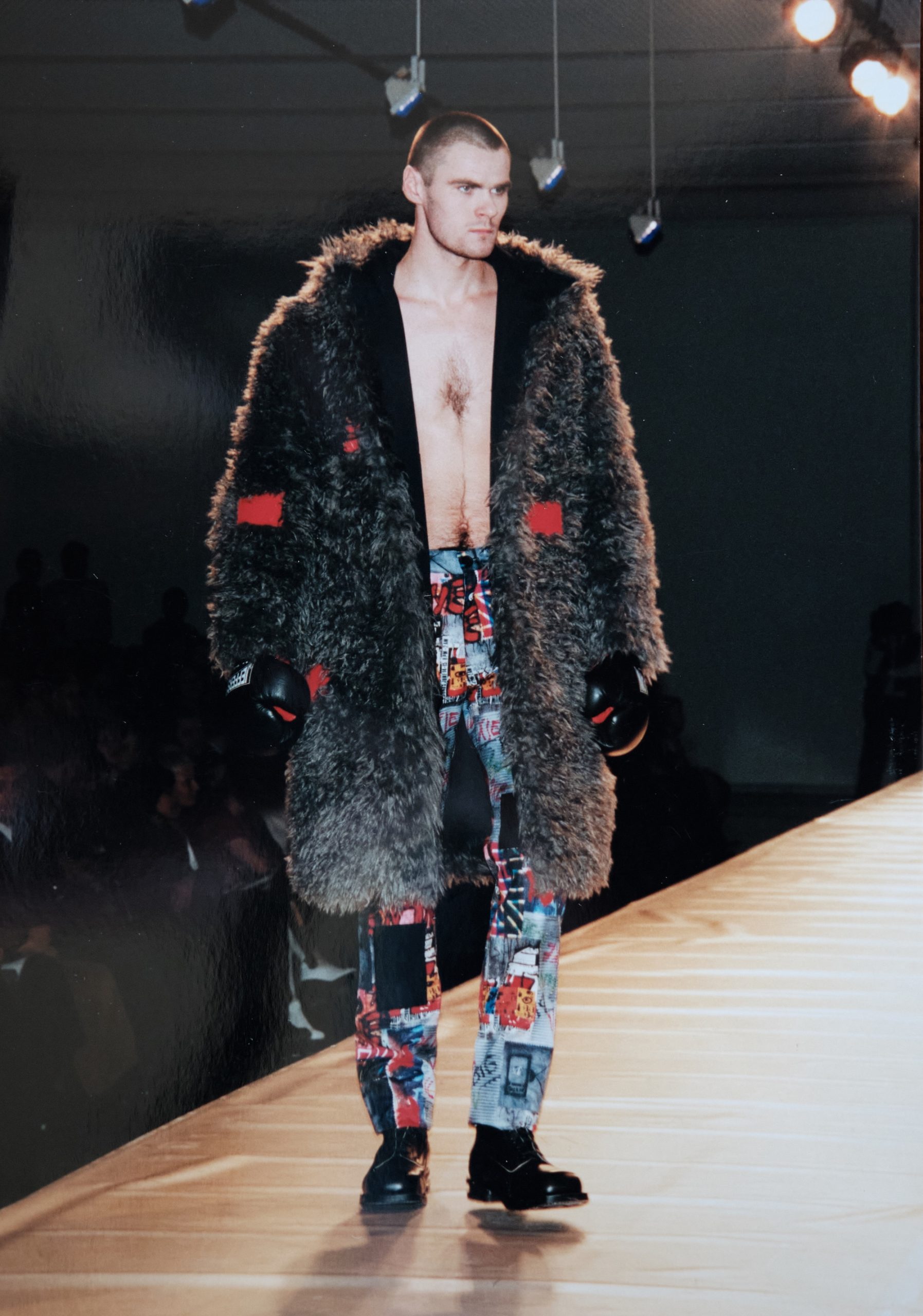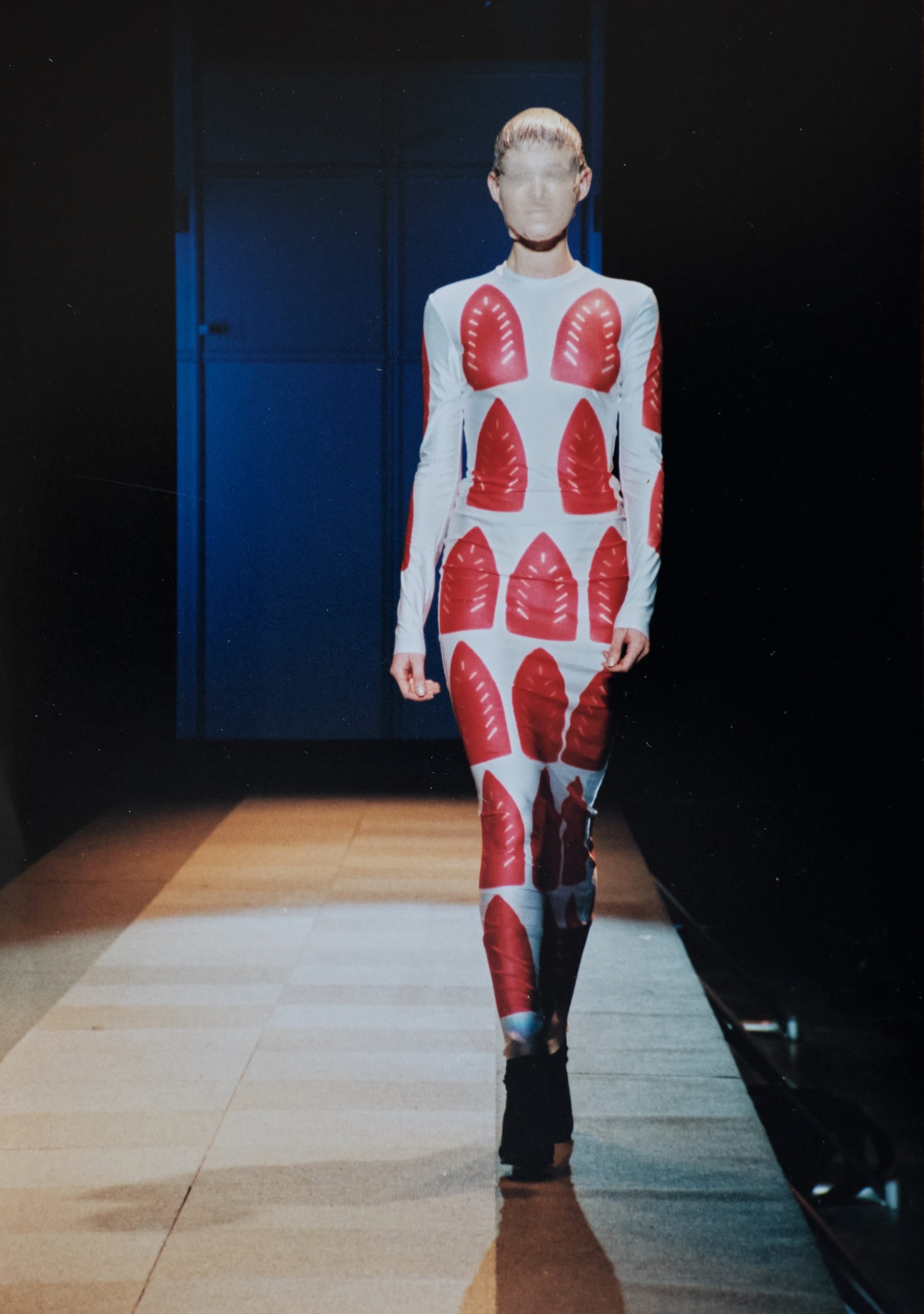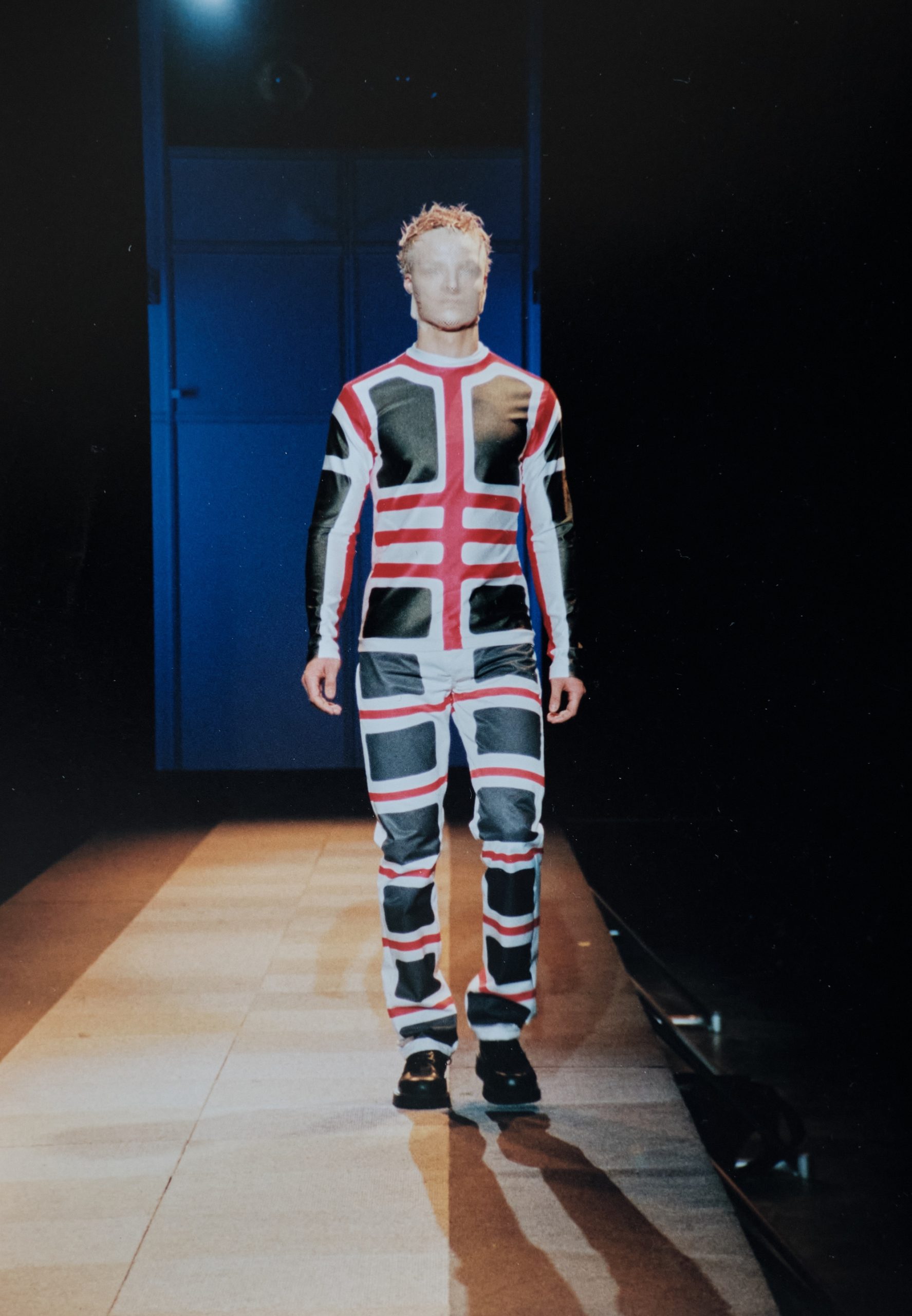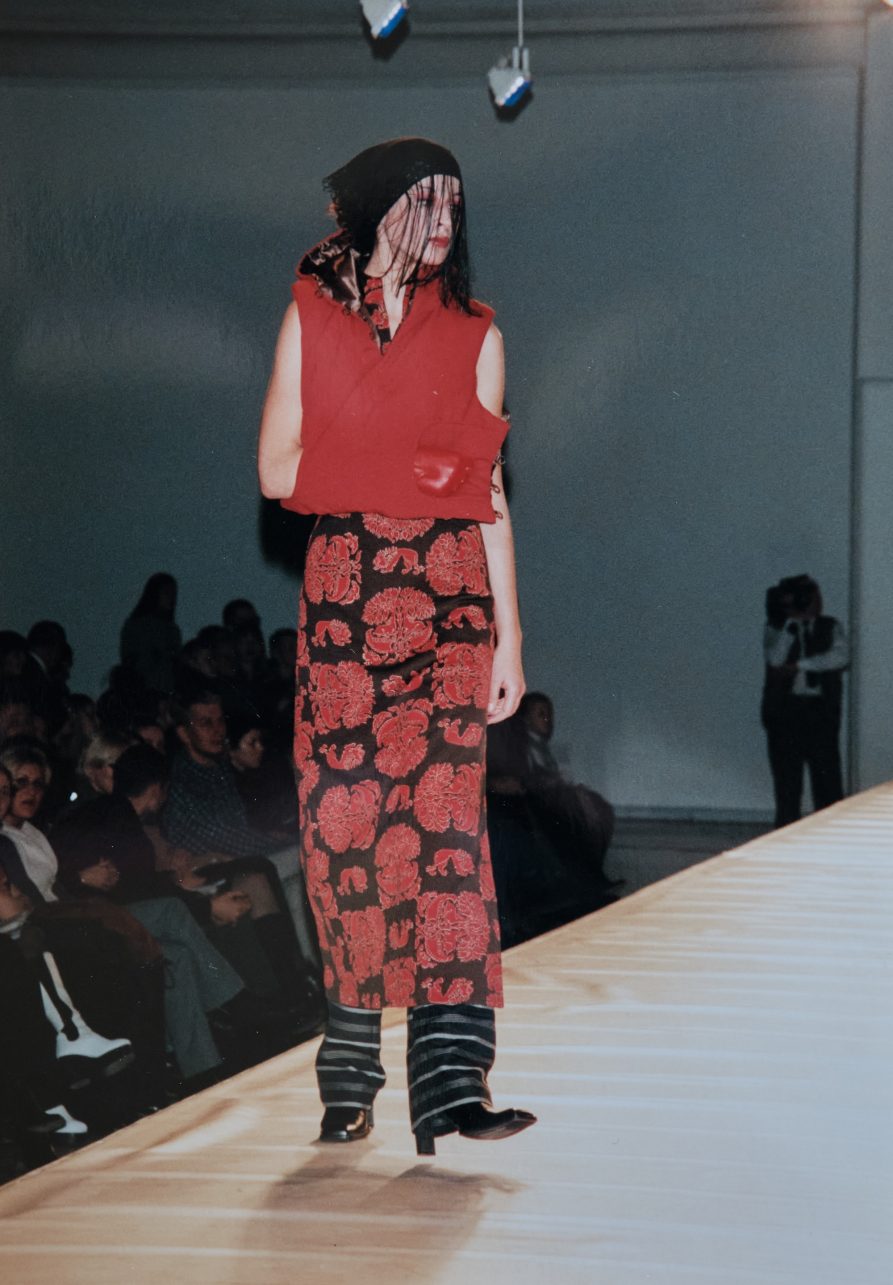 "Fashion Week was the very beginning of it. Later, the more progressive creators separated and founded the group 7+, which consisted of Sandra Straukaitė, Seržas Gandžumianas, Aleksandras Pogrebnojus, Vida Simanavičiūtė, Juozas Statkevičius, and Daiva Urbonavičiūtė. It was they who organized the first Fashion Infection in 1999. We participated in it for several years, until our work deviated further from the collection format," Gitis explains.
Pioneers of club fashion
In the sources available today, GK is more often identified as the creator of club rather than street fashion. Presenting collections on the dance floor and collaborating with electronic music artists seems to confirm this category.
"We not only received customers but also organized parties: DJs played at our place, and we gathered a large audience. We only played good music at our studio. At that time, many people used to gather at our place: Vaidas from Bomba, Ignas IV, guys from RyRalio, etc. All the famous Kaunas DJs of the time have certainly played at our studio. People wouldn't even fit; we were always so full" designer K. Maselskytė remembers.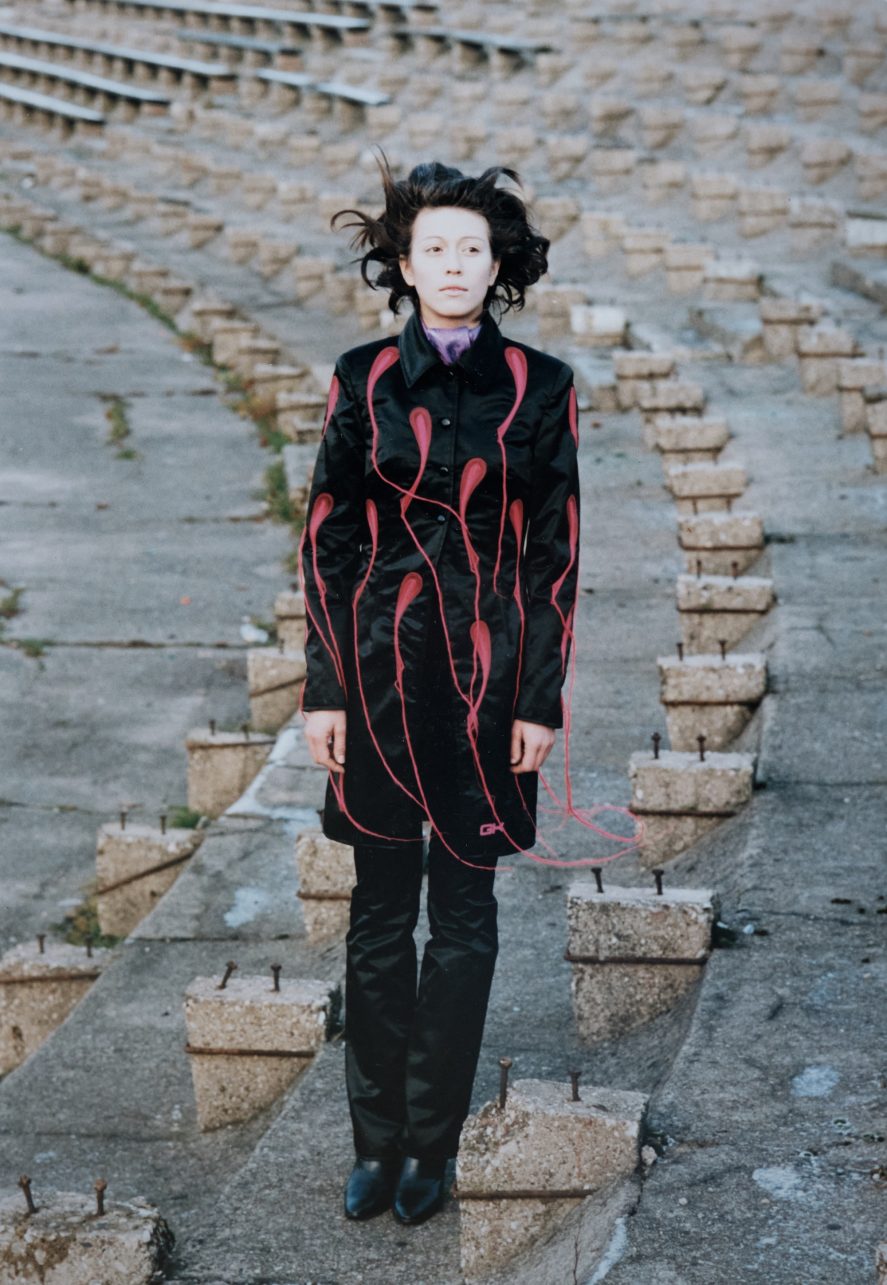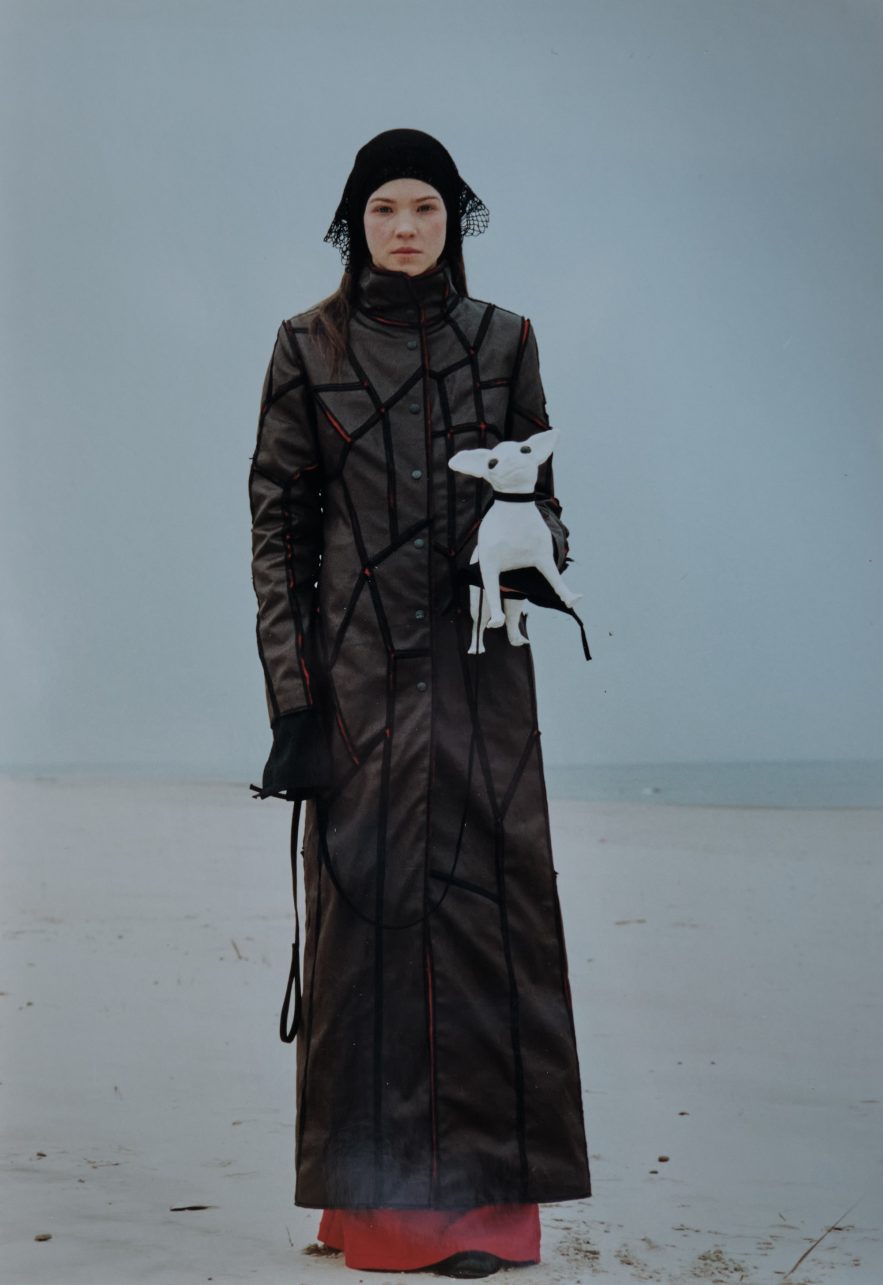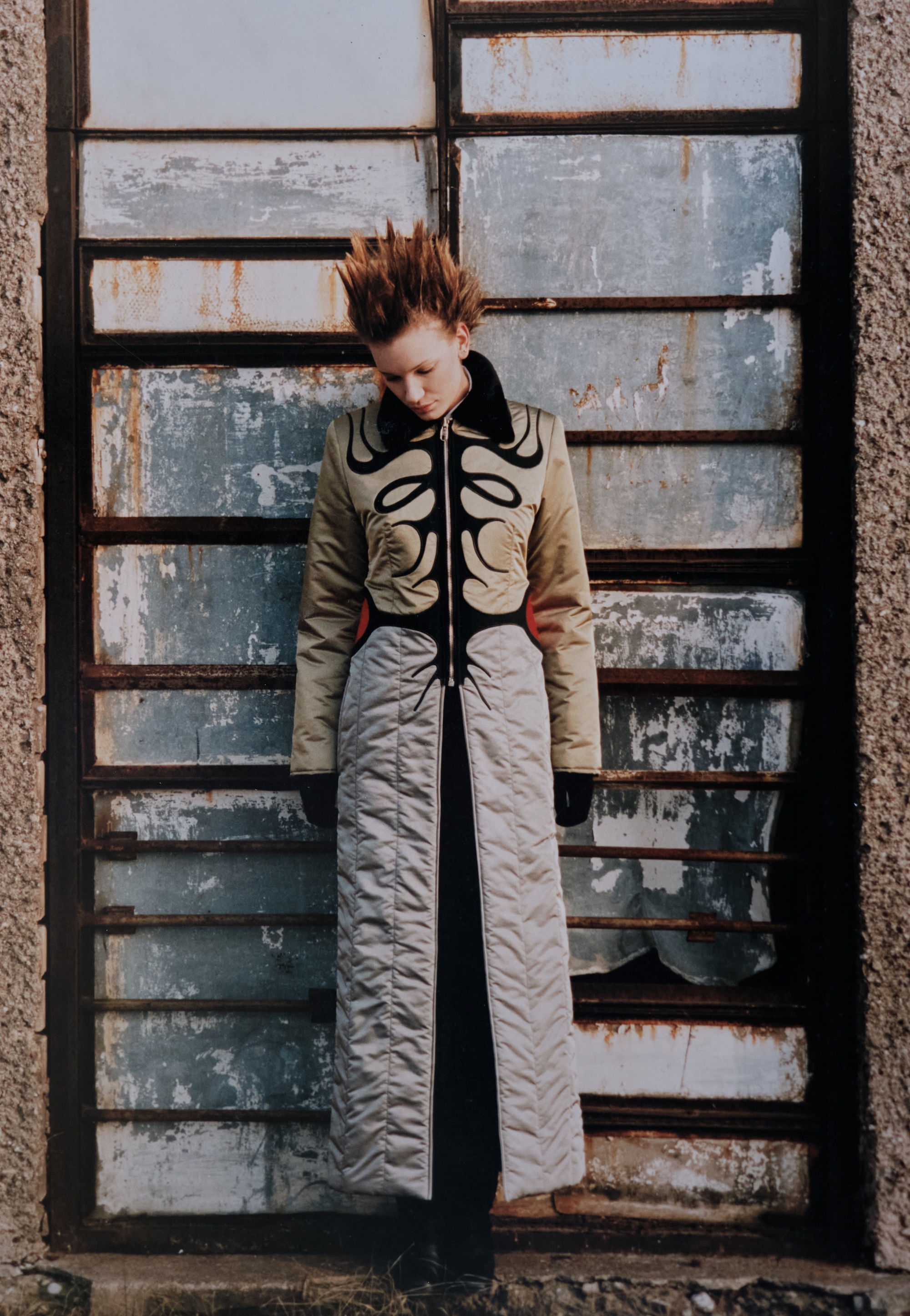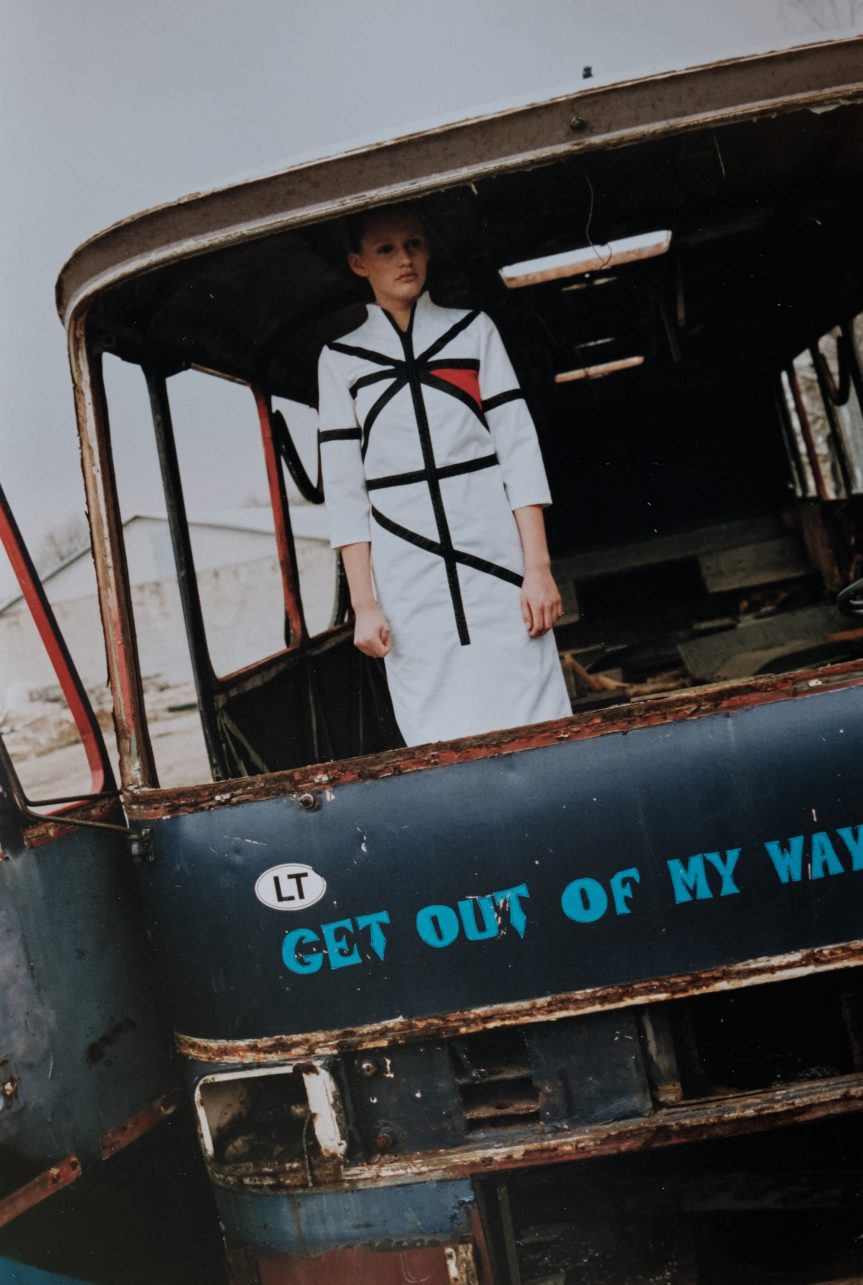 The duo were not only creators of club fashion but also participants in this culture. And, although now, a fashion show in a club would no longer surprise anyone, at that time everything happened very organically, without pretension.
"Events started, where some form of fashion shows took place alongside the stage activities. In those days, club culture and club youth were perhaps a bit more progressive, so dance floor and new Western fashion found the same target audience," G. Bertulis continues.
At that time, when the collection was presented, a DJ would take their position and play curated dance music suitable for that context. According to the interviewees, minimal techno and drum and bass were the most popular genres along with Plastikman's work, and the catalog of the Ninja Tunes label. Not only models but also friends took part in the fashion shows, so the event would naturally morph into a party. Gitis and Kristina would also dress the bartenders in unique clothes and did their hair and make-up.
The first in Kaunas and Lithuania
It was because of the need to prepare the right make-up and hairstyles in addition to garments, the duo's activities eventually expanded. The first street fashion and style studio Prima opened in Kaunas on A. Mapu Street. Although the owners have changed, it is well known even to today's fashionistas.
"The studio appeared not long after we started designing clothes. We noticed that the clothes we design require hair and make-up, too. We worked a lot with different photographers, and there was no one who would prepare the models for photo shoots. Finally, we opened a studio in the old town, where hair, clothes, and other things could fit," Kristina says.
As they say, there were all kinds of customers: businessmen, DJs, rock stars, singers, and others who wanted to look unique. When people came to the studio, they were surprised not only by the style we created but also by the interior design which was like a breath of fresh air back then. You often had to wait for up to a month to get an appointment with a hairdresser; the interest and demand were enormous.
Gitis adds that the creative duo later opened a place of the same name in Vilnius, where they also met very famous people. Back then, if you went to a party, everyone had to dress up, now everything is simpler, and no one tries so hard anymore. Now there is less extravagance because simply every party is no longer such a huge event as in post-Soviet times.
"When we opened the studio in Vilnius, Gravity Club opened at a similar time, so we used to be packed before the parties. At first, we operated on Karmelitų Street and later on Savičiaus Street. Kaunas was like a base. The sewing and the preparation took place there and the styling was done in Vilnius. For the club or for photo shoots. It was really impossible to get an appointment with us on the weekend."
Just another stage
According to the interviewees, that stage ended naturally, simply seeping into a new one. GK created fashion from approximately 1991 until 2013. Just over 20 years in fashion and parties. They presented 14 collections and worked with hundreds if not thousands of clients, not to mention the simpler services provided, such as haircuts.
"There were all kinds of activities, we were even commissioned to create lines for big brands, such as VP Market or Audimas. Gitis continued to work with clothes adapted for extreme sports. There were more collaborations and other creative pursuits than one can recall," K. Maselskytė says.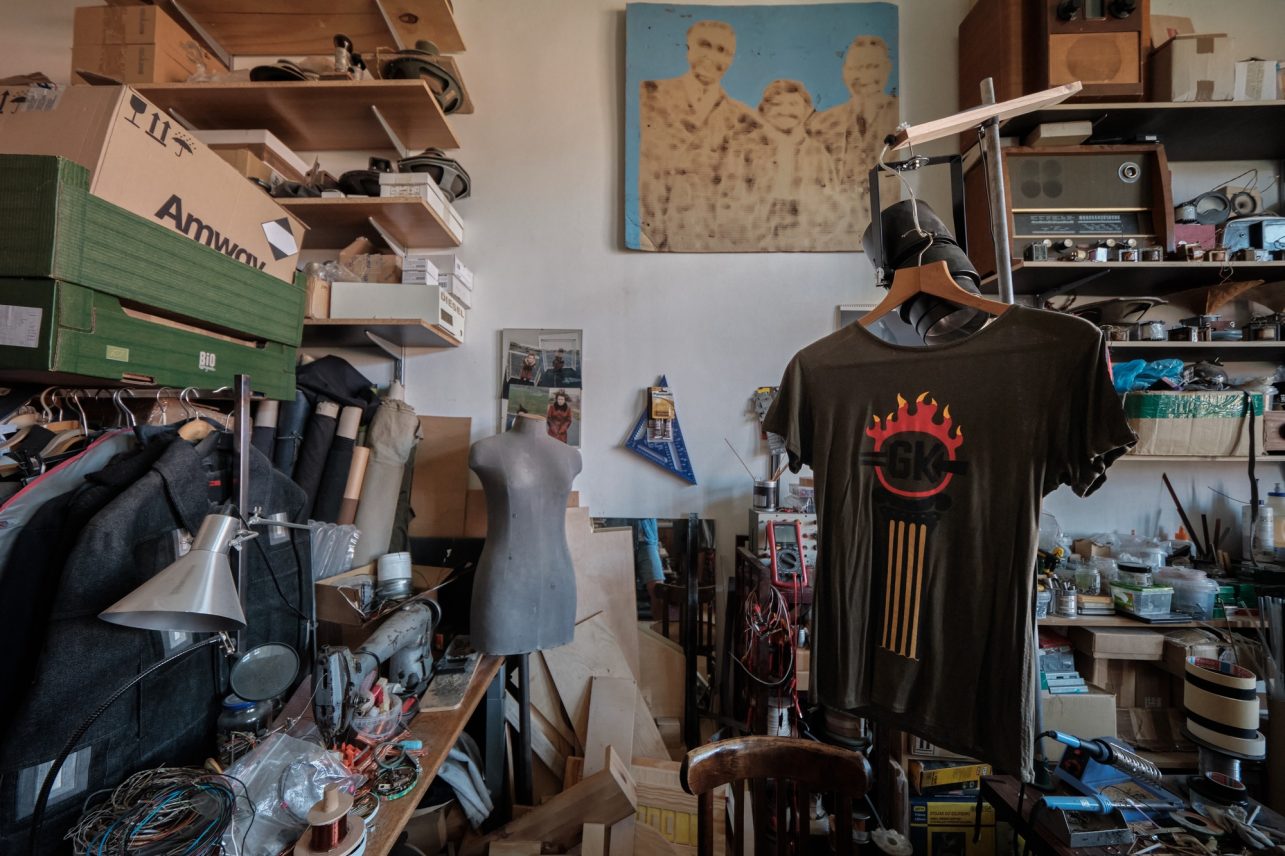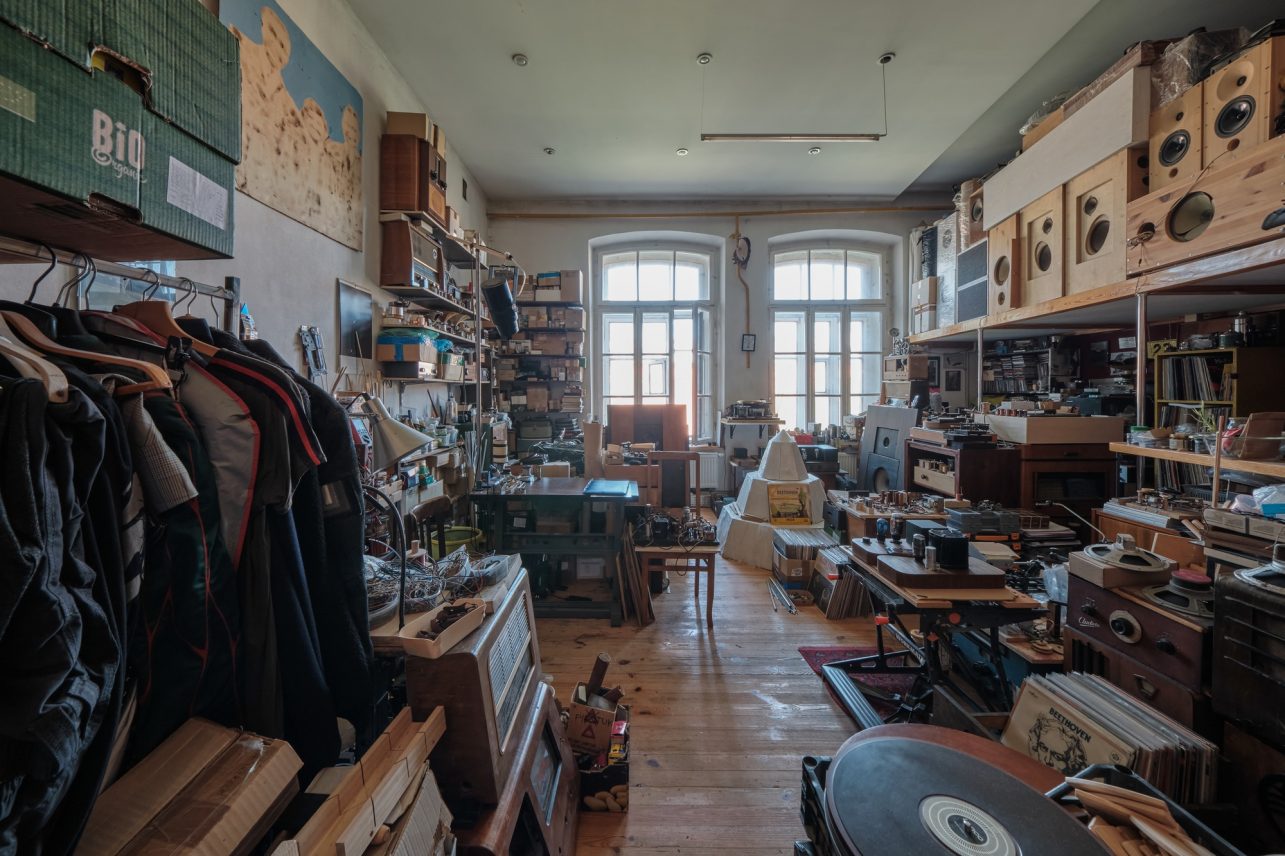 Kristina adds that subcultures were also an important factor in the uniqueness and success of fashion at that time, "It was very clearly defined: punks, gopniks, ravers, Depeche Mode fans, break dancers. Now leather jackets are worn by both punks and bimbos. At that time, we were progressive. With the emergence of new electronic music, new style has appeared. But we took a lot from the punks, you could see it in our clothes. We were inspired by both Vivienne Westwood and The Prodigy."
"It's a pity that subcultures have disappeared. It is as if part of originality and the organic face of the city has vanished. In those days, everything was very clearly defined. Not only clothing but also spaces, music, and other areas. And there were many beautiful things. I think you'd find us somewhere among the ravers and punks," Gitis continues.
There were various offers: investors and different forms of activity. "We were successful at the time, we had fun, we realized, and people who worked with us were satisfied. At one point we managed 14 people, but everything passes. Now we are in a different stage."
Conceptual quests
"Now I am interested in sound. It was always there, since childhood, since breakdancing. Next to everything I did, there was always music. So, in this new stage I simply want to create sound instead of clothes. To search for its forms. Fashion is visual, sound is intangible. That has definitely changed. It's just that visual arts are less interesting to me now, that's all. But just as we created custom things then, so I do now. I create various devices, sometimes I appear with friends, for example with composer Artūras Bumšteinas and his projects", G. Bertulis says.
By the way, we met to talk in Gitis' studio in Šančiai, in the former barracks. As he informed me before coming, it is a bit difficult to enter and find where to sit because the whole space is covered not only with clothes and materials but also with antique radios, luxury turntables, and disassembled amplifiers.
In the last decade, the creator's portfolio has been filled not with fashion collections, but with making of experimental sound creation tools and devices. Gitis explores the boundaries of three very fluid and intertwined terms: music, noise, and sound art.
Kristina turned to conceptual art, and then again back to visual art. "I finished my master's studies, and joined the Artists'Association, sometimes I organize exhibitions and continue to sell my creations. Back then, it was the environment that dictated what was needed, everything was new, untested. What we were doing came to a very natural end and the new creative work continues and has no intention of ending." In addition to fashion, textile art, painting, performance art and other interdisciplinary art forms play an important role in her creative biography. Kristina is interested in the constant exploration and capturing of urban space, and while studying at the Kaunas Faculty of the Vilnius Academy of Arts, she became interested in the idea of conceptual art, which is developed in the fields of matter, movement, sound, and image.