Lukas Tomaševičius, who has been cycling around Kaunas for the last five years, is always happy when he sees someone wearing his shorts, backpack, or another object. Studio Archetip is the name of the brand of the Vilnius native, who has roots in our city. Lukas has no plans to accommodate his brand in the fast-changing fashion world. In fact, it is not that difficult to recognize him on the street. I have never seen him before, only his products, but when he came to meet me for the interview, it was pretty easy for me to connect him to his creations. It's all down-to-earth, human, simple, and comfortable.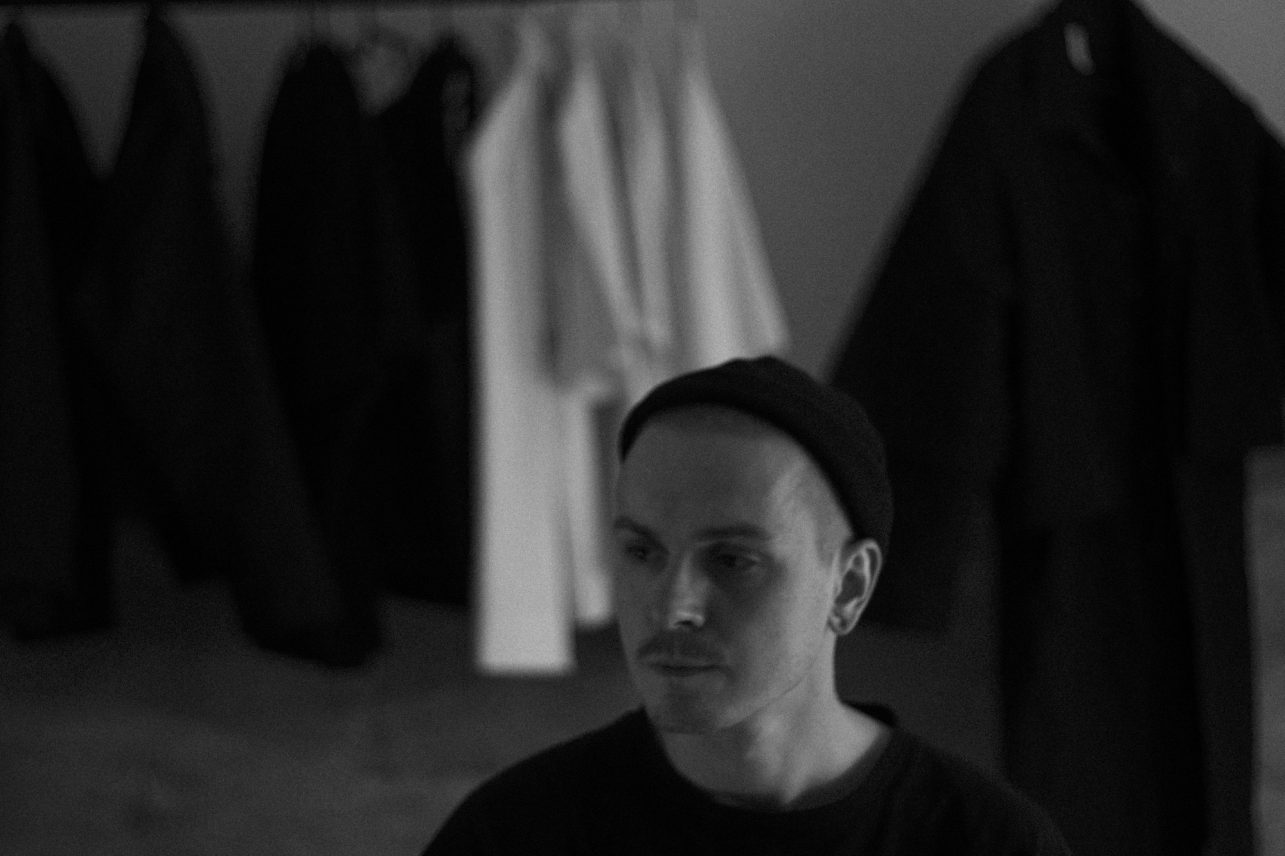 You completed textile art and design studies at the Vilnius Academy of Arts. Why did you choose that and not, for example, fashion design?
Once when I was in England, I saw a group of people who had built a screen-printing machine. I examined it and when I returned home, I made the frame myself. I printed T-shirts for myself and my friends. Once we were about to go to a festival where my friends were playing, and they said, "Bring some t-shirts." I earned maybe 350 litas. It was wild! Then I realized that this activity can be fun, interesting, and even useful. And later, an acquaintance mentioned that there was this study program that I haven't heard about before.
At that time, I was more interested in learning about the technological side – weaving, dyeing, felting, crocheting, printing – than designing my own clothes. Later, after gaining some knowledge at the academy, I became interested in product design, I started experimenting and delving into how to prepare drawings so that the tailor could understand. And how to involve many people in the process!
By the way, my grandfather is from Kaunas. A huge Kaunas patriot! His father worked as a driver or as a helper in the Lima textile factory near the Neris. My grandfather used to talk about the fabrics woven there quite vividly, it stuck with me.
Is he happy with your career?
My grandfather worked in a completely different field, but he also had to coordinate a lot and communicate with people. He used to tell me: it doesn't matter what you choose, what matters is what kind of people you will work with and what kind of connections you will have. Sometimes, I show him a jacket I made, and he touches it, and says, "Not bad, not bad."
You know, it was actually through other people that I discovered you. It was hard not to notice the shorts offered to the lively dancers of the Lizdas Club and gloves designed for the late autumn film festival Scanorama (instead of a scarf, which would have been a very traditional and boring souvenir). Just recently, I was happy to see that you also created something for the Tipas bar in Biržai, which I recently had the chance to visit and get to know the founders. How do you find all these people and their work?
The majority of such partnerships were established thanks to Gabrielė and Inga, the founders of the Hands on Press printing house. We met at the Kaunas Culture Fair. First, I saw on the internet the screen-printing barrow they built with Giedrius Bučas, and it reminded me of what I saw in England. We corresponded, we met at the fair, and they kept telling other people about me. I made work jackets for both of them, and they sometimes become an excuse for new projects.
Looking at the objects you have created, what would you say unites them and signals to the world that they are your creations?
If you mean the relationship between a person and an object, first of all, it is about the material. I try to work only with natural fabrics. They are often rougher, thicker. We made summer shirts for your aforementioned Tipas but they are thicker than usual. The form is minimalist, but it speaks clearly about the object. My color palette is gloomy, ancient [laughs]. After all, the word archetype means primary, primordial.
I was recently in Indonesia where I learned how to dye textiles and other materials with the natural indigo dye. I am planning to make a blue collection for those, who keep asking when there will be some more colors in my designs.
You participated in an artistic residency in Ramygala with textile artist Raminta Beržanskytė, fashion designer Morta Nakaitė and composer Dominykas Digimas. Are you inspired by the works of other creators?
Without a doubt, that's why I'm always drawn to joint projects. Brainstorming with people from other fields helps you discover different ways of thinking. Individual creativity has its dangers – it's easy to start repeating yourself once you're closed off, especially if the first attempts are successful. Other artists and a different train of thought leading to the desired result simply broaden the horizon.
However, you manage to be an individualist. In July you presented the first Studio Archetip collection. What does it say?
I think the fashion world has a lot to say about creations, collections, and ideas. But it's not for me. My work is about functional design solutions, promoting a minimalist worldview. Just last week, when we were shooting the collection, one of the models, a friend of mine, said it was a capsule collection of 33 clothes. Indeed, this is my idea – a simple wardrobe, the parts of which fit together, are not noisy and do not burden the customer. It simply dresses them. High-quality garments that are good for both body and soul.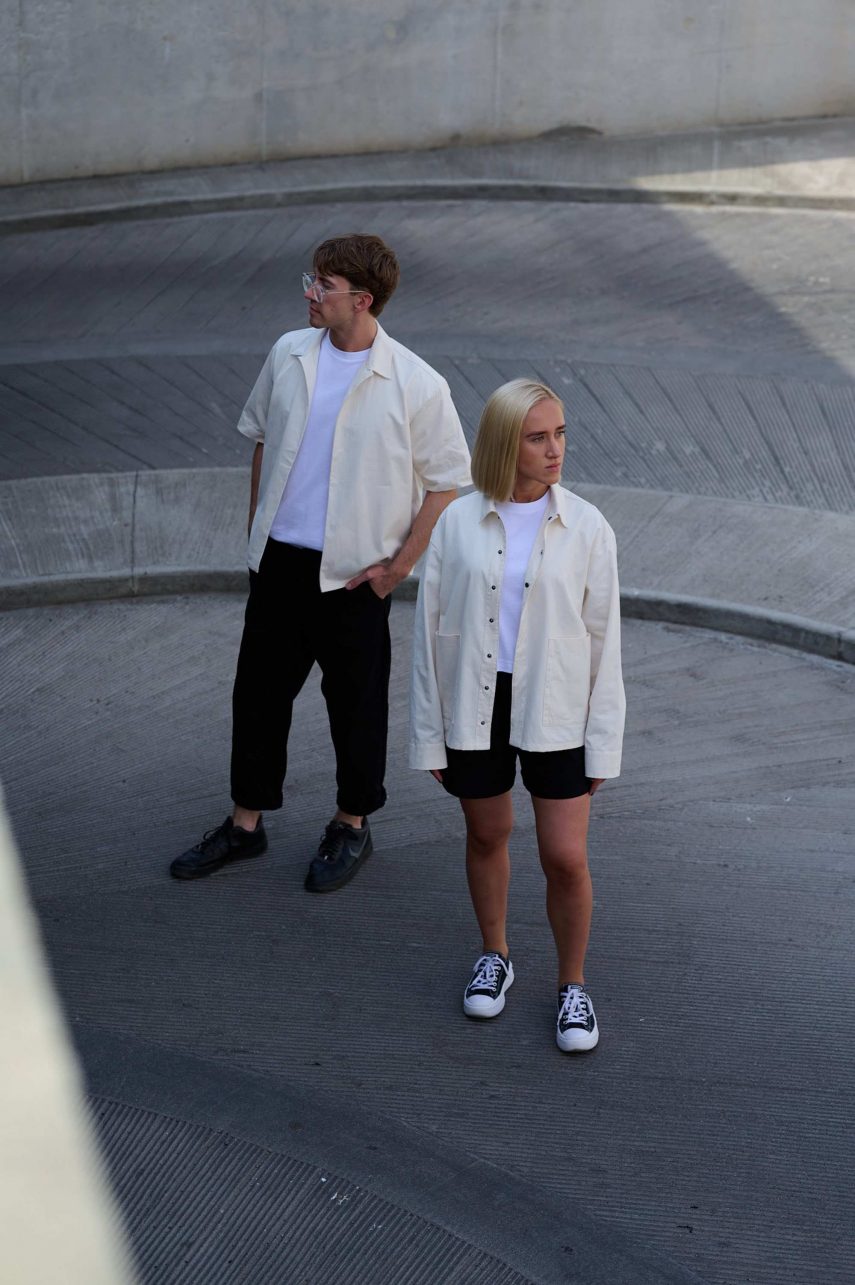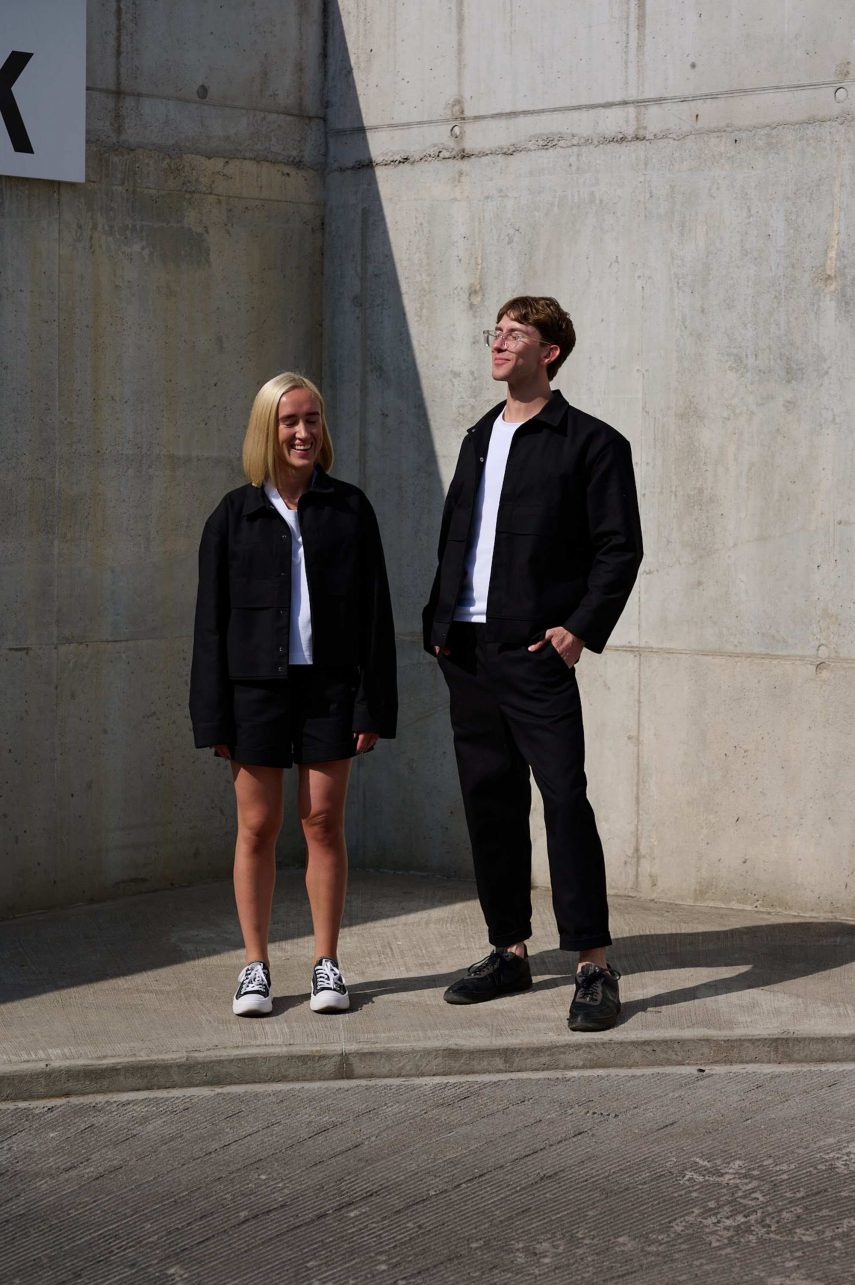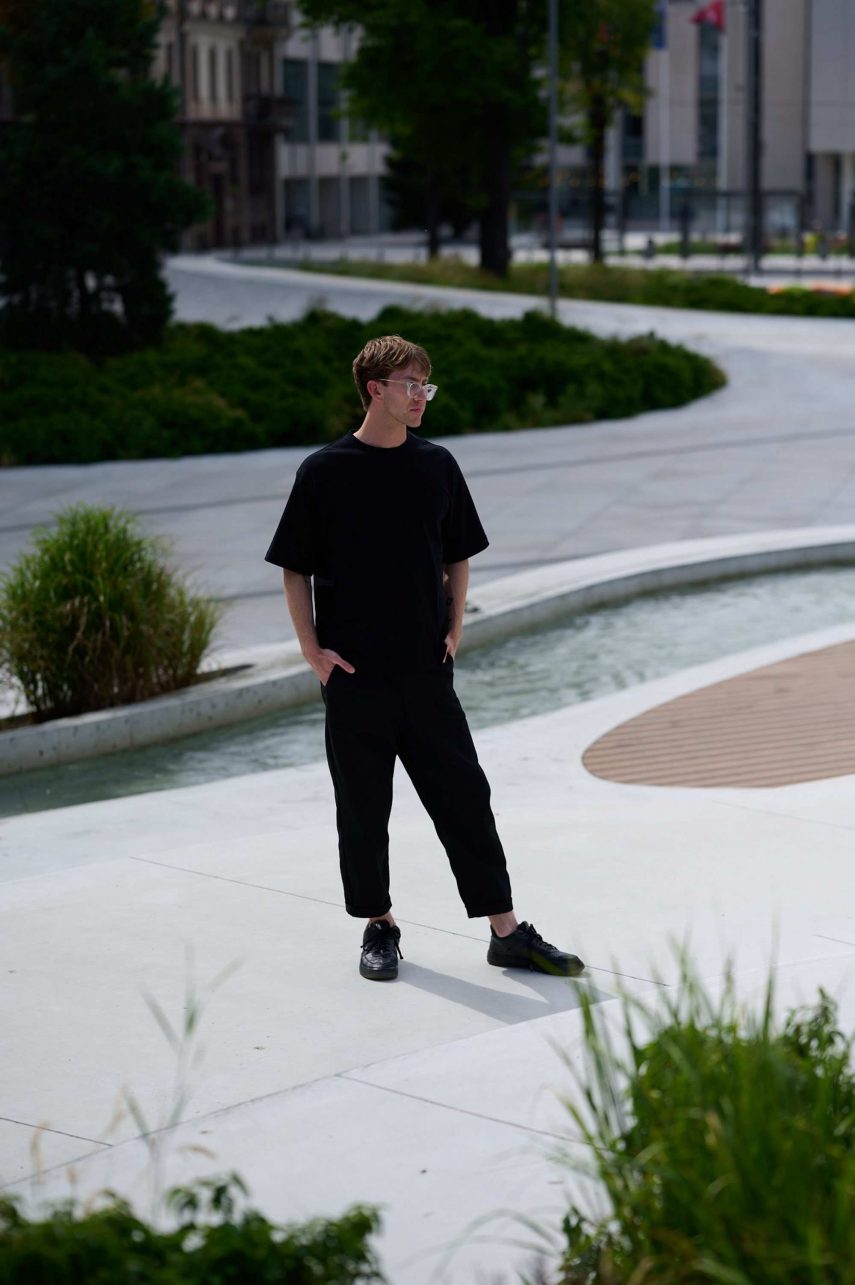 Do you still buy clothes?
I have to buy socks and underwear. Well, and shoes. By the way, I dream of learning how to make shoes. If I see a maker of unique footwear on Instagram or elsewhere, I carefully examine their products, from A to Z. You know, before I started making clothes and backpacks, I thought it was very complicated, but when you look at the layout, you realize that it's pretty simple. But the world of shoes seems much more mysterious to me.
I remembered where else I saw your work. It was in the Iljinienė house, where the exhibition of the modernism interpretation workshop organized by the Kaunas 2022 program Modernism for the Future was held. You presented an armchair inspired by the round windows of Kaunas. Did you join the workshop to get to know a new city better?
Now that you said it, there must have been a subconscious desire to get to know people from the design and architecture communities. I just saw an ad on Facebook, signed up, and got an invitation to join. The experience was unreal and creatively useful, just like all that year in Kaunas. Even during the Courtyard Festival, we created sculptures on Laisvės Avenue. Going back to the modernists, it was one of the most interesting and wide-ranging residencies I've ever been a part of. It was extended over time; we would meet and then go our separate ways. As a designer, I sought to get out of my creative box, so I created an armchair. By the way, after my studies, I have worked in interior design. I think that furniture, as well as kitchen utensils – if we conceptually think about the human relationship with the environment – are not so far from clothes. An armchair is generally very personal. For example, I always wonder how the same garment will look on me and how it will look on the model. Everyone falls into an armchair differently as well.
Is it easy for a young creator to make a living and survive while producing original things?
But what job is easy? I have worked many jobs for hire, it was not easy either. Everything has its own specifics. I feel more in control when I have to overcome my own obstacles. The stress level is high, yes, but so are the responsibilities. I don't have a colleague who forgot to put a stamp or send a declaration; I don't have a director who answers to a customer. Well, I have seamstresses, and I am also responsible for their work. I am all in one. If something is wrong, I go and solve it, and it's faster than waiting for a director to solve it. It happens at the expense of my leisure but it's more interesting to me. Sometimes, especially in joint projects, I don't feel like I'm working, it seems like we're doing something creative. And then the money comes in. I am not an entrepreneur by nature, but you can learn all of that.