It is a pleasant and intriguing feeling to be sitting in the Antanas and Jonas Juška Museum in Vilkija, curated by the renowned museologist and folk artist Vida Sniečkuvienė and her husband Arūnas. Our conversation about one of the oldest surviving Lithuanian customs brings out some mysticism, mythology, and even domestic magic. I am sure that many of you have seen straw mobile (sodai, i.e., gardens in Lithuanian) before. It is time to reflect on how much of heaven and earth is contained in this type of folk art.
The sacred meaning
No one can say for sure when the production of straw mobiles became widespread in our country, but, as my interviewee says, it was a very long time ago. "It is likely that the roots of these creations lie in our country and later, with some changes, they spread to the neighboring countries. Poland has something like this too, and we saw it in museums back in the Soviet era. But their mobiles are much more ornate, much more crowded, and fuller of everything. They even like to use feathers, which is less common in Lithuania."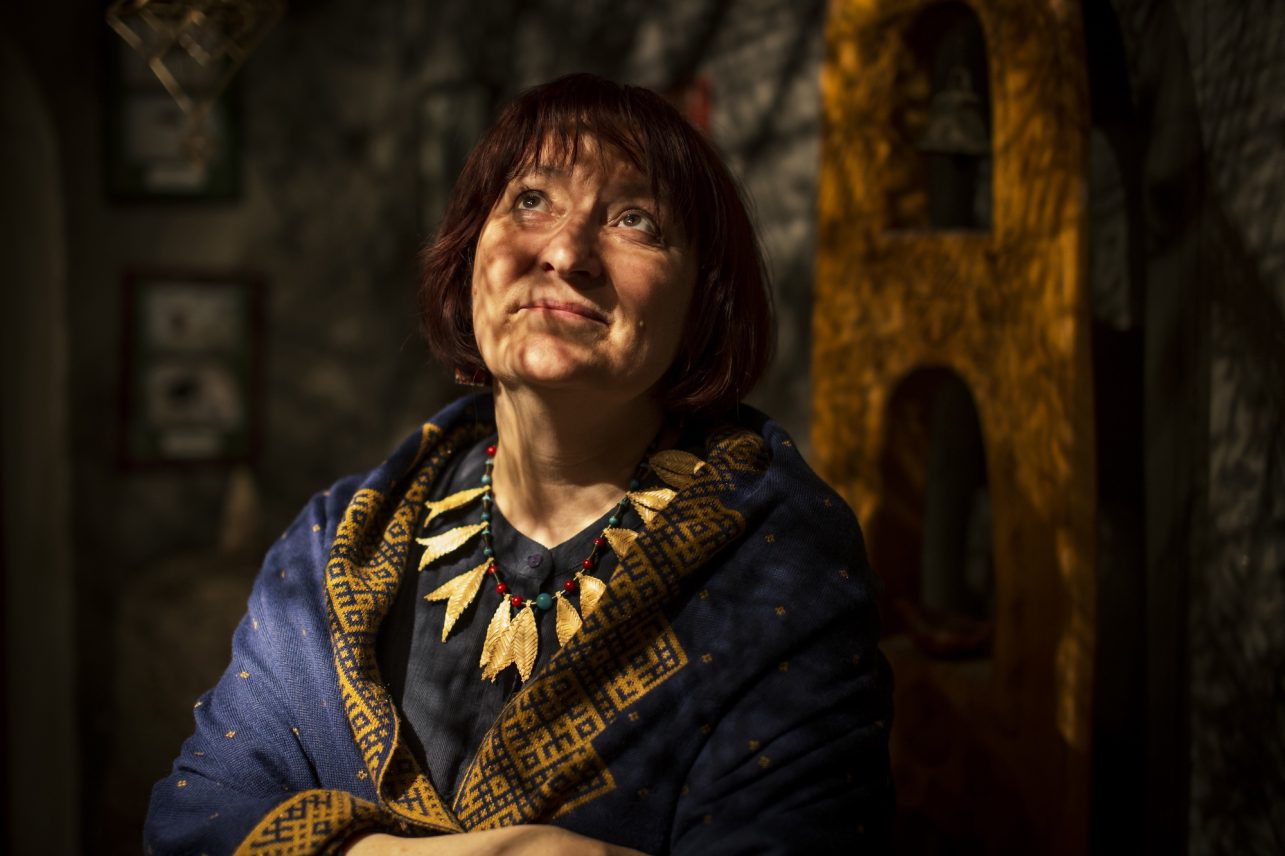 Straws were very important in the life of a Lithuanian. They carried a sacred meaning, and they accompanied people from birth to the wedding night, and they were mentioned in the holiday and funeral traditions. Grain and bread, work in the fields, are among the key attributes of Lithuanian ethnic culture and the agricultural way of life.
"We place straws under the table, over the table, give them at weddings, and during some holidays people would be placed on a haystack. And how much energy they receive, those straws: you sow them in autumn, and they last through the cold, waiting to be cut through the hard, cold period," the long-time employee of the A. and J. Juška Museum continues.
Not just anyone and not just anyhow 
"The first thing to do is to sow them in autumn. Rye is the most common crop used for straw mobiles. You can also use triticale. Many things can happen in the summer, they can get soaked, dry out or blacken, so that's why I cut them while they're still green and then dry them. Then you take a bunch and clean it. You have to wash it, remove the bark, and pull out the small weeds," Vida explains the straw mobile creation process.
She reveals that straws need to be soaked in hot water. If you are preparing them for the mobile decor, i.e., birds or flexible ornaments, you need to soak them longer but if you're preparing them just for a straw mobile, three hours is enough to make them firmer. It is also very important to cut the straws evenly, otherwise, you will not be able to make exact geometric shapes. Straws must be prepared well, made from uniform links – only then the mobile will be perfectly symmetrical.
The straw mobiles couldn't just be made by anyone. They were done by midwives or herbalists but the whole process involved more people. These women were hired by the newlyweds, who would have a sheaf of straws and pull one straw after another handing it to the mobile maker. This process had great symbolic significance and was accompanied by a number of superstitions.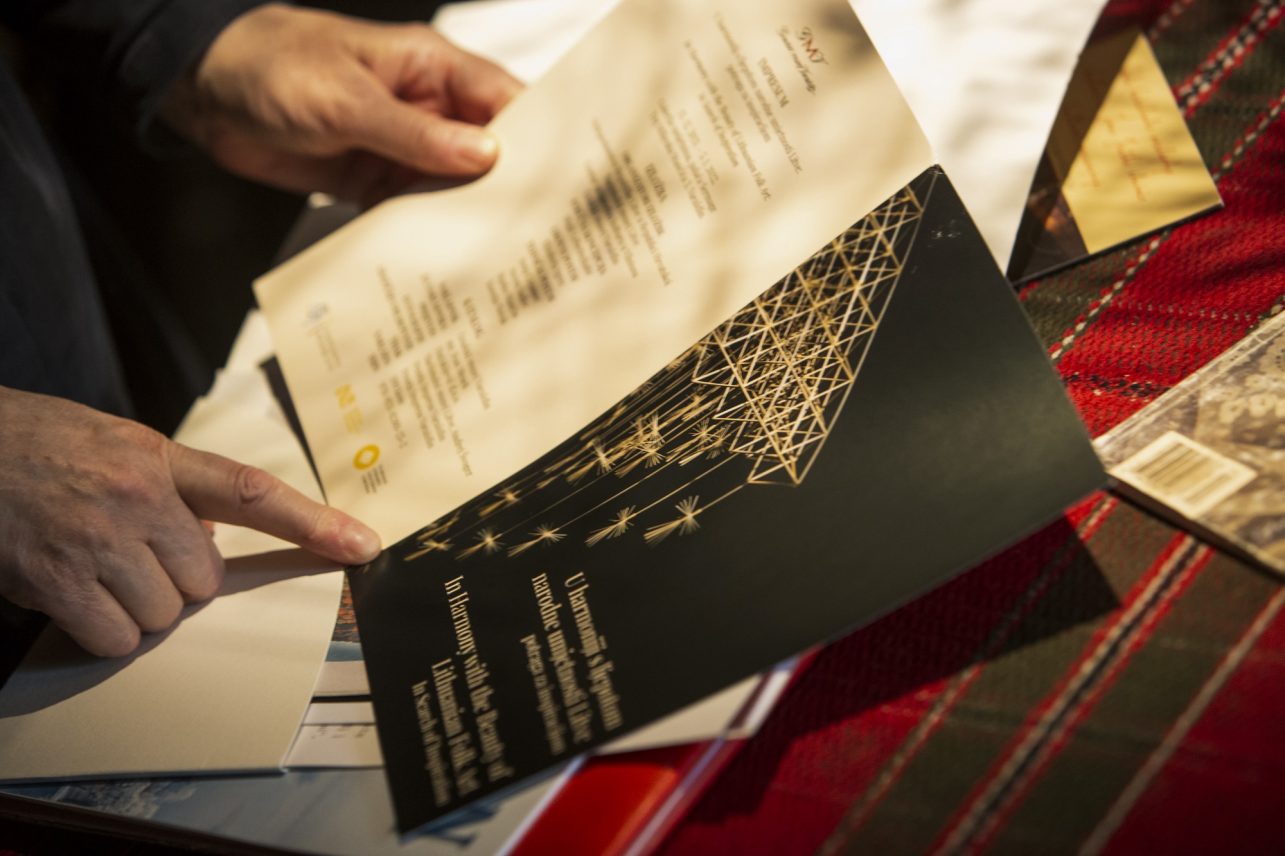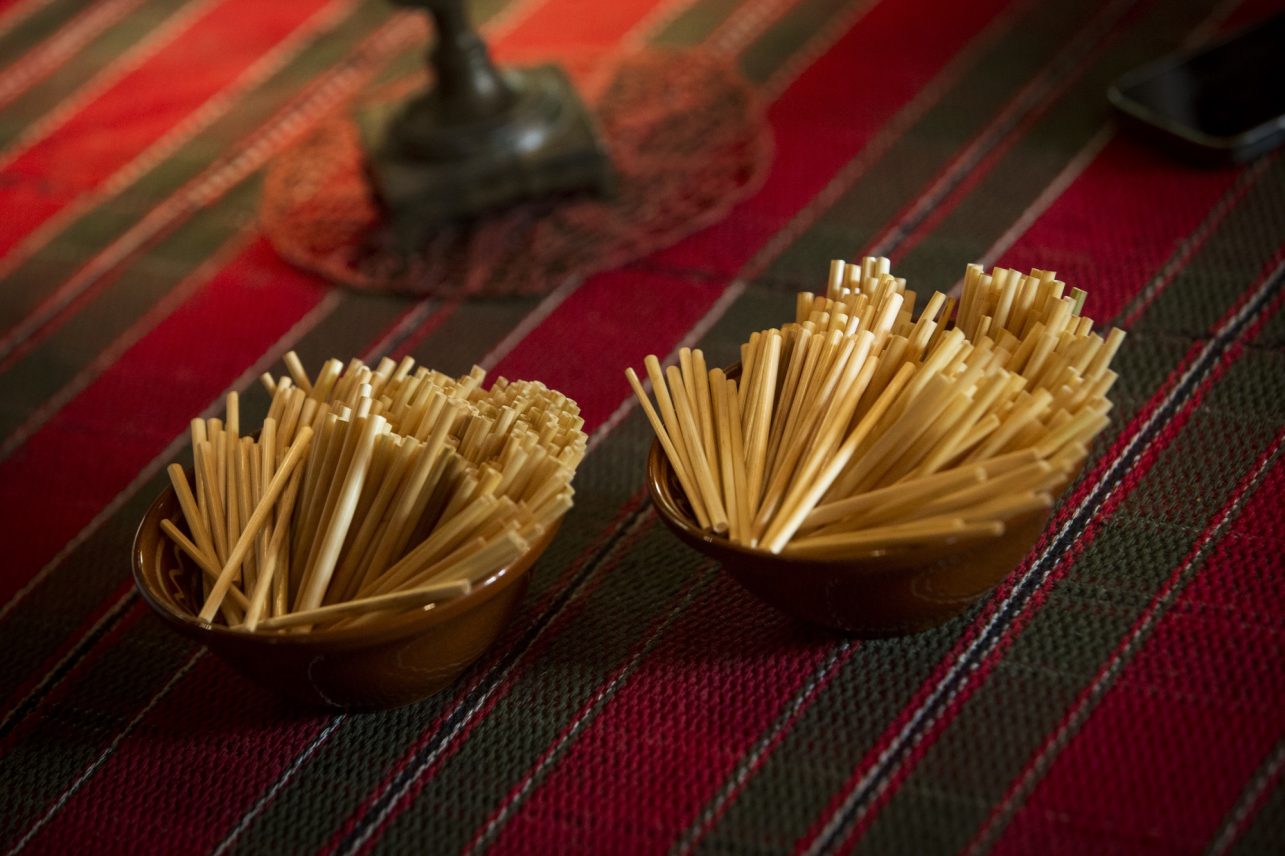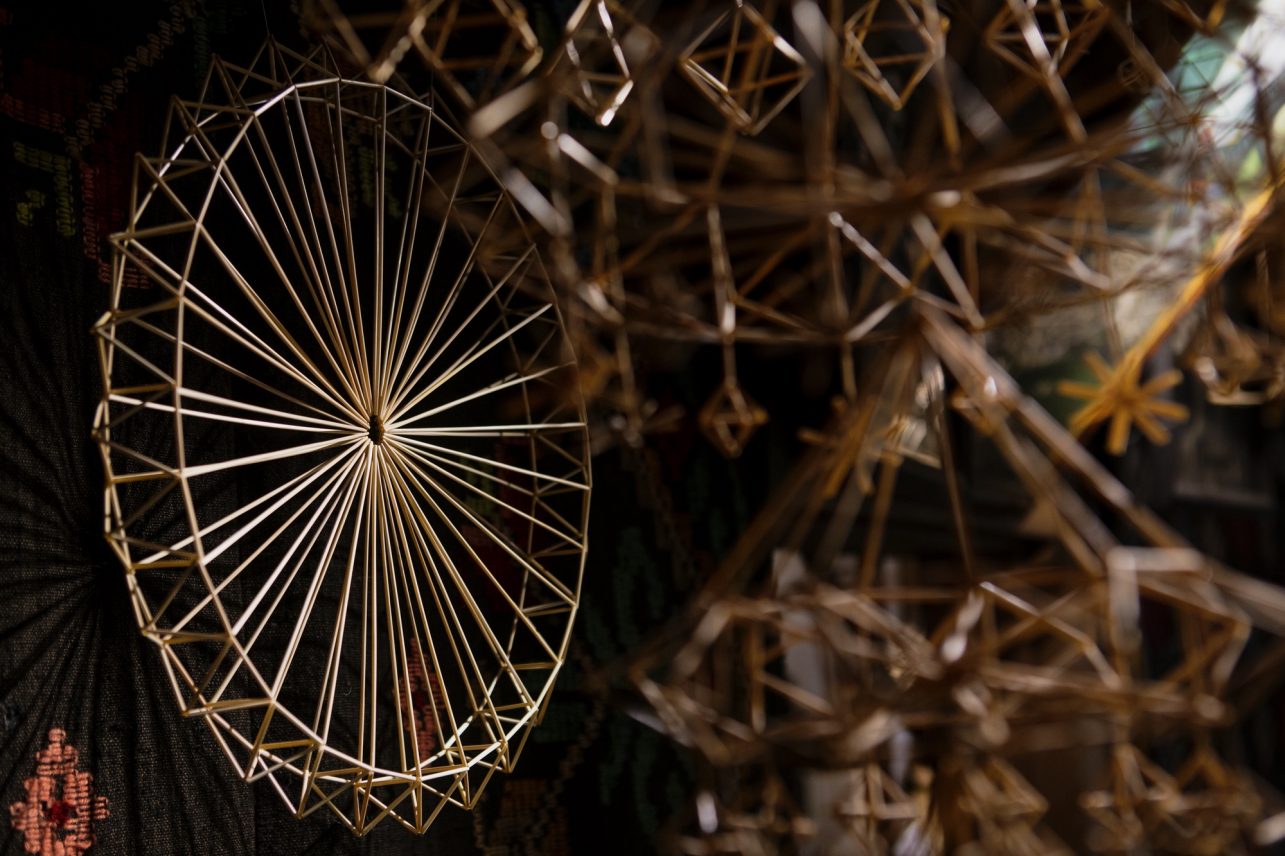 While making the mobile, you have to constantly keep an eye on it and calculate and not just because you might get a bad straw (of a wrong length or a broken one). It's a painstaking and meditative process that requires concentration, and you can't just rush it. "Everyone had to keep quiet when making it at home. No one was allowed to make noise, not even the children were allowed to fidget or run around. It is said that when the straws are woven, the spirit of the straw mobile descends, which can get scared and run away. Then the family of the newlyweds will not get on, they will have fights and experience troubles," V. Sniečkuvienė continues.
A broken or damaged straw mobile is an even worse sign. It can even bring a disaster. Therefore, when you are upset, angry, or distracted, you cannot weave straws. You have to be completely calm and focused.
Finally, a perfectly made straw mobile must spin easily. As the world turns, so does the mobile. If the creation gets stuck or remains stagnant it means that someone came with a bad idea or wicked intentions. Perhaps the intention with which it was created was not pure or right.
"When the war broke out in Ukraine, I started making a big straw mobile. It was very difficult. I felt like I was being pushed away from it. The straws kept breaking, I was unsuccessful. Then the deaths started: the children, Bucha. I needed angels, so I planted them in the garden. I didn't know how to help, so I had to create a straw mobile. Judging by how hard it was to make it – and finally succeed – I believe, the war will go similarly. It will be hard, it will be painful, but it will end well. We gave the garden to the Ambassador, and I hope it has reached Ukraine," she says.
The creations that bring happiness
The importance of this folk custom is also reflected in the fact that straw mobiles were only made for special occasions, such as the birth of a child or a funeral. They were also made for the most important holidays, like Easter and Christmas. "Everyone probably knows the custom of buying out the bride at the wedding, which has survived to this day. Well, you also had to buy out the straw mobile during the wedding. In addition, it was also said that if there were no disturbances in the creation of the mobile and everything went smoothly, the union would be durable and long-lasting."
To this day, it is believed that straw mobiles given as gifts during the holidays bring harmony and order to people's homes. Therefore, these straw creations have long represented gifts in the poor life of farmers.
"I've found 6 or 8 songs about how special that mobile is, that it contains everything: a sky, a spring, grapes, apples, and birds. It had an extremely important symbolic and folkloric significance in the life of Lithuanians at that time," Vida emphasizes.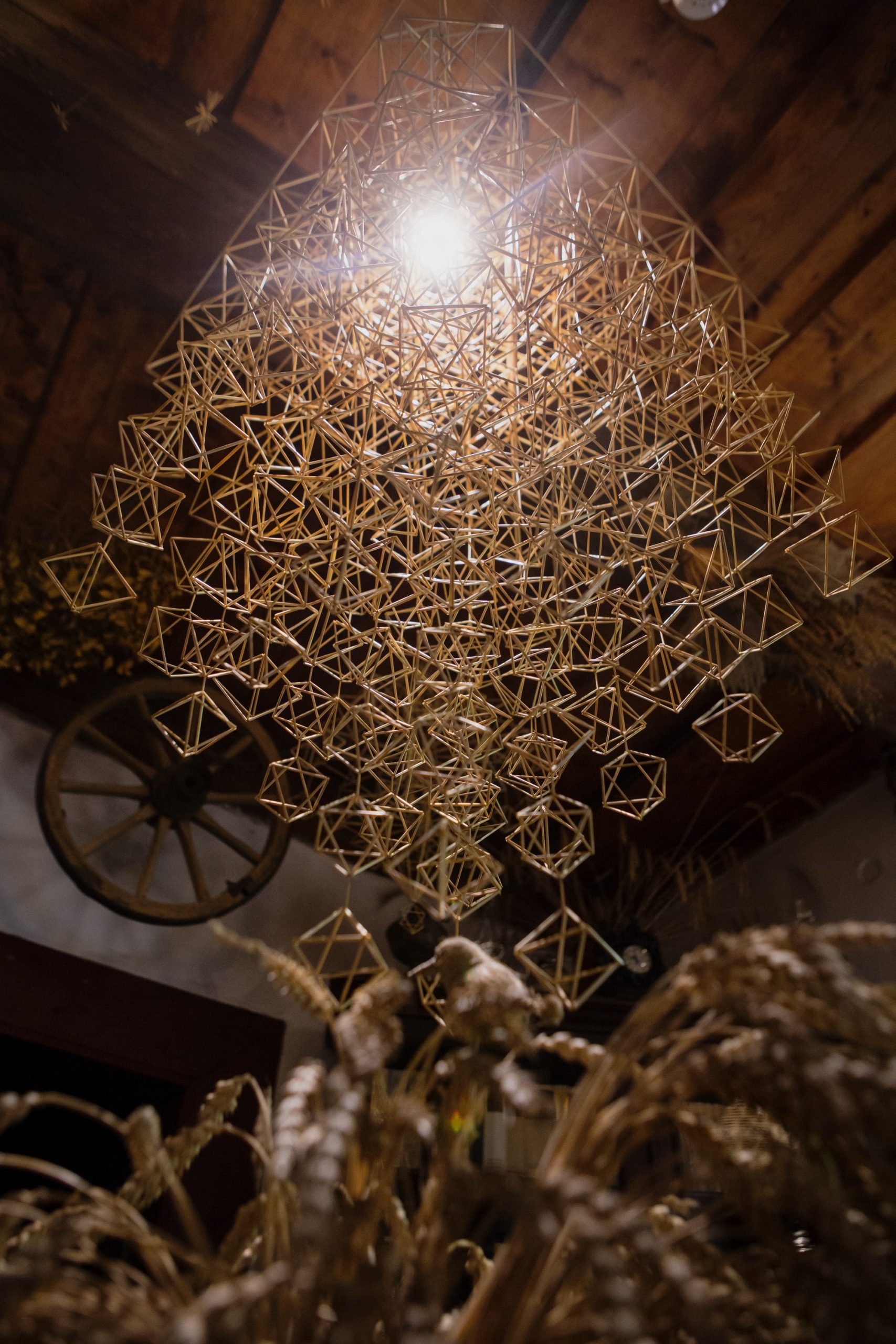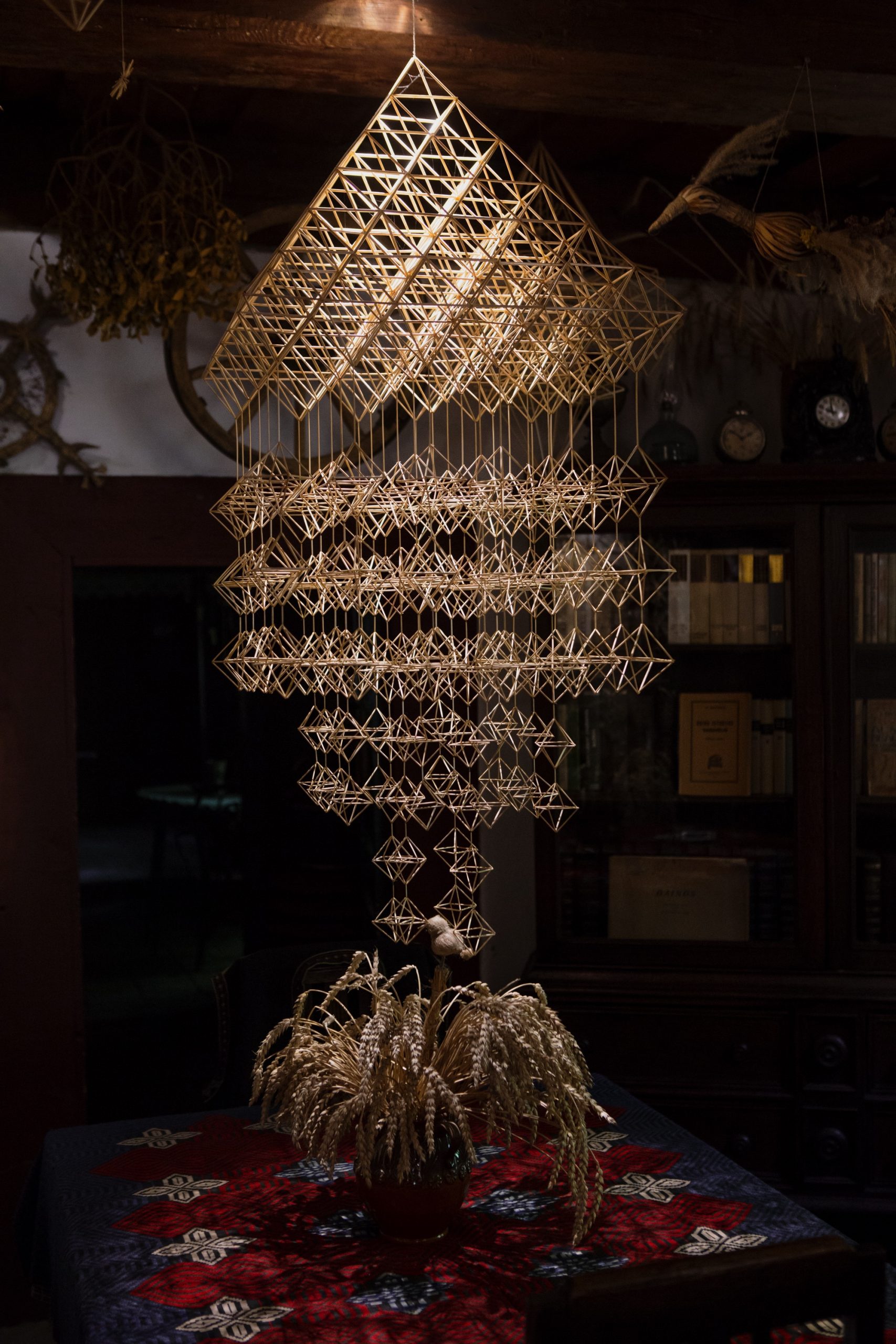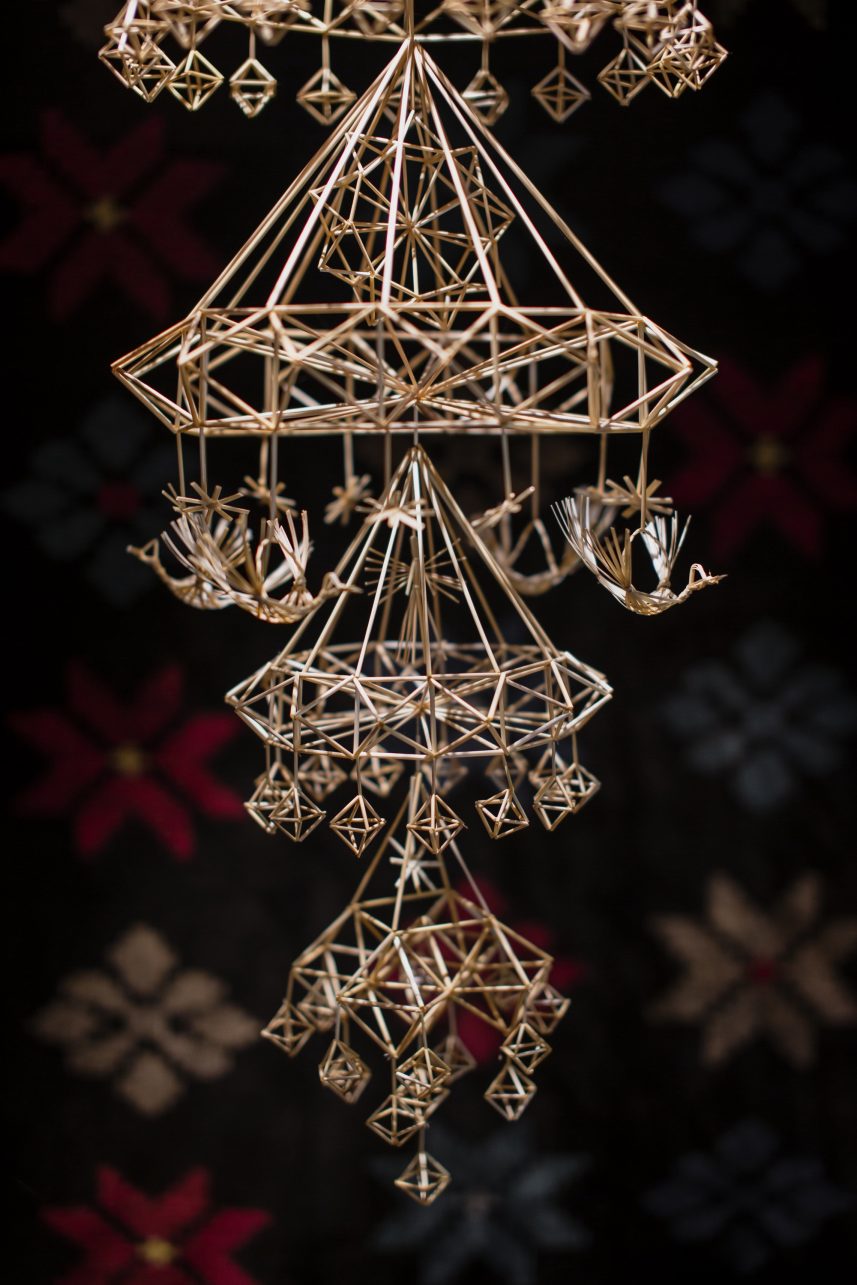 There is a lot of symbolism here. Vida and I also talked about the Garden of Eden, God's gardens. According to an expert on ancient customs, it means order. The garden (both straw one and a real one) of an ancient Lithuanian farmer contained his whole world. There could be no chaos there. Very often, the upper and lower parts of the garden consist of two pyramids: one looking up, the other looking down. It symbolizes, of course, the skies and the Garden of Eden as well as the underworld. And in the middle, you can see the symbolism of the tree of life, garden plants, or inhabitants. "Just like in a real garden, you can find birds in the ones I create. The bird found in the lyrics of folk songs is a mediator between heaven and earth, between the living and the dead. It carries a message."
The new generation
Like every professional artist, every folk artist has their own style, which is defined by various details typical of this type of art. Some people prefer thinner straws, others prefer thicker straws. In addition, each creator has their own favourite geometric shapes, structures, symbols and meanings.
How many straw mobile makers are there in Lithuania? The interviewee claims that now there are quite a few, although in the late Soviet era this tradition was disappearing. "When I started, there were no teachers, no one to learn from. We learned everything by researching, searching and observing. I saw straw mobiles in museums, photographs, villages; I asked people about what they were like before, summarized and tried to create my own world."
Now there are many mobile makers outside Lithuania and quite a few of them are former students or friends of Vida. There is even an association of straw mobile makers that brings the community together and organizes various training programs, workshops, and educational activities for youth.
Meanings that are given by people
An unbelievably beautiful straw masterpiece is hanging above the table that we sat down at for our conversation. The object that catches the eye with its shadow flicker hypnotizes and keeps diverting attention from the conversation.
"For many years, I volunteered at the camp for the disabled in Monciškės, where I taught how to make straw mobiles. I once met a person who could not do anything on his own due to his disability, but it was very important for him to be there. He recalled a straw mobile that hung in his childhood home, but he was unable to recreate it, so he told us everything that he remembered. How the mobile looked, what symbols it contained," the folk artist recalls.
The visitors of the museum – and there is no shortage of them here; they also come in while we are talking – curated by her share their memories too. Vida remembers one modest elderly lady, who waited until everyone had left, and it was just the two of them – she was worried about making a fool of herself in front of her relatives. "And she tells me that I am not wrong, there were not only straw mobiles but also aitvarai (kites). And they were not the same thing, they were always called by separate names, and considered different creations despite having the same way of making them," the interviewee points to a straw creation that resembles a long-tailed kite hanging in the corner.
Seeking for international recognition
In Lithuanian straw mobile is also called liktorius, voras, pajonkas, pajonkėlis, dangus, pasaulis, rojus, sietynas, reketukas, rekėžis, krijelis, aitvaras, miestas, žarondėlis and it was made in all the regions of Lithuania. The tradition of straw mobile making was included in the list of Intangible Cultural Heritage Values of Lithuania.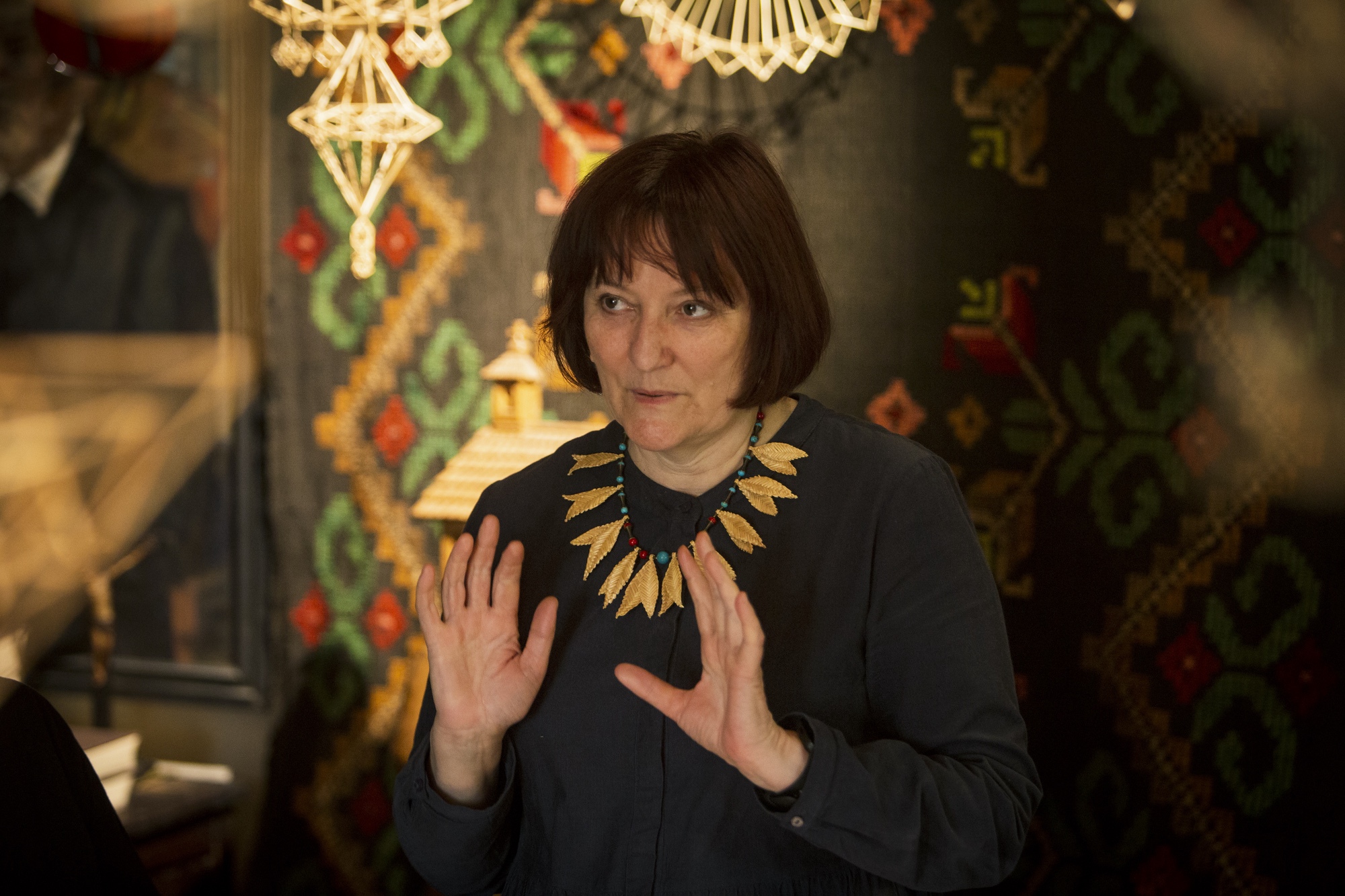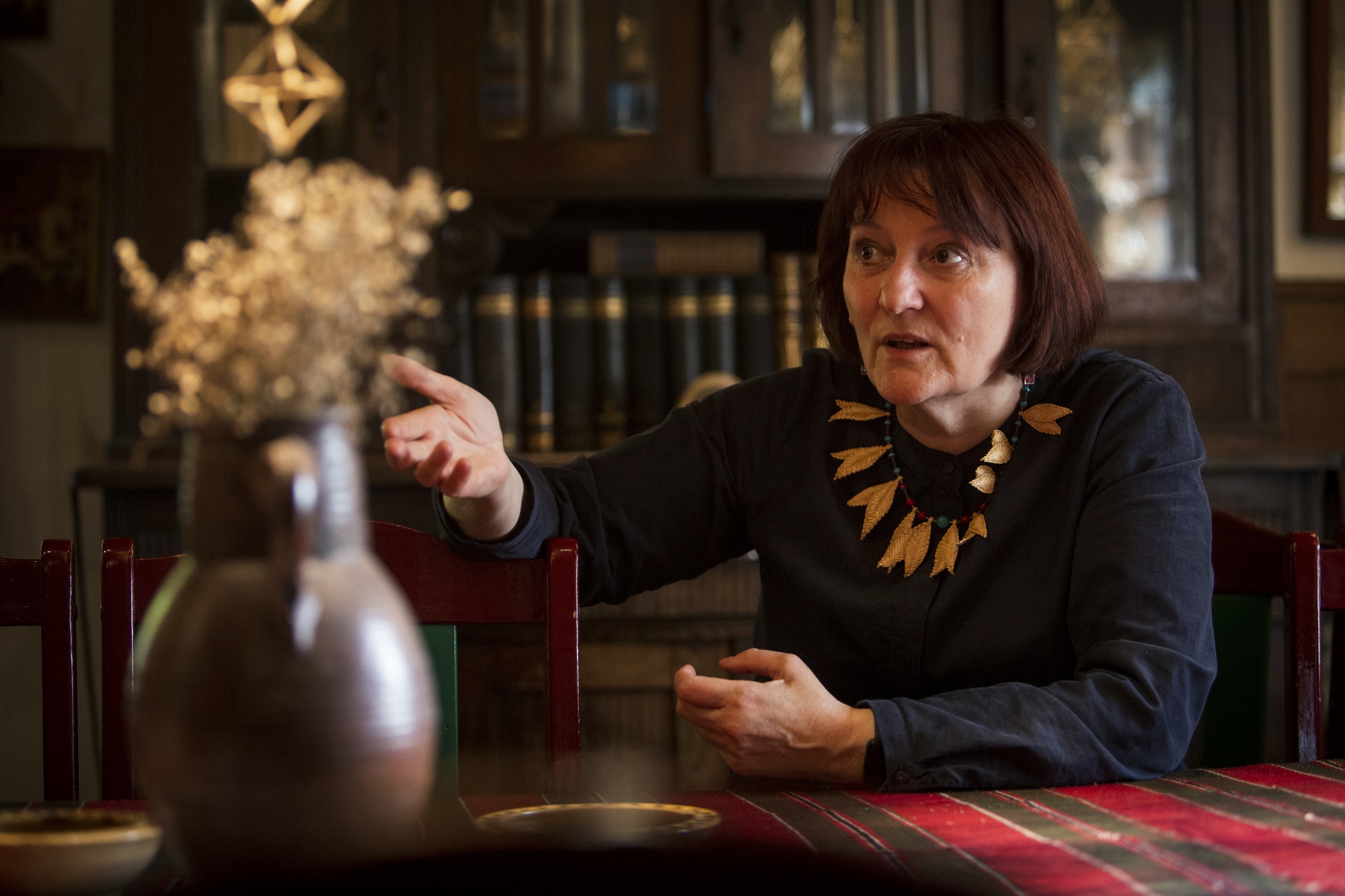 This year, Lithuania is already hoping for international recognition. Just as the art deco architecture of Kaunas is waiting to be included in the UNESCO heritage list, so are the straw mobiles that are waiting to be included in the Representative List of the Intangible Cultural Heritage of Humanity.
At the behest of the Minister of Culture Simonas Kairys, the Lithuanian National Culture Centre is obliged to coordinate the process of preparing the nomination file for the tradition of straw mobiles. A working group has been assembled for this purpose, consisting of specialists from the Lithuanian National Culture Centre, the Secretariat of the Lithuanian National Commission for UNESCO, the Vilnius Ethnic Culture Centre, experts from the National Museum of Lithuania, the Lithuanian Institute of History, as well as members of the non-governmental organization and Dangaus sodai association, which unites the straw mobile makers.