"Artists have no holidays," says Pranas Griušys (b. 1955), with whom we met to talk about bicycles in his favourite Kaunas Vincas Kudirka Public Library. Painter and a professor at the Vilnius Academy of Arts rushed here as soon as he recovered from coronavirus. He said that he was rescued this winter by a bicycle and Faulkner. How did the bicycle help? Well, by allowing him to cycle over the ice. It helped him get rid of everything.
"I consulted a doctor if I was allowed to cycle, and he said, "If you have the energy, then go on." P. Griušys told me that back in spring when we met in City in Itself (Lithuanian: Miestas savyje) exhibition at Meno parkas gallery. The exhibition featured surprising large-format angles or reflections of the seemingly well-known city. The bicycle here also plays an important role, just like in Pranas' life.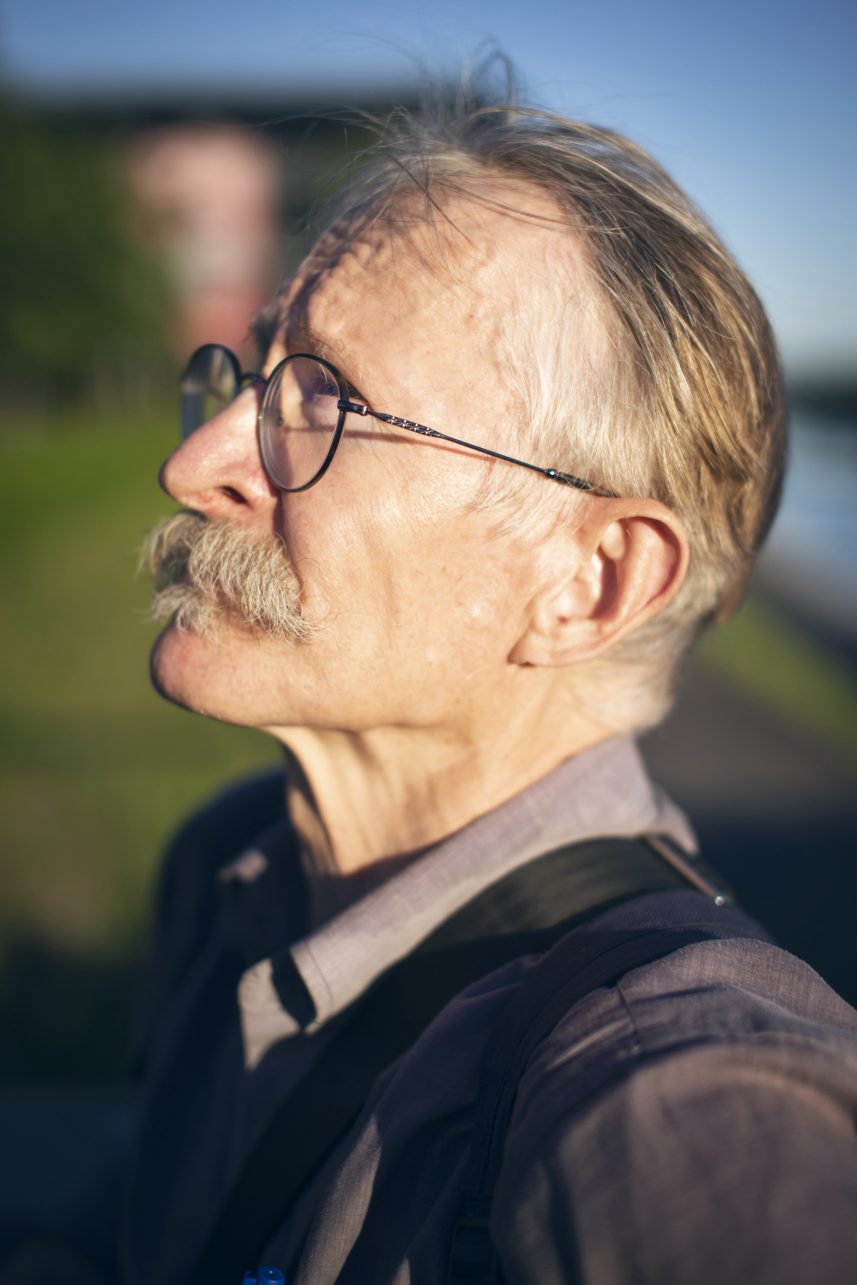 How will you be spending your summer?
I am not planning on going anywhere in the summer; I will remain in my dear Lithuania. I will continue to hunt. I will escape to the sea since I am obliged to visit Nida Art Colony. The dates will coincide with the Thomas Mann Festival. I like Thomas Mann. I had devoted one summer to him and never regretted it. I thought to myself, the guy writes really well; I was surprised. I sort of knew I had heard about it, but only when you really touch upon it, you realize what Nobel prizes are awarded for.
In the past, when I had a big car, I travelled to Nida with a canvas, an easel, and, of course, a bicycle. If there were time and desire, I would work quite diligently. It is better this way – you do something meaningful, and then you can pretend to relax. And now, we will see. Even if I won't take it with me, I will be able to rent it on the spot.
Pranas, has cycling been vital to you since childhood? Who taught you how to ride a bike?
No one did; we learned ourselves. Now when I pass Vienybės Square and drive over those hills, I even feel a bit envious of how nicely parents are playing with their children. The babies can barely walk, and you already see them on a scooter or tricycle. Amazing times. That is what we were fighting for – so people could raise their little ones like that. Whoever wants bathes in the fountain, others run around, yet others sunbathe.
And I… I was born in Samogitia. They took away our cows, the farm, and my parents moved so my brother and I could have a better life. So, I grew up in Šernai, Lithuania Minor. In forestry, in a magical place where Minija flows, in an old Prussian manor. I went to at least three old, red-brick schools. In the fall, the meadows would flood, and there would be plenty of ice in winter. I have been cycling on ice since then.
My first bicycle was masculine, big, with a frame. We would ride with our legs over the frame, the handlebars so high, we could barely reach the pedals. All of us cycled like this everywhere. The bicycle didn't matter as long as it rode. On our way home from school, we played war – who will manage to push the other into a ditch with a bike.
And when you started studying in Vilnius at the Art Institute at the time (currently Vilnius Academy of Arts), the bicycle travelled with you?
No, I didn't ride in Vilnius. I drew. From 9 a.m. to noon, then we would paint and then back to drawing until 8 p.m. It was normal. My course was good: Šarūnas Sauka, Eglė Velaniškytė, Audronė Petrašiūnaitė, Vygantas Paukštė… True, I only moved to the dormitory during my last year. Because when I entered the university, I was a serious man, I had served in the Soviet army. I thought I was the serious one and others, who entered university right after high school, were immature. I did not want to live with everyone; I was renting a room. And finally, I got curious, and I moved to the dormitory. It was a fun final year. 
Since I am in Kaunas, it is it that I feed upon, run around in, wonder at, and hunt.
After graduating, I got a lecturer's job at the Kaunas faculty. At first, I was afraid that I would have to teach, but it was also exciting. I managed to live and stay everywhere in Kaunas. I had slept at the Hasidic synagogue, which then belonged to the institute, on multiple occasions. We could hang many memorial plaques on that building on Gimnazijos Street for all the famous artists who had worked there. Although I would go to Kalniečiai, to the dormitory, to take a shower. Other than that, I did not feel comfortable there.
And when did the bicycle come back to you?
Not immediately. When I think about it, I was stupid for bringing it back to my life too late. I was driving a car. And at some point, back when we had Litas, the price of petrol suddenly increased. I said no, I would not pay this much. I will get myself a bike, and I will ride it while showing the middle finger to the gas stations. That is what I did. And what do you know? Kaunas is very bike-friendly. The studio is in Šančiai, home next to Romuva, and workplace in the Old Town, no hills, nothing. It is easy to plan your time; you can run all your errands quickly – from the bank to the tax office; you're there in a blink of an eye. I still have a car, but it hasn't been driven in months.
How do you choose a bicycle? Does appearance matter? Where do you buy it, by the way?
No… the most important thing is bearings. I used to like Aleksotas market; I have brought several from there. Here, I have written down the ones I have [pulls out a piece of paper]. Now I am using Batavus. I also have Gazelle and Amsterdam – they are all Dutch. I also had a girly one, but it broke down one winter.
How do you mean girly?
Well, a feminine one, without a frame. I buy them specifically for winter because they are safer. When you fall, the bike hits the ground and you're back on your feet nicely. But I haven't fallen once last winter.
I rejoice when unplanned enlightenment occurs – then, the whole day makes sense.
If there's a more serious issue with the bike, I take it to repairmen. There is a good one in Šančiai and others on Miško Street. But if the tire needs changing, I gladly do it myself. I have many parts from old bicycles in my garage. My Kaunas phase has had eight bicycles, I have counted them intentionally.
What is your relationship with bike thieves?
Occurring rarely these days. I do not try to make mine look presentable. For example, I intentionally don't change my seat, and the old one doesn't attract attention; the number of thieves has also decreased. Maybe we are becoming more decent. 20 percent of the bike's value needs to go to security. Mine protects more from children. And when the bike was stolen, it was done straight from the garage. A disgusting feeling. After all, a bicycle is a friend. So, it's like someone kidnapping your friend. Weird.
You have also said that the bicycle is your hunting tool.
What is your blood type?
Mine? Second, the most popular. And yours?
And I have the first. I group people according to that. It's a group of hunters and gatherers; yours is of farmers. That is when people started sowing and harrowing. And we are vagabonds. So, I continue to do what my genes call for. Except I am hunting for images, and a bicycle is perfect for that.
Would you compare your work during your studies in Vilnius and riding a bicycle again? Or should we measure with other tools?
I had made a commitment to the Lithuanian Council for Culture. There is this nice French saying, perhaps more fitting to describe a relationship, "I know that you know that I know." That's how I played with the Council when asking for a scholarship. I committed because they knew that I would complete the paintings, and if I hadn't gotten the funding, I might not have created the City in Itself series. The series is not necessarily about Kaunas, but it is about a city. But since I am in Kaunas, it is it that I feed upon, run around in, wonder at, and hunt.
In the abstract of that exhibition, I had written, "The starting point of the project is the statements of two philosophers – Kant and Schopenhauer – about the images of the "thing-in-itself" and will as the blind force that acts in this reality." Realizing this, I allow myself to look at the world with a certain attitude and act in it in an exactly certain way. In this case, while on the bike. It helps me communicate with the world, city, Kaunas. I don't know what I would paint without it. Probably something else.
In fact, I am afraid to use algorithms. You know, 2 + 3 = 5, but also 4 + 1 = 5. The truth is the same. There are colleagues who do that. And I avoid that, I avoid the same angle of looking at the world. And it is not that easy to be surprised every time. So, I rejoice when unplanned enlightenment occurs – then the whole day makes sense. Success! Bingo! And sometimes those observations that accumulate, which I have a lot of, turn into paintings.
I am actually afraid of that real nature that everyone talks about and tries to escape to. That requires more than just vacation. You should live in it for some time, get into it, look at it from a completely different angle and observe it. Of course, it is beautiful. That's why I don't really want to go to Nida that much – it is so beautiful there that there's nothing to do. Although, one summer, I had discovered it from a completely different angle … Not just beautiful sunsets, the sea and the lagoon. No, no, there are stranger things. So, getting back to the topic, I feel great in the city.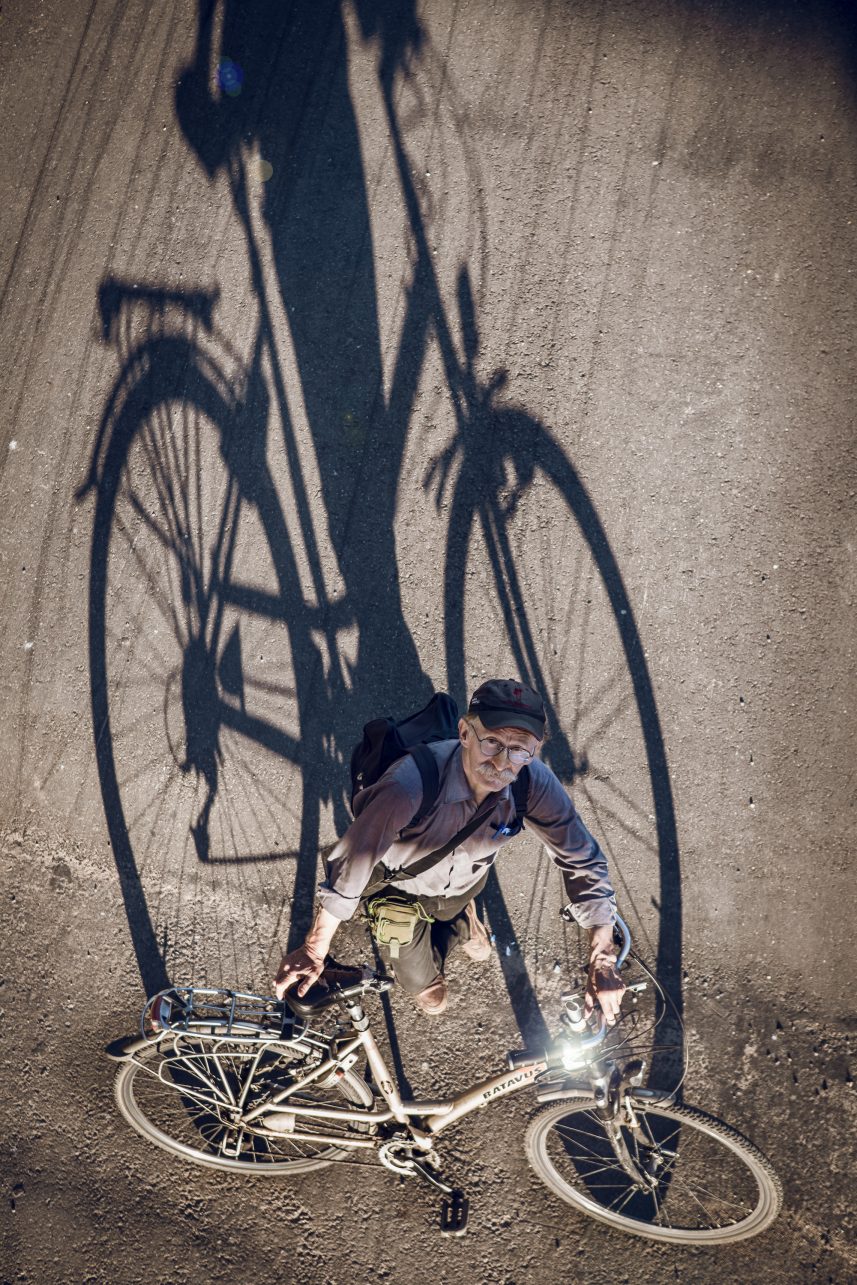 And what about your colleagues, artists, do they like bikes?
I am surprised that only a few of them do. I see Edmundas Saladžius pass by sometimes. Others perhaps live in Žaliakalnis. I have this friend Darius from there, but he cycles up Parodos Hill. Maybe others find it difficult. Going down, though, is so much fun… Although when Naglis Rytis Baltušnikas was riding down the hill once, his suspension fork broke down. Ugh.
Apparently, it is mandatory to ride with a helmet. Do you have one?
I only wear a cap. But I don't ride up and downhills. Although… I did perform a somersault yesterday right next to Akropolis, on my way to the studio. A fender came off and got caught between the spokes. Thank God I don't speed. And I still fell. However, as if anticipating this, I did some sun salutation yoga in the morning. So, I fell, then gathered all my belongings, got back on the bike and drove away as if nothing happened.