"The feeling is great. The gesture is wider… When you embrace all of them, who are looking at you, you feel very good," Kęstutis Jakeliūnas answers with a smile when we ask him what it means to be a conductor to fifteen thousand people at a Lithuanian song festival. I got acquainted with this person due to one event that was part of the end of the Kaunas 2022 program, which took place right next to the first Song festival location in Žaliakalnis. The mixed Kamertonas choir of the Kaunas Culture Center performed with Tykumos duo in the almost one-hundred-year-old reservoir of Kauno vandenys, inviting the listeners to break away from the noise of modern everyday life. The more popular choral compositions only strengthened this idea.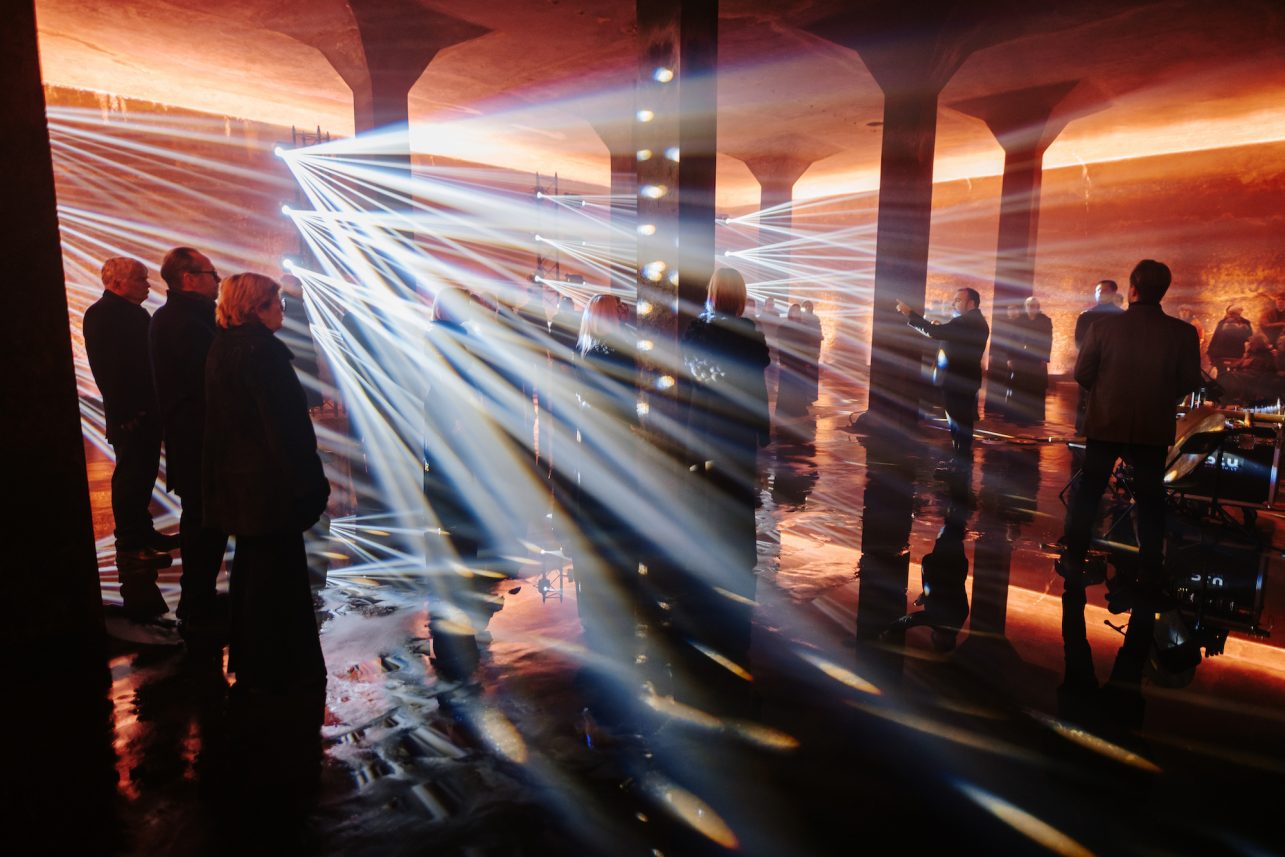 "Pay attention to the conductor, a great person, he also leads the Accusto ensemble," a woman next to me at the concert told me. I did. I found his phone number. We met at the Kamertonas rehearsal hall, which was soon to be filled with choir members coming there after work. The amateur singers led by Kęstutis are regular participants and winners of competitions. This is evidenced by the large box full of prizes that we examined after the interview. And we started with the fact that, at least in the case of Kęstutis, one is simply born a choir wizard. Only improvement never ends, for example, every summer Lithuanian choirmasters, about a hundred of them, gather at the Summer Academy near Molėtai. Here, in addition to other common activities, the relevant questions of the Song festivals are discussed.
Kęstutis, how did you find yourself in the world of choirs?
My mother told me that when I was maybe three or four years old, I sat a bunch of kids down, took a stick, and told them to sing. Why? I don't know, perhaps it was encoded in me. Later, my mother pushed me to go to music school which was in Klaipėda where we moved to be closer to my father's relatives and because of the more favorable climate for my mother. I remember that a group of teachers from the Eduardas Balsys Arts Gymnasium came to the preparatory class. Back then, it was only for boys and was called differently. I was invited to audition, and I passed all the stages. When they asked me to sing something, I chose "Skinsiu raudoną rožę." The whole room laughed, and I didn't know why [chuckles].
And once you get into Balsys Gymnasium, the direction of your career becomes clear. It is like the National M. K. Čiurlionis School of Art in the capital. While in the ninth grade, I realized that I wanted to be a conductor. My first teacher was Gintautas Misiukevičius, who is currently the principal of the gymnasium. He encouraged me and got me interested. After graduation, I entered the Lithuanian Academy of Music and Theater. So, my path was consistent, albeit complicated. I remember friends in the yard used to call me and say, "Kęstas, when you finish playing the piano, come out to play, we will be in so and so place. I would join them in the evening. I had to play a lot, but when I started working with the choir, I understood why the piano was so necessary. It is the main work tool.
How long have you been living in Kaunas?
I have been living in Kaunas for 18 years, but I am not completely used to this city. However, home is where the work is, that is where your fortress stands. I studied at the academy with the late professor Albinas Petrauskas. My wife also studied at the same time, and she is from Kaunas. When she was offered to lead Kamertonas which was founded in 1995, she said that she wasn't burning with desire but… she knows who would want to take this job. I came to the first meeting with the president of the choir and the council. After questioning me they invited me to work with them. I was the youngest in the collective, 23 years old, in the third year of university. They called me a little choirmaster. I was met by 40 people at the first rehearsal. Twelve people were left after it, which forms the core that makes up most of the choir today. They are the ones who invite others and help me shape the collective.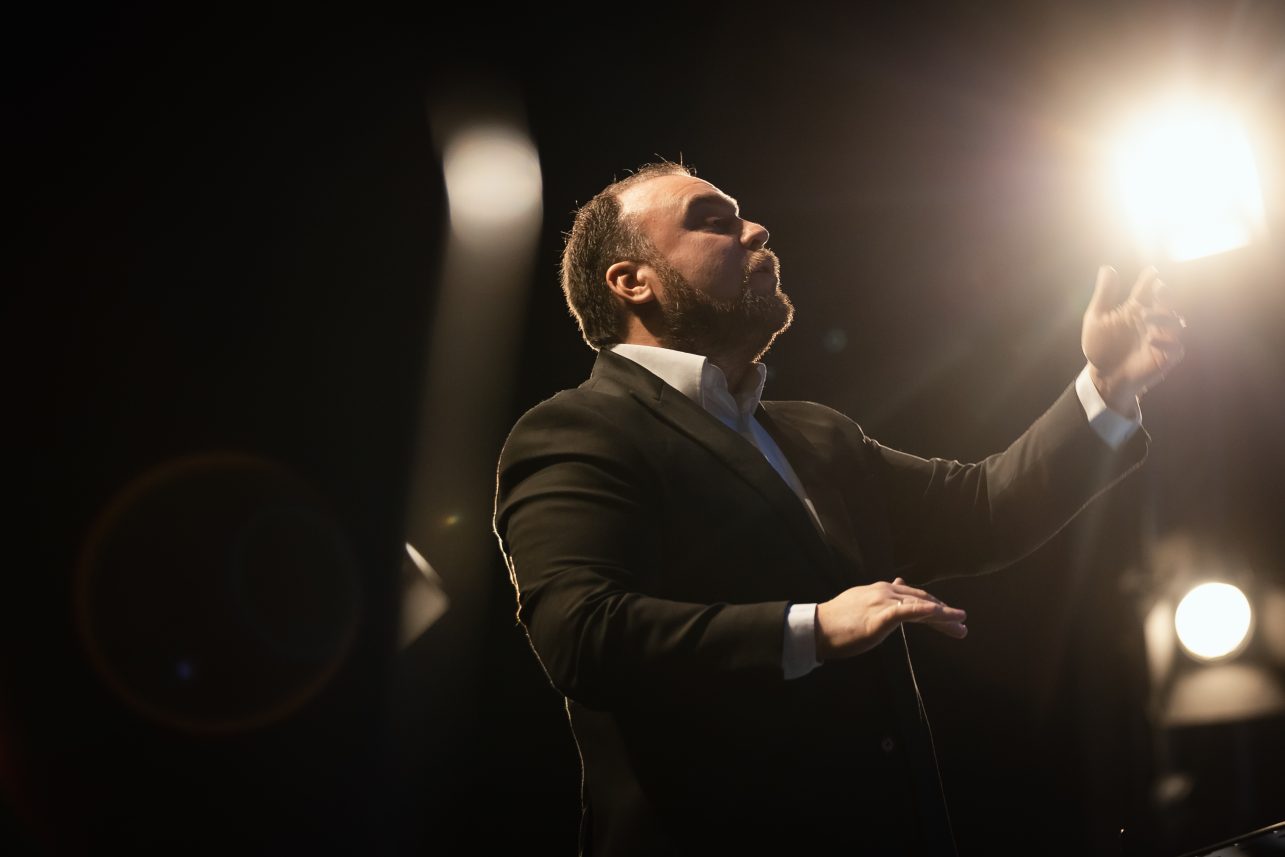 Is your wife also a conductor?
She finished her studies but works in different fields. She was a music teacher for a long time, but now she no longer wants to be a pedagogue – she has found herself in another field. But, of course, she sings in the choir, as well as in the Accusto ensemble. She has a perfect pitch. And it is great for me that on tours or in competitions I have a person close to me that I can lean on, to whom I can talk to, and who notices things that need to be corrected. After all, when conducting, you can't notice all the details and fix them the very same moment. Someone from the side also hears things differently. It is not common in Lithuania, but abroad every conductor has an assistant. This position is highly valued and should not be seen as a competition for the conductor, which happens in Lithuania. That mistrust, I think, is a relic of the occupation – as if letting a younger person in means they will take my place.
So, when did you turn from a little to the big choirmaster?
I don't put much weight on these things. I ask them to not call me choirmaster because I have a name. It's different in professional choirs, they have a working relationship there. Here, we communicate more freely, in a friendly manner. Some may call me a despot – yes, I am a musical despot. A perfectionist. I can't allow the choir to just sing however it feels, I do my job and achieve my goals. Those who come to Kamertonas must pursue them together.
You also work in the Kaunas State Choir, right?
Yes, I am a choirmaster, I conduct. This experience when I had the good fortune to work with the late Professor Petras Bingelis was a daily school. By the way, he was the supervisor of my master's studies at the VMU Music Academy. Every day I had to be ready to conduct under his watch. These were invaluable lessons that lasted almost 15 years day after day. Now he's watching us from heaven, maybe laughing at what we're doing.
How would you compare your experience with amateurs and with professionals?
It is simple – the vocal preparation, the sound itself is different. The number of people also have a lot of influence. Amateurs sing for fun; they don't have the same vocal capabilities as professionals. Almost everyone at the Kaunas State Choir is a vocalist, they read sheet music. But by no means would I call Kamertonas a little club, as sometimes people call us. I used to accept almost everyone who came, I would set a goal for myself of what I could do with them. When they could not take the pressure and realized that they came to the wrong place, they would leave on their own accord. It is not mandatory to read sheet music in Kamertonas. However, since we belong to Kaunas Cultural Center, we have a concert plan that needs to be carried out. Although for me, quantity is not as important as quality. Is there any point in organizing as many shows as possible, with a song on every corner, and then give a flawed performance? This is also a relic of the Soviet times. I remember Professor Bingelis used to say that the ministry would ask them to organize 80 concerts during the season no matter what. So, what did they do? They split the choir in half. Some would go with the artistic director to Šilutė, others with the conductor to Pabradė. That makes two concerts a day.
What kind of people come to Kamertonas? What motivates them?
Engineers, mathematicians, directors, singers, musicologists – the range is wide. The age also varies, members bring their children. I can imagine that it can be difficult for someone in a managerial job to sit and listen to someone telling them what to do. But they leave work matters at the door. And they are motivated by various things: friends that they already have in the choir, chatting after rehearsals. In the summer, we organized our first camp. During the day we purposefully sing for about 6 – 7 hours, and in the evenings, there is sauna, a lake, and other activities. It binds the community together and is essential to its health. People relax, they see the little choirmaster dancing [laughs].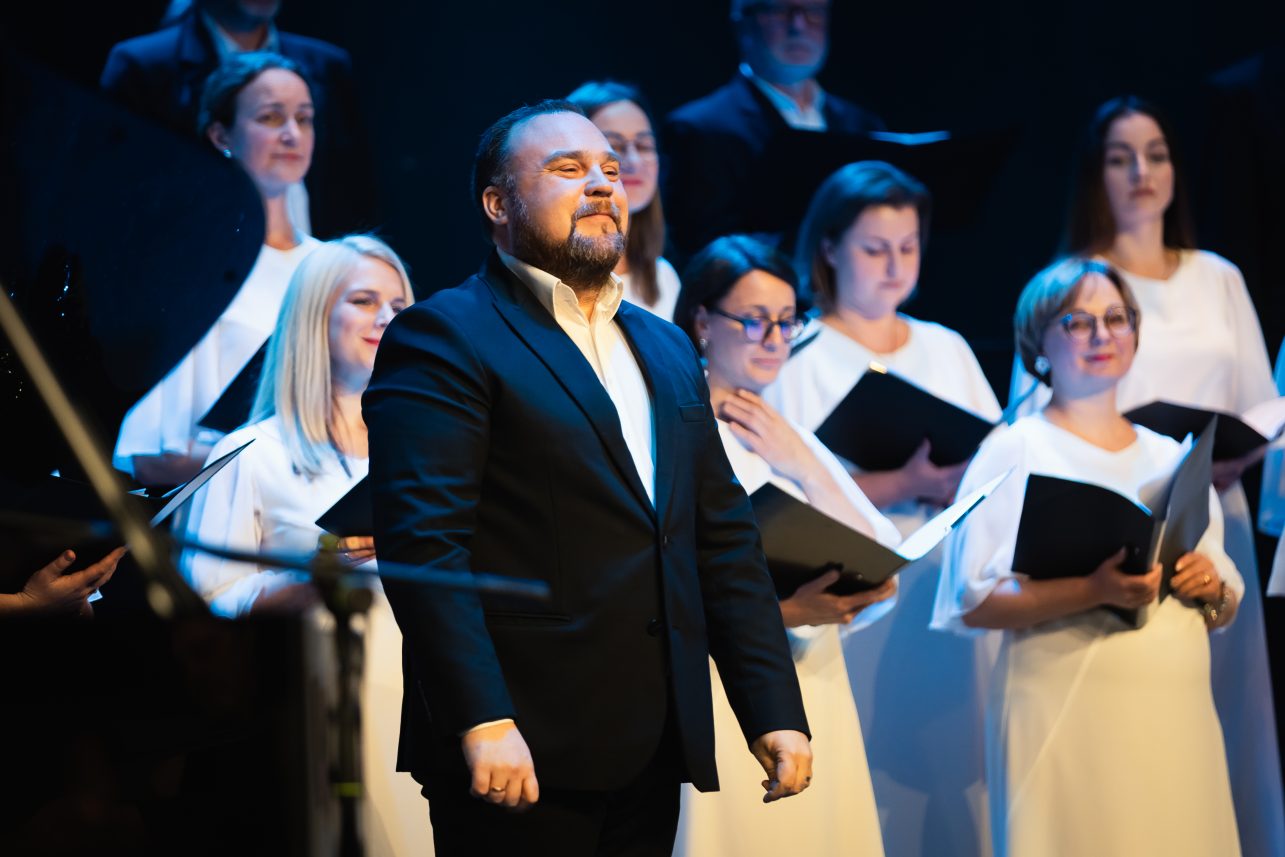 Do the members of the collective have any influence on the repertoire?
I usually form the repertoire myself. We look at competitions and how complex they are. For example, this year, we are planning to go to Torrevieja in Spain, to the habaneros and polyphonic choral music contest that has been held for a very long time. I want to try the choir out in a completely different role.
When you're on stage, nobody cares if you're an amateur or a professional. People simply listen to how you sound – it is either beautiful or not. This is the best evaluation from the audience. It's not good if a simple person did not like the chords that were supposed to sound beautiful. This means something needs to be corrected.
You mentioned that Kamertonas performs music from the Middle Ages to the present day. And what gets you excited personally?
Generally speaking – the challenges I set for myself. I like complex pieces that help singers improve and that catch their interest. You may have to study hard, but after achieving that goal you will feel confident in any competition. In Lithuania, the evaluations are not always adequate, maybe too many acquaintances everywhere, and people evaluate based on their previous acquaintances. Abroad, the jury members are impartial, unless you go to these contests too often. For example, we won the grand Prix in the sacred music category in Malta, then we went to the Stasys Šimkus choir competition only to find out that it has the same chairman of the commission! Maybe it's a coincidence but we won the main prize again. But we really systematically pursued it. You can't ignore the improvement.
Are awards important for amateurs? Maybe the desire to represent Lithuania is also a good motivation.
Of course. No one goes to competitions just to participate. Awards are always on one's mind. And as for representing Lithuania, after all, this is not a sport. It's sad when choirs come back from world competitions with gold medals – do you think anyone welcomes them? No brass band greets you. After some time, when you manage to get to them and show what you've won, they remember you.
In general, I sometimes say that a professional is someone who can, but doesn't really want to, and an amateur is someone who can't, but really wants to (smiles). After all, this is a voluntary activity. Kaunas Cultural Center pays my salary, we have premises, a hall where we can give concerts, and it provides transport for trips to other Lithuanian cities. But we have no funding for trips abroad, everyone buys tickets in an organized manner in order to get the best price. But travels unite! We go the extra mile in competitions, and then we just travel. Resting together after hard work is very important. When we sit down around the campfire or the table after a hard day on tour, we have fun chatting. Amateurs are unique in that they still feel like singing after work. One thing I strictly ask of the choir members is not to sing on the tour bus before the competition. After all, singing on the bus is a terrible thing – you can't hear your voice because of the noise. It took me a while to help them unlearn this. After the contest, you can do whatever you like. I also join sometimes, although I am not an amateur, and yet… I am a musician.