How does one measure the success of a project as ambitious as the European Capital of Culture? Is it the astonished foreign guests and the participating artists praising each other? In a way. However, the real achievement and strength are the local communities that got closer and became more inspired during the process. This is why creativity as part of everyday life is included in the core formula of Kaunas – European Capital of Culture 2022.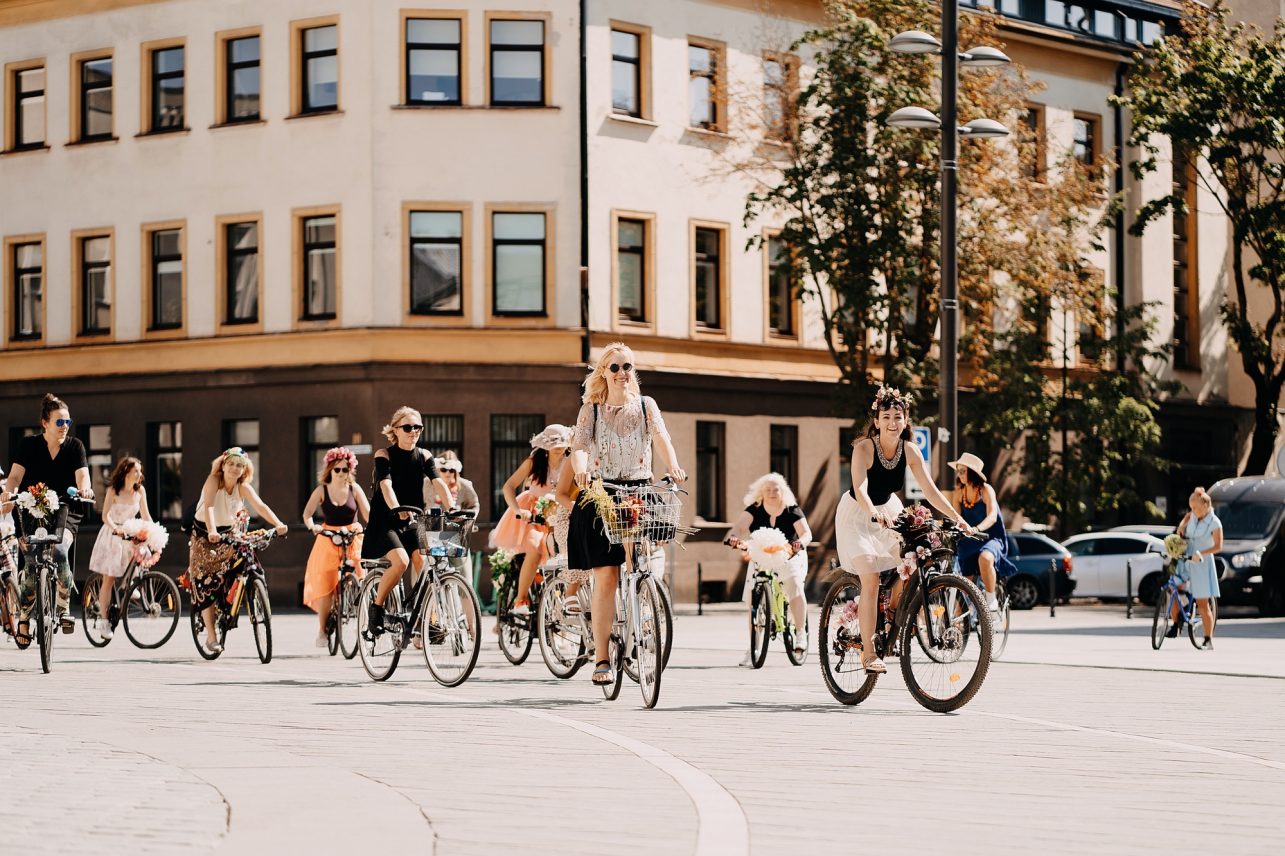 Five Years Together
'We the People', often called 'Fluxus Labas!', is one of the broadest of the Kaunas 2022 programmes, and over five incredibly intensive years of day-to-day activities, it has had an impact on the majority of communities in Kaunas, promoting the idea that residents themselves are capable of addressing challenges and making change.
'The basis for our programme's success rests on shared human and European values: the openness of people and communities toward one another, and to diversity, innovation, and creative solutions; inclusion of different people and organizations; building and maintaining interpersonal relationships; and promoting dialogue and co-creation,' Greta Klimavičiūtė-Minkštimienė, the curator of the communities programme, believes.
The curator stresses the rest of the unique features of the communities programme, including its experimental spirit, sense of adventure, and playfulness: 'By embracing these principles, we symbolically follow in the footsteps of George Maciunas – the founder of the Fluxus movement and a Kaunas native – and his ability to see the world and its challenges differently – more playfully and more simply, from a more human perspective.'
More and More Happy Courtyards
The courtyard project has become the pride of Kaunas 2022. Many have copied one of the most successful pandemic-era projects created in the European Union, presented at international awards ceremonies.
Since 2019, 'Fluxus Labas!' has been encouraging residents to engage with their neighbours to change their surroundings, take responsibility for them, and find creative solutions to the challenges they face. During Lithuania's first quarantine in 2020, 'Fluxus Labas! Kiemas' adapted to the changing situation and launched the Culture to the Courtyards project. Different performers presented shows to residents in surrounding apartment buildings, allowing audiences to enjoy culture safely in their yards, from their windows and balconies.
In 2022, the program will invite one and all to as many as 80 courtyards in 11 elderships in Kaunas to enjoy the gift of shows by theatre, dance, contemporary circus, music, and other performers.
Laboratories Producing Happiness
The Fluxus Laboratories is a particular branch of the 'Fluxus Labas!' project that trains community facilitators. These people have now spread out through the city. Their goal is to bring together formal and informal communities, city residents, and organizations in different sectors and encourage them to become involved in community cultural and artistic activities and promote such activities themselves in specific neighbourhoods.
In 2022, the Fluxus Laboratories will 'explode' and present unique community cultural and artistic projects in many different neighbourhoods throughout Kaunas. As early as April 23, the Šilainiai Urban Eco Festival, the only one in Lithuania, will unite residents and various organizations. The festival promises to impress with Šilainai natural and landscape design installations, lectures, and educational programmes.
On June 10–12, the community of Draugystės (Friendship) Street in the industrial part of Kaunas will present an interactive cultural and local creative game called The Art of Friendship. Visitors will be invited to enter sites that have been previously off-limits, learn more about welcoming residents and workers and their co-creations, and participate in playful and artistic activities.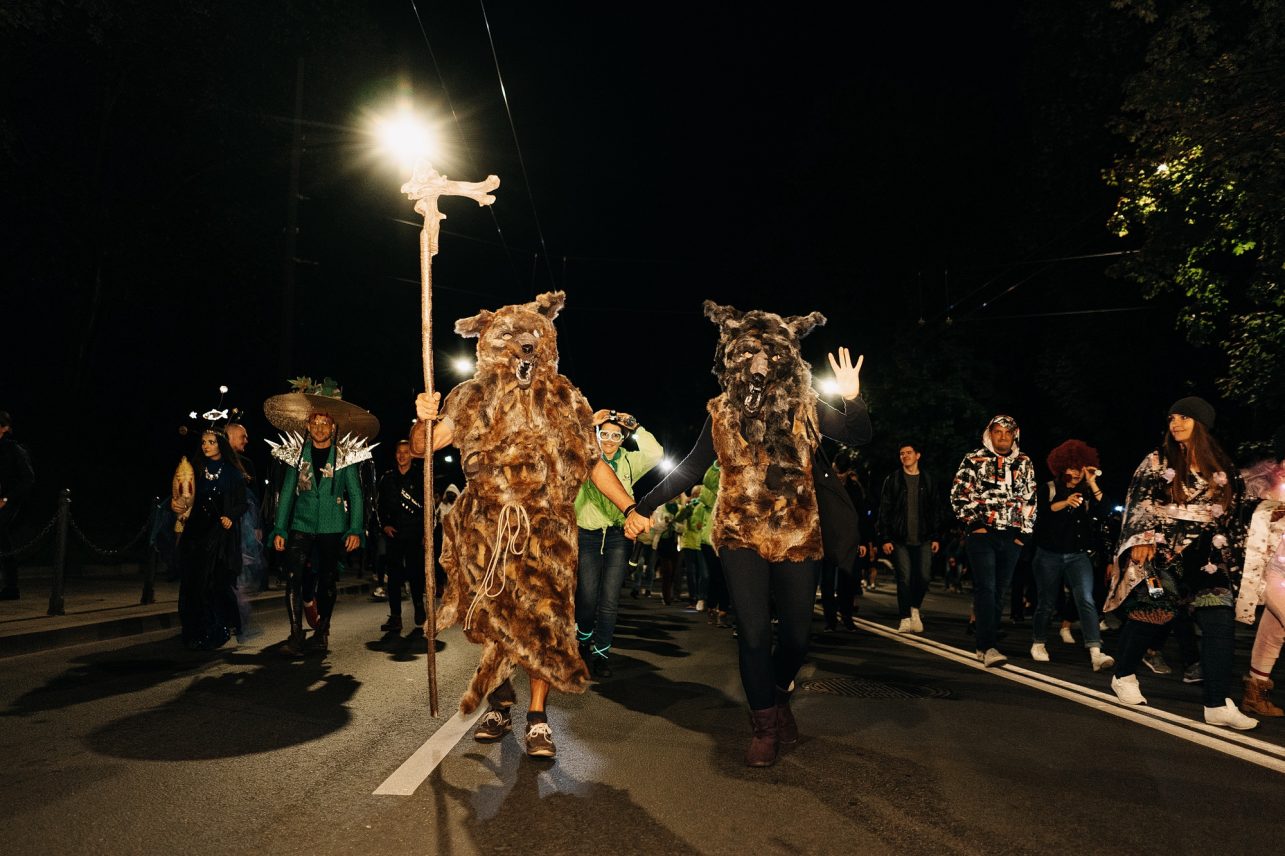 On June 11, one will have the chance to walk through Eiguliai in a way they have never had before. Collaborating with different street artists, the community has created drawings that reflect its identity and now invites you to explore them on this colourful and musical walking tour.
On June 18, the Dainava neighbourhood community, collaborating with professional performers, artistic groups, and volunteers, will invite everyone to a midsummer mystery in Draugystės (Friendship) Park.
The real Midsummer will be celebrated in the impressive Šančiai Festival. Initiatives promoted in Šančiai over the past four years will all come together at this three-day event.
One will be able to visit a former gunpowder warehouse, 'Parakas', and celebrate what Lithuanians call Joninės by immersing into a surprising opera of imagery and watching a performance of ice and fire. Moreover, artists and residents will revive the old Šančiai barracks from their deep sleep and invite everyone to creative workshops, musical performances, and tours.
'Just Come', a poetry festival by the Gričiupis community, will take place in Kovo 11-osios (March 11) Park on July 23 and will also feature a ceramics collection of more than 700 works of art crafted by members of the community as they listened to poetry.
On July 9, the festival 'Forest of the Senses' will take place in the Panemunė pine grove and will join professional artists, naturalists, and herbalists to create land art and sound installations.
Courtyard Gallery (Kiemo galerija), a new legend of old Kaunas, will invite people to experience colourful creations as well as the retelling of local stories in central Kaunas and its Old Town courtyards on July 16.
On August 6, the community of Žaliakalnis will host a dancing tour, 'Step by Step', that will directly involve professional artists, residents, and visitors to Kaunas, calling them to learn more about the living memory and history of Žaliakalnis and its local mythical creature – Kaukas.
August will also be a perfect time to meet by the Kaunas Reservoir, colloquially called the Kaunas Lagoon. The community of Petrašiūnai will host the celebration on August 14 to emphasize the vital role the lagoon plays as part of the face of Kaunas and reveal the whole range of activities that take place around this body of water.
On August 20, it will be time to discover the Vilijampolė eldership. The artists' collective God's Entertainment (Austria) performance will open the 'Under the Carpet' installation. One of the show's elements will be weaving a carpet by the people of Kaunas themselves. On the same day, Culturethon, a festival of sport and art, will travel from lake Lampėdis to the banks of river Neris.
A private music school located in Šilainiai, Jazz Academy, and composer Hara Alonso are of an experimental composition project titled 'The City Composing in Kaunas', a work of music created with the people of Kaunas. Its results will be presented on September 10 at the Ninth Fort.
In Aleksotas, audiences will be invited to view an installation assembled from residents' stories on September 10. The arts group Effetto Larsen (Italy) will create an emotional map of the area based on the memories of those who live here and the experiences of specific places in the neighbourhood. The final result will be an installation modelled as an emotional, interactive journey through the Aleksotas neighbourhood. On September 18, the community of Aleksotas will host the 'Flying Through Time' interdisciplinary festival. Different spaces throughout Aleksotas will become stages for theatrical, musical, and other types of performances.
The Šančiai Cultural Courtyard Festival will be yet another occasion to come back to this colourful neighbourhood. On September 14–15, the celebrations will take place near a traditional wooden house. They will combine two initiatives: Elder Stories, a premiere showing of a documentary art film, and a music festival.
Time for Festivals and Celebrations
'Fluxus Labas!' is responsible for the birth of the artsiest sports in the world. It's climbing up Parodos Hill in every possible way except traditionally. The challenge is also the culmination of the Fluxus Festival that will take place on September 10. Each year, Parodos Hill is closed for transport for precisely 22 minutes, and the starting point of the climb is at the Geoge Maciunas Square. After finishing, the participants will take part in a Fluxus carnival. People in Kaunas begin preparing for this celebration well in advance, creating costumes and building props.
A two-day Communities Forum at the Zapyškis Church of St. John the Baptist, Kaunas District, will take place before the Fluxus Festival to discuss results achieved in Kaunas and the Kaunas District over the past five years, talk about newly created and tested models and methods for engaging with communities, and about the changing view of community-based art, its benefits, and financing. The second day of the forum will be devoted to discussing the vitally important subject of including Kaunas' rivers and communities in river revitalization.
Of course, many more festivities are planned for the whole of 2022. On May 20, for example, the place to be will be Laisvės Alėja and Vilniaus Street, the central axis of Kaunas connecting Soboras and Kaunas Town Hall. The Courtyard Festival will foster community-building and friendship among people living in the city of Kaunas and the surrounding region. It will present an opportunity to celebrate International Neighbours' Day. The event will be marked by music played in the most unexpected places and different creative installations and performances.
May 21 is the official date of Putvinskio Street Day. Since 2017, once a year, on one Saturday in May, rain or shine or pandemic, all of V. Putvinskio Street comes together to celebrate the neighbourhood and its rich history.
The third event of the main weekend in May is called 'Celebrate the River'. People will be invited to take part in cultural walks along the Nemunas and Neris and then share in the celebration when these two routes meet at Kaunas Santaka Park, the confluence of the two rivers. This event will allow residents and guests to reengage with the city's rivers and their banks, learn more about different Kaunas communities and discover the city anew, but this time from the water. Later in Summer 2022, initiative TẽKA will launch a social game aimed at connecting river banks.
Contemporary Vibes in Kaunas District
'Relationships between cities and their surrounding areas are interesting and complicated throughout Europe, and everywhere they're influenced by culture. This is why listening to the needs of our region was the first task of Kaunas 2022. Another objective was adapting the programme tools of cultural capital to those needs', Lukas Alsys, curator of the Kaunas District programme, stresses.
He believes human relationships and coming together play an essential role in the Kaunas District, like nowhere else. This is why these district projects have created unique, one would even say passionate, partnerships. The best example is Italian contemporary circus director Roberto Magro, who is now beloved by communities in the district. He will come back to direct a travelling contemporary circus performance in Batniava eldership at the beginning of the summer, and then will work in Linksmakalnis for an 'angelic' show. That's just one of many reasons to follow the artistic travels beyond city limits.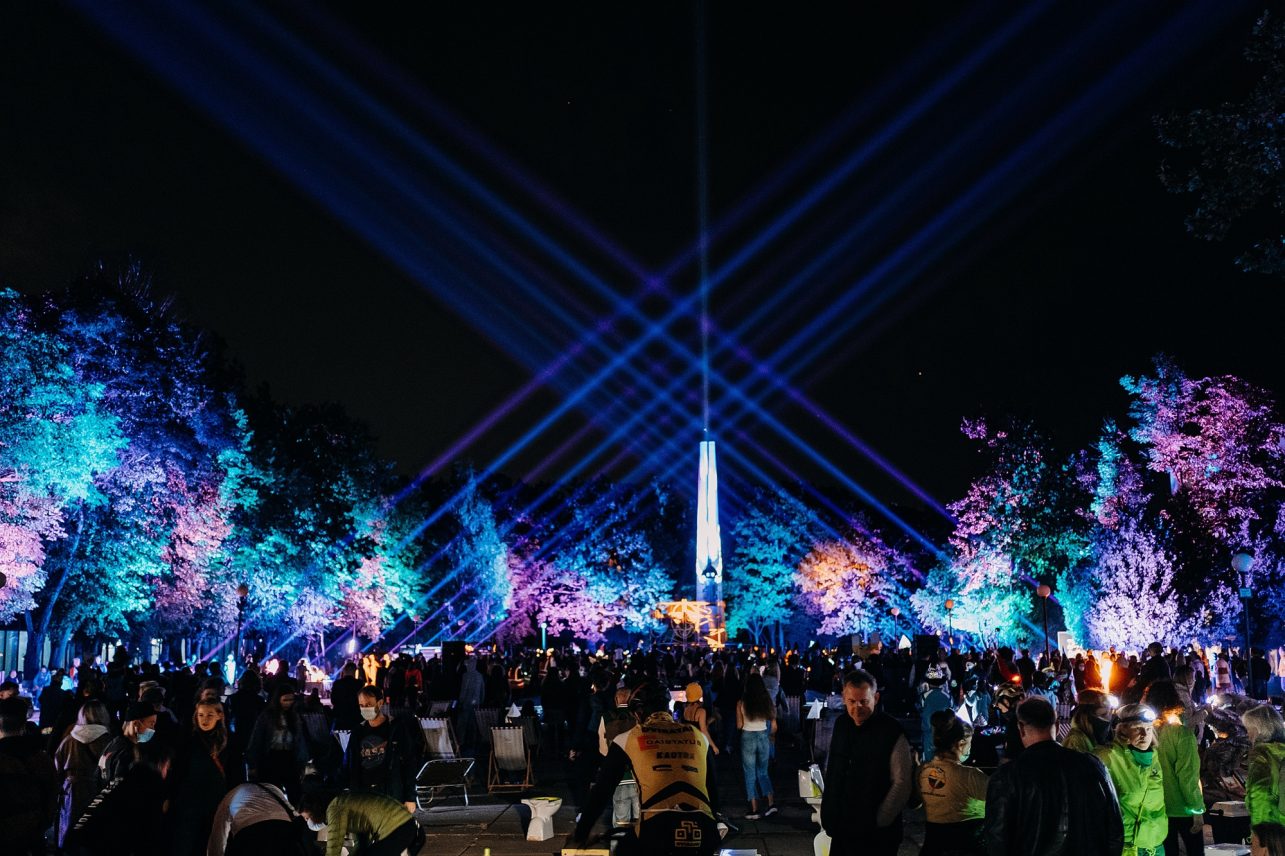 Jeans and Steampunk, Time Travel and Rock Music
The work of the Capital of Culture in the Kaunas District is taking place along several approaches. One of these is a community project called Contemporary Neighbourhoods, involving fifteen local municipal jurisdictions within the Kaunas District. The essence of the project is simple: local jurisdictions called 'seniūnijos' (elderships) strengthen communities and address rising challenges through culture.
From June to September 2022, the elderships invite everyone to feel the strong pulse of community and creativity in the Kaunas District and attend the main Contemporary Neighbourhoods events.
Ežerėlis will present a series of photography exhibitions at a newly established community gallery and an alternative reality audio guide created by artist Žygimantas Kudirka. The project launch is scheduled for June.
On June 11, The community of Kulautuva will participate in a theatrical musical performance about the history of the resort town. It will be accompanied by various works of art in different public spaces by the Nemunas River.
The Raudondvaris community and choreographer Marius Pinigis and event director Eglė Valadkevičiūtė invite everyone on a beautiful tour – a journey through time. This event's primary form of expression will be presented in a theatrical night-time walk on June 17.
Between June 30 and July 3, historic locations in Karmėlava will be presented through the increasingly strong Street Rock Festival, crowned by a combined environmental artwork called Flying Cepelinai, created by artists from Lithuania and Luxembourg: Algimantas Šlapikas and Serge Ecker.
A great time to discover Babtai eldership will be July. The community decided to revive an old trolleybus from the streets of Kaunas. The trolleybus became a creative laboratory for everyone to attend.
Also in July, Vilkija will celebrate Midsummer, and their centrepiece will be a ferry connecting both sides of the Nemunas River. The celebration will include concerts, theatrical performances, and art installations.
In August, the communities from around Garliava will organize a Steampunk Festival, inviting local communities and guests to a magical fiesta. The festival aims to introduce visitors to the Steampunk movement, and its programme will give everyone a chance to plunge into this fantastical world and liberate their imaginations and creativity.
The same month, the neighbourhood of Ringaudai will present their eldership through the Ringaudai Almanac, created by the community and artist Paulina Ružauskaitė. The almanac will be presented along with an interactive sculpture dedicated to this community.
On Seeptember 3, the Lapės (literally foxes) town will host the now annual Lapės Sustainability Festival! Did you know that, in 2021, the community created a recreational space from old jeans?!
At the heart of the identity of Rokai is the uninterrupted 400-year-old history of its brickyard and the clay found all around the town. In recent years, community members have been introduced to various ceramic techniques and have worked together to create the Clay Road. On September 3, the community will unveil a mythical sculpture and invite guests to a unique show.
With the help of artists Enrika Striogaitė and Remis Ščerbauskas, the harmonious Kačerginė resort town by Nemunas River plans to create a collection of stories inspired by the experiences of its residents. Attend the presentation and a classical music concert on September 4.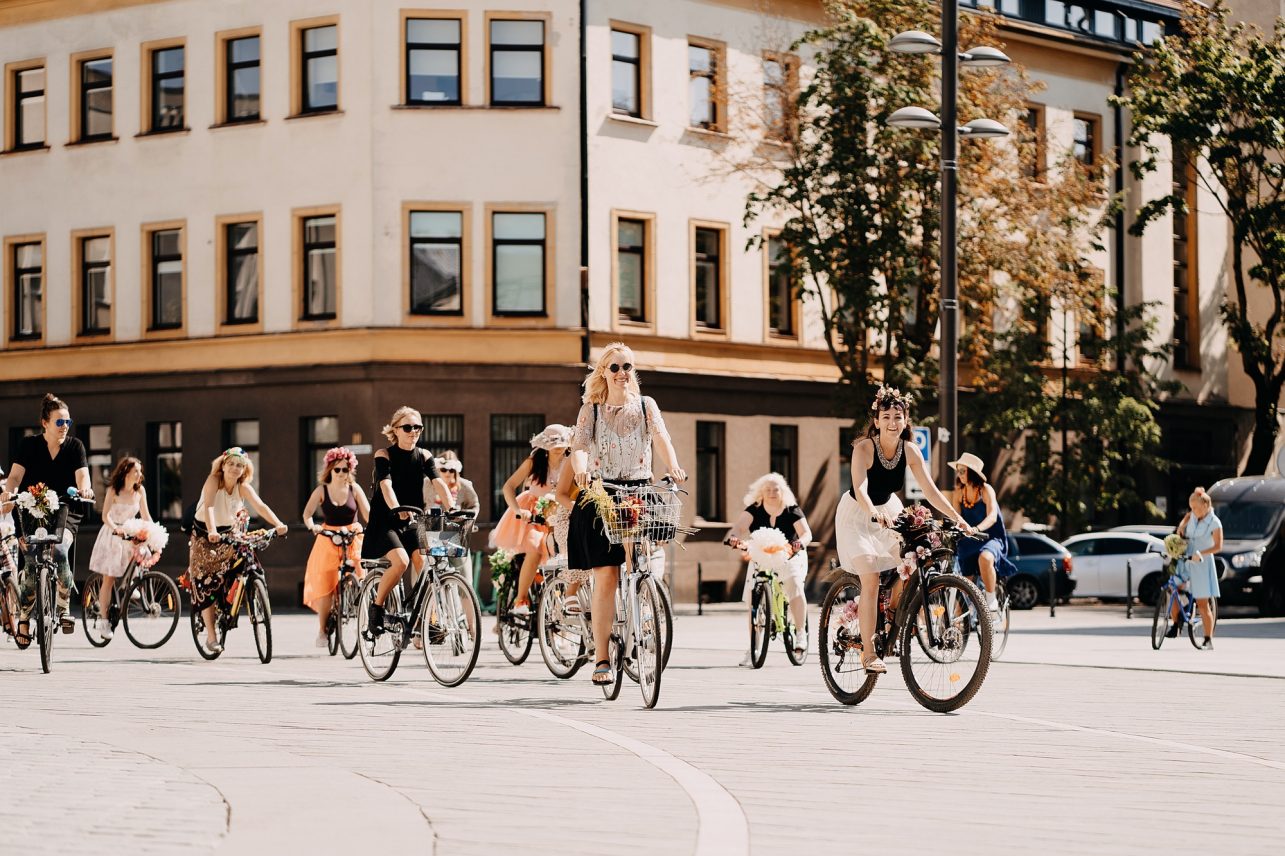 Located near the 11th Fort of Kaunas Fortress, Akademija will present a musical production at the military heritage site. Make sure you stop at the sustainable shop Lokali: Made in Akademija, established by the community, for souvenirs. See you on September 10?
The Domeikava eldership has chosen to develop lively activities, roles, and orienteering games. The project Let's Play Domeikava aims to experience and learn more about this Contemporary Neighbourhood. The launch is scheduled for September 17.
A Culture Boat and A Path of Emerald
Ever searched for emeralds? In the context of Kaunas 2022, emeralds are new art objects that will appear in the most unexpected places. Some of them have been under creation from the start of the programme; others rely on objects in the Kaunas District for their existence, transforming them in a contemporary way. The emeralds will appear in 9 elderships of Kaunas District.
A unique river engineering and landscape design project in Europe, Nemuno7, will serve as a public cultural space and will be officially opened in May. Located in Zapyškis, the dredger dates back to 1965! Instead of dismantling the unused object, a more sustainable solution was devised: to create a new, more relevant role and transform it into a cultural space, inviting the public to explore the subject of water from the perspective of art, history, and science. The Nemuno7 dredger will also have space for artistic residencies.
A tool to discover Vandžiogala, scheduled to launch in Autumn 2022, is a unique diary by Mindaugas Lukošaitis. Using material gathered around the small town of Vandžiogala, the artist added his own drawn stories to the area's authentic landscape, presenting audiences a very personal code by which they can "read" what he has seen. This project was initiated by Kaunas 2022 programme Memory Office for its CityTelling Festival.
Also organised by the Memory Office, the Lithuanian Klezmer Orchestra's tour of towns in the Kaunas District will rekindle local communities' memory and culture. Did you know that, before the Second World War, the towns of the Kaunas District were home to significant Jewish communities? The orchestra's bus will stop in Čekiškė, Vandžiogala, Vilkija, Babtai, Kačerginė, Kulautuva, and Zapyškis. Performances will be accompanied by tours exploring the not so distant past of these towns.
For the European Capital of Culture programme, the 17th Kite Festival in Zapyškis will feature creative workshops, kite and paper aeroplane competitions, a postal postcard service, and soap bubbles. Artists and kite masters will create large and impressive banner kites, and everyone will have a chance to help make the community kite.
Yet another legendary festival, this time launched by the Kulautuva community, will present a rich musical programme in 2022. Akacijų alėja, an event for sung poetry, will present a series of concerts in four towns along the Nemunas River. Then, the main festival event will take place in Kulautuva. Instead of the usual one-day event, the festival will span through June and July.
Time to revisit the Kaunas Reservoir… and discover its Atlantida-like history. Everyone who comes to the Footsteps at the Bottom of the Lagoon festival on August 27 will get the chance to feel as if they've become part of the now flooded villages that once existed here. This event will have a bit of everything: songs, stories, and folklore from flooded villages, contemporary music, and innovative technological solutions.
On the same day and nearby, yet another exciting event to attend will be the Girionys Land Art Festival. The identity of the town lies in its beautiful nature and the expanse of the Kaunas Lagoon. Objects found in nature and ideas shared by residents will all be part of the co-creation process of land art objects.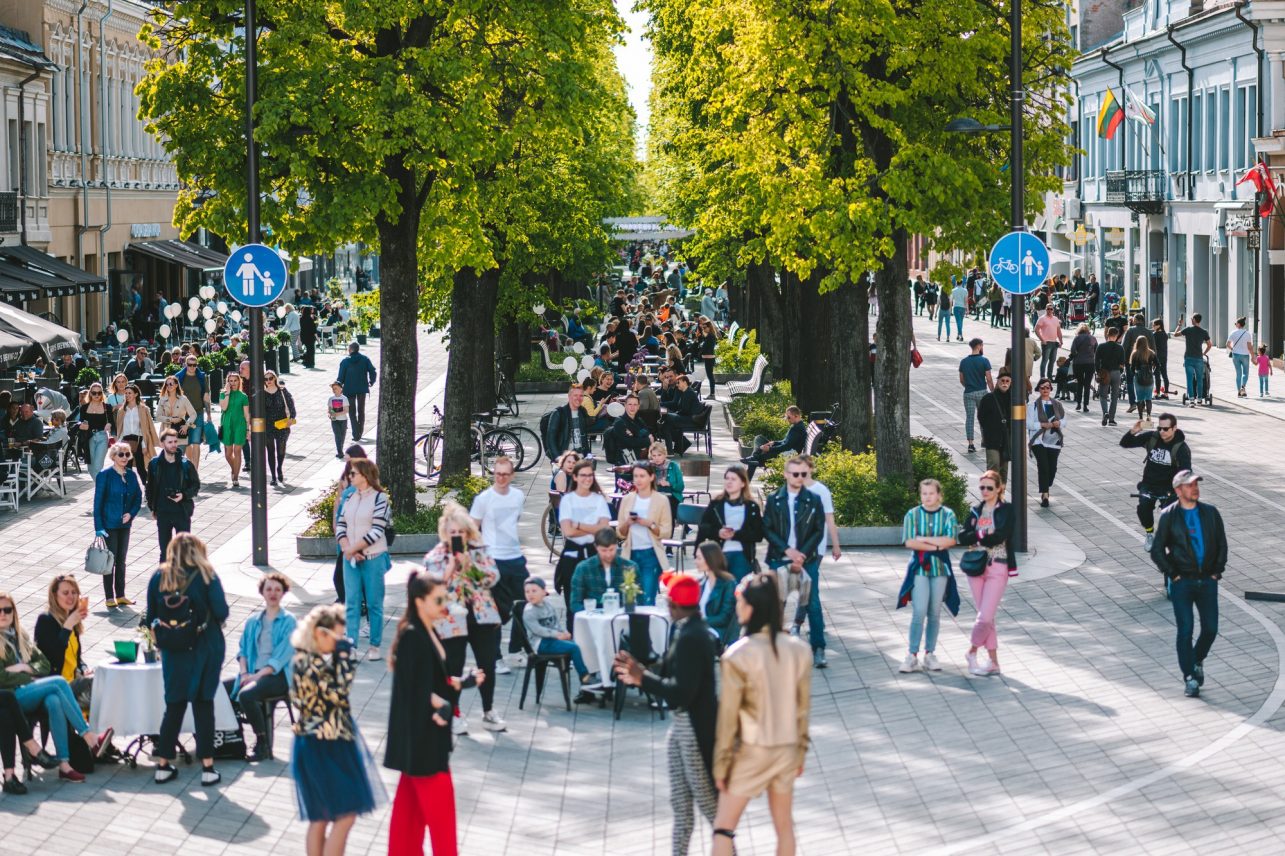 Skanaus: European cuisines 2022, a food and culture festival, is scheduled for September 7–11 in Garliava. It will include presentations of cultures and the latest gastronomic trends from abroad, cooking lessons by restaurant chefs, culinary film production, family entertainment, concerts by Lithuanian and foreign musical performers, and talks shows, lectures, and all sorts of competitions.
Tadas Ivanauskas, the Lithuanian Zoo and Zoological Museum founder, lived in a villa called Obelynė in Akademija town. In July and August, a series of open-air events will be held to represent the cultural heritage of the Obelynė estate and its recently opened museum, park, and gardens. The main event is planned for September 17.
In August, the residents of Kaunas District and their guests will be invited to attend Mikado, a philosophical exploration of the connection between humans, their tools, and the virtual world. Produced by Šeiko Dance Company, it is choreographed by Vittoria de Ferrari Sapetto (Brazil – Italy – Belgium) and Andrea Valfre (Italy) and will be performed by an international team.
In 2022, culture will be inescapable. From cosy rendezvous under verdant trees to massive spine-tingling events, from installations to world-class performances, from theatrical tours to design workshops. Kaunas 2022 encompasses over 1000 events! More than 40 festivals, 60 exhibitions, 250 performing arts events (of which more than 50 are premieres), and over 250 concerts are planned to take place in 2022. All this is delivered by Kaunas 2022's team of 500 people, alongside 80 local and 150 foreign partners. 141 cities in Lithuania and the world, 2,000 artists, 80 communities, and 1,000 great volunteers.