I first heard about Austėja Bliumkytė-Padgurskienė thanks to Šančiai kiosk. If the internet is not mistaken, a colorful wooden kiosk appeared on A. Juozapavičius Avenue about 1994. It sold chewing gum, beer, and cigarettes. The idea of transforming the kiosk was born in 2013, during the international event Miesto tyrimai: viešumo patirtys. The kiosk was bought by 44 shareholders and became an open platform for various initiatives.
The kiosk was demolished in 2018, but that did not decrease Austėja's active participation in the city's cultural affairs. I am in constant contact with her about various initiatives now in the Dainava district. Film screenings, tours, sound art – this woman is full of ideas and a desire to share them! She says she doesn't have an image of an ideal courtyard because each space dictates what can be born in it. Ideally, the yard is full of friendly people talking to each other. We started the conversation with the Šančiai native and before moving any further, we send greetings to Austėja's mother – the owner of a beautiful name.
What was your first courtyard like?
I grew up in Šančiai. I spent my childhood, adolescence, and early youth there. At the foot of the mountain, next to the railway. When I was little, there were a lot of soldiers there and a loading platform nearby. They used to close the street, and that yard extended a bit, becoming a playground. A stream was running through the yard, and it is still there because the parents still live there. The murmuring of the stream is deeply ingrained in my memory because the window of a room was facing the brook.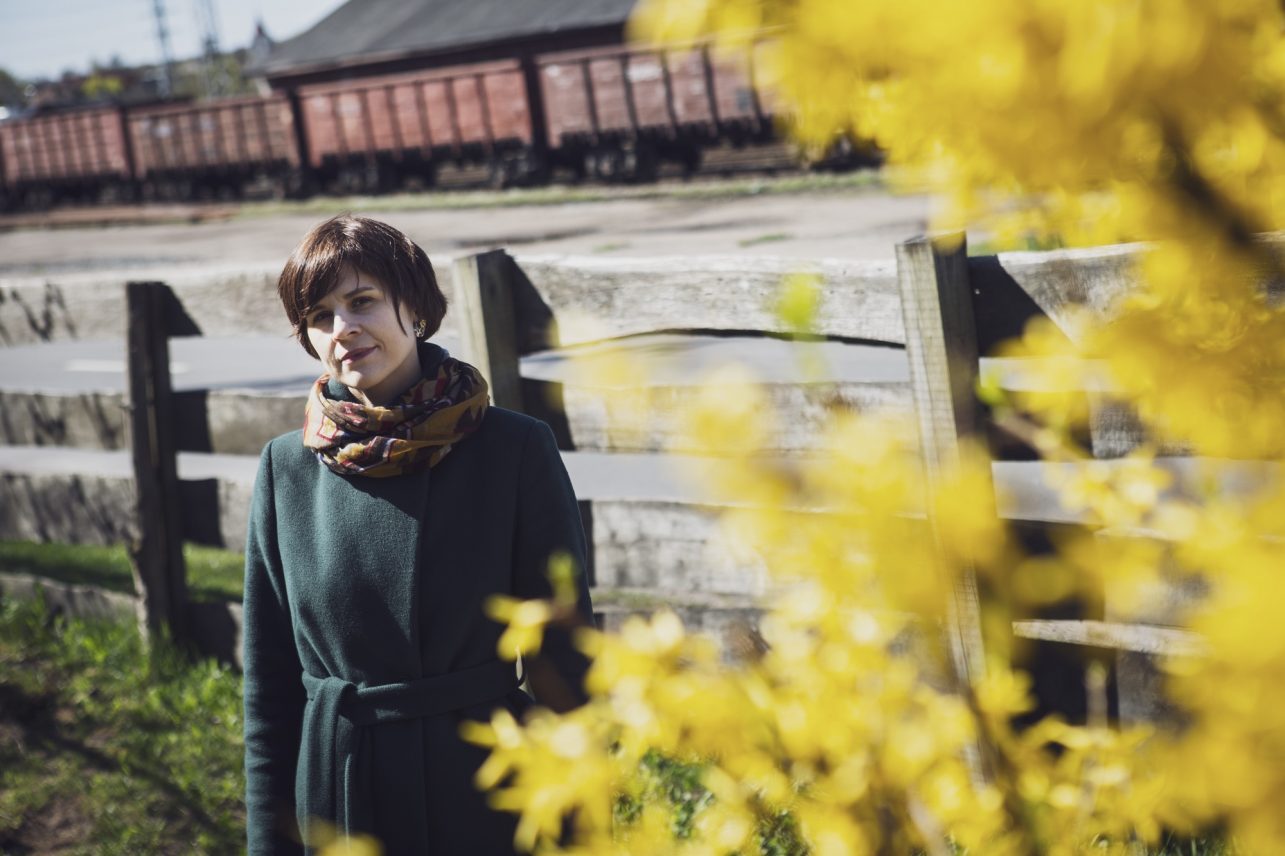 It had a very soothing effect and would announce the upcoming spring. The stream was always flowing on one side and on the other it became active only after the ice melted and the water started coming down from the hill. The opening to which the stream flowed into was installed during the tsarist rule. Of course, I learned about it much later. The smell of lilacs and bird songs would also announce spring. Things are completely different now because I live in another yard. There are birds because there are many trees but unfortunately neither lilacs nor a stream.
Dad had a garage above the stream, and cherries grew between the garage and the fence. It was my private little spot. I would pick some cherries into a box of margarine and keep them there. Dad had made a big wooden swing and I loved going on it. My shoes – from a very active swaying – would fly to the neighbour Klavka's vegetable patch and she would get angry. When I was little, my grandmother would get a travel voucher to Nida and my mom's name is Vida, so I would sing the following song, "Nida, Nida, Nida, is the most beautiful city. Vida, Vida, Vida, is the most beautiful name." I would be rocking on the swing on my own in the yard, singing with all my might, so they would hear me beyond the railway.
My grandmother lived in Eiguliai and had a yard where the children would say exactly that: let's go out to the yard. You leave your apartment, then the staircase, and find yourself in the yard where everyone is playing. In Šančiai, everyone had their own yard, so it didn't make much sense to say that. Yet, we would go to the street, on the hill, or the railway and still say that "we are going to the yard." We really enjoyed going up the hill. You take a blanket, a pillow, and some white bread with sugar and admire the panorama. And my mother told me that when she was little – she was also born and bred in Šančiai – neighbor get-togethers took place there. When I later started working with communities, I wanted to revive that tradition. In a word, the hill is interesting in its own way. And beyond it – soldiers, fences… That was rather scary, we never ventured further.
When I was studying fine arts as a teenager, the desire to draw and color would go beyond the paper. At first, I decorated a sandbox and after that my mother allowed me to make a drawing on the wall of a shed. I drew a defecating cow on it and wrote down, "What are you staring at?" That wall was facing the street, with many people and cars passing by. For several years they saw that colorful drawing made by a girl, who attended art gymnasium.
How many courtyards have you had in your life? Did you try to add something interesting and innovative to each of them? Did your enthusiasm grow or decrease with age?
Not that many. My husband and I initially lived in Šančiai, on A. Juozapavičius Avenue, in the administrative building of the metal factory. We had somewhat of a view towards the Nemunas and of the factory. It was fantastic, couldn't be better. The yard was covered with asphalt. You had to pass by all sorts of companies, a factory that was no longer in operation and you were able to look inside, see where things used to happen, although the building was derelict inside. It has been renovated since. I would sit at that window and look at the factories – urban romanticism, that landscape is nice. Of course, there were not many people living there, the place was dominated by businesses.
Then the block apartment courtyards followed. We stayed in Eiguliai for some time. I didn't know many things around there, only had a view of a stadium. After that we moved to the area with a beautiful name of Dainava where we still live today. For a long time, neither the yard nor the neighbours existed for me, I would just go home. But when the kids were born, I wanted to be outside as much as possible. At first, in the park, and then I started to explore the area with the stroller. It was a lot of fun. There were little flower beds, some decorated, painted stones or curbs. We love cats, so I also examined them. I discovered a spot with the highest number of little ladders for cats to climb back into the balcony.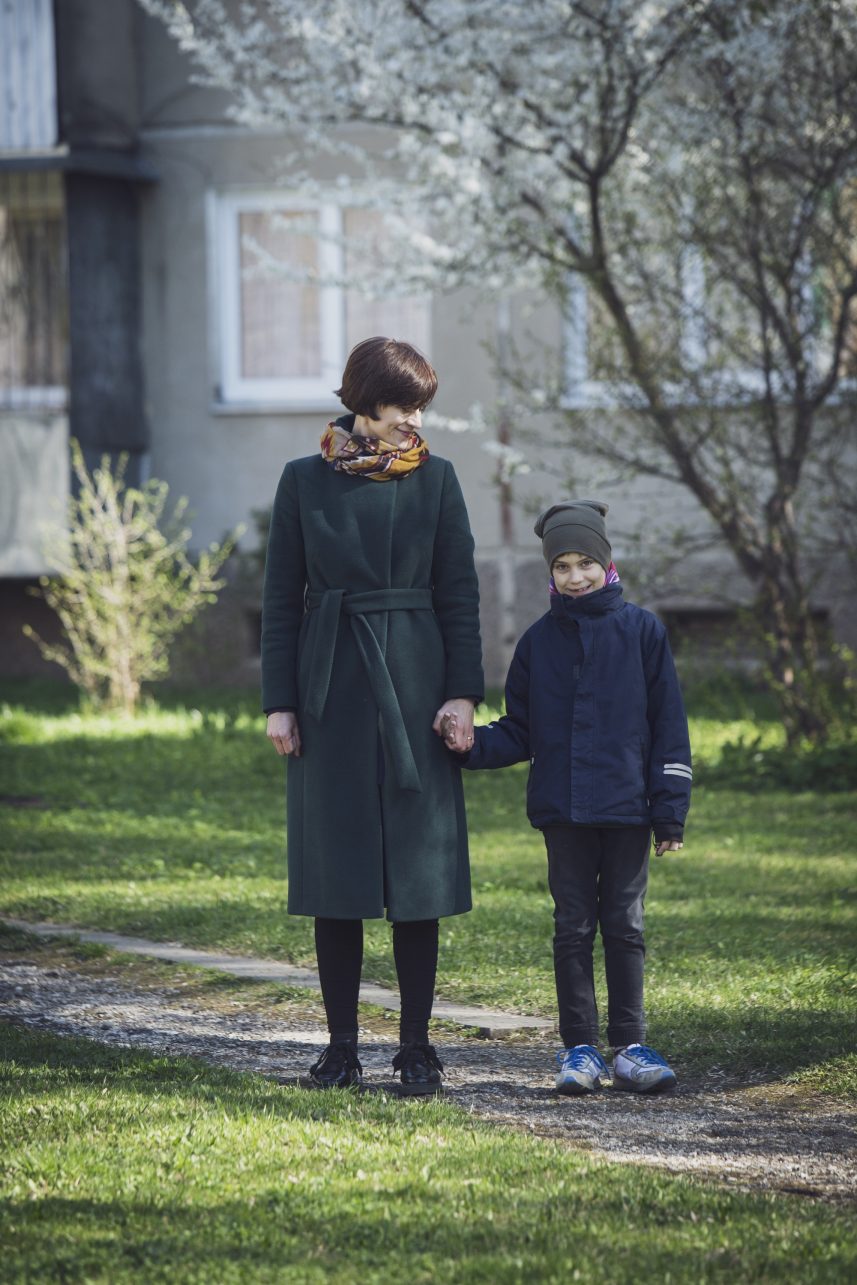 So, the exploration began with my first child and a stroller. At that time, the community in Žemieji Šančiai grew stronger. I contributed to a couple of initiatives and just grew with them. After that, I started doing some things myself. One of the biggest achievements was a tour festival. For the whole weekend we explored one area. Šančiai is a huge and diverse district, I had to get used to it. At first, Dainava seemed completely dreary. But then, gradually, the exploration continued into the courtyards, and I realized that every district has something unique about it.
I didn't only care about my yard in Dainava, I wanted to do something for others, not by myself as an activist, but to encourage others. That was the goal. I was afraid to start but when I saw how many people came to the first event, which was connected to a mural, I realized I could start an initiative in any district. I would feel confident everywhere. I could go knocking on the neighbors' doors and I believe they would come out because people want to communicate and discover their spaces – a courtyard, a district – anew. People lack communication. I am also encouraged by belief that each place has something interesting about it.
Did you discover anything interesting in your native Šančiai?
In my opinion, Jurgis Vanagas' book Šančių praeities takais published in 2010, inspired the local revival. I started my aforementioned activities in around 2014. They were not only to do with the place but also, with art. I discovered new points of view and that was very appealing. Here I was able to fulfill a desire to contribute to my environment, the already described "yard" that occupies a larger territory than the little yard near my home. A children's playground appeared, we came up with a tree house and I dreamt of neighbors' parties. After becoming a facilitator of the community program Fluxus labas! in Šančiai, during Courtyard Festival, I decided to fire up our district. One neighbor invited me to his place, his courtyard, another neighbor came up with a whole structure of a party, introduced the topic of a tree. Tours of the district, getting to know it, ideas, Šančiai locals' dreams of what would they like to do with their district ended up in the Festival of Initiatives. On a large scale. This provided me with a lot of courage.
Dreary, huh? OK, OK, let's see what lies beneath it.
A community in Dainava is very interesting. It is a bit different than the one in Šančiai, where people are used to interact more. It was necessary to restore that interaction in Dainava, to warm the place up. But there are old residents here as well, in my building too. They, for example, planted trees voluntarily. They would also organize parties.
How much did Fluxus labas! affect your own work?
I would say a lot, but it all started in Šančiai. If not for the activities, I don't know if I would have come to Fluxus labas! at all. It helped make my viewpoint on community more profound. I must admit that in the beginning I did what I was interested in, not thinking about people much. The program helped to better recognize and respond to the energy of the community. Fluxus-like approach helps me a lot to deal with different people. I like to introduce the element of surprise, various details. I understand the importance of being playful. We shouldn't take things very seriously all the time, as it often happens in the courtyards and communities. Gatherings can be fun!
Until now you worked in a public institution Saugi pradžia where you implemented a project The Art of Friendship. Tell us about it.
After returning from maternity leave, already knowing how Kaunas 2022 works, and seeing the invitations, I initiated the project. The main area of the project is Pramonės district with its main Draugystės Street, which connects the residential quarters (Bermudų trikampis, Gričiupis), cuts through Pramonės district (Draugystės Street) where industrial districts begin. All of Petrašiūnai district is also included.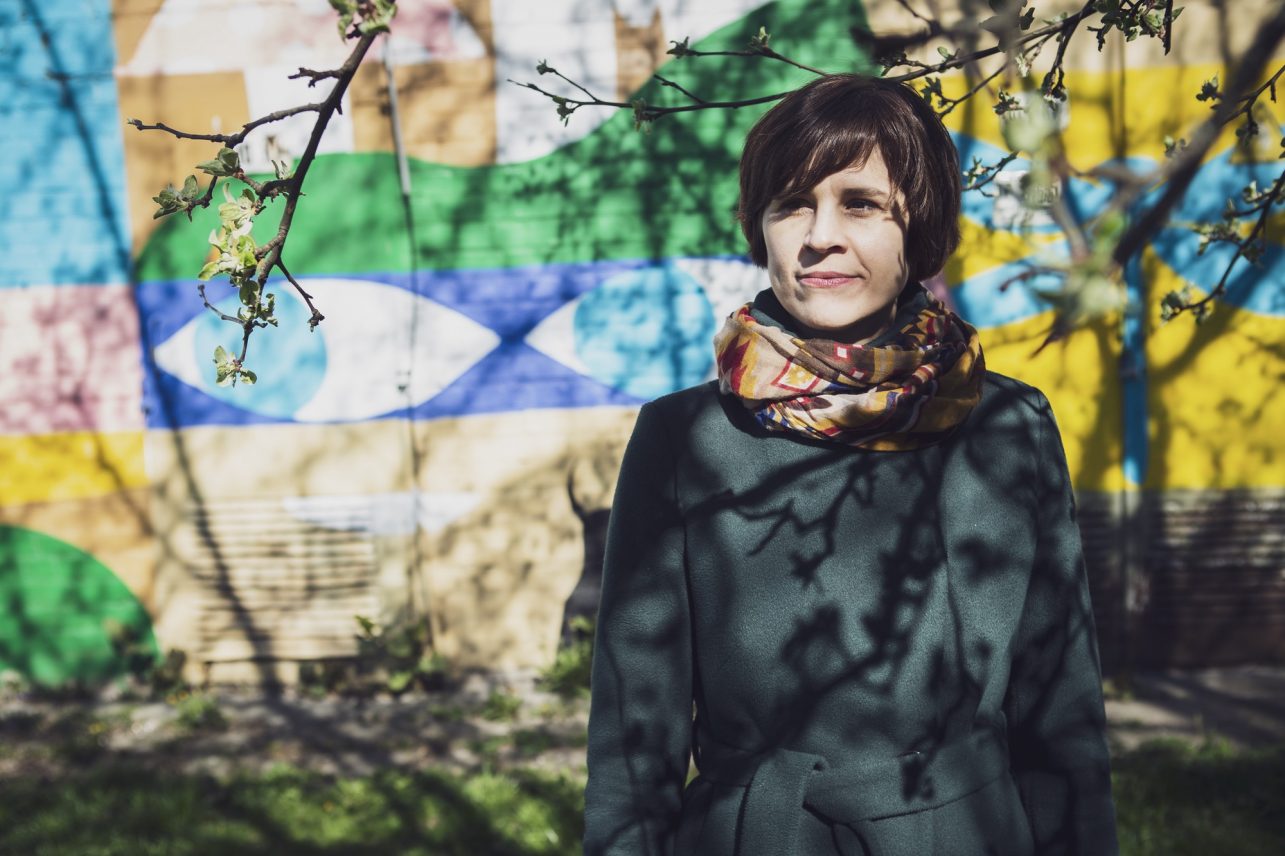 The project is not over yet, it will continue throughout the year with the final event summarizing all the work done, taking place on June 10 in the courtyard of one of the companies (SDG) of the district. There will be no cars left in the parking lot, everything will be given to community and cultural activities. Along with the huge meadow and maybe even the inside of the building. We will not stop after this event, there will be more to come. The legacy of this project is that the company, which will host the main event, will become a cultural centre in this industrial district. So many things have already happened: film screenings, events where people shared their memories, conscious movement workshop, lectures on toy stories, in person and remote tours. All we need is for people to get used to, and know, that all the ideas are born here, many activities take place in this building, and everyone is invited. I hope people get used to it and that will not stop after January 1 next year.
Why do you find Pramonės district interesting?
I am generally interested in the city. Of course, I also like nature, but the urban environment, architecture, streets… What interests me about Pramonės district is the fact that it looks grey, dreary, full of various enterprises. But it holds so much history… The part that goes from Pramonės Avenue into Ateities Highway with Eleektrėnų, Draugystės, Chemijos streets – all this area. Retail warehouses were located in the place where we have Urmas today. Gelžbetonis factory is still there along with Dirbtinis pluoštas… The huge radio factory with a giant tower, which looks like it was borrowed from the Resurrection Church, at the end of Draugystės Street. Those industrial areas also had a huge impact on the development of residential areas. The way I always approach things is, "Dreary, huh? OK, OK, let's see what lies beneath it."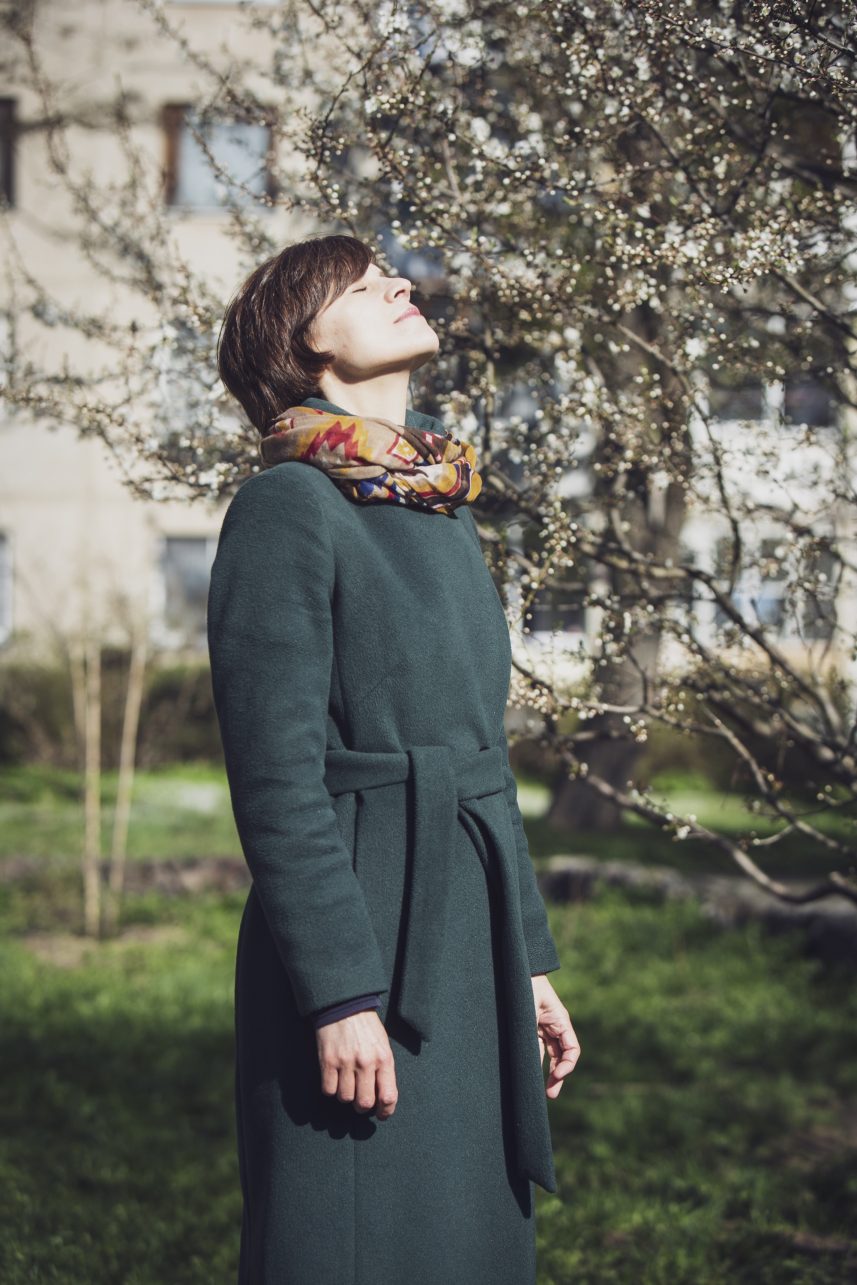 Involving company employees was very important. We invited different guides and learned more during the tour, for example, thanks to Maxima, a new trolleybus route appeared, which made it easier for people to get to Dainava Clinic. Or, say, Bermudų trikampis. I have heard of the name before, but I didn't know where it was, so architect Algimantas Grigas told us all about it. Architectural historian Paulius Tautvydas Laurinaitis told us about the urban development of this district. Guide Jonas Oškinis talked about the more distant times and introduced us to Girstupis village and the Sixth Fort. You'd think that the area is so small and yet, it has such a rich and diverse history.
I like to watch, observe, soak it in, pull it out, mix it and then implement it.
Then, historian Jonas Palys told us about the canteens of the factories, and we visited them not only with the locals but people who joined from other districts. It's amazing to see those old interiors. They are well preserved: stained glass, the colourful patterns of granite floors. One of these canteens, for example, located in the radio factory (you enter a courtyard from Technikos Street, then through a gateway for lifts you reach the little canteen) is truly special. It is old-fashioned, with trays, serving aspic, herring and chicken Kiev. Women there organize silk painting and natural cosmetics workshops. That's fantastic!
How much of these ideas belong to you and how much are offered by others?
It is all intertwined and it would be hard to tell which idea came from were. I like to watch, observe, soak it in, pull it out, mix it and then implement it. when I noticed that people liked the tours, I came up with a photo walk idea. It's like an extension of the tour, where in addition to listening you also have an opportunity to see your district anew through the camera lens. What also helped with this is that we had no preconceptions. This is how the industrial sounds appeared that later turned into music. Many wishes came to light during the evening dedicated for recollections. People want to communicate with each other, and it was really strengthened by the COVID situation. Everyone has missed physical tours rather than online lectures. They want physical interaction not remote classes.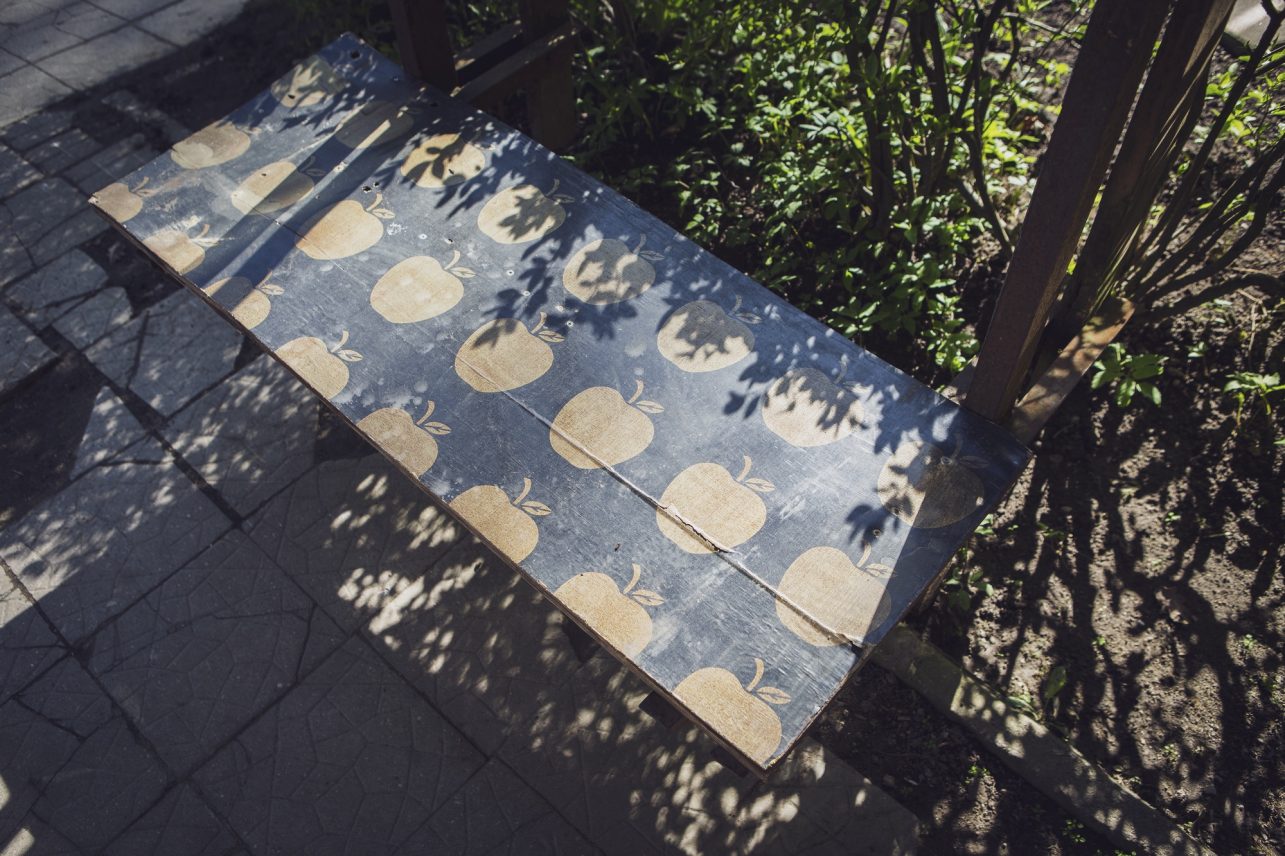 The Art of Friendship continues but you are already working elsewhere. Will you remain an active member of the Dainava and Pramonė communities?
I think so, because I cannot do otherwise, although after changing jobs this will become something I do during my free time. We should all share what we can. In my case, it is an invitation to joint activities, the courtyard, encouragement and creation of fun atmosphere. It is very interesting to talk to everyone. It seems meaningful, I believe that people also need that. It gives faith, trust and meaning. Of course, my enthusiasm has been growing for a long time but now I have slowed down to avoid a burnout.