Uncle "Burst" is a weird but playful nickname that was given to sculptor Leonas Strioga (Strioga sounds a bit like sprogo, which means "burst" in Lithuanian) by the family, which I joined more than twenty years ago. More precisely, it was uttered many years ago by my husband's brother Domas, who was a toddler at the time and was only beginning to talk. My husband's family accepted me to their family unconditionally and with an open heart and so did my in-law's friends Leonas and Dalia Strioga. They accompanied our family since its inception; when our children – son and daughter – were born one after another, when we moved into a new home and celebrated other important anniversaries or losses. Motherhood, Innocent, The Walking One, Bird by the Fence are some of the many Leonas Strioga's works in our home. And in these works, Leonas is just as I got to know him as an artist: encoding thoughts in a small-scale wooden sculpture, multilayered, ambiguous. Perhaps this is the National Prize winner Leonas Strioga that you know too, from exhibitions, his website www.leonasstrioga.lt, or a book Strioga published by the Artists' Association in 2004.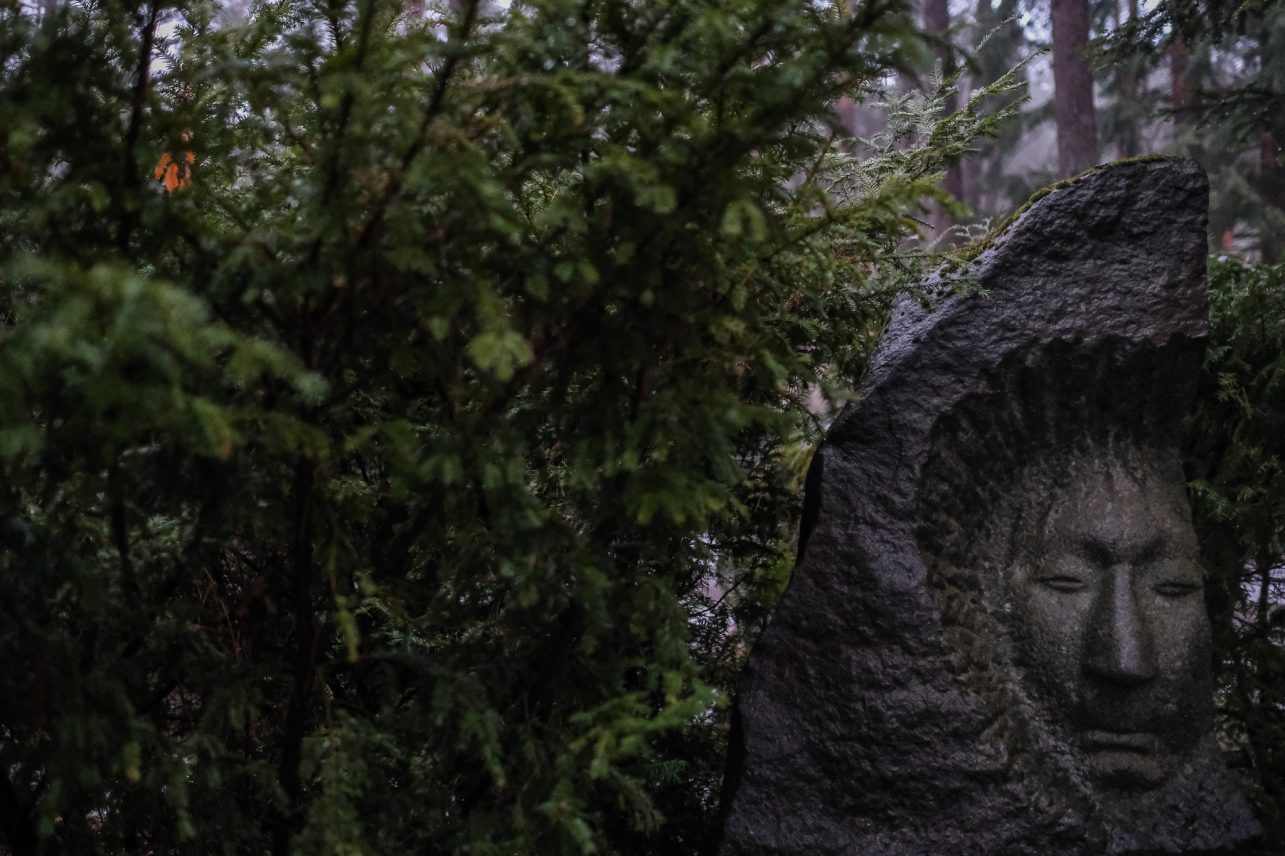 But this time I want to talk about Leonas Strioga's artworks that were exhibited in the various public spaces of Kaunas. The artworks that we may be passing by every day without noticing them anymore like we don't notice houses, trees, or signs because it seems like they were always there. I will take you from one district of Kaunas to another, pausing and noting that a particular artwork was created by Leonas Strioga. And we will start the journey in the place where his sculptures are born (by the way, the sculptor will be celebrating his 91st birthday on January 31, 2021) – his house, his studio, the open-air museum, and the space sandwiched between apartment buildings and old trees behind Žėrutis. You will be greeted by a wooden fence with a rusty hook and creaking hinges. In the yard, on the wall, you will see a poster Leonas Strioga – Kitoks (a different Leonas Strioga), which reminds us of the sculptor and his son Aidas' joint exhibition in 2016 that contained over 40 exhibits. You will also see several sculptures featured in that exhibition – St. George fighting the dragon, a playful hussar cat – and others that toured the yard of the Kaunas Presidential Palace and then returned home to the creator. Pause here for a moment, look around, and try to imagine this space as much larger, under the old leafy trees. Dalia Striogienė remembers that in the seventies when artists were settling in this building, there were ideas about turning the open space in front of the workshop into a sculpture park. Unfortunately, the idea wasn't implemented because typical apartment buildings grew along with Savanorių Avenue that was getting increasingly busy.
Let's move on. The closest artwork to Leonas Strioga's home is his two-part composition Rest in Ąžuolynas, created in 1966. In our family, we always referred to these sculptures as Leonas' girls. I smile when looking at them covered in snow, timeless, calmly enjoying life, sun, and fresh air in any kind of weather.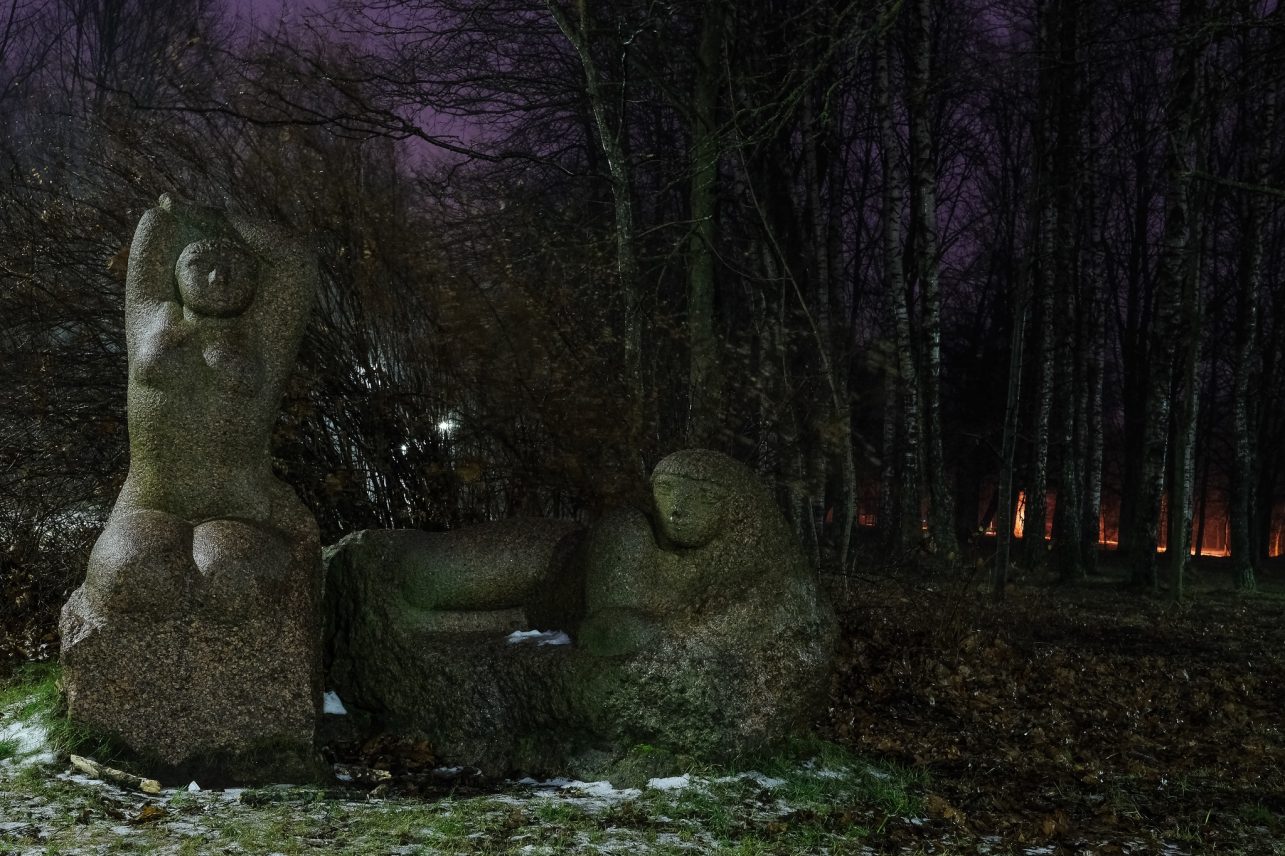 We move to Vytautas Park and take the stairs. At the intersection of Laisvės Avenue and Trakų Street, we find a modest Motherhood, which was planted there in 1972. The sculptor considers it one of his most successful works. A young woman with wavy hair with her palms raised above the baby as if she is blessing it but at the same time almost fearful to take him in her arms. Such a familiar feeling of meeting with your first baby.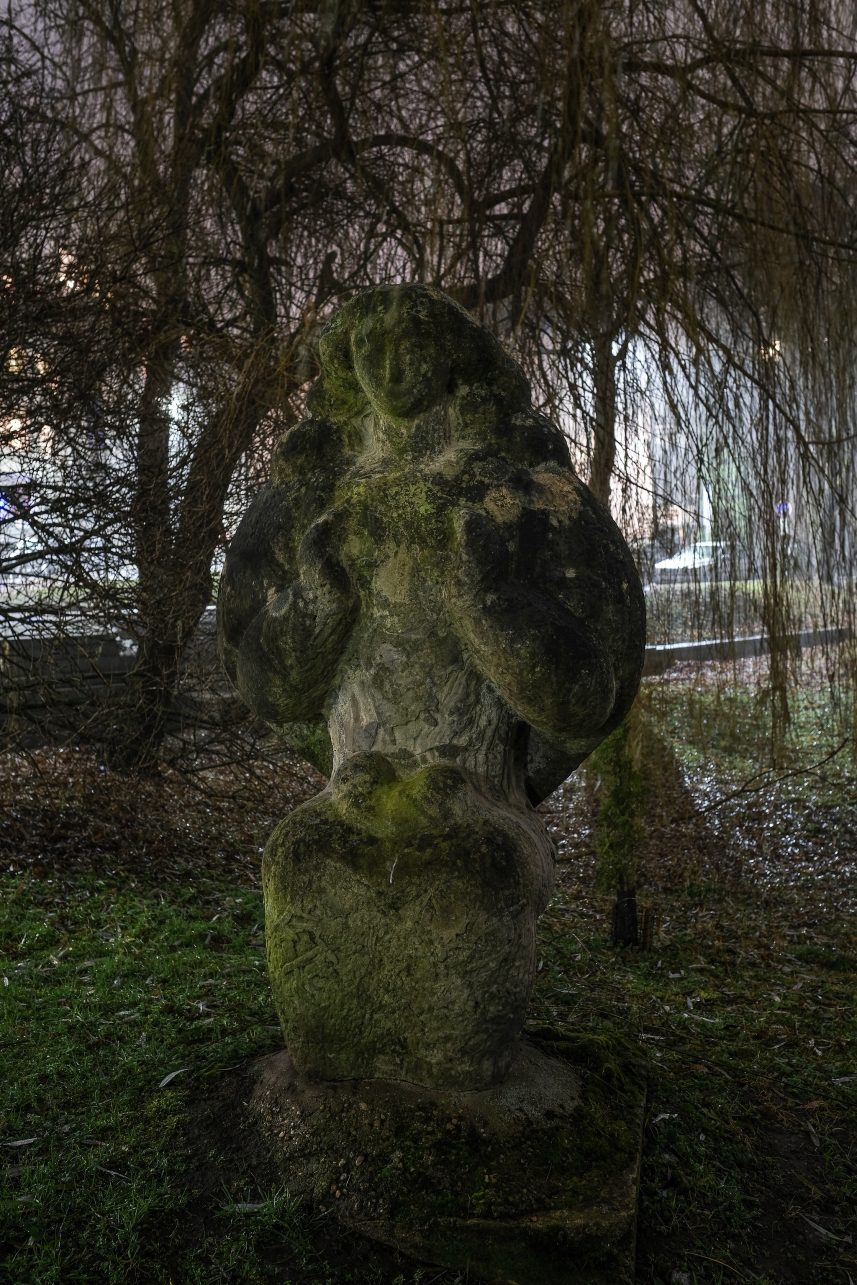 Let's move forward, towards Nepriklausomybės Square. Next to St. Michael the Archangel Church we find a sculpture called Dream. Apparently, this is the actual name of the work that appeared in Laisvės Avenue in 1987 after its renovation, which, perhaps due to the fact that it stands next to the Red Cross Hospital, I used to refer to as "a person rising from the bed." When I learned the real name of the sculpture, I pricked up my ears. I know that dreams in Leona's life are prophetic. Once, when he got really sick and was bedridden for three years, he dreamt the grim reaper, which tugged at his one arm, while his other arm was held by his loved ones. After asking his relatives to let him go, he jumped into the pit with the grim reaper and started boxing with it and he fought until there was nothing, but firewood left of it. He then rose from his sickbed almost thirty years ago.
Once, during this quarantine summer, when people travelled in Lithuania more, I saw a family examining the Dream, when I was passing by. I paused and asked what they were looking for. The woman replied that she wanted to know the name of the sculpture and its author. I told her, and she happily replied, "I knew it was by Leonas Strioga." Since then I started noticing that many sculptures in our city do not have their titles or names of the authors. I would like for them to appear, and you?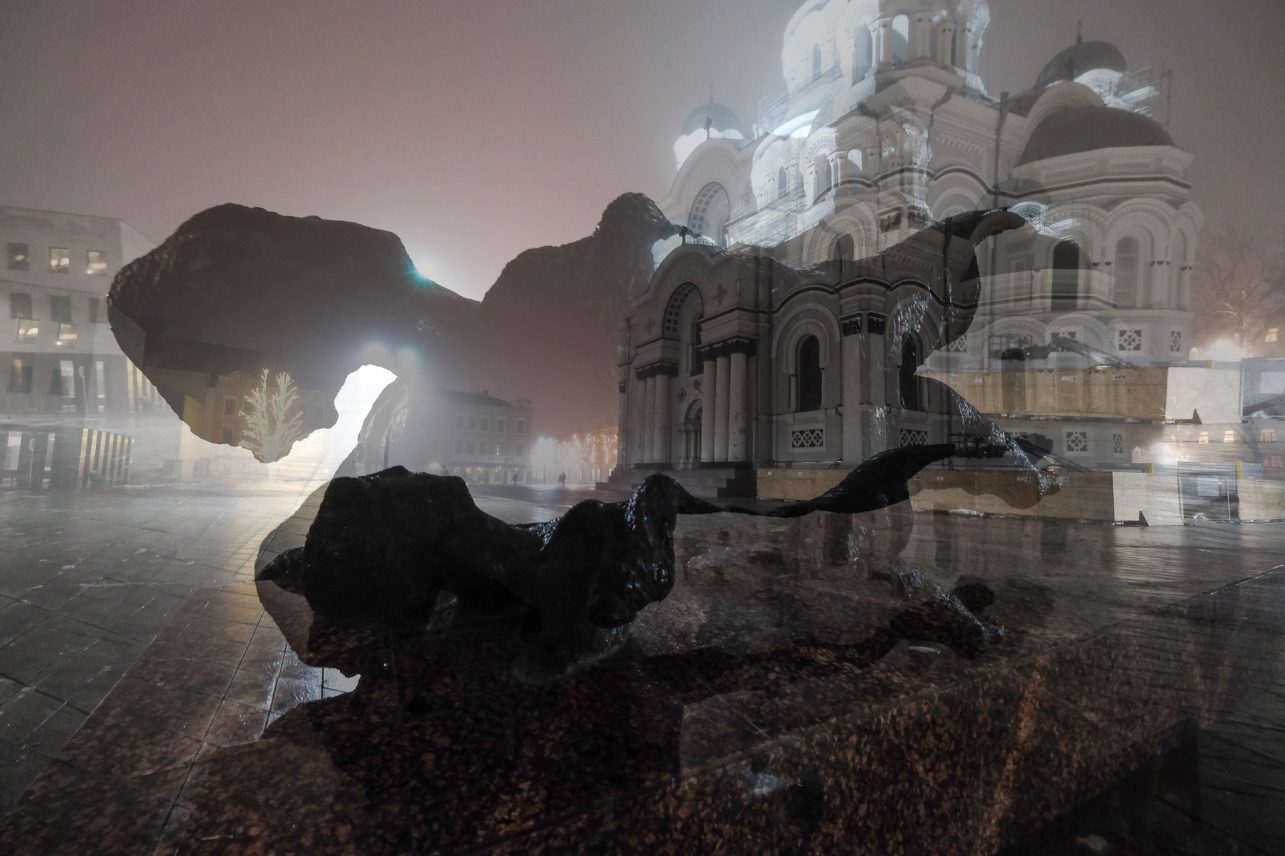 Now we can travel further to the Musical Theater or go back to Vytauto Avenue. What should we choose? Maybe the theatre first? If you feel tired, let's grab a scooter and the journey will be cut short.
In the garden of the Musical Theater, there are many busts of famous people from the musical world. Among them is Kipras Petrauskas with a bowtie. Leonas created him in 1985. If we could, we would definitely go inside the Musical Theater. There, when taking you to the cloakroom, I would pause at the first step of the stairs and say, "Look in front of you and you will see Leonas Strioga's Violeta, and on the right, by the handrail, a composition called A Top-Hat with a Cane. Both Violeta and the Top-Hat have been welcoming the theatre visitors for 26 years. As I write these words, I think about how much I miss the magic of the theatre…
Let's move forward. On Vytautas Avenue 71, next to the VMU dormitory No. 2, the former Baltija hotel, we find Leonas Strioga's Little Ships. In 1969, the sculptor was accused by the authorities of the time of the rendering that was "too ambiguous." It turns out, even the boats then had to conform to the government's idea of what a boat is. Let's go a bit further and stop next to Vytautas St. 43. This house was designed by a Latvian architect Karolis Reisonas, who also lived in it from 1930 till 1940. He was the architect, who designed the Resurrection Church, Chamber of Agriculture, Bank of Agriculture, and other modernist buildings in Kaunas. The memorial plaque that is hanging on the wall of the building was created by Leonas Strioga in 1994.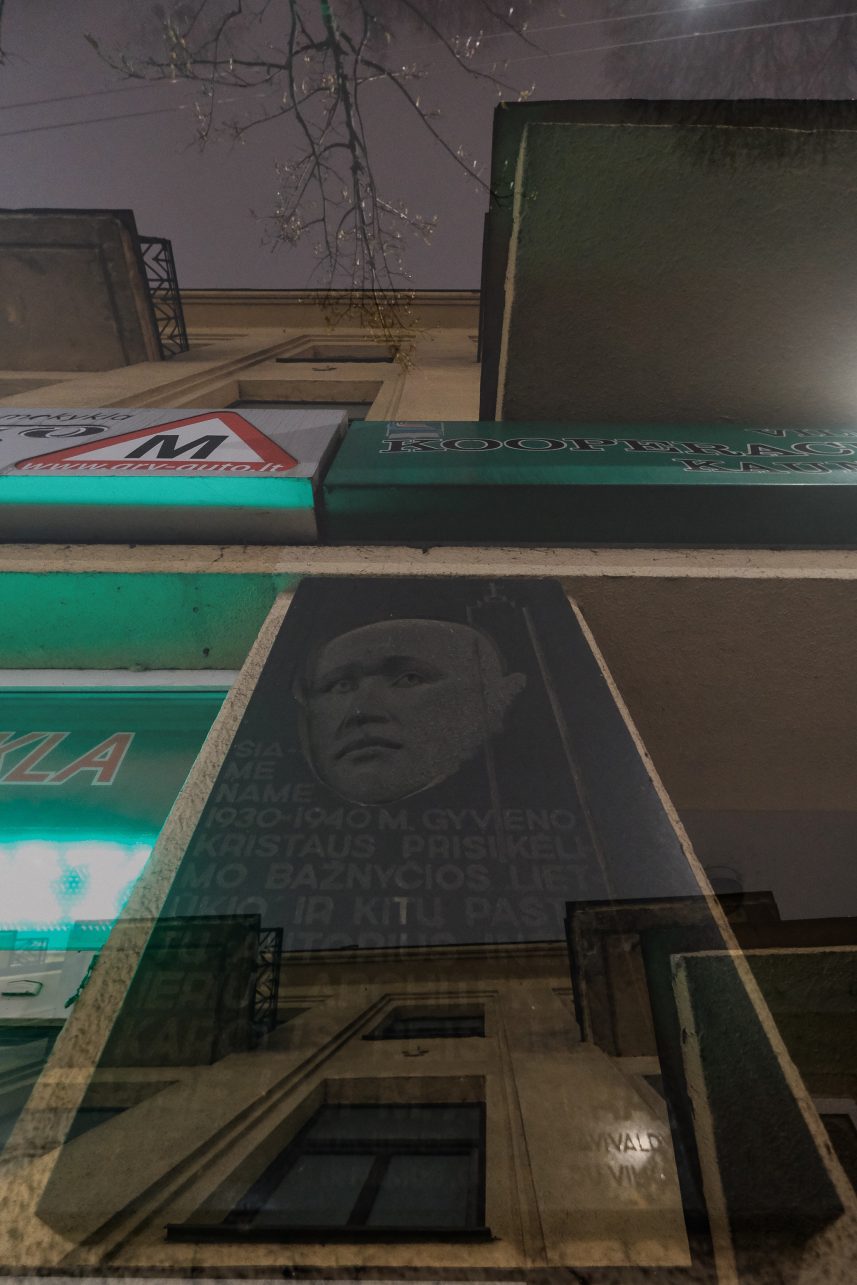 At the Railway Station we turn left and then catch a bus to Petrašiūnai cemetery. When visiting the departed people from the art world – playwright J. Grušas, actor, director M. Karklelis – always remember Leonas Strioga as well. The features of J. Grušas, as if surrounded by refractive rays of light, are carved in fieldstone, and above the tomb of Mamertas Karklelis there is a silhouette of a pensive man leaning under the cross.
I guess you might be tired. We saw a lot, travelled far. But these are far from all of Leonas Strioga's works in Kaunas. If you ever decide to visit the places in Kaunas where V. Mykolaitis-Putinas lived (Aukštaičių St. 28 and Vaižganto St. 4) remember Leonas Strioga, because it was him who created the memorial plaques. If you stop at the intersection while passing by Dainava clinic, look at the Sitting Girl, that has her head playfully tilted to the side, full of youthful flight. Leonas created this sculpture thinking that in 1972 it will appear at the Girstupis Cultural Center, but the authorities of the time decided otherwise. And if you come to Raudondvaris Manor say hi to the High Priest with the Bell that stands in the park. The sculpture, in memory of composer J. Naujalis, appeared here in 1996. Listen – the echoing silence of the bell reaches the sky. Take a closer look – the high priest's beard, a sign of wisdom, seems to penetrate through the earth.
And if you will not notice the High Priest or other Leonas Strioga's sculptures because this text might not fall into your hands, they will still exist, speak, act and tell stories.