Born in the Kaunasian Goldman family in 1869, Emma emigrated to the United States at the age of seventeen. It is difficult to briefly introduce this personality, whose ideas and beliefs were obviously ahead of time. We are talking about the position of women and human rights to this day. Until 2016, there was nothing commemorating her in Kaunas.
In September of that same year, the group of people that moved into the blue wooden house at the intersection of A. Mickevičiaus and K. Donelaičio streets, did not take long to hang the sign that says Emma at the entrance. Another year later, we visited here (admittedly, only for a magazine photo shoot) together with the Polish artist Karolina Freino. At the invitation of the Kaunas Biennial, she installed a light installation – a temporary monument to Emma Goldman – at the confluence of the Nemunas and the Neris. The buoy with the beacon flashed the text of the activist's autobiography Living My Life translated into Morse code. This is the broader context for the introduction, and now I invite you to climb up the creaking stairs and delve deeper into the activities of the social center Emma. We started talking with some of the founders of the center: Viktorija Kolbešnikova ir Agnė Bagdžiūnaitė, and later were joined by Danielė Liepa Bodrije.
"We celebrate our birthday on December 27 every year. On that day, the first big party took place in the Green House located in the center of Kaunas that we squatted. In 2016, after the protests against the new labor code, which took place in Miesto sodas and later moved to Government building, we wanted to continue our activities, so we founded an informal solidarity network of workers and looked for a place for meetings. Vingiu Dubingiu pub was already operating here, and the owner told us that the second floor was not used and recommended contacting the owners of the building," Viktorija recalls.
The settlers were met with many layers of wallpaper and other challenges that had to be overcome to make the place cozy. "Take it, use it, but keep in mind that this house will be demolished," said the owners, but the blue wooden house, the first floor of which dates back to the 19th century, is still standing. By the way, less than a year ago, the third resident settled here: an independent bookstore Kolibris. Has Emma accepted the fact that this home is temporary? Agnė and Viktorija laughs. "I think it is a very convenient place but we are not that strongly attached to it to wouldn't be able to conduct our activities elsewhere. On the other hand, it is important for us that we are in a house of wooden architecture in the center of Kaunas, it seems significant to preserve it," Viktorija says.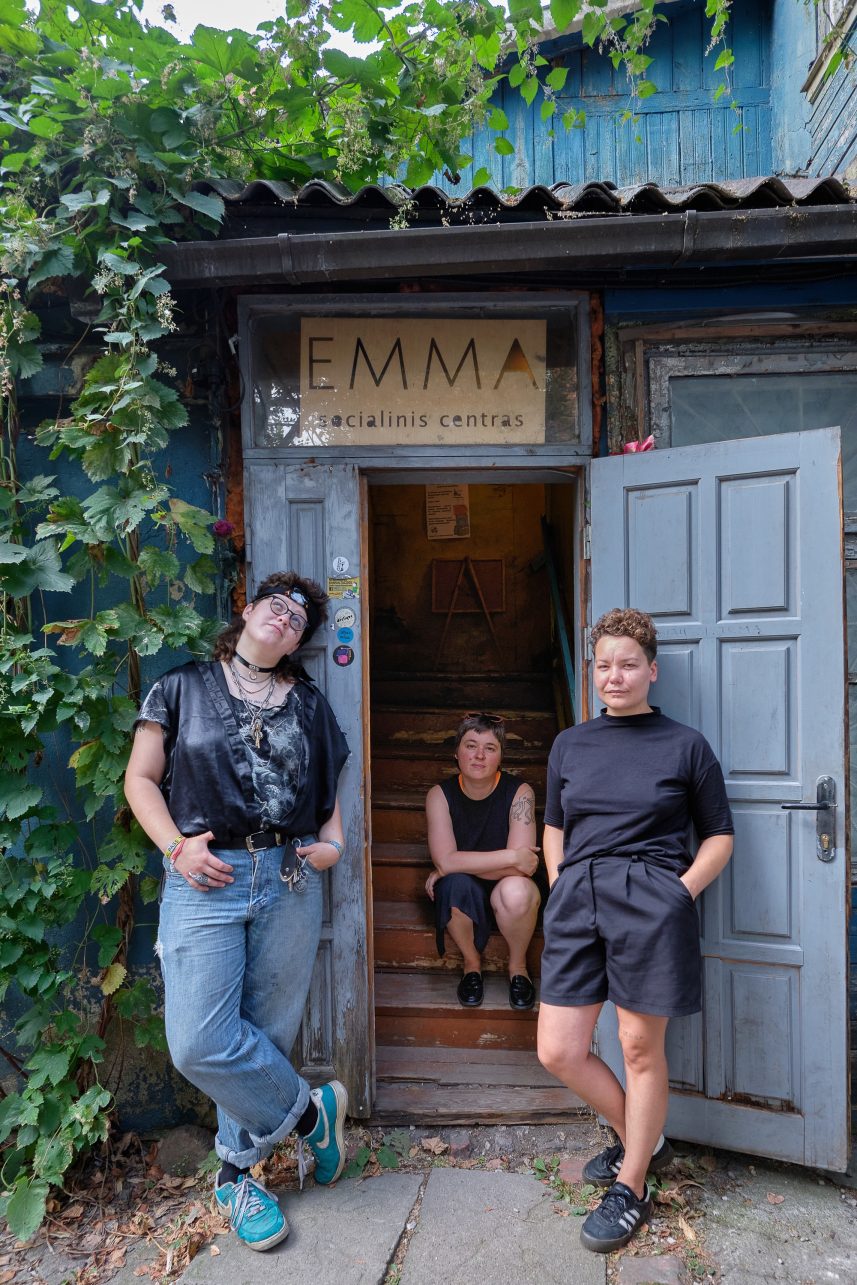 The name for the place came up easily. Viktorija says, "There is no commemorative sign for Emma Goldman in Kaunas, and feminist politics is important to us, so it was clear that we would definitely not name the centre after a man." I wonder aloud about the possibility that Emma, still a teenager, could have passed by this place back in her day… Or what would she think if she found herself in today's Kaunas? Would she be glad that such place exists or disappointed that nothing has really changed in so many years and such places are still necessary? "I think that Emma would consider the context and would still be glad that her memory is being preserved and that people still care about the topics that were important to her, instead just having the enemies dancing on her grave," Viktorija suggested. Agnė agrees and says that Emma would like the activities organized here, the feminism that is being emphasized as well as LGBTQ+ and workers' rights. "I don't know, she also might be critical. After all, that is how leftist politics work – you always find something to criticize and change."
LGBTQ+, leftist philosophy, critical theory, histories of social movements. Readings on these topics can be found in Emma's library. It was based on collections received from info shops operating in Vilnius (independent spaces for meeting, exchanging knowledge, reads, etc.) and now, the new publications are bought and gifted. Books can be read on the spot or borrowed for two months. The system works on the principle of trust. "Not all books come back, but then you hope that publication takes on a life of its own and reaches other people," Viktorija says. Speaking of books, when the weather cools down and the inner courtyard of the building closes, there are plans to organize joint evenings with the neighboring Kolibris.
"Our activities were greatly affected by the pandemic, before it, we were constantly organizing film screenings, reading groups, parties. In 2019, Viktorija and I organized an international conference Gender Struggle in Eastern Europe. However, the main discussions took place across the street, in the KTU building, but the action later moved here, like other events close to our hearts, such as the Kreivės festival," Agnė says. Now, although the restrictions have disappeared, they still have to limit the concerts because there are quite a few neighbors around. For example, they don't plan on holding punk rock events anymore. However, in autumn Kaunas part of the Kreivės festival (more about it in the calendar of events at the end of the magazine) will take place here as will the the renovation of the center. One more room will be opened, and spaces will be re-designed. Not only more space for parties (at the moment, for example, it is a bit too crowded for 60 people), work, and reading but also for the kitchen. A larger kitchen means more portions.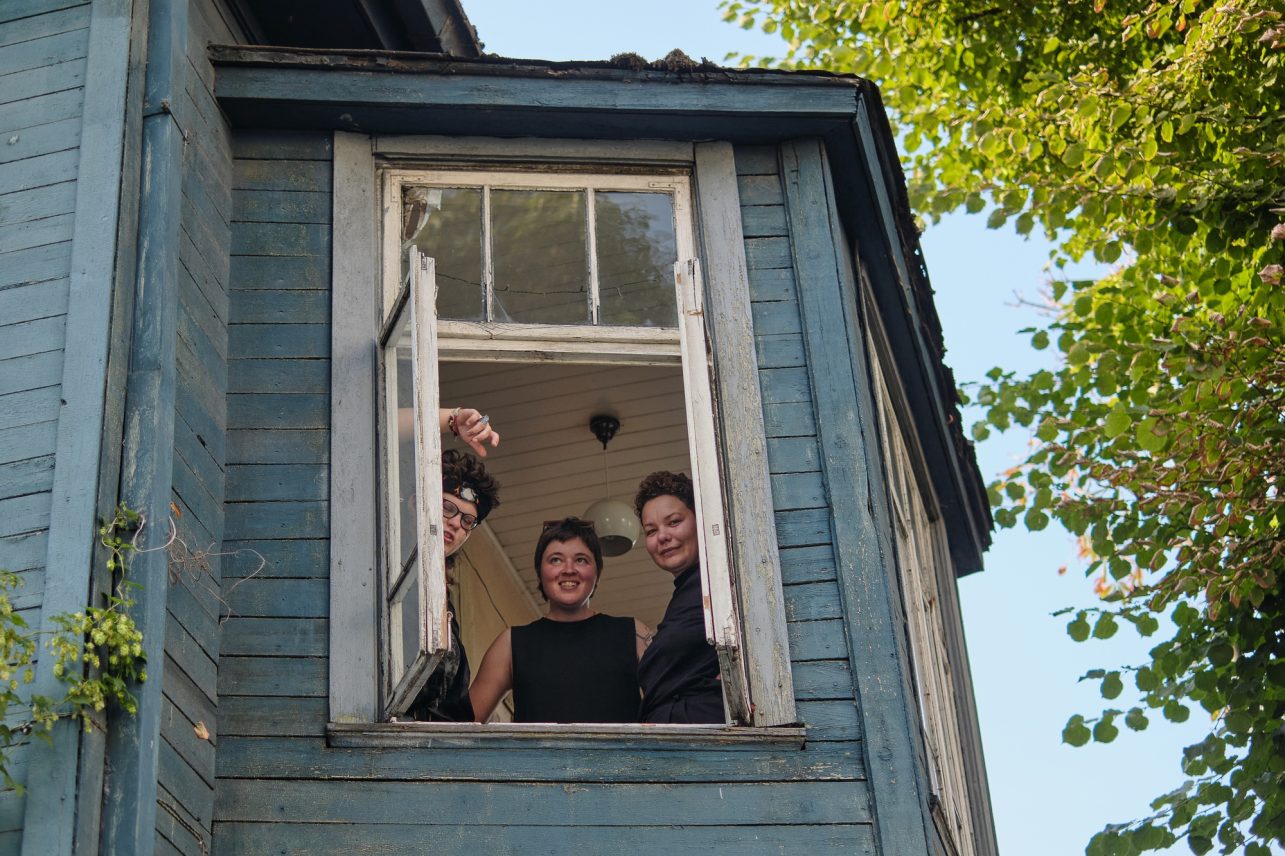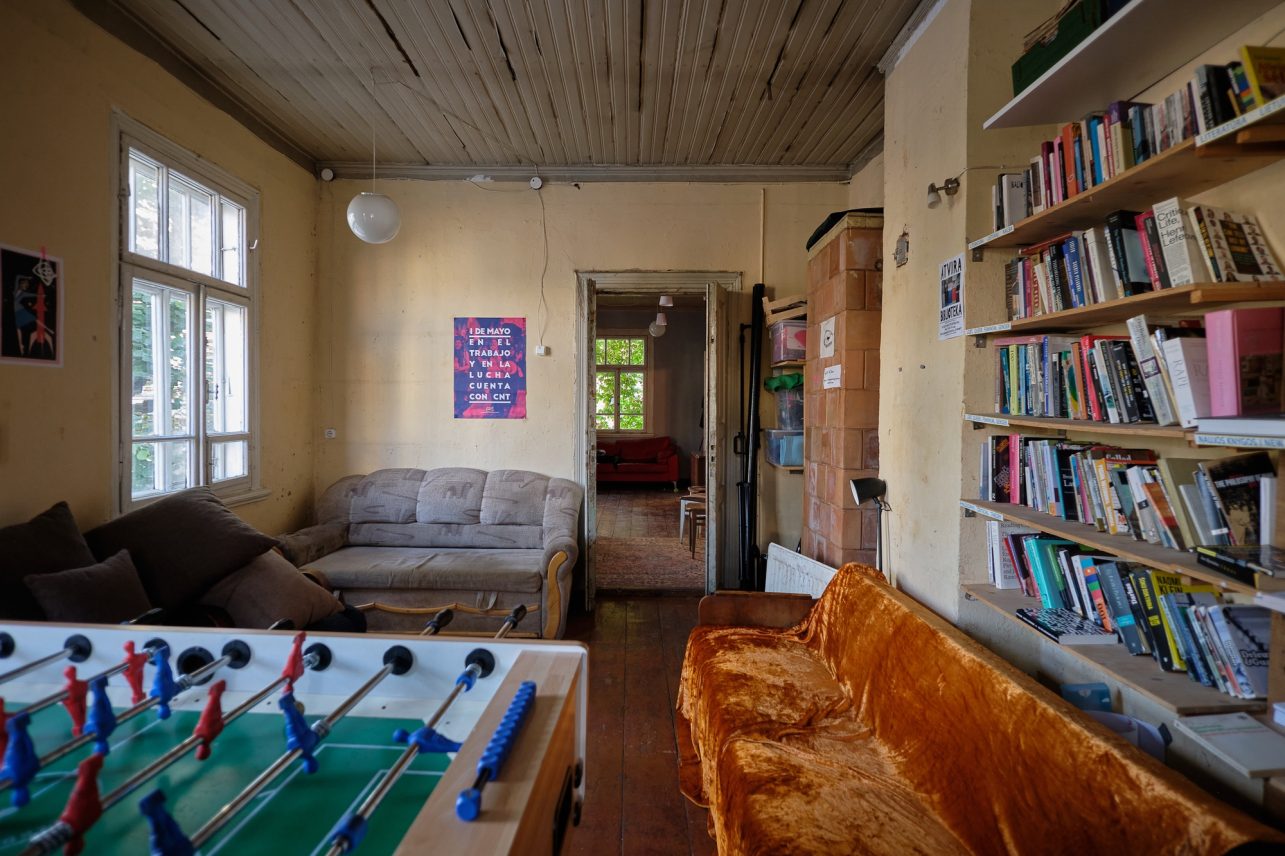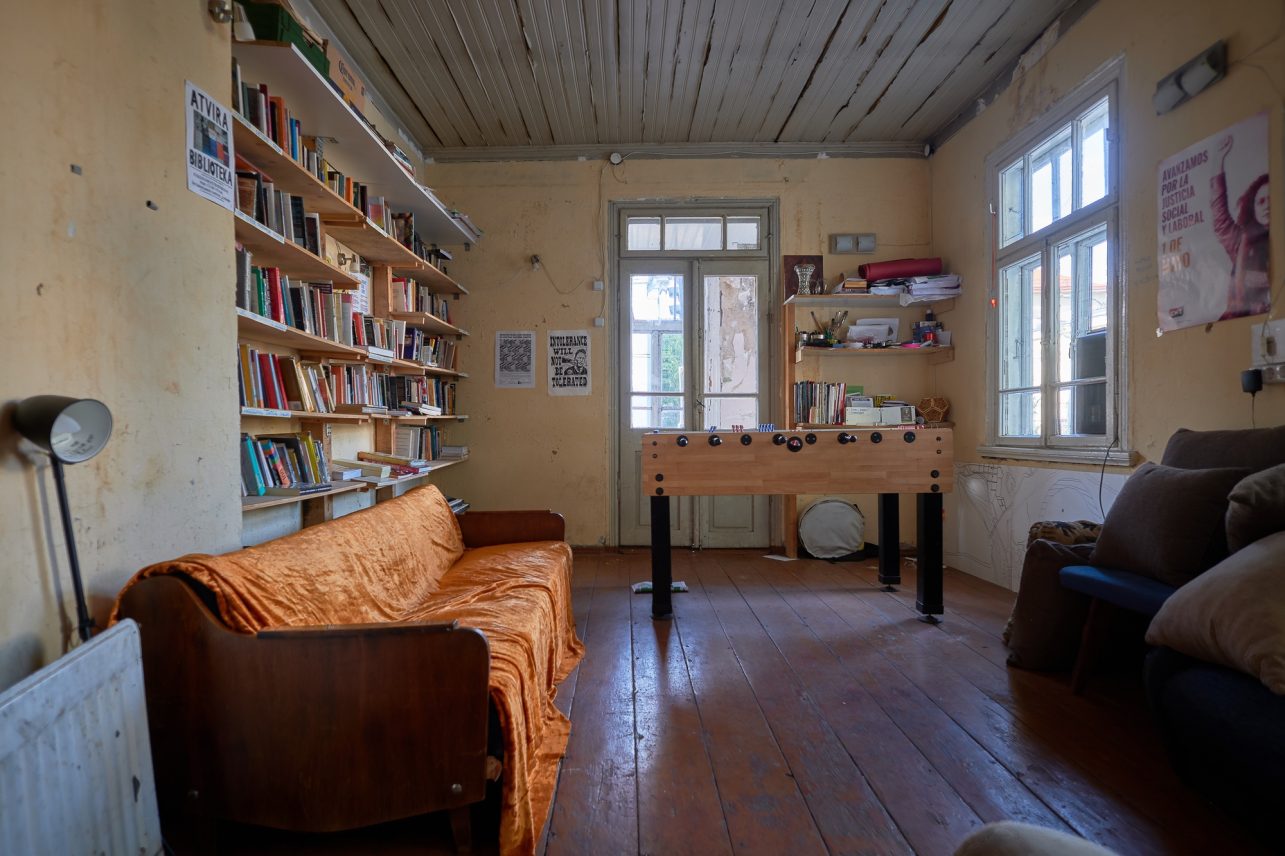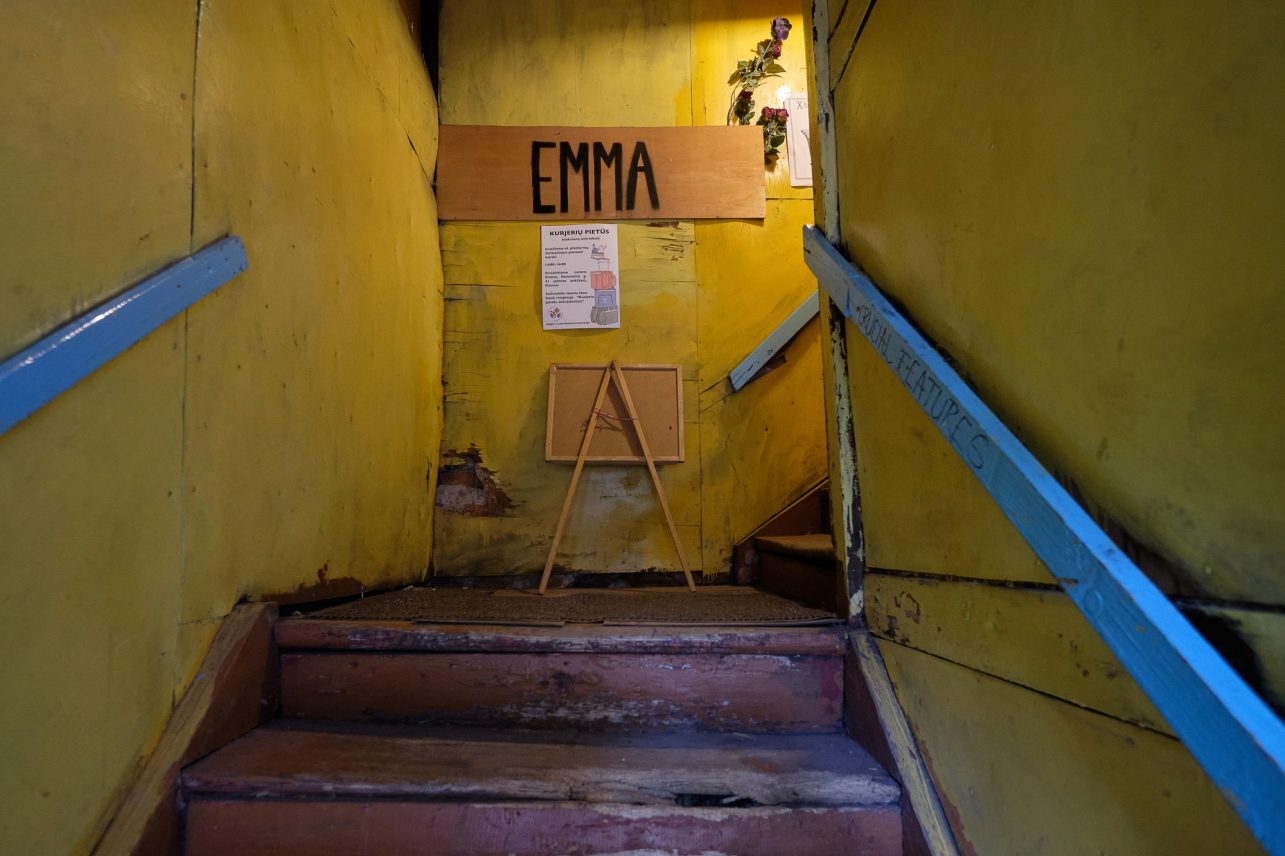 Emma's stairwell has a notice announcing that it hosts a courier lunch on Tuesdays. Not for a fixed price, but for a donation. True, in the summer when we spoke, the initiative of Gegužės 1-osios labor union was on holiday but it will return in the fall. "Not only couriers come here. The initiative was born as a response to the fact that there is no affordable, good-quality vegetarian food in the city. For couriers, it is an opportunity to sit down at the same table with colleagues and share how things are going, what frustrates them and what they like about their job. By the way, foreign couriers frequent the lunch more, we also help them to sort out the bureaucracy. Even though they work on different platforms, they are not competing here, on the contrary, they can compare working conditions," Viktorija opens the kitchen, quite literally. Agnė adds that Erasmus students also come. Unfortunately, they find out about Emma too late because the social center is not advertised to those who come here to study, unlike traditional city student bars. It was Emma, where the first meetings of Šauksmas student movement took place. By the way, the women, while studying at VMU created the initiative Aukštasis moxlas, which could be considered the prototype of Šauksmas.
Are non-leftist people welcome here? Viktorija immediately answers positively, "We have clearly stated that it is discriminatory or hateful practices that are not welcome here, not people. The basis for being here is not labels but how you treat other people.
Let's get back to the parties. This is where Danielė Liepa joins the conversation, "Parties are the icebreaker when there's a need to join a community and find a common language. People don't always feel comfortable at cultural events, especially if they are in Emma for the first time and are not so much into theory. But if you come to a karaoke party or just a fun hangout, everything is much simpler, social fears disappear," she recalls, having come here for the first time in 2017, specifically to a punk rock concert. Emma to Danielė, who was already acquainted with the social center's community from the protest in front of the Government and the Sapho festival, became the impetus to move to Kaunas, "I moved to help develop the cultural part of the center's activities." According to Danielė Liepa, everyone in the community, which consists of about 30 people (of course, number and faces change), members contribute something. Those who wish can get a copy of the keys, meet friends here, work, prepare homework, cook food.
… so that Kaunas has not only bars in the old town, but also a space where you don't need to buy anything to be able to socialize.
The gender ratio in "Emma" is similar to that in society. There are no quotas, they would be needed if men began to dominate, my interviewees laugh. By the way, this year, on March 8, International Women's Solidarity Day, a party was held without men. Wasn't part of the community upset? A bit. But, according to Agnė, the party was intended primarily for those who might not dare to go out to have fun because they have had unpleasant experiences. "It affects both trans people and women who have experienced violence. The party was a statement that this problem exists, and we have to prevent even close people from coming, so that those, who normally do not allow themselves to open up, would be able to do so," Viktorija adds.
I wonder if the first Kaunas Pride held in September last year, organized in this social center and having attracted about 3,000 participants, made Emma more well known. Danielė Liepa says that she always asks people, who don't know what Emma is, if they know about Kaunas Pride, "This is where I start introducing the center from." Viktorija thinks that it did not so much bring awareness as it enlarged the audience and more queer people learned that it is a safe space, "There aren't many of them in Kaunas, only a few friendly bars. Is there a shortage of such places? This is not the only thing missing – this is where the issue of accessibility, entrance and cocktail prices, age restrictions at parties begins…"
Danielė Liepa notices that in Kaunas, compared to the capital, there are generally few bars, and in each of them, unlike in Vilnius, you can meet all social groups.
I ask Agnė, Viktorija, and Danielė what motivates them to be here in Kaunas, when they could live in any city in the world, perhaps where there would be less struggle and more comfort. "We have already lived abroad. It is the people that keep us here. You want to return to those, with whom you've been doing things for years and whom you can trust. It is already a family with its pros and cons," Viktorija smiles.
Agnė agrees that it is healthy to leave, but it is also good to feel like you are part of the city. The smaller the city, the easier it is to communicate with it, participate in politics, demand, and assert yourself. Emma became part of the city and the politics of the city, the community. It's motivating, because we contribute to the history and creation of the city so that Kaunas has not only bars in the old town, but also a space where you don't need to buy anything to be able to socialize. This is an important aspect," Agnė is convinced.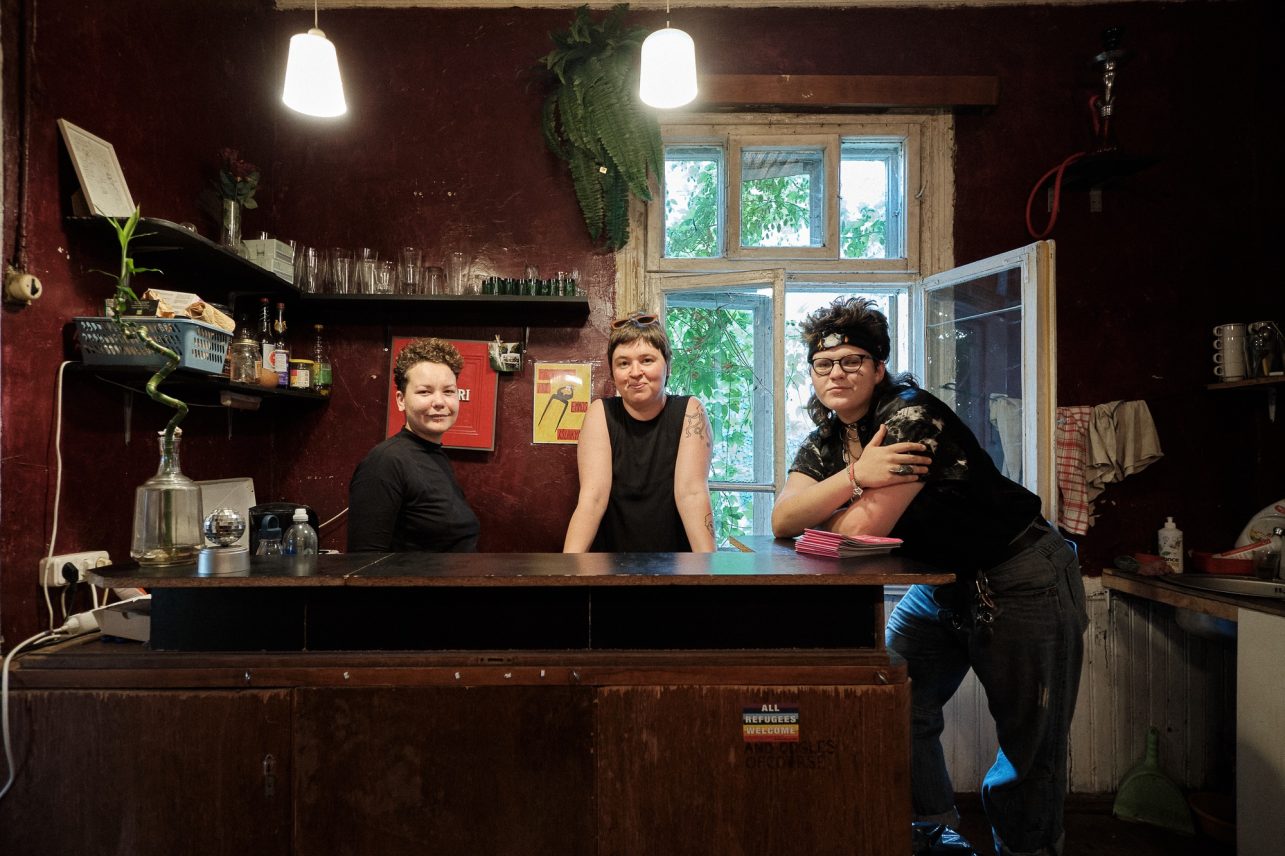 Time to discuss the financial affairs of the social center. It is supported by personal funds and donations. The budget seems to be unstable, but the expenses do not decrease. "It really depends. Sometimes we need to ask for help publicly. But only together we can create things," Agnė says. Viktorija adds, "We were pleasantly surprised when we registered on a crowdfunding platform during the pandemic, so we could pay rent and collected the entire amount in a day. We realized that we are important to people, they want us to exist. It motivates to continue the activity."
The autumn plans have already been laid out, but what are the future ones? What other activities could fit in Emma? "A bar and a place to stay would also be nice," Danielė Liepa says. Viktorija mentions a shelter for women and Agnė would like a movie theatre. And if not in this wooden house, then somewhere else.