Textile is like a parallel archive of the history of cultures and nations, woven since ancient times. Although it emerged out of a practical need to cover up, it is also a vibrant branch of art, which can also be very conceptual. It was the textile artists who started what we know as the Kaunas Biennial today – one of the most important contemporary art events in the region. However, basically, anyone can weave, knit, and crochet, if they have patience and energy. We talked more about textile art as a way of bringing the community together with Agnietė Janušaitė-Vitkūnienė, who is an artist and curator of exhibitions and workshops at the Kaunas Culture Center (KCC). She heads the Gijų sodai studio at KCC and if you're interested, new members are accepted in September without any entrance exams. We discussed the studio's activities and its three biggest projects.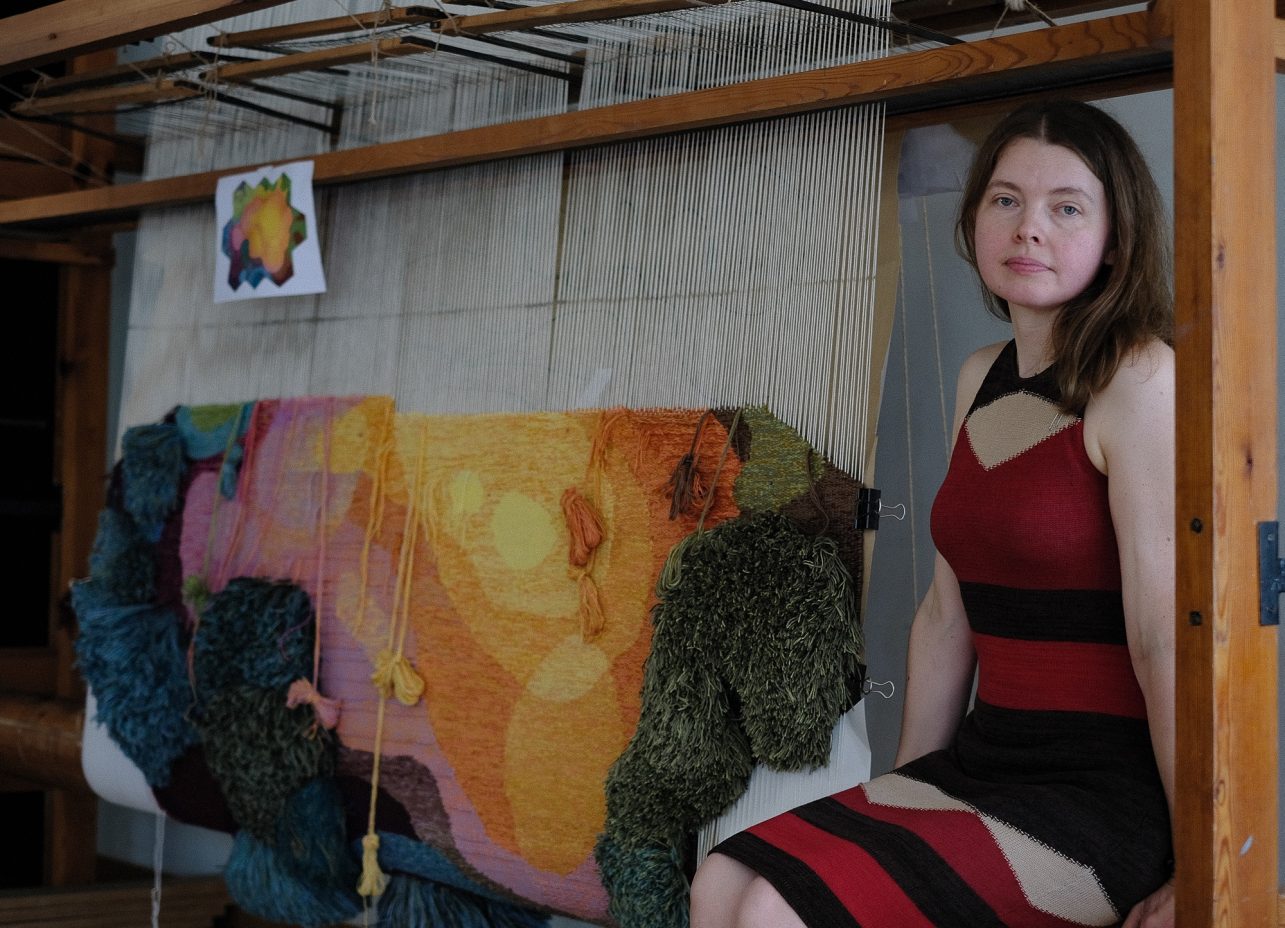 On the first floor of the Culture Center, you can find an impressive loom. What's the story behind it?
This loom appeared in the Kaunas Culture Center a few years ago when I worked in Gijų sodai textile studio. Energetic and inspiring woman, Zinaida Dargienė, a long-time textile artist of Kaunas was organizing an exhibition here and asked, if I needed her loom. She has woven many large tapestries – which were very popular a few decades ago – with it. The KCC director of the time, Jolita Rudgalvienė asked me as well if I was willing to take it. At the time, I had abandoned textile art a bit, but I decided to take it. The loom is unique, certainly, not every artist had them. I recently watched a TV program about textile artist Feliksas Jakubauskas from Vilnius, who still weaves tapestries, and he has the same loom, perhaps a bit narrower. We first made two narrow warps. We used one for a Sounding Patterns project that is being presented now and with the other, we weaved mats and t-shirts for women at the studio. A total of five people can weave one large piece, but their pace must be similar. Even when weaving several different pieces, the pace is important because you need to turn the rollers at the same time.
And now the resting place of the Mythical Beast of Kaunas – a carper/meadow – is being woven with this loom. Well, part of the carpet, the other half is here, in the office. We started the project with the residents of Kaunas and the Kaunas district some time ago. The premiere is expected to take place later this year.
We will certainly return to the Beast, but Agnietė, tell us more about your path that led you to where you are today.
I would say that 2017 is the beginning of Gijų sodai studio. I started with a large project – Tapestry Mosaic: Lithuania – My Face – dedicated to celebrating the centenary of Lithuania's statehood. At first, I had the help of my family. My husband was making frames, we were preparing for educational workshops followed by many trips: we organized a hundred workshops all over Lithuania. And until then, I worked as an artist at KCC, I was doing graphic design and curating exhibitions.
And what did you do before joining KCC?
I worked as an artist at the Kaunas City Museum for eight years. And before that, I studied textile art at the Kaunas Faculty of the Vilnius Academy of Arts. A few years after graduating, I still participated in exhibitions and then I abandoned this area for a while. Now, I don't have a strong connection to the professional world, we work with women, who engage in this activity for fun. And why textile art? It is interesting how we make decisions in life. Maybe you listen to others, you think about it. I cannot say for sure why I chose textile art. I do know why I chose art, in general, because I had the inclination since childhood. My sister did needlework, she was faster, I knitted one napkin, she knitted ten. My mother too had this inclination, and my grandmother wove, perhaps it is in the genes. However, I first entered the Stepas Žukas Higher Art School, art pedagogy class. Back then, additional specialties were automatically assigned to those who entered every year. I got fashion design and that is where I got acquainted with textile art more. Later I tried to enrol in both architecture and textile. I was accepted to Textile Art program in Vilnius Academy of Arts and so, I did not even go to the architecture entrance exams.
What is textile art for you today? A profession or a way of life?
First of all, a profession, although also a way to express myself. I have more positions in KCC but this one brings the most joy to me. If there is an opportunity to sit down and weave, I do it. Last week we went to Vilijampolė together with one member of the studio where Fluxus Labas! program is taking place and the artists from Vienna's God's Entertainment invited people to weave a carpet (the Under the Carpet installation, which invited people to look at the issues we like to sweep under a rug, was running throughout August). I sat down, did some weaving: what a pleasure!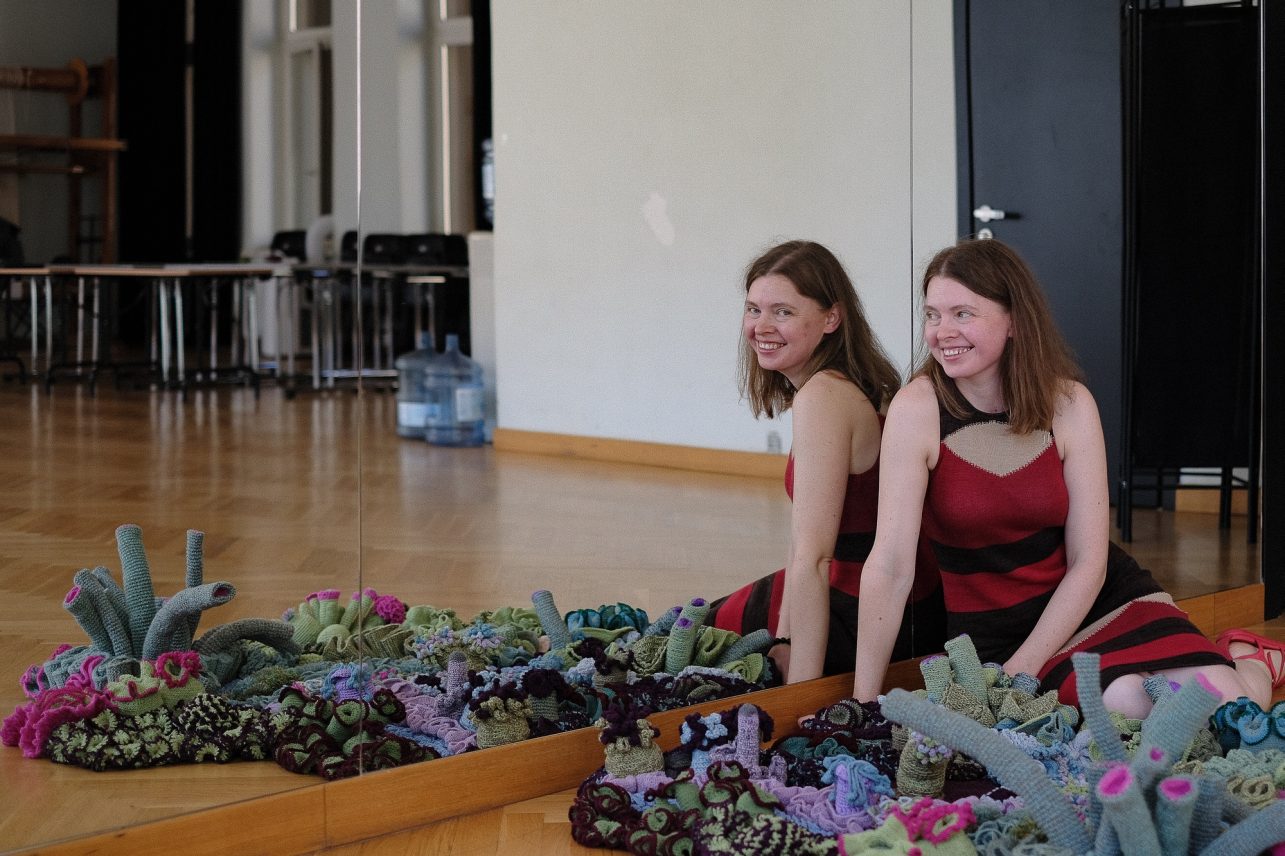 What kind of people come to Gijų sodai?
Currently, all are seniors, ten of them. There used to be a few who worked, but now classes are held during working hours. I meet younger people in projects and workshops. Sometimes men show up too but, stereotypically it is still considered a woman's occupation. Once upon a time, tapestries were only professionally woven by men, but times have changed and women, who have been weaving at home, took over these traditions. Maybe someday things will change again.
When we were creating the Tapestry Mosaic, which consists of about 950 squares, about a fifth of the participants were men and boys, since the workshop was also held in schools. Whether you are successful in weaving does not really depend on your gender. After all, weaving is rather mathematical.
All of Lithuania is encoded with colors and symbols in the Tapestry Mosaic. Maybe you have noticed some trends while traveling around the country?
When we invited people to weave, we encouraged them to choose a color based on how you feel in Lithuania, what do you feel for the country. Of course, many people choose yellow, green and red, this can be seen in a mosaic.
There are blue, gray, white. Some may have chosen white because of the light, others because of physics, after all, it can accommodate all colors. But at one children's day center teenagers chose black. There are not many black squares in the entire mosaic, but almost all of them were created during that session. Maybe it's adolescence, a difficult time for children in general. Perhaps such an activity helped them feel better. At first, they didn't want but then sat down and did it. It only takes two hours, and the more skilled ones could weave their part of the mosaic in an hour. And everyone finished it, no one quit, even if they had a hard time in the beginning.
As for the symbols, we offered traditional Baltic ones, but of course people also chose their own ones: a tree, a flower blossom, a house, an eye.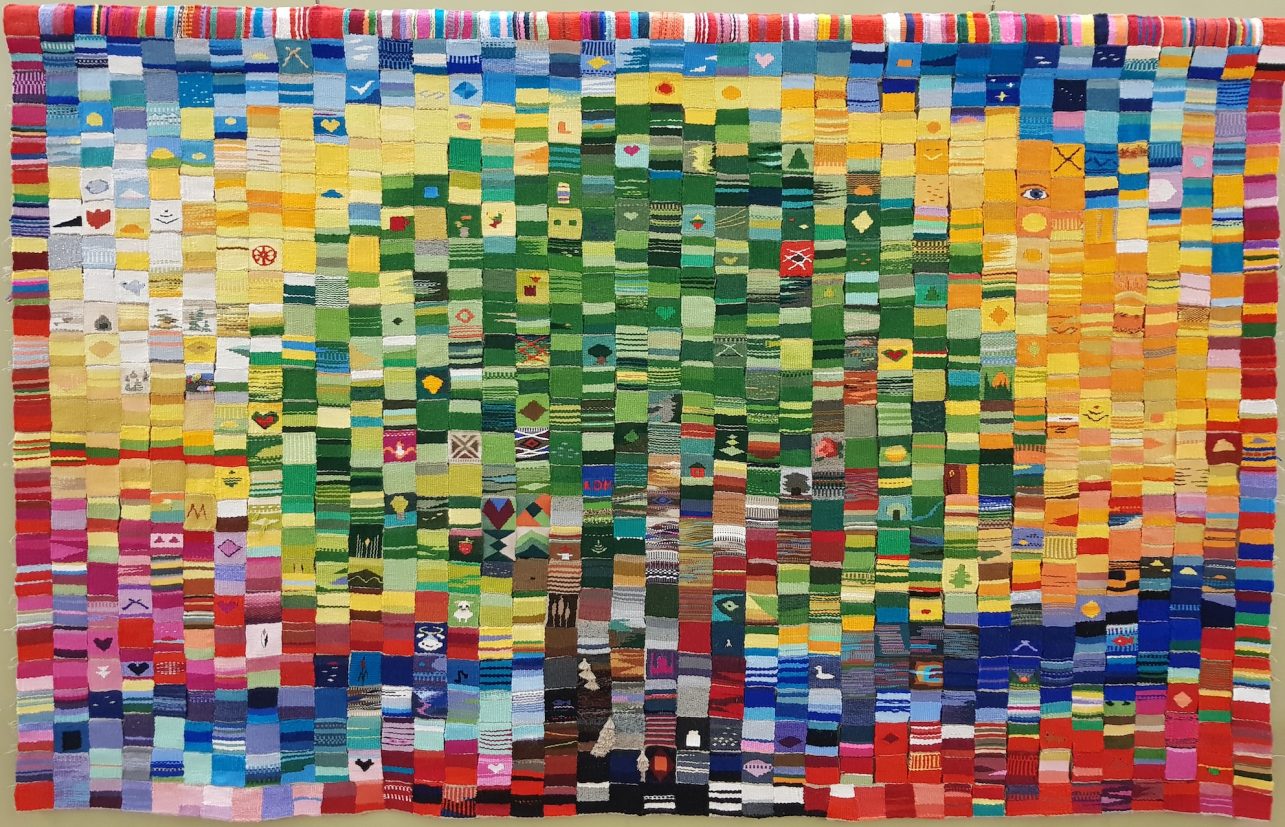 Tell us more about another KCC project Sounding Patterns. As far as I know, the project was presented in Obelynė, Rumšiškės, Petrašiūnai and Ąžuolynas.
After a year was dedicated to Marija Gimbutienė, our designer Aurėja Jucevičiūtė proposed the idea of the installation. She already had an interdisciplinary experience with one sound artist. At KCC we have a group of sutartinės singers named Sasutalas. Their singing is accompanied by audio and video track that talks about the seasons. The sound of loom weaving, recorded in Lithuanian Folk Museum, can also be heard in it. The installation is designed on fabrics, both authentic old ones and those woven on the looms we have already examined. We even bought some linen. We were developing the project during quarantine, so we planned to set up the installation in KCC, so that people could come one by one to see it, during dance performances, poetry readings or lectures. When the war started in Ukraine, the refugee registration center was set up here, so we decided to move to the city. We showed our project to Kaunas 2022 team and the girls suggested we show it in the Culture to the Yards program in Šančiai and Petrašiūnai. We had collaborations with artists, sutartinės singers, and in October, back in KCC, we will show another version.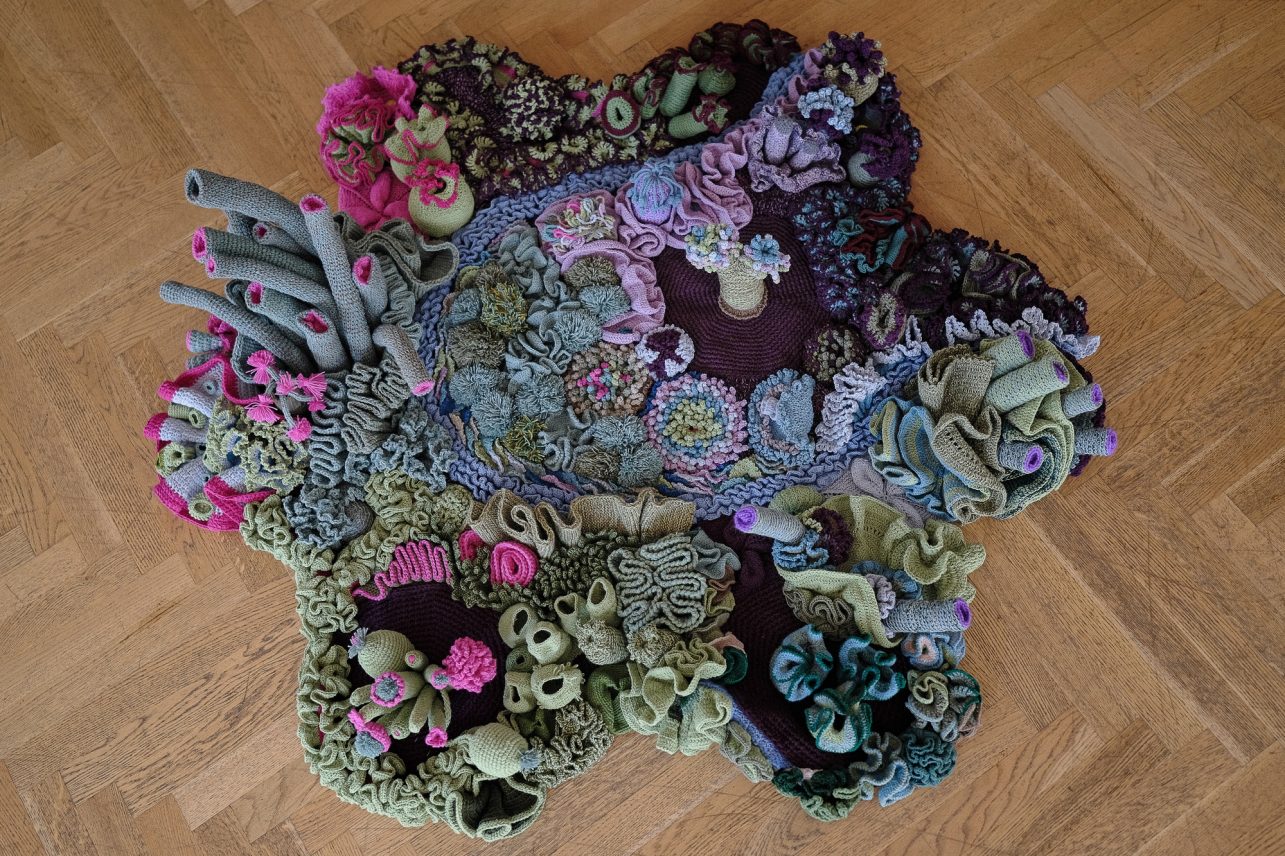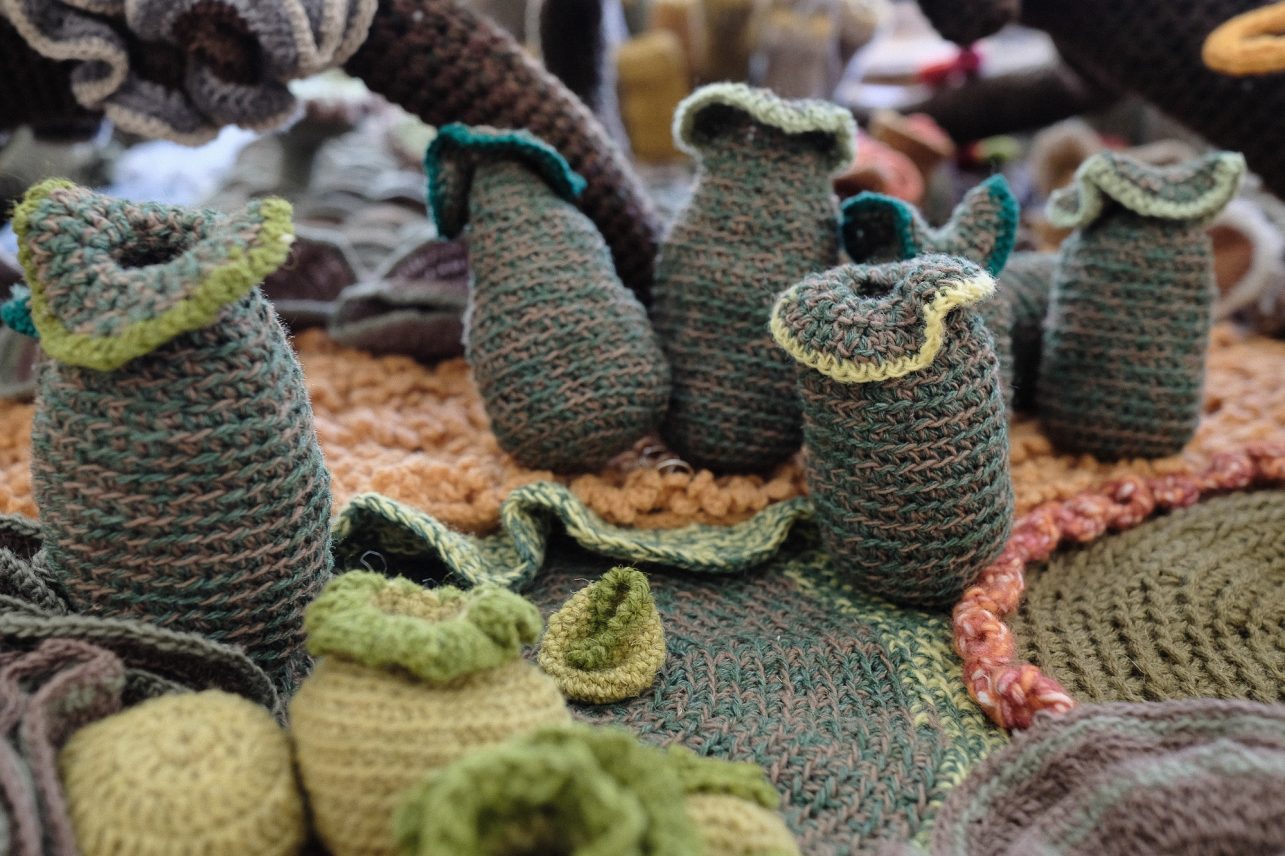 It is time to lie down on Kaunas beast's carpet/meadow. How did you start growing it?
When everyone was urged to contribute something to the year of the European Capital of Culture, Kaunas Beast program seemed the closest to my heart because it's a fairy tale! We created our own fairy tale. We said, OK, Kaunas Beast lives under the ground but where does it rest? Maybe it doesn't have to be an urban environment. This is how we came up with the idea of a meadow. We decided to use a wider range of textile techniques because we started last year during the quarantine, inviting people to knit, crochet, and weave at home. By the way, only women participated here, about hundred and fifty of them. The details of the carpet are very different. some women made a simple square, others knitted and crocheted several boxes of details. we provided the yarn but some of them worked with their own. Before the Uprising event everything went to KCC where we organized an open workshop to connect those details into the parts of the carpet. We already have six parts! We have two left. We are working with the women from the studio without counting the hours. The only thing we lack is space because the plan is to have a carpet with a diameter of about 8 meters.
And where will that meadow finally end up?
I haven't figured it out yet, we just love creating! We will present it to the public, of course. It could become a tool for education in some space visited by children, or maybe in a museum, under glass.