"I have been living in Kaunas for four years, and I have been married to a handsome Lithuanian for three years," Olha Sayenko starts a conversation with a smile. She came to Lithuania for financial reasons. Olha was a metrology engineer in the city of Dnipro in southeastern Ukraine, but the wages began to be delayed at the plant. She learned from a friend that a common acquaintance is already working in Lithuania and her relatives have a restaurant that could offer a spot for Olha. "No, I'm patriotic, I will not go anywhere," the woman thought at first. However, after considering everything, she left for Kaunas for a year.
The contract was coming to an end, Olha liked Lithuania, but she was missing her daughter and relatives, who remained in Ukraine. She decided to leave earlier, and the next day met her future husband. Initially, she visited Ukraine every six months. Due to quarantine, she could not go back for a year and a half, and now no one knows when she will be able to go again. Her daughter is studying at Vytautas Magnus University in Kaunas. I first heard about Olha in March. Her painting exhibition was running at the Panemunė branch of Kaunas Vincas Kudirka Public Library at that time. We met at the Kaunas Central Post Office, where the CulturEUkraine creative and cultural center opened on the initiative of Kaunas 2022, where Olha volunteers.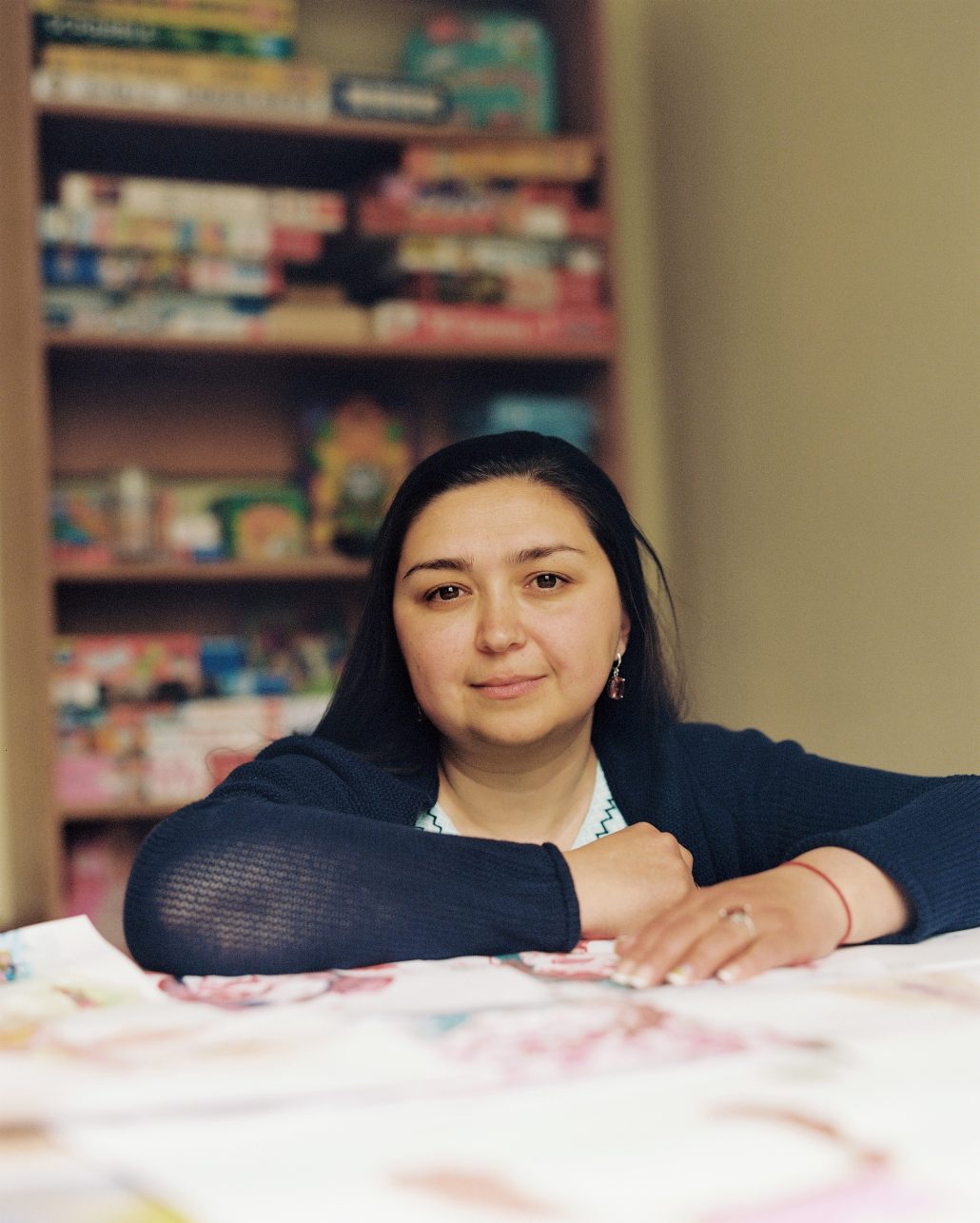 What did you think of Kaunas?
When I came here, the city seemed very quiet and cozy. I just didn't understand what people were saying, couldn't pick out the words. A month later, I got used to the fact that kita stotelė (next stop) is not one word. I don't speak Lithuanian yet, but I understand a lot. I will have to learn. After hearing me speak Russian people did not want to communicate at first but after learning that I am Ukrainian, the situation changed. Well, it's even easier now. Lithuanians are really amazing and very helpful. I haven't met a bad person here. All the colleagues at work were great. We, the community of Ukrainians living in Kaunas for a while now, have also become much closer. We have a common goal now – to help our compatriots.
And do you like Neveronys?
It is wonderful! A great, beautiful little town. We live next to a lake and a forest. The people are very warm, very helpful, although you will not meet them on the street often. Of course, now that I work at a local school, I meet more of them. I came to the school to volunteer when the war started because children arrived from Ukraine, they needed help to be less scared, to get used to a new environment. I have nine students, five of which are my own relatives. They have it harder than others because I never leave them alone, neither when they're at home nor when they are at school [laughs]. I also volunteer at CulturEUkraine, we do art therapy with both children and adults.
You mentioned that you have studied accounting, not really a humanities thing, is it? Where does the interest in art come from?
From childhood. I really enjoyed drawing. My grandfather would laugh and ask, what will I be when I grow up, and I would answer: a great artist. I got married later and I continued to draw while I was pregnant. After that, there was no time: work, studies, a child… True, in 2011 I painted pictures for my friends instead of postcards. I don't know, just had an idea and did it. When I came to Kaunas and the quarantine started, I was looking for something to do.
I decided to make flowers out of the wrapping paper. My husband bought me the tools; I made many flowers. Last year, when we celebrated Ukrainian Culture Days on the occasion of the 30th anniversary of Ukrainian independence in the restaurant Odessa near St. Michael the Archangel's Church, we created an arch from those flowers for models to walk through. By the way, in the restaurant you can find paintings made by me ant another Ukrainian woman.
Last January, before my birthday, my husband asked what I would like as a gift. I had seen sets of paintings by number on the internet and I told him, I would like to try that. And so, I did, and after a month, I decided to try oil paint. On February 6, I painted myself, my husband, and daughter. I decided that I could paint and want to continue to do so, and thus ordered more canvases and paint. It wasn't interesting to paint by the numbers, I wanted something of my own.
I photograph a lot, so I started painting from photographs. For now, I like to paint what I have already seen. So, that's how I became a great artist [laughs]. Only forward, there is no way back. I have already organized three exhibitions: in Panemunė, Kaunas Cultural Centre of Various Nations along with two other Ukrainians and Vytautas Magnus University. People – Lithuanians, Ukrainians, Kartvelians – buy my paintings. I was commissioned to draw Ukrainians dancing in the background of Kaunas Castle, but I accidentally drew Kartvelians dressed in Ukrainian clothes.
We draw a lot with the children here at CulturEUkraine. I don't tell them to draw anything specific. For example, I tell them to draw a forest, and everyone allows their imagination to run free, they transcend their limits. It makes me happy, even inspires me. Personally, I would say I am lazy – I draw what I see, and the children are so creative! See how many vase drawings we have here, and they are all different.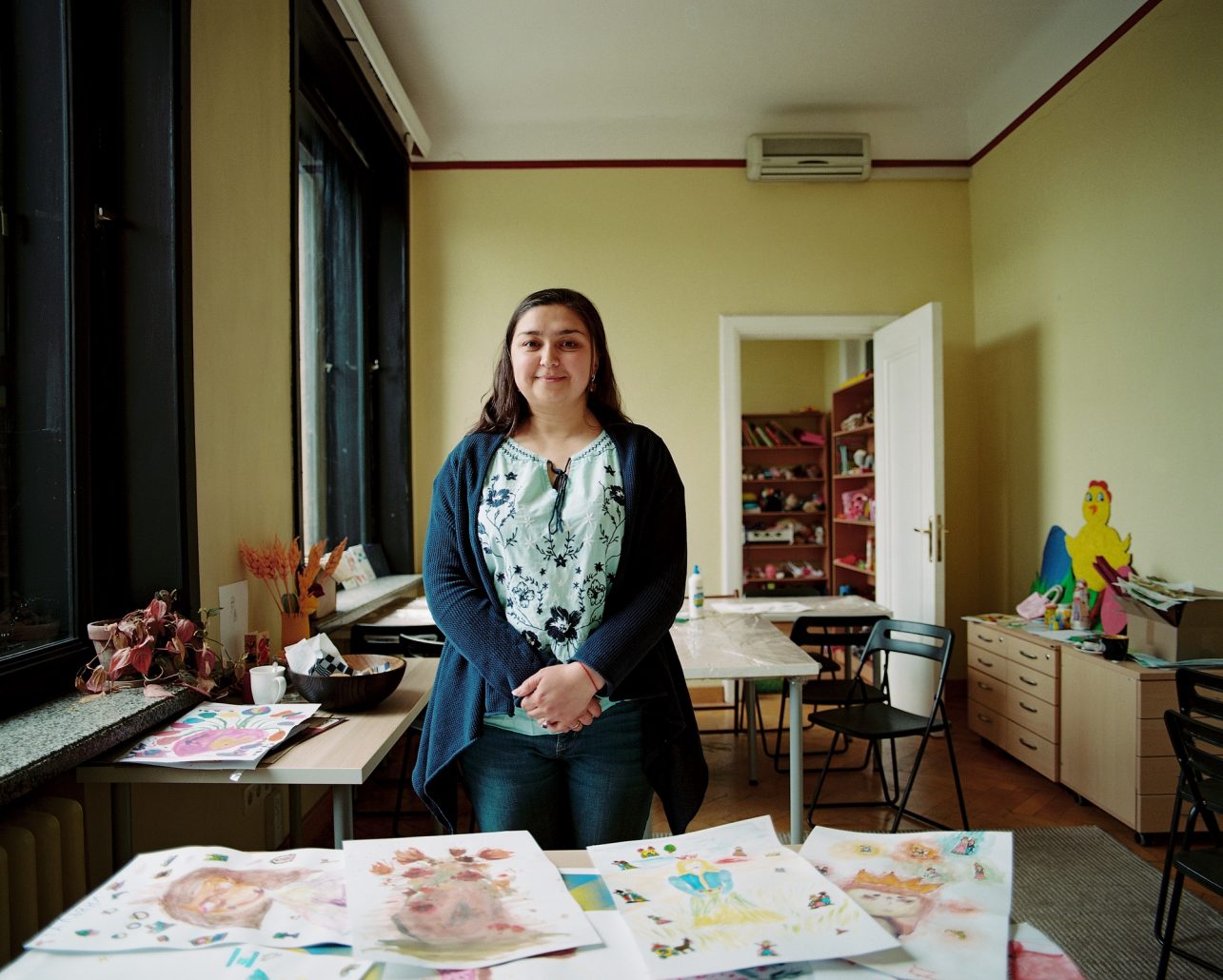 CulturEUkraine opened on March 17th. Did you join the activity right away?
Yes, immediately. I found it interesting because I was able to try something new. I like working with children, seeing their glowing eyes. It's inspiring. Of course, everyone is different. But there are no bad kids, I think, just bad parents. You can find a way how to approach every child. It is very interesting. They tell a lot of things – what they saw and did. We exchange energy.
There are children who come all the time – I call them professionals. I have taught them very well how to make flowers from paper. Some come once or twice and then I don't see them for a long time until they show up again. Some families do not stay in Kaunas, travel elsewhere or return to Ukraine. There are other activities in the centre as well, for example, candle making. I recommend children to try them all out. They need to talk to other people, not just me, they need new skills. Children's parents come too. I think that's great that they want to spend some time together, learn something, to forget. They change the environment. Children also teach the adults. Although, if parents like to control than it is better for them to go for a walk while the child is drawing.
What new skills did you manage to gain here?
Didn't necessarily gain but remembered. Patience is one of them. Sometimes it happens that I start the day off on the wrong foot, but it happens to kids too. Their age is different, in the school in Neveronys kids are aged 5 to 13. The five-year-old is not interested in tests, they want to go outside. Some write slower, others faster. One knows the multiplication table, and another cannot add one and one. I need to control everything, not get upset. We exchange roles for one lesson – children become teachers. They come up with tasks for each other, I have fun watching them.
Do children talk about war?
Yes, a lot. After returning home from the centre for the first couple of days I couldn't do anything. I just sat there silently. I heard so many things… I also heard a story at the school in Neveronys: a grandpa was riding a bicycle, bam, and his arms and legs were gone. One is to follow the news online, and the other is to hear a child tell you what they have seen with their own eyes. I would say those living testimonies were scarier than that February night when it all started. Now it's easier for the little ones, those memories are like a dream for them, not yet for their parents though. After all, the parents worry about their children.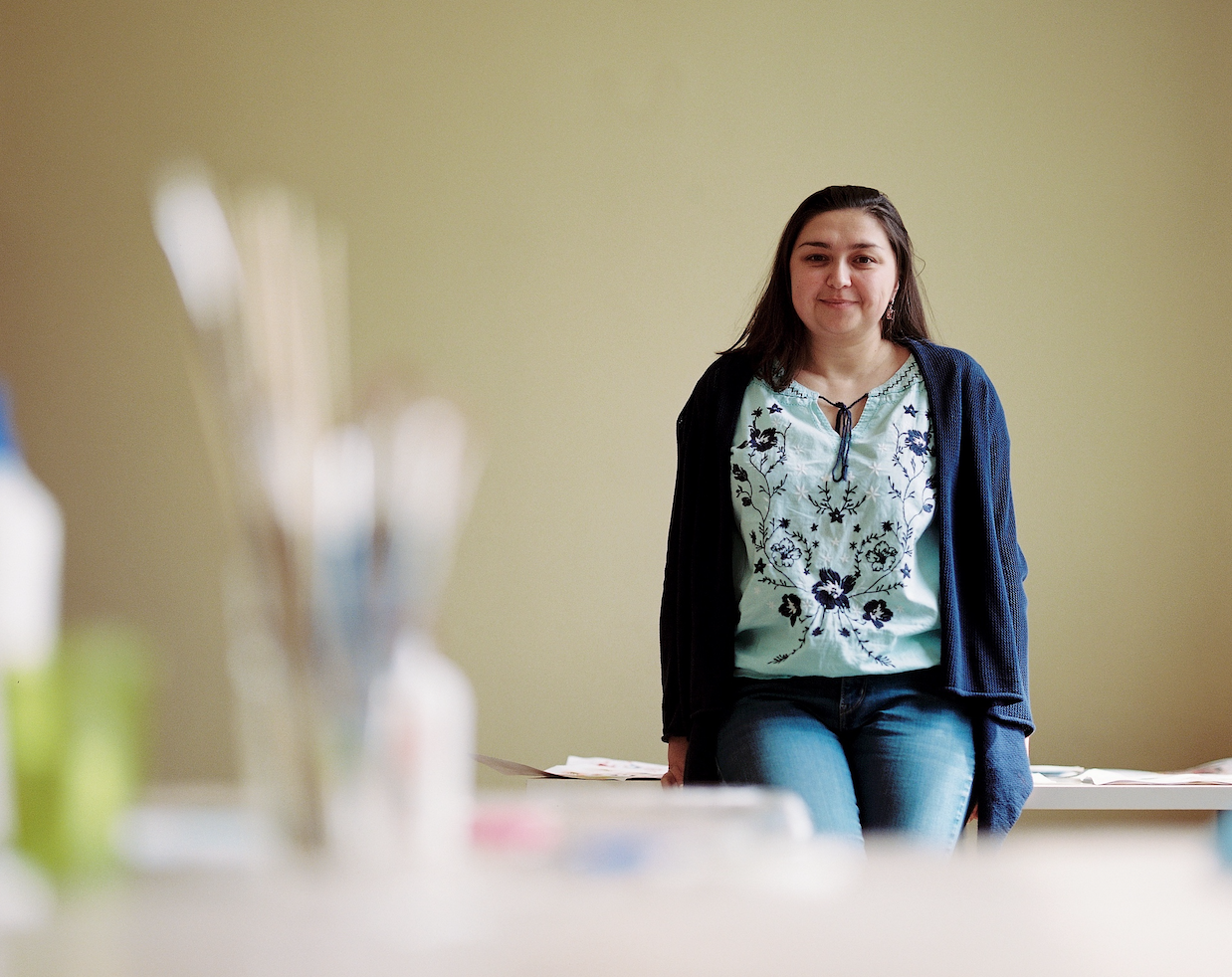 When did your relatives come to Kaunas?
In April, when the bombing of Dnipro began. My parents and one brother stayed there, another brother, because he has many children, came here with his kids and his wife. No one wanted to leave but I convinced them they have to bring the children to a safe place. When the youngest nephew heard that he would go to his aunt, he asked, "Will aunt Olha have a cellar for us to hide in?" When they came, they searched for it and did not find one. The eleven-year-old nephew was at first very afraid to sleep because our house had large windows: what if they broke? We won't be able to hide. I had to explain that this will not happen and that we will not need to hide. He was afraid of planes as well, after all, Kaunas airport is nearby. Even I get scared sometimes. Once, while I was speaking to a Ukrainian woman on the phone, a bomb fell on her house. I heard the explosion. She said, "That's it, I'm off to hide in a bathroom." After that conversation, the planes started scaring me too.
My husband is a real hero. He understands everything and helps us all a lot. It is clear that it is difficult for him too – ten Ukrainians in his home! Well, we are definitely not bored, we also have a small puppy. Children play with it a lot. My husband's friends also help. They brought bicycles, clothes, food – so much of everything! My husband brought many things to CulturEUkraine. And I am not even talking about finances, I am volunteering after all.
All my relatives are working or studying, but they are also waiting to get back home. And there… I don't know how things will be. Anyway, everyone's situation is different. I met some girls, who don't want to go back to Ukraine. Some simply have nowhere to return, others have found themselves in Kaunas.
For how long, do you think, there will be a need for a place like CulturEUkraine?
Of course, I want the war to end soon. But such a center was really needed! We kept asking Odessa with the local Ukrainian community, to receive us, and they were always welcoming. Later, it started to get a bit embarrassing to sit there for so long, so we knocked on the door of Panemunė library. They received us with open arms. We organized film screenings and events. I am very grateful to these people for everything. We also brought some Ukrainian children's books there. Now other libraries got such shelves as well, with so many Ukrainians arriving. Everyone wants to read, but what? We contacted the Lviv library, they arranged a shipment.
So CulturEUkraine is a very good place not only for the refugees but also for us who have lived here longer. We have the freedom to do meaningful things. Girls gather to dance, people communicate, sing, and students spend time together. We don't prepare food here because there is no kitchen. But girls bring home-cooked meals to the gatherings. Ukrainian psychologists come to volunteer; their help is sorely needed. And it is still difficult to talk about the future at this point. Who can tell what will happen tomorrow? Personally, I continue to say that I don't know what I am going to be when I grow up because I still don't feel like an adult.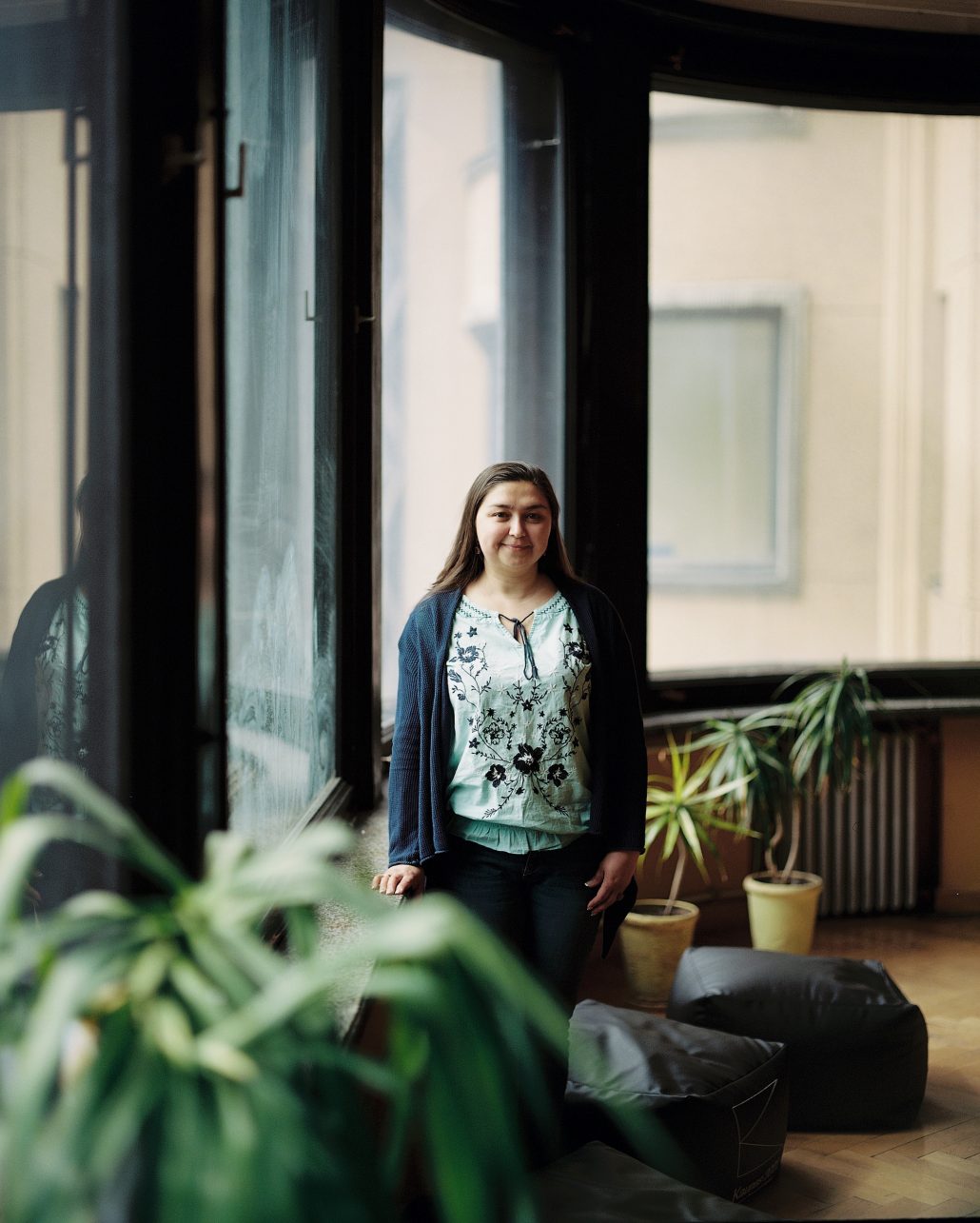 You know, today, when there is so much opportunity and desire to get to know Ukrainian culture better, it seems to me that even though its modern, it is much closer to tradition than ours. Much is said by the fact that the whole world is celebrating Vyshyvanka Day. Even the Eurovision winners' work seems modern, but it is full of national motifs. Why do you think that is?
Maybe it's in the genes. I remember, as a child, my grandmother, my mother's mother, told me how they used to celebrate the holidays, what traditions they followed, and what songs they were taught. It was incomprehensible to me then, probably for the other children as well, but when I became a mother myself, it became clear. During the years of Soviet occupation, same as here, everything was censored but managed to survive. By the way, my great-grandfather's family comes from Lithuania! When I was going to Kaunas, my mother asked, whether it was my motherland calling [laughs]. In our family we used many old words, which are very similar to Lithuanian ones. I've never heard them anywhere in Lithuania.
I really wanted my girl to stay in Ukraine and she dreamed about … Korea. We already have some of Lithuanian blood form my dad's side, she had learned the language and all that. And when we were in Kaunas and the war started, she told me, "I realized how much I love Ukraine, I want to go and fight there." But I talked her out of it, I told her that we are in Lithuania for a reason, and that we can contribute to the fight by engaging in information warfare. That's what we did day and night. We did not release the phones from our hands.
Do you feel at home in Lithuania now?
Yes. Especially in Kaunas, although I have already toured the whole country. And in Kaunas I really like the Christ's Resurrection Church. When I got inside, I thought, oh, that's beautiful, and while climbing to the terrace, I said, "God, I am coming to visit you." I felt euphoric when I got to the top. Usually, I am afraid of heights, but I felt at home there.
I also like the Ninth Fort. A lot of people say it has bad energy because so many people have been killed there but I find it peaceful, as if the rest of the world did not exist. I find cemeteries peaceful too, I enjoy taking walks there.
And the Devils' Museum! I must have visited it for at least seven times, and I keep returning. The first time I visited it, it was summer and very hot. I said, "Wow, this is like pekla (hell)." And then I saw an inscription: pekla. It turns out that this word means the same in Lithuanian and Ukrainian.