"Should I pour more water for you? No? Then finish your buckwheat," one of the sweetest barmaids in Kaunas addresses Mikas when we go for a goodbye. I ordered Indian tea at the tea house of Vilties pharmacy, because of the freezing temperatures outside. I wondered whether Mikas Zabulionis, the DOP of of Klostės (Pleats or Folds) saw this pharmacy as one of the locations to film the story of the stop motion animation. Turns out he had brought the director Aideen Barry here. But there are so many of those good locations that the teahouse will not become a movie star this time around.
I met Mikas a few years ago, right after I moved back to Kaunas. While sipping our two different teas, it turned out that he had only just returned also, from Buenos Aires, where he had tried out Argentinian life. Previously he tried to study in Ghent, but failed; then he studied animation in London, was very interested in video mapping. He didn't receive his diploma, but he is still happy because he was able to get acquainted with many different art techniques. "At school, they told me that I will become an architect because I drew the facade in straight lines, and yet, I was more interested in animation," Kaunas resident, who started working at his friend's video production company, says.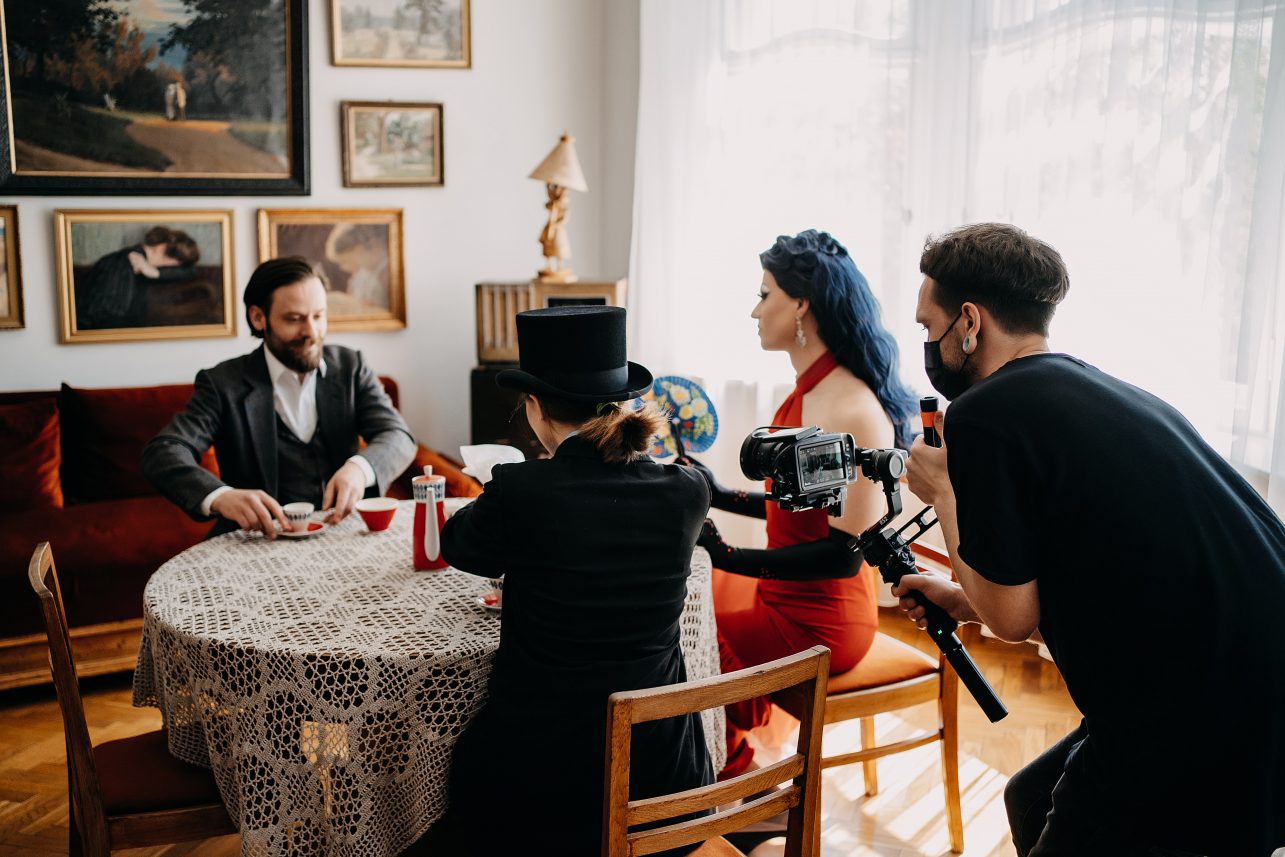 Mikas' grandfather, architect Boleslovas Zabulionis designed the building of Kaunas County Public Library that looks like a book fortress. He is also a creator of many other objects, for example, the former political education and now the VMU central building was designed by him. However, he doesn't always agree with how they are renovated, for example, he cannot get used to the new face of Vienybės Square (he had designed it once together with Algimantas Sprindys). "As a child, I never paid much attention to the library building, only later, when I started to delve into Soviet architecture with friends, I noticed its cosmic beauty."
We will return to the "fortress" of the library later. "My father is an interior designer," my interviewee adds. He also clarifies that as a child he was surrounded not so much by beautiful designs but by drawings and models. "When I had to draw my room at school, I drew it without furniture, because that is how it really was. My teacher wouldn't believe me and said I was lazy," Mikas giggles. He admits that when he visited his dad at work, he liked to play around with AutoCAD. Quite an interesting hobby for a child.
When he doesn't wax surfboards and doesn't listen or play music, Mikas, as you already understood, creates images or films. Together with like-minded people a few years ago, he released a short pale romantic film Lost and Found Kaunas, but he doesn't feel like talking about it with me any longer.
"I think that's when many similar initiatives started, and ours, which was supposed to offer visual routes, maps, remained in a teaser stage; there was no need to pay much attention to modernism," kind-eyed guy, who grew up in Vilijampolė, timidly says. I would be inclined to think that those initiatives first emerged in the bubble of those exploring the environment, and certainly not on the internet or other media. In addition, many of them are simply aesthetically charming, of good quality, but somewhat distant: they do not have that personal romanticism that Lost and Found Kaunas had. When even a crack in the facade looks like a scratch made by a loved one's nail. But let's move on.
It was precisely because of the Lost and Found Kaunas that Ugnė Marija Andrijauskaitė, the coordinator of the Kaunas 2022 program Modernism for the Future, remembered Mikas, when she was thinking about the future team of Klostės. I quote the presentation of the film – which will premiere in the summer – created by Aideen Barry and many Kaunas residents, "The film is a metaphor for time that folds and bends like a fabric, like the stories that repeat and come in circle. Recurring elements in the architecture of Kaunas interwar period modernism can also be called folds. It is no coincidence that the folds also describe the creative process of this artistic history. The film is created by means of stop motion animation, and thanks to it the video artwork constructed from thousands of photographs is not static, but moving and vibrant."
"When someone says "film" you anticipate one thing but when they say "animation", you have a different idea," Mikas clarifies my expectations as well as those of other future viewers of Klostės. As a cameraman, he does a lot on this stop motion animation project. He builds a frame and adjusts the focus or follows the actors with a camera making hundreds of shots. This can be truly challenging for the person, who is being photographer, that is perhaps the reason why so many fearless dancers act in Klostės.
Klostės was filmed in various spaces of Kaunas, as well as in the A. Žmuidzinavičius Creations and Collections Museum (a picture from the backstage illustrates this article), in the autumn of 2020. After that, the director went back home and returned in May. "We worked all month almost every day and, in addition to that, Aideen worked a lot in her home studio, she created objects from clay and so on." Mikas mostly appreciated the opportunity to get inside the buildings that are usually closed to the public; to see how the architecture – for example, Kaunas Central Post Office or a former Research Laboratory and currently KTU Faculty of Chemical Technology, or Lithuanian University of Health Sciences' Museum of Anatomy – looks from the inside, to see it from up close.
"I don't think this film introduces architecture; it rather uses it. There are mise-en-scenes chosen by Aideen. These are either myths or real Kaunas stories that take place in a modernist environment. Of course, the stories are related to the buildings that we are in, but they are not about them."
Mikas has already finished his work in Klostės, although it is strange for him not to participate in post-production, "This happens rarely, so it is very unusual for me, and I am very curious and cannot wait to see the final result." But it provides time for personal projects.
And now we return to Kaunas County Public Library, which is currently closed for renovation, and its tower that inspired Mikas and his friends Julija Račiūnaitė and Lukas Mykolaitis to study the phenomenon of accumulation and the human brain as a container, "There is quite serious research happening, we didn't think it will blow up like that." The material is still being collected. The visitors of Kaunas Art Book Fair were able to get acquainted with one of the project's stages and we will hopefully learn more about it next year.