Do you often have dinner with your closest neighbors? And do you greet the residents from the next floor, the other side of the street, the other district? The Courtyard Festival, a tradition for several years now, invites people to get to know their environment better, as well as the people living in it. 
The main highlights of this event, delighting Kaunas residents each spring, consist of the row of tables stretching along Laisvės Avenue, a joint dinner with familiar and unfamiliar neighbors, and exclusive performances by groups and organizations. We talked to Simona Savickaitė, the coordinator of Kaunas – European Capital of Culture 2022 Fluxus Labas! community program and organizer of the Courtyard Festival about the beginning of the festival (which will take place on May 20 this year) its goals and this year's event.
How was the Courtyard Festival born?
The Courtyard Festival's idea was born to Vytenis Jakas when he was walking on Laisvės Avenue. He thought that people living here could bring out tables, chairs, musical instruments and sit down together for a neighborly dinner. That's when the vision about Courtyard Festival being a festive event for people – created and experienced by them – was formed. This tradition continues to this day. We help organize the Courtyard Festival each year at the end of May, during the European Neighbour's Day, but the content of the initiative is created by its participants: Kaunas city and district's residents and guests.
Why is this festival necessary for the city?
To put it simply: people are sincerely interested in it. Every year I receive questions from Kaunas residents as to whether the event will take place this year. People have come to enjoy this festival, they are accustomed to it, it has become a part of Kaunas' identity. So, the courtyard festival takes place because of people, who excitedly look forward to it every year.
This year's festival will be the fifth. How has it changed and grown over the years?
There have been no two identical Courtyard Festivals. The initiative changes, grows and takes on something new each year. The first celebration, thanks to V. Jakas, took place in 2017. It was very small, but cozy, open and sincere. Neighbors invited by Vytenis took the tables out and sat for dinner together. Next year, Kaunas 2022 and Kauno centro būstas joined the organizational process. Then, we started inviting not only residents of Laisvės Avenue or city center to the festival, but also other residents of Kaunas. The number of participants in the event gradually increased. In 2019, during the reconstruction of Laisvės Avenue, we were not able to traditionally line the tables, so we invited the people to gather around St. Michael the Archangel's Church.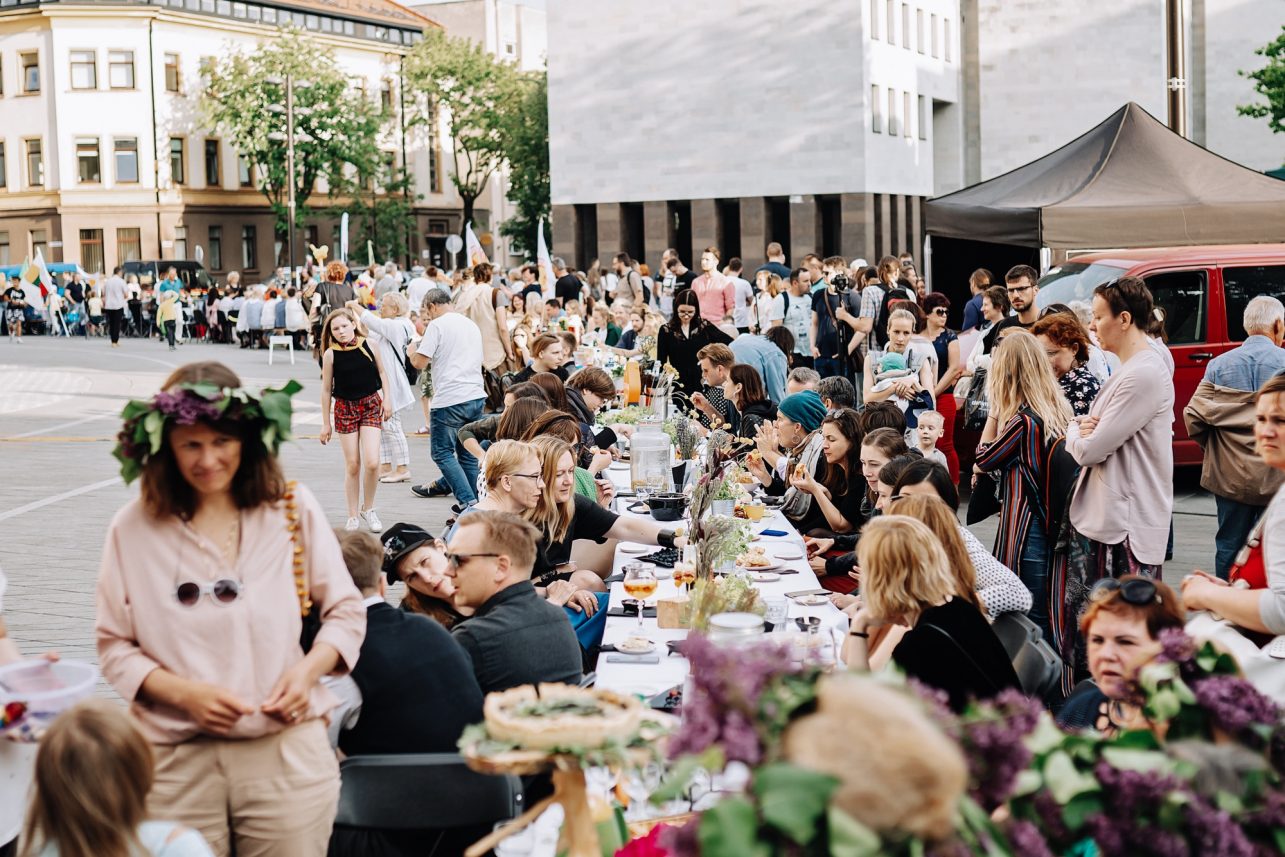 We had to really get creative when it came to the pandemic-related restrictions, but it wasn't a negative challenge. It has unleashed our creativity, inspired us to look for other ways to nurture the community spirit. In 2020, however, the celebration did not happen. It was symbolically mentioned during Kaunas birthday: we invited the restaurants, bars and cafes of Laisvės Avenue to set up their tables at a safe distance. Last year, due to the continuing restrictions, we could not sit at one table again, but we prepared special stands on which various Kaunas organizations, communities, art groups and everyone else, who wanted to share culture instead of food, appeared. I was very pleased to hear the thoughts of the participants after the festival. They said it was like a nice gust of culture that we all have been longing for. After this celebration, the city seemed to have been revived. We realized that it is not only food that feeds people, but culture does an equally good job.
What new can we expect this year?
This year we are celebrating the European Capital of Culture title that was awarded to Kaunas, so the Courtyard Festival becomes the highlight of The Confluence – the second major event of the program. We hope that this year's event will be the biggest Courtyard Festival to date. We are planning to create platforms in Laisvės Avenue for performances that will be carried out by around fifty collectives in several hours. The tables of cafes, restaurants, residents, communities and organizations will be spread out between these podiums. The artists will also perform from balconies, which hasn't happened in the festival before. We are also expecting guests from other European Capitals of Culture. Thus, it will be possible to get acquainted with the culture and cooking traditions of different countries during the Courtyard Festival. Ukrainian artists, who settled in Lithuania are also contributing to the activities. Their table will be located near the Central Post Office. The event will be closed with a special concert performed by Kaunas City Symphony Orchestra next to St. Michael the Archangel's Church.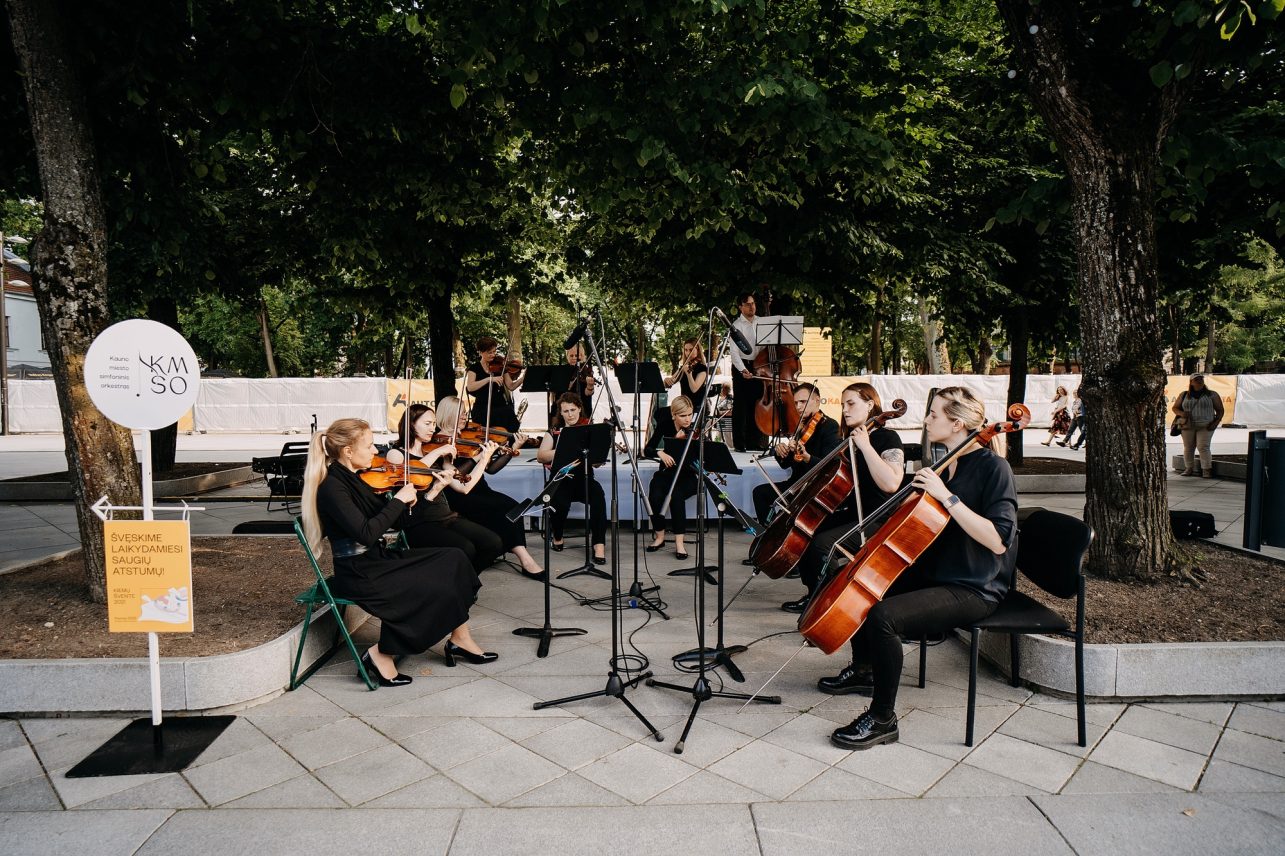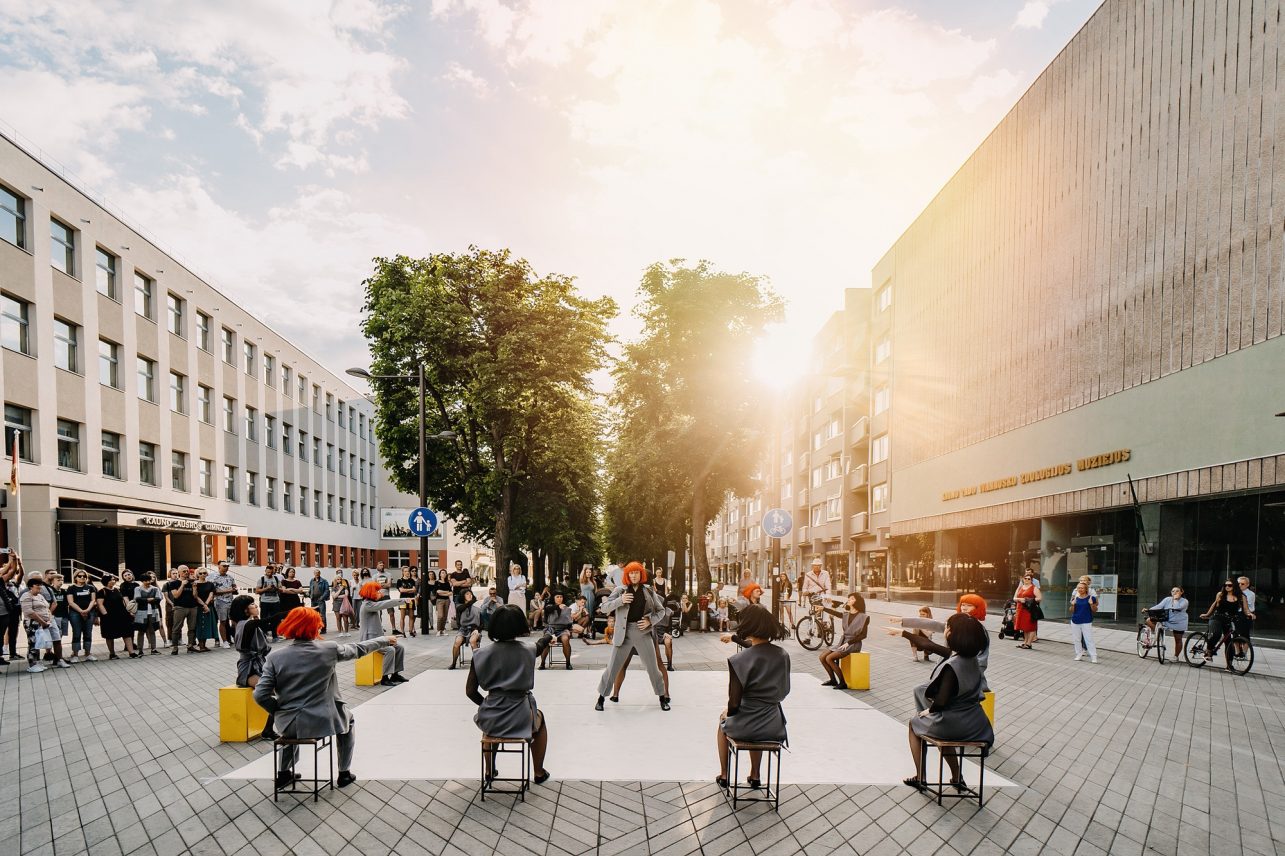 Only the residents of city center took part in the first celebration. And what communities are joining the initiative now?
Since 2018, we have been inviting residents of the entire city of Kaunas to join every year, but this year we pay special attention to the districts. The invitation to participate is still valid, so I can't yet say how many and what community shows and tables we'll see. Undoubtedly, the communities of the city center, the Old Town, Petrašiūnai and Šančiai will take part in the festival. Indeed, without them, this event would be hard to imagine. I hope that those communities that haven't participated yet, because they may not have dared, will join this time. We also invite corporate teams that want to strengthen their sense of community and contribute to social activities. The open registration to all who wish to participate was announced on May 1 and is valid for fifteen days. Everyone is welcome at the celebration!
Traditionally, the main events of the initiative are concentrated in Laisvės Avenue. Why was this particular place chosen?
Perhaps V. Jakas would answer this question better, but it seems to me that this street is the central space where everyone is comfortable and happy to meet. It is a familiar place that doesn't create a barrier. If we were to organize this festival, for example, in Šilainiai, I do not know whether people from Petrašiūnai would be inclined to go there to celebrate neighborhood and community. And the city center seems like it belongs to all of us and that is what unites people.
Does the Courtyard Festival extend to other parts of the city? Have you heard of any initiatives organized by the residents themselves in their courtyards?
Communities usually start to move in May, when European Neighbours' Day is celebrated. I have received many photos from such smaller celebrations in Domeikava eldership, Šilainiai or Aleksotas districts. People take their tables outside and a sort of communal spring awakening takes place.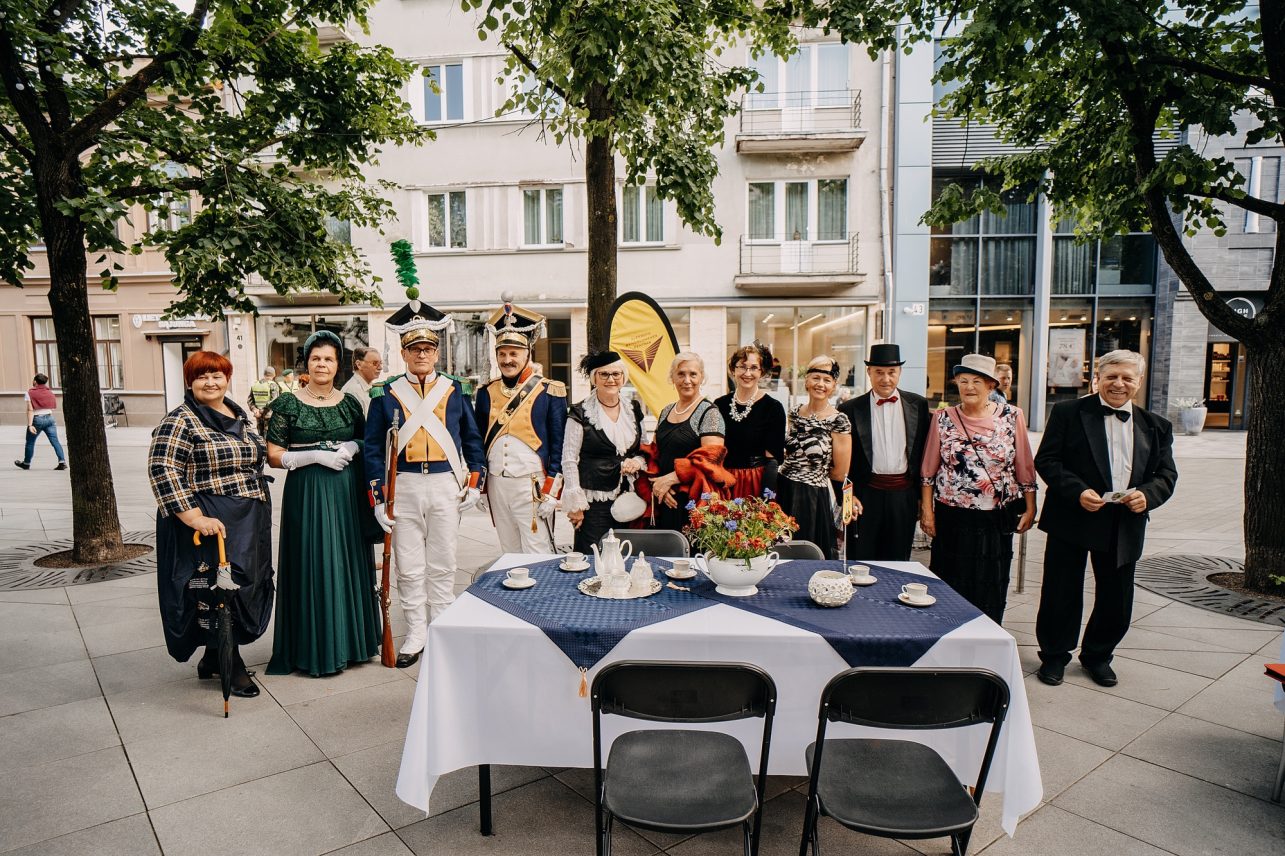 Do you see the potential for continuity of this festival after 2022?
Kaunas 2022 is gradually gathering smaller organizations and communities that will remain active after 2022. These include the Fluxus Labas Community Program, which includes the Courtyard Festival. We will have to solve the financial issues, but we will make every effort to continue organizing this event because we feel the city needs it.
How do you personally understand the neighbourhood? Has this festival changed your understanding?
First of all, I see it from a practical point of view because I equate it with security. I want to live, knowing the people behind my walls. I want to know their names, I want to be able to say hi, ask for help. It is important for me to be a part of the surrounding community and to feel safe in it. In a broader sense, I see the neighbourhood as a huge humane and creative energy. I want to feel like a big family with my neighbours. As the saying goes, often the neighbour is closer to you than your family.
Naturally, my understanding of what the neighbourhood means has changed over time. At first, it seemed fun to just get to know the neighbours next door. And with the appearance of the Courtyard Festival, I felt that the concept of neighbourhood could be broader – these are not just people behind the wall but also various organizations of Kaunas, communities and all residents, forming one large urban community.