I loved Kaunas Photography Gallery even before I started studying art history. I was always fascinated by its exhibitions, the frequent change of expositions, and the friendly employees. A little over four years ago, I also took my very first interview with British photographer Homer Sykes at this gallery.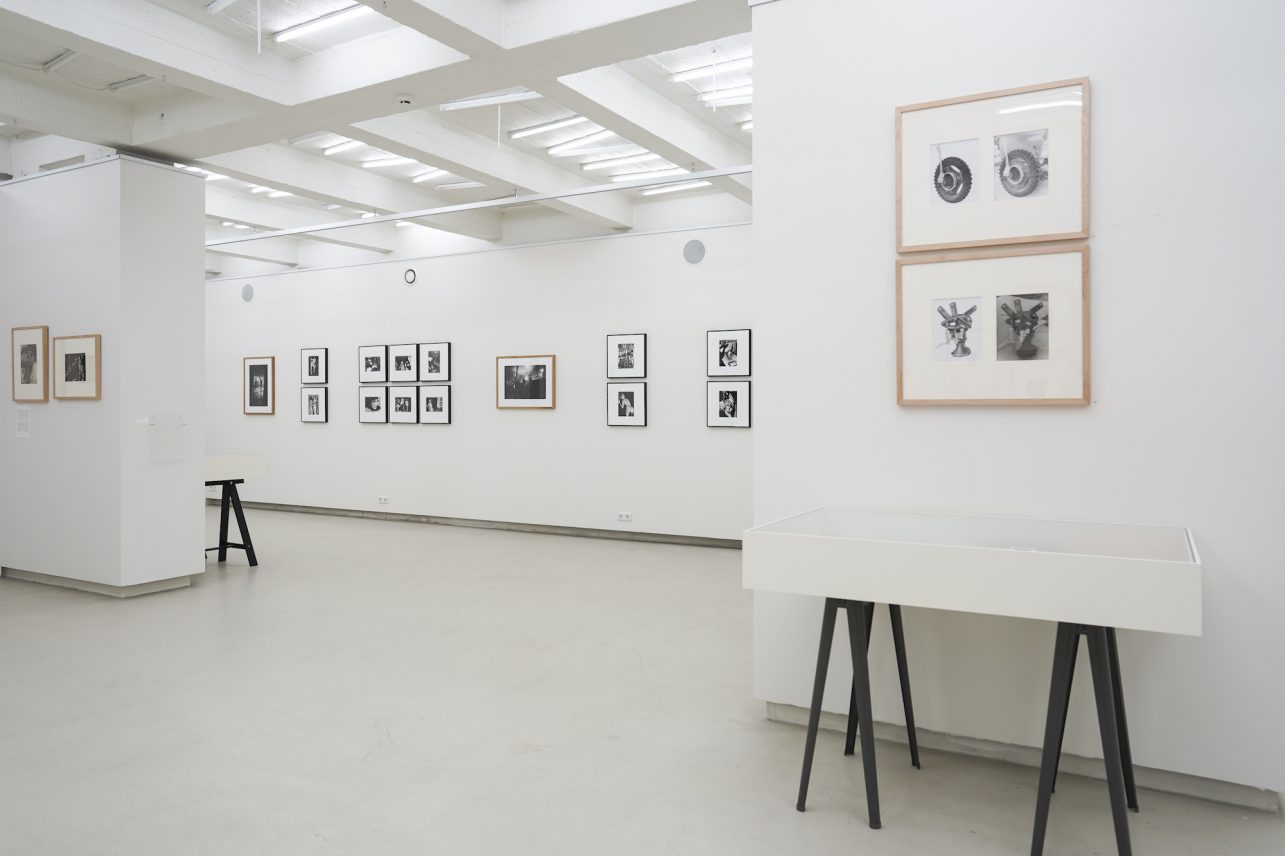 Since then, my love for photography and the only gallery in Kaunas dedicated exclusively to it increased, and I also discovered writing. Perhaps that's why, to this day, whenever I visit a new exhibition of contemporary creators, this gallery evokes a hard-to-explain nostalgia in me. I have a sense that the small gallery located in Vilniaus Street in front of the Cathedral has the same effect on other visitors, so I was sincerely happy for the opportunity to write about it in this issue. We talked with Kaunas Photography Gallery and the bookstore manager, art historian Justė Litinskaitė about the gallery's values, exhibitions, publishing, and future plans.
Kaunas Photography Gallery is over 40 years old. What are the main values and principles that have developed during this period and how do they determine the gallery's activities to this day?
During these four decades, the gallery's fundamental values and essential principles have remained the same. It always aimed at fostering meaningful Lithuanian photography and promoting in Lithuania and abroad. In the last decade, we have been developing new areas of activity. The exhibition organizing was supplemented by publishing and a residency program. We have also been implementing quiet and meaningful work for some time now: we are digitizing archives. We are currently digitizing the works of Irena Giedraitienė and Romualdas Rakauskas. In the long run, this process, invisible to the public, manifests itself in exhibitions. However, the goal of all the different activities remains the same: to spread the message about professional photography.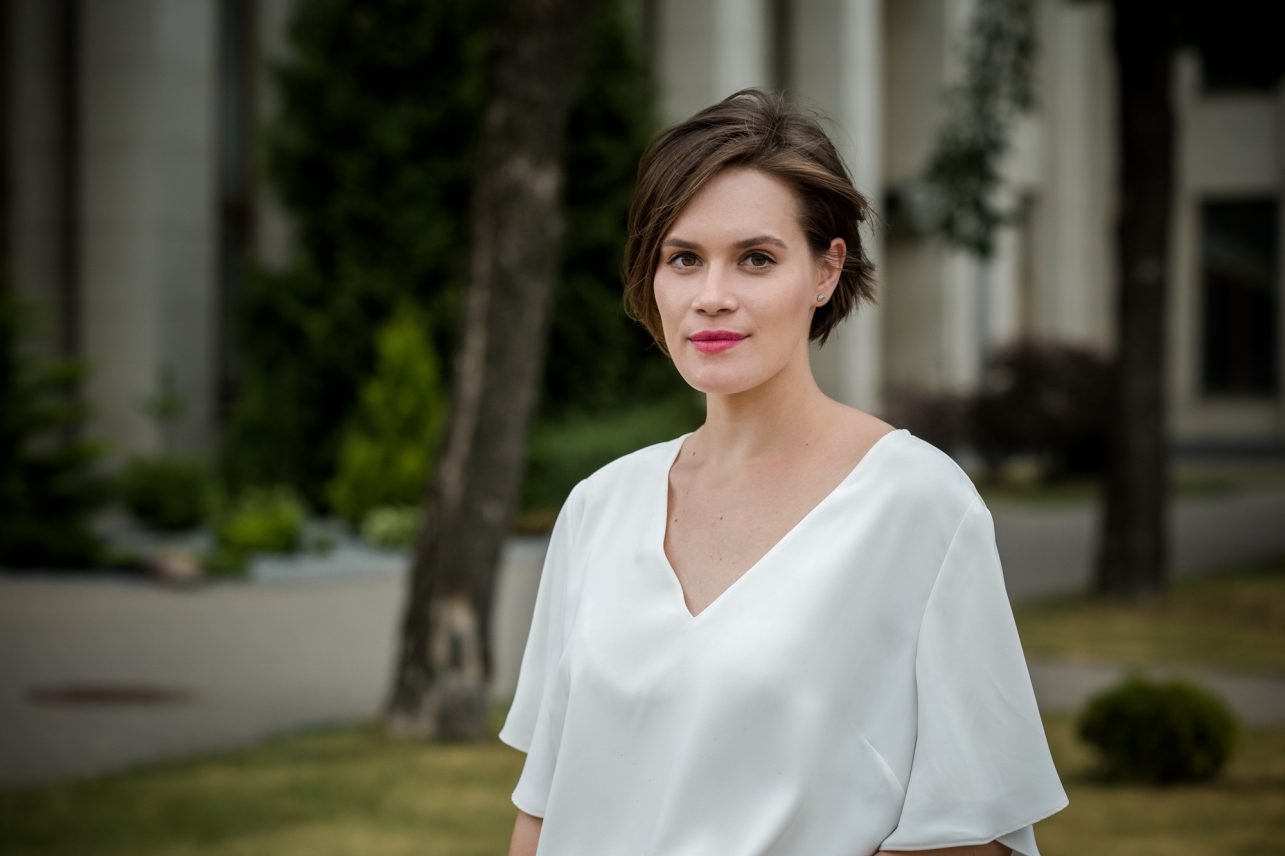 The gallery organizes about 10 exhibitions in Lithuania annually. How do you choose which photographers to present? Is this decision determined by the theme of the photographs?
Naturally, it happened so that whenever we talk about the presentation of Lithuanian photographers' works, we focus on humanistic photography and its different interpersonal subtopics. But in the general context, the themes of the exhibitions presented in the gallery are very diverse. We are not distancing ourselves from general global art trends. By observing what is happening around us, we try to reflect on today's issues.
The works of various photographers and ideas conveyed by them reach the gallery organically. We communicate with photographers in various formats: in educational activities, by organizing exhibitions, following their work and helping it unfold. We usually notice the foreign creators at the international art publication fairs and festivals. By closely following the Lithuanian and international photography scene we discover artists whose works we want to present, and their art finds itself on the gallery's exhibition program.
Increasingly, exhibitions in the gallery are arranged not only traditionally on white walls, but also spatially, by using all of the rooms available. One such example is the works exhibited in the gallery windows during the quarantine. Why is it important for you to look for new ways to present photography?
The simple answer to this question is that the audience does not want to look at the same things over and over again. It is also common for artists and other actors in the cultural field to always look for creative solutions. And most importantly, non-traditional spaces create new meanings. After all, each exhibition brings about new needs and challenges.
When organizing the expositions in windows we cared not only about the different format but also about supporting the artists. Quarantine has undoubtedly affected the lives and activities of creators, so we wanted to continue popularizing photography and also to support artists financially. Of course, it was interesting to experiment with the shape of the window itself, to give meaning to it with works selected specifically for them.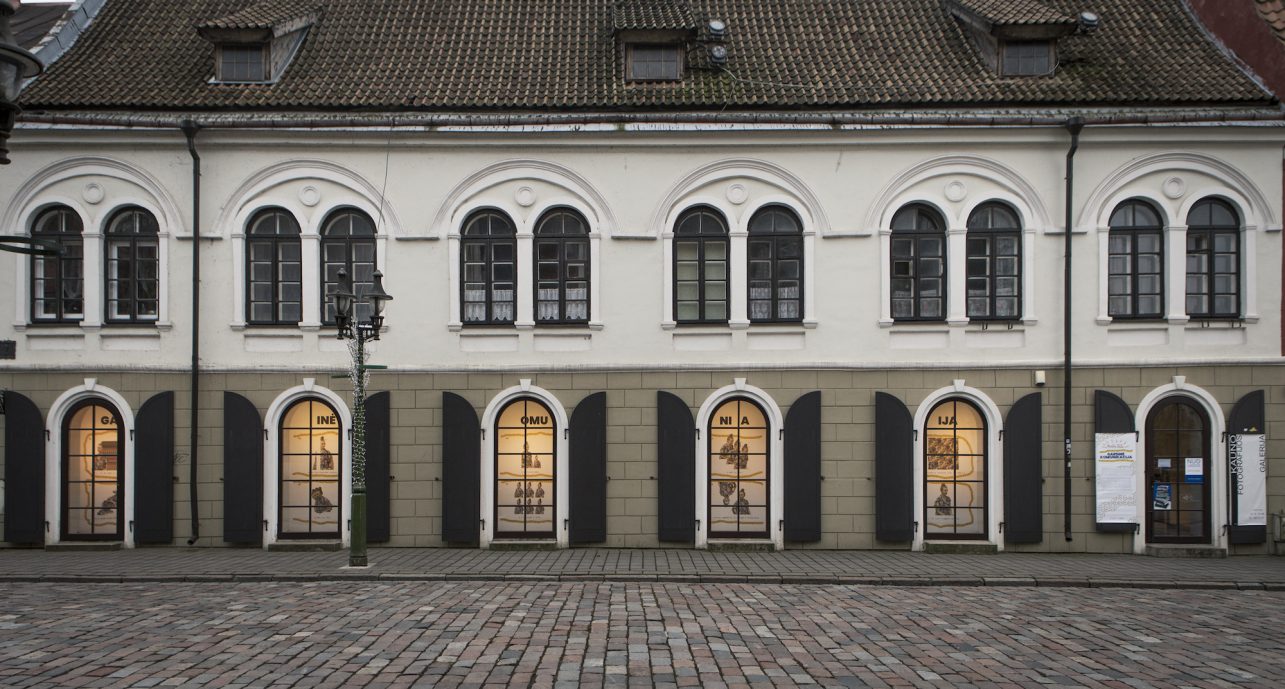 The gallery is also working on projects that allow exhibitions to leave the interior of the building altogether and present photos in public spaces. What do urban spaces provide for photography exhibitions and vice versa? How do you choose such spaces and exhibitions that suit them?
It is healthy and wise to leave the usual spaces if you want to engage in a thorough dissemination of any type of art, as not everyone visits galleries and museums. Thus, exhibitions in public spaces allow us to reach a new audience, which later may be motivated to come to the exhibitions in the gallery. This would be the primary incentive to hold exhibitions in urban spaces, but this format can also provide new contexts, encouraging different reflections. Therefore, in order to discover new experiences and points of view, to supplement the exhibitions with relevant topics, it makes sense to occasionally escape from the traditional white cube space. When organizing such expositions, we try to look for unity with the environment, see how the photography connects to space. Sometimes it is very obvious, other times we need to think about it more, but we try to never choose a space in vain.
Until the end of this year, the exhibition of Aleksandras Macijauskas is running in Vytautas Magnus University Botanical Garden. Here we present photography series Departing Trees, in which the photographer captured the dying tree stumps. Black and white photographs look different in nature. This connection is quite obvious, and the exhibition silently invites us to evaluate it from an ecological point of view, to observe human's relationship with nature, to consider how much we give back to it.
The idea of a virtual Kaunas Photography Gallery, that was being developed for a while now, should also see the light of day in the near future. This autumn we plan to present a virtual gallery, where we will regularly organize photography exhibitions dedicated to the virtual space. We are very much looking forward to it, because we see the move to the virtual space not only as an opportunity to reach a more diverse audience, but also as an opportunity to experiment and discover unexpected exhibition forms.
However, exhibitions are not the only way to get out of the gallery spaces, we do the same with publishing activities. Books have long become a musée imaginaire, where we can present entire works of art, their collections and thus create meanings. Books do this as well as exhibitions, so we see publishing as an equivalent means for showing the artist's photographic mindset. In addition, books can be accessed by a larger number of people; they allow us to experience photography differently. We can flip through albums for a long time and in doing so get acquainted with the art presented in them.
How do books and albums published by the gallery come about?
Each book is a unique phenomenon and needs to be looked at individually. We try to find interesting design solutions, and we also pay a lot of attention to the behind-the-scenes process – we organize creative workshops that help artists improve their publishing skills. The books published by Kaunas Photography Gallery have received recognition in many international competitions. This fall, we will be organizing a book art workshop in collaboration with the European photography platform Parallel. Polish photographer Rafał Milach and graphic designer Ania Nałęcka will help creators residing in Lithuania to express their ideas in book format.
We are currently preparing four publishing projects. We plan to publish Ieva Stankutė's book About the Navel soon. In the book, the artist sensitively, subtly, through a personal prism, archival photographs and examples of handicrafts explores the topic of motherhood. It is interesting that only a part of the publication will be produced in the printing house, because a large part of the final design will be prepared by the artist herself. This miracle seldom reaches the hands of readers in the 21st century. The Cultural Subscription Book of Kaunas City and District is also currently being prepared. This is an interesting publication that will appear in the context of Kaunas – European Capital of Culture 2022. We aim to gather the contact information of Kaunas art scene representatives and other people interested in culture, so that it would be easier for them to find each other and cooperate in implementing various initiatives. Anyone who loves art can become part of this publication. We will soon publish Indrė Šerpetytė's book 1944–1991, in which the artist explores the buildings of various Soviet institutions, their multifaceted history and memory in a broader sense. Initially, this artistic research was presented in exhibitions and now will be turned into a book. This is a clear example of how the dissemination of the same idea can be carried out in different formats.
Of course, just publishing books is not enough. It is important to present them to the audience and at the same time enable them to read these books. We have been organizing Kaunas Art Book Fair for the third year in a row now. It is accompanied by educational activities for publishing professionals, photographers and the youngest book art lovers.
An interesting year awaits with Lithuanian and foreign artists' exhibitions, publications and other surprises.
The gallery also initiated the publication of the magazine from Kaunas Į. What makes this magazine stand out from other cultural publications, who creates it and why is necessary?
From the first issue of the Į magazine, its mission was to tell about the kind of Kaunas, which is not often talked about, to show its different sides. Therefore, the first magazine was dedicated to the courtyards of the city, the second was about the waters, the third about a post-industrial face of the city, the fourth about the intercultural atmosphere and the fifth about nature. The last sixth issue will be about the future – more specifically, about the possible futures of Kaunas and the visions of the city in a broad sense. The other thing that makes this publication unique is that the process of preparing this magazine is as important as the final result. A new group of interdisciplinary artists is working on publishing each issue. The team of the magazine consists of young beginner creators, a few well-established artists and professional mentors overseeing the process. This year, the position of mentors is occupied by contemporary art curator Vaida Stepanovaitė, urbanist Rasa Chmieliauskaitė, poet, translator Aistis Žekevičius and the team of Kaunas Photography Gallery. Whether it is a beginner artist or a well-known one, everyone works on the same level, can learn from each other, and naturally engage in meaningful dialogues. Many conversations take place during the meetings, the original ideas are often fundamentally transformed, becoming something wonderfully different. Although each story in the magazine is prepared by individual creators, the entire publication is a result of collective work and joint reflections.
In cooperation with the Center national de l'audiovisuel in Luxembourg, next year we plan to prepare a new publication based on the Į magazine, dedicated to humanistic photography and rethinking it in today's context. Artists from European countries will take part in residencies in Kaunas and Luxembourg. Learning from professional and well-known creators, the participants of the residencies will explore and reflect on the ideas of humanistic photography, and their works will be featured in the magazine.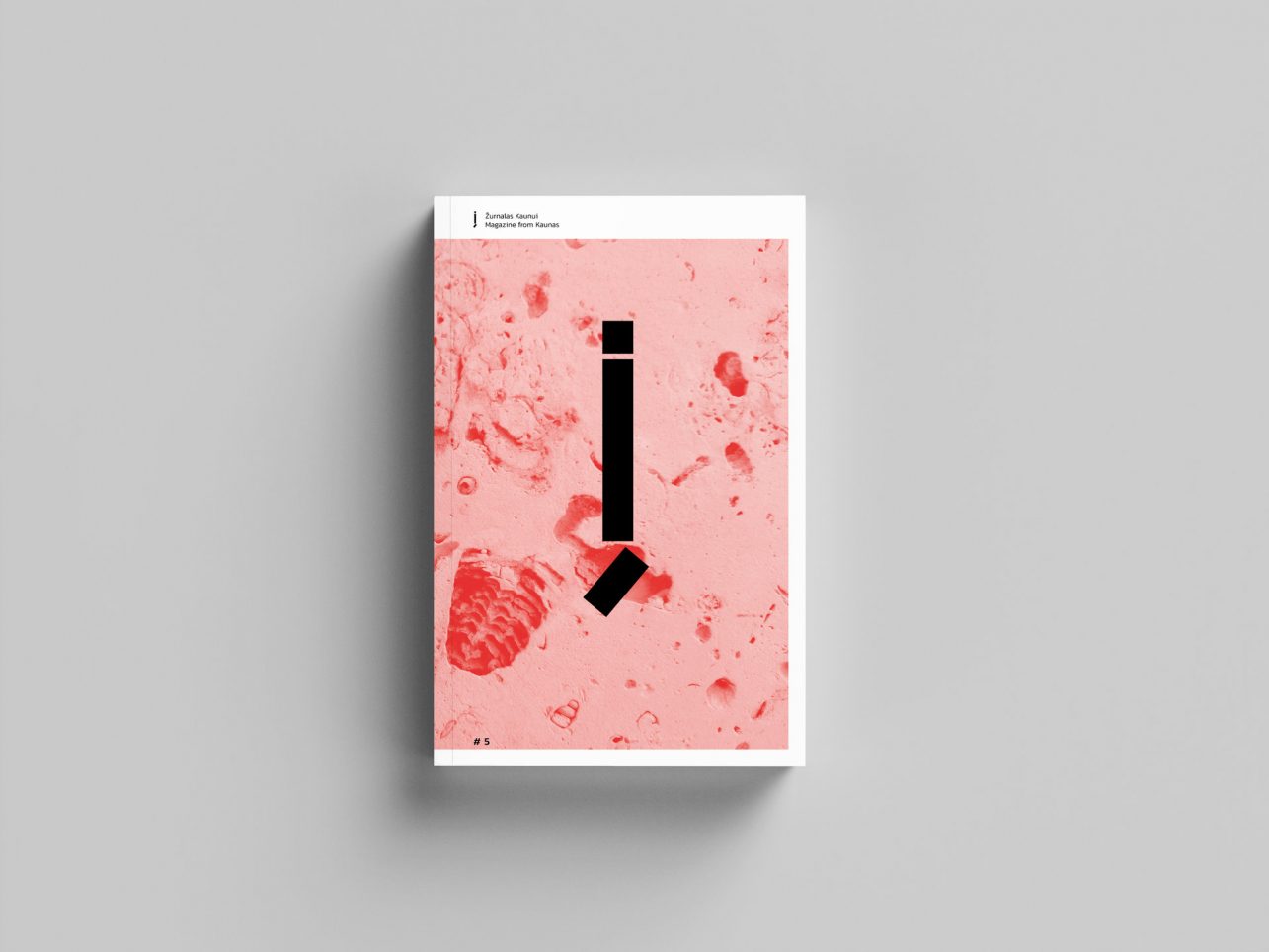 Although the field of culture, due to the pandemic, is still in a state of uncertainty, could you reveal what we can expect at Kaunas Photography Gallery in the coming years?
At the moment, our future is shrouded in uncertainty not only due to the pandemic but also because of the long-awaited reconstruction of Vilnius Street, which started quite unexpectedly. Due to the major repair of the street, we are currently unable to run any exhibitions. We would like to hold several exhibitions this year and end the year by presenting the works of Zenonas Bulgakovas, Arnold Newman and Romualdas Rakauskas. However, we do not yet know whether we will be able to do so. Despite that, we are already intensively preparing for 2022, when a large part of our activities will complement the program of Kaunas – European Capital of Culture 2022. An interesting year awaits with Lithuanian and foreign artists' exhibitions, publications and other surprises.
Today, almost everyone has a phone that can capture our surroundings at the touch of a button, so we are greeted every day by a huge number of images online and in physical space. Why do you think professional photography remains a relevant field of art in such a context?
I think every professional photographer is asking themselves the same question every day. You can't escape it. Professional photography, from a technical point of view, will always have some means (art criticism) to evaluate it. We can also talk about the spirit of the work, which is not easily grasped or named, but felt. It doesn't matter if we're talking about professional or amateur photography. The question of relevance can be raised for any art form. Art remains relevant as long as we give it meaning. Each art form faces more and more challenges as a greater variety of creative fields emerge. I think that meaningful art, regardless of the medium, should ask important questions, talk about issues, reflect on itself and sometimes just captivate the eye because the aesthetic function is still here and is sometimes in great need.
What future do you see for Kaunas Photography Gallery and professional photography?
I want to see a meaningful future without an expiration date. I hope that the gallery will be more and more successful in nurturing the values we cherish today and will contribute to the dissemination of interesting artists' activities and projects. It is a simple vision – to be able to exist by creating more and more value for both gallery visitors and readers of publications as well as the artists, whose growth we try to facilitate. And only gods know the future of photography itself. However, we are creating that future and we will have what we will systematically or chaotically create. Photography is a young medium, just one and a half hundred years old. I don't think it should complain about exhaustion or lack of ideas yet, because there's a lot more to rethink. The speed of photography today can be a very handy and meaningful tool to talk about yourself as a medium and talk about the world in general.