The map of Kaunas has some uniquely fragrant stops. For example, while taking a walk in the old Carmelite district, you often realize that a new beer batch is being brewed. And if, as the weekend approaches, at about 6 p.m., while rushing down Laisvės Avenue you get into a cloud of perfume, you should know that a play – maybe even a premiere – has started at the National Kaunas Drama Theater. Also, morning pastries and coffee. With my eyes closed I can direct you to all the places that will please your belly. And while taking Girstupo Street – either from a train or a bus of for whatever reason – you might find yourself in little France. Not in Paris, but in the whole of France, which, according to Hugues, the owner of Vieno prancūzo sandėliukas (One Frenchman's Pantry), is quite different from the country's capital.
It is mid-June. The pantry door is wide open, and that one French guy is standing outside with his new assistant Juozapas, and they are both holding huge blocks of cheese. They are being photographed by Hugues' wife Aušra and we accidentally get into the picture as well. In September, it will have been three years since the aroma of cheese started to lure Kaunas residents to the spot operating in the historic quarter of Stumbras brewery. By the way, the shop is located right under a metal and alternative music venue Lemmy. Sometimes, the owner meets people who are not looking for cheese but for concerts.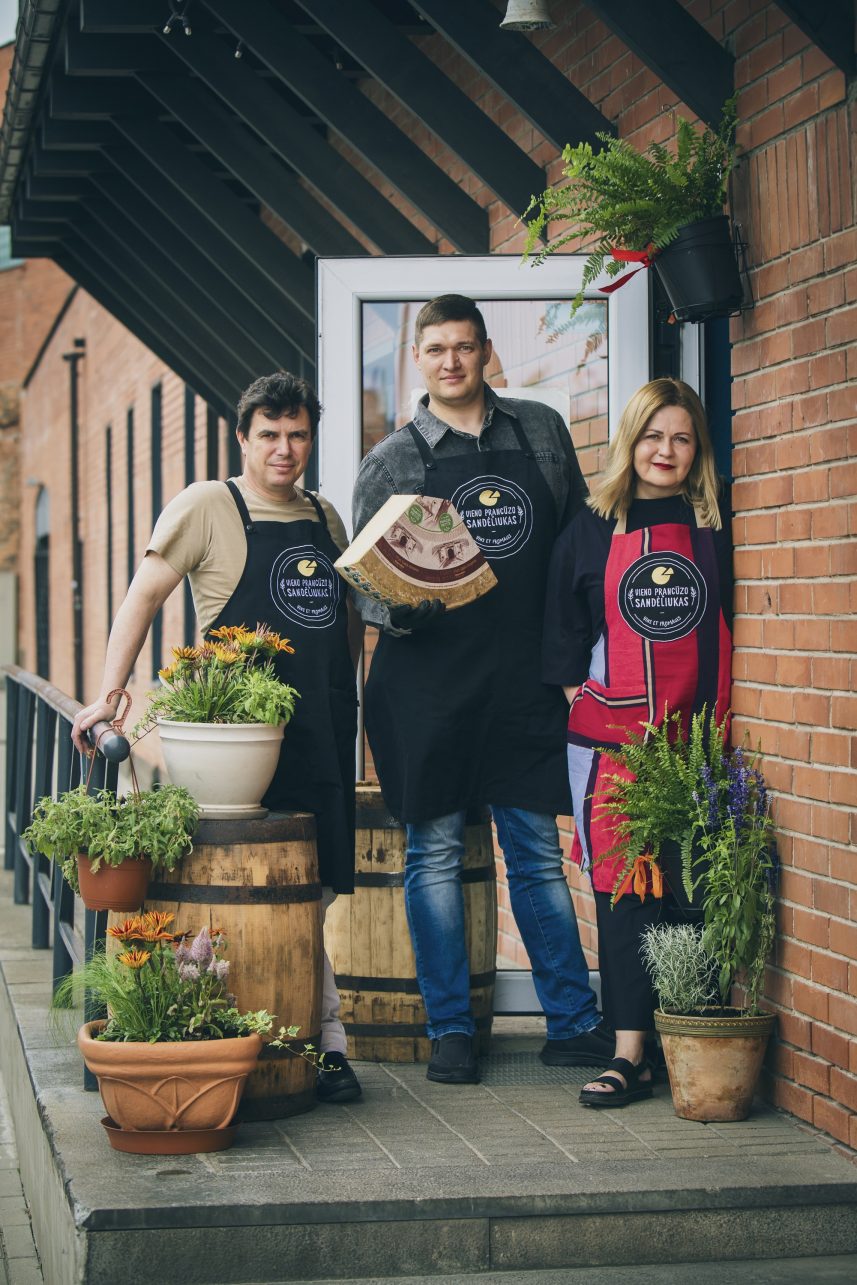 And this is how it all began. Hugues, who comes from the south-west of France, and who had nothing to do with food (at least officially) before coming to Lithuania, came to our country and said, "All is well, but there is nothing to eat." Aušra was skeptical at first, fearing that Lithuanians might be too conservative for new tastes or maybe they already had everything. But it turns out, the shop was in demand.
How did you find this location for your pantry?
We live 400 meters away. While walking past one day, we saw that the place was empty. Later, we thought that we would simply disappear among all the pizza and other places if we were to settle in Laisvės Avenue or the Old Town. We decided that whoever wants will come here. We never even advertised too much, although we were on a show about investing in advertising. We were surprised when they invited us. After all, we have only unsuccessfully invested 12 euros in Facebook advertising!
But your Facebook stories are very nice, do you write them yourself?
Yes. But I'm not a writer, I'm a Doctor of Social Sciences, actually (laughs). I work in my field, but I also like to write. I began to express myself more freely when I noticed that various shops were copying us.
You mentioned that Hugues had nothing to do with food before opening the pantry?
Indeed, he didn't, but in France, the gastronomic mentality, the culture of dinner table conversations are natural. People usually discuss meat and cheese at home. I liked that a lot. I realized that we can also tell stories. And they contain everything: legends as well as science.
When you start baking, people rush through the closed door asking what smells so good?
What was the first cheese you brought?
First, we brought thirty cheeses. It seemed like an awful lot! We, such "entrepreneurs", came up with the idea that we want to cover the entire map of France. Yes, some cheeses are typical of the whole country, but otherwise the products represent the regions. The Pyrenees, the Alps… Even when a Frenchman visits another Frenchman, they bring cheese and wine from their region. So, there were laughs, when we had to accomplish our goal. We set up everything with our own hands and it took us almost a year. We announced the opening and realized that we have no idea how to import those cheeses. But we solved everything. We now offer about 70 types of cheese. People themselves are always asking what's new, what's "smellier" and undiscovered.
So, these cheeses stink or smell nice?
The French say that it "smells intensely." I think so too, although I used to think otherwise. During the tastings, we offer our guests a palette of cheese aromas – the smells of the barn, the earth, moss… Each reveals the origin of the cheese as well as the production method. For example, cheeses smelling of ammonia or sweat are the washed rind cheeses. This recipe comes from the monasteries. Monks made cheeses and beverages there to sell them. According to history, around the 14th century, monks were already tasting too much of what they were producing. It was decided that it was necessary to impose some sort of limitations, i.e., how much can a person taste to ensure quality and the rest was regarded as a sin. So, everything that could be "written off" as part of the process, was rubbed onto the surface of the cheeses. Cheeses with the most pungent odours – pink, slimy – are still made this way. For example, one cheese from Alsace, rubbed with grape pomace that turned sour, has the most intense aroma. At cheese exhibitions, this one is kept under a cloche, so as not to disturb the visitors, but for me it is one of the tastiest cheeses ever. In general, the smell and taste are revealed after learning to combine cheeses with drinks and snacks. We tell visitors about those combinations.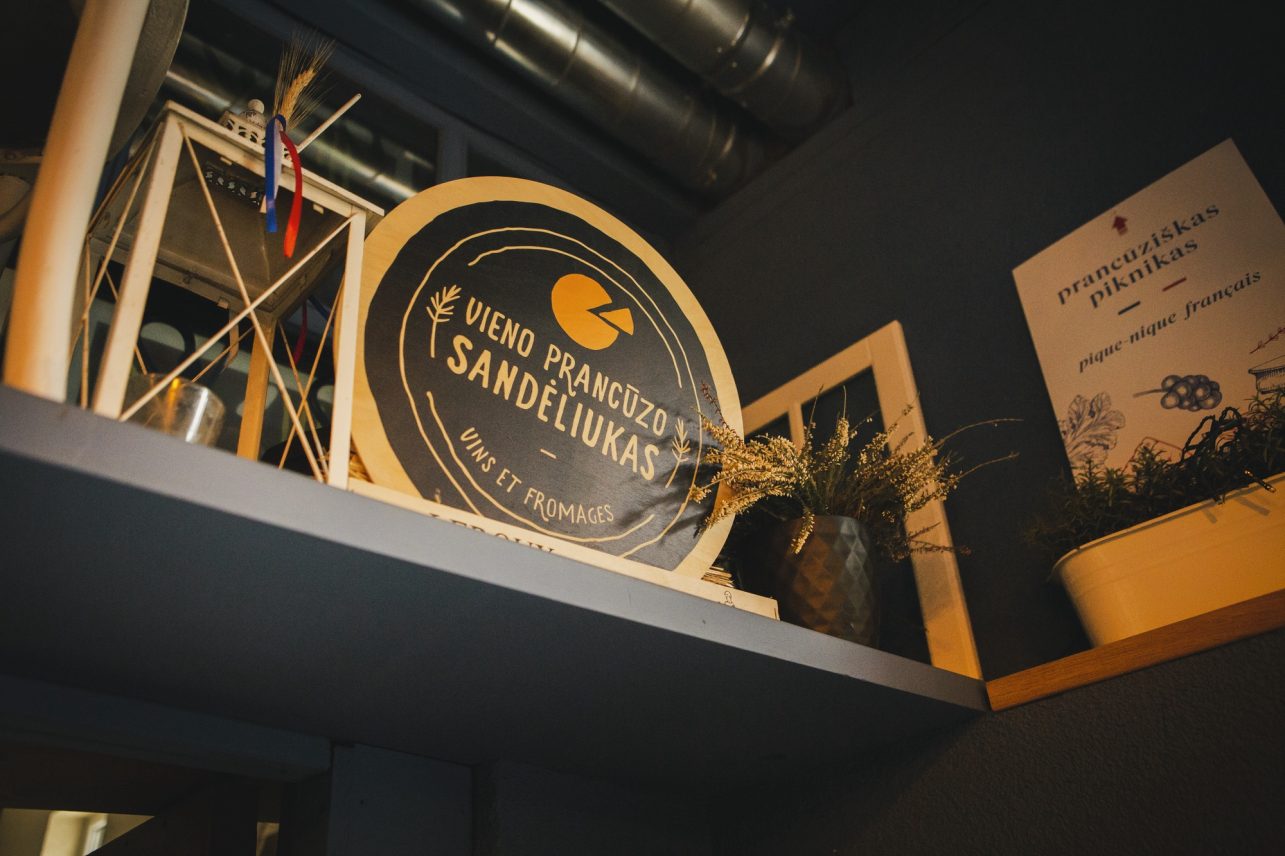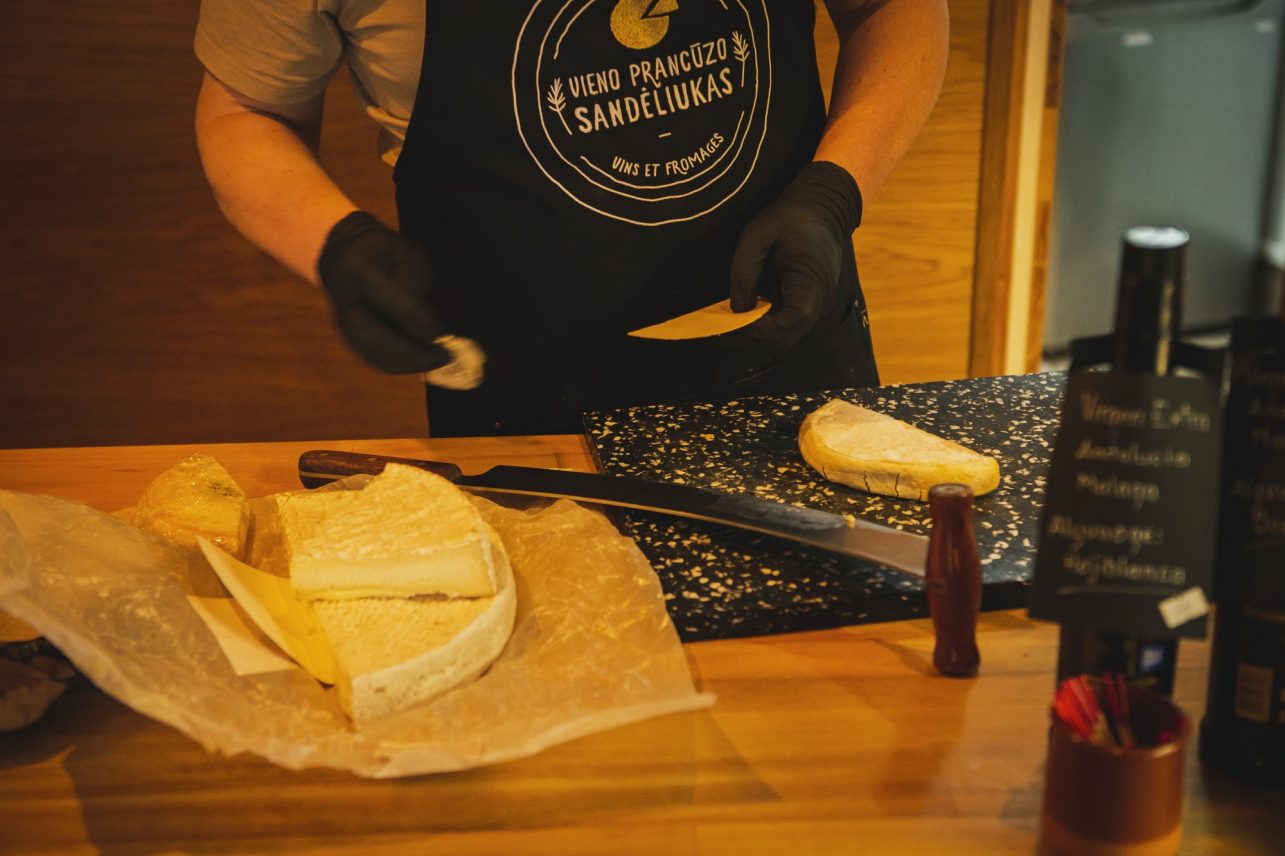 I am very curious: where does the smell of moss come from?
From mountain caves. Moss, peat, sacks of potatoes. City kids also mention the smell of the stairwell. During the tasting, we usually offer a palette of six cheeses, from the weakest to the most intense aroma, different regions, animals, their diet, mountain altitude, ripening time and method, and we call it "Bordello" because it is different every time. It is very interesting to destroy myths during these tasting events. For example, a person comes in and claims they don't like goat cheese. You inquire, which one. Is it the one made from the goat's milk from Provence, Pyrenes or the one who was fed green grass or cornflowers or wild daffodils in the wild Alpine meadows. If the cheese has a green stamp, it was made when daffodils were in bloom. French tradition holds that the main ingredient in cheese is what the animal consumed. In other countries, for example, cheese is sprinkled with cinnamon, pieces of chocolate, and pieces of jelly are added. The French say this: if you've made a cheese that "doesn't make sense" then you can put whatever you like in it.
Can you predict which cheese will be a hit with your visitors?
It is quite seasonal. In general, with us, everything works on the basis or rumours. Some kind of cheese appears, someone takes it home, photographs it and another person comes with a picture and says: this is the one I want. Of course, people love the classical ones, like Comté, a three-cream cheese. We also started the trend of grilled cheese. It is produced only during the cold season and is brought in a wooden box and looks grey, wrinkled and ugly, like an old blanket. People found it strange, so we started baking it, like it is supposed to be prepared. With garlic, honey, nuts and rosemary. When you start baking, people rush through the closed door asking what smells so good? Then we started importing large quantities of it. In general, we do not shy away from sharing recipes. Some cheeses have dozens of them. The educational side is interesting and important for me.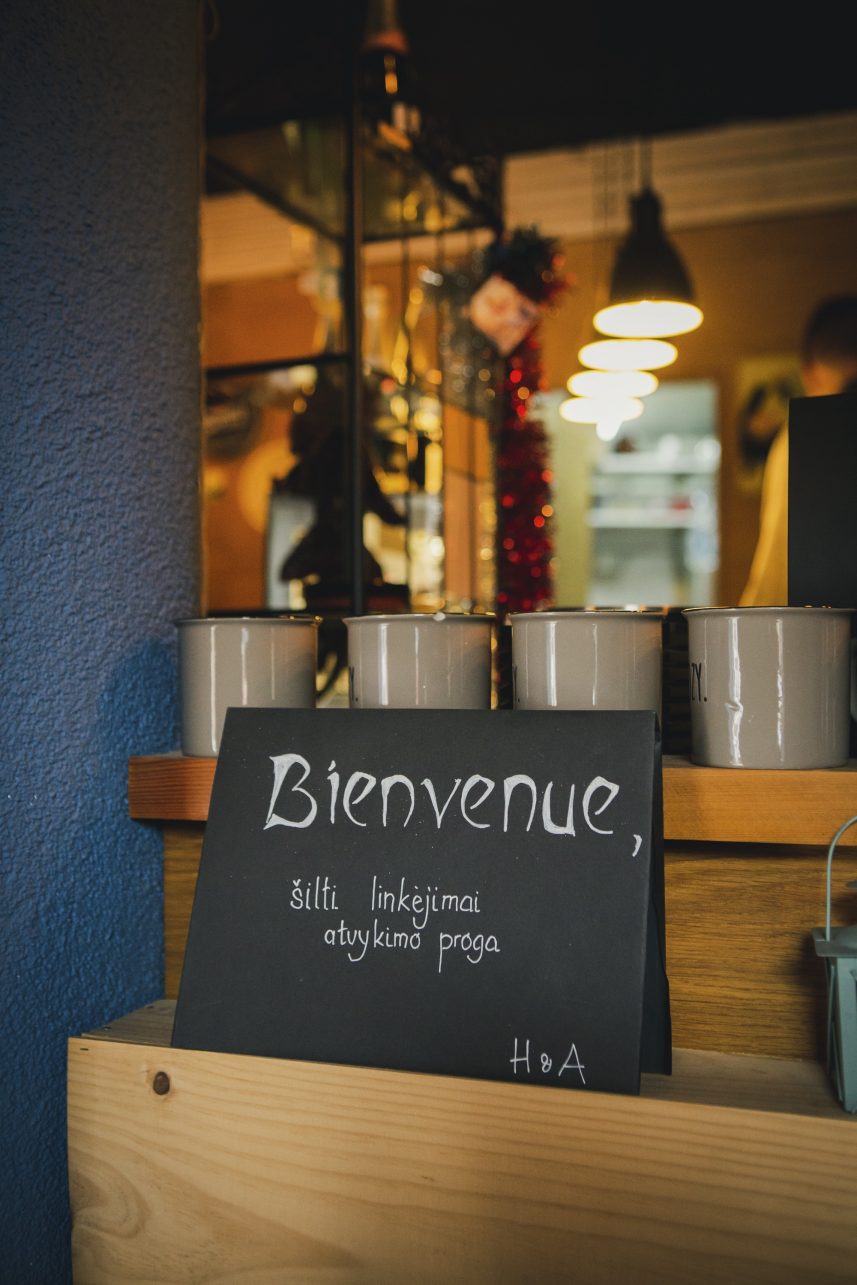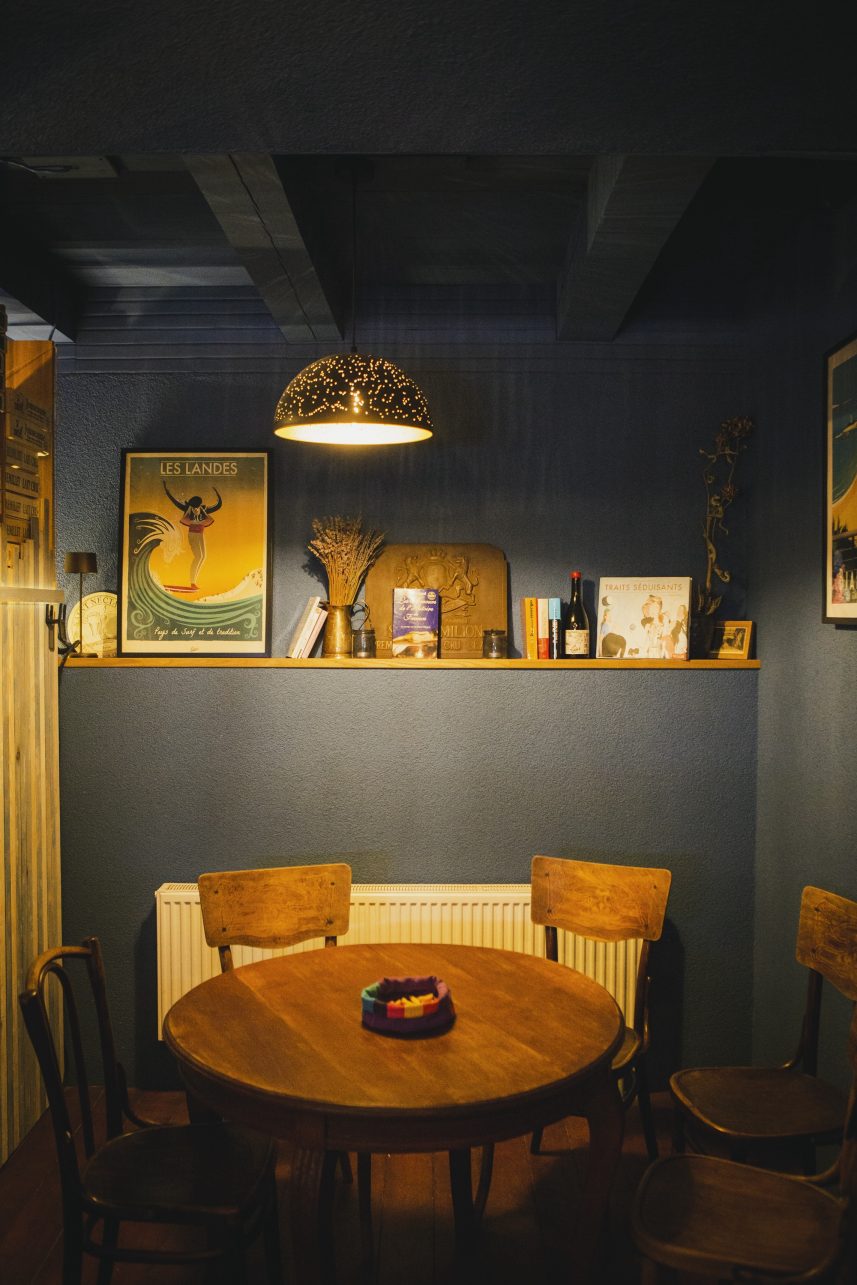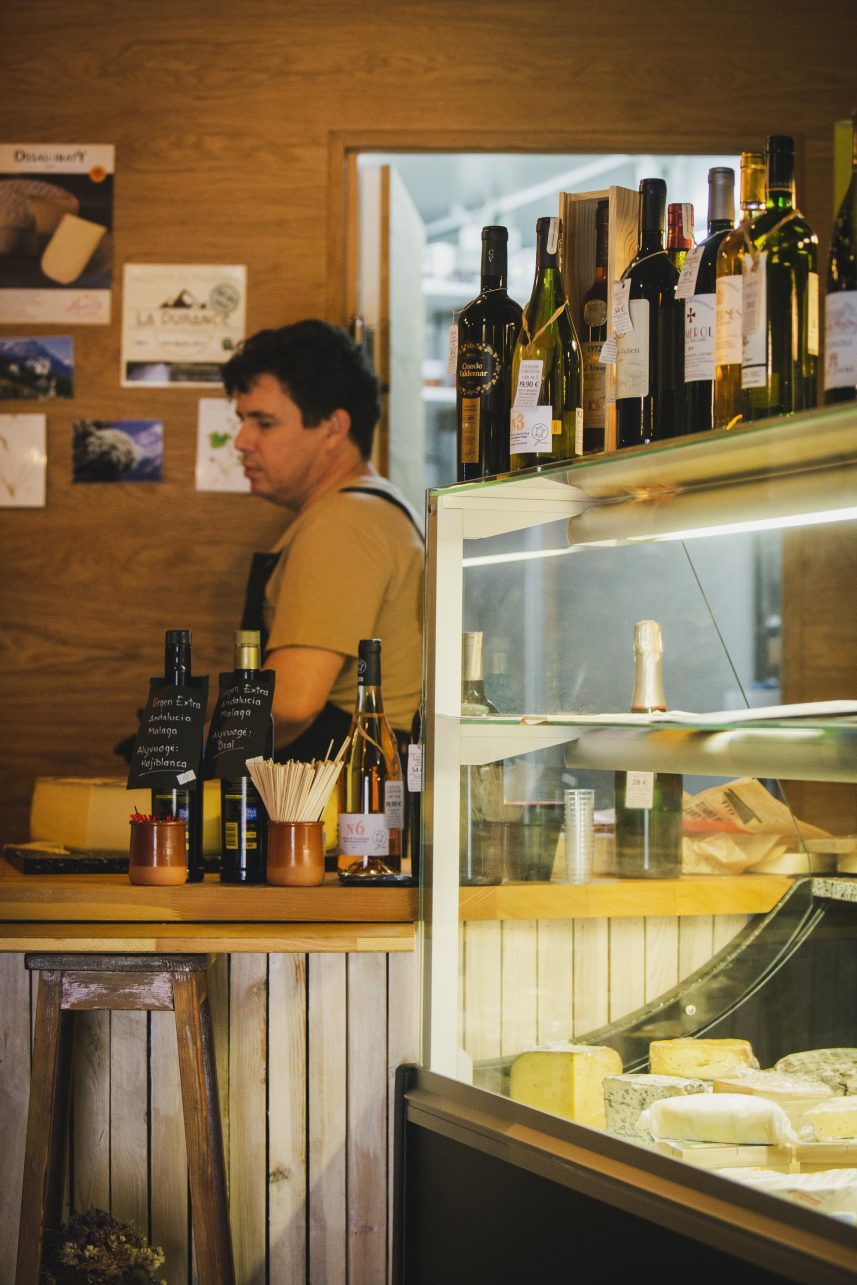 What cheese has the most unexpected smell?
In France, there are over 600 registered names of cheeses. There might be the same number of unregistered ones. People keep asking if that list is being expanded. Yes, new cheeses are being made. Just like in the arts, you have the classicism, neoclassicism, modernism, post modernism… So postmodern cuisine also exists. We have a cheese with the Japanese name Sakura No~Ha from the Poitou region, created by French farmers and Japanese chefs. It's a creamy goat's milk cheese with pickled Sakura leaves inside. I can't describe the aroma and taste. Unexpected!
Some people haven't had a vacation for 30 years.
Do other French people from Kaunas stop by (we ask because we saw a photo of Joffrey Lauvergne, a French Žalgiris' player on Facebook visiting your place)? And what about tourists? After all, you are between two stations.
A few French people come by to buy cheeses from their region. There are also few casual tourists, but we have customers that visit from Vilnius, Klaipėda, Trakai.
And when you go on vacation, do you also look for gastronomic experiences?
Yes! Just recently, after several years, we managed to go somewhere else rather than France, where we now go as if for work – although, there are always surprises – and we had a blast. We went on a gastro tour in Andalucia. Everything is so delicious there! After returning, we managed to organize an Andalusian-themed evening.
When traveling for work, do you have to earn the trust of creameries?
We do. What helps us with that is the fact that Hugues is a native. But our trust also needs to be earned. We are always interested in the conditions that animals live in. If the farm is good, the owners themselves first take you to the animals and only then to the cheeses. Because they are proud of their farm. It is very interesting to be in the Pyrenees, in the Basque Country. Hermits live there. In the valley you find a small village and a farm of one family, which is maturing the same one cheese for the fourth time in a cave. Some people haven't had a vacation for 30 years.