Robertas Černiauskas enters the living room of the Artists' House right on time. He wears a white shirt, pants with an impeccable trouser crease, has a perfect posture, and a pleasantly penetrating gaze. Perhaps this is how he looked almost three decades ago when he came to open the café, a new version of the cult-like Kaunas Artists' House bar, which eventually also became a legend. It had its own rules that baffled the old-timers and would sound almost unbelievable to the generation of Pinterest interiors. Only this time, Robertas doesn't stand behind the bar, but sits down on the couch.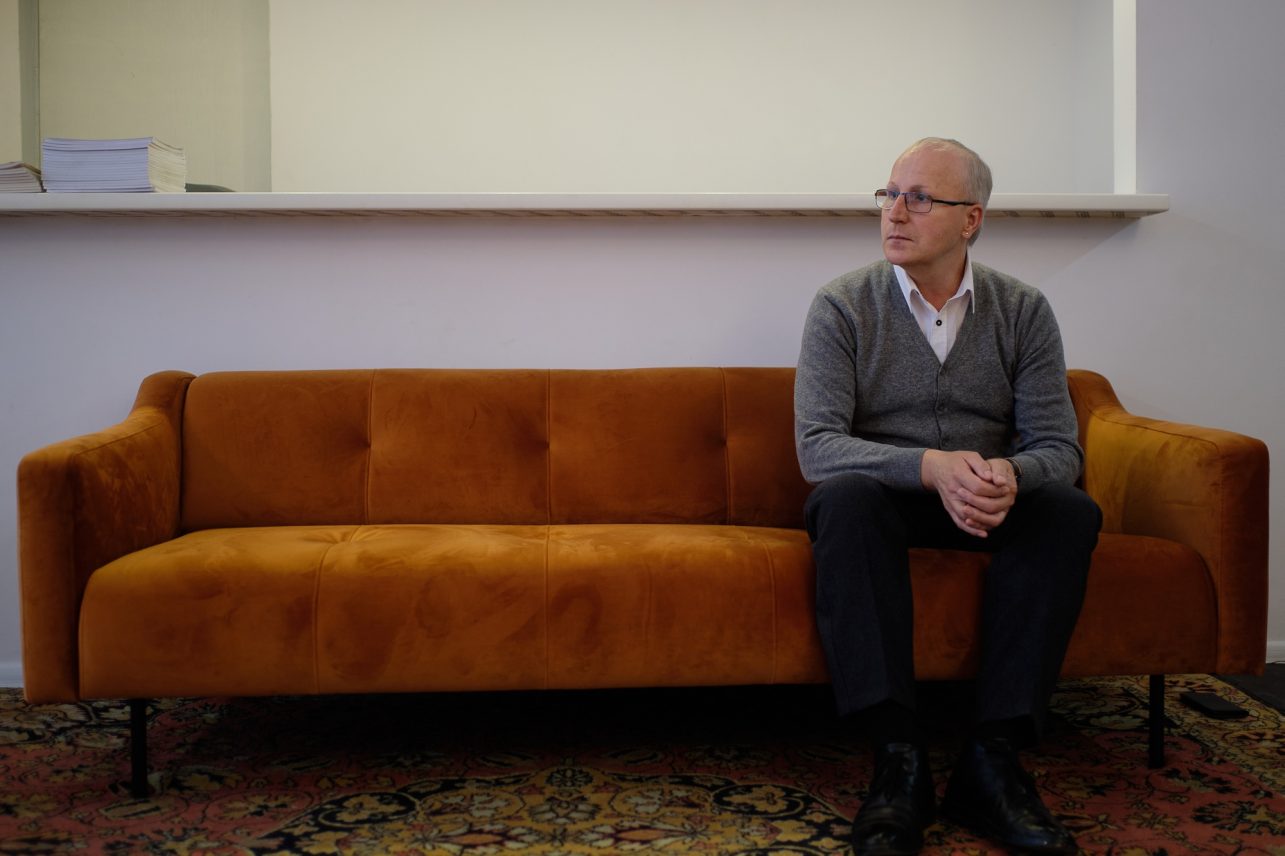 Robertas, how did you find yourself in this cafe?
I am from Šilutė. I graduated from the pedagogical institute in Vilnius and then got a job in Švėkšna. I had long holidays in the summer, so I worked as a bartender and waiter in Palanga for two months. The first job was in a canteen of a sanatorium, in a beautiful building with stained glass, near the bridge. I don't know why, but I really wanted to work as a waiter. I remember, carrying the biggest trays. All the guests liked me; they would greet me on the street! And after making some money, I would spend the third month traveling.
Later I moved to Elvira Savickienė's cafe. It was great there, I worked for this woman for a few years. Later she invited me to stay in Palanga and work in another cafe that belonged to her. I was torn. The school year was about to begin, and I told her I couldn't stay. She promised to pay as much as needed – after all, teachers' salaries were very low. I drove back and forth with my suitcase, finally called the school and told them I will not return… Elvyra gave me a day off. She told me, "Go to the sea, take a walk." I was sad. I left the school after working for so many years there. But everything went well. Finally, I met people in Kaunas, and, in the autumn of 1992, we came here with Vitas Žurauskas, who was the head of the firm, and I was his deputy.
The director of the Kaunas Artists' House at the time was Bernardas Arčikauskas. We talked everything over with him. When I first came in to see what was going on there, I was speechless. Everything was covered with red tapestry. Everything was red. There was so much cigarette smoke that you were unable to see the other person. Some people were sitting, and others were lying down on the ottomans. "Jesus, how am I going to work here?" I thought to myself then.
And what did you do?
Well, slowly we started working. And people did not want to eat because there was too much smoke. So, we came up with a rule: until 3 p.m. no one smokes. You can take it or leave it. And then, twenty to three, you would hear, "Robertas, let us smoke, there won't be any more eaters…" OK, then you give out ashtrays and everyone is so happy. Bohemians take their places, smoke, and so on. The police came almost every day. Because of the noise, because of the fights, because of everything. I remember two guys asking me to hide a knife so the officers wouldn't find it. I hid it because they were normal guys. People carried knives back then, for safety.
Kampas (painter Rimvidas Jankauskas-Kampas – Ed.) was a regular here. "Robertas, pour me one, I really need it." And I'd tell him, "But you haven't brought me money for the other times, I write everything down." But, oh well, I pour him one. And then, he stops drinking, starts painting, sells a painting, and brings the money and everything is fine again.
His picture hung here as well, but its aura was very bad. When Kampas' daughter grew up, she visited me in Velniukai (a cafe in a nearby Devils' Museum – Ed.)
By the way, we also organized exhibitions here – every two or three months. This artist Alina worked here in one of the offices with an arched door. She introduced us to artists. Later, after getting acquainted I talked to them myself. I did not regulate the artworks; they did what they wanted. People really liked that. I also liked it, I have bought an artwork myself, hung it in my bedroom and still admire it.
I didn't organize concerts in the cafe. Some people, during the jazz or rock concerts in the hall, would bring tables, order and I would bring them drinks. And Rebelheart rehearsed in the basement, it was scary. They were kicked out later. They had even given me a microphone for their debts because they would eat at my cafe. A month later, when they needed it for a concert, they came asking for it. They had accumulated a debt of a hundred rubles… Anyway, I gave it to them and the next day they repaid the debt.
Which musicians did you like the most?
Egidijus Sipavičius. He also rehearsed here, by the way. He behaved very nicely, there was no drinking. I like light music and jazz.
In the early 1990s, many cafes needed to have "protection". Weren't the racketeers afraid of such institutions as Kaunas Artists' House?
Racketeering… Every month this short, terrible man came, and I had to give him 100 dollars. And we did, what can you do? You don't want to get beat up. It was big money for us, but we paid and suffered. But one day I said: we will not be paying you anymore. We don't have any money. We gave as much as we had. Whatever you say, he replied. And then he stopped coming. Maybe the racketeering had seized in general.
We also got robbed once. The windows had bars, but they tore them out and stole the drinks. However, they did not take the paintings.
I was both a bartender and a waiter, doing everything at once. I would take the orders to the kitchen and serve people. People didn't understand how I managed. Nobody bothered me, they thought of me well. The kitchen was right there, behind us. It was really tiny (currently it also serves as an employee kitchen – Ed.). We only made one type of soup and two main courses for lunch: a steak or fish. We couldn't do more under those conditions. By the way, we made the least money from the kitchen. Everything came from the bar.
I am tired. But, of course, it is really nice and sweet when people remember.
What was your café's signature dish or drink?
I had made this metal box in the bar. It contained sand and that's how I made Turkish coffee. Right here in the corner. They found that coffee fantastic! We didn't even buy a coffee machine. I remember we had to make so many coffees during the opening… Even Benas helped me carry them. When we finally were able to catch our breath, he said to me, "You're something else, Robertas. How do you know everything?" I had a very good memory.
Eventually, we asked Benas to allow us to make repairs. Jesus Christ, rats ran around here, I used to see it during lunchtime… People were not afraid though. After the concert at the Philharmonic, I recall one man getting scared. We would break a bottle, stuff the shards into a hole, and put concrete on it, so they wouldn't get through anymore but then they'd find another way…
So, we made the repairs maybe around 1996 – 1997. We did not change the parquet flooring, we just renovated it. We remodeled the furniture. We looked completely different after the re-opening. The cafe became very beautiful and normal people began coming here. That other generation would only come to remember. They even felt nostalgic about Janina, who worked in the kitchen; they asked where she was. I'd tell them she left, perhaps you will remember me later as well. That's how we communicated. In August, the cafe would close. Then, after I returned from Palanga, people would see me on the street and ask, "When will you open up, we are looking forward to it."
When Benas left work, Viktoras Valašinas replaced him, and one day he told us, "We don't need a cafe anymore, you can leave." Well, and then what? We moved to the Devils' Museum, just two houses away. We carried everything by hand. We couldn't take the furniture, just the equipment: a stove, a fridge.
Kipšas cafe was still open when we were publishing one of the first issues of Kaunas Full of Culture about six years ago.
Yes, it has been five or six years since I closed it. I remember we had many preparations there too. But the museum (M. K. Čiurlionis National Museum of Art, the branch of which is A. Žmuidzinavičius Creations and Collections Museum – Ed.) finally allowed us to make renovations. We did a good job, had nice furniture as well as a huge kitchen with four cooks.
Why did you quit this business?
First of all, the museum has almost doubled the price for rent. Part of the premises wasn't heated, but we still had to pay the full price. And also, I got cancer. It seriously hit me. I spent half a year at the hospital, I was unable to work. And while I was away, debts accumulated. As I said, I used to have a good memory. I remembered who ordered what, where to bring what. I worked a lot… I recovered, withstood treatment, but the memory did not recover. I stand in a cafe and no longer know where to carry the order. Do you know what it feels like? And then the debts… We have filed for bankruptcy. Although we have met with the employees during the funeral of Osvaldas Daugelis and they were all very nice to me. There is no animosity between us, things just happened.
We had great customers: teachers, cultural workers, lawyers, prosecutors… On the last day of the cafe, I remember, four prosecutors, regular eaters came. After the dinner they told me: Robertas, we want to thank you. That made me emotional…
But they still recognize you?
Yes, of course. People ask me whether I opened some other place. No, I tell them, I stopped it, I don't want that anymore. I am tired. But, of course, it is really nice and sweet when people remember. As it was in Palanga, so it is now. After all, I did what I liked. I wanted everyone to be fed, provided with drinks, for the place to be tidy and cozy. I like order and cleanliness, it's the most important thing and the rest… life will show.
Sometimes, when we take a walk down Laisvės Avenue with my partner, she says, "You should put a sign on yourself, "Thank you, all is well."
When was the last time you were at the Artists' House?
I had gone to a tango concert some time ago. I was invited by the employees of the Artists' House; I really liked the event. And you know, the team was very glad to see me, they invited me to visit more often. And now there is no cafe… I remember we had installed a suspended glass shelf for the glasses here (thank God, the thieves didn't break it). We lived nicely, both here, and in Velniukai.
Do you go to cafes in Kaunas?
Yes. I really like Green Cafe. They make really good coffee. We visit places both in Laisvės Avenue and in Mega. Good coffee is very important to me. Before, I really liked Katinai at the beginning of Vilnius Street. We enjoyed spending time there. Oh, also Elfų Šėlsmas. We went there with my girlfriend to dance. We were learning ballroom dancing! If I am not mistaken, Rondo played in Elfai every Thursday, so we would show what we had learned. People loved it, they applauded us and bought us drinks! Even people we did not know. They waited for us, asked us to dance some more.