First, you open the door of the former Kaunas Fortress commissariat building (food and other necessities were distributed from here back in the day), which was erected in the heart of the city center in the19th century. Then, you enter the staircase full of metal lace, which simply demands wedding, fashion or other extravagant photo shoots.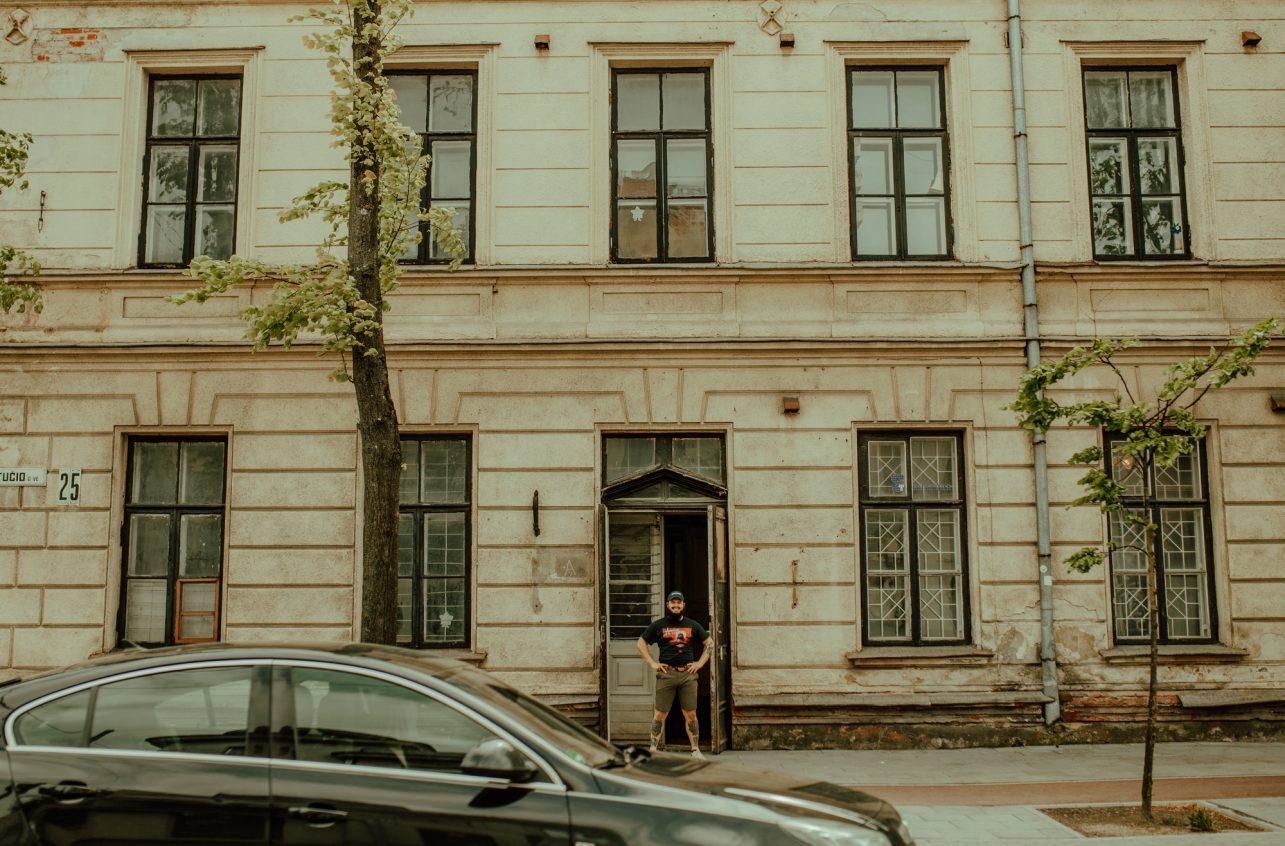 On your right you hear Beastie Boys and boldly open the tall, narrow, white wooden door. "You gotta fight for your right to party," a speaker loudly reminds us. Rock n roll! …wait, wait a second, it is only Tuesday noon, people are working.
Three guys, muscles and veins straining, shed the sweat while lifting weights. One of them is leaning next to a sewing machine. "I told you, we will finish at 2," the moustachiest of all of them shouts. Kaunas rockers, couriers and weightlifters know Augustinas Gutauskas as Augas. We also know him as a jam session organizer in a bar located nearby on Gedimino Street. More precisely, we got acquainted there a few years ago and then he left for the US. Open music nights haven't been organized for a long time now and not only because of the quarantine. Despite that Augas is spending time in his gym Siuvykla (En. Tailor's shop) in a way that is completely atypical of an ordinary Lithuanian overburdened by the pandemic. "I did not plan these workout sessions, just like I didn't plan renting these premises, but things happen."
Do some cardio at home on Thursday
Augas is radiating with great affection for the golden age of the interwar Kaunas, so it is highly likely that you may have seen him on some national holiday. This year, wearing a top hat that would not embarrass the first burgomaster of free Kaunas, Jonas Vileišis, he was lifting kettlebells painted with the colors of the Lithuanian flag right in Laisvės Avenue. Yellow-green-red for a beloved city and its most beautiful era? Why not, it inspires for an even more beautiful one.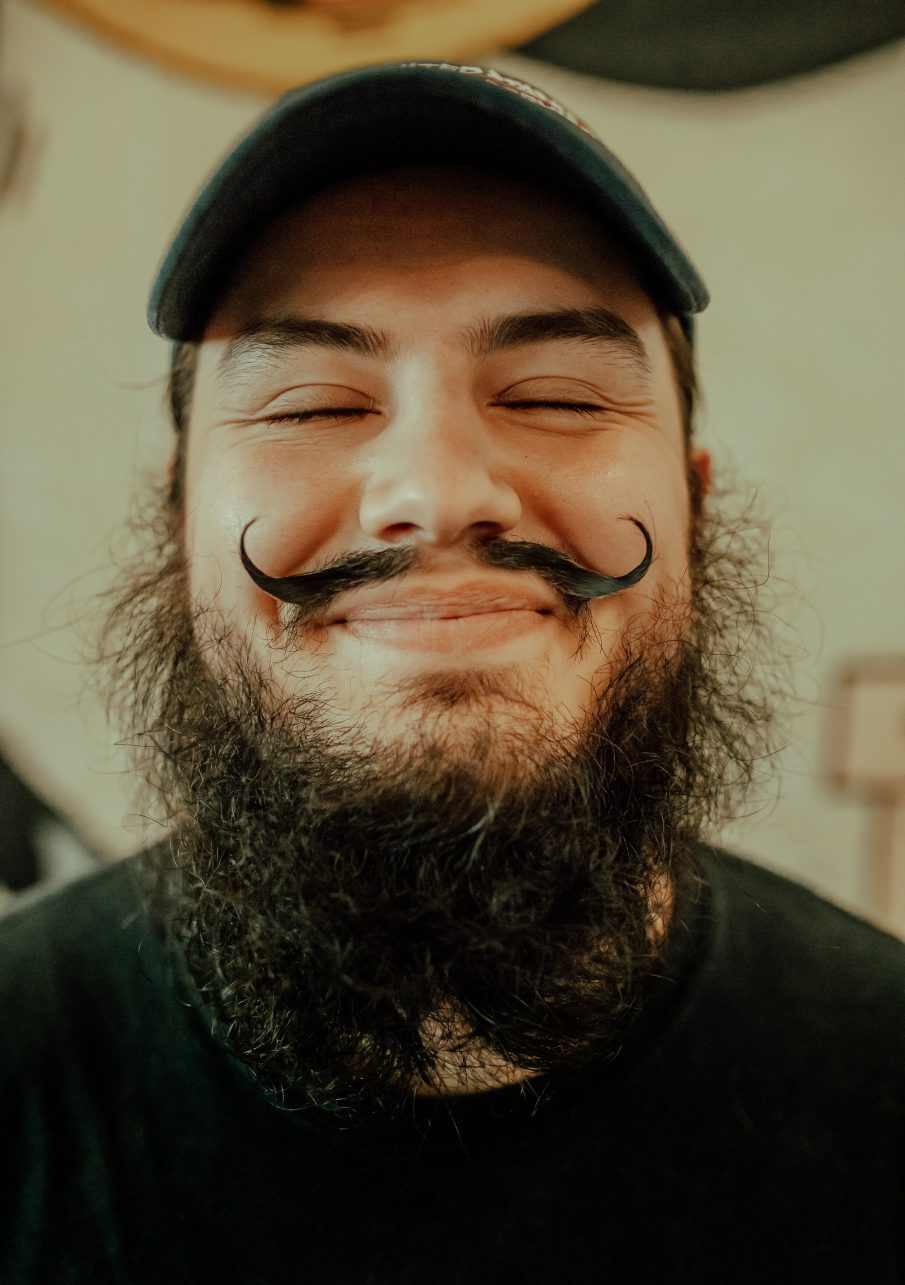 Augustinas' father was a poet. Also, a music lover. Although the dad had passed away, his poems, cassettes and the need to constantly learn and be busy remain. A guy who spent his time at his grandparent's place in the Old Town of Kaunas was always artistic and athletic. He is a certified trainer. He even has some things in common with baseball and he heard about weightlifting from a Lithuanian champion. Where? In an alternative music club Lemmy located next to both essential Kaunas stations. Maybe guitars or maybe the stories inspired Augas to lift. He soon became friends with the Kaunas district club Akademija, which has long traditions, and whose members are lifting weights during the pandemic in… yes, a tailor's shop. On the upcoming weekend, all the "academics" will take part in a local tournament and plan a trip to the European Championship.
Augas makes backpacks. The ones that withstand wind and rain and where you can fit half of your life or parcels. Couriers carry such backpacks when cycling around the city streets. Augas bought an expensive backpack like that in the US, but it was of poor quality, and the company's customer service standards did not please him, so he had to take on the job himself. First, he ripped the bad product up, then joined the sewing class and bought a sewing machine. He succeeded. The logo with a portrait of the creator is now recognized on both sides of the Atlantic. He giggles and says that no one has purchased a second of the same backpack because he produces really durable items. Form follows function.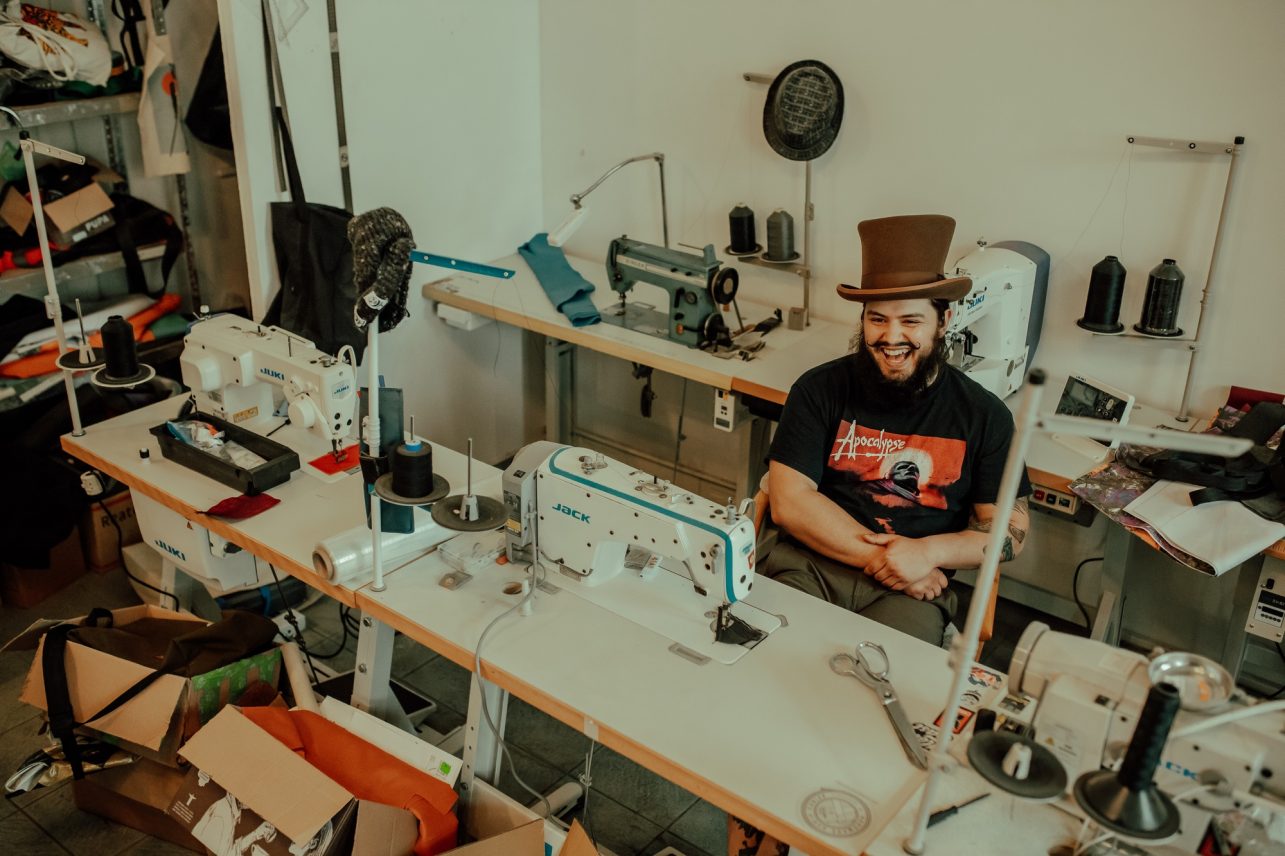 Backpacks are just the beginning because durable shorts and other types of clothes are also important for city dwellers leading busy and energetic lives. There is more than one sewing machine, which means that Augas has colleagues. He says that he gives them complete freedom to sew whatever they want after fulfilling the quota. He also continues to learn. He taught one person to sew backpacks and the person taught him how to sew pants. And if the technology starts to fail, everything is handled right there and then. To dismantle and reassemble, to understand how things work is one of Augas' passions.
There is a tailor's shop, a gym – what else is missing? "I plan on expanding. There is more space behind the wall, so there will be more room for ideas, you will see if you come again in August," Kaunas local boldly presents his plans and keeps the door of his studio open to like-minded enthusiasts and existing or future acquaintances. He jokes that he admires the concept of multifunctionality: one place must have everything and in large quantities. "I'm multifunctional myself," he says. What about a bar? Maybe even a bar that one buddy is already offering to set up. Because he felt that this was what Augas' dominion was lacking.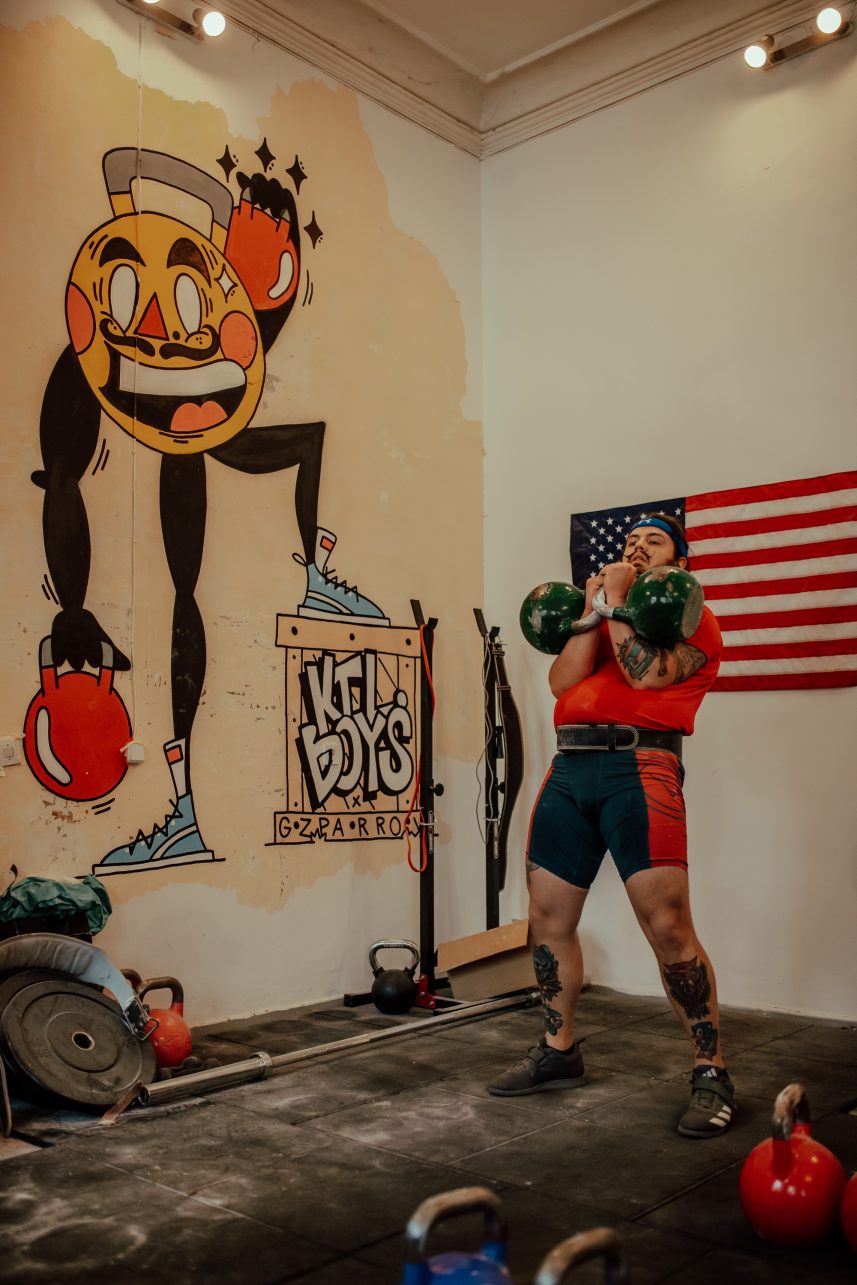 The New Yorkers Beastie Boys are replaced by a band from Detroit – The White Stripes – on the playlist, so we aren't slowing down. The US is a recurring leitmotif in our conversation, and in Augas' life. That is where his mother lives, so he has been going back and forth for 9 years now. He even dreams of participating in the legendary Arnold Schwarzenegger sports festival, of course, representing Lithuania. The US flag is hanging in the studio, and he assures that there is definitely place for the tricolor too, he only needs time to sew it.
The walls of the studio, reminiscent of the tsarist empire and city-fortress, with its fascinating high ceiling, catch the eye with the drawings of Gabrielis Žvirblis. weights acquire human qualities and move by themselves. This street artist from Vilnius, who signs his work using the name Gzparrow, also sews clothes. But it's just a coincidence.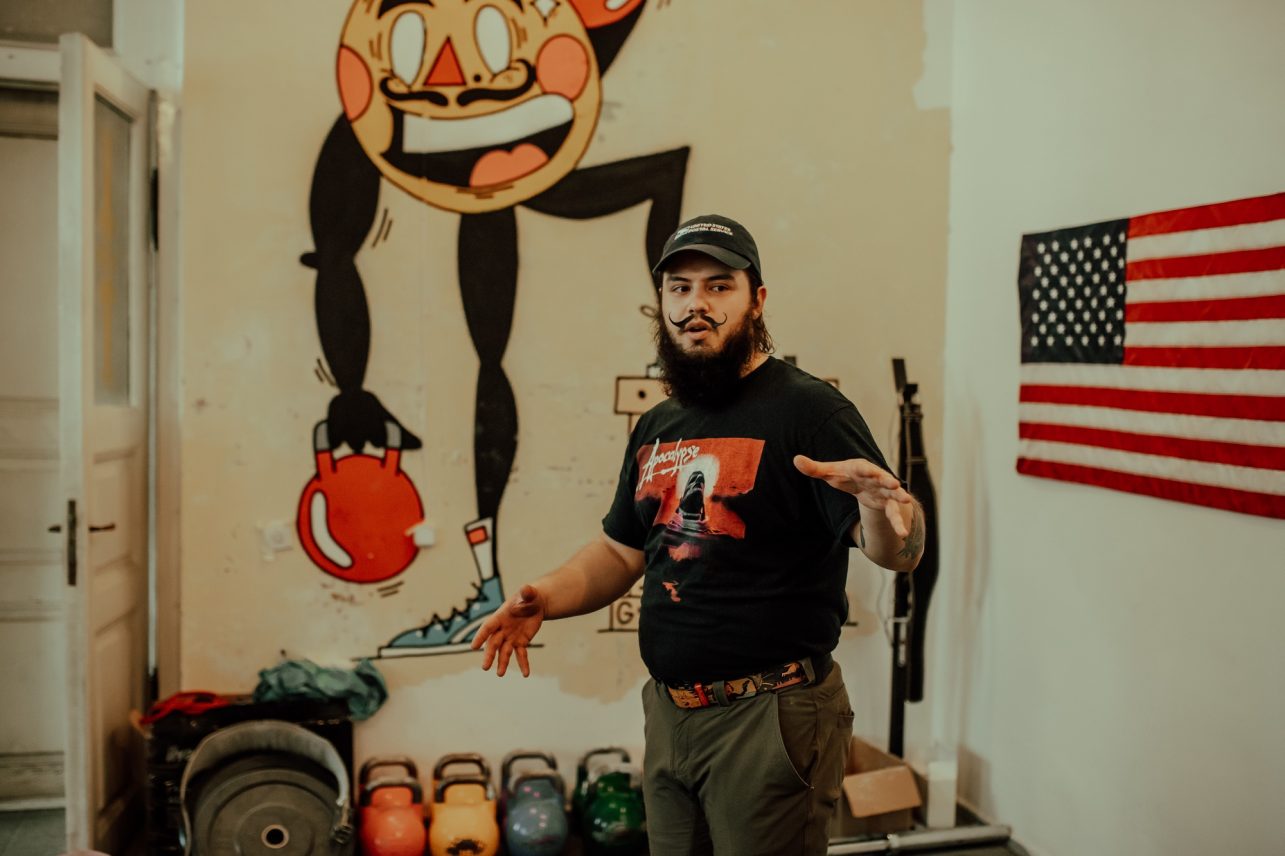 "I'm a rocker," Augas answers, exhaling after the workout, when asked what music inspires him to move even faster. Although the answer can be both heard and seen. The heavier side of music can be heard in his studio as well. The place is full of cassettes and other recordings, and he also plays guitar. The band Korozija doesn't exist anymore but the sportrocker promises news in this area.
"Do some cardio at home on Thursday," Augas says to his colleague-athlete on his way out. He adores the process and the correct regime and rarely thinks about the consequences in advance. He even manages to call himself a boring person! It's time for us to go too. We will be back in August.