Climbing down the stairs in the building located on Laisvės al. 57, I think about the interviewee's words that library promotes sustainability and silently ponder that the rebellion against excessive consumption begins precisely with the determination to visit libraries and share with each other. In this case, sharing is not limited to just books, newspapers and computers – the latest technology, inclusive projects, like-minded people and even pets can be found in this space.
Monika Straupytė, the head of the Culture Management Department of Vincas Kudirka Public Library of Kaunas Municipality, talks with great enthusiasm about the inclusive library, which has been carrying out educational activities based on trust for many years.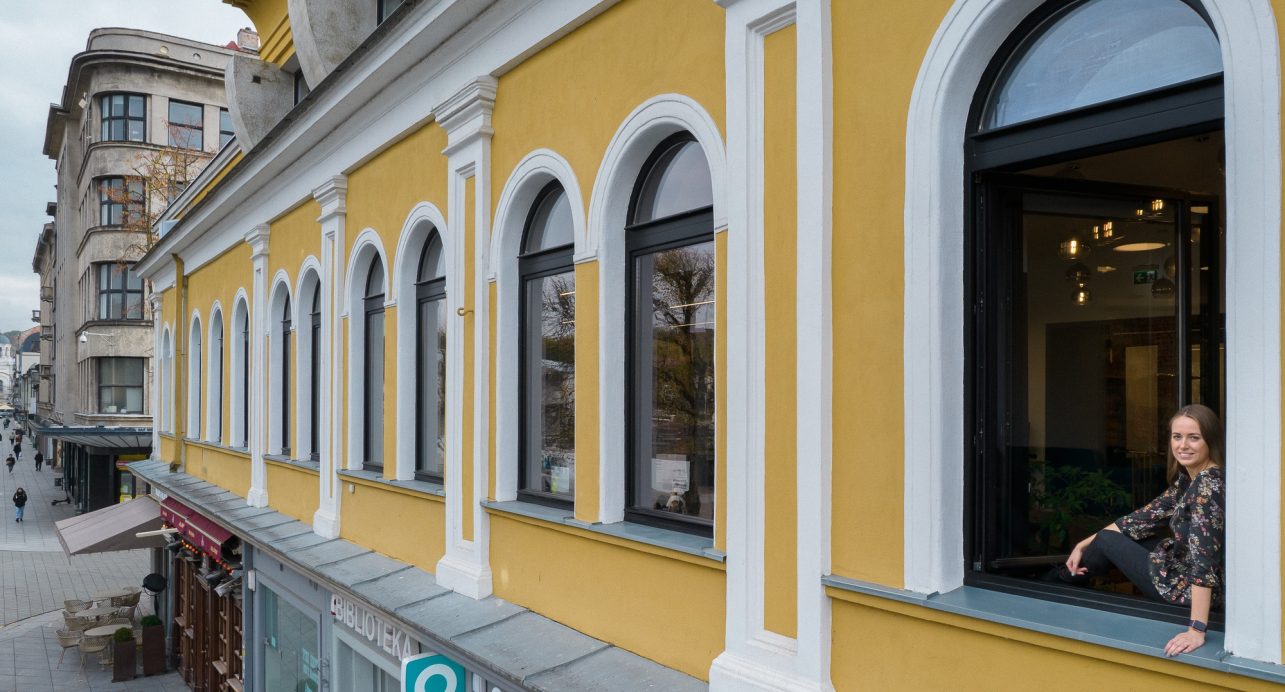 Monika, before starting a conversation about the library's activities, we would like to hear what paths led you to the Vincas Kudirka Public Library.
Now I am the acting head of the Culture Management Department. I found myself in the library through a very simple process. I was looking for work and found a job ad that fit all the criteria. Both my education and work experience were suitable, and the offer met my expectations. I studied Political Science and Integrated Communication, so I came to the library to work as a communications specialist. After changing several positions, I've been working at the library for almost six years now, and I think it's going really well. My mother is a librarian, she went on maternity leave from one of the branches of the Vincas Kudirka library. I learned this story only after I started working here. Only I have never had the opportunity to work directly with readers.
So, you are behind the shelves.
Indeed, our department is engaged in communication, writing and executing projects, organizing events, and disseminating information.
I imagine working in the library as a romantic occupation. And how is it in reality?
It might not be as romantic as you think, but it is full of emotions. The library is far from quiet. There are so many activities, events, classes that sometimes we run out of time.
The reading room in the tattoo studio is the only one of its kind in Lithuania and maybe even in the world.
So perhaps the Library of Emotions project was born not from the lack of emotions but as a reflection of the library's life.
The Library of Emotions gives readers the opportunity to choose books based on the emotions they evoke and is primarily based on the needs of the reader. A person can look for emotions that they are experiencing at the time, and thus experience the healing power of the book. During the project, bibliotherapy sessions were held in the library, during which was also possible to talk about those emotions.
This is an international project and we had received an offer to become partners. International projects are currently our priority. Library of Emotions is established in four European cities: Kaunas, Brussels, Łódź and Kranj (Slovenia).
Library is no longer just a place for borrowing and reading books. In it, you can acquire basic computer literacy skills, discover a book vending machine, take part in tours and learn how to use 3D technologies. Why are new technologies and innovative access – not just the printed word – important for the library?
The library always was, is and will be about knowledge, only now its functions have expanded a bit. We are open to everyone, and we provide an opportunity for people to get to know technology. We recently became partners in another international project, during which we will teach people how to use and create with a 3D printer. We have these devices in the library and use them for education. Children attend the class where they learn how to print. The printers were also used during the pandemic – we produced protective shields for doctors and accessories for door handles. We aim for as many people as possible to learn how to use them, to be able to make the necessary item with the help of smart technologies.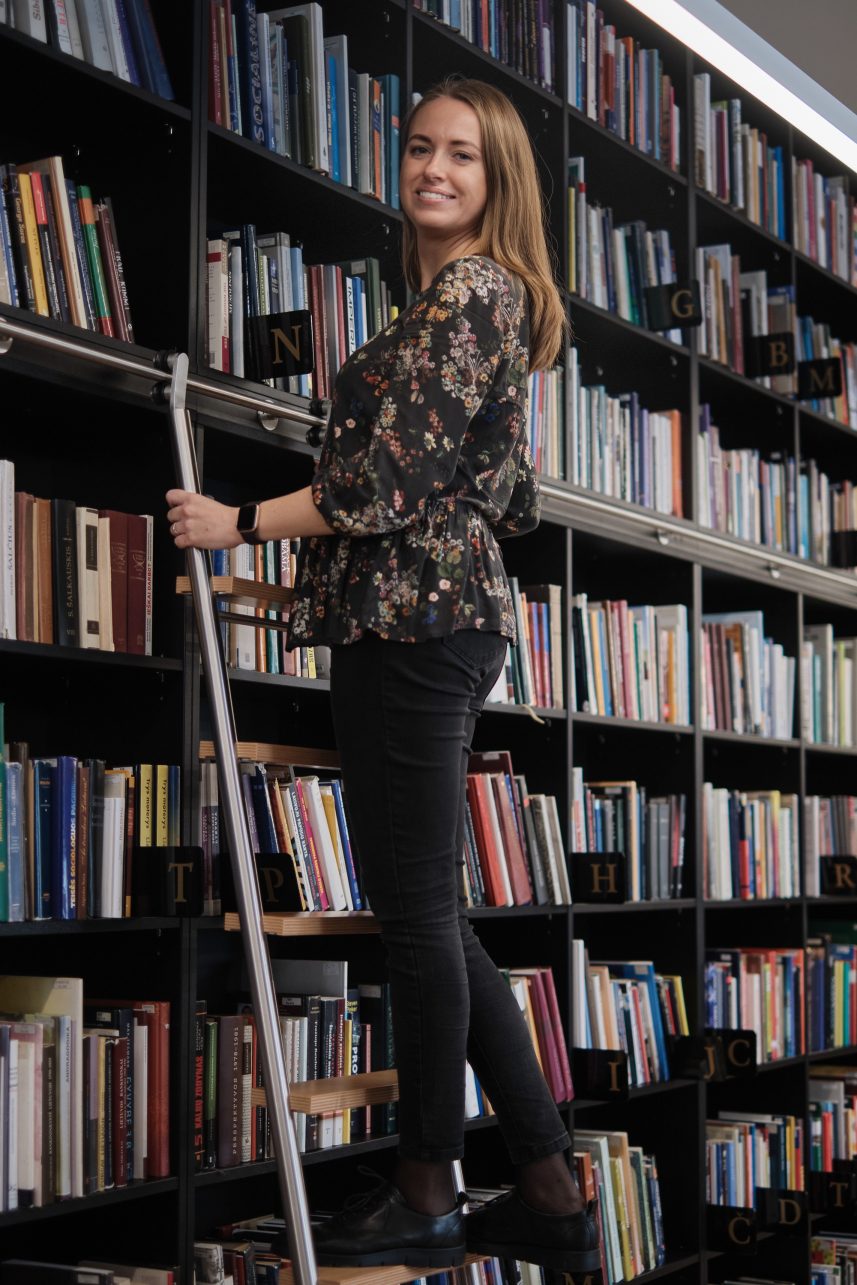 Now, new technologies in the library are no longer surprising. Take, for example, robotics – we even have a laser cutter and wide-format printing equipment. Technology makes it possible to expand the audience, as non-traditional services attract a slightly different group of people and make it possible for everyone to access this knowledge and devices. This is what makes the library unique in the context of all institutions – we are truly open to everyone, most services are free, the space is accessible and open to people from all social groups. In the library, you can get acquainted and try things that you might not be able to in another environment.
Does this make the library more relevant?
I think so. Books and the traditional library have always been and will be important. A library is about books, but also not just that. Libraries in Lithuania are always very proactive – whether it's helping doctors during a pandemic or supporting Ukrainians, we are innovative and try to make everyone feel welcome in the library.
You carry out educational activities not only with the help of technology, but also by organizing events involving various age groups. You have presented the toy library, book reading with dogs, the Library of Emotions, ethnic garden workshop, the Jewish Culture Path project and others. How do you choose specific projects and activities?
We take current affairs into account, and projects are often thematic. For example, the map of Jewish heritage in Kaunas was created when the Seimas declared 2020 as the year of the history of Vilnius Gaon and Lithuanian Jews. Now we are carrying out a project to which we invite Ukrainian youth living in Kaunas. It is a series of ten rehearsals carried out according to the Forum Theatre method. The classes are led by actor Vytautas Gasiliūnas, and at the end of the project we will be able to see the performance created by the participants. Some ideas are developed abroad, so we use the good experience of our colleagues to implement them in Lithuania as well. Other ideas, like the toy library, are suggested by readers.
The library covers the whole city like a net. 21 branches can be found in Kaunas, and one of them – unofficial – is located in a tattoo studio. This summer, you presented another reading room in a non-traditional space – a glass dome in Kalniečiai Park. Tell us more about this summer adventure of the library. Will we find this reading room in the same place next year?
The library's extensive network provides people with the opportunity to receive quality cultural services not only in the city center, but also outside of it, in microdistricts. We are trying to increase the accessibility of culture by decentralizing it. Therefore, the idea of Kalniečių Park reading room, was aimed at people getting the necessary services in a convenient place. The idea really worked; we planned that about 7.5 thousand people would visit but we received over 9 thousand. We organized more than 50 events and received many kindergarten and school pupil groups. We hope to keep this reading room next year as well, maybe even open another one. We received a request from the community to set up such a reading room in another park. This tells us that readers found it useful, we reached a wide audience.
The reading room in the tattoo studio is the only one of its kind in Lithuania and maybe even in the world. This is also how we get closer to the audience – people spend a lot of time in the salon, so instead of watching a series or scrolling on their phone, they can pick up a book and divert their attention away from the pain when they get absorbed in some dramatic novel.
And maybe discover a new favorite author! The reading room in the Kalniečių Park has certainly attracted a lot of attention. Was there a desire to establish a permanent reading room in the park area?
It was planned as a temporary summer project, carried out as part of the Kaunas 2022 program. We opened it precisely for the year of the capital of culture. We have been setting up beach libraries too for several years, although we did not open them this year, we hope to resume the project. The reading room in Kaliniečių Park wasn't the first open-air library, but of course it had a completely different infrastructure.
Which event or project organized by the library do you think was the most successful? And what event would you like to give more exposure and traction to?
I think the most successful is the toy library – which, by the way, is not only for children – set up in Z. Kuzmickas branch in Žaliakalnis. It has many board games for people of all ages, which you can borrow and play with friends or family. We also have a free escape room created by professionals, which I think, will not be that easy to leave.
Known to a very small circle of people and receiving less attention is our Makerspace project – a technical workshop that we set up in Girstupis branch. Children attend an after-school club there, but people of any age are welcome to the workshop. At one point, a group of like-minded adults was formed. If something breaks, you can find tools to repair, to upgrade things; the children have built a greenhouse from old and unused equipment where they grow herbs, and also a boat, which they tried out in a pond.
The librarian's work, competencies, ability to recommend a book and, most importantly, never criticize a person's choice are also very important.
It is quite difficult to attract visually impaired people. In the library, we have equipment that can read text aloud, as well as a braille printer. We would like people to come and try it out. Visitors can also borrow films and vinyl records from our Art and Music Department. We also encourage book exchange – you can find an exchange shelf in every library.
My favourite project is reading with dogs. These activities are for children aged 5-11. Although 5-year-old children often do not read yet, they tell the dog what they see in the pictures. This encourages children to love the book and associate it with positive emotions. Children can pet the dog while reading. There are also children who are afraid of dogs, and most of the time they manage to overcome that fear during these activities.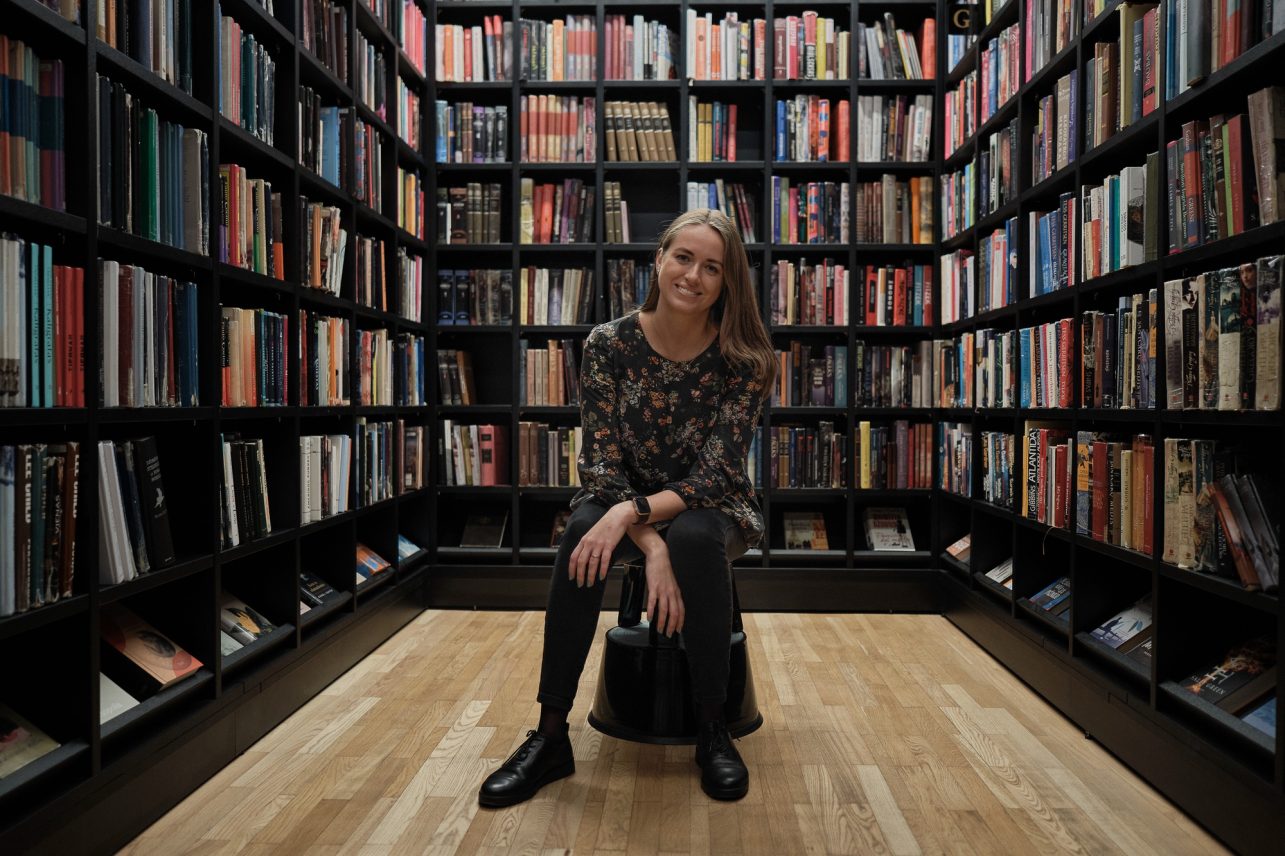 Dogs are great listeners. They don't correct you, don't interfere, they just listen to you. That is why parents never participate in these meetings, only the child, the dog and the dog's handler are present. Our wonderful partners at the Canine Therapy Club contribute on a voluntary basis. I am very happy with this project; it is my pride and joy.
It seems that now the library is going through a very nice period. Whenever I come here, I always find a hall full of people. Many curious visitors gather for events, and you have to wait for some books for more than a month. What makes the library and its educational activities still relevant now, in the 21st century?
I think we stand out because we are very democratic, friendly and try to be as open as possible. We want the stereotypes about librarians who knit or write down the readers' names from the phone book to disappear once and for all. I hope that people will discover their favourite activity and place in the library, will come here to work, read and attend events. The relevance of the library does not decrease – the number of visitors per day is really high in the central library, we receive 120-150 visitors daily. Therefore, we no longer associate libraries so strongly with silence. I think the relevance of the library will only increase in the long run. And it does not matter at all what a person reads. They might start their reading journey from very light reads and then continue onward. The librarian's work, competencies, ability to recommend a book and, most importantly, never critisize a person's choice are also very important.