"I have this story about how I got acquainted with classical music. It should be mentioned that I am the third child in the family, which means that my parents have already experienced the joys of parenthood before I came about. I became an independent person early on. My parents often took me to Šėta, a village in Kėdainiai district, for the weekends," Julijus Grickevičius, who was born in Kaunas, raised in Jonava, then got back to Kaunas and is currently working in the capital, starts the conversation.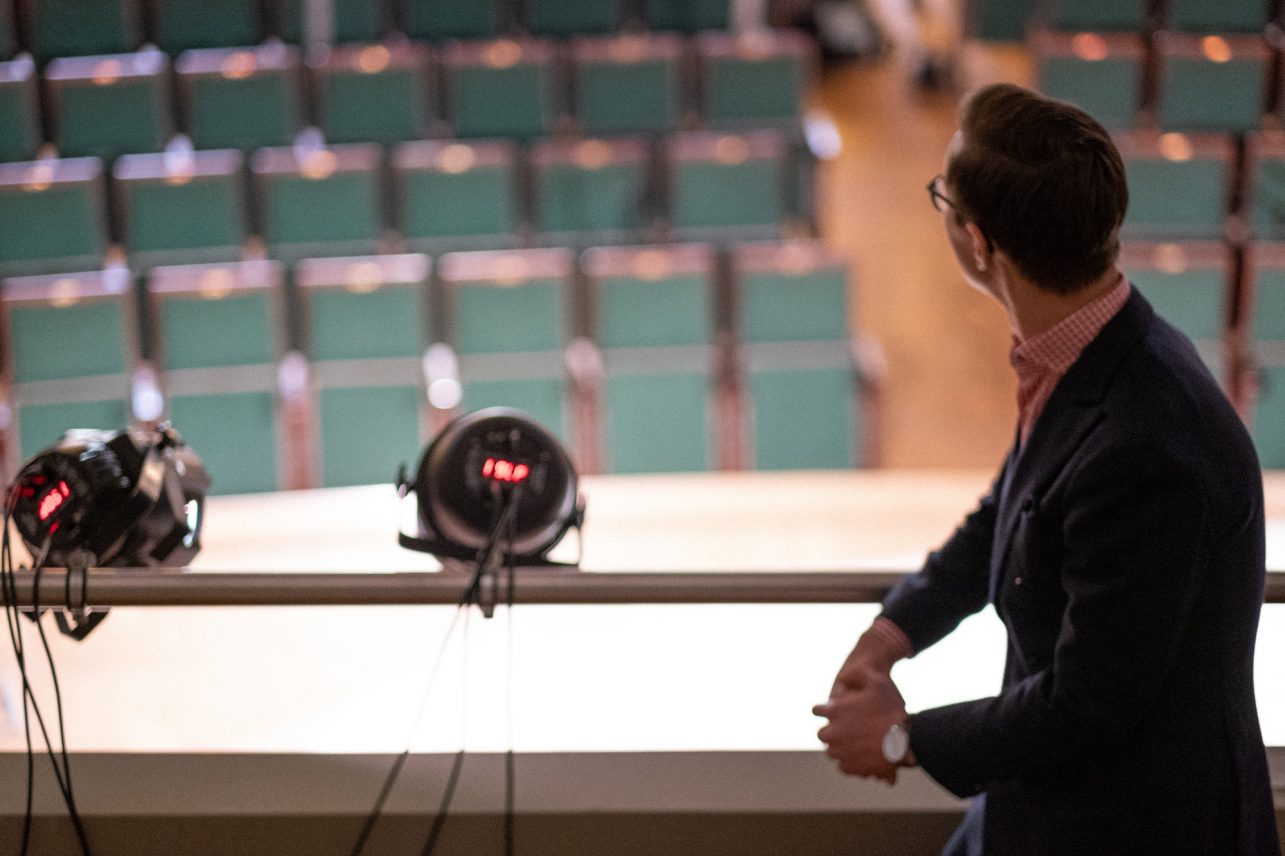 Today he is the head of the LRT Klasika radio station, but we will get back to that at the very end of our conversation. The curriculum vitae of the Ambassador of Kaunas 2022 includes work in an orchestra, the challenges of organizing a student jazz festival and… immediate relationship with classical music, which many members of his generation fail to establish. Maybe it will become easier after reading this? And that pipe is not a metaphor; Julijus has a collection of them and was puffing on one during our conversation.
So why does Šėta take up an essential place in your life story?
We had a CRT television set Tauras in Šėta. In 1998, France hosted a World Cup, which opened with a huge concert at the Eiffel Tower. Three tenors sang there. The singers, the melody, and the whole humming of the orchestra left a significant impression on me. And by the way, it was conducted by James Levine, who passed away a few weeks ago. So, this was that first meeting and love at first sight. The meetings later were varied because I didn't study music; I did not attend music schools because there was neither time nor possibilities. But sometimes, a cassette of Beethoven would pass through my hands. In the fifth grade, I got a CD with Tchaikovsky's Symphony No. 5, and I learned it by heart during the summer. I was very curious, I enjoyed being a geek, and I built a fairly autonomous world for myself.
Then things gradually expanded and came to a more specific interest. Well, there were different periods and, of course, I wanted to fit in with my peers at some point as well… There was a time for Russian rock – Akvarium, DDT – we even organized cover nights in Džem'pub in Kaunas. Later, we organized tribute nights to Viktor Tsoi. But one day I was lucky enough to meet with the leader of Kaunas City Symphony Orchestra Algimantas Treikauskas, and I started working in the orchestra.
How did you get acquainted?
I studied history at Vytautas Magnus University and have been working since the first year of university. I have already had work experience in the Aura Dance Theatre, and the VDU Jazz Jungtys Festival initiated by me had already taken place, so I was thinking of what to do next. A friend passed on the information that Algimantas Treikauskas was looking for someone because the team consisted only of him, an administrator, and an accountant, and the orchestra was young and there was a need for some intermediate position, an employee who could write and organize things. Let us not forget that in 2008 the concept of "public relations" was relatively new in Lithuanian culture. A poster on the wall or a repertoire at Kauno Diena, that was all when it came to publicity. So, this is how I got acquainted with Algimantas. He told me, "It would be good if you knew something about music or music history." I told him that I do know a bit, but it also motivated me to learn more.
And how did that knowledge come about: reading, listening, lectures?
All of it. When you bump into a good topic, the points of access are endless. No chronological order is necessary. If you are interested, you can get into music through history, military science, various other things (Julijus participates in historical re-enactments, ed.).
Finally, let's not forget that it is just beautiful. And that "just beautiful" changes a lot with the listening experience. The main engine of music cognition is precisely the listening experience, not the knowledge. You start to delve deeper, and you realize that, apparently, things differ, this sounds better while that – not so much. Then you ask why it differs. In general, getting to know something is just one big game. We want to look at knowledge in a very formalized, methodical, systematic, and diplomatic way, but I think that knowledge, for the most part, is authentic because of that game-like form.
You mentioned Jungtys VDU Jazz Festival. How did you come up with this idea to organize such a student-oriented but at the same time non-student festival? When did it reach its peak?
Very often I think of how my life would have turned out if it hadn't been for that festival because it gave a lot and also took away a lot. Now, eight years after the last festival, I can say it was a serious ordeal. But I was 21 at the time, I had just finished working at the Aura Festival with Gintarė Masteikaitė and others. I worked at Aura for two years with two international festivals, and I really enjoyed the very phenomenon of the event; how many things can be told in a concentrated way in a short time. So, all confident, I went to VMU management and said that we needed to have a university jazz festival because it is a gold mine. Kaunas is a jazz city, you have the infrastructure, we have ideas, all we need is some money, we will try to sell tickets, etc. And that is how the festival slowly started. In the first year, it was quite inauthentic, but later it became more and more authentic.
What do you mean by "inauthentic"?
Imagine, the first festival featured the band Fusedmarc, then Pieno Lazeriai, then the Artūras Anusauskas Quartet, the Giunter Percussion Ensemble, and so on. The second festival featured Saulius Petreikis and Sergejus Vychrovas, the musical performance Novečentas, directed by Arvydas Lebeliūnas, was shown. The second festival was much smaller because, of course, everything cost a lot, we sold very few tickets and the university had to contribute a lot, which did not make them very happy, but they realized that the event has potential.
Back then, the desire to play and express oneself was very strong in Kaunas. A joke was even going around that Vilnius is inhabited by old men of rap and Kaunas is a city of free jazz. I remember that we occasionally organized events in the PuntoJazz attic, which was not yet renovated; we would take in touring musicians in the summer. And then, Arnas Mikalkėnas, Tomas Razmus, and other free-jazz enthusiasts show up to one of the concerts, and they want to play like crazy. They also say that they need someone to organize events, they say they have already made some contacts and done this and that, so let's do something. And then we started working with them. It was four intensive years.
And then I met Liudas Mockūnas, who brought various social connections and acquaintances with him. I have organized maybe twenty of his concerts with all the possible stage partners in Kaunas at that time. We have also brought such phenomena as Avram Fefer. He is a Litvak living in New York, and he came with Chad Taylor and Eric Revis. Back then things were great, but we had to drive to the airport ourselves, welcome the guests and pay for their lunch.
We had invited Ken Vandermark to Jungtys of 2011. he was the highlight of the festival. We had compiled the program with 6000 litas. Thank God that Vytautas Magnus University came up with a way to employ the festival. They started organizing graduate days, which means they would buy about 500-600 tickets from us, which went into the festival budget. In this way, 9000 litas made a pretty decent festival. And on top of all that, we invited Vandermark. Things were great, there were many fans, and the organization reached a very good level. And then I decided to use a trump card and invite Peter Brötzmann's Chicago Tentet in 2012. In short, I paid the last installment of the debt for it last year. To be honest, I have been in despair for some time. It took a while to reach an agreement with the organizers and so on, but the concert took place after all. It was a sort of life lesson about overestimating your power and certain units of measurement. Enthusiasm is one thing and business is something else.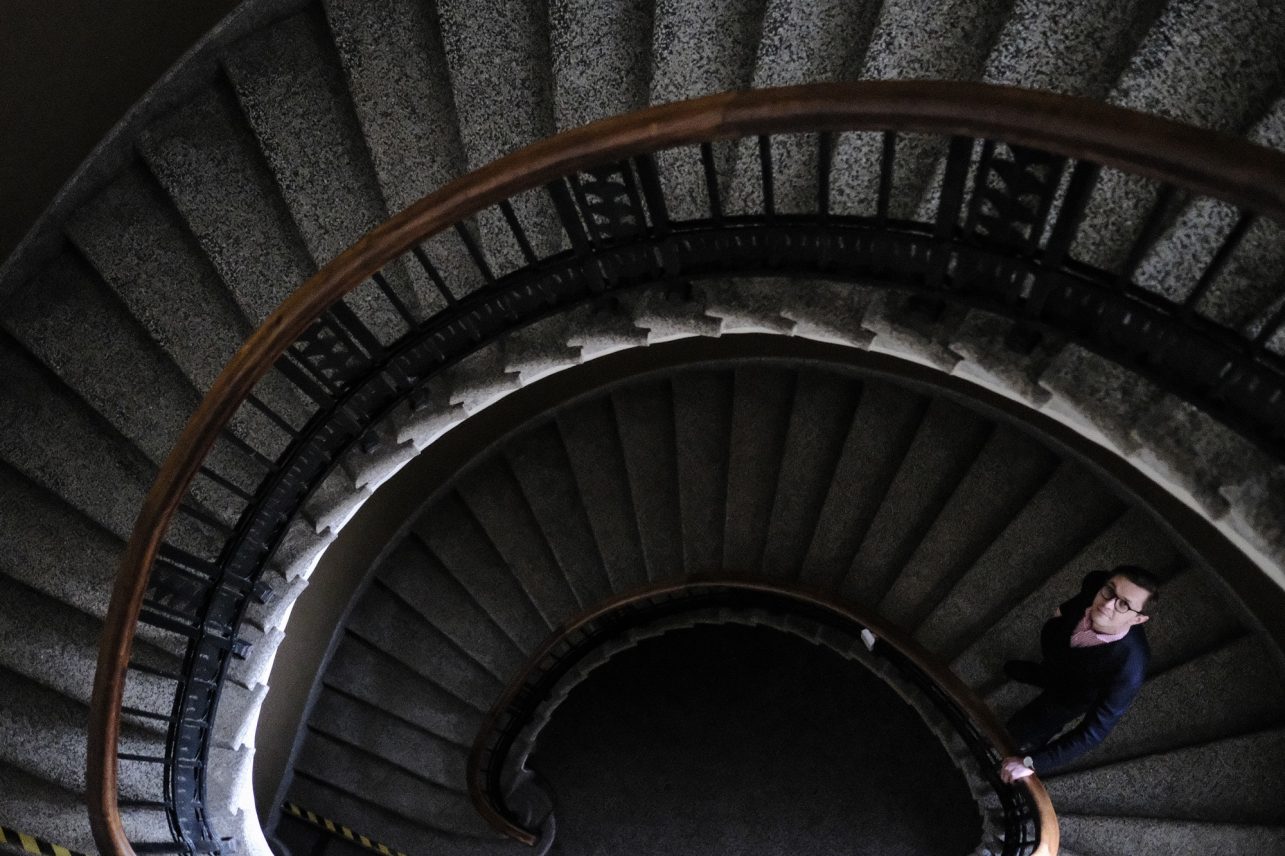 And if we went back to classical music. How much business is in it?
It is business, one way or another. All art has its industry side. Classical music is no exception. When people try to artificially spiritualize things, treat them as a museum exhibit, put them behind glass and carefully clean the dust, God forbid you'd spell someone's name wrong… This exaggeration is damaging to music. It slowly puts it to death, destroys it. It does not allow to pass it qualitatively from generation to generation, because it starts to smell like an unpleasant obligation, duty, some kind of preconceived knowledge, and we started the conversation with authentic learning, playfulness and so on.
All of this is insanely expensive to maintain, and that is the reason why classical music is one of the most institutionalized arts. When the support by manors and private people who could afford it seized, the state became its main supporter.
Before the interview, you mentioned that you don't have an audio library at home; you are a Spotify kind of guy. So, what are your recent discoveries on this platform, what do you recommend listening to?
I keep track of what interpretations are released, what's new, what comes in stages, maybe some orchestra has recorded something. Last year I was very impressed by the Shostakovich symphony albums recorded by Andris Nelsons and the Boston Symphony Orchestra.
I have also spent a lot of time last year with the symphonies of Jean Sibelius. I really enjoyed one interpretation by the London Symphony Orchestra. They played his last, Symphony no. 7 and I suggest you listen to it immediately after the conversation.
And then there's Gustav Mahler. For me, this music is about space. Mahler was able to create such an orchestral atmosphere – clearly a gigantomania of late Romanticism – when orchestras had already expanded to 130 people. And all that atmosphere, the sound, is reminiscent of a great narrative in which you discover something new every time you listen to it. It is impossible to have enough of Mahler; his music has so many contrasts, so many different tempos, philosophies and thoughts. There is no self-serving music, just this constant narrative.
And then there's Richard Wagner, my beloved Wagner. I had even started learning German so that I could understand and sing some of his operas to myself. I had this pre-quarantine promise to myself that I would visit one production of the The Ring of the Nibelung per year. It is a tetralogy, four operas, so if you are going somewhere then it's at least for a week. A total of about 16 hours of music. Wagner is a topic that usually doesn't leave anyone indifferent, and if you go to a Wagner festival, you don't see random people there. Usually, people come with a great listening experience, there is a certain culture of Wagnerism.
There is a book by Alex Ross called Wagnerism. It covers many aspects. He was a controversial guy, but his music is extraordinary. It has a lot of power that can emotionally take you very far if you are able to listen consistently. It contains a lot of roughness, middle register, but sometimes even something erotic and incredibly strong. Wagner's tetralogy The Ring of the Nibelung is one of those works that you can watch once a year in a theater and remain in that substance for a week.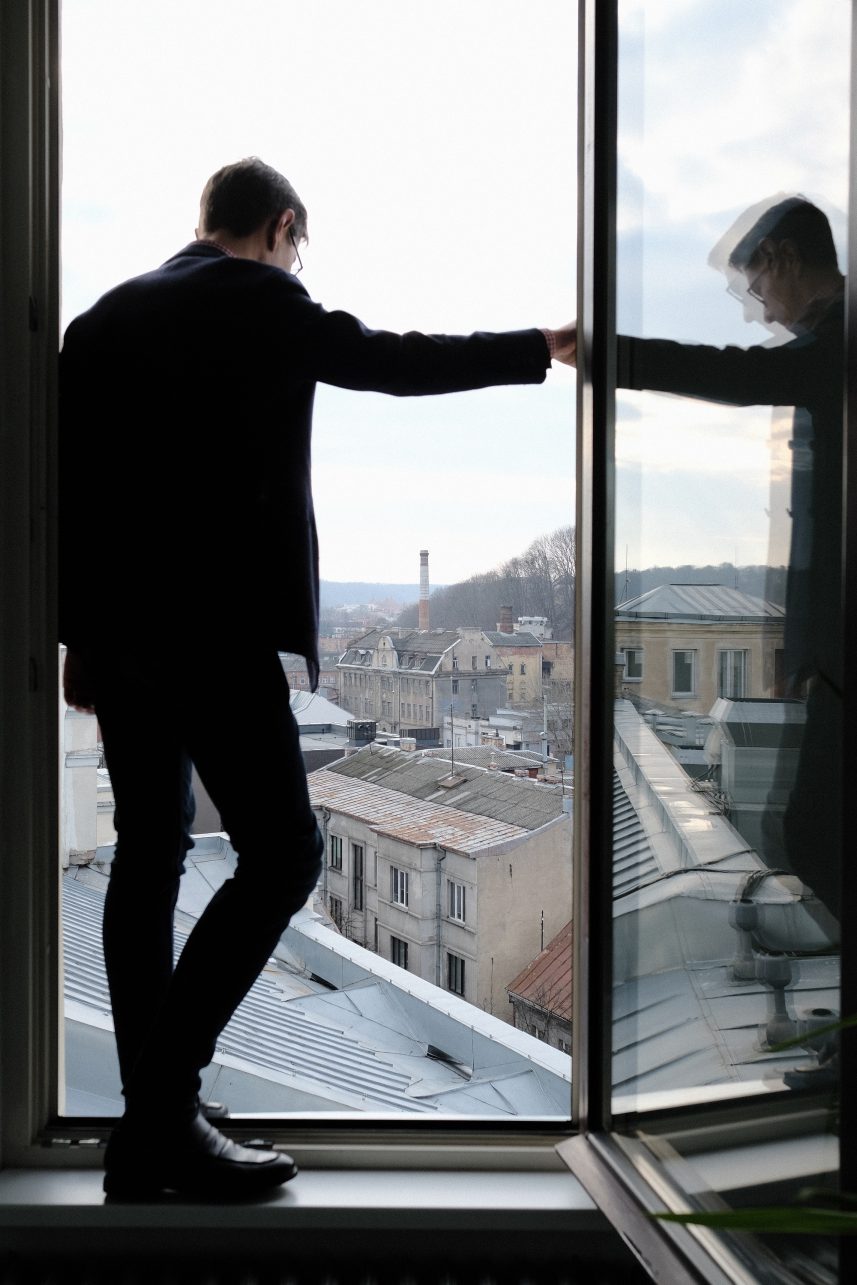 I just wanted to ask about the most emotionally impactful concert you have witnessed. Is if something from the Ring series?
The Ring of Nibelungs, first seen in Budapest, is one of the most powerful things. Of course, there have been other powerful first concert experiences. When I started working for Algimantas, that same week, an Italian violinist Pavel Berman was playing Brahms's concerto for violin, and I remember the impression that, wow, this is some serious virtuosity, real music. The philharmonic was full, those were the days. Once, I remember, in the 7th grade, I went to the Kaunas Philharmonic when Muza Rubackytė played. I did not see the orchestra. There were so many people that it was impossible to see what was happening on stage.
I have one last question about your current job. You have been working as ahead of the LRT Klasika radio station for more than a year. It is a totally niche station in terms of ratings. What do you think you did as the head of the station so that people, who did not listen to it before you took this position, would start doing it?
I cannot guarantee that people will listen or will get more interested, but since I have been analyzing that channel for a long time and have also been its listener, I first wanted us to not have such things as "impossible" on the channel. There has been a lot of change but, I must stress, it was not related to simplification and was rather an attempt to increase accessibility. Secondly, I think that the mission of the radio has changed a bit. The collective experience of the radio has become, in the true sense of the word, more collective through radio leadership. We started organizing events. We tried to make this radio station visible at the most important cultural events. Another thing is the emergence of new people and voices. Musical diversity, not only in the genre but also within the genre, is not a finite process as well.
A year is very little time in terms of attracting listeners. First, we thought of those who should be listening to us but for some reason hadn't discovered us yet. Only then we thought about those, who might randomly turn to this radio station and specific genre. We strive to make our radio a friend of culture and a best friend of music. On the other hand, I'm talking about slow-consumption, long-listening here because we will never be a radio that is all about ratings. The prospect of growth on the FM waves is limited, and we should be happy to work for that particular circle of people and expand it. But I also see another very positive trend: people who listen to music online, are increasingly discovering LRT klasika. Here I mean both live broadcasts and on-demand content: audio library, podcasts.
Of course, this also shows the general tendency that people listen to FM less and less. They will be compiling their own content, very often regardless of the channel. In this grinder, the most important thing for us is quality content. One that you can create without aiming at the masses because in terms of content, our goal is to be niche. However, that specificity has two different forms. One type of niche is the attic where you leave all the necessary stuff and pretend it's very specific and wonder why no one comes in. The other specificity is very boutique-like, when you create very little, in a small space, a highly in-demand product precisely because it is in demand due to its specificity. Precisely because you speak that language and touch upon those topics that no one else talks about. To shorten this philosophy, I claim that specificity is good. Only that niche needs to be well carved. This is probably where the great art of radio lies.