French-born Clara Giambino was only 21 when she moved to Lithuania. Since then, she has professionally worked as a dancer in Kaunas dance theatre AURA as well as a choreographer and performer on her own projects, recorded songs and played concerts, opened cafe "Chaika", and settled down in Kaunas. On a warm day, we sat down for a cup of coffee to chat about her experiences here as an artist and person or as Clara describes herself as a kaunastic lover.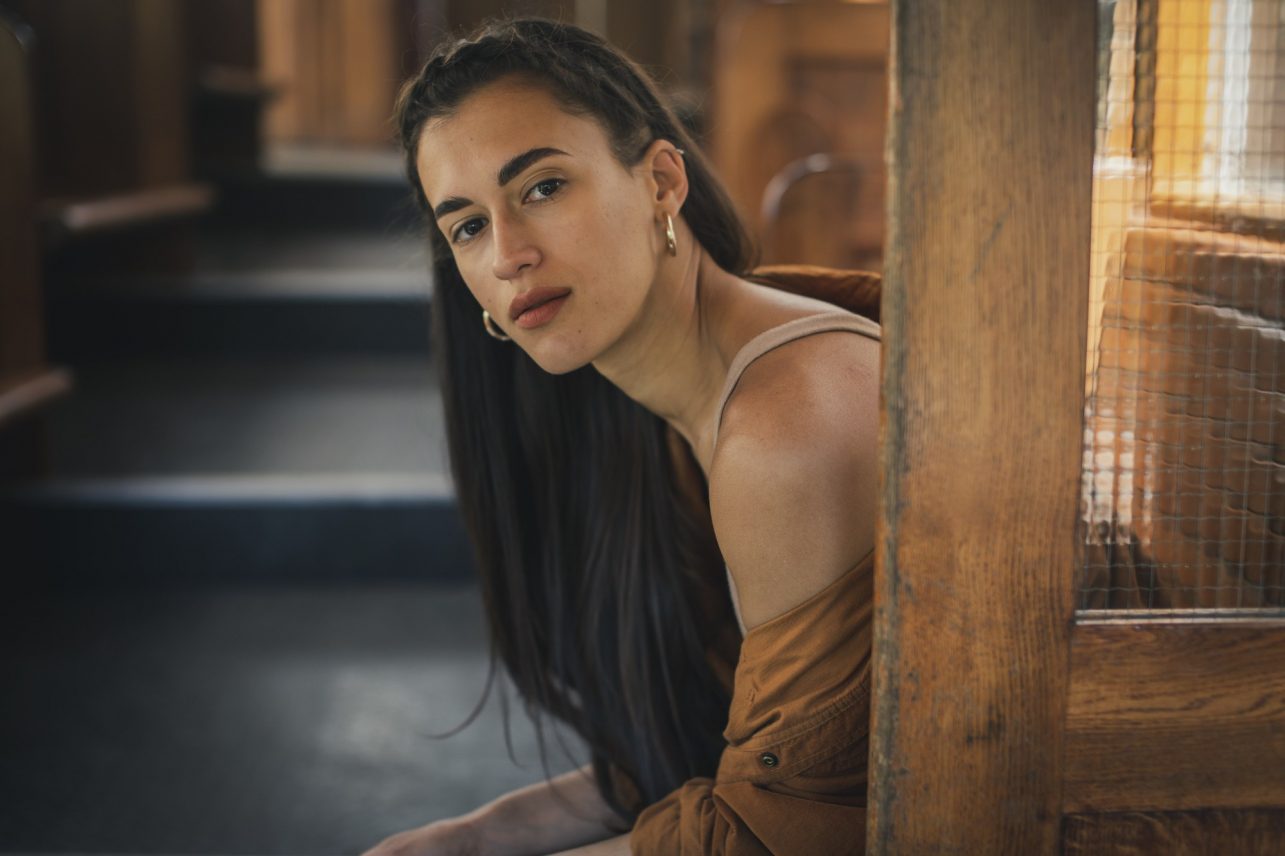 First, can you tell me a little about where you are originally from and why you left your hometown?
I was born in Marseille, a sunny city in the South of France. I lived in a small village about 20 minutes from the city with my parents until I was eighteen. When I graduated high school, I joined a medical university. I focused on science studies in my teenage years, and it was so clear to me that I wanted to become a doctor. However, after around a month of studies at the university in Marseille, I understood it was really not for me. I remember thinking, what am I going to do? Did I make the wrong choices throughout all those years? After leaving the university, I signed up for a dance workshop. I always loved dancing as a hobby but never considered it a possible career path. The primary teacher of the workshop asked me if I wanted to join her training program in the North of France. Leaving home and moving 1000 kilometres away on such short notice was a drastic choice, but my parents were very supportive. So I packed my bags and drove myself all those kilometres. I lived and studied dance there for a year. It was an amazing experience.
What brought you to Kaunas?
After dancing in the North of France, I studied contemporary dance in London and then in Israel. In Israel, it was very physically intense training, and I felt like I was properly prepared as a dancer. So I checked the job offers and auditions for dancers online. It's worth mentioning that usually there are around ten offers while there are like 10 million dancers in this world. It's really difficult to find a full-time job as a dancer. You have to be very talented, very lucky, or fit a specific director's artistic vision perfectly. What you do when you have almost no experience is apply everywhere that seems like a decent fit. Hence, it's not like I singled out Kaunas dance theatre AURA, but it was one of the places that I applied to.
AURA invited me to audition in person in Berlin. Up until I got to meet Birutė Letukaitė, I thought that the company was based in Germany so finding out that it's actually in Lithuania was quite a surprise. However, when I was invited for the second round of auditions in Kaunas, I decided to go. My first impression of Kaunas was honestly pretty bad because the weather was almost apocalyptic, and the streets very completely empty. However, at that time, I was so hungry for work and dance that I decided I'll adapt to it. So, when I got offered a job at AURA, I moved here. And I am glad that I did since I see Kaunas with completely different eyes now.
What were the most valuable lessons you got from dancing with AURA, and why did you leave?
I learned not to take things personally because when you dance in a company, it's not about you. There's an art director who has a specific idea, and if you do not fit that vision, they will let you know. I had to learn to focus on the work as a dancer and not as a creator. It is like this with most dance companies and directors. After all, all geniuses are strong and sometimes difficult personalities. And I do believe that Birutė is a genius. She raised contemporary dance here and is still doing miracles. I appreciate everything she does up until now, and after a fair amount of time, I left the company and started working more on my own because I felt the need to express my own artistic vision. I needed to gain my inspiration back and find my own way to grow as an artist and as a person. And while dance is my main passion, I have many interests, so it can't be the only focus in my life. I could never leave dance behind because it is a part of me, but I wanted to free up some time for my other skills.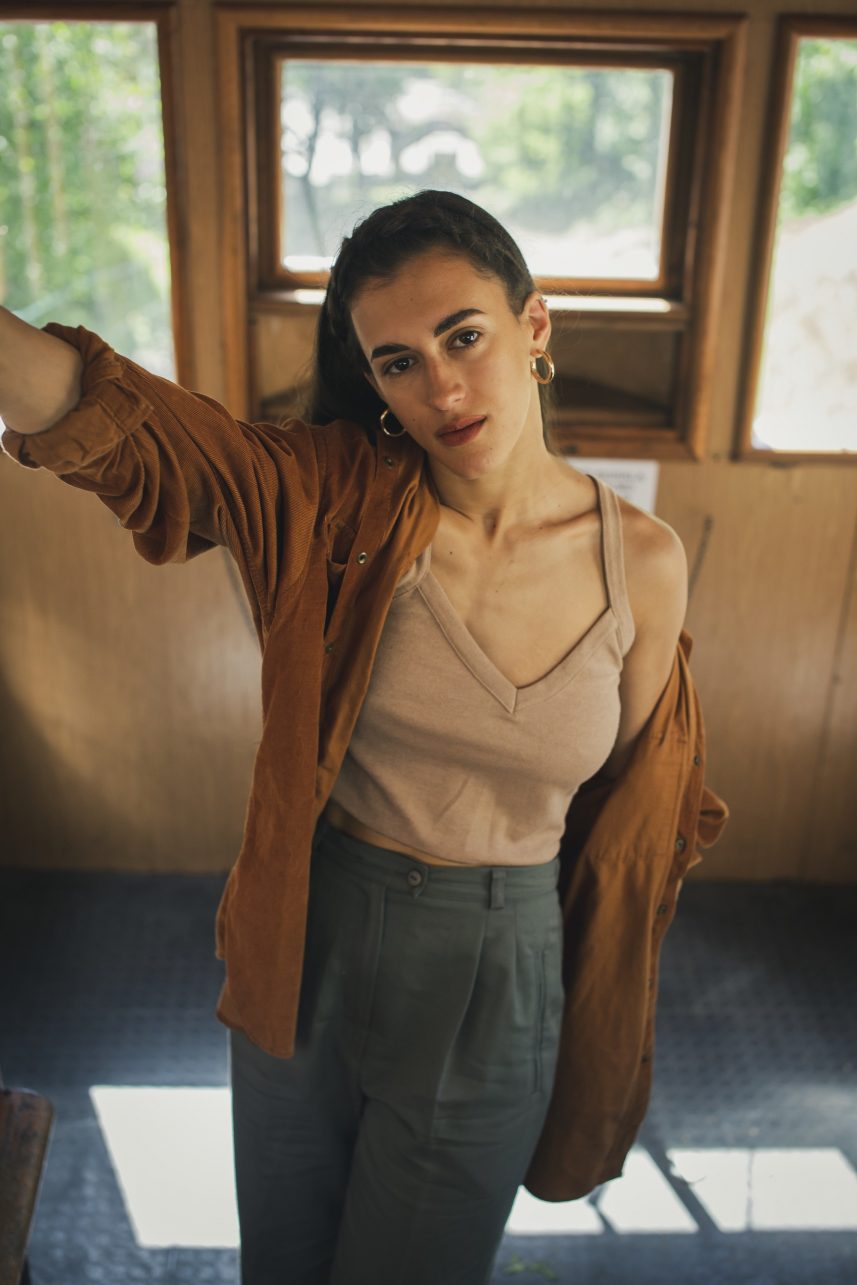 One of those skills that you mentioned is singing, correct? Did you discover your passion for singing here in Kaunas, or have you had a knack for it before coming here? Do you have a vision of where you would like to take it in the future?
I always felt a passion for it but never had the courage to get deeper into it. The most I could do was publish covers on Instagram, which I started doing. After seeing those videos Ilja Gun (member of Royce band), a previous colleague of mine from AURA's performance "Sprendimas", contacted me. I got a message from him offering to collaborate on some new content and record in a studio. We started meeting up with Ilja and Justas Katauskis, trying out different melodies and lyrics. Little by little, we began creating songs and my first song, "Širdis", was born there. 
I was very happy that this song gathered some attention and that people are listening to it. I think that's the main goal of a singer – you want people to listen. It's beautiful to have the talent to sing and to find people to create music with, but if nobody cares to listen, then there is no point. I don't believe in doing it just to fulfil my ego; I want to share my art with others. Currently, I'm very happy that I get to do performances in Vilnius, Klaipeda, Anykščiai, and other cities, but I would love to have more opportunities to sing and dance in Kaunas because I love this city and want to give something to it.
Even though you are not fluent in Lithuanian, the lyrics of "Širdis" are based on Vincas Mykolaitis-Putinas' poetry. How did this come about?
When I was working on this song, I wanted to find a connecting point between what I like and where I am now. I wanted the Lithuanian audience to hear me and understand me. I hoped that singing in Lithuanian would help me to create that feeling of connection. However, while my Lithuanian has gotten a lot better, I still can't create lyrics using it. Hence, I thought that adapting poetry could be a good idea, and my producers supported me in this decision. After some research, we found this poem, and it just felt right.
You're also one of the owners of "Chaika" in Kaunas. How did you decide to open a cafe here? In your opinion, what makes "Chaika" special?
I got stressed and unhappy that dancing became a way of paying my bills. It put me in a situation where I had to dance full-time, or I wouldn't have food at the end of the month. When I decided to become a professional dancer, it was out of passion, but it had become a tool for me to earn money just so I would be able to live. Because of this, I felt I was losing my love for dancing. It was not the way I wanted to approach art.
So I needed to find a more sustainable way to survive. I am a passionate person so picking a random job was not an option for me. Hence, I started looking for something grounded and stable that I loved, next to which I could have the freedom to create, work, and choose what I wanted to focus on. I wrote down all my interests, and after looking through them, I noticed that they could be fulfilled by opening a coffee shop. At that moment, we were living together with my current business partner Silvija Butkutė, and we had many common curiosities. When I shared the idea of opening a cafe in Kaunas, she also felt passionate about it.
We both loved "Chaika" in Vilnius and used to say that there should be one in Kaunas. We needed those cakes here. (laughs) We contacted the people behind "Chaika" in Vilnius, and they also liked the idea of opening one in Kaunas. Bit by bit, this thing we were joking about, this fantasy, became more real. We started with zero experience in business and zero knowledge of coffee and of desserts. But we were just great fans of "Chaika" and saw the need for it for people who live in Kaunas. We were very honest and proud of opening it, and I think that it's one of the reasons why people like it.
What I personally love about "Chaika" is that it targets everyone. If you're lactose or gluten intolerant, vegan or eat everything, there is always something to choose from in "Chaika". I think that's very important.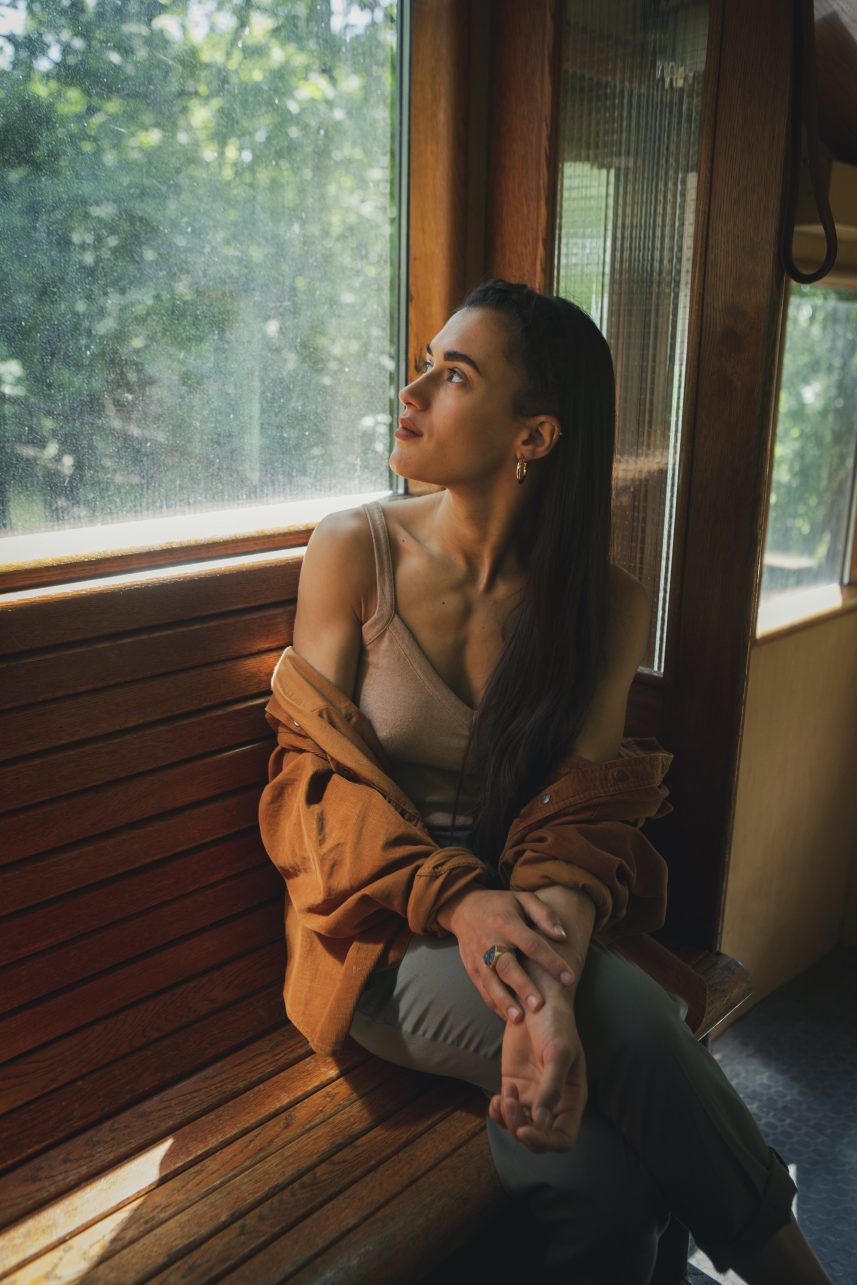 You mentioned your first time coming to Kaunas and the first impression a little bit, but can you tell me more about your experiences here? Was it difficult to adapt to living in Lithuania?
I was very unhappy living in London. It's such a huge city, and this giantness of everything did not suit my personality at all. In Israel, I was living in a kibbutz, which is a super small settlement. There are a few houses, and then you're surrounded by nothing. So, when I arrived in Kaunas to live here, after the dreadful first impression at the audition, I actually realized that it was a very nice middle-ground for everything I have ever experienced. It's a small city but not ridiculously small. It has many cool places to visit and plenty of cultural activities. In Kaunas, I have found a place that feels cosy and familiar.
What are your favourite places in Kaunas?
I like Šančiai very much. I used to live there for a bit, and it's such an interesting place to walk around. It feels very artistic and messy in the best way possible. For the beautiful nature, I adore Pažaislis monastery, the surrounding forests and Kauno Marios as well as Kleboniškis and Lampėdžiai. I think "Parakas" is a very interesting spot. I'm happy that "Romuva" finally opened because it was such a mystery for all of those years. In general, I enjoy walking through Laisvės alėja very much. In terms of places to grab a snack or a drink, I like "Ridikas", bars "Godo", and "Kultūra". And obviously "Chaika".
Do you think you will settle down in Kaunas for good, or are you still thinking about moving back to France or somewhere else?
I just bought a house here. I hope that it will be a safe and grounded spot for me and my partner Arūnas Mozuraitis to live in and to always have a place we can return to and call home. I always function like this – I need something stable to be able to do the things I am passionate about, and this will be our home base. I stayed in Lithuania because I had opportunities to work and fulfil my ideas here. I still see those opportunities and feel inspired. I am still learning and growing here as an artist and a person. As long as this is the case, I know I'm at the right place.