After about an hour and a half, Virgis receives an anonymous call to his new, conspirational phone number with an information on what number to call, how to introduce himself, and what is the alleged purpose for finding out the address. Without waiting for too long, the chief officer acts and gets on the road, easing the stress with his favorite music. Halfway through the approximate route, he calls to find out the final destination of the trip.
"Yes, listening" (very seriously).
"Well, look, Renatėlė, Saulius is calling here."
"(Gets almost confused for a second) Yes."
"So, look, we will get those briquettes for you today. As I told you before, the cargo was late from Poland. And you should know that the storeman deceived me a bit. Because we still haven't shipped several tons. So really, I think that we can put some of it aside until Monday and deliver to you as much as you need now. Is that OK?"
"Yeah, well, OK… then deliver it. I will be at home then, in the homestead."
"Super. Only remind me your address then, Renata, if it's not too difficult, and more or less, how to find you."
This is an excerpt from the second season's last episode of Chief Virgis. You haven't seen this epic, with a subtitle that says, "To defend. To protect. For your own"? Well, that's only because the series was never filmed. But it can be enjoyed in writing, if you read Lithuanian.
The author of the script is Simonas Mieliauskas who delights internet users under the pseudonym Tanoka777 (777 is just for coolness but the name that pays tribute to Tanoka Beard from the US, who played in Žalgiris, was earned on a basketball court in Šilainiai, between two schools). He grew up in Šilainiai, received his maturity certificate issued by Santara Gymnasium, then managed to live for some time in a country that had just left the EU and now again spends his days on the seemingly insanely gray outskirts of Kaunas. In the 5th Šilainiai, to be precise.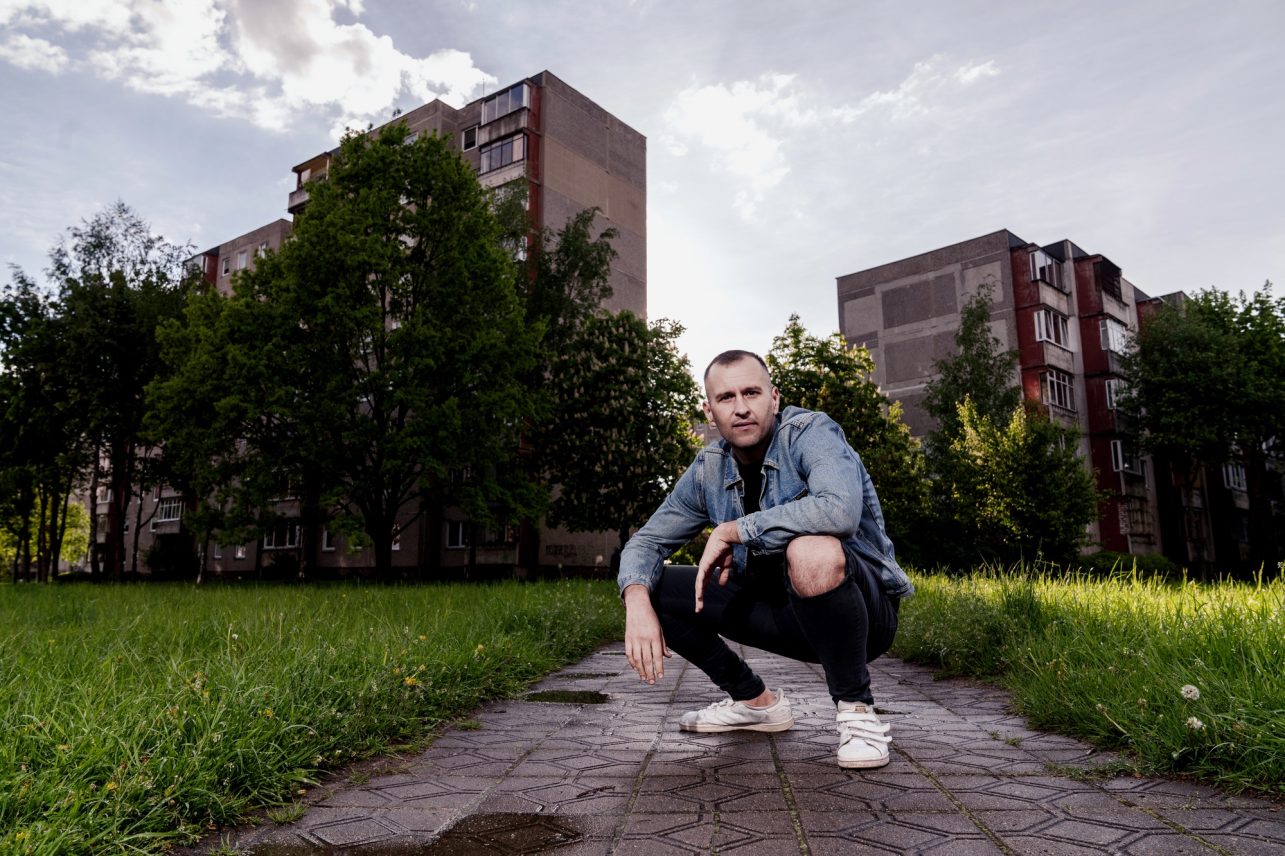 "Šilainiai is in my heart, the sentiments and the images of childhood and adolescence. And their charm doesn't lie in the apartment blocks," Simonas assures while walking through a recently established park, the access to which is marked by a gate similar to the ones found in Chinatowns. Soon we are caught in the rain and the interview continues under the stairwell roof, at the basement door.
If he manages to notice at least one thing in Kaunas bars, school, street, among friends, he calls it a good day.
Chief Virgis, according to the author, was born out of frustration with Lithuanian TV series. This script is constructed according to the best US TV show traditions and the main character reminds us of a character from the first season of True Detective. Although, you can find such people and the networks of interest around them everywhere. Any similarity with actual events is purely coincidental. The crowd of fans of the script that was posted online a few years ago was considerable at the time, with people even stopping Simonas on the street to get to know him. The screenwriter does not hide that the creative process was collective, he received a lot of ideas, compliments, memories, advice.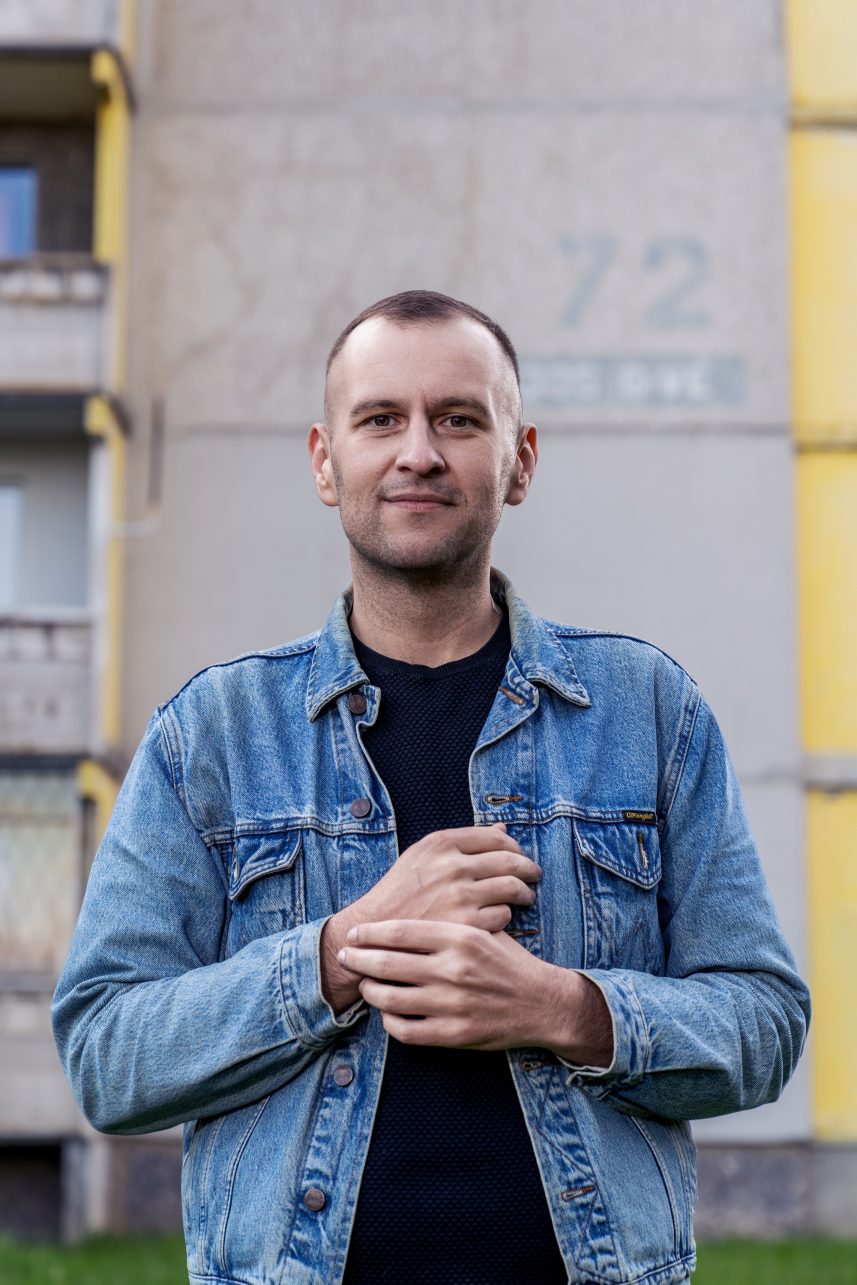 Simonas' new epic, The Dirty Diary of Post-Sov Kids, is similarly constructed. It is a story exploring the nature of his generation, currently levitating between the ages of thirty and forty. The text that is written in the first person, reveals many of Tanoka's own experiences and the issue of millennial duality typical of our region. A hipster but also a gopnik. Intellectual but in a tracksuit. Has West-inspired views and hobbies but speaks in Slavic slang. Suburban but with a penchant for art. You can follow the diary of post-Soviet kids by supporting Simonas on Patreon.
It is important to mention here that Simonas' talent for writing did not appear yesterday. As a child, he published a book of poetry and participated as an adult in the Poetry Spring. And his favourite novel is Shantaram, although more often he chooses non-fiction. Our hero claims to know the least about photography from his group of friends and perhaps this is why he weaves his texts in such a detailed and picturesque way. His writing is abundant and draws you in immediately. Trust me, three seasons of Chief Virgis and the accompanying film script can be read in a couple of days.
There is a lot of irony in Simonas' texts (not only in the aforementioned long works but also in the posts of his previous account on Facebook, which he also shares with his patrons). To put it mildly. He mocks everything and exaggerates nightlife experiences, SMS dating texts, emigration adventures, political intrigues. However, he has a hard time with stand-up comedy, although he has sincerely tried to like both it and "conventional" comedians and agrees that the quality of the genre in Lithuania is quite good. He finds that today's content could be more natural and less pretentious. "I can only single out one person who never bores me and whom I've seen live, and that is Šventinis bankuchenas."
"I am an observer of life. I like to participate but only to a certain extent, and after leaving the action, I become a spectator," Simonas describes his hobby, which turns into a text. If he manages to notice at least one thing in Kaunas bars, school, street, among friends, he calls it a good day, a holiday, and burns with impatience to sit down in front of a keyboard, describe it and write everything down and pass it on to followers on Facebook or Instagram (on the latter you can get a glimpse of his singing talent). If in the past such days/celebrations happened almost daily, now a couple of times a month is enough, "It has become harder to get inspired over the years, maybe your senses get dull, or your age and declining endurance play a part in this as well."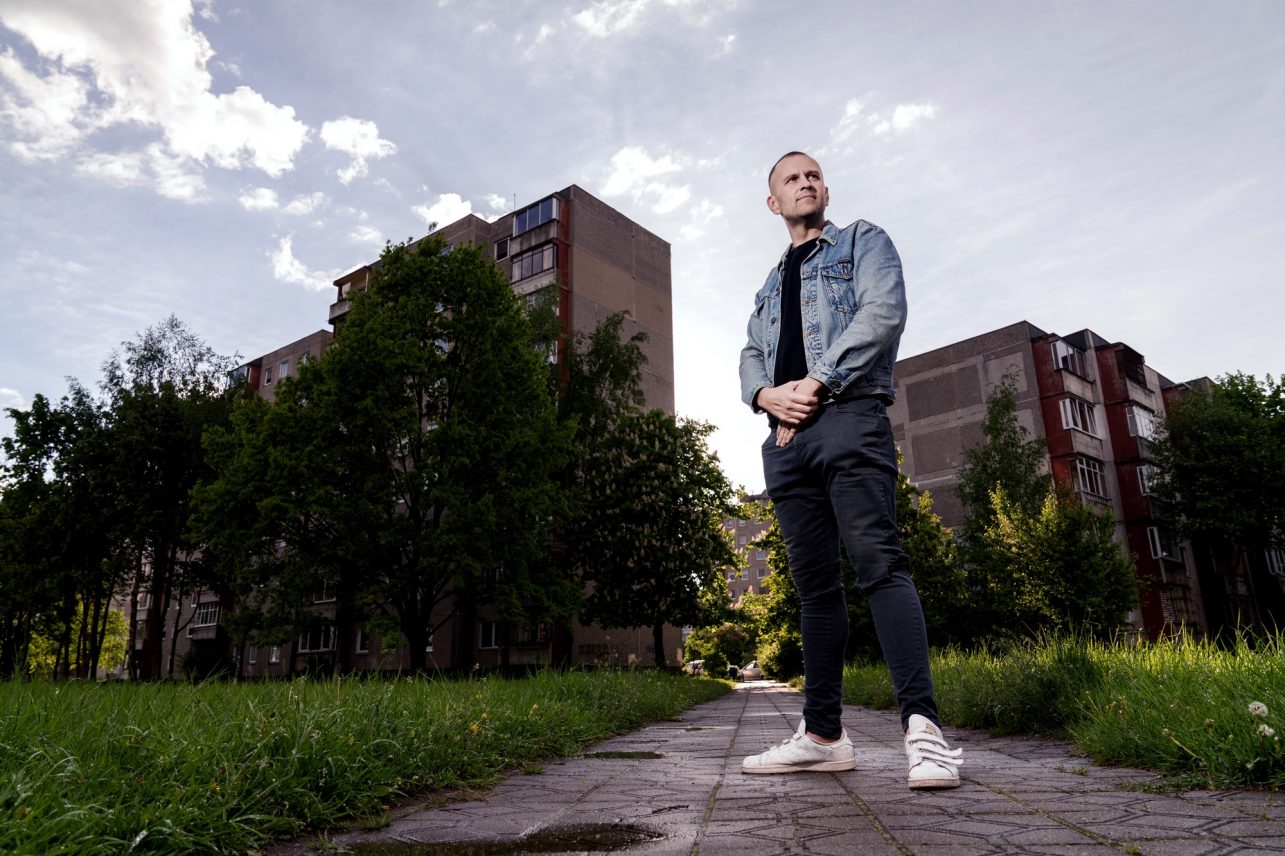 One of the strangest phenomena of Tanoka is that despite having given up all nerve-wracking subscriptions on social media – so dutifully that he only receives fake Ray-Ban ads – he is still absolutely aware of the most important things going on in the world and has a strong opinion on them. Quite interesting, since, apparently, you don't need to scroll up and down your phone all day to collect your arguments. Perhaps one hour a day is enough? Or even once a week. You will definitely not miss anything. You will not get into a pointless discussion and will avoid a ban and, on the flip side, will have plenty of time for screenwriting.
We end the tour of the metaphysical layer of Šilainiai in the same stadium where Tanoka's pseudonym was born. Three decades ago, it was simply an open sports field for two schools. Back then, when Kaunas was burdened by the consequences of the wild capitalism of the 90s, the jungle of the district became an unattractive ghetto. Now the little fences that have just been washed by the rain are glistening in the sun, a comfortable pavement is reddening. Perhaps the children of newcomers or maybe third generation Šilainiai residents are energetically chasing the ball. Tanoka calls such solutions – when green fences restrict the passages and spaces – SAPARDIC, based on the well-known European Commission's Special Accession Programme for Agriculture and Rural Development.