Every month, we deliver a package of the magazine to the Berželis branch of Kaunas Vincas Kudirka public library located on Taikos Avenue next to the legendary Trys berželiai store. That quarter full of small businesses is really interesting. There is even a record store there and Kvieslys café, located in the same neighborhood has a charming and authentic interior. Some time ago, we noticed a new sign: Pas mamą (Mom's Kitchen). Soon, the same logo started to circulate on Facebook, accompanied by five stars.
Ukrainian Natalya Faer opened a ready-to-eat meal production spot and in less than a year – two more shops in the suburbs of Kaunas. It is nice that food – Ukrainian nonetheless – united a dozen women who had to leave their native country. Of course, the happiest ending to this story would be if they could all go home. But for now, the home of Natalya and her employees is here in Kaunas, and we really couldn't complain about the excess of Ukrainian restaurants so far, so one more Chicken Kyiv or a portion of dumplings with cherries is a really welcome contribution to the gastronomic map of Kaunas.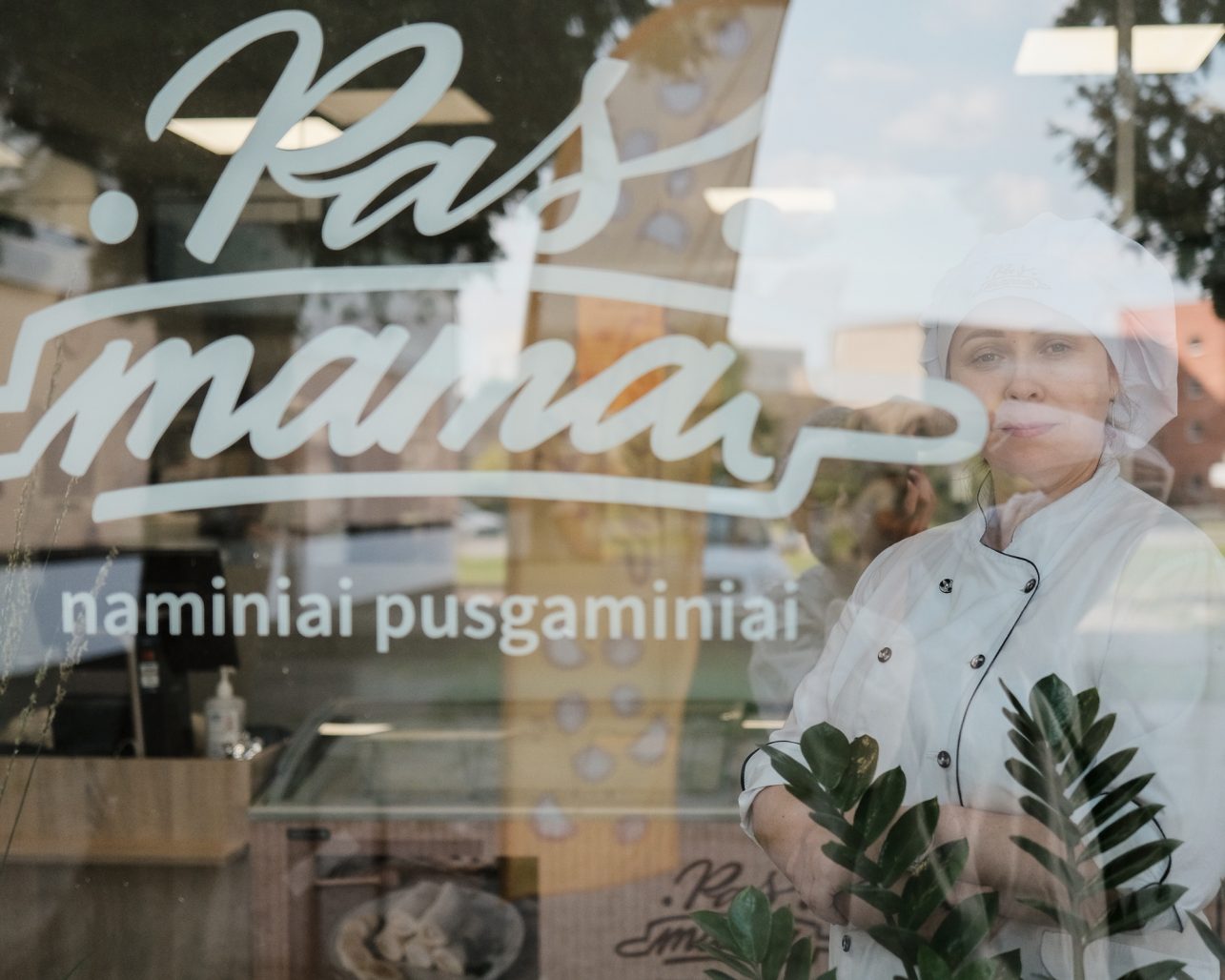 How long has Pas mamą been open?
We opened on December 3, 2022, if I remember correctly. I have been in Kaunas for more than a year, I arrived last August. Until then, I lived in Irpin about 16 km from Kyiv. I came with my family: two daughters and my husband, who, by the way, is Lithuanian. He is a businessman and has spent 23 years in Ukraine.
Maybe integrating in Lithuania is not so difficult when your husband is local.
I don't find it hard in general. The only bad thing is that I still don't know the language, but you can still come to an agreement with people, if you want. However, I will start attending Lithuanian language courses soon. Basically, it wasn't difficult. Sitting without work is not for me. I want to run, rush, do things. Upon our arrival, I spent maybe a month doing nothing, I was very sad. Then I told my husband: I need to do something. He told me to do the same thing that I did in Ukraine. We left the same ready-to-eat food production business and three shops. We started this business a year and a half before the war, and the workshop continues to work, only, you know, there are nuances, for example, regarding the electricity supply.
So, I already knew what to do and how to do it. The technical stuff took a bit longer. I had to find the right programs for everyone to see everything, for the workshop and the shops to be able to communicate, and so on. We initially looked for premises in Vilnius, but we could not find anything good and suitable for cooking. It was either too much or too little space. We decided to visit Kaunas. We walked around, I really liked the city itself. It turned out to be similar to Irpin: trees, lots of green spaces, it was cozy. My girls also preferred Kaunas. So, then we started looking for premises in Kaunas. It took us a week, we agreed on everything with the owner, she took a virtual tour of our workshop in Ukraine, we signed the contract, I ordered the equipment, and that was it!
Do only Ukrainian women work in Pas mamą?
In the production part, yes, but the saleswomen are Lithuanian. Well, there is one Ukrainian, but she is learning Lithuanian and is trying very hard. Twelve girls are working now, none of whom I knew before the war. I searched, wrote, and called through ads and Facebook groups. Those who remained to work, I think, are satisfied. Those who were looking for work according to their specialty left, for example, one went to teach at a Ukrainian school. She left crying because it was good with us too, but it was just a temporary stop that helped her integrate and get used to the new country. After all, she teaches our children Ukrainian language and literature, which is very important. Another is a nurse; she also found a job in Kaunas that corresponds to her profession.
How did you advertise your business to the residents of Kaunas?
Actually, people come even from Jonava and Vilnius. Of course, I had to put in the work. We carried flyers ourselves, threw them into mailboxes, and stood on the streets, near shops with the girls, handing them out to the passersby. In addition, we publish information on Facebook. Kauno diena interviewed me and that article brought many people in. We have a number of regular customers, but new ones keep coming, too. They come due to word of mouth – you tried our food, you liked it, and told your friends about it. This type of advertisement is the best.
Natalya, have you always loved to cook or it's purely business?
I am a lawyer by education, I worked in one company for twenty years. I saved some money and decided it was time to start my own business. At home, of course, I always cooked. When I opened the workshop, I started bringing ready-to-eat food made there to my home [laughs]. But I like cooking since I was a kid. My mother, who is now 76, is truly a food goddess. For as long as I can remember, we used to cook something. We used to live in a small town, we had our own farm, we slaughtered pigs… there was so much work. To divide, clean, prepare everything, and feed others. But I feel good in the kitchen.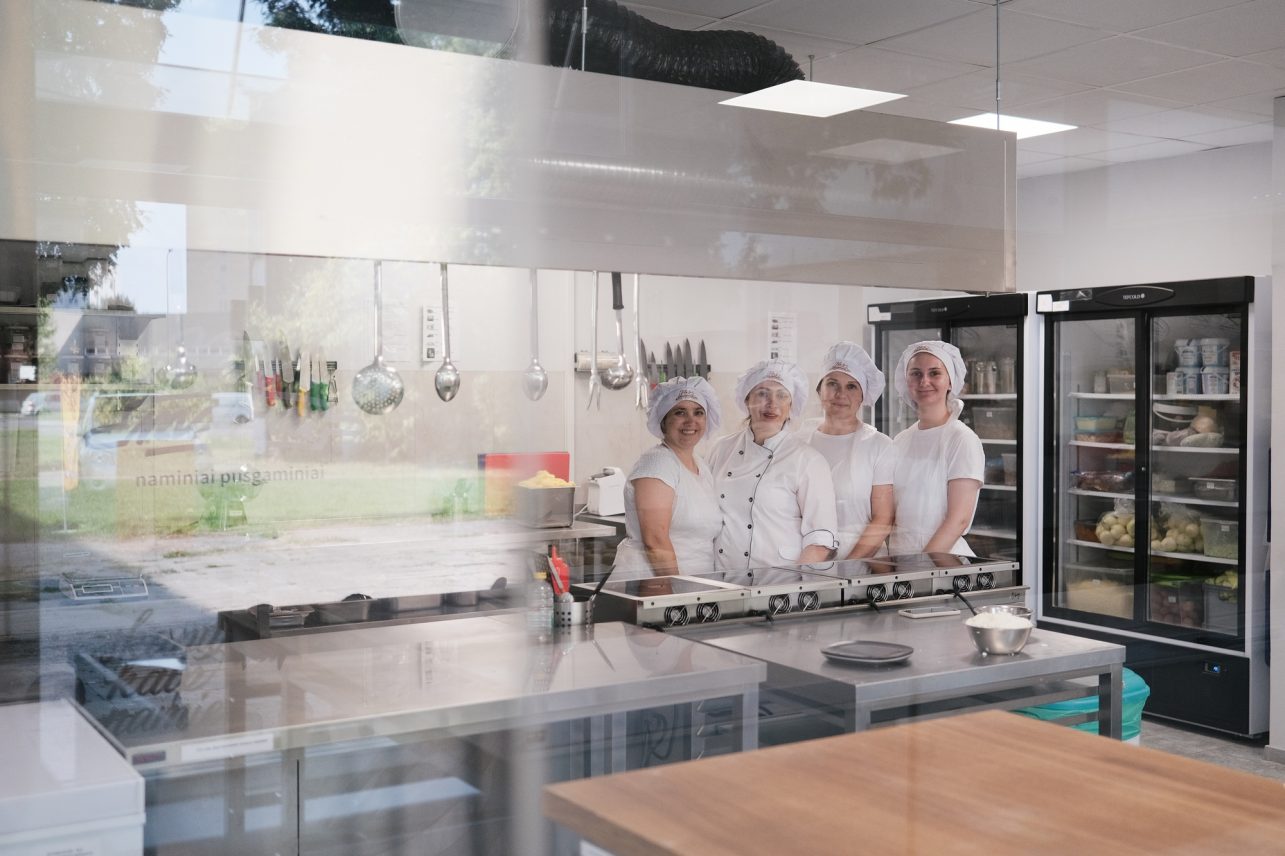 And your mother stayed in Ukraine?
Yes, she didn't want to go anywhere. You know, the older generation… My husband goes to Ukraine for work and visits her. And I haven't seen her since we left. I'm homesick, I'm afraid that if I go, I'll try to stay, so I plan to be here until the war is over. And there is plenty to do here. My younger daughter started first grade in Kaunas, the older one is a first-year university student in Vilnius. Further away from parents [laughs]. By the way, she is also good at cooking, she will be able to take care of herself.
Are the recipes you follow in Pas mamą kitchen your creation?
Both mine and from various acquaintances adapted to my taste. Basically, these are Ukrainian or Ukrainian-prepared dishes well known to everyone. Like at home, like at mom's. We prepare everything on site, we knead the dough ourselves, and we prepare the minced meat.
What do Lithuanians like the most?
The most popular are pancakes with sweet cottage cheese, type of dumplings with cottage cheese, and pork dumplings. We quietly introduce new products and offer something new to try (I confirm that. While buying dumplings with cherries, the saleswoman recommended chicken pate, ed.). But I must say, Lithuanians are conservative in matters of taste. They will keep buying the same dish until they feel like they've had enough. When I meet a regular customer, I keep trying to convince them that the next dish is equally tasty. Most of the time I succeed. They come back and say, "You know, I'm so glad you talked me into it. It was so tasty!" For example, we started preparing chebureki and dumplings with fish. The people of Kaunas were so afraid! I say how do you know you won't like it if you haven't tasted it yet? They tried it and came back for seconds.
Anyway, I have to note that our customers like to shop for more than one lunch. They take small portions of different dishes for a week at least. After all, it is a frozen product, it is very convenient to buy more at once. There were also restaurant representatives who stopped by and were interested in our Chicken Kyiv but they were not satisfied with our price. And the price is what it is because everything is natural, without flavor enhancers, and prepared from scratch.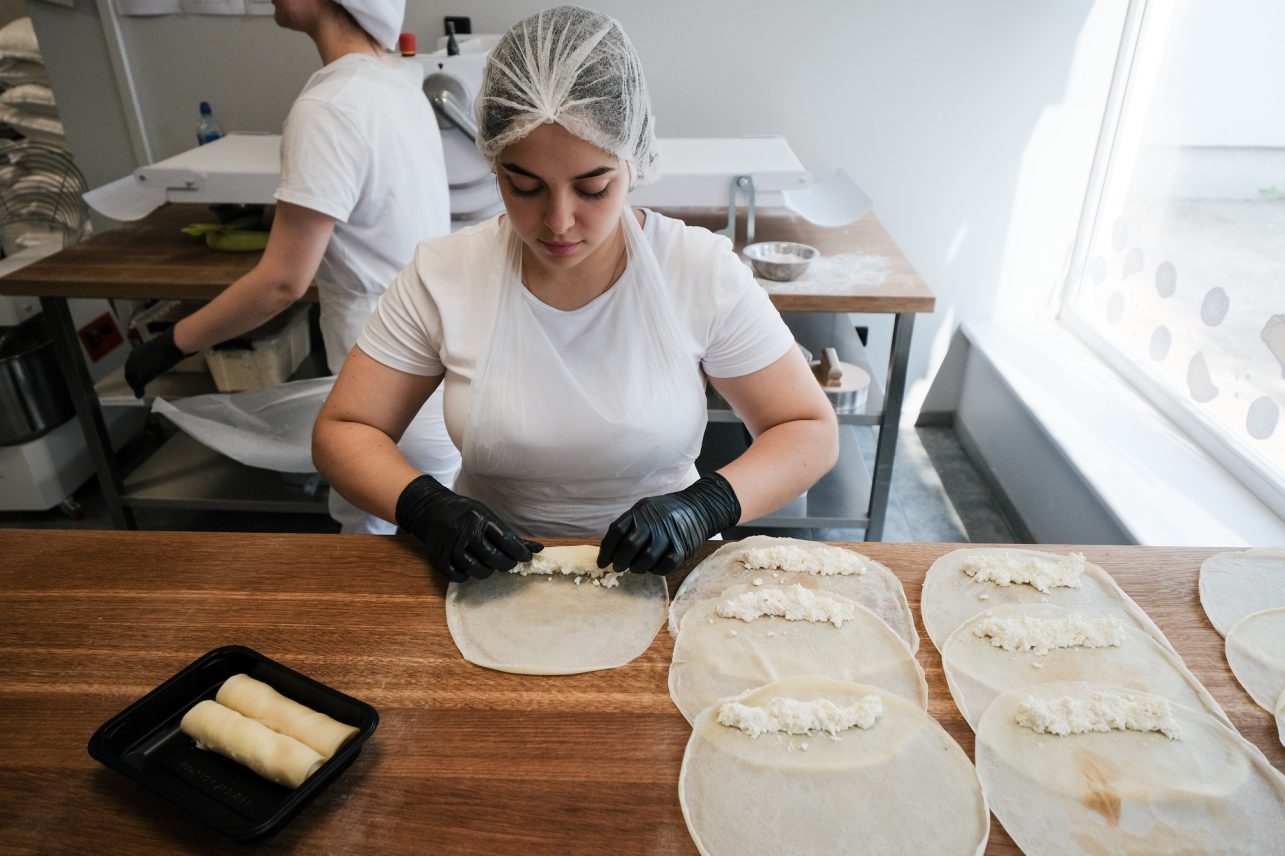 Chicken Kyiv is a classic. Do you like them yourself, or do you have other favorites?
Of course. I always say to my girls: you need to prepare food in a way that you would like it yourself. If you are satisfied, if your children eat and ask for more, you will be able to sell it.
I also really like lasagna with three types of meat: pork, chicken, and beef. Yes, it is an Italian dish, but popular in Ukraine, especially this version. Here, in the workshop, we prepare the sheets ourselves and make the sauces. Very delicious!
What is your relationship with Lithuanian cuisine?
Not bad, your cuisine is good. I prepare cold beetroot soup for my family – they like it very much, even the six-year-old, who keeps asking me to make it. Now cepelinai (potato dumplings), well, I don't want to hurt anyone's feelings, it is a tasty dish, it's fine, but you cannot eat it more than once a month. I really like black bread. When we lived in Ukraine, I kept asking my husband to bring me some from Lithuania. He must have brought a whole wagon in total. I really couldn't find such delicious bread at home.
Why do you think people are opting for ready-to-eat meals? Don't be offended, of course, it's nice that there is such a workshop and that you are successful, but dinner and lunch at home can also be homemade.
Of course, it's great when people take the time to cook for their family. When we did not have to rush anywhere, we all did that. When we didn't have cell phones, weren't running around the world and did not know how to vacation. I can speak for myself: when I get home, I want to solve the food issue as soon as possible and spend time with my family or reading a magazine. Or perhaps even lying down and looking at the ceiling. Resting! I don't want to work after work. So, our workshop exists for you to have time for yourself.
You could be a manager, but you still go to the workshop and prepare food with the other employees, why?
I am still perfecting some recipes, for example, tomorrow we will prepare new salmon meatballs. So far, I've only experimented at home. I cannot just bring the recipe and tell them to do it, we need to work together. Finally, we will taste them all together, and only then will we decide whether we allow them to go into production or not.
Have you developed any traditions in the team? Do you celebrate birthdays or Ukrainian celebrations?
Actually, no. Only work and rest. When we started working together, women were scared and tired, and nobody knew what would happen. Almost all of my colleagues have university degrees, and some of them have established careers. They needed to make that shift and get over themselves, in order to work peacefully here in the workshop. I think that everything takes time, you can't rush anything. One day we will be ready to have fun and celebrate together. There is nothing to celebrate now, we cannot relax completely. There is a war at home. Some of the women's husbands stayed in Ukraine.
Ukrainian borscht à la Natalya
Natalya confirms that every Ukrainian woman has her signature borscht recipe, and each one is unique, the best. She herself likes to cook borscht with pork ribs. You need to make a broth from them. Then sauté carrots, onions, and beets with tomato paste in a pan. Add some potatoes, salt, and pepper. "It's hard to say if there really is something so extraordinary here. Maybe it's because I grew up with this recipe, so to speak?" the woman living in Kaunas answers modestly. But there is something special that might not have been tried before. When everything is cooked, and the flavors are mixed; when sauerkraut is added, and it seems that something is missing… Take some flitch, chop it, mix it with garlic, and pour a couple of spoons of this goodness into a pot (2 – 2.5 l capacity). The aroma will let you know that you succeeded. All that is left to do is to cut a slice of black bread (the Lithuanian one works very well) and stuff yourself.