"Tea, juice, chocolate?" Urtis Šulinskas provides us an unexpected menu upon meeting me and photographer Kipras in a rather gray building (from the outside) on the capital's Kaunas Street. It is the first coincidence, which promises that the meeting with the board game designer from Kaunas will be interesting.
Walking through the door, which is decorated with a modest sign that says Unicorn, we discuss the events that took place 20 years ago. Because we graduated from the same Kaunas gymnasium in the same year. "Have you ever interviewed Aras Pranckevičius?" Urtis remembered another graduate of our school, the creator of Unity, computer game development tool. Not yet! And the reason I want to interview Urtis now, for this issue, is because he created a board game Beast of Kaunas.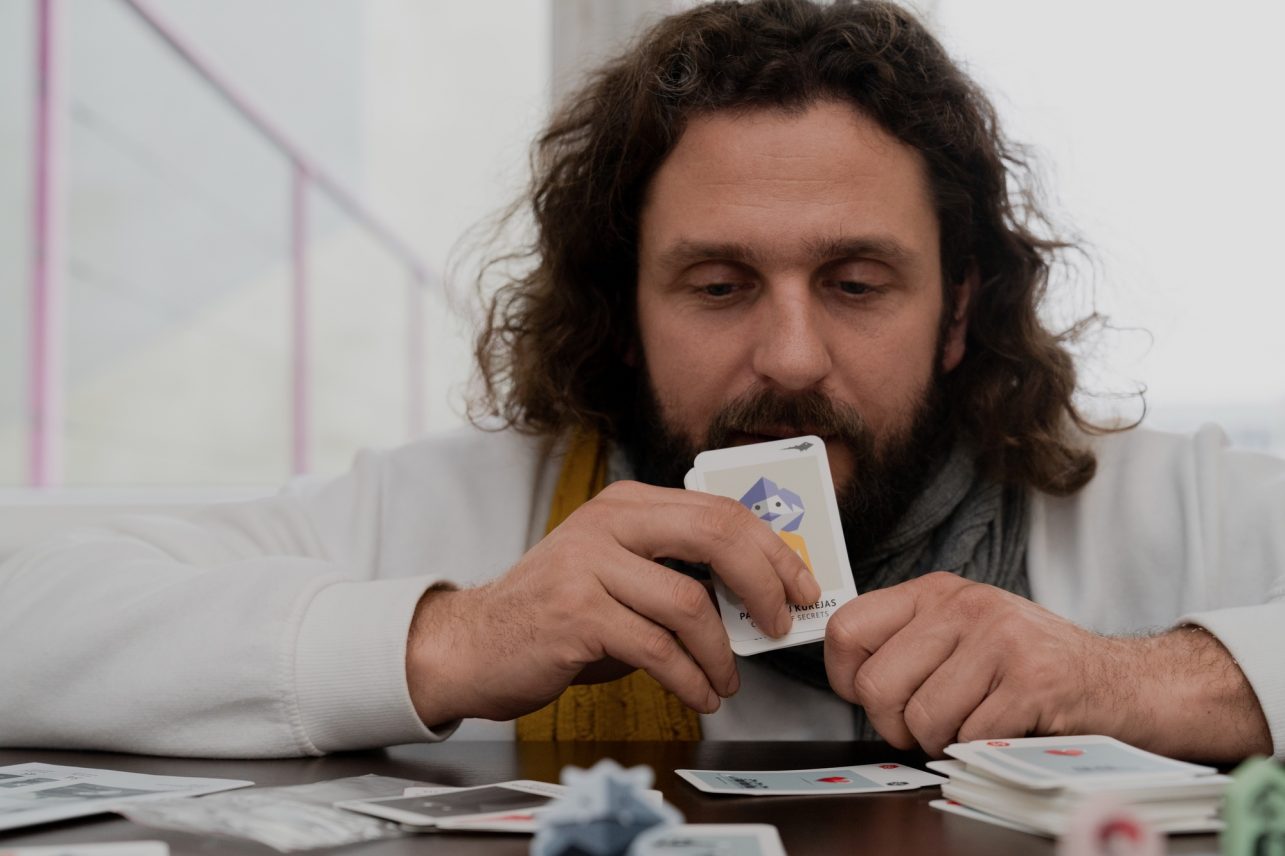 Urtis studied personnel management, and then managed to work in Lithuania, London and the USA. But he always returned to children's camps. "I really liked it there and still do. Kids are nice," currently a resident of Vilnius shortly presents himsels. At the gymnasium, he, just like me, was more into computer game culture. We recalled how we played Quake and Urtis also played Starcraft. But, according to him, socialization is more important for children in the camp, so he never intended to make computer games. Of course, the board game market is smaller but stable, and there is no shortage of innovation there either.
Our interviewee's unicorn career started with a game Story Chest. A hundred magical illustrations were created by Marija Smirnovaitė. While playing the game you follow an ever-new tale. According to Urtis, and he cannot recall it well, Story Chest appeared about five years ago. "It seems like a long time ago. Board games last for about 3 years, after that they are considered old, which is only a bit longer than in the case of computer games."
When asked how many games Urtis has created in those five years, he giggles and points to the shelf. It has about a hundred prototypes of games packed in plastic envelopes. "Only about 15 of them have been released, no one is publishing the rest, you can make a thousand prototypes if you want and they will end up on the shelf," game designer from Kaunas explains. By the way, he has arranged his ideas according to how good they are. He would like to improve some of the prototypes in the future because the chance that someone would publish their new versions is quite high and the latter will probably remain the same.
Game publishing is a bit like a book market. You create a prototype; you take it to the publisher and it either gets interested and agrees to publish it or not. Often the action takes place at international fairs, where Urtis competes with board game designers scattered around the world. He says that there are very few publishers in Lithuania, so, although things seem simpler and faster in your native country, it is more meaningful to not limit yourself with either language or borders. "Of course, I could do the publishing myself – for example, I have a prototype for a game about static electricity, the balls stick to the straws and so on, unfortunately, no one wants to publish it because the production is not cheap as well as they have other good reasons. If 50 experienced publishers didn't believe in this idea, perhaps they are right. So, I would publish it myself and then end up with a thousand boxes in my garage," Urtis smiles and assures that it hadn't happened yet. This is where management studies come in handy.
By the way, plastic envelopes have already become a part of Urtis' brand that helps him to be recognized at international fairs, "Others put prototypes in boxes." These events are dominated by the French, Germans, and Americans, who all wait in lines to the stands of large publishing houses. The time spent waiting sort of obliges you to show only the prototypes that are unique and have a chance to "pass". "It is similar to books. You can try to stand out with an effective presentation, but a potential publisher will still read the work and only then decide whether to publish it." It is OK to stand in a few lines. But of course, everyone's eyes glisten when they see that one and only game. So, it is worth showing the smaller publishers your other ideas that the large publishers were not interested in.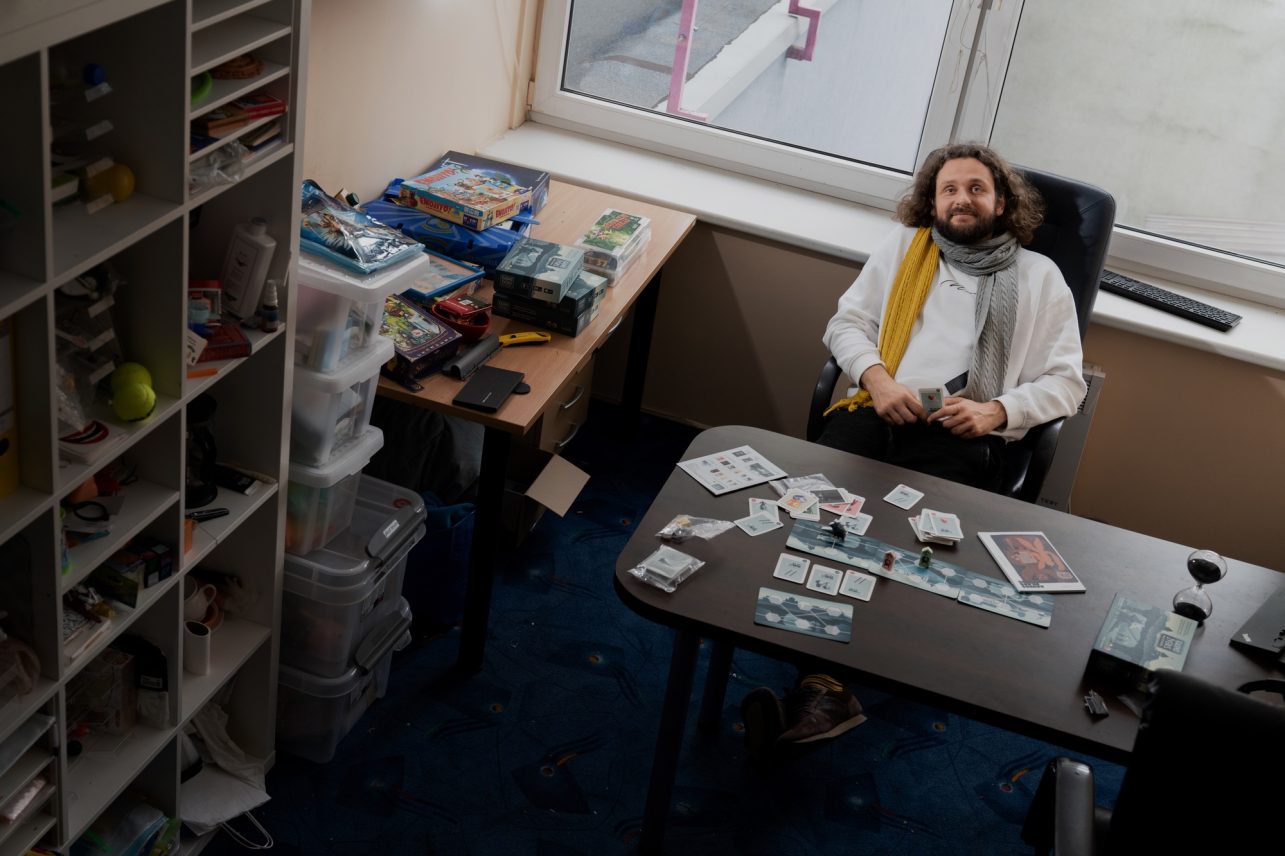 Urtis keeps different things on the shelves that he calls the gimmicks, "I'd call them tricks, well, sort of magical elements." Fake moustache and beards, funny glasses, prickle balls… anything that provides the game with something that makes it unique and successful. By the way, it was for the Speedy Roll game – in which you can collect tree leaves, mushrooms or apples (and do many other fun things) with a spiky, sticky ball – that Urtis was awarded on an international level last year. His game was selected as the best board game at the Kinderspiel des Jahres awards in Berlin. Yes, this is a sort of Oscar of the board games.
One thing is global awards, and another is an evaluation you get face to face. And children are best at it. If they are not interested, they simply will not play the game again, even if you try to persuade them. Friends, on the other hand, might repeat it out of curtesy.
But what makes the game worth the world, that is, universal? What components do all children like, regardless of their language, culture? "It's easy in the children's category – the game should delight everyone. Probably a specifically Lithuanian character, such as Naminukas, will not interest children in the USA, but a hedgehog will be a hedgehog everywhere." Of course, if we also include adults, then we have to talk about pop culture trends that affect the topics of games. Do you think there are already products inspired by Squid Game?
And certainly not everything is right for kids. Urtis shows me and Kipras his work called Rip Off. In it, you have to rip fake dollars and cover drawings with their pieces. "It would not probably be good if the child liked to destroy money," he laughs. But this unusual game has been released in Taiwan, for example.
It happens that other game designers (or people who are considering becoming game designers) contact Urtis and tell him they have an idea. "I immediately warn them that I will not make them happy. I also have an idea, a hundred of them even. If you want to design a game for your friends, you will probably succeed, but a copy will cost you around 200 Eur, and if you dream of a global market, the formula for success is completely different." Hearing "no" was only hard the first time; hearing that a similar idea was already turned into a real game, is also not a terrible thing. After all, you have all your life ahead of you, "I don't plan to change anything, I have fun doing it, it's fun to work alone here, in the office or in the studio."
And where do really good ideas come from? "I got an advance for the game, and I started ripping money to pieces," Urtis giggles when he tells us about Rip Off. After he turns serious again, he tells us that he tries to think about something that would be fun and something he hadn't done before. The innovation and factors that develop certain personal qualities are important. When he is developing an idea and suddenly realizes that he needs to produce a tangible object, Urtis turns to designers, and if he needs someone to draw cards or characters, he looks for illustrators. Only not everyone is able to depict… joy that is truly needed here. "Everybody knows how to draw a smile, but it is not the most important thing," Urtis says showing us the Emojito game. It develops emotional intelligence: the players have to repeat the mimics, which are caused by one feeling or another, depicted on the cards. By the way, this one was also nominated for that German board game award. This is indicated on the packaging and has a positive effect on sales and faith in the designer's future ideas.
The game designer has no doubt that the same ideas can come to unrelated people at the same time, because everyone is watching the same series, read the same news, listen to new music, see the need in society or… play games. Yes, during his free time Urtis also plays games and if he really feels like resting, he finds peace in nature.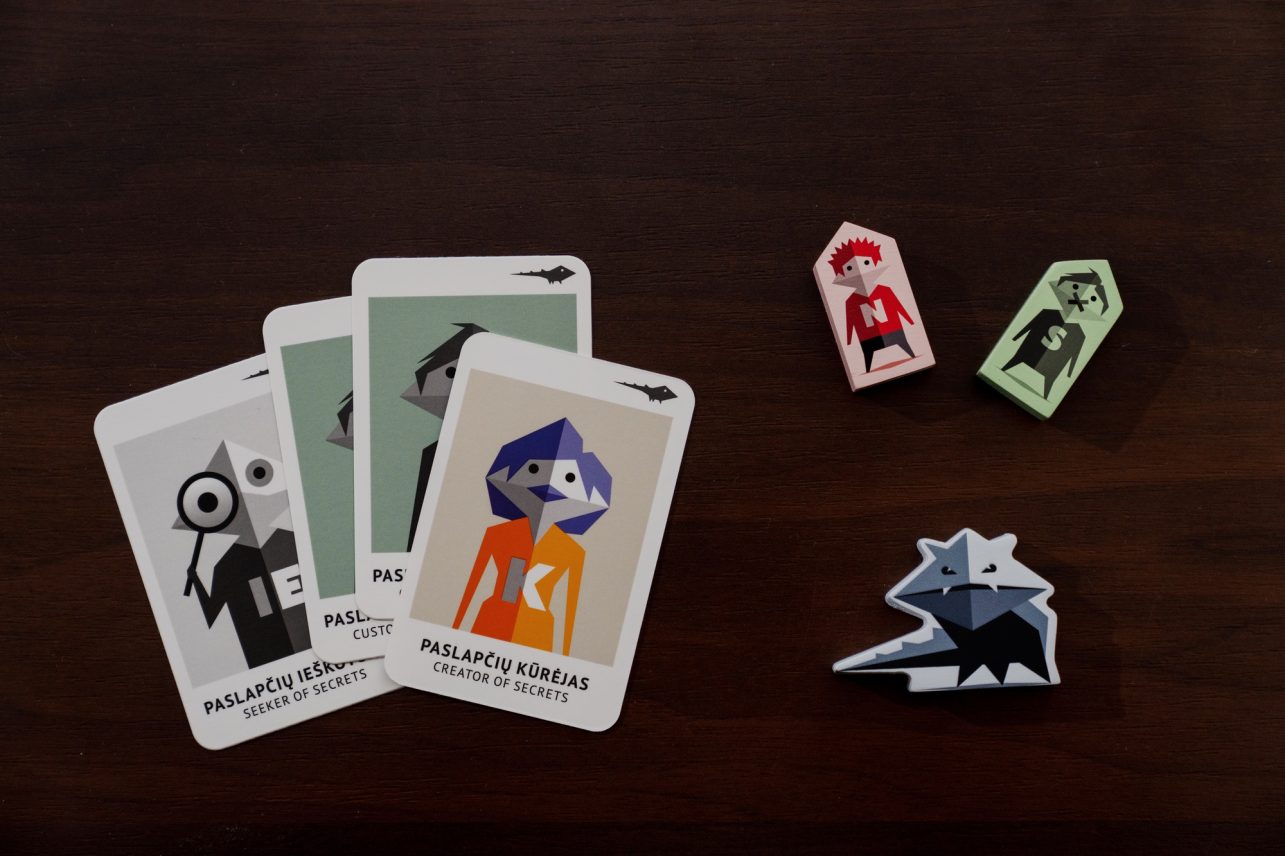 We could spend the whole Friday afternoon in Urtis' office. But it's time to briefly discuss (because it's best to just play it) the game called Beast of Kaunas and get back home from the Kaunas Street to Kaunas. After designer Darius Petreikis created the image of Kaunas Beast – one of the main characters of the future European Capital of Culture – Kaunas 2022 asked Urtis to create the board game. The script was dictated by a fairy tale book written by Rytis Zemkauskas. The game is all about our city, its light and dark sides, mysterious and very charismatic heroes. Playing Beast of Kaunas can help you develop strategic thinking as well as your ability to count. "Besides, your love for Kaunas grows while playing," Urtis adds. And what more do we need?